Running social media communication very often requires quick reactions. However, not always a person responsible for handling the company's Facebook page is available for 24 hours and 7 days a week. These are, very often, people who are working on weekdays at certain times. They do not look at their official Facebook account to reply to private messages sent by users. They neither react to the comments that appear under the posts scheduled for publication i.e. on Saturday. So how to reconcile the need for rapid reaction to contact with your fans or potential customers with a lack of time, or inability to be active in the social media non-stop? NapoleonCat meet those needs, providing its users the functionality of automatic content moderation.
How does it work in NapoleonCat?
In NapoleonCat.com you can use automated rules to moderate content appearing on social media profiles. NapoleonCat can publish the answers, send an e-mail with your fans' questions to the appropriate department within the company, as well as delete spam from comments to promoted Facebook posts. It automates the process, making a team work easier.
To use the auto-moderation, log in to your account in Napoleon and go to the "Project settings" in the left-hand side menu. In the new window that will open, you will have different options available from the top menu – one of them is Auto moderation. Click it and create a new rule using the ADD RULE button.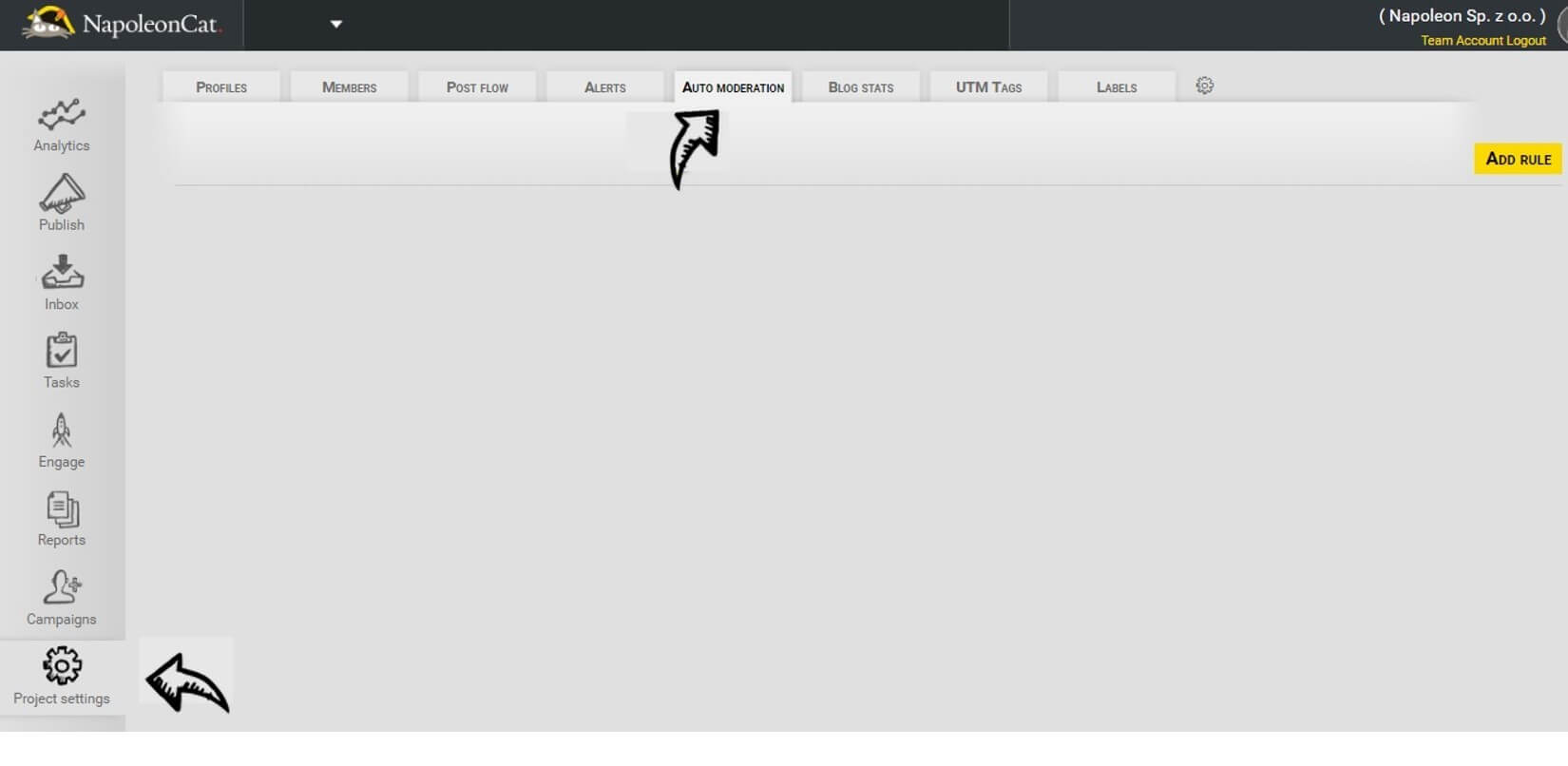 A new window will open and you will be able to define a new automatic moderation rule.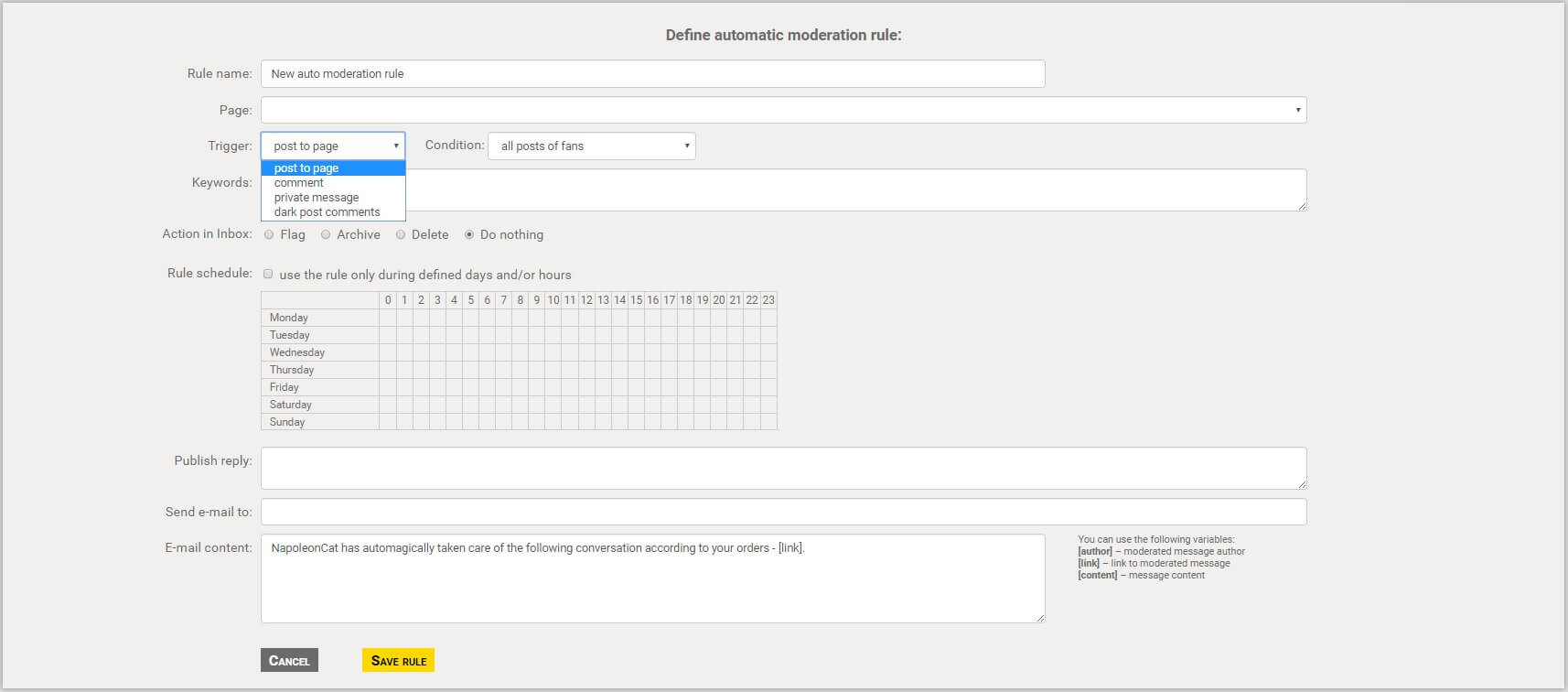 Fill the rule name and select your Facebook page, to which the rule will work. Then start to define the trigger. You should select what kind of content your rule will concern (for what type of content the rule will work). Following optiona are available: post to page, comment, private message, dark post comments. Then you should select the condition. It will depend on the trigger, that you've chosen – please check below all the available options within this step.

You can also specify that the rule will work only when there is a keyword (defined by you) in the content. If you want to use this option, you just need to define the keywords and fill the right field (called "Keywords" in NapoleonCat). If you want to use more than one keyword, type all of them separating with commas. Then specify an action in Inbox (it concerns Inbox in your NapoleonCat account), like: Flag, Archive, Delete, Do nothing. The next step is to set a schedule to your automatic moderation rule. So if you want your rule to work for a whole Saturday, just click the name of a day and all the hours will be automatically selected. If you want to choose just few hours a day (i.e. only evening hours in weekdays) – choose them in the scheduling table by clicking in the right field. You should remember to tick the box "use the rule only during defined days and/or hours). In the next step you can fill the "Publish reply" field and type the answer that will be sent to the post, comment, private message or dark post (depends which trigger type you've chosen). You can also choose to get the notification to your email. If you want to be notified, just type your email address to the field "Send e-mail to". If all is ready, you can save your new rule by clicking SAVE RULE button. It's worth to know that you can set many different rules.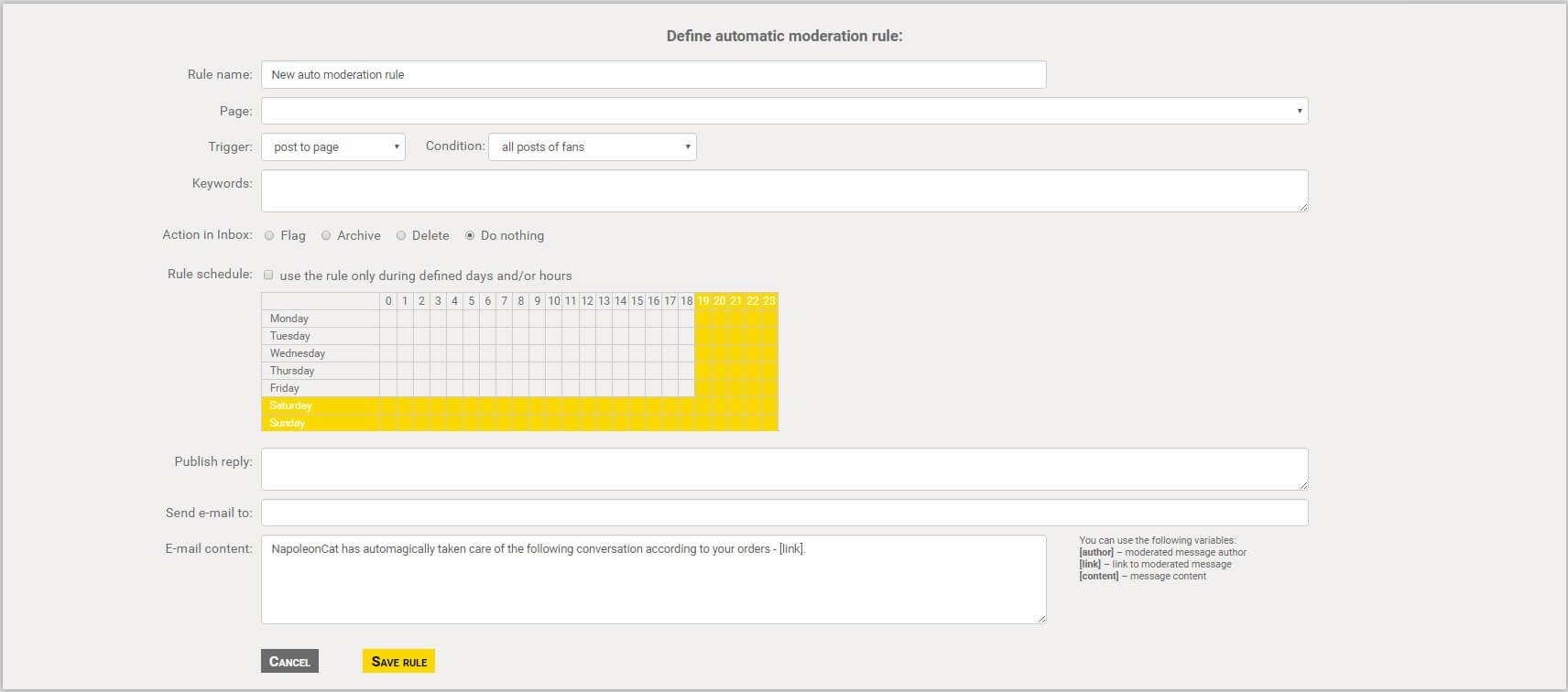 So let's say that you are going to organize some training session soon and you don't check your business Facebook page on weekends. You would like to be sure, that you won't omit any important comment including "training", "workshop", "session" etc. words. You can set a rule with comment as a trigger, all comments as a condition and type the right keywords (like training, session, workshop etc.). Then choose the right action in Inbox – i.e. Flag and set a timetable of action rules. So for the described case it will be Saturday and Sunday. And if you log in to NapoleonCat on Monday, all the comments with the defined keywords will be in the FLAGGED tab in your Inbox.
You can also set an automatic moderation rule to answer to the private messages. It is commonly used by e-commerce companies. They set replies like "Thank you for your message. We will contact you within max. 2 days." for the messages received during weekends. Or they also send automatic answer with their working hours – just to let the potential customers know, that they don't work or don't do shipping weekends.
There are a lot of possibilities of using automatic moderation rules. All depends on your business, specific situation and your business needs. We encourage to try this functionality as it makes it much easier to cooperate in the team and running social media communication activities.
If you want to check how the automatic moderation rules work, test NapoleonCat, choosing one of the available plans: e-commerce or agency one. You can test both of those plans for free (for 14 days).