With over 2.7 billion users, Facebook is undeniably the biggest social media platform in the world. 3 million brands actively advertise on Facebook, and they're all exposed to the risk of receiving negative or hateful comments, spam, etc. The question is – can you block comments on Facebook Pages? Yes, and this article will tell you how to do just that.
Before we get into the how, let's first talk about the why.
Why block comments on Facebook?
Have you ever experienced the pain of crafting an amazing Facebook post, and then having it ruined by some haters, trolls, or spammers? Yeah, most of us probably have. And when it comes to managing a brand's presence on social media, one bad comment on your Facebook Page can potentially go viral and ruin a company's reputation. Here are some examples of situations when it's better to block the comments option on Facebook:
Hateful speech
Facebook is a public social media platform, and it's the social media manager's responsibility to keep the comments section clean. Comments including racist, sexist, or homophobic remarks, hateful, offensive, and inappropriate language – they should all be blocked before they can even be seen by other users.
Comments with shady links
Brands often get comments that include some suspicious links. Users clicking on these links may get automatically scammed, hacked, or have their software "poisoned" with a virus, etc. If such cases come to life, words spread fast, and that can lead to a severe drop in customers' trust.
Auto promotion
Some brands may take the advantage of their competitors' content and simply comment with links redirecting to their website. If you don't like competition advertising under your Facebook posts, better shield your content from such scenarios. We'll get to that part later in the article.
Can you block comments on Facebook Pages?
Yes, you can. But Facebook doesn't allow you to disable comments from the level of their app. Sure, you can ban someone from your Facebook Page. However, blocking users is not something you should do often. Besides, that would mean a lot of petty work (banning each individual user) if you get a lot of spam under your posts. We've got a solution that will automatically (and instantly) hide or delete comments, so bear with us.
How to block comments on Facebook Pages
Our Automatic moderation feature works a lot like a social media assistant. You can use it to protect your social media accounts from spam, automatically answer repetitive questions (like those about the pricing plans), or increase your engagement rates and social sales. In this article, we're focusing on blocking comments. It's worth mentioning that this feature works for Facebook & Instagram Ads, too.
Basically, you create a rule, you set it to be triggered by e.g. a keyword, and that rule will then be ready to take action. For example, you can create rules that will be triggered by hateful comments to hide or delete such comments. Moreover, you can create as many rules as you'd like.
How to block comments on Facebook Pages with NapoleonCat
Once you have added your social media profiles in NapoleonCat, go to the Social Inbox. In the upper right corner, you'll see Automoderation, click on it, and a magic window will appear.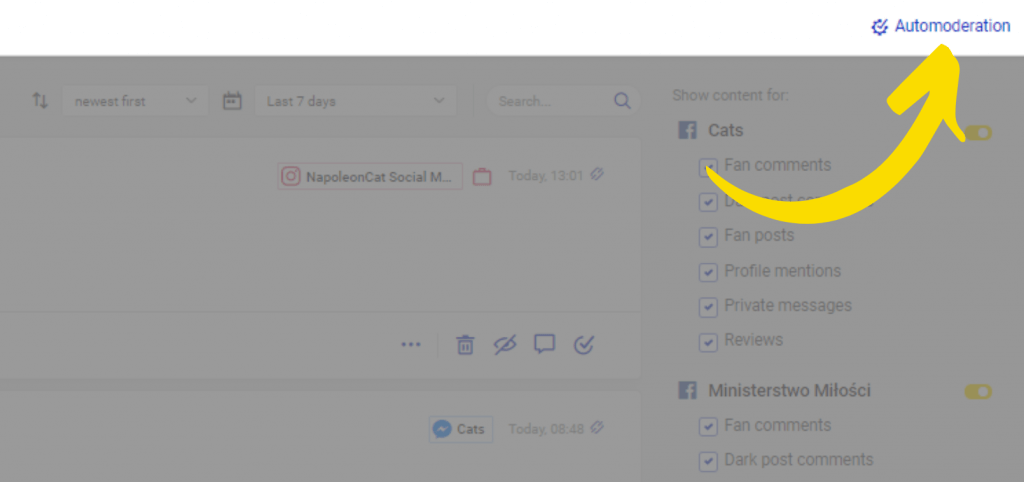 Click on Add new rule and your rule creator window will appear.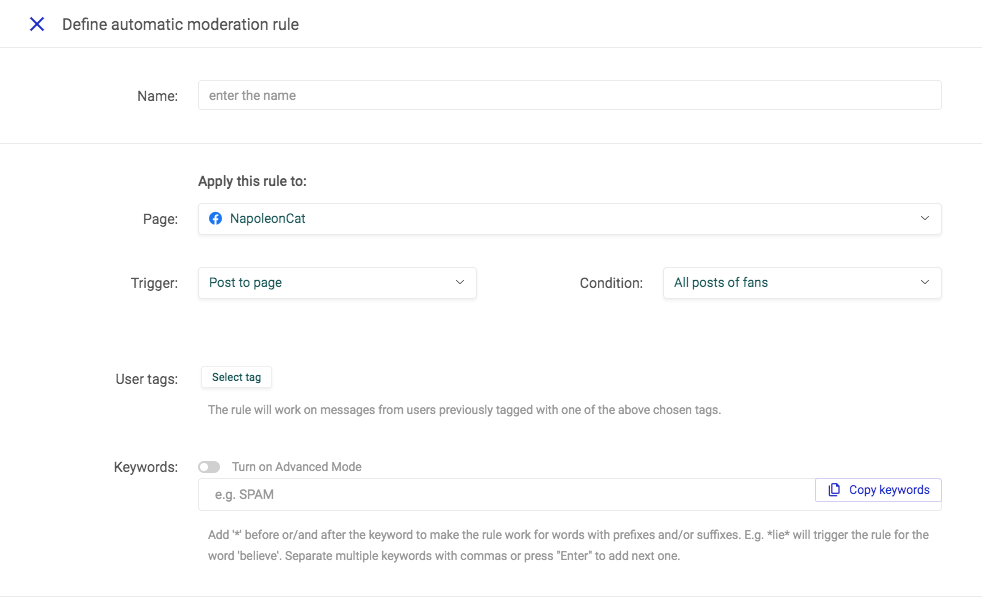 Name your rule. Select your Facebook Page. Choose your trigger. You can further specify the trigger by choosing the Condition.
After that, you type in your keywords (you can get as creative as you want). Remember about prefixes. For example, *lie* will trigger the rule for the word 'believe'.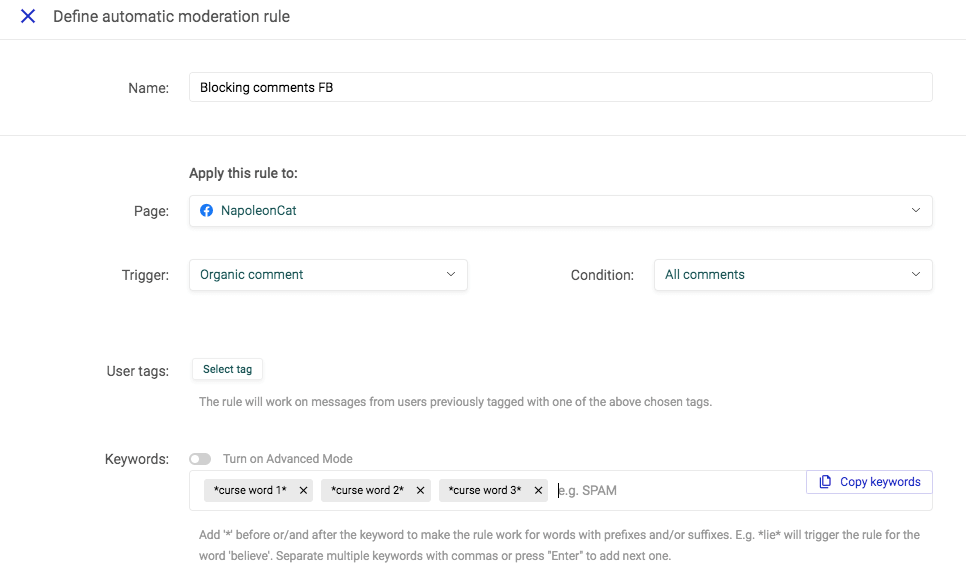 Next, you choose the action that you want your rule to take. In this case, I choose "delete", and choose not to publish a reply.
If you'd like to automatically hide comments on Facebook, just set the action to "hide".
You can also schedule your rule to work during specific days and hours. In our case, I won't tick this box to let this rule work 24/7.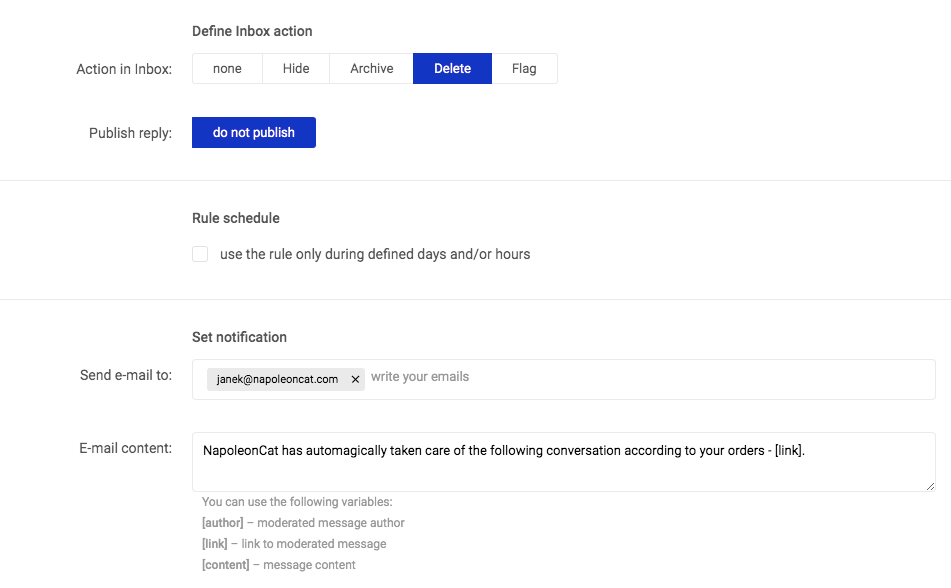 You can also type in the emails of the people you want to notify each time a rule is triggered. A great solution for teams of social media moderators.
That's basically it!
How to block comments on a Facebook post
If you'd like to block certain comments under a specific Facebook post, all you have to do is change the trigger to "Comments for specific post", and then choose your post. You can also select multiple posts.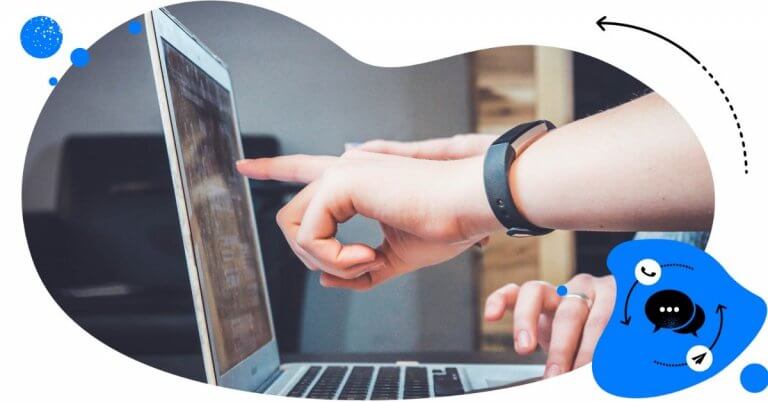 Automatically hide & delete comments on your Facebook Page
Shield your Facebook & Instagram profiles from spam and hateful comments.
Try NapoleonCat free for 14 days. No credit card required.
How to ban someone from a Facebook Page
As I've mentioned before, there is a way to ban someone from your Facebook Page without using any external tools. However, there are a few things you should know about:
You can only ban the users who liked the Page
Banning a user completely is a more serious restriction than just blocking comments, and can cause frustration amongst banned users, and negative word-of-mouth.
To block a user on a Facebook Page, go to your Page. Click on Page Settings from the menu on the left to access the settings page.
Go to People and Other Pages.
Tick the box to choose the user/users, and click on the Settings button to remove someone from people who like the Page, or ban them. A person who's banned can't post, comment, send messages, or take other actions on the Page.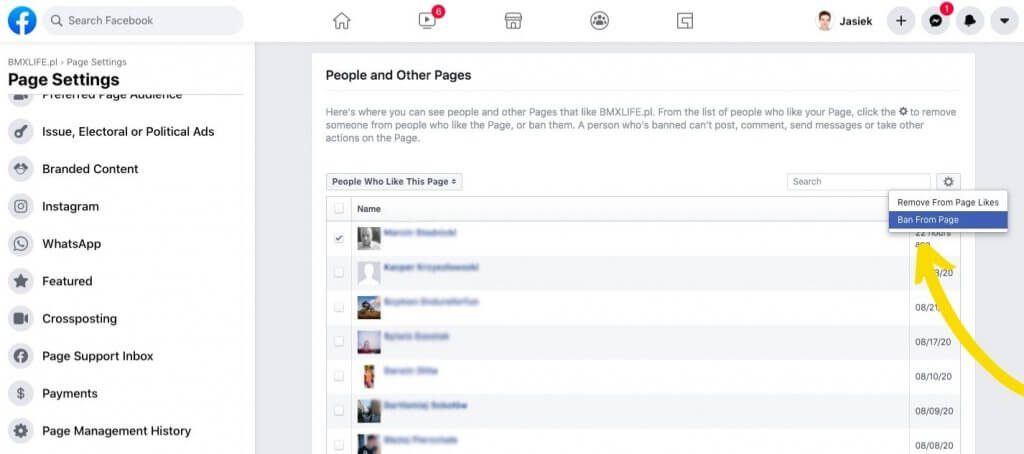 More benefits of Auto-moderation
Setting up automatic replies to repetitive questions It doesn't matter whether you're a small business or a large corporation. As a brand present on social media, you most likely will be getting repetitive questions from e.g. potential customers. In the case of having large social media traffic, you must have an immediate response system in place. NapoleonCat's Auto-moderation will help you deal with questions like:
When are you open?
How can I contact your support team?
What's the average delivery time?
What's the menu for today?
You get the point. Such generic questions can easily be answered by an automatic reply system.
Conclusion
If you don't have to delete comments, then don't. Treat it as your last resort. The general rule of customer service in social media is that you, as a brand, should reply to everyone, address each and every customers' issue, and on top of that – do it in a timely manner (i.e. as fast as possible). However, if you must block comments on Facebook, then use the right tools for it. Be prepared. Start your FREE 2-week trial and see how it works.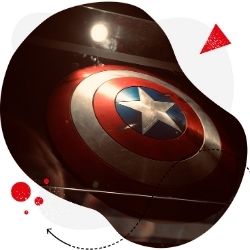 Protect your Facebook Page from SPAM
Set up Auto-moderation and protect your Facebook Page from hate speech, inappropriate comments, and spam. Try it for free:
Try NapoleonCat free for 14 days. No credit card required.