Instagram has already passed the 2-billion active users mark1 and shows no signs of slowing down.

More and more e-commerce businesses become highly active on this social platform, which means they also need to carefully manage comments under their organic posts and ads.
As far as best practices go, every comment should be addressed, but you may be forced to delete or hide offensive comments on Instagram in some cases. Whether it's spam, trolls, hate speech, or inappropriate language – these kinds of comments shouldn't find permanent shelter under your posts.
So, in this article, you'll find out:
Without further ado, let's dive right in!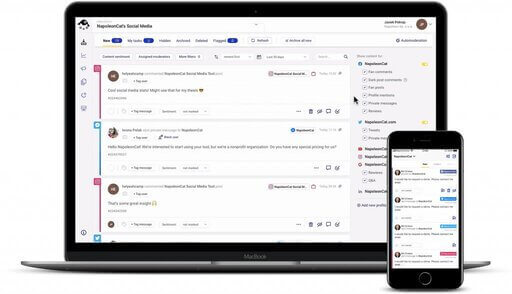 Easily hide any comment on Instagram with one click
Manage all your IG comments in one simple view. Hide comments with one click or automatically hide offensive comments based on specific keywords – with an all-in-one social media tool.
When should you hide comments on Instagram?
Before we tell you how to hide comments on Instagram, let's first elaborate on the situations when hiding comments is the right thing to do.
If you're running a company's Instagram Business account, you need to keep track of all the social interactions happening around your brand. Spam and trolls can quickly compromise your reputation online.
If you don't quickly react to trash-talk and spam under your Instagram posts, this may scare away your potential customers.
The more social traffic and the more Instagram accounts you run, the harder it is to keep track of it all. That's why NapoleonCat offers a simple solution to manage all your social media interactions from one simple dashboard.
NapoleonCat's Social Inbox supports TikTok, Facebook, Facebook Ads, Messenger, Instagram, Instagram Ads, LinkedIn, Twitter, YouTube, and Google My Business.

By the way, you can test it for free here – no credit card required during signup 😉
Using the Social Inbox, you can monitor and manage all of the users' interactions from your organic Instagram posts and Instagram ads as well. And that brings us to the essence of this article – how to hide Instagram comments from others on a business page.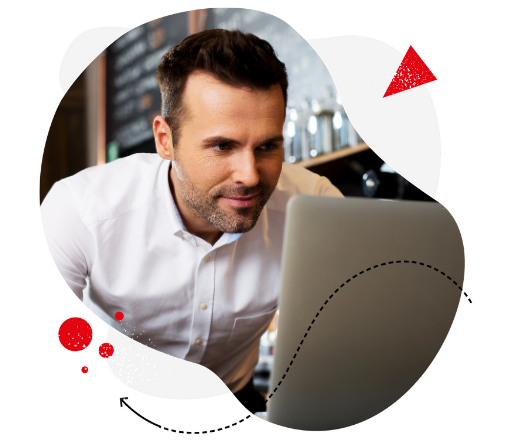 Manage all your IG comments and messages from one simple view
Manage all your IG comments and messages from one dashboard even if you have multiple accounts or ad campaigns – with an all-in-one social media tool.
How to hide comments on Instagram (without them knowing ;))
The thing is that you can't even hide any comment you want on Instagram using the Instagram app itself – weird, right?
Using the native platform, you can only delete comments. However, hiding comments on Instagram is still doable, and we'll show you the method.
Hiding and limiting comments via the Instagram app is a bit of a tricky procedure which we'll talk about at the end of this article. Anyhow, thanks to our Social Inbox, we have a quick and straightforward solution.
This is how you can hide any comment on Instagram using NapoleonCat's Inbox:
I've also made a video tutorial to illustrate how quick and easy hiding comments on Instagram really is:
You may then be wondering 'how to view hidden comments on Instagram'? Well, all the comments that you've hidden will still be available in the Hidden tab in NapoleonCat. You can also unhide any comment whenever you like.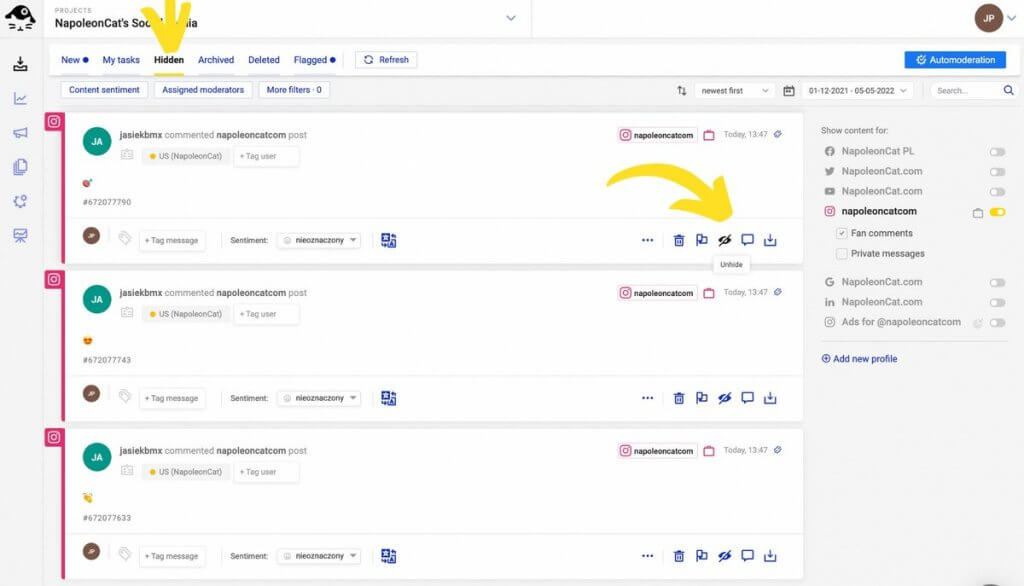 How to automatically hide comments on Instagram (based on specific keywords)
Once you figure out our Social Inbox, NapoleonCat also offers an automated defense system against any kind of spam and hate speech – it's better to be safe than sorry!
The Auto-moderation feature works like this:
You create "rules" that can automatically hide, delete or reply to Instagram comments (and DMs!) based on keywords you define.
You can create as many different rules as you like for various purposes. There's also no limit to the number of keywords and phrases that you can put in there.
Below you can see a quick video tutorial on how to automatically hide inappropriate comments on Instagram:
Creating an Auto-moderation rule takes about a minute or two, and the feature works for organic posts and Instagram ads, too. Here's how you can set up a rule:
Name your rule
Choose the Instagram account (or multiple accounts at once) you want it to work for
Choose the message type, e.g., organic comments
Write your keywords
Choose how you want your rule to react to these keywords (e.g., hide or delete)
You can select specific times during which you want the rule to be active, or you leave the box empty and let the rule work 24/7
Type in your email address (you can add multiple) so that you and the rest of your team can get notifications each time a rule is triggered.
You can also use ready-to-go rule templates to make things even easier 😉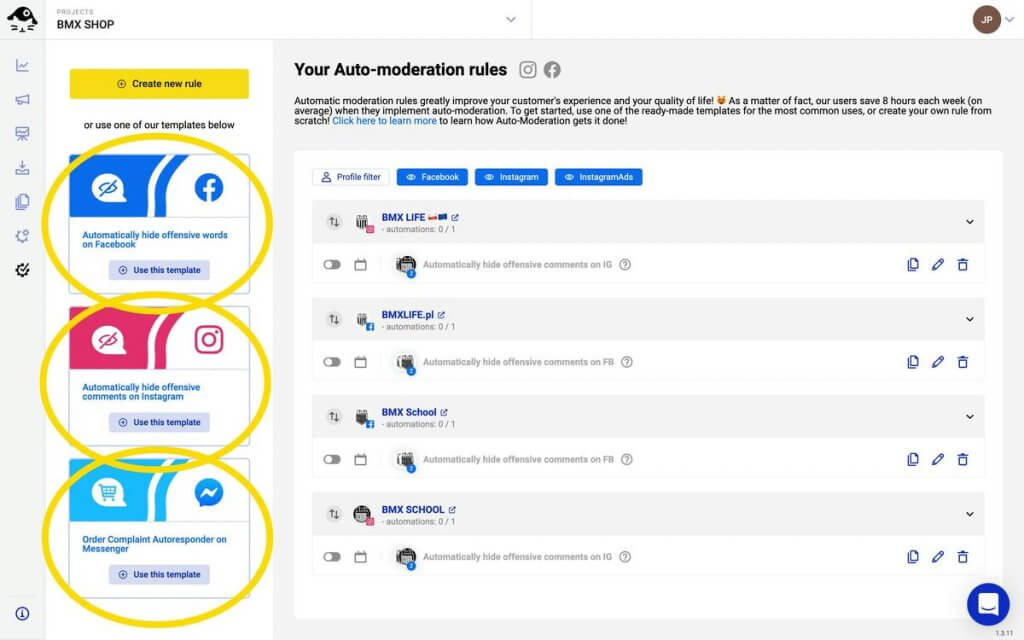 How to automatically delete comments on Instagram (based on specific keywords)
Setting up an Auto-moderation rule that will automatically delete comments on Instagram is done in almost the exact same way as shown above in the video. The only difference is that you need to select "Delete" as the rule's automatic action.
By the time you're done reading this part of the article, I assume you've found what you came here for, i.e., how to hide Instagram comments. However, if you wonder what similar actions you can do using only the Instagram app, keep reading to gain some more insights.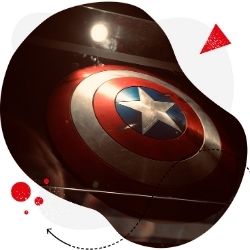 Protect your social media from spam & hate
Automatically hide or delete offensive comments, hate speech, and spam – with an all-in-one social media tool.
How to hide comments using the Instagram app
As mentioned before, you can't easily hide specific comments on Instagram. But there are some other ways to protect your account from unwanted comments using the Instagram app.
If you go to your profile and tap on the three lines in the upper right corner, go to Settings -> Privacy -> Comments, you'll access Comment Controls, where you can basically limit or filter out the incoming comments.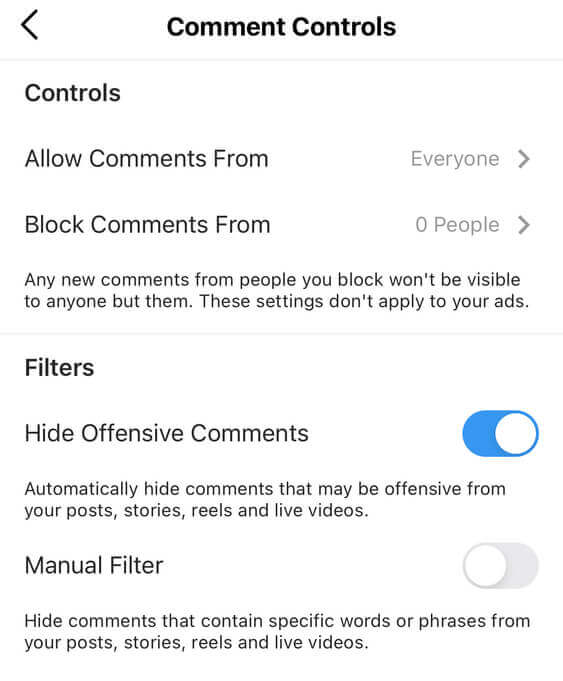 First of all, on Instagram, you can allow comments from:
Everyone
People you follow and your followers
People you follow
Your followers
You can also turn off comments on Instagram from specific people. When those filters are on, your comment section will have a pretty big caption that says "Comments on this post have been limited".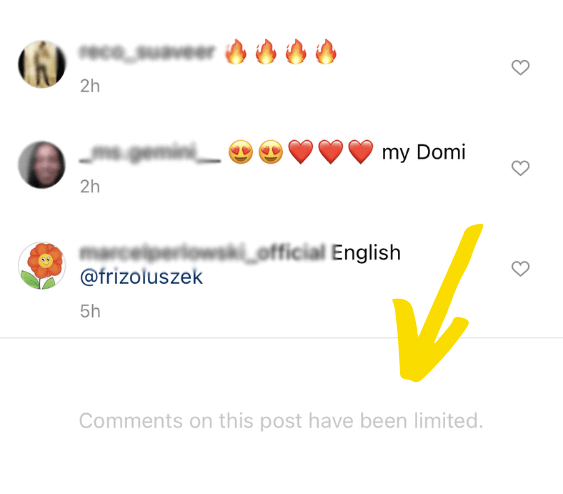 This may come off as a little off-putting to your potential customers, as it's publicly known that not everyone has the right to comment on your Instagram posts.
There are two more kinds of filters. The first one ("hide offensive comments") will automatically hide comments that Instagram deems inappropriate. That works for posts, Stories, and live videos.
Another filter ("manual filter") works like a simpler version of our Auto-moderation feature. You can define keywords, and Instagram will hide comments that contain those words or phrases.
When you turn on the manual filter, you'll also be able to filter most reported words, i.e., hide comments that contain words or phrases that are most commonly reported on your posts and Stories.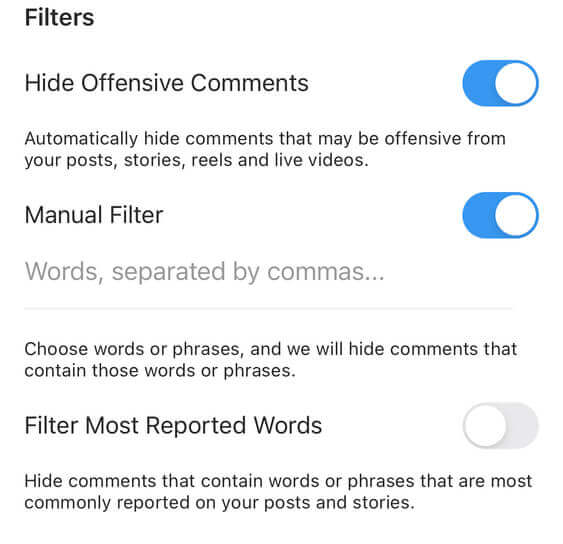 What does it mean to restrict someone on Instagram?
In October 2019, Instagram introduced the "Restrict" feature to target abuse and bullying. It's like a softer version of blocking someone.
When you restrict someone on Instagram:
Their comments under your posts will only be visible to them and to you, not anyone else.
Their messages will be moved to your message requests.
They won't be able to see whether you're online and if you've read their messages.
They won't know that you've restricted them.
You won't get notified about any of their future comments under your posts.
How to restrict someone on Instagram:
To restrict someone on Instagram:
Open Instagram and go to the profile you'd like to restrict
Click on the three dots in the top right corner
Click on "Restrict"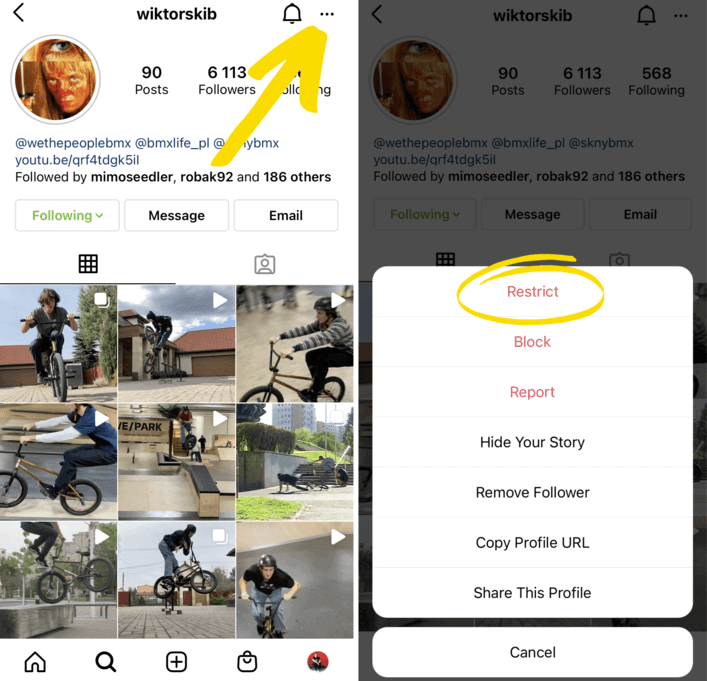 You can also completely disable comments on Instagram. Turning off comments completely is a feature that is not often used, but nevertheless, it is possible.
To completely turn off comments on Instagram:
Go to your specific post
Tap the three dots in the upper right corner
Select "turn off commenting"
So, if you'd like to completely turn off commenting on your whole Instagram account, you need to turn off comments for each post individually…or…you can do that with NapoleonCat.
How to hide all comments on Instagram
Using NapoleonCat, you can hide or delete any incoming comments on your organic Instagram posts – all done automatically.
It's a simple, 15-second job to set up the automatic reaction.
To hide any incoming Instagram comments, click on Auto-moderation in the menu on the left: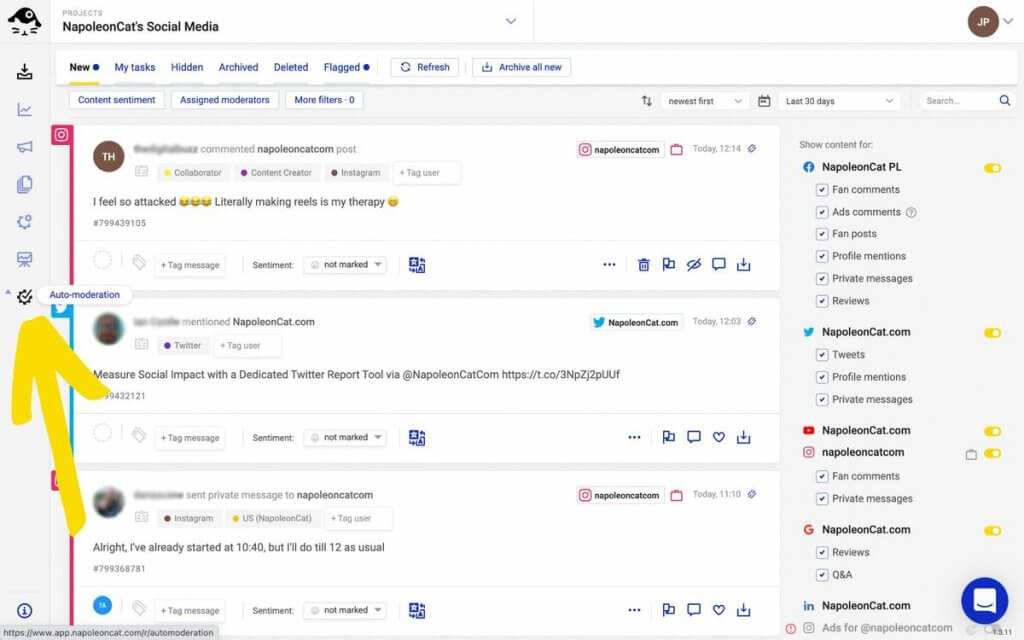 When you open Auto-moderation, click on Create new rule.
Name your rule, choose the Instagram account(s) for the rule to work on.
Select Organic comment as the trigger.
Choose Hide as the automatic reaction.
Schedule your rule to work 24/7.
Click on Save & run, and that's it!
The key here is to not include any keywords. This way, any incoming comments will be automatically hidden from your IG account.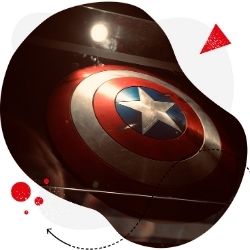 Protect your Instagram from SPAM
Automatically hide or delete comments containing spam under your organic posts and ads on IG – with an all-in-one social media tool.
Conclusion
That's it for today, folks! Now you know how to easily hide any comment on Instagram with one simple click.
Remember not to overuse features such as hiding and deleting comments on social media. As a brand, try to view constructive criticism as a great source of free feedback, appreciate it, and address it. As for trolls, spam, and hate speech – those you can keep out of your socials.
For managing your Instagram comments more effectively, we highly recommend you test NapoleonCat for free 😉
Until next time, take care!
For more Instagram tips, check out our other articles:
---