Instagram has gone through many transformations over the course of the last few years1. With the ever-evolving social media world, it is crucial for every worthy marketer to keep up with the pace.
In order to boost your company's Instagram presence, you need to analyze your content and find out what works best for your business.
Knowing how to interpret Instagram metrics in real time can help you find out what content performs best and adjust your marketing efforts while maximizing the undeniable potential of Instagram.
The social platform offers a free tool to analyze your photos and videos – Instagram Insights, and we're here to provide you all that you need to know about it, and more!
For your convenience, here's a table of contents: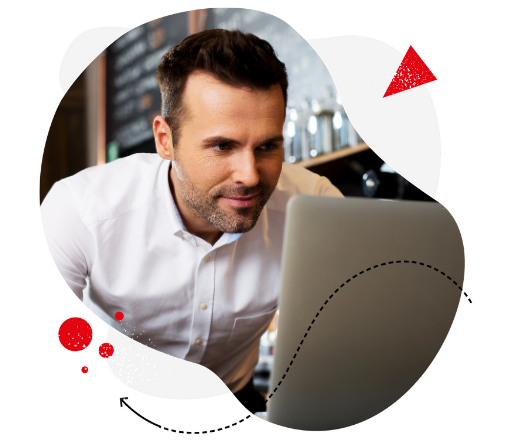 In-depth Post Insights for Instagram
Get detailed performance statistics for your Instagram accounts. Analyze your competitors, set up automatic reports, and more. Try it for free:
Try NapoleonCat free for 14 days. No credit card required.
How to get Instagram analytics (Insights)?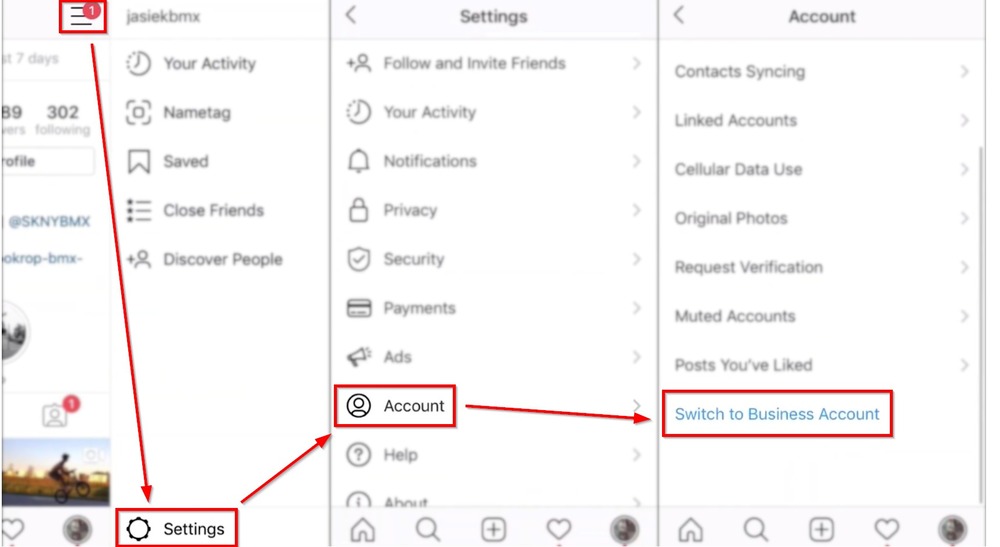 In order to access Instagram Insights, make sure your Instagram profile is set to public.
Switch your personal Instagram account to a business account – you will be asked to connect your account with a Facebook Page. If you don't own any, you'll need to set one up. Don't worry, you don't have to post anything there, all it needs to do is simply exist.
And if you need, here's a quick video on how to make the switch:
Step-by-Step Video Guide on Switching to an Instagram Business Account
Instagram Insights – Overview
Overview is the main tab within Instagram Insights. You'll be able to access the main metrics from the last 7 days or 30 days: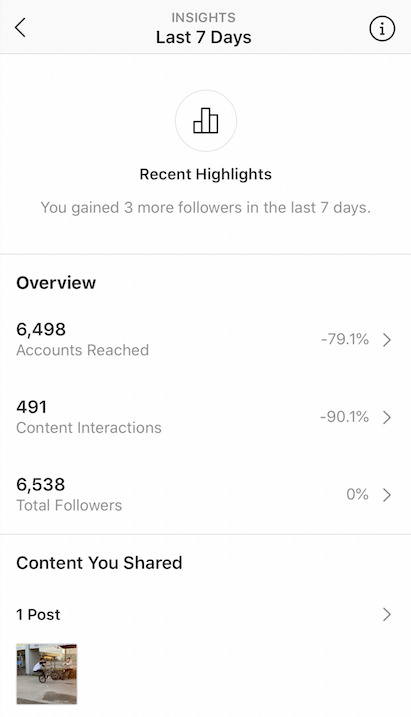 Accounts Reached (Reach tab)
Content Interactions (Interactions tab)
Total Followers (Audience tab)
If you click on any one of these 3 basic metrics, you'll be able to see some more detailed statistics that we'll cover below.
The Overview also includes "Content You Shared" where you can access statistics about your Posts, Stories, and IGTV videos.
The main Overview tab will also give you insights on any currently running ads. Using this information, you'll be able to assess your paid campaign results and check whether they lived up to their initial expectations.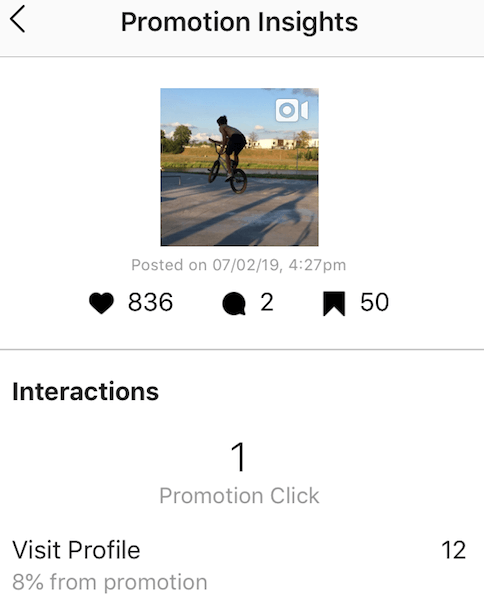 Instagram Insights – Reach
Instagram Insights is made out of 3 main sections – reach, interactions, and audience.
The reach tab is where you will find some basic information about your content's reach from the past 7 or 30 days. You'll see the number of impressions, profile visits, website taps, and call-to-action button taps.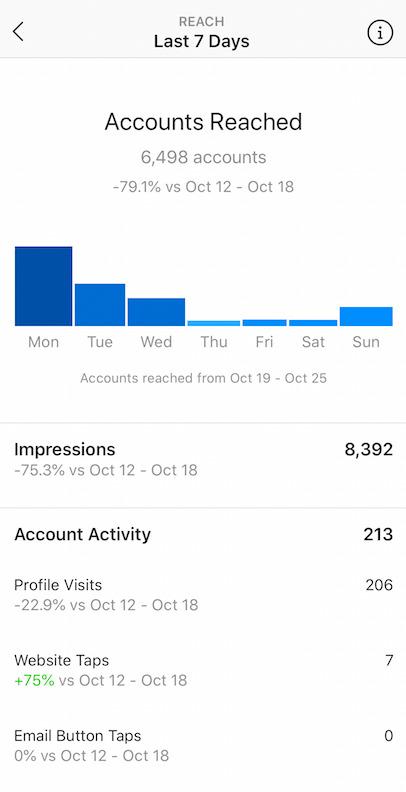 Reach vs. Impressions – what's the difference?
Reach is the total number of unique accounts who have seen your content.
Impressions is the total number of times your content was displayed. One person could count as multiple impressions for only one piece of content.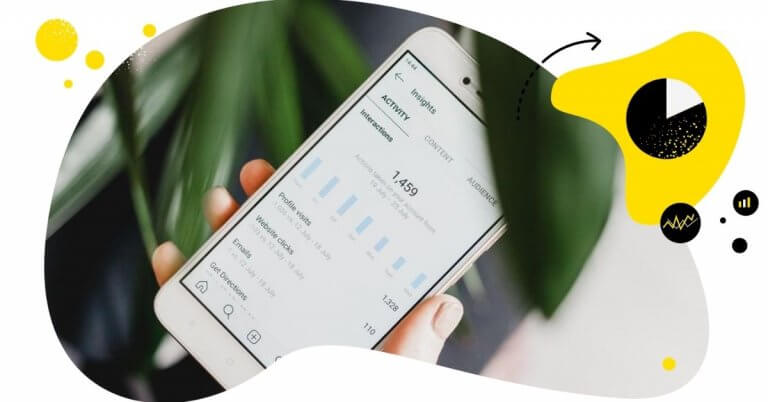 Track Instagram Follower Growth Over Time
Set a completely custom time range for your Instagram analytics in NapoleonCat. Track your own profiles and your competitors, too! Try it for free:
Try NapoleonCat free for 14 days. No credit card required.
Top Posts
From the level of the reach tab, you can also see your top posts and Stories. If you click on "See All", you'll find all of your posts from the last 2 years.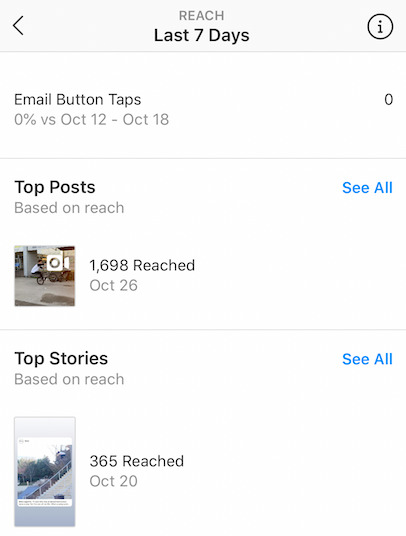 Top posts are shown by default, but you can filter the list by the type of content, audience activity, and time period.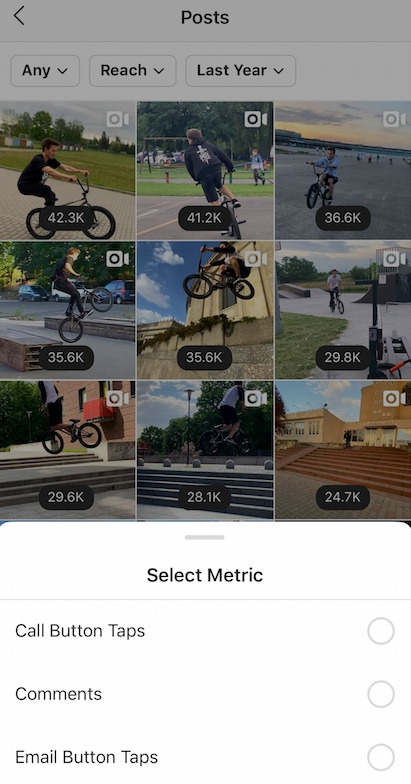 How to see post insights on Instagram
But of course, you can and you should dig deeper. By clicking on a post's thumbnail and on "view insights", you will access detailed statistics for every individual post.
You'll see the number of likes, comments, saves, and shares. You'll also see what call to action people have taken from seeing a specific Instagram post, e.g., profile visits or the number of website clicks.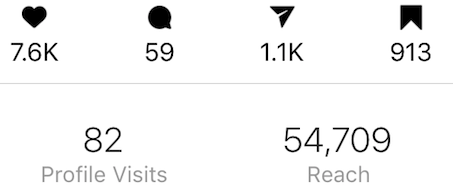 Below you'll also have the discovery section, which shows where your audience came from: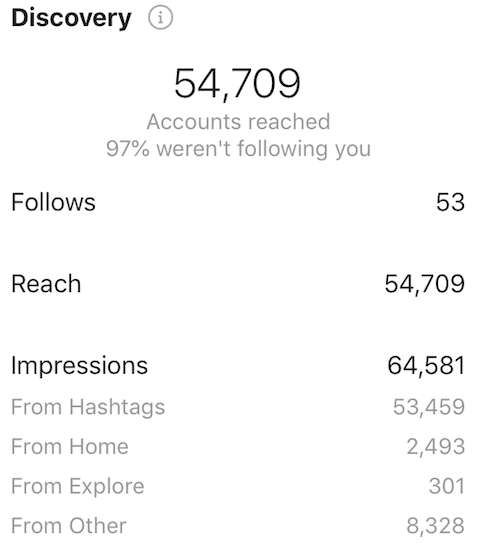 In the example above, more than 80% of the audience came from the hashtag browser. See our previous article on how to grow your organic reach on Instagram exponentially simply by choosing the right hashtags for your content.
Instagram Insights – Interactions
When you access the second tab, you'll see some very basic metrics from the last 7 or 30 days: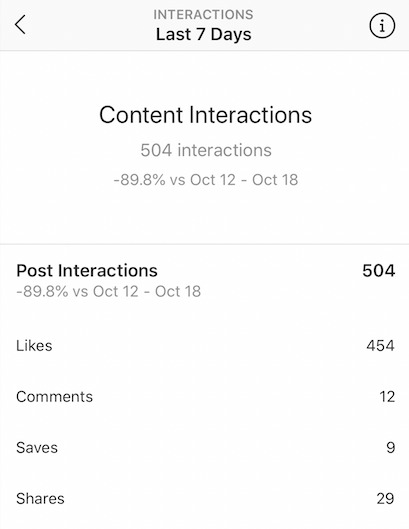 Post Interactions
Likes
Comments
Saves
Shares
Story Interactions
IGTV Video Interactions
Below these metrics, you'll also be able to access Top Posts, Top Stories, and Top IGTV videos (same as inside the Reach tab)
Instagram Insights – Audience
The audience tab pertains to user demographic data on your account. Remember that this section only analyzes your own followers.
You can analyze other public accounts with NapoleonCat, but we'll talk about that later on in the article.
Using Instagram Insights, you can check your Instagram follower growth, i.e., how many users followed and unfollowed you on a specific day.
If you'd like to check how many followers you had on a given day, that's also something you can do in NapoleonCat.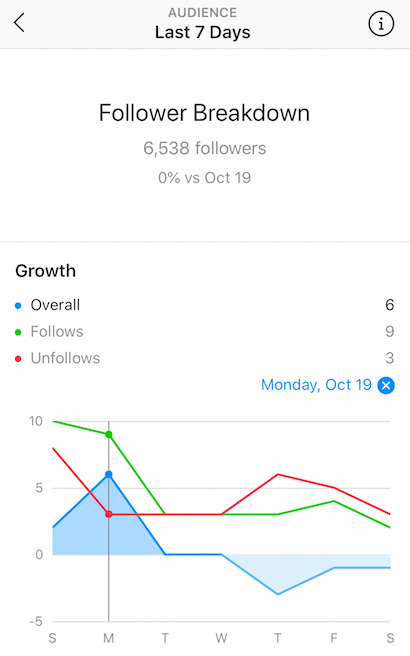 You can also see where they come from – it's broken down into 5 most popular cities and countries.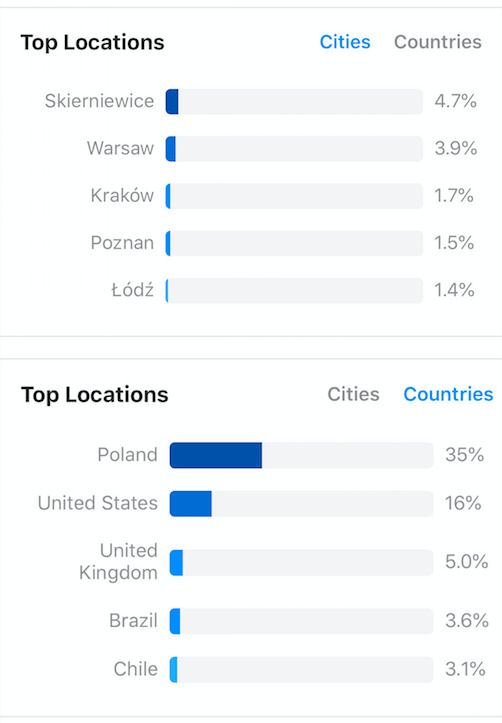 You can also analyze your followers by the age range and their gender: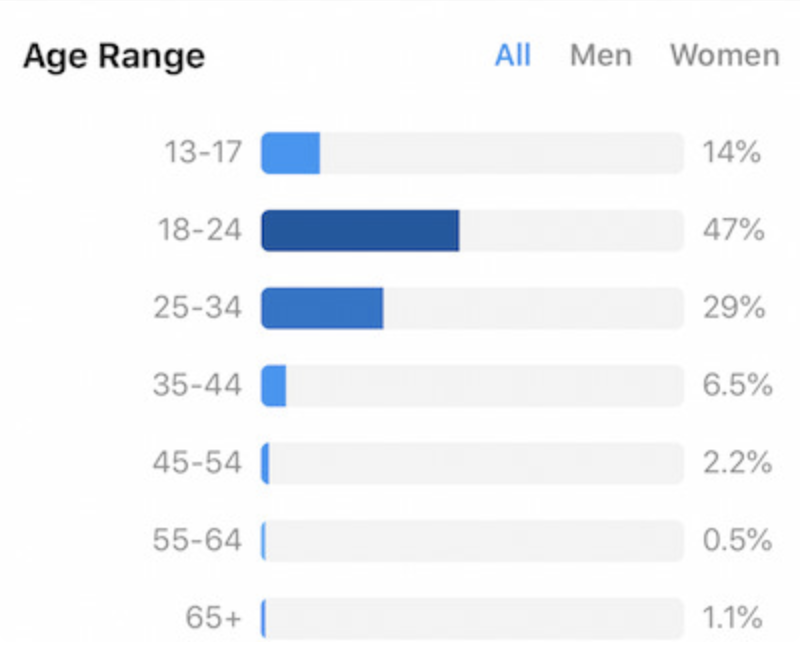 Another important chart shows when your followers are most active on Instagram – this is very important when you wish to find the best time to post your Instagram content.
The average post longevity on Instagram is around 48 hours.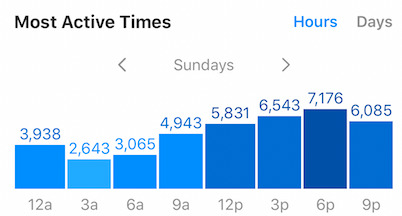 Is Instagram Insights good enough for your business?
Instagram Insights is a free Instagram analytics app, it's good for starters. However, one might argue that it lacks in-depth metrics and historical data. Let's list some of Instagram Insights' pros and cons:
Pros:
Free
Easy access
Good for beginners
Let's you track the results of your everyday activities
Cons:
Most of the data is limited to only 7 or 30 days back
Lack of in-depth information
Demographics are limited to only 5 countries
Hard to establish a broader view of your metrics
Can't analyze other profiles, only your own
Analysis has to be performed manually
Can't analyze other social platforms
How do you make up for these lacks? The solution can be found below!
NapoleonCat's Instagram Analytics
While Instagram Insights is a free tool, you can always expand your analytical skills by using different, more advanced Instagram analytics tools for business.
NapoleonCat's Analytics module offers detailed analytics, and comes in really handy if you have to:
Access historical data (up to 2 years back)
Check worldwide demographics for every country
Analyze your competitors on Instagram
Analyze statistics for multiple Instagram accounts side by side
Access more in-depth analytics
Generate or schedule automatic reports within seconds, both for your own profiles and competitors, too.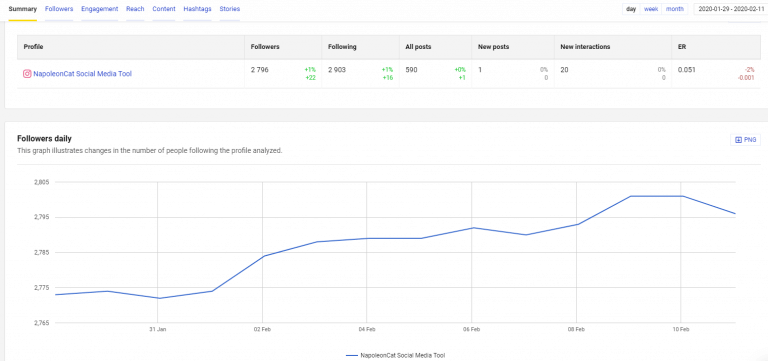 NapoleonCat lets you track your progress across multiple social networks: Instagram, Facebook, Twitter, LinkedIn, and YouTube. Having all of those platforms in one place will save you a lot of time and effort as you won't need to switch between platforms to check your stats.
For Instagram, you will not only be able to access analytics for your own accounts, but also for any other public Instagram Business profile.
Moreover, you'll be able to create data sets and compare stats for multiple accounts side by side:

Another handy function is the automated reporting that'll keep you as well as your team, business partners, clients, and stakeholders updated about all your key metrics.
You can set a custom time frame for your report or you can also schedule weekly, monthly, or quarterly reports. These reports will then be automatically generated and sent out via email.
And of course, you can generate Instagram reports for your competitors' profiles as well! Here's a sample:
So, NapoleonCat gives you all the functions of Instagram Insights, and more.
Measuring your social media reach and engagement, identifying top posts and the best times to post, learning about your audience demographics, and analyzing your competitors – all of this is found in one intuitive dashboard.
One of the biggest shortcomings of Instagram's built-in analytics tool is the inability to compare yourself with your competitors.
This might be especially frustrating when they're far ahead and you just can't figure out what they do better in terms of social media marketing.
NapoleonCat's competitive Instagram analytics enable you to easily peep your competitors' strategies so it's much easier to catch up and outrun others.
NapoleonCat also includes Instagram hashtag analytics. You can check which hashtags generated the highest engagement rates under your posts. Moreover, you can perform a quick hashtag analysis for multiple competitors' accounts at once.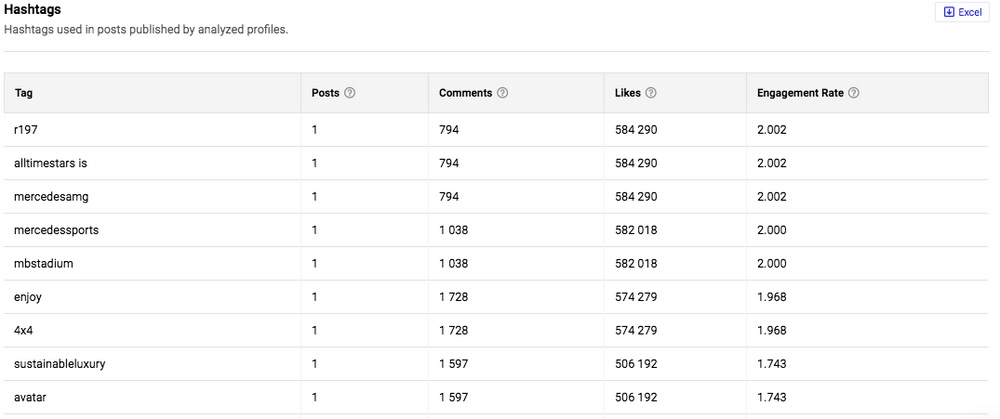 Conclusion
Whether you're a seasoned pro or you're just starting your Instagram marketing adventure, it's mandatory to know all these metrics. While Instagram Insights is a free tool, you can always expand your analytical skills by using different social media software.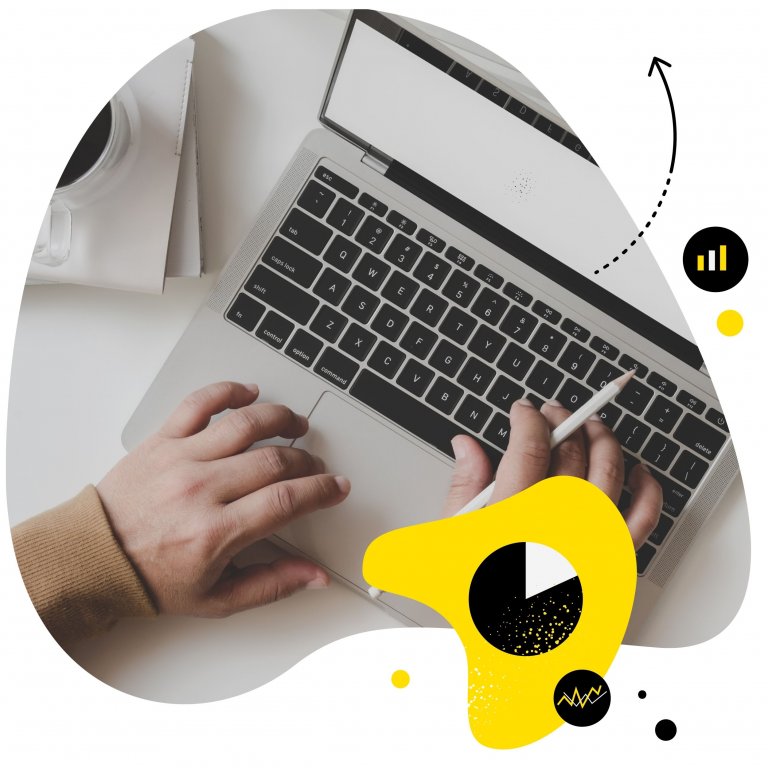 In-depth Instagram analytics
Measure your Instagram marketing results. Track competitors and improve performance using one simple tool. Try it for free:
Try NapoleonCat free for 14 days. No credit card required.
For more Instagram knowledge, check out our other articles:
You may also like:
---