"Social media doesn't work." "Facebook doesn't sell." Or, maybe even worse, "Let's just copy what our competition's doing and get on with it." Ever heard that from your CEO? Or maybe your client?
The problem often lies in failing to analyze social media results, including your competitors'. So let me show you how to do some industry benchmarking on social media and compare your effectiveness to what others in the space are doing.
And yes, we do have a ready-to-use competitor benchmarking tool. But let's start with a little intro first 😉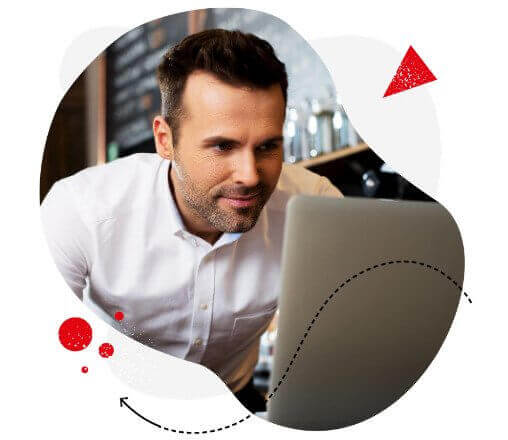 Best competitor benchmarking tool for social media
Use NapoleonCat to analyze your competitors on Facebook, Instagram, Twitter, and YouTube. Get new content ideas, find out what performs best in your niche, and when to post. Try it for free:
Try NapoleonCat free for 14 days. No credit card required.
Are your competitors on social?
(This is a rhetorical question.)
If your customers are on social media, your competitors most likely are, too, doing mostly the same – trying to promote their brand, get new customers, and sell more products within your target market.
But why should you be interested in monitoring and analyzing what they're doing?
No, not to copy them. Not to "borrow" stuff to adapt for your content. Not to "do what they're doing." But to know the industry standards and find ways to outperform them.
And that can be done with…
Social media benchmarking tools (explained)
In a nutshell, social media benchmarking tools are about finding the baseline for social media results in your industry across channels, knowing how you compare, and clearly defining the actions you need to take to reach them and get ahead. So you can improve and stand out from your competition.
And what I mean by "standards" are not just follower counts and post likes. (By the way, here are some examples of the so-called vanity metrics – ones that might make CEOs and clients happy and proud but don't necessarily move the needle for the business.)
There are other things to look at more in-depth, like:
Reach – how many people see your competitors' content on a daily basis?
Engagement rates – how and how often do people engage with the brand's content?
Top-performing content – what types of posts and what topics engage your competitors' audiences the most?
Best times to post – what times of day and week do people engage the most with the brand's content?
And so on. These can all be important clues for your social media strategy. And you might not be able to track all metrics like traffic to a competitor's website from their social media posts. But there is still a bunch of super helpful data you can get to know what to aim for.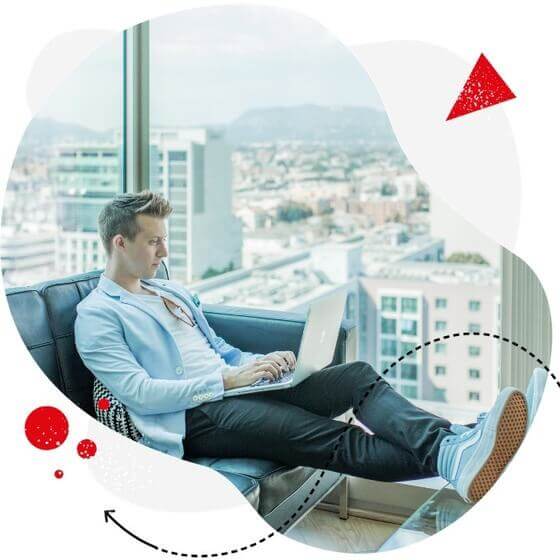 Social Media Benchmarking Tool
Track your competitors on social media. Compare multiple accounts side by side and generate in-depth reports within seconds. Try NapoleonCat for free:
Try NapoleonCat free for 14 days. No credit card required.
Why you should use a competitor benchmarking tool?
I partly already explained it, but let's take a quick look at why you should be doing this for your business or your clients:
To inform your social media strategy and your content strategy overall. You could base your content calendar on a hunch – but that's not something I would recommend. OR you could get all the data you can get about your target audience and what works for them, including the competitive landscape and time windows they're most active on other brands' profiles. These will be clear indicators of what to do (and what NOT to do) to benefit your business.
To know where you position yourself in the market – and how to stand out. Your customers really don't need "just another product or service" that's just like a dozen others. To get successful, you need to know how to set yourself apart. This includes things like specifying a clear market segment (or segments) but also how to talk to them that's unique to your brand (and not just a copy of what someone else is doing.)
To set goals for your social media communication. And I know from personal experience there are many brands out there that don't have any specific goals for social media marketing defined in their strategies (because they don't have strategies at all. Shocker, I know.) For your social media comms to be successful, you need clear goals and specific ways to achieve and measure them.
To define KPIs (key performance indicators) and monitor them regularly. A.k.a., the specific ways to achieve your goals I talked about in the previous point. This is how you'll know you've achieved them and what will help you see how you're doing and evaluate your social media performance.
To boost your engagement rates and – most importantly – build better connections with your audience. Because any time you put extra thought into your marketing strategy, you increase your chances of improvement – and success. However trivial it may sound when you read it.
So, how do you do social media benchmarking?
Here are a few steps to follow when conducting a social media benchmarking study.
Define your social media goals
What do you want your social media presence to achieve for your brand? More sales, more traffic to your website, more people talking about your brand? At this point, you can be pretty general – you'll get into specifics in the following steps.
Turn them into KPIs
There you go. Your key performance indicators are how you're going to know you've achieved your goal. Want more people talking about your brand? Focus on things like reach and engagement rates.
Want more clicks through to your website? Nail down conversion rates. (Fun fact, you can have high engagement on your social media profile in the form of likes or even comments, and still have low click-through rates for your website – so take your time nailing these down in your strategy.)
Other metrics can include traffic to your website, follower growth over time, impressions and views, etc.
Now to get the exact numbers that will be your targets (at least ones that are not just taken out of the blue – or your boss's head), you'll need to do a competitive analysis, a.k.a. the competitive benchmarking we're talking about. But before that, let me just quickly touch on one other point.
Choose the platforms to be present on
Find out where your customers are in the first place. It kinda goes without saying that putting any effort (including your budget) into a platform that doesn't make sense for your industry is a waste.
The good news is a competitive analysis will also help you determine which ones do make sense based on the results your competitors are getting (if they're talking to a similar target audience, obviously.)
With NapoleonCat, you can easily find out which social media platforms your competitors use the most: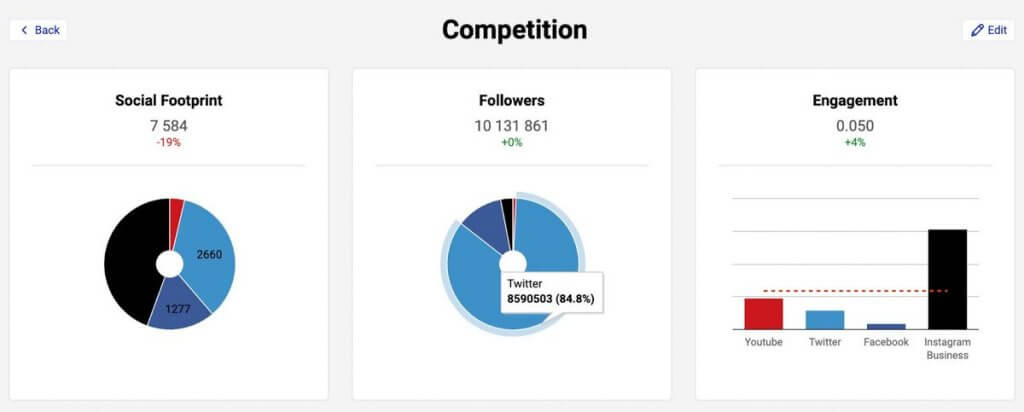 Monitor what your competitors are doing on these platforms
This is where you'll get your knowledge about what works, what results are standard in your industry on individual social networks, what content works with your target audience and what doesn't, etc. So you can get the exact numbers to assign to your KPIs (e.g., growing your Instagram followers by 10k in Q2.)
Of course, what you initially plan as your KPIs should not only be based on industry standards but also things like your specific audience segment, the budget, the resources, and the ROI you're expecting to get.
But that's why it's called competitive benchmarking – to get a reference point and not fixed guidelines to follow.
Analyze your performance and adjust your social media strategy
That's when you compare your performance to your benchmarks and look for opportunities to improve. Do it regularly because what's working now might no longer be enough in six months. Social media trends change, and so does customer behavior. And these days, they change pretty often.
So study the results of your social media activity and create actionable insights that'll help you get better results in the future. And then revise them in, say, three months, to see if they still make sense.
Get a social media benchmarking tool to make the process easier
Here's how you can use NapoleonCat for competitive analysis and social media benchmarking.
You can benchmark against competitors on Facebook, Instagram, Twitter, and YouTube using straightforward dashboards and automated reports. You can track results on:
Facebook Pages
Instagram business profiles
Twitter profiles
YouTube channels
Get all key metrics in one view for each social media platform. These include (but are not limited to):
reach
impressions
engagement
daily interactions
engagement on different post types
post engagement by day and hour
top 10 most engaging content
video plays including detailed information on the length
used hashtags
most active users
and more.
You can create groups of profiles from different social media platforms to see aggregated statistics for them. This way, you can ​​compare performance for various brands across social media channels and get a broader picture of your competitors or benchmark industry performers.

Plus, you can directly see how you stack up against your competitors and compare specific metrics.
Export the data to a PDF report. To help with the "regular" part of the monitoring, you can schedule automated reports that will be sent right to your inbox (and to your CEO, client, and whoever else needs to see them.)
You can create reports for Facebook, Instagram, and Twitter. Also, for Facebook, you can create a single report for up to 8 profiles: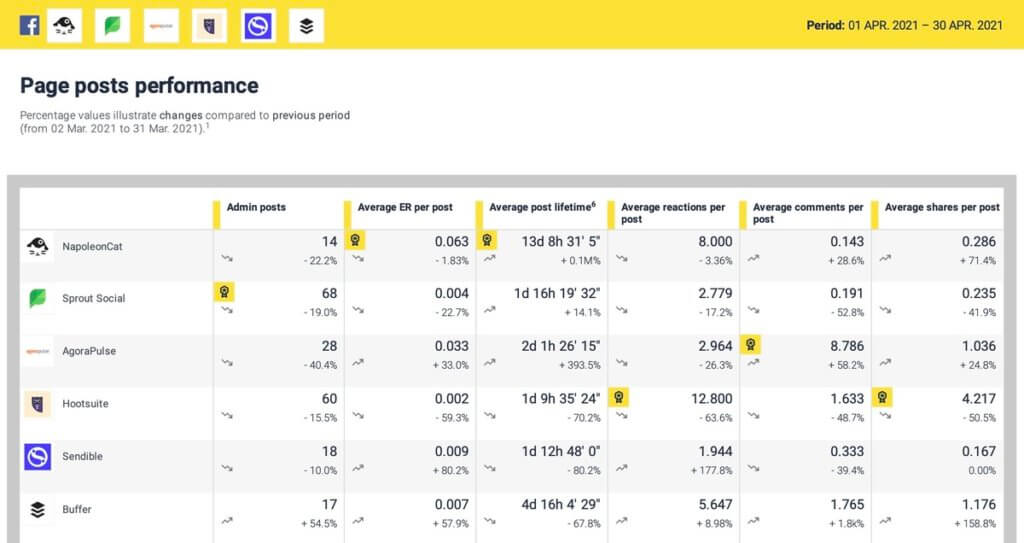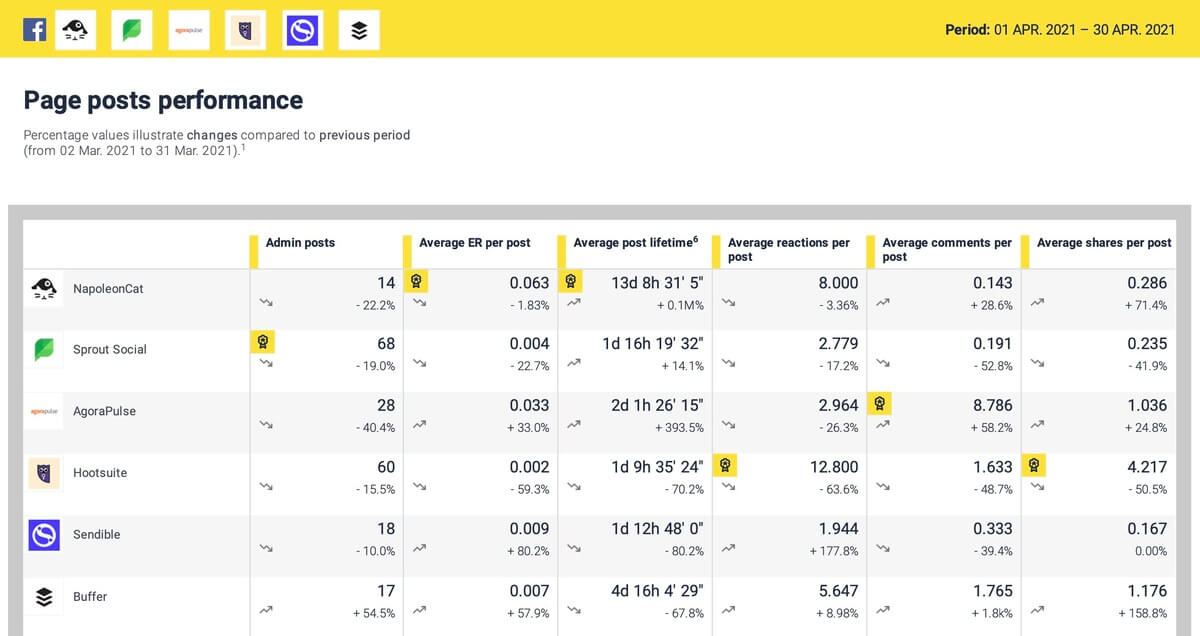 You can track any competitor (as long as they have a public profile on one of the social platforms I mentioned earlier), and the number of profiles you can follow will depend on your pricing plan.
Take a look at this video to see our social media benchmarking tool in action:
And if you sign up for the 14-day free trial, you can test it on your actual profiles and your competitors'.

(Pssst. Another great thing about NapoleonCat's competitor benchmarking tool is that, apart from the analytics, and unlike many other competitor benchmarking tools, it includes social media management features like the Social Inbox, automatic content moderation, and social media publishing. So instead of several tools, you can end up with just one subscription. Talk about ROI.)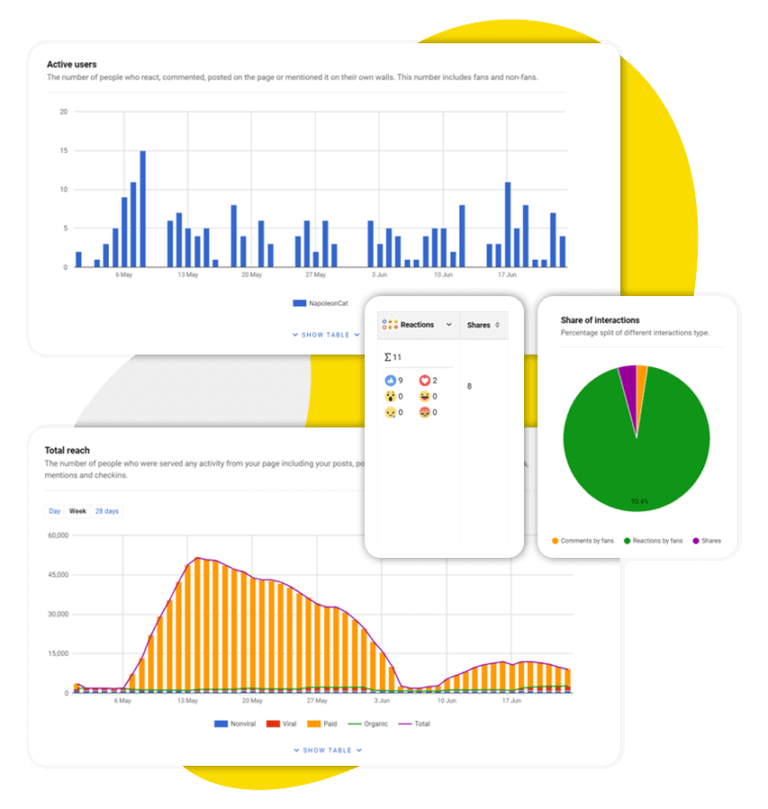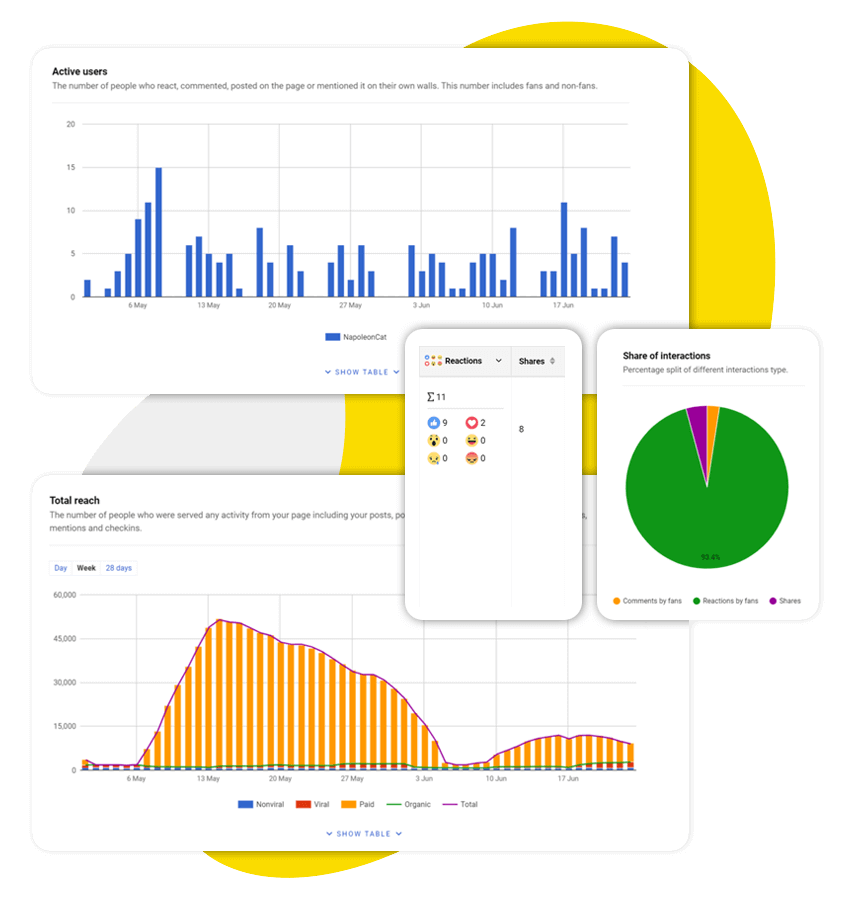 Competitor Benchmarking Tool
Track your competitors' social media activity across Facebook, Twitter, Instagram, and YouTube. Compare multiple accounts side by side and refine your own marketing strategy. Try NapoleonCat for free:
Try NapoleonCat free for 14 days. No credit card required.
So, how's your competitive benchmarking?
Looking at your competitors should be one of your regular activities (and not just on social media, btw.) Especially since social media changes so often and so much.
What do you get? Better social media content, more engaged communities, and a clear path to building a competitive advantage and improving the results from your social media marketing.
So instead of yet again hoping to "go viral" with one of your posts, get some reliable data – and a social media analytics tool that will make collecting and comparing it much easier – try our free 2-week trial and see for yourself 😉
You may also like: