Growing your business on the biggest B2B social platform may be a bumpy road unless you learn how to use its features correctly. In this article, you'll find a lot of useful information about how you can utilize LinkedIn Analytics to boost your results within the network.
Use our guide to find out how LinkedIn Analytics can help you:
Log in to your LinkedIn account, and let's get started!
Analyze your individual profile
It's a good idea to start learning how to analyze LinkedIn data on the example of your own profile. To do that, enter your profile's dashboard, where you will find your basic metrics that come with the free LinkedIn Analytics.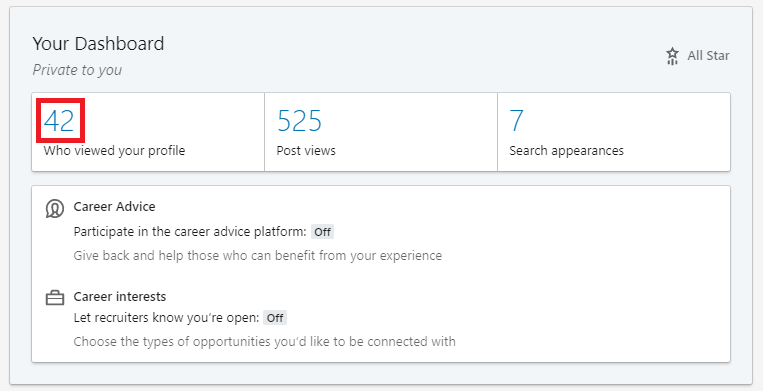 You'll see a chart of your profile's views and some information about the viewers themselves. If you have a free LinkedIn account, most of the specific users that have viewed your profile will be blurred, so if you're interested in seeing the full picture here, you need to become a LinkedIn Premium user.
As an individual user, you can also keep track of the basic LinkedIn metrics of your updates. Use the "Post views' section to see your updates' performance.
Another useful feature of individual profile analytics allows you to learn more about the categories of users who visited your profile using the LinkedIn search bar. Again, most of this data is only accessible to Premium users. There is, however, one interesting chart you can see there even if you're using the free version of the platform: the 'What your searchers do' chart, where you can see your profile viewers' positions.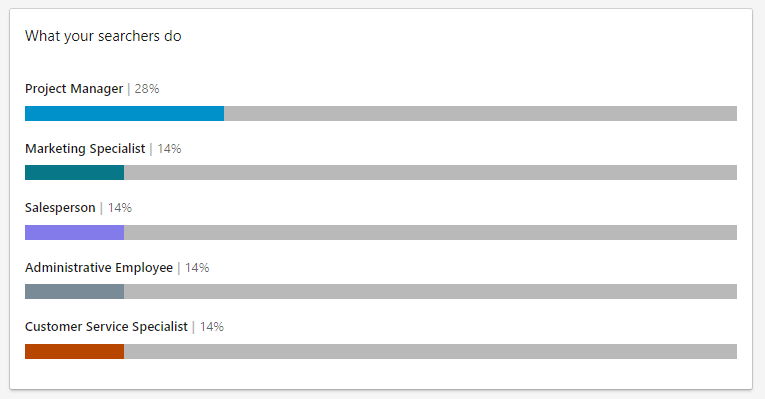 This is just the peak of an iceberg, to be honest. The real magic, as usual, happens when you enter the business side of the platform. If you don't own a LinkedIn company page yet, quickly set one up and start collecting precious data to grow your business.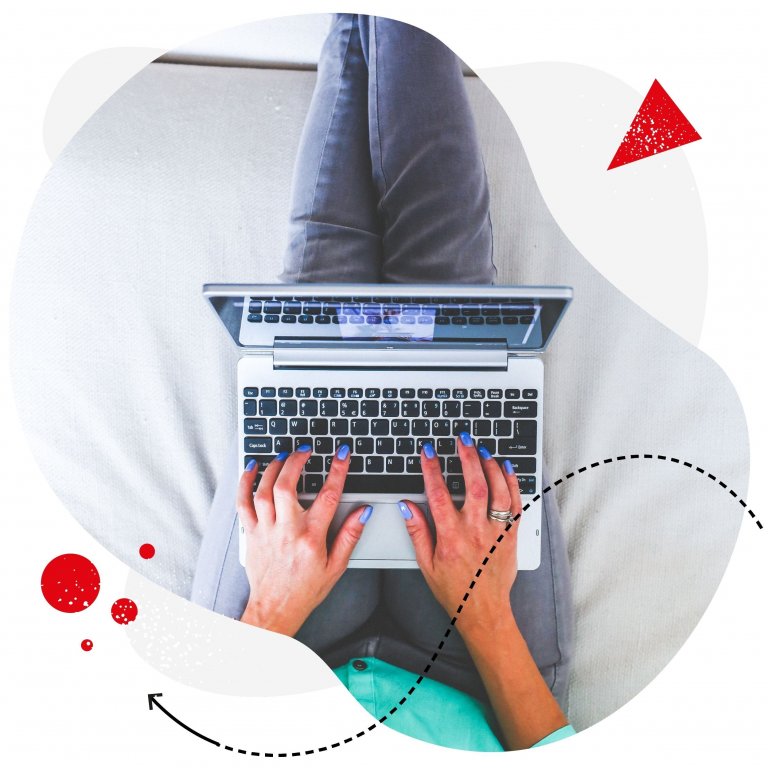 Schedule LinkedIn Posts
Craft & schedule posts to your LinkedIn Page with NapoleonCat. Save time and boost your results. Try it now:
Try NapoleonCat free for 14 days. No credit card required.
LinkedIn Analytics dashboard
Much as in the case of every other social network, LinkedIn has a built-in analytics platform that provides you with detailed insights on your visitors, followers, and the social performance of your LinkedIn strategy. If you're a company page administrator, there's a whole world of data waiting there for you to analyze. And although the scope isn't quite as wide as, for example, Facebook Insights, there's still quite a lot that you can learn from it. Keep in mind that understanding the LinkedIn metrics described below is a vital step to start making the most of your LinkedIn presence.
To see the overview of your results, simply enter your LinkedIn company page and look at the left sidebar, where a handful of basic information is displayed by default. In the Analytics box, you'll see the number of your page's unique visitors, post impressions, followers, and custom button clicks (if you are using this option) from the last 30 days.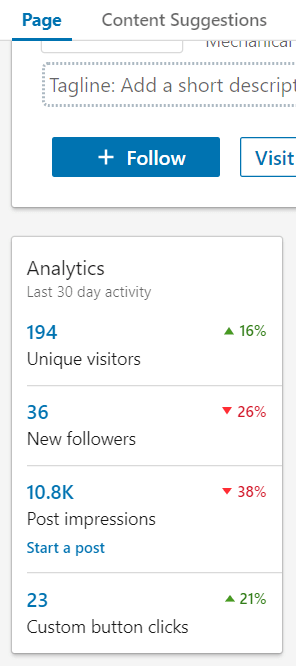 To get an in-depth view of any of these, simply click the metric you're interested in and you'll jump straight into your analytics dashboard. Don't let the charts scare you – they are there to help you understand your audience and make you and your company more influential within the LinkedIn ecosystem.
Another way to access your LinkedIn Analytics is simply selecting the feature from the top bar of your company page. The dropdown menu includes three options: Visitors, Updates, and Followers. Again, this is only possible if you're the page's admin.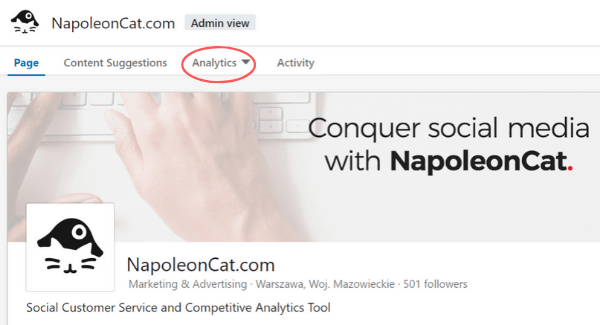 Now that you know where to find the good stuff, let's dive into the details.
Understand your visitors
When you select the first option from the Analytics dropdown menu, you get redirected to a page that holds a lot of valuable information about the professionals who visit your page.
You will immediately notice a line chart (Visitor metrics) in the Visitor Highlights section which sums up the volume of page visits over the selected time range. By default, it tells you what devices your audience uses to visit your page. If you enable the 'Aggregate desktop and mobile traffic' option, the two lines will join and show you the overall unique visitors' dynamics over time.
You can also switch between page views and unique visitors as well as narrow the data down by specific pages (Company Page/Overview, About, Insights, People). The latter will give you a good understanding of why people visit your page. Users interested in B2B opportunities might browse your employees in the People section, those looking for career opportunities might search for basic information about your company in the Overview section, and so on.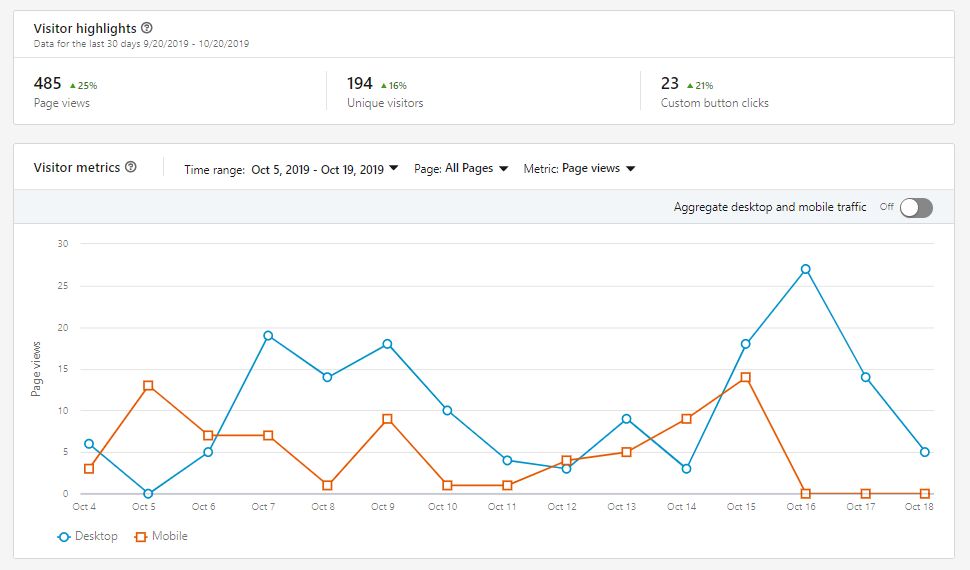 When you scroll down a little, you'll see a second chart which is in fact much more useful: Visitor Demographics. This feature provides you with more detailed information about your audience: their job functions, location, seniority level, industry, and company size. You can set custom dates you want to view data from and sort the data by metric.
How do you use this information? First off, you can check the job functions the majority of your visitors hold. This will help you verify whether your content reaches the people in the right positions.
Next, you can switch over to the locations metric and check where the people who visit your page come from. If you run a local business, you'd probably be surprised if you saw that most of them come from places you don't even ship to. If this occurs, consider narrowing down your content's reach when publishing it.

Let's move on to the seniority chart. Analyzing the seniority level of your page visitors you'll be able to understand whether the people you reach are decision-makers within their organizations.
With following category, industry, you can gain insights on whether your content reaches professionals from industries related to yours or to your target market. If you find that your content resonates particularly well with users from an industry you didn't plan to reach, you might want to consider redefining your target group or adjusting your communications.
Last, but not least there is the company size chart which gives you an overview of what type of companies your visitors work at – small-medium businesses or large enterprises. This provides you with additional context on whether you're reaching the appropriate LinkedIn users with your updates.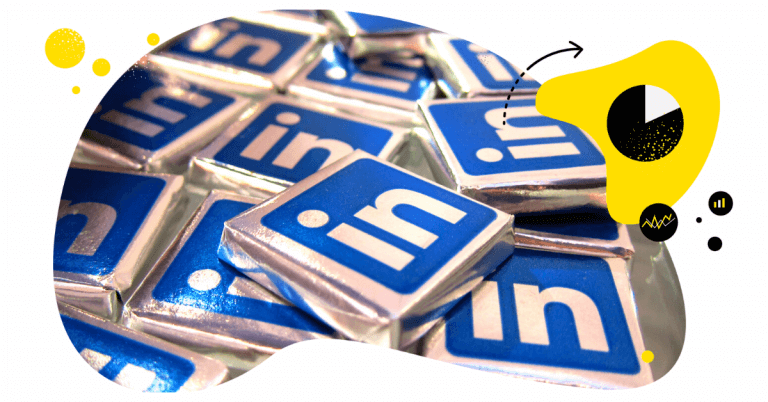 Analyze your LinkedIn Page with NapoleonCat
Measure your social media marketing efforts on LinkedIn. Track your results and improve your strategy. Try it for free:
Try NapoleonCat free for 14 days. No credit card required.
Measure the performance of company updates
Let's jump to the second tab of the LinkedIn Analytics dashboard. Much like the other ones, Update Analytics was designed specifically to empower you to develop a successful LinkedIn presence with detailed insights. There's a lot of data you can pull from this section, so make sure that you check it frequently.
At the top of this section, you can find the update highlights that contain the total number of reactions, comments, and shares that your posts have gained in the last 30 days. Below, LinkedIn shows your updates metrics split between organic and sponsored content. You can combine them by clicking the 'Aggregate organic and sponsored' box.
Similar to visitor analytics, this section can be sorted by metric: impressions, unique impressions, clicks, reactions, comments, shares, and engagement rate.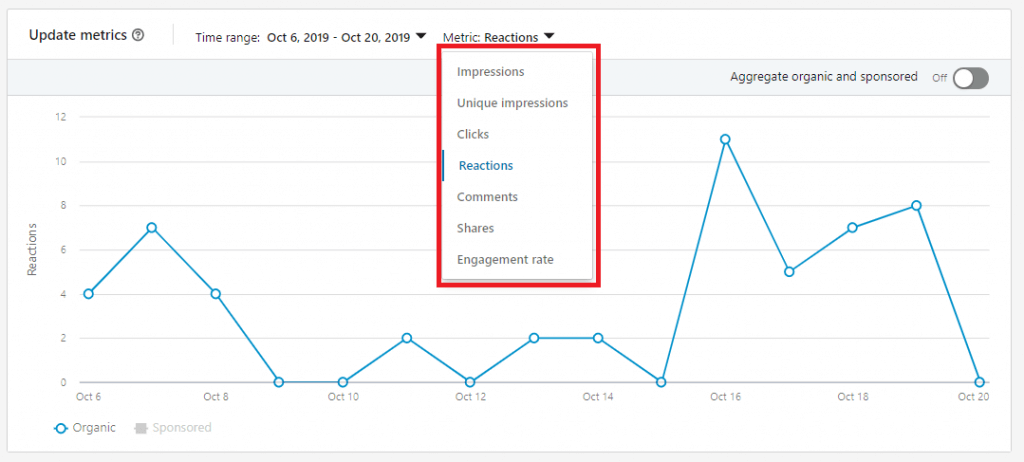 The default view is set to display your post impressions. By impressions, LinkedIn means views when an update is at least 50% on screen for at least 300 ms, or when it is clicked – whichever comes first. To rule out people who viewed your updates number of times, you can switch over to unique impressions.
Clicks, reactions, and comments are pretty straightforward metrics to 'crack'. LinkedIn's engagement rate, however, is a bit more complicated, so we'll focus on it for a moment. How is it measured? According to LinkedIn's official statement, the engagement rate is a combination of all the above metrics. The math behind it is as follows: (Clicks + Likes + Comments + Shares + Follows) / Impressions.
Besides displaying a chart for each of these metrics separately, LinkedIn gives you an option to check the statistics of individual posts at the bottom of the Analytics dashboard. On top of the metrics mentioned in previous paragraphs, this list has something more to offer. Each post displayed in the table is marked with its publisher's name, publication date, and status (all followers, targeted, or sponsored). This section also provides you with information about video views, if you use this engaging content format. But the most important metric here is the CTR (Click Through Rate), which tells you how many clicks per impression each of your posts got. This section is updated in real-time.

Gain valuable follower insights
The last of the three tabs in the LinkedIn Analytics tool is the followers tab. Much like the Visitors tab, it is all about demographics.
At the very top, in the highlights section, you'll see the total number of your followers as well as the follower gain – or loss – over the last 30 days. Once you scroll down, you'll find a detailed chart that closely resembles the Visitors chart.
At the bottom of the page, you can find an interesting feature unique to this section: the 'Companies to track' box. It includes a mix of businesses similar to yours (competitors, potentially) and companies that could become potential B2B partners. Make sure you check in on this information regularly for an up-to-date idea of your market.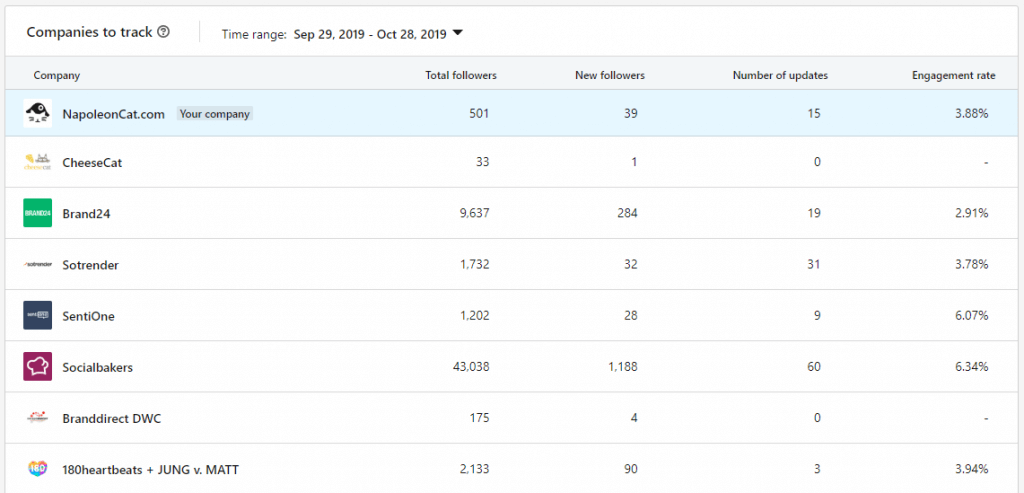 Next steps
Once you master using the LinkedIn Analytics dashboard, you can move forward to learning about some more advanced features of this social media platform, as the Campaign Manager. Using your newfound skills, you'll be able to plan measurable campaigns and set yourself up for a stronger ROI. Good luck!
You may also like: