Puzzled by the inconsistent engagement on your LinkedIn posts? If you wish you could find a breakthrough formula that will finally let your content get the kind of engagement you see others get on the platform, here's a quick look at what might be the best times to post on LinkedIn.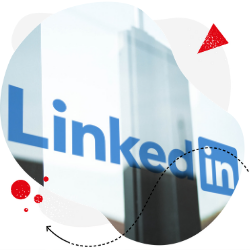 Schedule unlimited number of LinkedIn posts
Schedule posts on LinkedIn, work on your content strategy with your team, and save tons of time.
Is there a best time to post on LinkedIn?
First of all, timing is NOT everything. But it's also not as inconsequential as some might think.
I found out about it first-hand recently, so here's a little #storytime.
Disclaimer – I'm not a consistent LinkedIn poster myself, though I absolutely know the importance of regular posting. It's the only way to "hack" the algorithm. I still usually get decent engagement posting less frequently than I probably should, but nothing fancy.
Until I recently posted a piece that got this:

And as I write it, it's still getting engagement, even two weeks in, as people keep liking and commenting, and people in their networks keep then seeing it. (Oh, the magic of LinkedIn's algo.✨)
And the funny thing is, I'd already published the image the post contained before on LinkedIn. So it wasn't exactly new content.
My guess is I just hit the spot with the timing, publishing it on a Monday morning. A few people picked it up – possibly over their morning coffee – and then the LinkedIn algorithm did its thing.
Now, different sources don't really cite Monday mornings as the best time to post on LinkedIn, but morning hours (8-10 AM) in general do tend to come up a lot, even if on other days. Take a look at Influencer Marketing Hub's summary of data, for example – I'll be using some of the numbers they crunched in this article, by the way.
And when you think about it, it makes total sense. People often go on LinkedIn before they start work, maybe while having their morning coffee and looking at what's up online, mentally preparing for their workday.
So me posting that thing on a Monday around 10 AM was probably what did the trick.
Then there's another slot around 12 PM and a little later, which probably is around lunchtime. And then a third slot, between 5-6 PM, which is after people finish work.
Okay, but let's get a little bit more specific when it comes to finding the best times to post.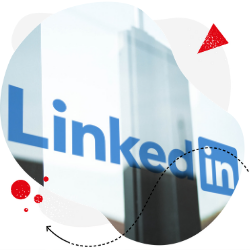 Manage multiple LinkedIn accounts from one place
Manage all your LinkedIn comments from one view. Schedule unlimited LinkedIn posts and get in-depth analytics to improve your strategy. Try NapoleonCat for free:
Overall best time to post on LinkedIn
According to Influencer Marketing Hub's analysis of several studies, the best days of the week to post are Tuesdays, Wednesdays, and Thursdays.

Out of all the days and times, Wednesdays at 12 PM seem to be a clear winner, targeted by multiple studies.

Tuesdays and Wednesdays from 8 AM to 10 AM follow with high engagement. These are probably all these people prepping for the day ahead over their coffees.

Then we have Thursdays at 9 AM, with people possibly ready to wind down towards the end of the week.
The days and times will obviously also depend on things like your industry and target audience or even the device they use to go on LinkedIn. Below is what the Influencer Marketing Hub recommends:
Software and media: Weekday mornings or outside of traditional work hours.
Higher education and healthcare: Weekdays from 10 PM to 2 PM.
B2B businesses: Generally, you should check your own LinkedIn analytics (more on that in a second), but typically early weekday mornings, around lunchtime, and during commuting times (when people are mostly on their phones).
B2C businesses: Weekdays during lunchtime or outside of traditional business hours.
Now let's look at individual days.
Best time to post on LinkedIn on Monday
Mondays are not among the most popular days to post, with many studies showing they get lower engagement. But as my example shows, they absolutely can turn out to be the best time to post. Maybe it's the fact people delay starting work on Mondays by hanging out on LinkedIn? (Not that I would know anything about that.)
So, though studies don't really consider the best times to post on a Monday, you could try posting in the morning, before the day gets so busy that nobody has time for LinkedIn (unless until the evening anyway.)
Best time to post on LinkedIn on Tuesday
As mentioned before, many studies show Tuesday mornings – 8-10 AM as good times to post. The days around the middle of the week generally tend to get higher engagement, so you can experiment with your timings.
Best time to post on LinkedIn on Wednesday
It looks like you can't really go wrong with Wednesdays, but you can try one of the most popular times:
12 PM
8 AM – 10 AM
Some sources also note high engagement at much later times, including 6 – 9 PM and 3 – 6 PM. These are most likely the people who prefer checking LinkedIn towards the end of their workday and also much later at home.
Best time to post on LinkedIn on Thursday
Try posting around 9 AM on Thursdays – this is when you're most likely to get good results, according to research.
Best time to post on LinkedIn on Friday
As the days when people are already winding down for the weekend, Fridays are also days when it's worth posting on LinkedIn. 9 AM is a good time to do that, according to research.
Best time to post on LinkedIn on Saturday
Weekends are tricky for LinkedIn, because – on the one hand – it's a strictly work-related social media platform where people have their professional network, and most LinkedIn users will probably want to stay away from work on the weekend. (Or will they?)
On the other hand, it's also when people like entrepreneurs or freelancers tend to get active (and might still work.) And it's also when people have time to spend on a social media platform, precisely because they're NOT working.
According to research, though, like this one from CoSchedule, Saturdays are among the worst days to post on LinkedIn. But if you want to try if that's the case for you, the best times to post on a Saturday are 1 PM and 10 AM.
Best time to post on LinkedIn on Sunday
According to the same source, Sunday is THE worst day to post on LinkedIn. That doesn't mean, of course, that's necessarily the case for you. The best times to post on a Sunday and see for yourself is Sunday morning: 10 AM and 8 AM. Possibly when people scroll through their phones before getting out of bed. 😉
How to find your best time to post on LinkedIn
Now, it's best if you treat the times above as pointers – and keep testing and looking for the times that work best for you and your audience.
To do that, keep posting at different times and check your LinkedIn analytics tools. If you use LinkedIn management tools for business like NapoleonCat to do that, you'll be able to see top-performing content by day of the week and by hour of the day.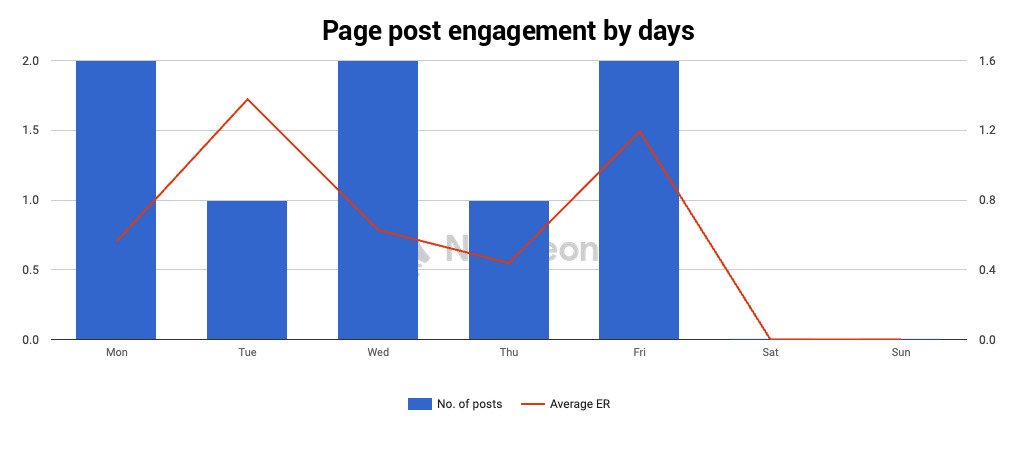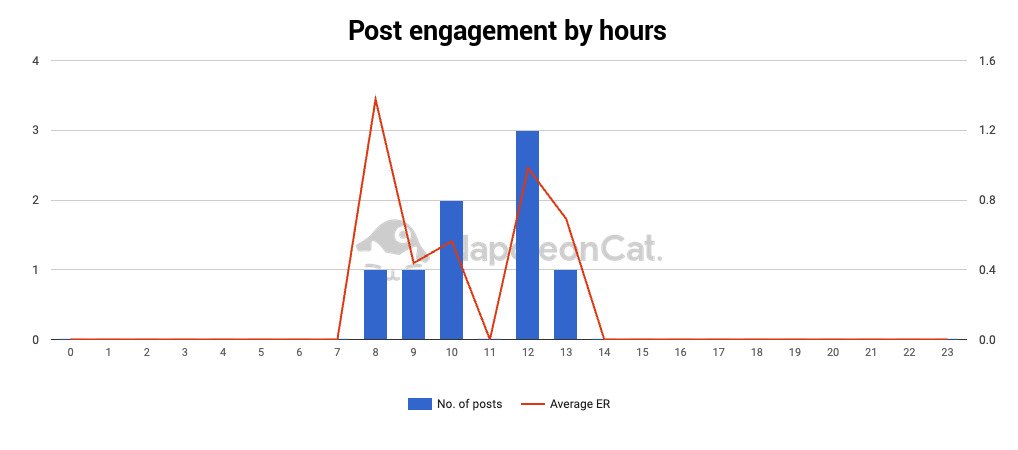 This will show you not only when to post on LinkedIn but also what type of content gets you the most engagement.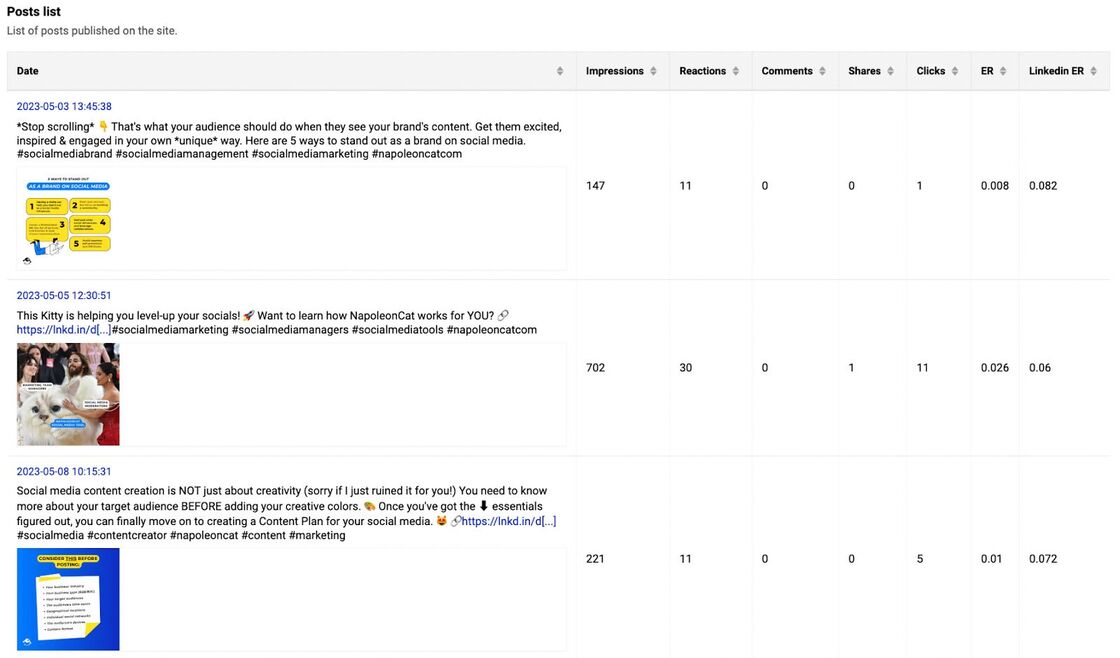 We highly recommend you test NapoleonCat for free here for LinkedIn analytics and scheduling features – no credit card required during signup 😉
You can also check LinkedIn's native analytics for your company page to check the engagement. 
Here's more about LinkedIn analytics and how to use it for your business.
How to schedule your LinkedIn content for best results
When you know what works best for your brand, the key is to organize your LinkedIn schedule in a way that will target these best times to post on LinkedIn in an effective way.
Because if your best time to post turns out to be Sunday at 8 AM, nobody expects you to get up early on a Sunday morning just so you can publish a post on your company page.
Plus, it's not about posting every now and again – LinkedIn's algorithm really likes consistent posting, and you're much more likely to see better results posting several times a week instead of once every two weeks. 😉 This way, you can maintain steady engagement instead of just counting on a fluke.
So, using a LinkedIn scheduling tool is a good idea to get your LinkedIn content scheduled a few weeks in advance according to the best times you see in your LinkedIn analytics – and then possibly adjusting those times to the changing results you see.
For scheduling, use a tool like NapoleonCat (if you already use it for analytics and comment moderation, you can use one tool for everything, which is nice). You can schedule your LinkedIn content and do things like:
Add images and videos
Add links and UTM tags if you want to track traffic from LinkedIn campaigns
Assign team members to complete/edit/approve your posts
Schedule content to multiple LinkedIn company pages at once – and also many other social media platforms like Facebook, Instagram, and Google My Business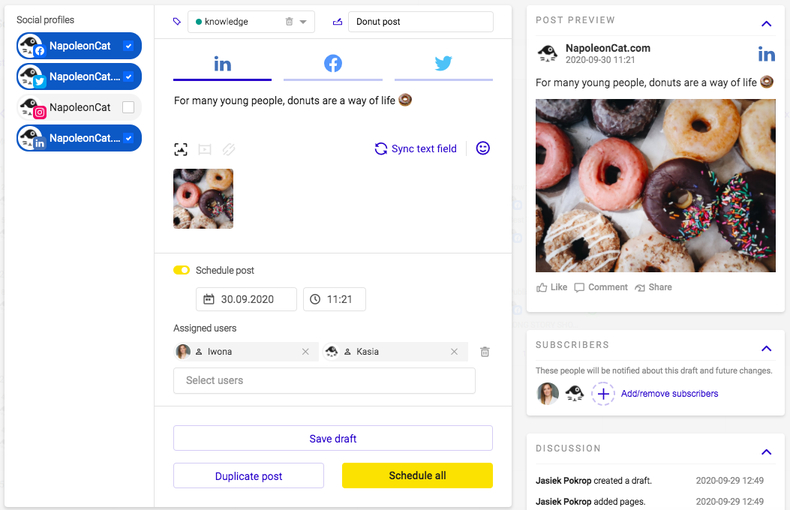 Watch this video to see how you can schedule your LinkedIn posts using NapoleonCat:
Over to you
As with any social media platform, the research you find online won't apply to everyone. Plus, there are other factors like time zones or industry that might make the results more or less applicable in your particular case.
So, always track the results for your content (as well as your competitors'), monitor your audience engagement, and adjust your schedule as you go.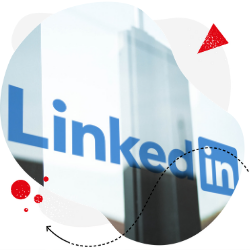 Manage multiple LinkedIn accounts from one place
Manage all your LinkedIn comments from one view. Schedule unlimited LinkedIn posts and get in-depth analytics to improve your strategy. Try NapoleonCat for free:
You may also like: