If you're playing the social media game, it's very likely you want to win it, be in the lead, or at least not far off the podium. To get a snapshot of your current social media status and measure your progress, you should watch your competition.
Keeping an eye on your competitors on Facebook is a smart business.
Not only will you know where they are present, what they do, which of their posts garner the most responses – you will also have a chance to learn from them and stay on top of major industry developments. With a bit of curiosity and knowledge, you can find out how to improve your Facebook marketing strategy and progress faster.
Luckily, there are easy ways to learn how others are doing. But before you learn how, let me give you the main reasons why you should do it.
Why you should monitor competitors on Facebook
Success is relative – to know if you're making any progress, you should compare your current results with previous achievements. Thus, the most important thing is to establish and track your own KPIs (key performance indicators). But if you want to know how satisfying your progress is – "great", "bad" or "mediocre" – you have to know where the rest of your industry is and how it is advancing.
While it's wise and valuable to learn from your own mistakes, it's actually better to learn from somebody else's. Following your top competitors' Pages and keeping an eye on what they are doing can help you avoid repeating their mistakes. More importantly, it will allow you to develop and refine your own social media marketing strategy and adjust best tactics. Learning what type of content performs best with your competitors' audiences or finding out the best times to post to get the highest engagement is really easy with the right tools and will help you build your competitive advantage and grow faster.
Business and customer intelligence at low cost – following the ads your competitors are running and listening to what their customers say, what problems and requests they have is priceless. With such knowledge, you can quickly adjust your product and customer support strategy to win the market. You already have sales leads to contact and convert. You should be ready to take advantage of every arising opportunity and acquire new customers when your competitors fail to provide them a good service.
How to track competitors on Facebook using Facebook Insights
Now that you know why it's useful to spy on your competitors' Pages on Facebook, let's see how you can do it. One way is to use the social media platform itself. Facebook offers built-in insights you can use to monitor your competitors' basic stats such as:
the number of Page fans,
the number of posts published,
the total number of comments and shares, and reactions to posts.
To access Facebook Insights, go to your Facebook Page Insights and find the Pages to Watch feature at the bottom of the Overview tab. Click the Add Pages button to add the first competitor page:
Within this tab, you can track the latest stats of total Page likes, see how often your competitors are posting to their pages, and check their engagement rates.
You can also see the best performing posts from the pages you started watching. To do this, go to the Posts tab and access the Top Posts from Pages You Watch list through the top menu.
You will see the list of the top five posts published during the last seven days, ranked by engagement, which is the total number of comments, shares, and reactions.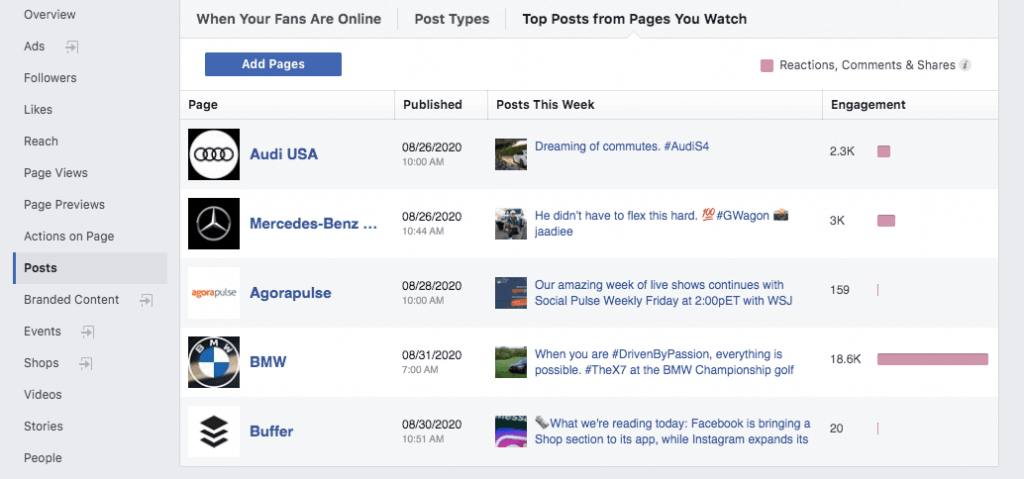 This is the easiest way to monitor your competition on Facebook for free. Unfortunately, it has its limitations – the data provided is very basic and limited to the last week. So let's look at some other, more advanced solutions.
How to track competitors on Facebook with NapoleonCat
You can and you should dig deeper. If you're serious about social media competitive analysis, then you'll need the right tool for that. NapoleonCat gives you effortless, real-time benchmarking. You can easily create a set of your competitors' Facebook Pages and directly compare all KPIs and even set custom time periods – days, months, or even years.
The screen below shows a set of five Facebook Pages of large automotive brands. With a very quick look, you can see which brands do better in terms of basic metrics like the engagement rate, and make better progress compared to previous periods.


Such comparative analysis makes it easier to identify the best practices in your industry and predict your audience's reactions to your content strategy.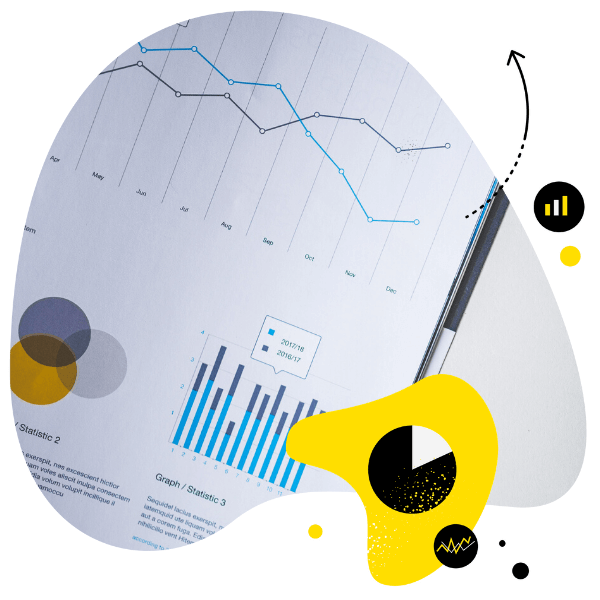 Analyze competitors on Facebook
Measure your social media marketing results. Track competitors and improve performance using simple dashboards. Try it for free:
Try NapoleonCat free for 14 days. No credit card required.
It's obvious that your most important posts should go up when the chance of achieving the best reach and engagement is at its highest. But when is that, exactly?
You can easily identify the best times to post by grouping a few brand pages together into a comparative set and investigating a longer period of time, let's say six months (to make sure you have enough posts to draw viable conclusions).
The example below shows such an analysis made for five automotive brand pages. You can easily notice that posts published on Thursdays and Saturdays generate the highest engagement. And high engagement also means higher organic reach. Thus, for more important announcements, you should choose those days rather than Wednesdays.
Of course, that's just an example. You should run your own analysis and figure out which days are top-performing – for your industry, location, and audience.

At the beginning of this article, I mentioned customer intelligence as one of the important reasons to analyze your competitors on Facebook. As you know, Facebook has become one of the main customer service channels.
Dissatisfied customers don't bother calling or emailing a brand anymore. They just go to Facebook and share their experiences publicly. You can analyze such posts and comments from your competitors' Pages to easily define what problems your competitors face and what their customers need.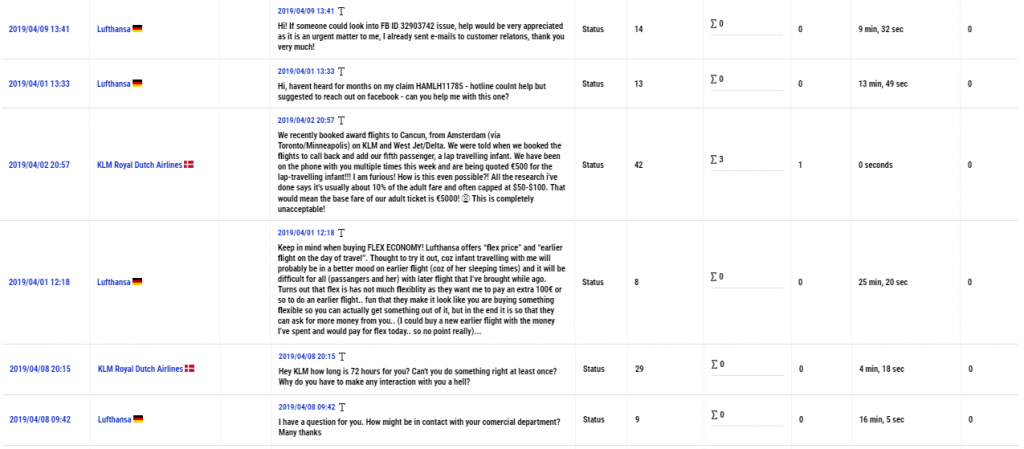 The screenshot above (you can zoom in for details) showcases the posts that Facebook users added to a few major airlines' brand Pages over a fixed period of time. It clearly points to the fact that Lufthansa has problems with customer service and many people are disappointed with waiting too long for a response.
This knowledge could help other brands build their competitive advantage by delivering better customer care and focus on quickly responding to their customers' messages.
Imagine how much money you would have to pay for market research that involves questioning customers of competitive airlines who have recently used their services and were not fully satisfied. A lot. And this is just a very basic example of how such information can be used to improve your business strategy, not just in social media.
Generate Facebook reports in 2 minutes
You can also use NapoleonCat to generate in-depth Facebook reports for your own Pages, as well as your competitors'. The whole process takes about 2 minutes from start to finish, and you can also schedule your reports, so that they'll be automatically generated and sent out every day, week, or month.
Having such a report will help you better organize your data and have a clearer view on all the metrics. Click here to check a sample Facebook report for a competitor's profile.
I hope you have learned why and how you should monitor your competition on Facebook. Set up a trial NapoleonCat account and look deeper into your competitors' Facebook strategies. It's completely free for 14 days.