One of the most crucial components of effective social media marketing is developing strategies that support business goals. And one of the tools that can facilitate this process and help you come up with good solutions is the tried SWOT analysis technique.
This tool allows you to better assess your business situation and, in effect, define the goal you should aim to achieve with your marketing efforts.
In this article, we'll show you:
what a social media SWOT analysis really is,
how to do a social media SWOT analysis properly,
and how your company can benefit from it.
As we keep mentioning in our articles, a good social media strategy needs to be based upon a thorough analysis of your business as well as the analysis of your market surrounding and competitors.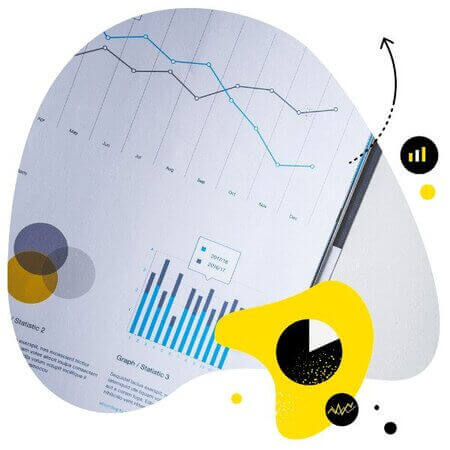 Social media SWOT analysis tool
Analyze your social media performance and track your competitors. Create in-depth analytics reports in seconds – with an all-in-one social media tool.
The SWOT analysis allows you to do just that in an organized and clear manner and achieve concrete, educated answers on what you need to do in order to get to where you want to be with both your marketing and other business goals.
That's because this tool revolves around analyzing 4 key areas of any business, which translates to a quite complete overview of its business situation. SWOT in SWOT analysis stands for strengths, weaknesses, opportunities, and threats. Understanding how to identify each of these areas is going to help you strengthen your overall social media strategy.
Continue reading to learn more about the tool and how to perform the SWOT analysis on your own, and which social media analytics tool can make this process much faster and easier 😉
What is a social media SWOT analysis?
In the section above, we gave you a general idea of what the SWOT analysis is. In reality, performing a social media-oriented version of this analysis comes down to taking a very close look at one or more of your social channels and identifying internal and external factors that might influence your effectiveness.
We recommend starting with identifying your strengths and weaknesses first. Afterward, you need to move on to figuring out what opportunities you're either taking advantage of or missing.
The last part of the process is identifying the threats that can ruin your efforts, such as what competitors are doing on their social media or what obstacles your company faces in growing the effectiveness of its social media marketing communication.
SWOT analysis' purpose is to enable you to gain a deeper insight into your marketing strategy and business condition. Thanks to that, you'll be able to identify and fix problems more easily and spot potential issues before they occur.
We highly recommend approaching this seriously because the more thorough your analysis is, the better outcomes you'll achieve. More about that in a moment…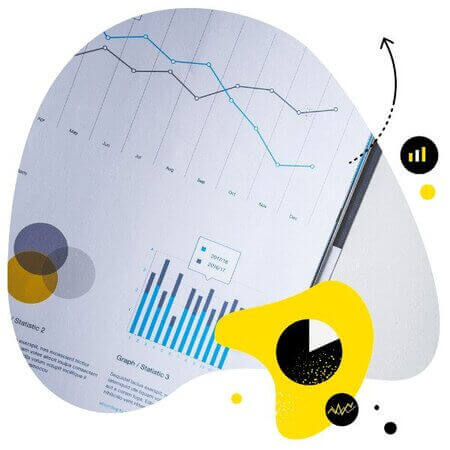 Social media SWOT analysis tool
Analyze your social media performance and track your competitors. Create in-depth analytics reports in seconds – with an all-in-one social media tool.
How can a social media SWOT analysis help my business?
First of all, a social media SWOT analysis is a great starting point for reviewing your business goals and objectives. Many businesses tend to lose sight of their objectives as they grow. Doing a recap on them regularly is a great way of reassuring yourself that you're following the path that you'd wanted to be on in the first place.
As we underlined many times on our blog, no marketing campaign should take place without identifying what it's meant to achieve business-wise. And social media campaigns are no exception.
Every social media campaign requires resources, so you need to maximize the chances of it bringing value to your business. Social media SWOT analysis helps to do just that.
To better understand how this happens, let's have a closer look at how you should analyze each part of this 4-letter abbreviation.
Strengths
This part is usually the most enjoyable as thinking about one's good sides is easy and pleasant. Don't get carried away though, and try to think critically. Analyzing your strengths is meant to identify in which areas you're already doing a good job. One more thing to mention here is that you should analyze your business's strengths (and the other parts) in relation to your goals to make the whole process relevant.
As mentioned, your goals define how you do the analysis. For example, if your goal is to generate more sales on your e-commerce platform, then having a large fan base is definitely a strength. Once you set your goals, you can begin considering your strong sides.
On the other hand, if you don't have many social media followers yet, then a strength would be having active community members among those who already follow you – those users can be a huge asset when it comes to increasing follower count and brand awareness.
Weaknesses
In opposition to strengths, analyzing your weaknesses can be much more difficult and not fun at all. But it might as well be the most important part of the four. Identifying your shortcomings may bring a lot of value to your social media marketing strategy.
One of the most common weaknesses communicated by marketing professionals and business owners in regard to social media is the inability to maintain regular, quality communication and keep the audience engaged (or generate any engagement at all). This problem can be tackled by improving the analytics capabilities.
This can be achieved the smart way by using the right tools.
NapoleonCat's Analytics feature enables you to gain a better overview of your content and, thus, identify the best-performing posts more easily, so you can leverage those ideas for the future.
You'll quickly find out:
What kind of content performs best among your target audience
When to post to achieve the best results
How often you should post
Which social media platforms you should focus on the most
And more…
What's more, it lets you analyze your competitors on social media. For example, to get inspiration for post ideas that generate engagement effectively.
Using NapoleonCat makes performing a social media SWOT analysis far easier and also facilitates maintaining higher effectiveness for the future. You can also generate social media reports with more in-depth data, both for your own profiles and your competitors'.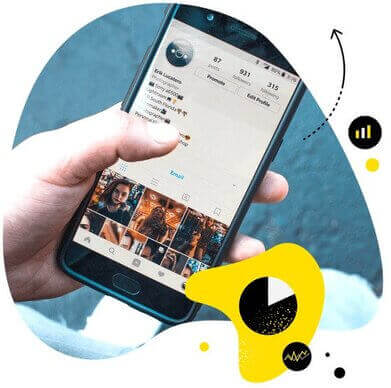 Easily conduct a social media SWOT analysis
Measure your social media marketing results. Track competitors and improve your performance – with an all-in-one social media tool.
Many companies also struggle with tying their efforts with the results. The reason for that is a lack of knowledge or the right social media analytics tools to be able to truly understand their numbers and take advantage of them to work towards improvement.
The first two parts of a social media SWOT analysis focus on the internal factors that influence your social media campaigns' success or failure. Let's now take a look at the other two that are designed to help you identify external factors that can influence your business performance.
Opportunities
Opportunities are the first type of external factor that can influence your ability to succeed in social media. Reviewing your social media channels and the broader social media landscape can help you identify what you're missing out on.
Maybe it's a new trend that's getting viral among your target audience. Or maybe your fans are highly active on a channel you don't communicate on?
Oftentimes businesses keep their communication so focused where they started that they miss opportunities to tap into entirely new groups of potential customers.
And that's especially true for smaller companies that often lack the resources to expand vigorously.
Performing an analysis of opportunities will likely help you identify new areas that will allow your business to grow, especially if their current communication space is already saturated.
Threats
Once you're into the threat category of a SWOT social media analysis, you already know that a world of factors can come into play when making your social media strategy a success.
One of the most common threats identified by the majority of businesses is the risk of a new competitor entering the market and grasping a portion of your fanbase. Even though it's not something that you can prevent, taking this into account might help you develop countermeasures that'll later help you mitigate the damage if such a situation becomes reality.
The purpose of this part of the SWOT analysis is to future-proof your business and your social media campaigns.
It will help you identify if your campaign and marketing goals are sustainable over time or if there are major obstacles in the way that are going to hinder your success. Remember – it's always better to be safe than sorry.
How does SWOT analysis apply to social media?
Let's recap the first part of this article. By now, you already know that SWOT analysis is a powerful tool used in business. Its holistic character allows for using it to develop various assets such as business plans and general marketing strategies. And as hinted above, it can be equally well applied to social media marketing.
SWOT analysis can be really versatile as it can be used even to tackle very concrete problems if applied in the right context. For instance, some of the most common challenges that social media marketers face include growth plateaus, a lack of measurable results, and budgeting. Identifying a challenge as the starting point of your analysis will enable you to channel your energy through the SWOT process in order to resolve it and find key areas for improvement.
One more thing that needs to be mentioned here is that social media marketing relies greatly on numbers and statistics. This means that oftentimes identifying whether you're strong or weak in some areas will require data to get the answer. As a result, SWOT analysis will also help you make sense of numbers and learn how to gauge your own success and hard work.
How to analyze strengths, weaknesses, opportunities, and threats of your social media strategy
After setting the ground by learning about various aspects of a SWOT analysis, it's time to learn how to put this into practice on your own social media marketing campaigns. Let's use a Facebook SWOT analysis as an example.
For the purpose of this article, let's consider a concrete scenario, and that means that we need context first. Let's assume that your goal is to develop a good reputation by offering speedy customer service to clients over Facebook Messenger.
In the next couple of paragraphs, we'll do an exercise by identifying strengths, weaknesses, opportunities, and threats that could potentially apply in this situation.
Social Media Strengths
In this scenario, your strengths should be thought of in the context of your ability to provide customer service via Facebook Messenger and your Facebook account in general. This involves responding to questions, complaints and managing the comments that appear under your posts and ads.

Having a reasonably sized team of specialists would definitely be an asset here. Another strength in this situation would be having clear and robust processes covering at least the most common issues that your customers can reach out to you with.
Ideally, you can help improve your response rates with a dedicated tool.
This is where NapoleonCat can help yet again, but more of that later 😉
Social Media Weaknesses
In this part, you should investigate whether or not there's anything inside your business that can undermine your team's ability to provide speedy support to customers via Messenger.
An example of such a weakness would be having a too-small team, or maybe not everyone is familiar with all crucial Messenger functionalities?
Social Media Opportunities
One of the biggest opportunities that can come into play in regard to speedy customer service is the existence of tools that can facilitate and speed up the whole process.
Here's what NapoleonCat can help you do:
Manage all comments and messages (from multiple social accounts) from a single view
Work in a team of social media moderators
Automatically reply to repetitive questions
Automatically hide or delete offensive comments (ad posts included)
Automatically send customer inquiries to your customer service team
This can take off A LOT of pressure off your team's back.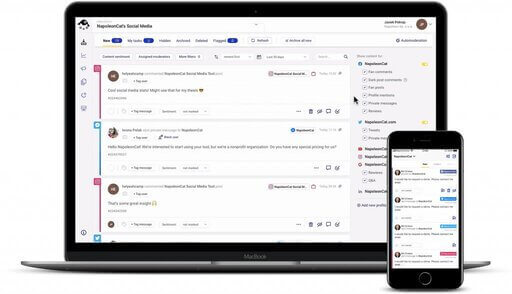 Manage all comments and messages from one view
Use NapoleonCat to manage all of your comments, messages, reviews, etc. – with an all-in-one social media tool.
Social Media Threats
Threats might be the most difficult part of the four. Aside from obvious ones, like a new company with better customer service capabilities entering your market, there's also a number of other ones worth considering. In our example, it might be an internet connection shortage that would disable your team from doing any work at all.
That's another situation where social media automation might come in really handy. Having NapolenCat's automation tools behind your back, you don't need to worry that much about answering (at least) the most common inquiries and being online 24/7.
Wrap up
We hope that this article helped you to understand the importance of social media SWOT analysis and that you now know how to do it yourself. Remember to take your time and perform the analysis carefully to achieve the most valuable outcomes.
You'll want to ensure that you know how to use the results in order to strategize for the future.
Let us also take this opportunity to remind you how important it is to continue to perform these checks over time. Using the right tools can make it much easier, faster, and more effective. We highly recommend you streamline the process with NapoleonCat and take advantage of our free trial.
We wish you the best of luck with your future endeavors in social media management!
You may also like: