Experienced social media marketers know this all too well: it's one thing to grow your followings on different channels and another one to keep your audience engaged.
And the larger the following, the more challenging it can actually get to keep the engagement flowing.
But the e-commerce company Displate shows you can do both, as long as you pay close attention to your performance and keep finding new ways to engage your customers.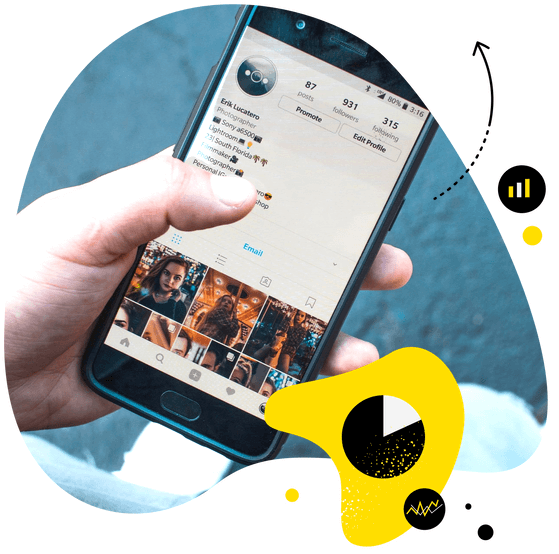 In-depth Social Media Analytics
Measure your marketing results on Facebook, Instagram, and other platforms. Track competitors and improve performance – with an all-in-one social media tool.
Building a bond with your audience
Displate is a leading marketplace for the highest quality metal posters and a community of talented artists. They've been using NapoleonCat to analyze their social media presence and find ways to reach more customers worldwide. And they're a fascinating example of building an engaged community around an e-commerce brand.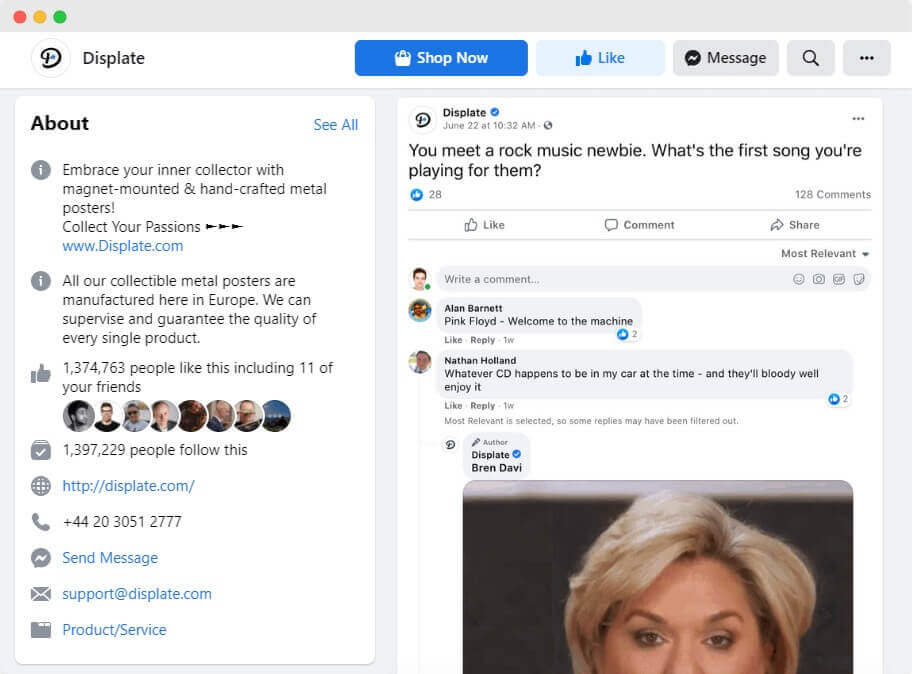 They have a lot going on when it comes to social media, with numbers like:
1.2 million different designs in their store
1.3 million Facebook Page likes
645k Instagram followers
10M monthly views on Pinterest
Close to 40k followers on Twitter
A power-user community on Reddit
And an original content account getting started on TikTok.
And, as they themselves confirm, each channel has its own place in their social media marketing strategy, with different goals and different content.
What's even more important to mention is that they manage all these impressive numbers in a small and engaged team, backed up by helpful tools like NapoleonCat (which we'll get to in a second.)
And all because they're dedicated to building genuine relationships with their customers based on authenticity, trust, and engaging content.
But how do you engage a massive audience like that with social media content?
According to data, 41.2% of marketers rank engagement as their top key performance indicator (KPI) for social and content marketing. And Displate's marketing team is no exception, with several ways to pursue their goals.
Let's look at a few themes that stand out – and that you could adopt for your social media strategy, too, to boost engagement.
Being there for their audience.
This means not just posting content (though the regular posting of relevant content is definitely important), but – most of all – replying to comments and engaging in conversations.
Displate's customers are usually passionate individuals keen on discussing their Displate purchases and art in general. So sometimes, it's enough for the brand to nudge them in the right direction – and they'll hit it off with other fans in the comments.
The best engagement a brand could hope for.
Turning one-time buyers into collectors.
Or, in other words, into repeat customers and then brand ambassadors. As Sebastian of Displate says:
Social media is often the first touchpoint in the customer journey for us, but also the last one. It plays a massive role in building our brand image and community. And as we encourage our customers to become collectors of our products, simultaneously engaging them on social media with passionate discussions, we build a super-engaged community of brand ambassadors.
And this is an essential part of any marketing strategy. Social media with its different networks can be effective at different stages of the sales funnel, for slightly different audiences each time. Any social media strategy should account for that to contribute to a funnel that keeps selling, which is especially important in industries like e-commerce.
User-generated content (and also user-inspired content)
It's really important to listen to your customers – that's what social media is all about, after all. And the best thing a brand can do for its social media engagement is listening closely enough to get inspired by what its customers are saying.
And that's precisely what Displate does:
"We talk to followers and fans all the time, we get inspired by people's comments and discussions, and our community influences our content creation."
And it's not just about the fact that people trust their peers more than brands. And not even just the fact your fans will feel appreciated and seen (though it's a critical trust-building and engagement-inducing factor).
But it's a win-win all the way, providing a brand with engaging content they can adapt and use for self-promotion. And when we look at some stats again, it's a solution to a severe problem of looking for new and creative ways to build content while also saving time (72.2% of marketers have it).
Right now, we're focused on our own audiences on 7 or 8 channels, which is really huge (>2 million people already). We're heading to that point when we'll be able to engage in other communities, but first things first. Besides socials, we gather our feedback from influencer campaigns (Twitch, YT), the customer service team (Zendesk, Trustpilot, ads), and our own research (quantitative and qualitative).
And speaking of influencer campaigns…
Working with influencers.
Displate has an entire strategy around influencer marketing and partnerships, including one-off collabs and long-term relationships. What this helps with is bringing the brand in front of new audiences and into new communities in a way that builds trust and engagement.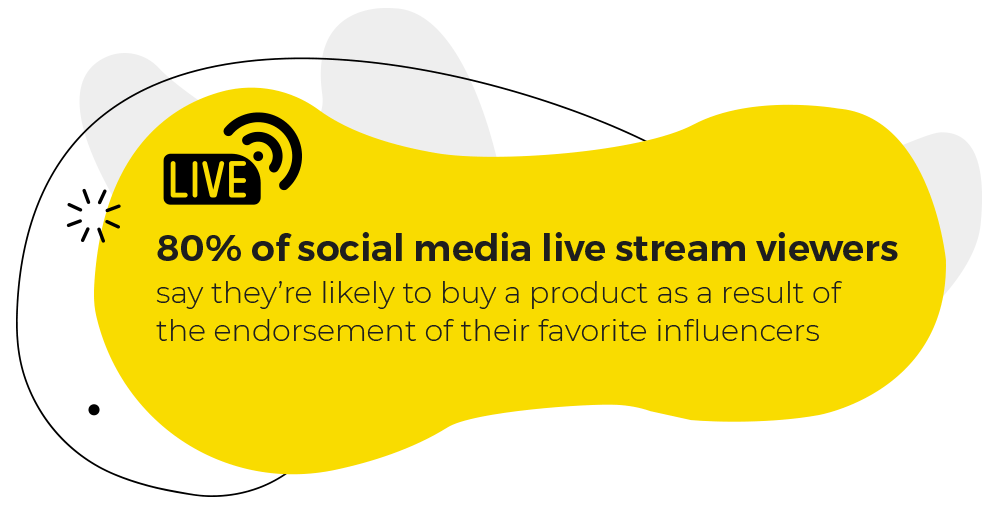 Resorting to data once more, 80% of social media live stream viewers say they're likely to buy a product as a result of the endorsement of their favorite influencers. Influencer campaigns are also a great extension of the user-generated content efforts for a brand. This way, new audiences are encouraged to engage with a brand that might be new to them by the people they already follow and trust.
Win-win again.
Analyzing social media performance.
And implementing the necessary changes in your social media strategy to boost that performance. We're going to look at this one in greater detail, as this is precisely where NapoleonCat steps in for Displate.
Displate's challenges when it comes to analyzing their social media performance
An engaged community rarely happens on its own. Sure, there's always a chance a brand will go viral, and people will just pick it up and go crazy about it. But even in this case, you'll come to a stage where you need to put in some more work to sustain the engagement.
And more often than not, you need to have a few things figured out first, like:
where your audience hangs out and when they're most likely to respond to your content and discussions
what types of content works best to get them engaged
what types of content you can produce and if they fit with what your audience wants to see and talk about
what platforms work best for the different types of content you put out there.
Now with Displate, content ideas come both from their customers and from across the entire company. But it's the social media team's job to decide what ideas to use for which channels to get the best results.
And to do that, they need an analytics tool that will help them see all the numbers very clearly and make what their team calls "data-informed decisions." Ones that are not purely based on data but that are inspired by it.
This is surely a challenge with this volume of traffic, followings, and interactions. But it's a must if they want to know for a fact what works and what doesn't and do more of what does work.
Plus, this knowledge could actually help them generate more content from their users – and again, the type of content others want to see.
The solution
Displate's team uses NapoleonCat for their social media insights, helping them see all that information at a glance.
They check their stats daily, weekly, monthly, and even quarterly. The NapoleonCat analytics tool helps them establish their objectives and key results (a.k.a. OKRs) and inform their strategy going forward.
They can also see what types of content gets their users the most engaged, whether their audience is more likely to respond to videos or static posts (and how that's different across the different platforms), and where the user-generated content comes in in all of this.
How it works
In NapoleonCat, you can track both your performance and your competitors' performance. You can monitor metrics that are relevant to your business across different social channels, including:
audience growth
reach (organic and paid)
engagement rate
interactions and reactions
post engagement throughout the day
your most engaging content
and more.
With the detailed metrics you can track using the platform, you can be sure you're going beyond just vanity metrics (which can be great but will often do little to really move the needle for your business) and focus on what can really be tied to things like ROI and your bottom line.
Watch the video below to see exactly what you can track with NapoleonCat and how:
And speaking of the results…
Using a social media analytics tool, Displate has eliminated a big part of the guesswork out of their social media marketing strategy. Which, with the sheer size of their audience and volume of their engagement, is invaluable.
Having all the critical data in one place and creating reports that can be circulated across teams helps understand user behavior and the type of content they're into. And that supports Displate's goal of creating an engaged community on social media to raise brand awareness, build trust, but also – ultimately – drive sales (and repeat sales at that.)
"NapoleonCat is a great tool to analyze social media performance, make valuable observations based on data, and create dedicated reports. All packed into an intuitive interface with an added bonus of a helpful, engaged support team." — Bastek Kłys, Displate
With NapoleonCat:
The Displate team can see exactly what people react to and when.
They can track insights daily, weekly, monthly, or quarterly and adjust their content and engagement strategy depending on the results.
It's much easier for them to define OKRs and then evaluate them based on their actual performance.
They can make data-informed decisions instead of only acting on their gut.
They have a solid overview of all their communication efforts on social media.
They can evaluate partners and influencers they work with to make sure they're adding value to both their existing audience and the new audiences they're reaching.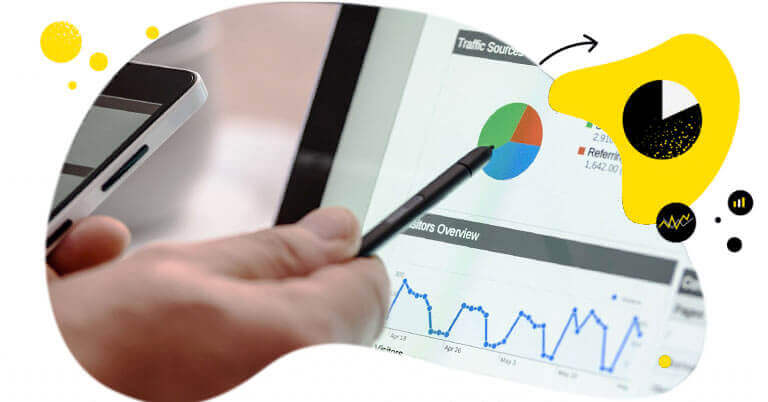 Social Media Analytics
Analyze your performance on social media and track your competitors on Facebook, Instagram, Twitter, LinkedIn, and YouTube – with an all-in-one social media tool.
You may also like: