How valuable is your social strategy? Obviously, what you want to measure is your return on investment throughout every social media campaign. What isn't so obvious is how you go about doing this.
Around half of Chief Marketing Officers confess to the fact that they struggle to measure the impact of social media on their business.
Experts agree that all social media marketing should be aligned with a list of goals. Otherwise, you can't link these efforts with desired outcomes such as increased profit or engagement. Tightly defined objectives can make a world of difference. They might include:
increasing follower count on social media,
gaining web page traffic,
lead generation,
boosting sales,
creating hype around a promotional product,
or conversions, e.g. encouraging downloads on a free trial offer.
What do these all have in common? You can measure them, even if there may be difficulty in establishing direct causation between social media marketing and the achievement of some of these goals.
This means that you need to know how to pin your marketing plan to the data. To know what metrics tell you is to get a clearer idea of when value is being created.
So where better to begin than with the free in-platform analytics found on Twitter? Listen to the data and you will gain insights on what works, what doesn't, and – more broadly – on how to attract more attention to your brand.
First understand your most basic Twitter data: the role of impressions when viewed against total reach.
Impressions vs. reach
While the two are linked, there are important distinctions to be made when utilising Twitter analytics.
In essence, the number of Twitter impressions equals the number of times your tweet is displayed. Reach is a term used to describe the total number of users who see your content, not limited to your followers.
How you use this information is sort of intuitive. Aim to extend your reach by giving your followers reasons to retweet your content and thus growing the number of people who have potential access to your tweets. Grow impressions by posting when your audience is online or pinning tweets that deserve extra attention.
Being cognisant of total reach helps to form realistic social media goals and a strategy that aims to engage more people. If your impressions aren't increasing according to plan, even though you're getting retweeted and growing your own following, perhaps there are things you should be doing to improve your messaging on the platform.
How well your brand performs on social media can be reliant on how ready you are to adapt. Be aware of the exposure Twitter profiles are capable of and never stop trying to reach new users.
But fair warning: the Twitter game is not about imitating other successful brands. Sure, learn from your competition and see what they're doing but remember that the method is much more important than execution. Understand the relationship between data points in your Twitter analytics and you'll be able to connect the dots on a consistent enough basis to drive towards sustained growth.
In order to obtain a full data report, go to your Twitter account settings and click on General. Enter your password and the information will be duly processed and sent to the email associated with the Twitter account.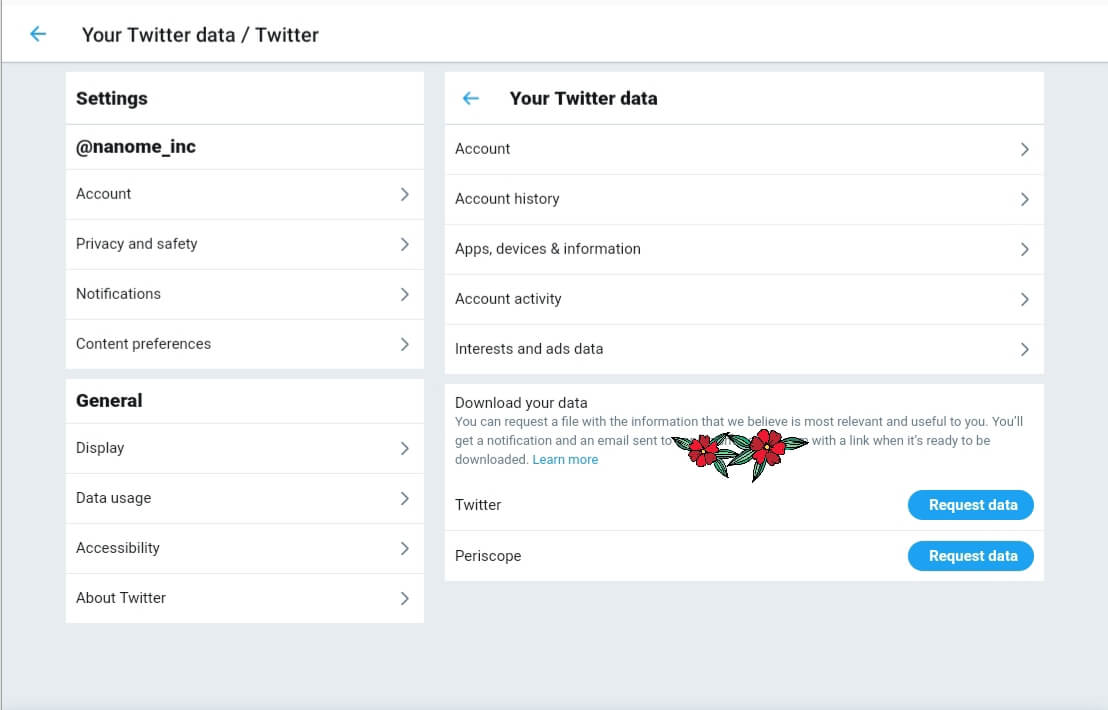 The best time to post
There is no correct answer for the best times to tweet, although data can tell us a lot about peoples' general Twitter activity. Want to try and jump inside your audience's minds? Think about it: if they are of working age and likely to check Twitter at the beginning of their shift, research indicates 9 am midweek as a good time to post. If we're aiming for the feeds of 18-24-year-olds, then you might do better posting from 8 pm onward.
Basically, Twitter analytics needs to drive these decisions and you can make such decisions based on trial and error. On each data report, there will be a clear visualisation of the tweets which gets the attention of your audience. Find out what they engage with – and when – in order to incorporate it into your strategy.
Pinned tweets
I find it startling how underrated pinned tweets are. It's like a free billboard pointed directly at the Twitter users who find themselves on your profile. And your pin does not need a lot of engagement to bring a multitude of rewards.
It's very easy to pin a tweet: just click the down arrow found in the top right corner of a tweet and select 'pin to your profile page' from the drop-down menu.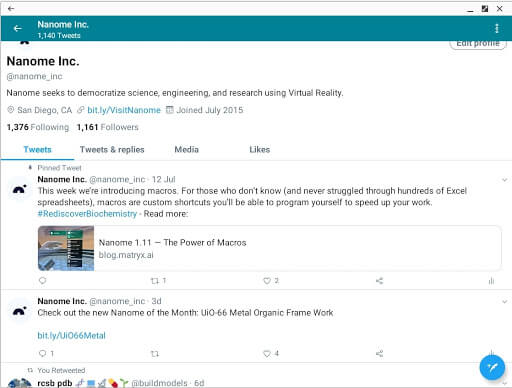 Not to overegg this but, as social media marketers know, you scarcely ever get an opportunity to do something that can be so highly effective for free.
In an ideal world your pinned tweet is engaging and interesting – as I'm sure your whole social media strategy is – but either way, the number of impressions should be higher on a pinned tweet due to its continual exposure. It's quite simply more valuable than other tweets.

Something you think is important for potential customers to see? Pin it up. Holding a competition? Make sure you have it front and centre.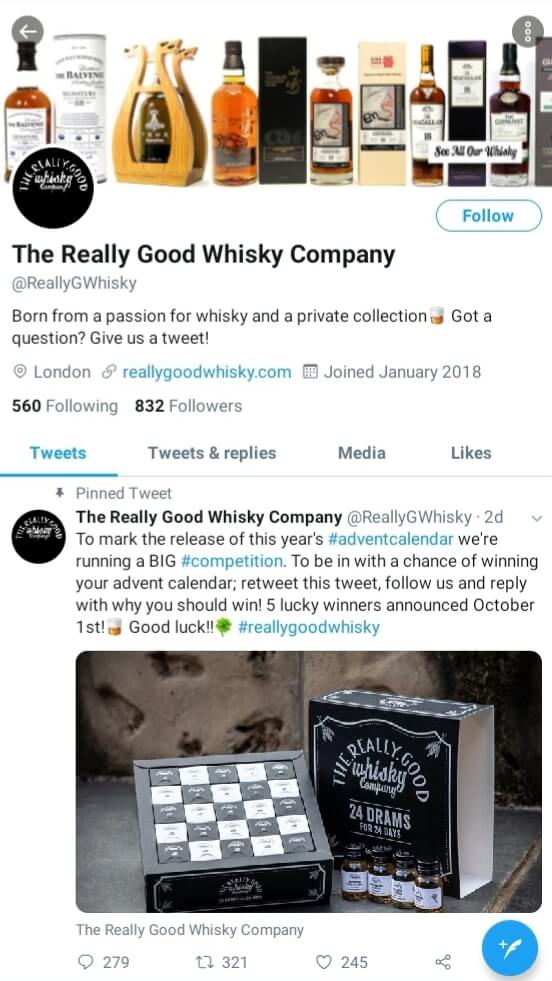 Twitter users are more likely to click a link from a pinned tweet when they follow a new account. This is an efficient way of driving traffic to a specific web page. But remember, the content has to draw in users.
In our earlier example, you can see that people just aren't clicking on the pinned link. It may be an important announcement, but it obviously doesn't have the same draw as their more recent tweet. This profile is doing something good, though: they're using a bit.ly URL for their link, which allows for easy click-through tracking.
This stands in stark contrast to the whisky competition above, which has given Twitter users a strong incentive to reply, retweet and favourite.
Get your brand in Promote Mode
With limited availability (at the time of writing, Promote Mode can be used by brands in the UK, USA, and Japan) but apparently very effective, Twitter says its Promote Mode gains businesses an average of 30 followers and reaches 30,000 people in each month of a Promoted Account campaign.
That doesn't take into account the additional benefits of link promotion, which can boost web traffic and ultimately lead to sales. It's automated and so will promote tweets without you doing anything. All you have to do is look at the paid Twitter analytics and see what works. At a cost of $99 per month, it can be a price well worth paying for many businesses.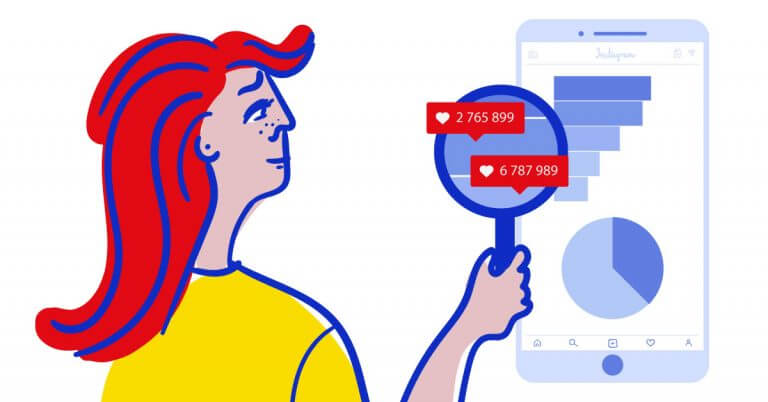 Social media analytics
Measure your social media marketing results. Track competitors and improve performance using simple dashboards.
Try NapoleonCat free for 14 days. No credit card required.
Include analytics in your strategy – it's free
The basic, free Twitter analytics tool gives you an overview of activity within a date range. Your graphs will cover impressions, engagements, link clicks, and retweets. It's the easiest way to observe your best performing tweets and figure out what works and what doesn't.
Each business will have its sweet spots in terms of time of day to post, type of Twitter users to target, and number of impressions to hit. This is why your unique analytics data profile is crucial to a successful social media strategy; it can be relied upon to point you in the right direction and inform your future goals.
Twitter is king when it comes to engaging people in real-time. For marketers, it's often the platform of choice for customer-facing interactions.
Measuring a brand's Twitter performance is the key to boosting the overall engagement rate and helps make sure that their message is reaching as many potential customers as possible. Not every tweet will drive sales. But you can carefully craft a favourable image that leads to a steady increase in business.
Tracking Twitter analytics tools correctly leads to a better understanding of what your audience is interested in. This is a two-way relationship; without data, you're going in blind. Track the engagement of users and constantly fine-tune each campaign to maximise reach.
The hallmark of a successful social media strategy is to proactively engage users. Actively seeking ways to do this better is how savvy brands continuously grow their reach. Twitter gives you the data to supercharge your presence for free! Use it to establish the best way to talk to your audience.
Basic analysis can go a long way to growing an online presence but if you're looking for a more in-depth approach and custom, comprehensive analytics dashboards, use third-party tools such as NapoleonCat's Analytics. But remember: hold solid business goals in your social media plan – these should help make it clear whether you need bolder data insights than Twitter's in-built analytics.
You may also like: