If you're active on social media, you know that content creation can cost a lot of time and money. But with so many businesses competing for users' attention, great content is necessary to build engaged communities and achieve business objectives. A thoughtful, well-crafted content strategy will help you efficiently manage resources to reach those goals.
But how do you create a social media content strategy? What tools do you use? And how do you measure your performance? This article will help you plan, carry out, and track a tailor-made content strategy inspired by industry best practices and leveraging state of the art tools.
Understanding content strategy
Social media content strategy is a pretty broad term so let's cover our bases. If your brand is investing in digital marketing at all, chances are you're trying to reach your customers, fans, and new leads through social media platforms. Everything you post to social media is content, from short text-only posts, through pictures and reports, all the way to high-budget video productions. And all of it has to address three common overarching goals:
being representative of your brand image
resonating with your audience
helping you achieve business objectives
These are critical when planning your strategy and have to be top of mind at all times. Synergy between the three is the key to success – and our guide is designed to plan content accordingly.
Specify your goals
You probably wouldn't be reading this article right now if you didn't need content strategy tips. The important question is: why, exactly, do you need a new or refined social media content strategy? What business needs will be met once a healthy social media presence is in place? What will be the measure of your success?
These days pretty much everyone is on social media, but different businesses are there for different reasons. It's important that you know what you're looking to get out of your social media strategy – otherwise, you might waste a lot of time.
Common goals for content marketers on social media include:
Raising brand awareness – with over 3 billion users worldwide, social networks are indisputably a great way to reach large groups of people. Attractive social media content and a smart growth strategy can help you raise awareness of your business and get the word about your product or service out there.
Lead generation – fans and followers make fantastic potential leads. They're interested in your online presence, so why not take the relationship a couple of steps further and turn them into happy customers? Certain valuable content types justify restricted access and create an opportunity for you to expand your email database. This works in the case of webinars, e-book downloads, or online competitions. Once you have the necessary contact details, you can follow up with newsletters, personalized deals, and, in general, more tailored communications.
Note: when setting out to collect leads, make sure to provide actual, tangible value in exchange for contact information. Invading the privacy of your potential customers' inboxes without a good reason is more than likely to result in unsubscribes and unfollows.
Conversion – you can craft your social media communications to redirect your followers to your store or website, or prompt them to take specific actions. Use CTAs (calls to action) in your communications to trigger desired user behaviors. Calls to action can be used in nearly every type of content, however, it's important to keep it subtle – coming off as too "salesy" can scare your followers away.
Brand image improvement – social media content is visual and conversational. Creating a unique, attractive voice for your brand goes a long way – being friendly and helpful online can definitely boost the sentiment around your business.
Tip: make sure to keep your social media voice consistent with how you communicate your brand in other areas of traditional and digital marketing.
Based on the goal(s) you pick, set KPIs you will use to measure your strategy's success. Metrics will differ depending on your objectives, e.g. when working on raising brand awareness, focus on reach; if you're improving brand image, measure engagement and sentiment. Observing your competition will help you set realistic benchmarks.
Define your audience
Regardless of your business objectives, the performance of content always depends on how your followers react to it. This means you really should put some time into analyzing your target audience and learning about their tastes and online behaviors.
Most social networks have built-in tools you can use to gather audience insights. Facebook, Instagram, and Twitter analytics provide you with basic information such as gender, age, location, and languages. But in order to create content that will truly speak to your audience, you need to find out a bit more.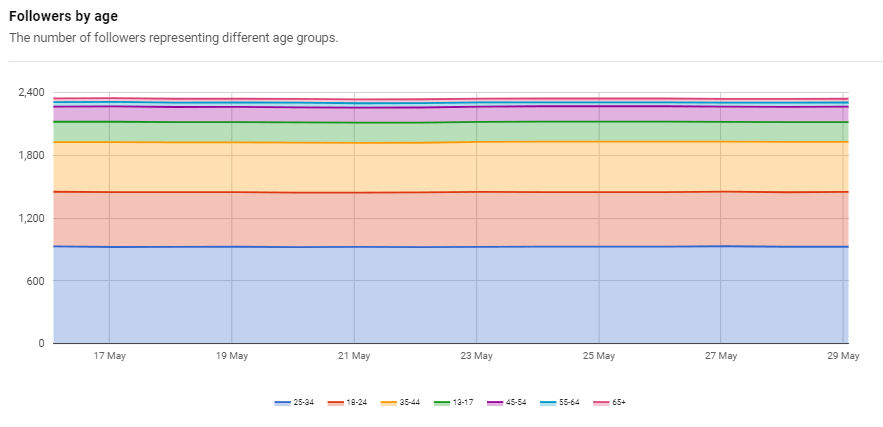 Try social listening tools and note what types of content relevant to your business spark the most engagement in your target demographic. Identify groups they're active in and hashtags they follow. Think about how you can implement the trending topics, hashtags or content forms into your communication.
It can be challenging to conceptualize the tastes and habits of virtual groups of people. In order to make your team's work easier, create personas based on your research. Work one out for every significant follower type you've recognized. Build their profiles and backstories, give them names! Having developed a few personas, you can craft your communications to address their lifestyles, needs, and pain points. Seeing how different they are will also help you create a diverse content strategy that will speak to the different groups of followers you cater to.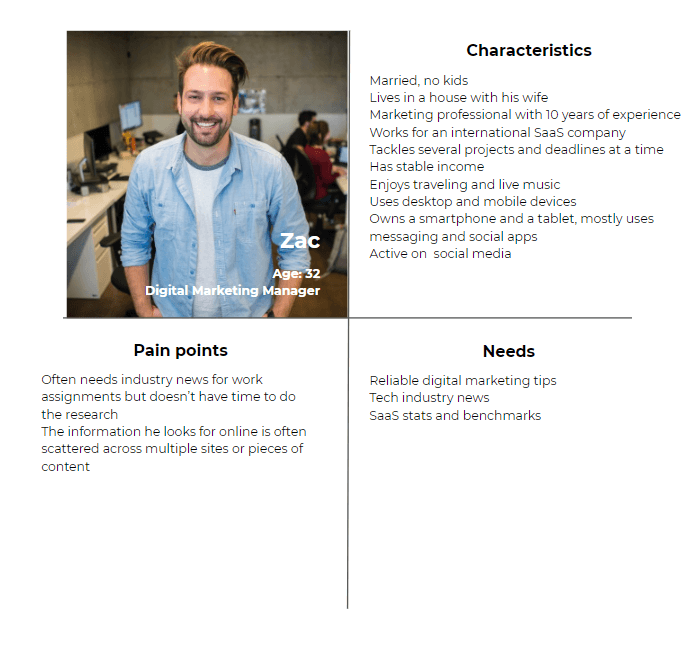 Audit your social media
Now that you know your audience and you've defined your business objectives, there is one more step you should complete before you start crafting and sharing content – an audit of your social media efforts to date. Even though it sounds intimidating, the process boils down to an assessment of your strengths and weaknesses as well as resources, investments, and current ROI.
Start with the big picture and decide which platforms you're successful on and which require more attention. Analyze your following and engagement rates for every network you're active in. Look into your audience demographics and activity patterns. Pay attention to the types of content that have worked for you in the past.
The goal of this exercise is to make sure that moving forward, you only put time and resources into platforms and strategies that make sense for your brand. Your audit doesn't have to be overly formal, it's the conclusions that matter. A custom audit sheet can be put together and populated in 30 minutes – very little considering how helpful it will be in optimizing your marketing plan.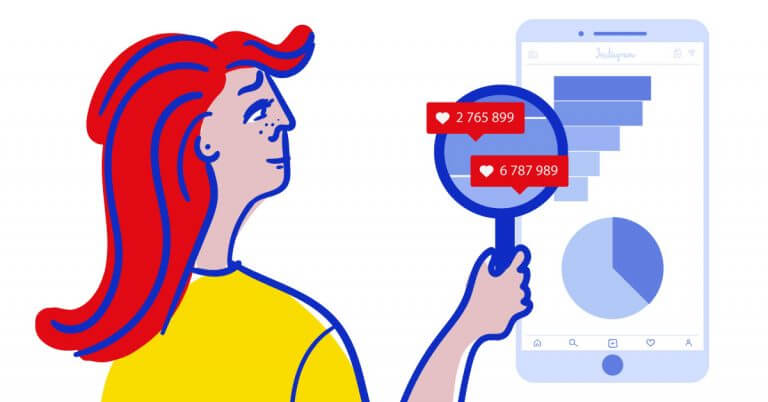 Social media analytics
Measure your social media marketing results. Track competitors and improve performance using simple dashboards.
Try NapoleonCat free for 14 days. No credit card required.
Plan your content
Now on to the fun part: content creation. As mentioned earlier, whatever content type or style you decide to go with, it has to check three boxes: appealing to your audience, working towards your objectives, and representing your brand image.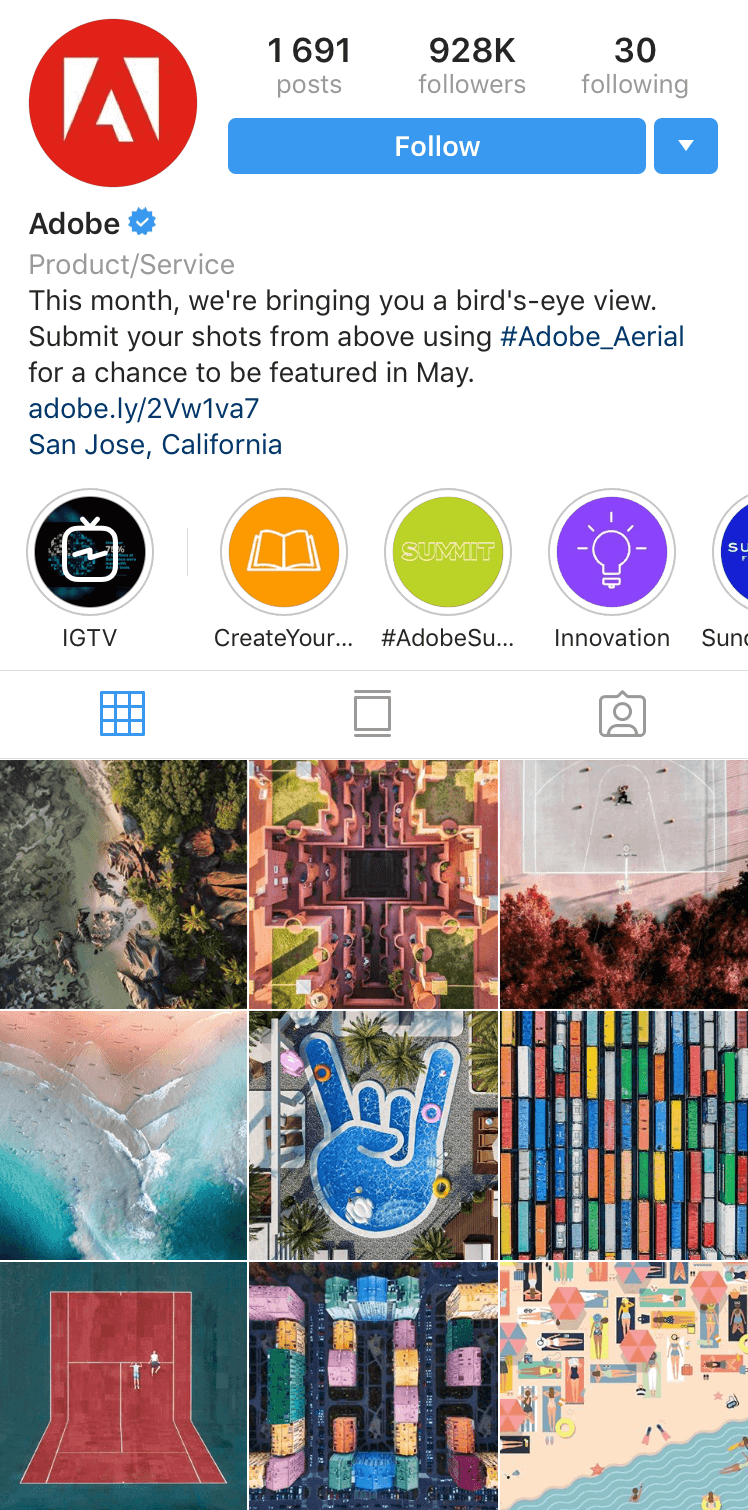 At this point, you should already have a strong understanding of your audience. Use the personas you've created to define the needs you will be addressing and the problems you will be solving. Good content should do one or the other – or both. Otherwise, you're asking for your audience's time and attention for no good reason and you're risking losing your content in the sea of information they navigate every day.
By the way, if you're looking for inspiration for an engaging caption, check out our well-researched Instagram captions.
This does not, however, mean that you should only be sharing tools, resources, or deals. Sharing your audience's aesthetic, entertaining them with humorous content, and supporting causes they care about are important needs for some personas.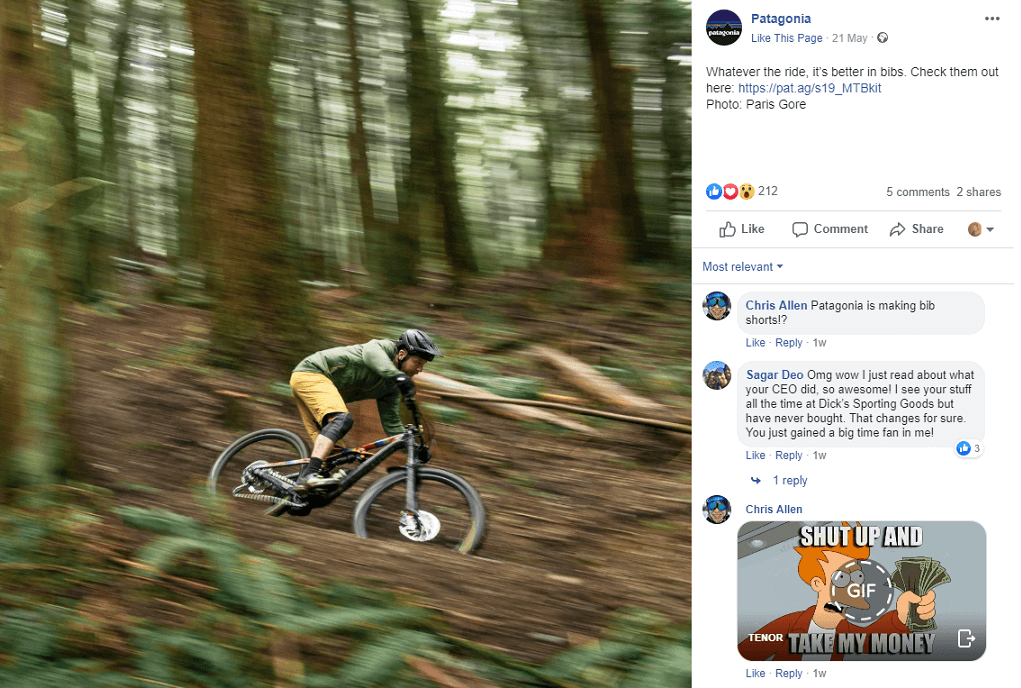 If you have an idea of what your audience would be interested in but need some granular inspiration, use Google Trends to identify trending topics and compare the regional performance of keywords. Get creative!
Here's an example: the phrase "India vs Bangladesh" is trending right now because of the ICC Cricket World Cup. NapoleonCat has little to do with sports but we could create a blog post comparing social media statistics from India and Bangladesh as a nod towards cricket fans – considering we've identified groups potentially interested in cricket within our follower base.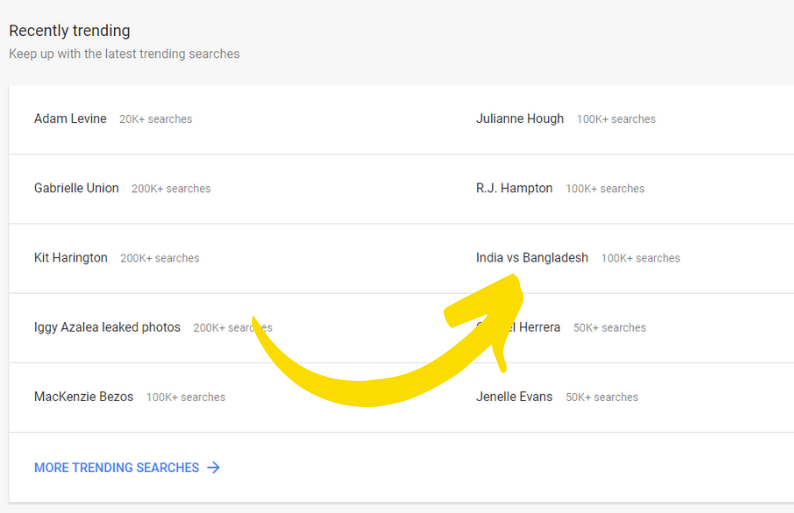 Creating relevant, engaging content increases your chances of reaching new people – aim for a high number of shares when coming up with new ideas. But remember: different types of content are successful on different platforms. According to Entrepreneur Europe's guidelines, the following types of content perform best:
Video and curated content on Facebook
High-quality photos, quotes, and short videos on Instagram
News, blog posts, and GIFs on Twitter
Job listings, industry and company news on LinkedIn
Infographics and photo guides on Pinterest
Remember to keep your brand image consistent across platforms. You will, of course, use a slightly different voice on LinkedIn than in your Instagram Stories; certain platforms allow for a more casual style of communication and their users expect that. What's important is that you stay true to your brand's values and respectful towards your followers.
Now that you know what you want to post to social media, you're almost there. All that's left is figuring out the logistics. If you have a proper Social Media team within your structures, you're covered. But not everyone does, and content creation can be a very time-consuming task. Leverage free resources to speed up your process. Canva is a great free tool for creating aesthetically outstanding visual posts, stories, banners, and much more. For royalty free photo sourcing, check out Unsplash and Burst by Shopify. If you're looking for a free video editor, Headliner's basic plan is your best friend.
Schedule your posts
Once you've planned all the engaging content you're going to post to your social channels, you should figure out when you're going to post it. When scheduling content, make sure to take into account when your followers are active. Look for the busiest days of the week and times during each day. Facebook and Instagram both allow you to analyze such information through Insights. For Twitter, consider using a free tool such as Tweriod to find out the best times to post.
Most platforms have unique optimal posting times, which can be challenging to keep track of, especially if you're managing multiple accounts. Keeping a content calendar is a great way to plan ahead and make sure you don't miss anything. You can set up a simple spreadsheet for every month with a traditional daily grid (or use our free template).
Populate the sheet with content you're planning to post. Mark different networks with colors so that you can see what's going on in a glance. Include the time, the copy, and information about what other media or links you will include with the post. If you work in a team, add collaborators and set permissions.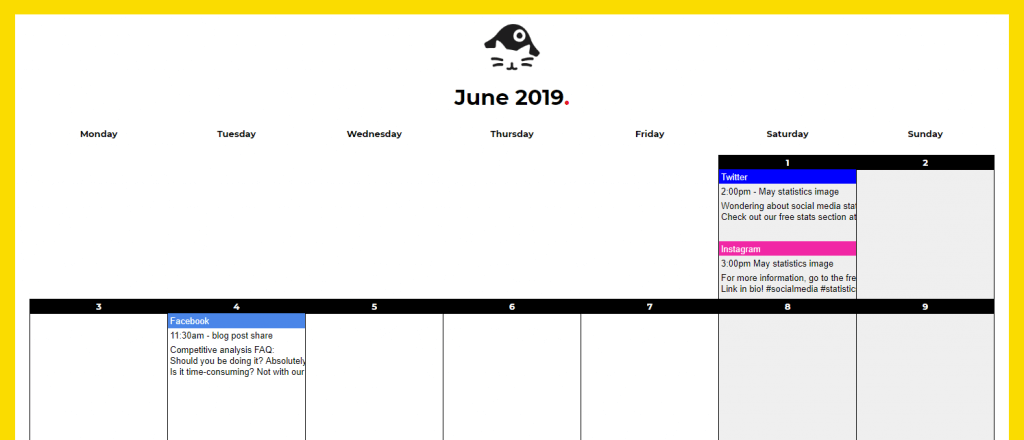 You can make your work even easier by scheduling your posts in advance. Use a social media management tool like NapoleonCat to set up your posts and schedule automatic publication ahead of time. Within the tool, you can also create custom labels to categorize your content by type or subject matter. These become especially useful once you generate performance reports, allowing you to easily see which content categories work best for your brand.
Manage engagement
You made it. Your brand new, well thought out content is out there. You designed it to support your objectives and appeal to your audience. But are you getting results?
Content is, of course, a critical element of any brand's social media presence. But if it doesn't help you raise engagement on your social media channels, then you're doing something wrong. And don't forget it's a two-way street! How you respond to your followers' reactions to your content is just as important as, well, the content itself.
Stay active on your social media even when you're not posting. Track comments, shares, and mentions. Many brands make the mistake of only joining the conversation when problems arise – they answer, delete, hide, or report unfavorable comments and posts.
But crisis management does not build a community and that's what you should be pursuing. Even if you're not able to address every interaction on your social media, do your best to engage with the most active users. Make your online community feel welcome and appreciated.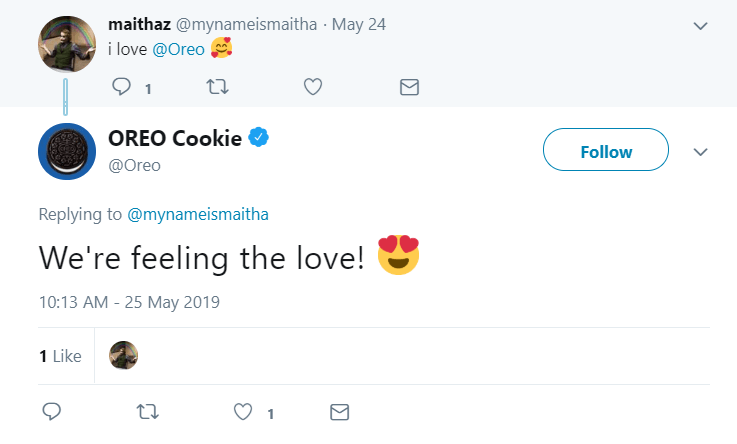 Finally, use social media to provide exceptional customer care. Consumers are becoming more and more likely to request information and look for assistance from businesses on social media. This creates an opportunity for you to shine. With the help of an attentive customer service team and auto-moderation tools, you can provide your customers with a high-quality, seamless experience.
Measure your performance
Measuring results is a pivotal element of any social media marketing strategy. The best way to go about it is to set up tracking tools early on and check in on them on a regular basis – that way you can observe trends in real time and refine your strategy when necessary.
There is an array of free and paid analytics tools you can use to measure your performance. Perhaps the best known of all, Google Analytics, is a very advanced free tool. It can be quite overwhelming in its complexity, but as long as you focus on select reports that apply to your online activity, you shouldn't have trouble navigating the platform. Google Analytics is extremely helpful for tracking conversions and following traffic generated through your social media content.
If you prefer a more straightforward tool designed specifically for social media, try NapoleonCat. The tool provides you with in-depth analytics of the pages that you manage as well as any publicly available profile. You can analyze your performance on Facebook, Instagram, Twitter, YouTube, and Pinterest, breaking it down by metrics (reach, engagement, etc.), content types, and time periods. You can also measure your stats against your competition using intuitive comparative sets. All of the data can be downloaded in the form of customizable PDF reports


Et voilà! You just put together an informed social media content strategy, complete with resources for further growth and performance analysis. Now you can sit back and relax…
Except you can't. Any marketing strategy is only good as long as it works and, as we all know, social media trends change by the hour. Make sure to always stay on top of your game. Read industry news, observe your competition, listen to your audience, and look for shifts in your performance. When you feel that your strategy is no longer as relevant as it first was, run another audit and make revisions. Most importantly, stay creative and audience-focused – great results will follow.