As a photo-sharing app, Instagram gives eCommerce businesses an opportunity to showcase their products and reach potential customers. Today, eCommerce businesses of all sizes see great sales potential in Instagram and 25 million companies market their products on the platform.

However, having an Instagram presence isn't enough to attract new followers and turn them into customers – you should know what to post on Instagram to keep your audience hooked and engaged.
Instagram has reached 2 billion monthly active users and 83% of these people discover new products in-app, so it has become one of the most important social media platforms for business promotion.
With the introduction of Instagram shopping, when companies got an opportunity to add product stickers when posting photos and encourage interested followers to make a purchase without leaving the app, having a solid content strategy for Instagram is no longer an option for the eCommerce market.
No matter who you are, whether you're an eCommerce business owner or a freelance SMM specialist who promotes an eCommerce store on Instagram, there's no need to ask yourself "What should I post on Instagram?" anymore – just keep on reading our handy guide where you can find 15 evergreen ideas for eCommerce businesses on what to post on Instagram.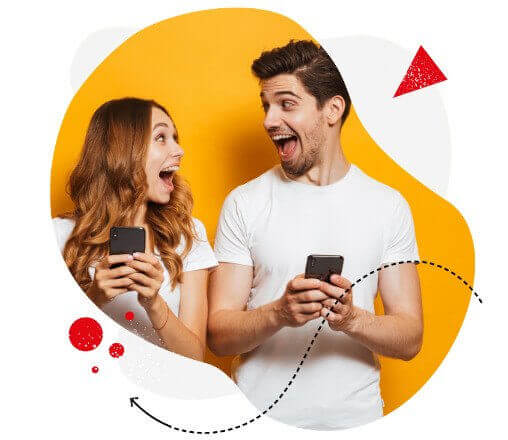 Instagram marketing made easier
Analytics, reporting, scheduling, and more. Try NapoleonCat and save 90% of your time spent on your marketing tasks. Try it for free:
Try NapoleonCat free for 14 days. No credit card required.
What to Post on Instagram – Quick Hack
Instagram offers a wide variety of content types: photo or video posts, short-lived Stories, engaging Reels, and long-form IGTV videos. Sometimes, especially when you're just starting out, it can be difficult to decide on which type of posts you should publish.
Since your business most likely shares the same target audience (or at least a big chunk of it) with your competitors, you can easily check what they're doing on Instagram to better improve your content strategy.

And guess what – you can easily analyze competitors on Instagram using NapoleonCat. You can analyze your competitors' best-performing posts, and then get inspired to create your own content: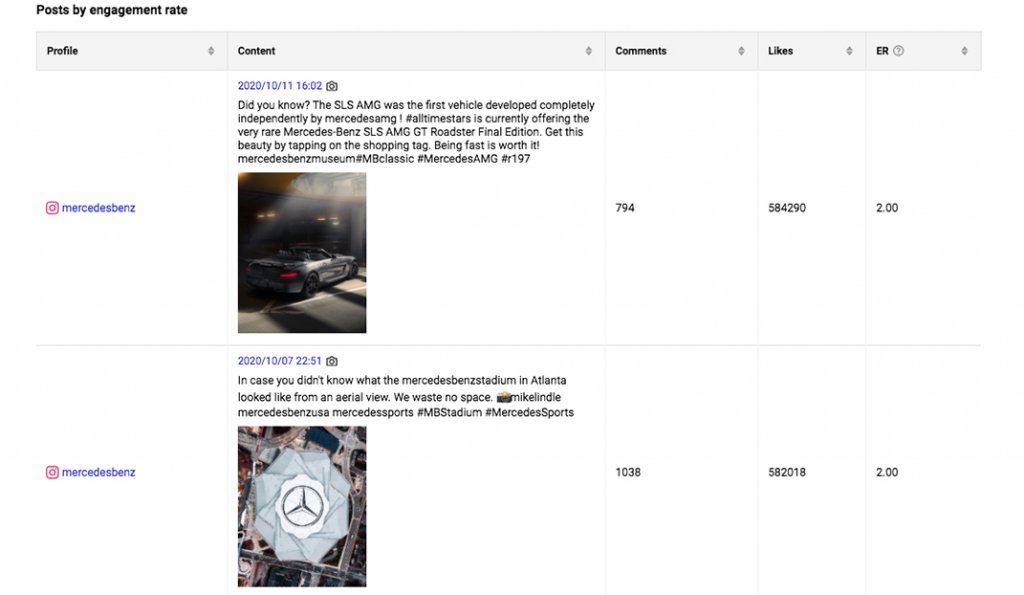 By analyzing your competitors with NapoleonCat, you will also find out the best times to post, how often you should post, and more.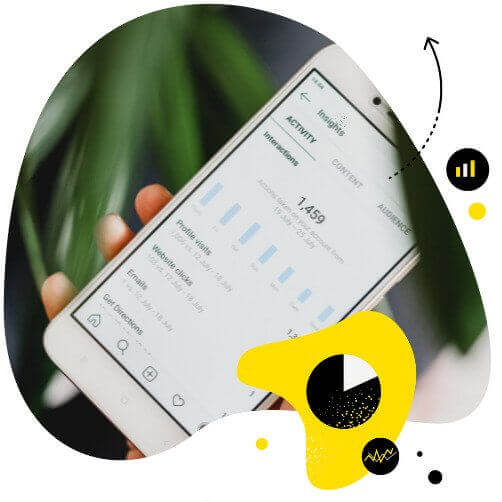 Analyze Competitors on Instagram
Track your competitors on Instagram. Compare multiple Instagram accounts side by side and generate in-depth reports within seconds. Try NapoleonCat for free:
Try NapoleonCat free for 14 days. No credit card required.
Anyhow, let's get back to our official list of 15 evergreen ideas for eCommerce businesses to post on Instagram.
1. Announce a New Product Launch
The more people know about your product, the more customers you can acquire. When you give a sneak peek of a new collection or a new product before it's released, you can cause a buzz around your business and spark interest in your product launch.
In honor of the latest drop, H&M has added a creative photo that shows off the items of a new collection. The company has also added a caption with all information about the featured items as well as product codes to make it easier for interested viewers to browse these products on their online store.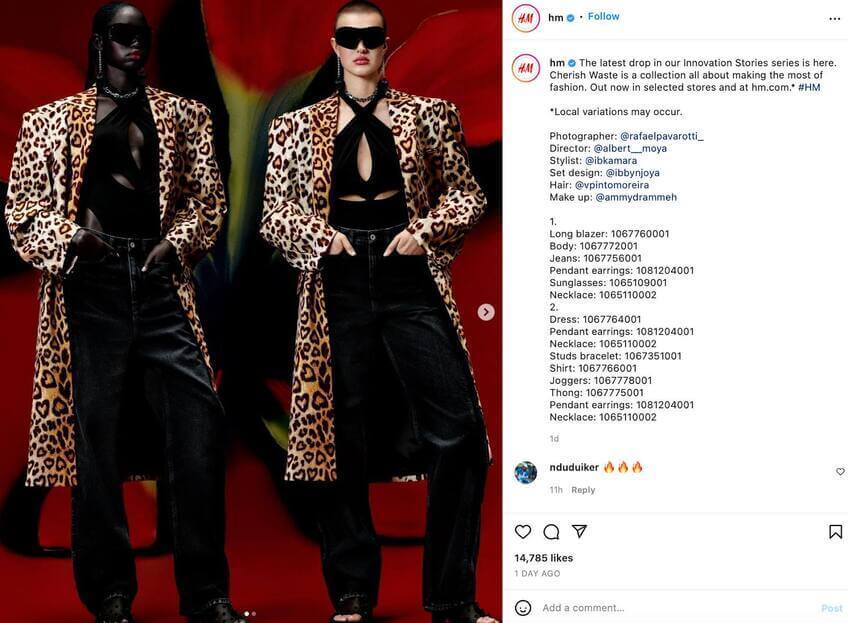 2. Create a Product Carousel
People pay close attention to the visual content on Instagram, so every user knows the importance of sharing high-quality images on the platform.
When it comes to marketing eCommerce products, it's also essential to create eye-catching visuals that showcase your items from different angles as online shoppers consume with their eyes.
For any eCommerce business, showing off its products is a must on the platform. But if you wonder what to post on Instagram, consider creating a product carousel that allows you to add up to 10 photos or videos and therefore show your product from all sides.
A big brand like Adidas knows the importance of carousel posts for online shoppers, so the company often uploads this type of post to introduce new products, just like in the example below: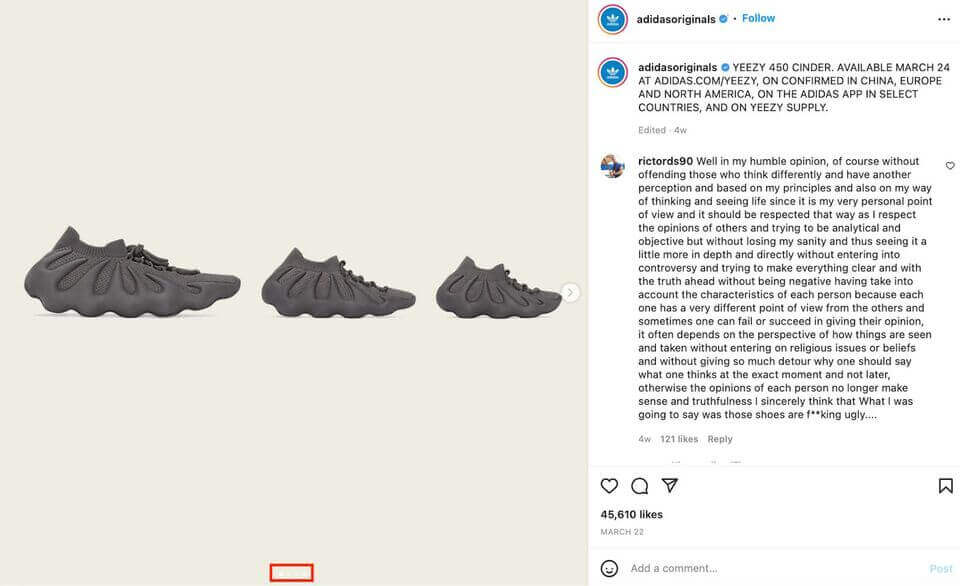 3. Tell About Seasonal Products
No matter what your eCommerce business sells, whether clothes or cosmetics, it's more likely that your company has seasonal products that are available for a short period of time.
It's proven that online shoppers have an interest in seasonal products, so it's just another great idea to tell about them on your profile.
When Lancôme decided to tell its followers about the new La Vie est Belle Domaine de la Rose Extrait de Parfum, the company created a series of posts that told about the limited edition perfume made with seasonal Organic Centifolia roses.
This approach helps to reach more followers and keep a cohesive and beautiful Instagram feed. Take a look at its profile: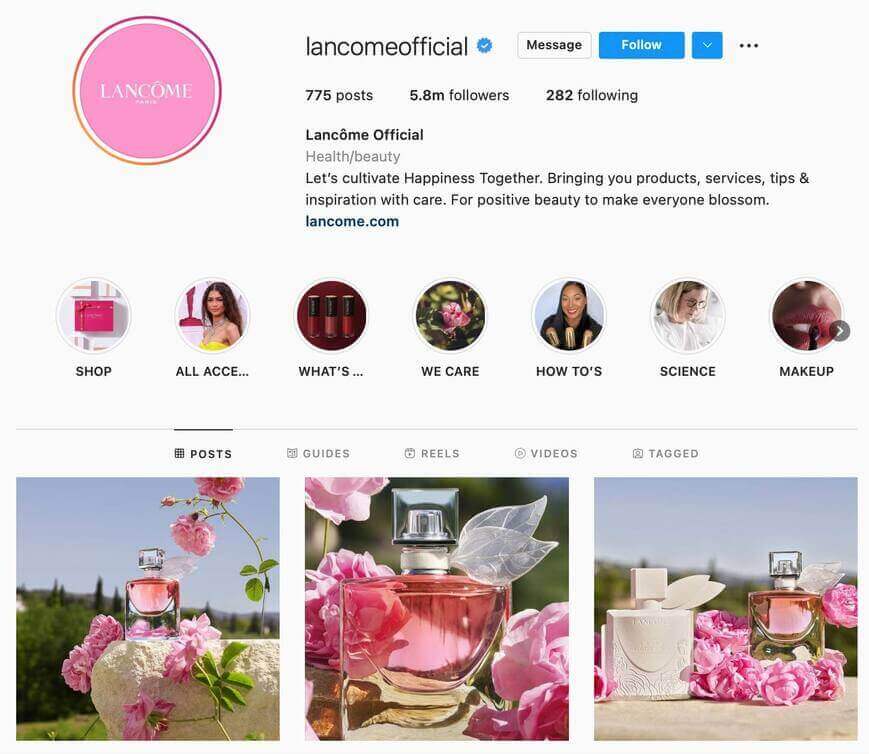 To attract seasonal shoppers, it's important to add posts about seasonal products to your content calendar and schedule Instagram posts to make sure that your posts go live in advance so that more consumers can see them and make a purchase decision.
4. Do a Product Review
The modern market has a wide array of similar products, so the majority of consumers do research before buying something from eCommerce brands. To make your potential customers make the right purchase decision, it's a good idea to do a product review.
Reviewing your product with a video is an excellent way to prove that your product can solve customers' pain points, and Sephora often creates product review videos to tell more about the products and their benefits.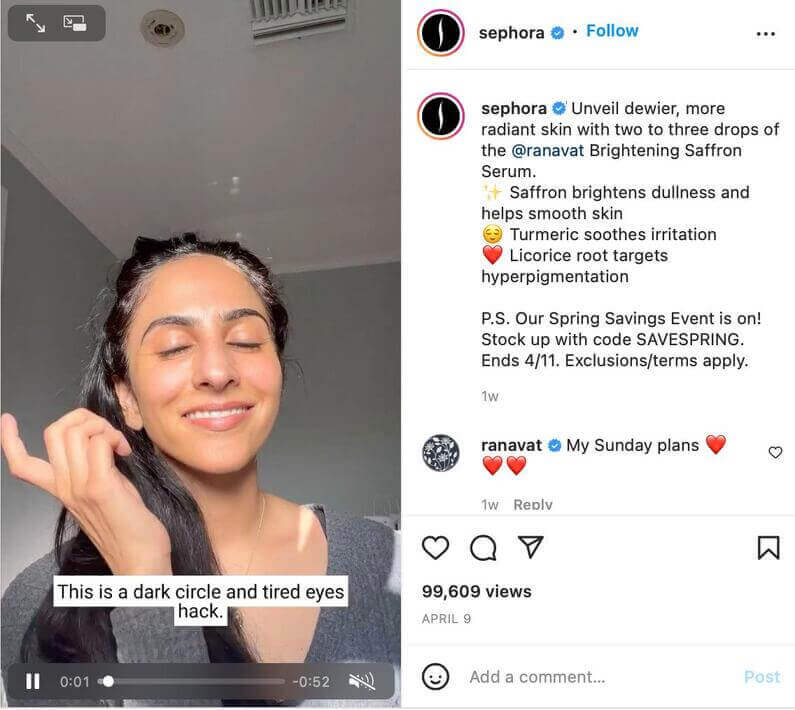 Pro tip: Team up with micro-influencers who have the same target audience and offer free products for review. Since these opinion leaders have a small following, they are more likely to agree to do a product review in exchange for testing your products. They also often have very engaged followers. It's a win-win for both parties. Then, you can post these reviews on your profile.
5. Share Influencer Endorsement
Influencer marketing is extremely effective. Today, 92% of consumers trust recommendations from influencers more than paid ads or brand content, so sharing influencer endorsements can be another idea on what to post on Instagram to grab your audience's attention and eventually boost sales.
To make stunning influencer endorsements, it's significant to find relevant Instagram influencers and ask them to create photo or video posts that show off your products in action and repost these visuals to your feed.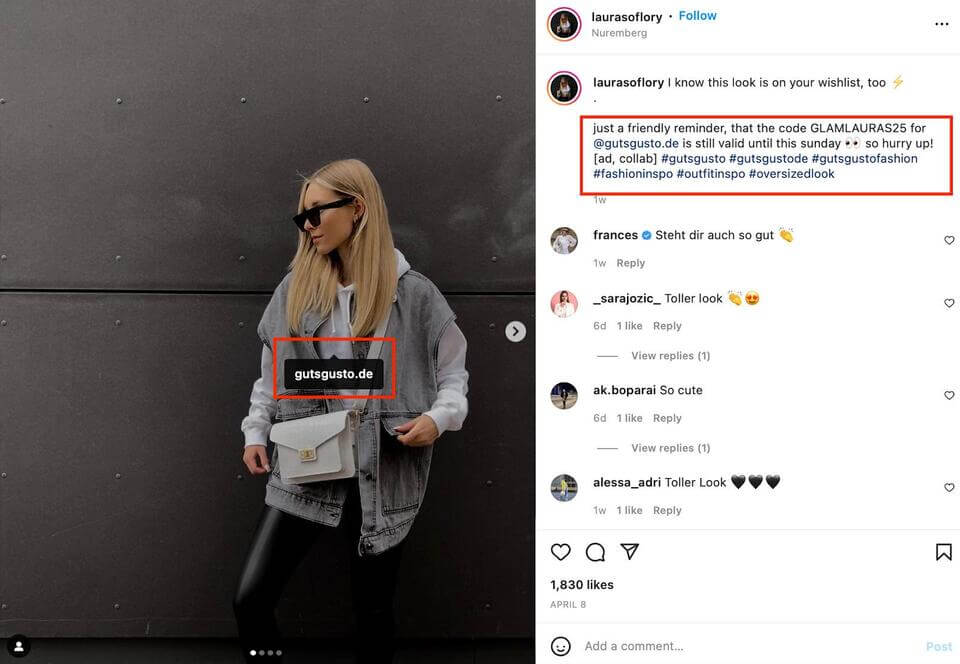 6. Repost Fan-Made Content
Who wants to publish stunning visuals without wasting their budget? Rely on user-generated content.
When people create posts that showcase your products, it helps other potential customers understand that your product is popular among other fans. If people create UGC posts, repost these fan-made content to your profile and keep the ball rolling.
With a variety of user-generated content examples, it's easy to find the right fan-made content that suits your brand identity. However, make sure you get the author's permission to use their visuals on your profile and tag them for credibility.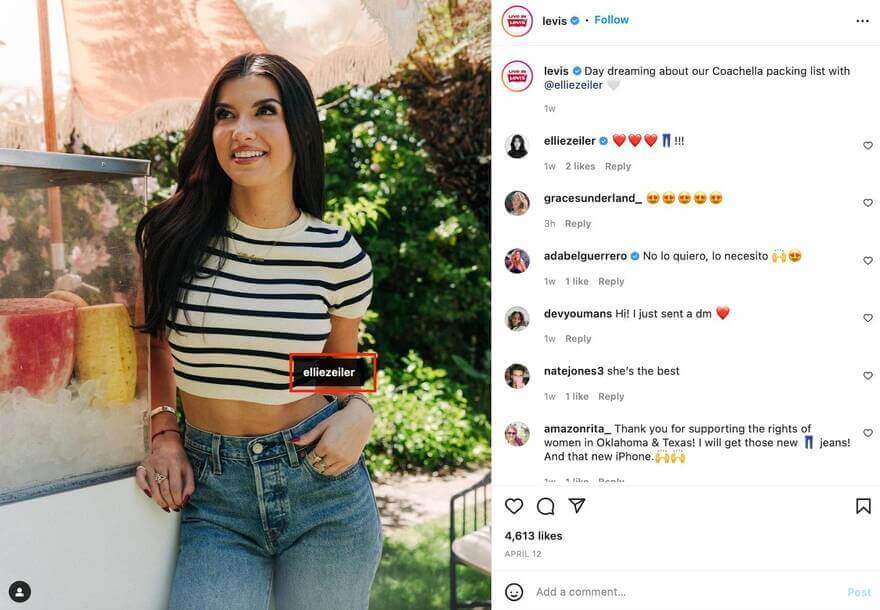 7. Make Engaging Outfit Change Transition Videos
Being dynamic, videos engage viewers and spark their interest in your content. When you make the most out of video content and capture outfit change transition videos, not only do you showcase your product variety, but you also engage viewers.
With one of Instagram new features, the Reels video layout, users can make multiple videos in separate windows and then put them in one. It's a perfect way to make engaging outfit change transition videos that show off your products without hiring an expensive videographer.
Reels tend to appear on the Explore page more often than regular posts, which gives an opportunity to reach a wider audience of potential customers. It's no wonder that brands like Lulus use Reels for outfit change transition videos.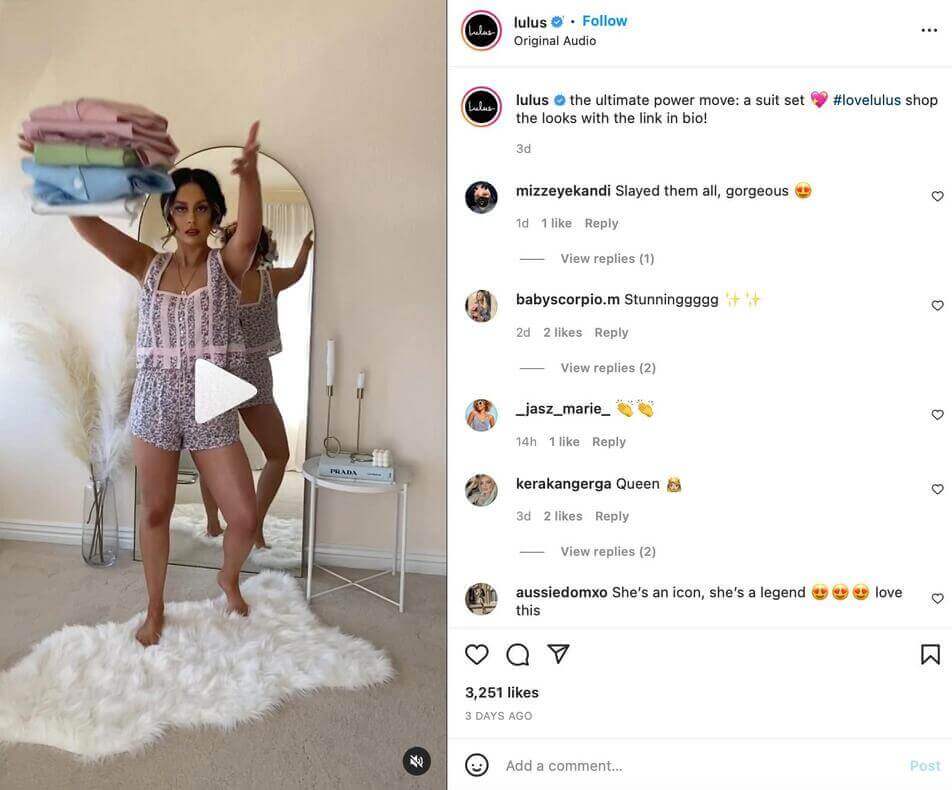 Remember that Instagram has many video formats – Stories, video posts, and IGTV – so you can create the right videos that suit your business marketing strategy.
8. Publish Customer Reviews
Customer reviews have an influence on other clients. Before making a purchase decision, 93% of people read customer reviews to make sure your product is right for them. If you're looking for another great idea on what to post on Instagram to promote your eCommerce store, consider publishing customer reviews.
If you get customer reviews, that's great. But if you have a social media presence on other platforms, you can also keep track of conversations about your brand and put some of these posts into your Instagram content.
For instance, Lululemon got a tag from one happy customer who was satisfied with the quality of their clothes. The company quickly put this Tweet on the image and published it on Instagram as a customer review.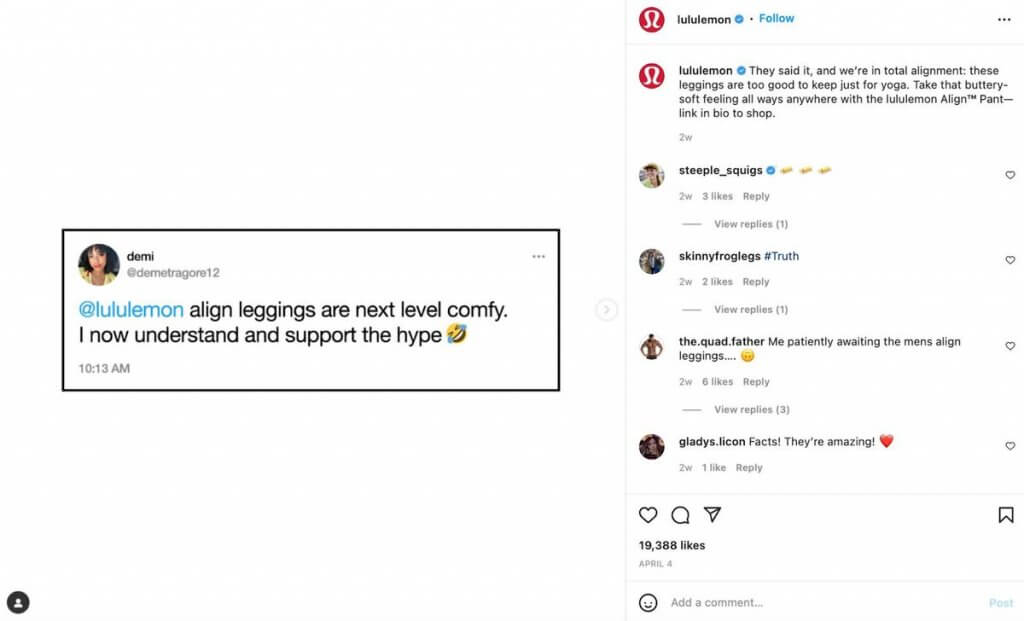 9. Repurpose Blog Posts
If you run a blog on your website, you have an excellent opportunity to make your content strategy cost-effective as you can repurpose blog posts for Instagram. Not only does it help to breathe new life into old content, but it also allows you to get more content ideas for your Instagram profile.
Most eCommerce businesses publish blog posts to show their niche expertise and provide their audience with handy information.
Consider writing quick summaries of your blog posts in your caption and invite viewers to read more on your blog to convert Instagram traffic into website visitors.
Here's an example of Freepeople that used this strategy on Instagram: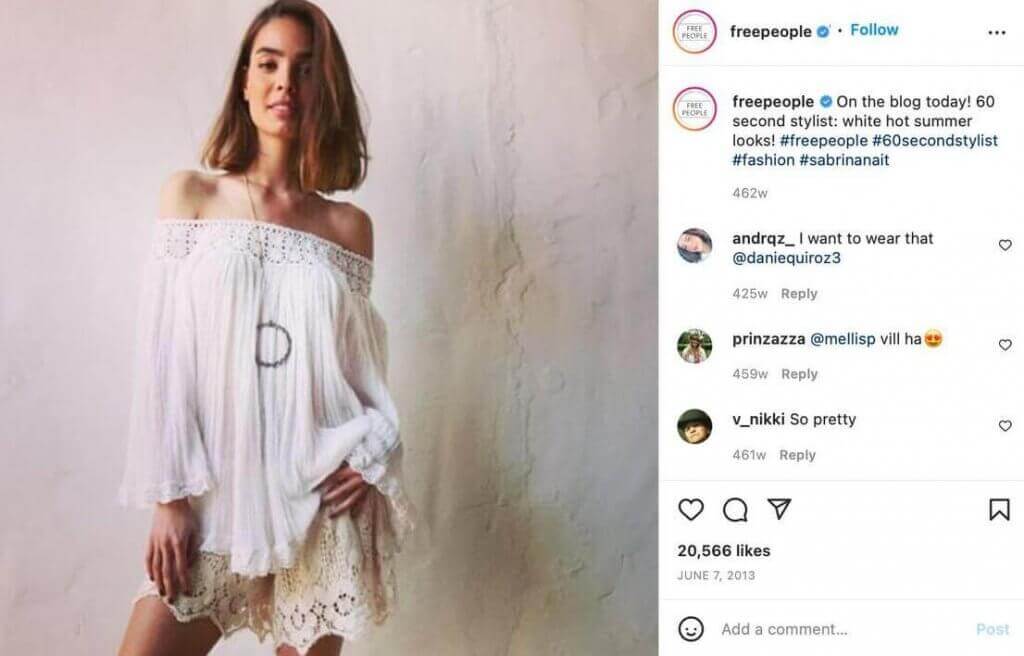 10. Cross-Promote with Other Brands
Cross-promotion is another great way to help another business while posting something on your blog. Since cross-promotion is focused on advertising a valuable business for your customers, it's beneficial for all parties – your customers, your partner, and your eCommerce business.
When you choose your partner company in advertising, it's important to make sure that this business has a similar target audience that is not in competition with yours.
For instance, one of the world's-known coffee chains, Starbucks, teamed up with KeepCup, a company that produces reusable coffee cups. At the same time, KeepCup was cross-promoted with the London coffee festival.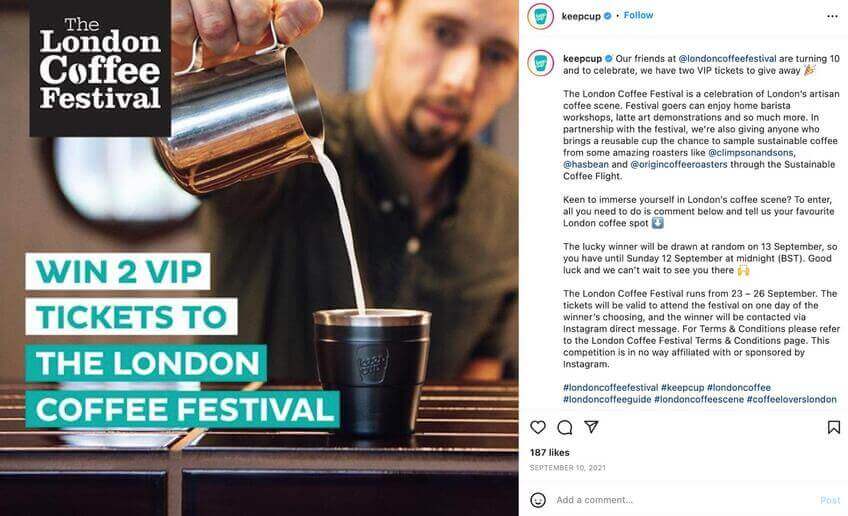 Before cross-promoting, compare Instagram accounts to make sure that you have a similar following of potential customers. You should also tag each other's accounts to help interested followers discover your partner's profile with ease.
11. Take Users Behind the Scenes
Boosting sales is the number one goal for the majority of eCommerce businesses. But before people make a purchase decision, they analyze whether your company is reliable.
Today, customers want to buy from authentic businesses, so it's a good idea to take users behind the scenes.
When you share a BTS (behind the scenes) photo on Instagram, you create an emotional bond with your followers. Moreover, behind-the-scenes content doesn't require much time or effort – just take your phone and show your workplace, employees, or brand's values.
For instance, you can dedicate a post to your views and beliefs. King Arthur Baking is a company that shows support for Ukraine during the Russian invasion.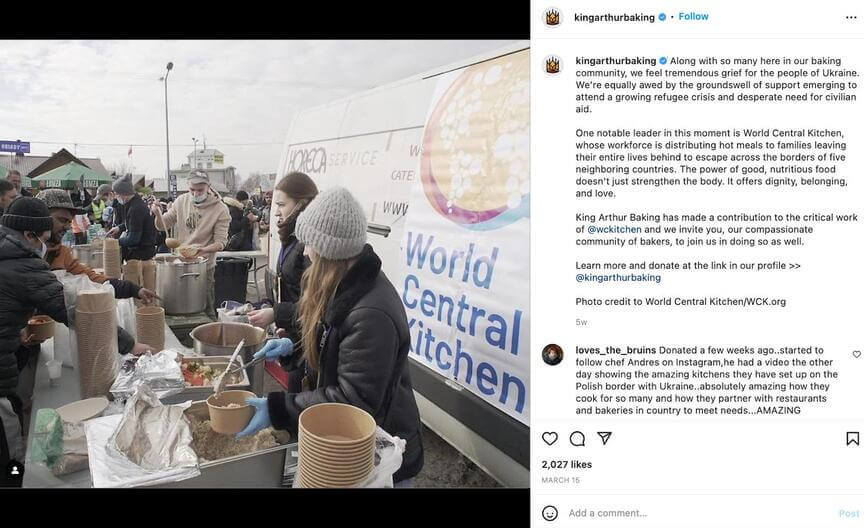 12. Introduce a Customer Loyalty Program
The modern market has a variety of options, so eCommerce businesses have to run customer loyalty programs to give their customers a solid reason to come back for more purchases. Most online shoppers are fond of customer loyalty programs.
If you wonder what to post on Instagram and you have a customer loyalty program, you can inform your followers about its benefits.
Check out an example of a detailed post that describes the benefits of joining a customer loyalty program: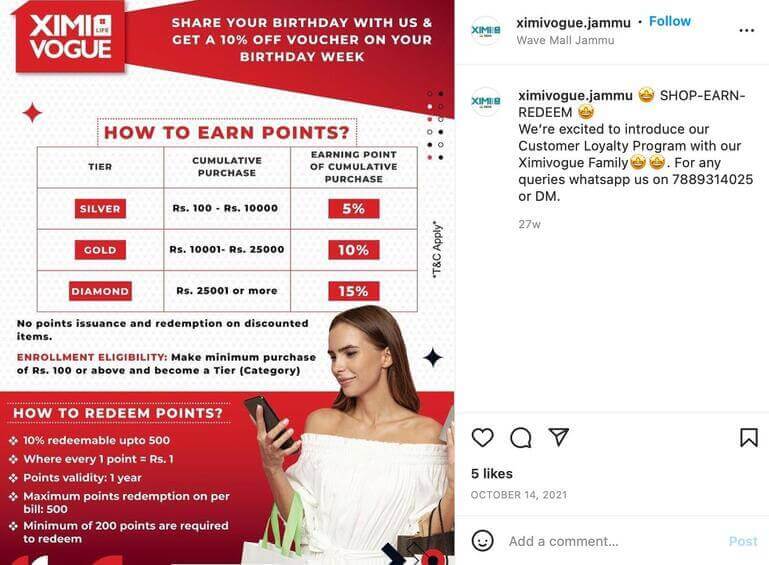 13. Give Away Branded Freebies
As a marketer, you should know about the importance of Instagram giveaways or contests.
People love the idea of getting something valuable from brands, so they are more likely to participate in your contest if you run it on Instagram. When you decide to give away branded freebies, not only do you get another post idea, but you also get a chance to turn followers into customers.
Look at how Fabletics uses this tactic on its Instagram profile: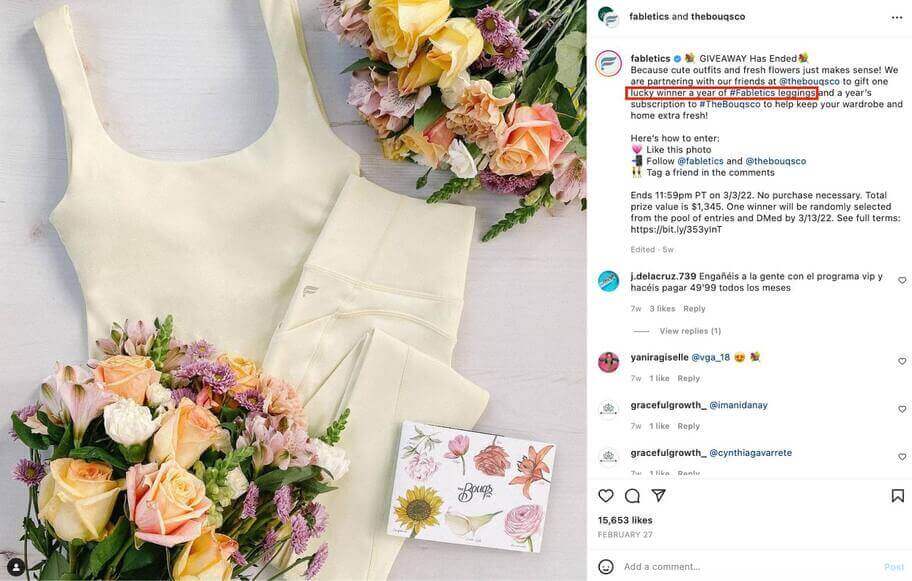 The more people see your post, the better. To boost user engagement and increase following, ask your contest participants to tag their friends.
When people recommend reading a post to their friends and family, it positively affects brand loyalty and trust as social media users trust peer recommendations.
14. Share Exclusive Promo Codes
When shopping online, people get an opportunity to compare prices fast and make the best purchase decision. During the discovery phase, potential customers seek out discounts and promo codes as they're a nice chance to save some money.
To acquire more clients and retain existing ones, you can share exclusive promo codes on your Instagram profile. But if you want to provoke impulse buying, set a short end date for the promo code. Here's how it can look like: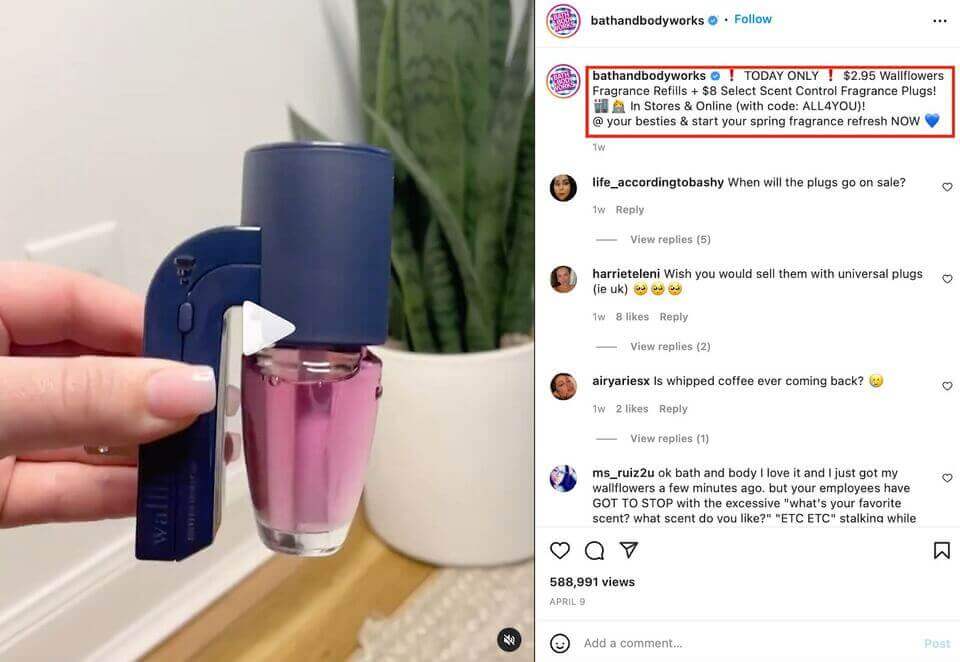 When you share promo codes, you can also attract more customers to your brick-and-mortar store. However, it's easier for you to understand whether your local community is active on the platform if you keep an eye on Instagram follower demographics.
All in all, it's a proven way to increase brand loyalty and boost eCommerce sales. Plus, it's another great idea on what to post on Instagram.
15. Display Inspirational Quotes
Social media platforms have been used for drawing inspiration. To educate and motivate your followers, you can find relevant inspirational quotes and put them on visuals. Actually, the idea of posting quotes on Instagram isn't new.
Businesses of all sizes and niches have used this strategy to get ideas for their social media calendars.
But if you want to engage your followers, it's important to provide them with fresh and unique content, so you can cite your CEO or employees. Check out an example from Honest: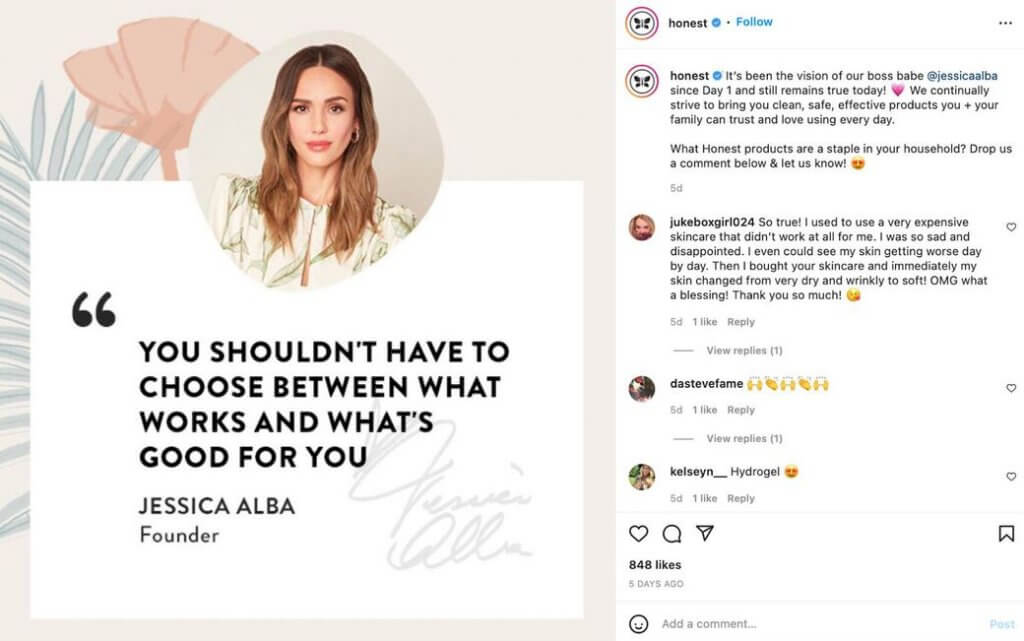 Once you know what you can post on your profile, it's no secret that you may wonder "When should I post on Instagram?".
Again, you can use NapoleonCat to check the times when your audience is the most engaged. And you can do the same thing for your competitors' Instagram profiles:


In Short
With the growing number of Instagram users who discover and buy products in-app, the platform has gained high sales potential for eCommerce businesses. Today, both big and small eCommerce businesses market their products on the platform.
However, it takes time and effort to maintain your Instagram presence, so companies want to never run out of Instagram post ideas.
If you also want to understand what to post on Instagram to wow your fans and turn visitors into followers, give the above-mentioned ideas a try. It can help to create a winning social media calendar and keep your feed cohesive.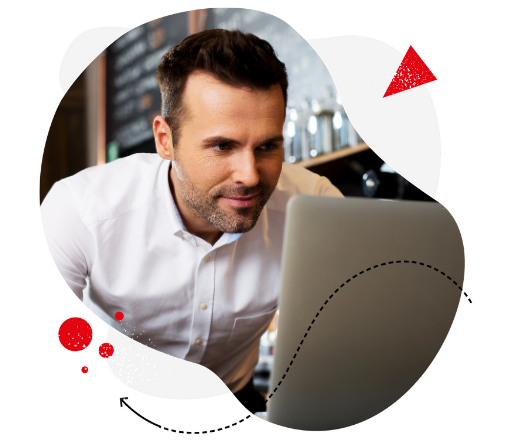 Smart Instagram Automation Software
Schedule Instagram posts, get in-depth analytics and reports, automatically hide and delete offensive comments, find out what to post and when, and more. Try NapoleonCat for free:
Try NapoleonCat free for 14 days. No credit card required.
You may also like: