eCommerce marketing strategies cover almost every aspect of digital marketing as a whole. Whether you're just starting out an online store or running a big eCommerce business, you need to know which tools to invest in.
eCommerce marketing tools are constantly evolving and essentially can do a whole team's job while simultaneously saving you hundreds of working hours. So, in this article, we're going to list out all eCommerce marketing tools (and their alternatives) to successfully run and grow your business online.
Let's dive right in!
Best website builder tools for eCommerce stores
If you're planning to run a business online, you must have your own website. Nowadays, there are plenty of different tools that will do all of the complex coding work for you. Below we've listed some of the best website builder tools for eCommerce that you can use with no coding skills and still build a sleek, fully functioning site.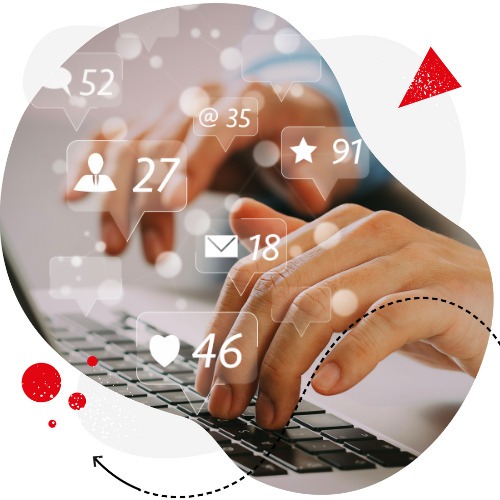 Manage multiple social media accounts from one dashboard
Manage all your social interactions across FB, IG, Twitter, LinkedIn, YouTube, and more – with an all-in-one social media tool.
1. Squarespace
(go back to the #menu list)
Squarespace is a web designing platform that primarily focuses on design. It's a simple, intuitive tool that will allow you to build a website even if you have no prior web design experience. Using this online website builder, you can run a blog, an online store, showcase events, and more. Prices start at $12 a month when you pay annually.
Squarespace offers around 90 templates divided into several different categories. Compared to other website builders, this is a relatively small number. However, these templates are responsive, mobile-friendly, and you can customize them at any point in time without losing any content.
Squarespace templates are focused on minimalism. It's an excellent solution for those who want to express their creativity, especially eCommerce businesses from the beauty/fashion industries. A website created in Squarespace will surely look neat and up to date with the newest design trends.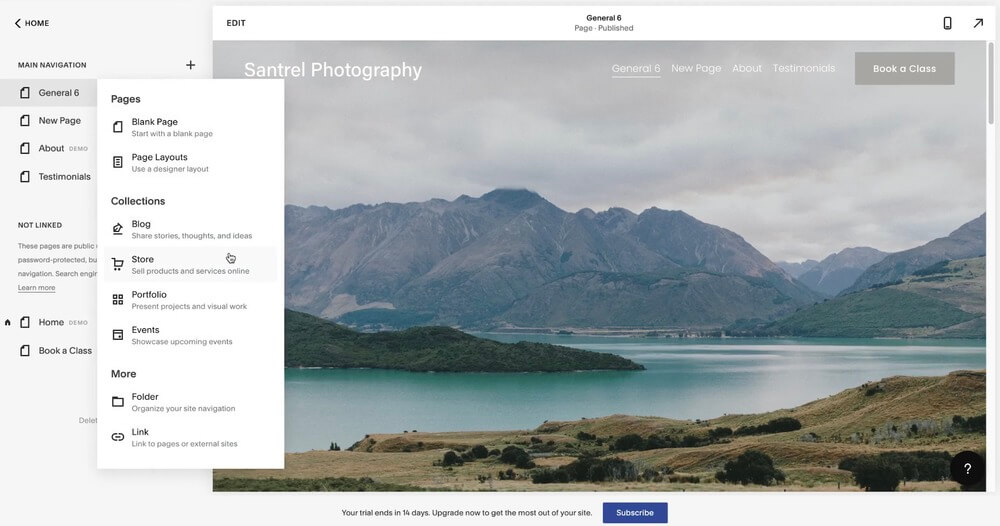 2. Pixpa
(go back to the #menu list)
Pixpa is an all-in-one platform for creators and small businesses to create beautiful, professional websites with a built-in online store, blog, and client galleries. Pixpa's versatile platform has everything you need to showcase your work, share ideas, and sell your products online, without any coding knowledge.
Building your website on Pixpa is super easy. Begin by signing up for a 15-day full-featured trial. Pick a template of your choice as the starting point. Pixpa offers a multitude of stunning, pixel-perfect, mobile-friendly templates.
You can customize your site design using a simple and powerful visual style editor. Adding pages to your website is a breeze with Pixpa's drag-and-drop page builder. With a host of built-in tools such as SEO manager, marketing popups, announcement bars, and much more, you don't need any extra plugins to start growing your traffic and converting more leads.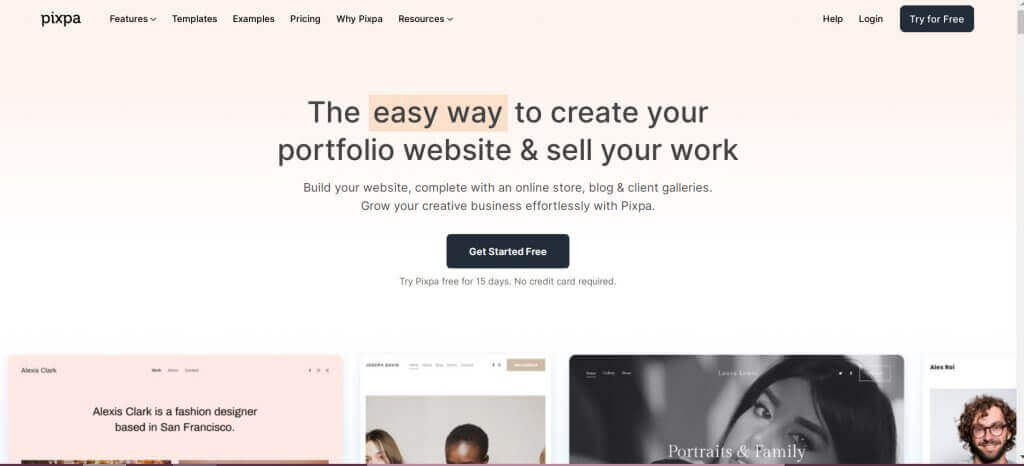 3. Wix
(go back to the #menu list)
Wix provides easy-to-use tools for building your website. It has a simple drag and drop system, where you can select any element and edit it. Prices start at $14 per month (billed annually).
It has approximately 200 applications that can be added to your site. These apps offer a wide range of features such as contact forms, galleries, comment areas, and email lists, and so on. Although the number of applications is limited, they cover the features most requested by site owners.
Wix offers over 500 website templates, free and paid, with all layouts responsive and written in HTML5. Using the built-in tools, you can further customize your site design, change the layout, and rearrange items as you wish. Perhaps the biggest drawback of Wix is ​​the fact that once chosen, your site template can't be changed.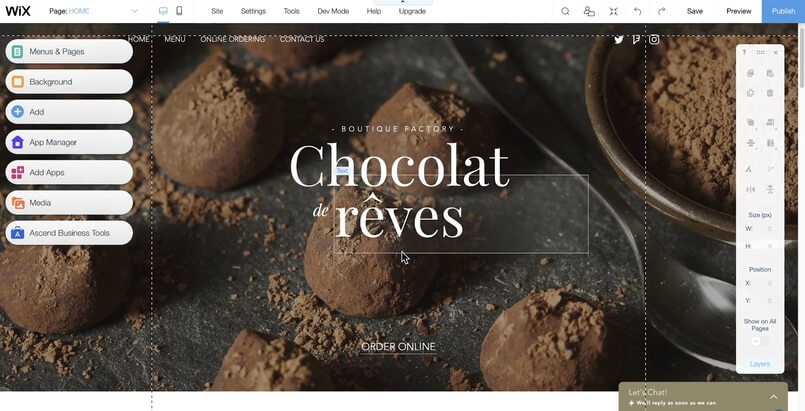 4. Weebly
(go back to the #menu list)
Weebly is another all-in-one website and online store builder platform used to create and manage eCommerce websites, landing pages, blogs, and online stores. The most basic plan starts for free.
Weebly has been on the market since 2006 (as long as Wix). Its prolonged presence on the market, combined with an easy-to-use page editor and free web creation in Weebly's domain has contributed to the reason why Weebly is among the most often chosen web builders.
Weebly's interface is very clear, and its editing section is simple enough for those trying a website builder for their first time. It has around 50 pre-designed layouts that you can customize to your preference.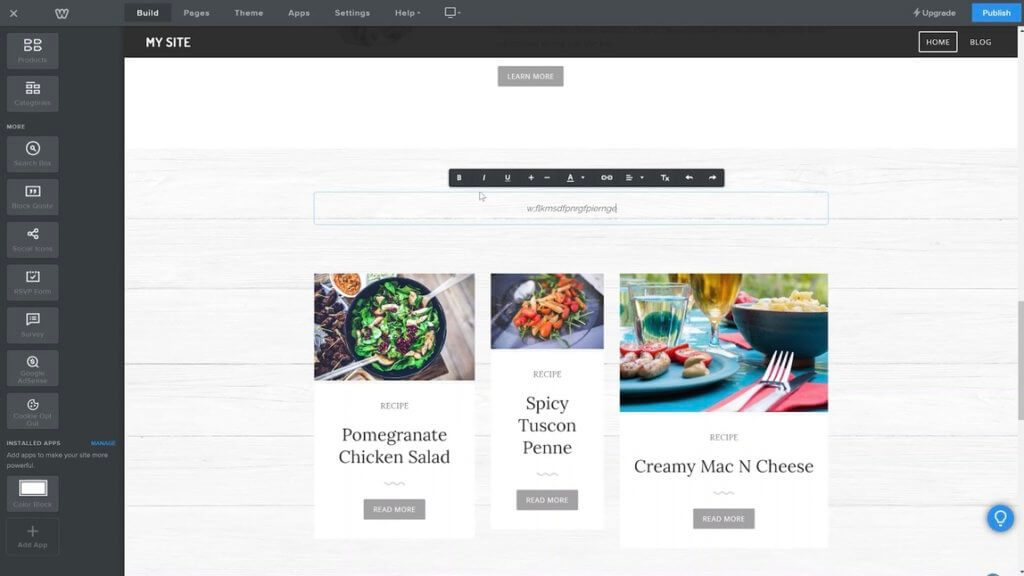 Best eCommerce platforms
Let's take a closer look at some of the best eCommerce platforms that will allow you to run an online store.
5. BigCommerce
(go back to the #menu list)
BigCommerce is an eCommerce platform that allows you to create your own online store where you can sell your products all around the web using its self-hosted stores, exclusive marketing, and sell tools. The prices start at $29.95 per month when billed annually.
It is a self-hosted solution. Self-hosted site builders offer the fastest and easiest way to build a website as they usually don't require any technical knowledge from their users. BigCommerce offers customizable templates, so you can change the website storefront according to your needs.
BigCommerce should work just fine for a small business. But if you decide to expand your online store, this platform may limit your possibilities – consider alternatives.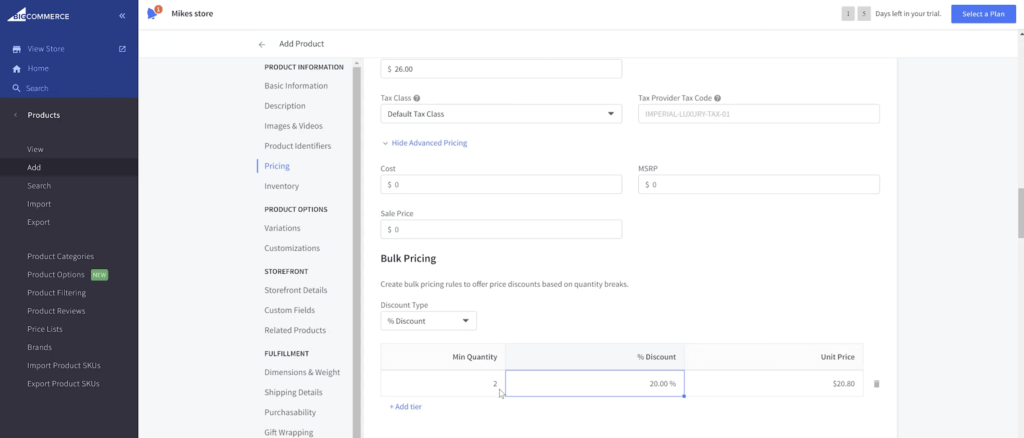 6. Shopify
(go back to the #menu list)
Shopify is an online platform built specifically for eCommerce. Every website comes with a shopping cart, checkout pages, payment gateways, etc. The pricing starts at $29/month when billed monthly. The company is publicly traded on the NASDAQ.
With Shopify, you can go to their homepage, click on start now, enter your store name, and be fully set up (minus design and products) in under 10 minutes.
It is highly recommended to anyone who wants to dip their toes in the water to check out eCommerce and start selling in a day.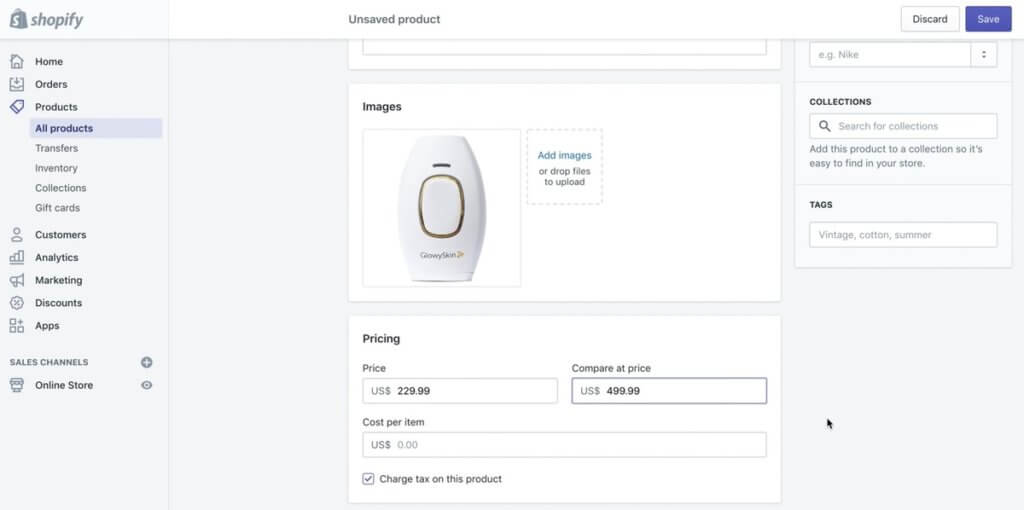 7. WooCommerce
(go back to the #menu list)
WooCommerce is a plugin for an even bigger platform – WordPress. Over one-third of all of the websites active on the Internet are hosted on WordPress. WooCommerce is a plugin that enables eCommerce features to an already existing WordPress site.
Both WooCommerce and WordPress are completely free, so all you'll have to pay for is your domain name and your hosting.
Once WooCommerce is installed, the website will have a shopping cart, checkout pages, the ability to link payment gateways, the ability to add and display products, and keep track of customers and orders. Everything necessary to have a product, sell it on the Internet, and fulfill the order.
WooCommerce is one of the best free WordPress plugins, and it can be customized endlessly. The platform should be a good fit for users who already have some experience in running an online store.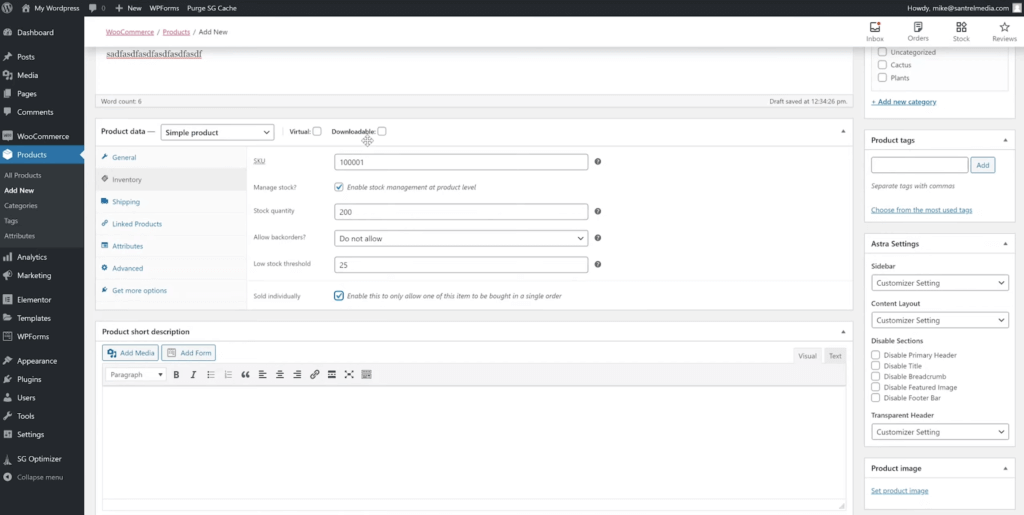 Best SEO tools for eCommerce
In case you wonder if SEO is still worth all the effort, here are some key statistics for 2021:
The answer is quite simple – SEO is still a potent source of organic traffic. Here are some of the best SEO tools for eCommerce that will help you boost your visibility in Google search results:
8. Google Analytics
(go back to the #menu list)
Google Analytics is an online tool that allows monitoring and analyzing traffic details about a particular website. It's also completely free.
You will be able to analyze search engine traffic, geography, and language source, page traffic, and any other aspects that can be used for analysis.
This data is super helpful for content marketing. It will help you find out your target audience's habits and develop a strategy for website optimization.
9. Google Search Console
(go back to the #menu list)
Google Search Console, aka GSC, is a free service offered by Google that helps site owners monitor, maintain, and troubleshoot their site's performance and visibility in search result pages.
For example, the links dashboard provides you with the top-linked pages as well as the pages that are linking to it. Moreover, the keyword research tool is great for finding keywords and phrases that can be targeted for organic and paid searches.
10. Ubersuggest
(go back to the #menu list)
Ubersuggest is a free Chrome extension and a powerful SEO tool that presents monthly keyword search volume, CPC, and competition data.
It is an excellent tool for bloggers, SEO specialists, SEO Copywriters, and web marketers who want a list of keywords to work for an SEO project, an editorial plan, or understand the search volumes that revolve around a specific topic.
Thanks to this tool, you will understand what users are looking for on the web and what terms they use to find information, services, and products.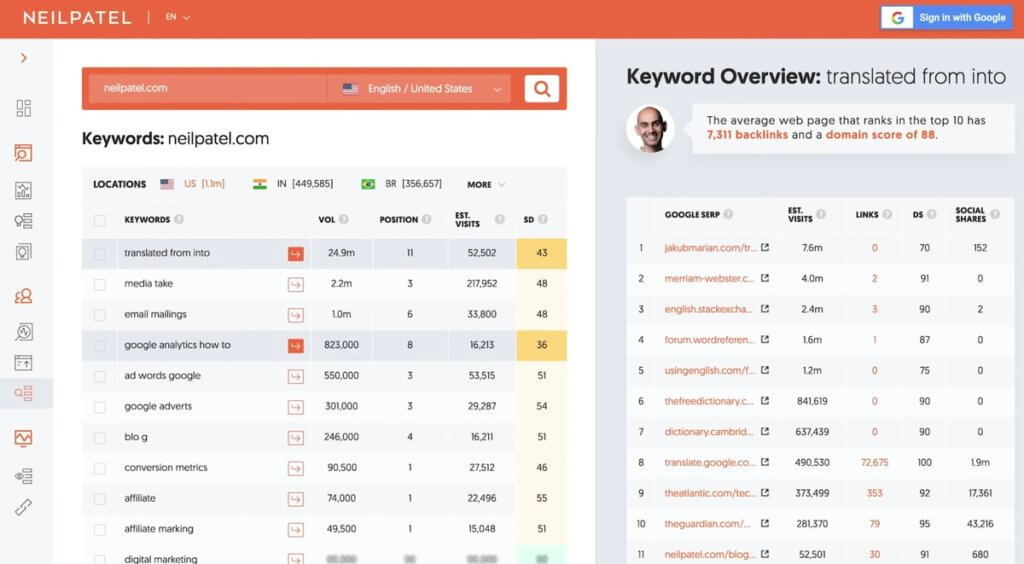 11. SEMrush
(go back to the #menu list)
SEMrush is an SEO tool that does your keyword research, tracks the keyword strategy used by your competition, runs an SEO audit of your blog, looks for backlinking opportunities, and lots more. Prices start at $99.95 a month when billed annually.
Simply put, SEMrush is a product that helps you optimize your website for search engines like Google. It lets you perform an "SEO audit" on your website to discover any technical improvements you can make to achieve higher search results. It can provide you with various keyword analysis tools for writing blog posts that are likely to perform well in search results.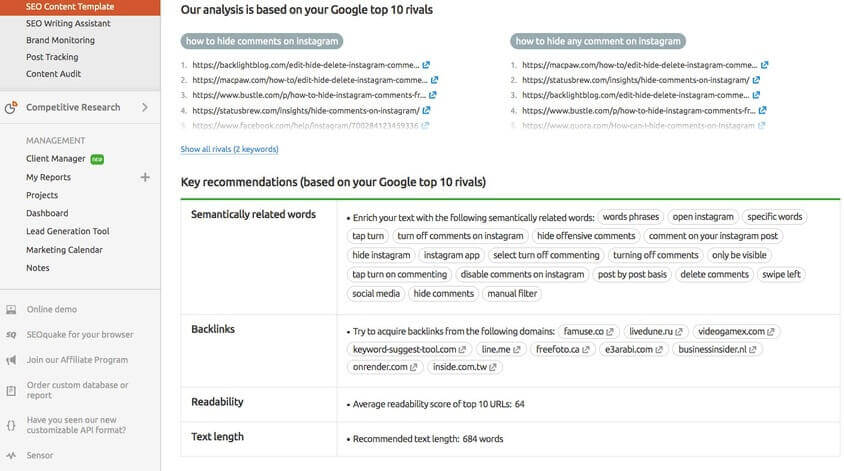 12. Ahrefs
(go back to the #menu list)
Just like SEMrush, Ahrefs also has a vast collection of SEO tools that you can use to increase your search results and overall website sales. Prices start at $82 per month when you pay annually, plus you get 2 months for free.
With Ahrefs, you can efficiently perform an SEO competitive analysis and find the right keywords according to your business niche or website requirements. Users can also monitor backlinks, track their growth over time, and deploy smart filters and advanced reporting features to discover relevant data quickly.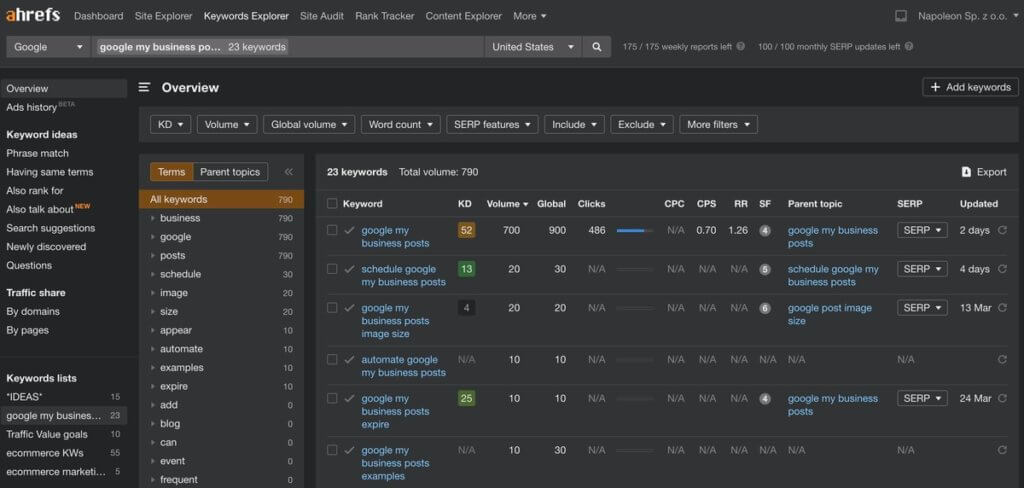 Both SEMrush and Ahrefs are some of the best SEO tools which accurately analyze your website. However, there are some major differences between the two.
Most people use Ahrefs for backlink analysis and content analysis. SEMush seems to focus a bit more on keyword research features, keyword competitor analysis, technical SEO tools (for example, a site audit feature), and rank tracking. It all depends on you what you want to analyze.
13. Serpstat
Serpstat can help you with various SEO tasks: from studying competitors and keywords to analyzing the link profile and selecting sites for external promotion. Prices start from $69 per month. You can also try the tool for free for seven days.

With Serpstat, you can:
Identify and prepare a list of profitable keywords that your competitors use to generate sales.
Find out questions your target audience commonly asks and create useful content for your audience.
Identify your site rankings in any country or language you specify.
Monitor your top competitors' regional or global data for organic and paid search.
Perform a comprehensive on-page analysis of multiple ranking factors and fix the most pressing issues accordingly.
Serpstat is a must-have for every e-store owner who wishes to outrank their competitors and dominate both organic and paid search presence.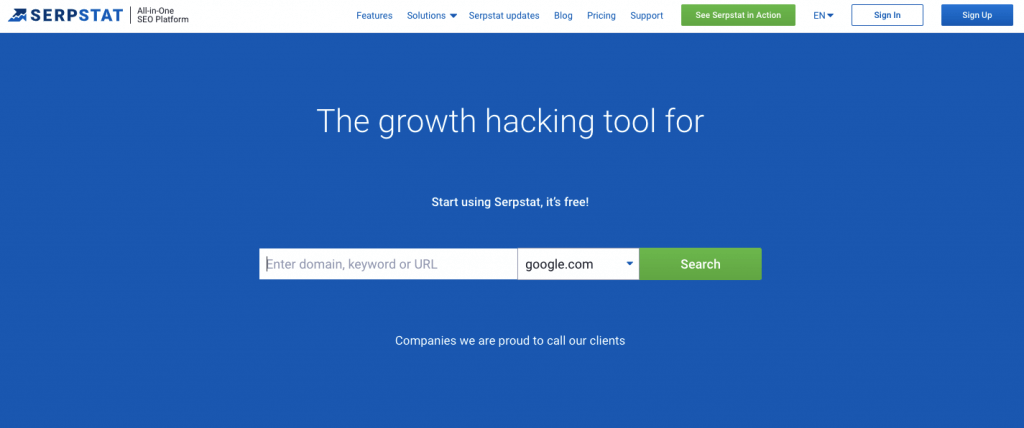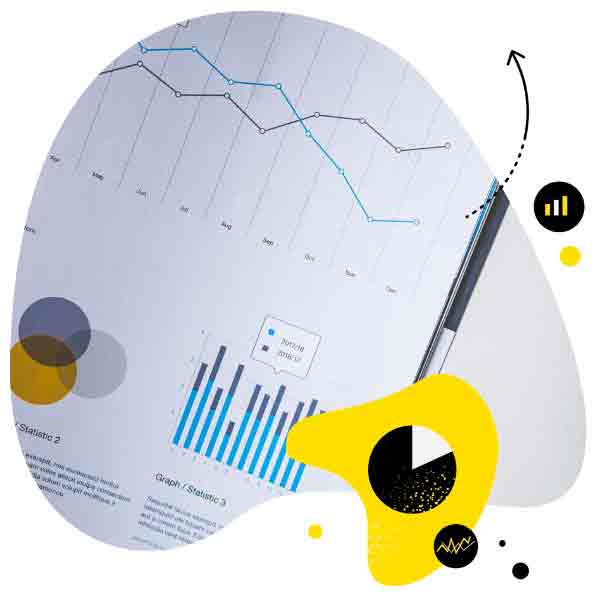 In-depth social media analytics
Analyze all your social accounts as well as your competitors, too! – with an all-in-one social media tool.
Best website analytics tools / best website UX tools
Another important aspect of your website is the user experience. The user experience (UX or UE) is how a user interacts with and experiences a product, system, or service. It includes a person's perceptions of utility, ease of use, and efficiency.
And that's what you should strive for – an easy-to-use, intuitive, fast-loading website without any hurdles for your visitors and potential customers.
Let's check out some of the best website UX tools used for website optimization.
14. Hubspot's Website Grader
(go back to the #menu list)
Hubspot's Website Grader is a completely free tool that will help guide you on what's missing from your SEO structure and how to correct that. It takes around a minute or two for the tool to analyze your website and provide you with a report.
The report is pretty simple to understand if you know the basics of optimizing a website to rank.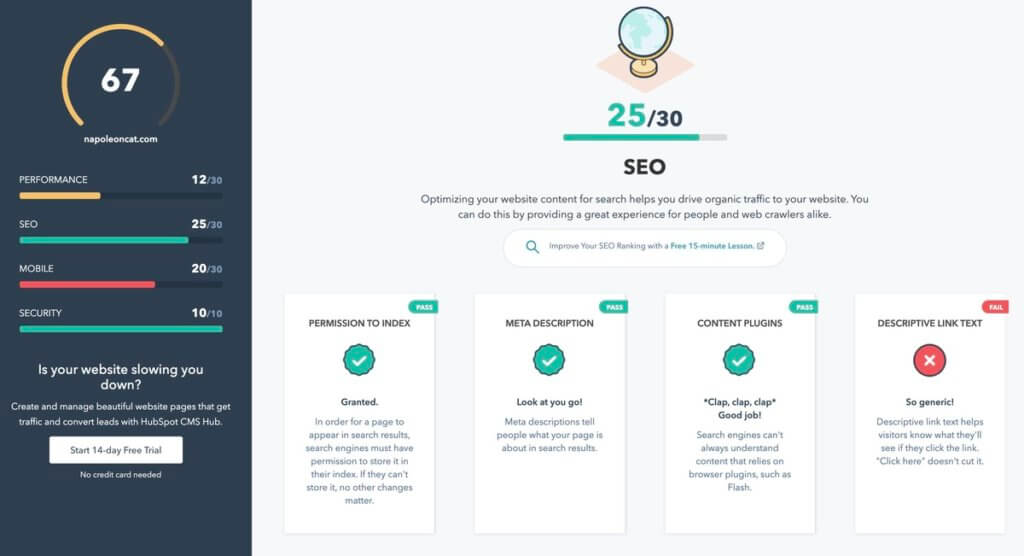 15. Hotjar
(go back to the #menu list)
Hotjar is a web analytics tool that gives you an in-depth understanding of your site visitors' behavior. With Hotjar, you can create heatmaps, which provide a visual representation of clicks, taps, and scrolling behavior. The most basic version of the tool is free, and then prices start at $39 per month.
You can watch users' sessions from your website and spot potential areas for improvement, e.g., identify places where your potential customers get stuck on your site.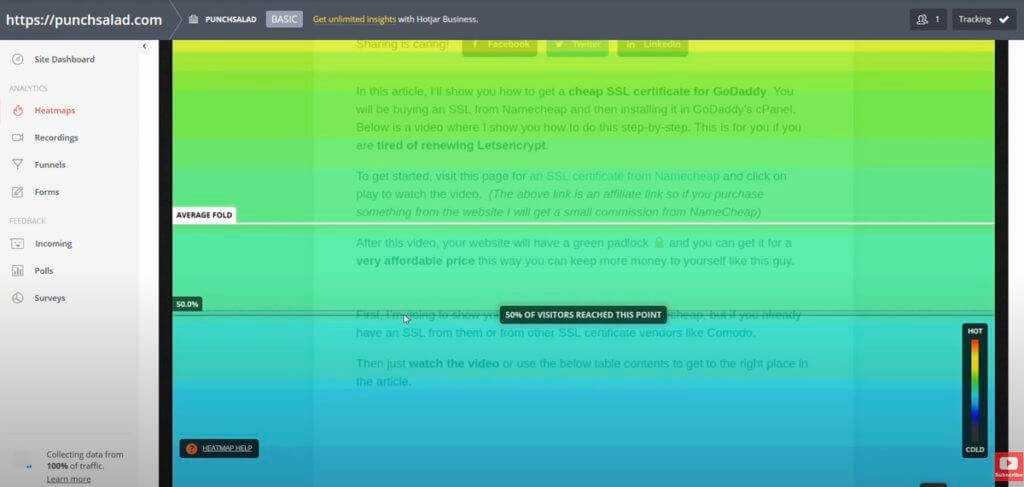 16. CrazyEgg
(go back to the #menu list)
Similar to Hotjar, CrazyEgg measures the clicks on the page and creates an aggregated click heatmap. Both of these tools will help you improve your conversion rates and streamline navigation on your website. Prices start at $24 per month.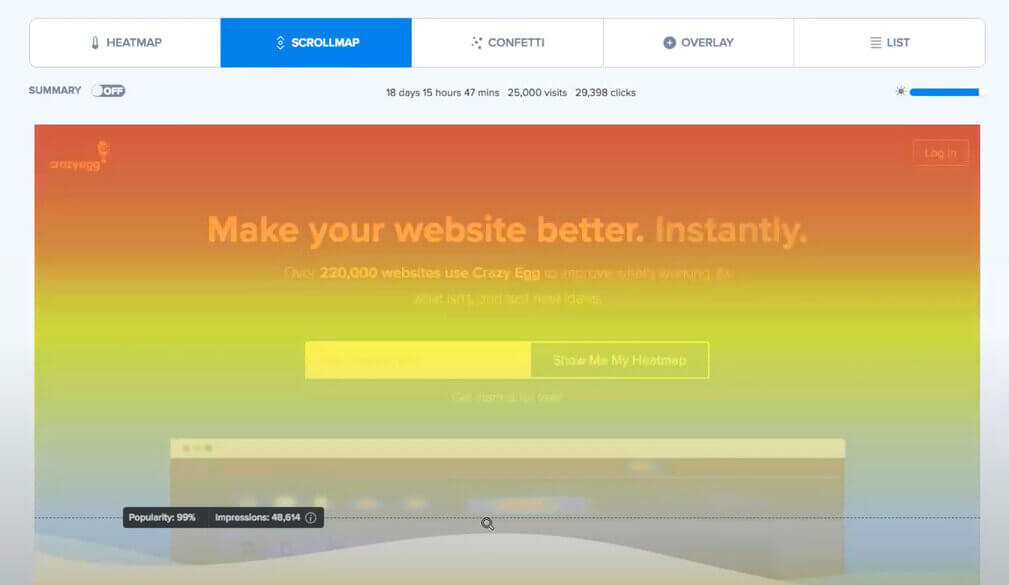 17. Unbxd
(go back to the #menu list)
With Unbxd, you can optimize your site search by giving customers a more personalized experience, like product recommendations. For example, when your visitors see "recommended for you", they are more likely to explore the offered items and make a purchase. You can also get Unbxd as a plugin for Shopify. Prices start at $299 per month.
18. Optimizely
(go back to the #menu list)
With Optimizely, you can run A/B tests and build a better website for your visitors. You can test different website layouts and elements to see what converts and performs best. Optimizely can also remember your visitors' behavior and adjust the content on your site to their past searches and visits. Prices start at $2000 per month.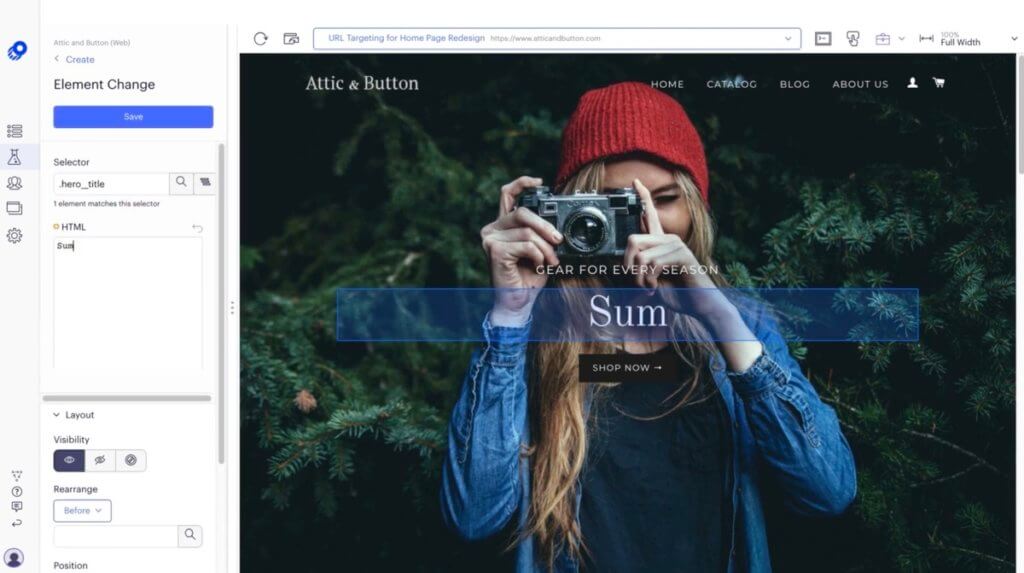 19. Searchspring
(go back to the #menu list)
Searchspring helps you develop a better search experience with the advanced site search. It lets the customers see the products related to their past searches and visits on your website. Prices start at $499 per month.
Best social media marketing tools for eCommerce
At this point, no one should deny the power of social media for eCommerce. However, when you need to manage multiple accounts across various platforms, things get complicated, and you may end up wasting valuable time on petty tasks.
For this section of the article, we only chose one tool, our tool. It's an all-in-one social media management platform that should make your life easier. Pricing starts at $21 per month (billed annually), and the first two weeks are completely free.
20. NapoleonCat – Social Inbox
(go back to the #menu list)
With NapoleonCat's Social Inbox (video tutorial), you can manage all of your social interactions across different social accounts and platforms from one simple dashboard, in real time. You can quickly react and answer comments, private messages, reviews, and more.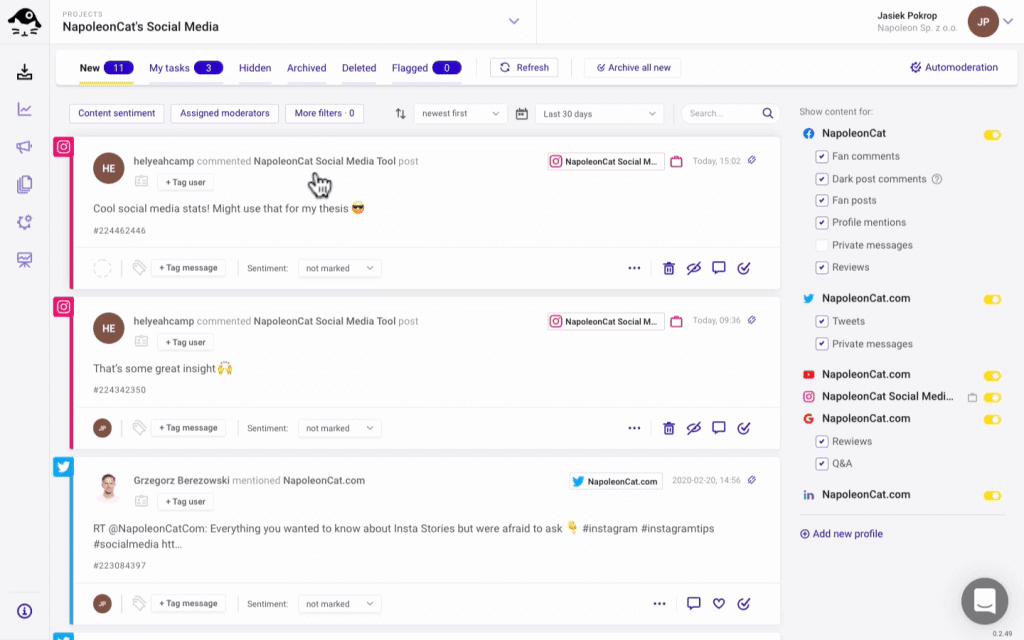 This feature will save you plenty of time since you won't have to jump between tabs across different social media accounts and networks. It's all there in the Inbox – Facebook (organic and ads), Instagram (organic and ads), Twitter, LinkedIn, Youtube, and Google My Business.
Even if you get comments and messages in foreign languages, that's no problem. The Inbox has a built-in Translations feature that you can use to translate all the incoming messages and reply in the language of the person you're addressing (video).
20. NapoleonCat – Auto-moderation
(go back to the #menu list)
NapoleonCat's Auto-moderation (video tutorial) is an AI-based feature that works like a smart customer support assistant and a protective shield against any kind of spam under your organic posts and ads.
Here's how it works – you create "rules" that are primarily based on specific keywords and phrases that you define, and then you define the action that the rule will take. A rule can automatically reply to comments and messages, and also hide or delete comments.
There's no limit to the number of rules you can create or keywords you define. Your Auto-moderation rules will be as smart as you make them. By the way, the process of setting up, for example, an anti-spam rule will take you around 2 minutes. It's all really easy and intuitive.
The feature works for Facebook (organic and paid posts), Messenger, and Instagram (organic and paid posts).
Below is an example of an anti-spam rule that will automatically delete comments under Instagram Ads. For our keywords, we didn't use any actual curse words, but you get the idea.
20. NapoleonCat – Publisher
(go back to the #menu list)
NapoleonCat's Social Media Publisher (video) is a social media scheduling tool. It allows you to craft, schedule, and auto-publish posts across multiple platforms at once. You'll be able to automatically post your social media content during the times when your audience is the most engaged.
The Publisher works for Facebook, Instagram, Twitter, LinkedIn, and even Google My Business.
With this feature, you can adjust your post to each of the social media platforms' specific publishing features, e.g., schedule the first comment on Instagram, target your audience by country on Facebook, adjust your photo's ratio, and more.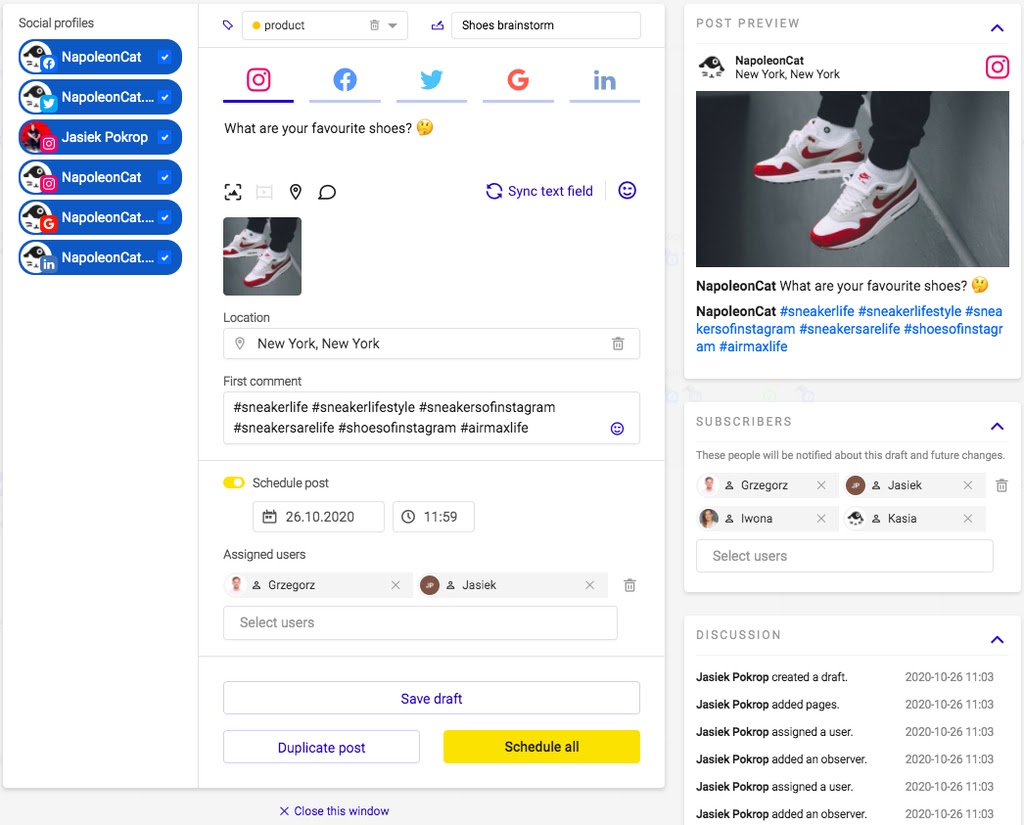 The Publisher also offers collaborative features for social media teams. You can assign posts to different team members and exchange feedback through internal discussions under specific posts or drafts.
20. NapoleonCat – Analytics and Reports
(go back to the #menu list)
NapoleonCat's Analytics feature offers in-depth analytics for both your own social media accounts and your competitors, too (video). You'll quickly figure out what kind of content performs best amongst your target audience, when it's best to post, how often you should post, and more.
Since you share your target audience with your competitors, you'll be able to analyze how well their posts perform and improve your own social media marketing strategy accordingly. Analyzing your competitors on social media will also provide you with content ideas.

You'll also be able to export your analytics into clear and comprehensive reports using the Reports feature (video). The feature also works for competitors' accounts, and it takes around a minute or two to generate a new report.
You can also schedule your reports so that they'll be generated weekly, monthly, or quarterly and they'll be automatically sent out to your clients or other stakeholders via email.
Best content marketing tools for eCommerce
You don't need to hire a professional graphic designer to create engaging content. Yes, there are also tools for that. Life's good.
Have a peep at some of the best and the simplest content marketing tools for eCommerce.
21. Canva
(go back to the #menu list)
If you're not a graphic designer and want to create quality graphics for your social media, Canva should do the job. It is super easy to use, has tons of templates to choose from, and you can even customize the templates based on your brand colors, design aesthetic, etc.
The basic version is free, however you can upgrade to the Pro plan. Canva Pro starts at $109.99 a month (billed annually).
You can create posters, logos, presentations, infographics, social media posts, Instagram Stories, Facebook Stories, YouTube thumbnails, animated social media posts (video), presentations, and so on.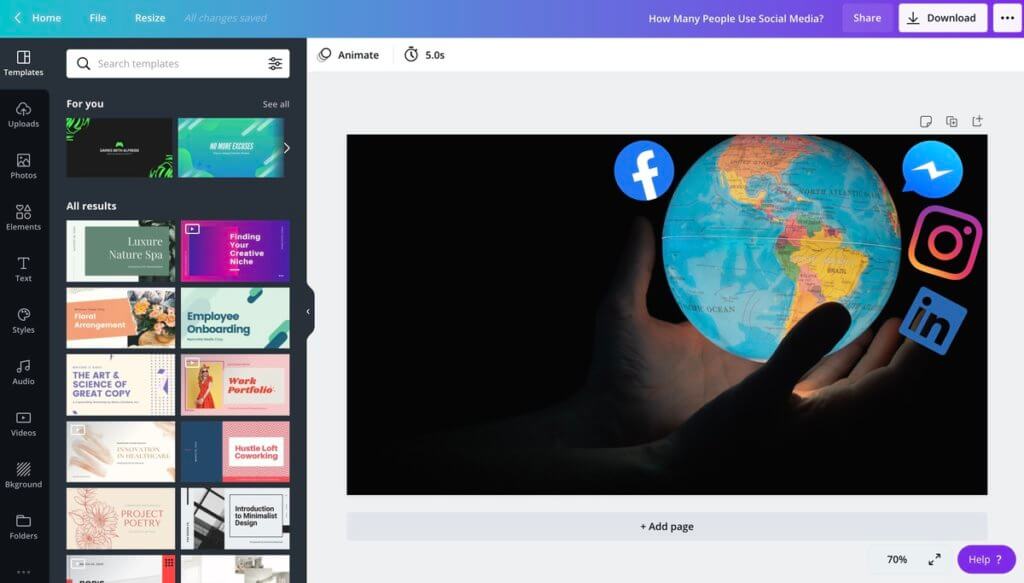 22. Photopea
(go back to the #menu list)
Photopea is a free online photo editor. It is a "slimmed down" version of Photoshop. It does not have all the tools, options and raw power for editing images as Photoshop has.
However, it's a good option for beginners who want to learn the basics and practice certain skills before actually paying for any apps in the Adobe Creative Cloud.
Since both Photopea and Canva are completely free, you can always combine the power of the two!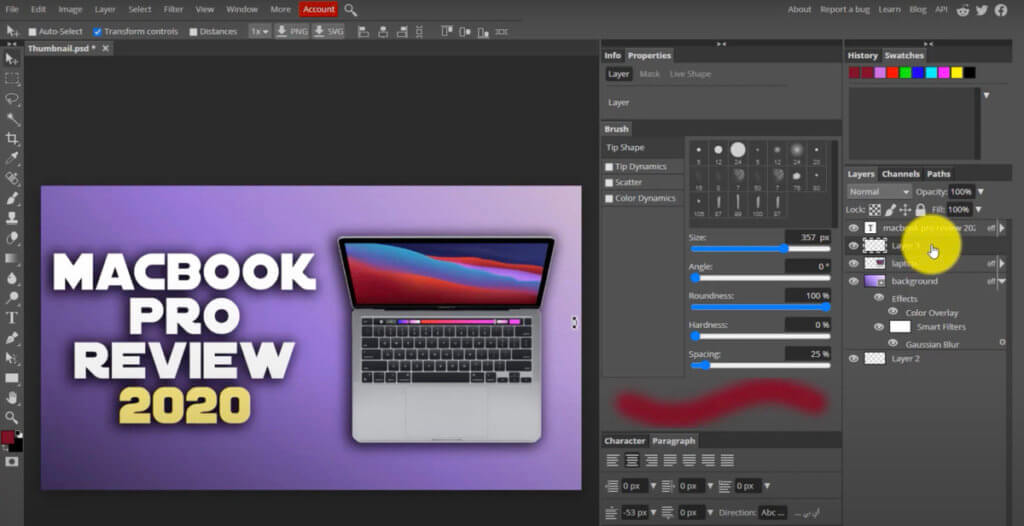 23. Lumen5
(go back to the #menu list)
Lumen5 is a video creation platform designed for brands and businesses to produce social content for driving audience engagements online. The platform's goal is to allow anyone without training or experience to easily create engaging video content within minutes.
The most basic plan is free, and upgrades start at $11 per month when billed annually.
Lumen5 enables marketing teams to focus on the story and narrative while relying on the tool to do all the heavy lifting.
24. VSCO
(go back to the #menu list)
VSCO is a free photo editing app (Android, iOS). It allows users to capture photos and edit them with preset filters and tools. The app will make your pictures look as if they were taken with a professional film camera.
If you want some additional features, you can pay $19.99 for the whole year of VSCO's membership.
VSCO is best used with Instagram, as the social network is abundant with stunning photos.
25. Snapseed
(go back to the #menu list)
An alternative to VSCO is Snapseed. It's also a free photo editing app, it just has some different filters. Since both VSCO and Snapseed are free, you can again combine the features of the two tools to create your perfect visuals.
Best email marketing tools for eCommerce
Don't be fooled that email marketing is extinct or doesn't work, 89% of marketers still use email as the primary channel for generating leads.
Check out some of the best email marketing platforms for eCommerce.
26. GetResponse
(go back to the #menu list)
GetResponse is a comprehensive email marketing software platform that helps you create content, increase sales, and increase traffic to your website. Integrated email marketing, automated responses, and landing pages allow you to automate basic tasks and launch effective marketing campaigns.
Prices start at $10.50 per month when you pay ahead for 24 months. If you're planning on paying monthly, the price is $15.
Advanced analytics make it easy to track conversions, leads, and ROI and let you know what your customers want. Customizable template scenarios do the job for you – no coding is required.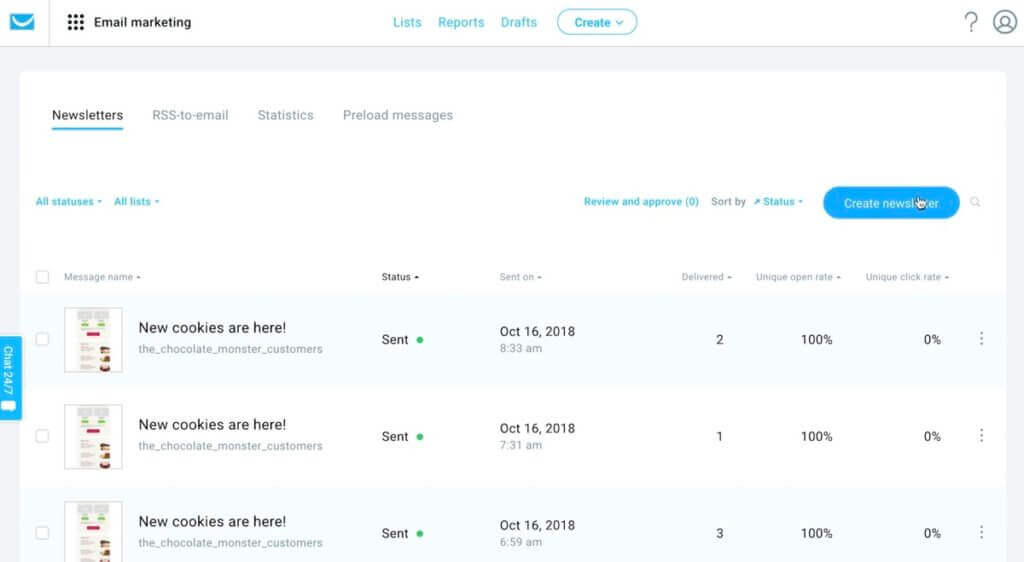 27. Omnisend
(go back to the #menu list)
Omnisend is an email marketing software that takes automation for eCommerce to the next level. With Omnisend, you can do all of the things you'd expect from an email marketing service, but it also allows you to automate SMS messages and push notifications.
Omnisend has a free option for those who just need basic email marketing, which isn't limited based on subscriber count. For marketing automation, you'll need the Standard Plan, which starts at just $16 per month.
Omnisend makes email and automation workflow creation simple with a visual drag-and-drop builder. It also comes equipped with templates for eCommerce stores so you can get started even quicker. Overall, Omnisend is a complete email monitoring software for anyone looking to automate their email marketing easily.
28. Mailchimp
(go back to the #menu list)
Mailchimp is another email marketing software. With Mailchimp, you can send newsletters and automated emails. You can build your email list with a form or import your known contacts.
MailChimp is forever free for up to 2,000 subscribers and 12,000 emails per month. For users with more than 2,000 subscribers, MailChimp offers monthly and pay-as-you-go plans.
Mailchimp offers pre-designed email templates and a drag-and-drop email builder. The tool has built-in email analytics. With all of that, Mailchimp is a pretty attractive software for businesses to start with email campaigns.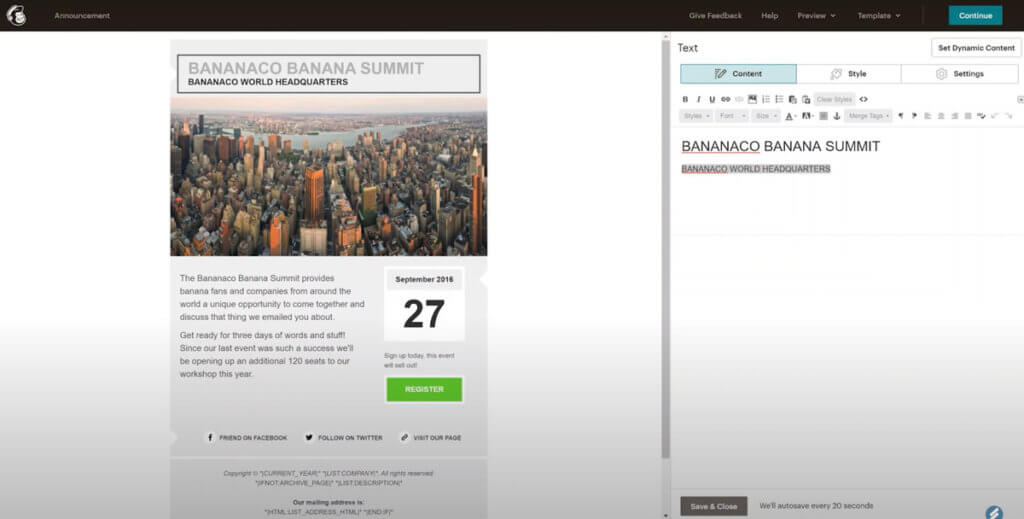 29. AVADA
(go back to the #menu list)
AVADA Email Marketing is a popular email marketing service that provides impressive email marketing and marketing automation features. With AVADA, you can automatically send SMS and email messages to your customers, which helps strengthen customer loyalty and raise brand awareness. It's easy to use, especially for non-tech people, and the AVADA customer service team is there to help you out right away.
AVADA Email Marketing has a free plan for 1,000 contacts and 15,000 emails per month. If you need more than this, you will need to sign up for paid plans. AVADA Email Marketing's pricing starts at $9/month for its premium plan.
Considering its affordable pricing and useful features, AVADA is ideal for small businesses and new eCommerce stores.
Best customer service tools for eCommerce
If you run an online business, you need to have an efficient online customer service backed by convenient software. You need to handle all the customers' queries before they choose to go somewhere else or buy from your competitors.
Here are some of the best customer service tools for eCommerce businesses that help streamline customer support teams worldwide.
30. Tidio
(go back to the #menu list)
Tidio is a cloud-based platform allowing you to use chatbots and live chat to solve your customers' queries immediately, both on your website and on Facebook Messenger.
Tidio offers a free forever plan (essential live chat, chatbot, and mailing features for micro & small businesses), and the paid communicator features start at €180 per year or €18 per month.
It also could be used for lead qualification, by qualifying leads through automation and AI-powered chatbots to ensure the right sales reps are spending time with highly-qualified leads.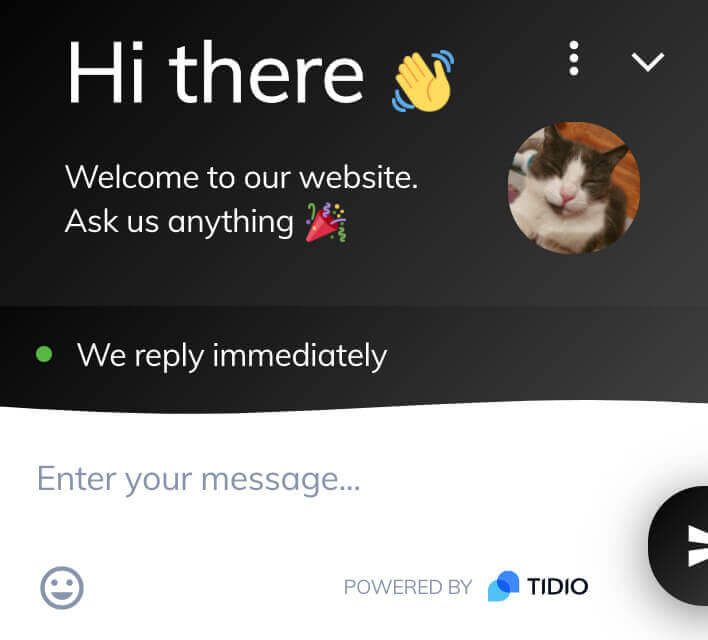 31. Zendesk
(go back to the #menu list)
Zendesk offers a range of tools for customer service and engagement to connect business with customers on any channel. This tool places emphasis on simplicity so that any business can deliver effective customer support. It includes live chat and messaging, a call center, and a knowledge base.
Plans starting from $19/month.
32. CallHippo
CallHippo allows you to set up a virtual call center for your e-commerce store. It's especially useful for companies who work with numerous agents from different parts of the World.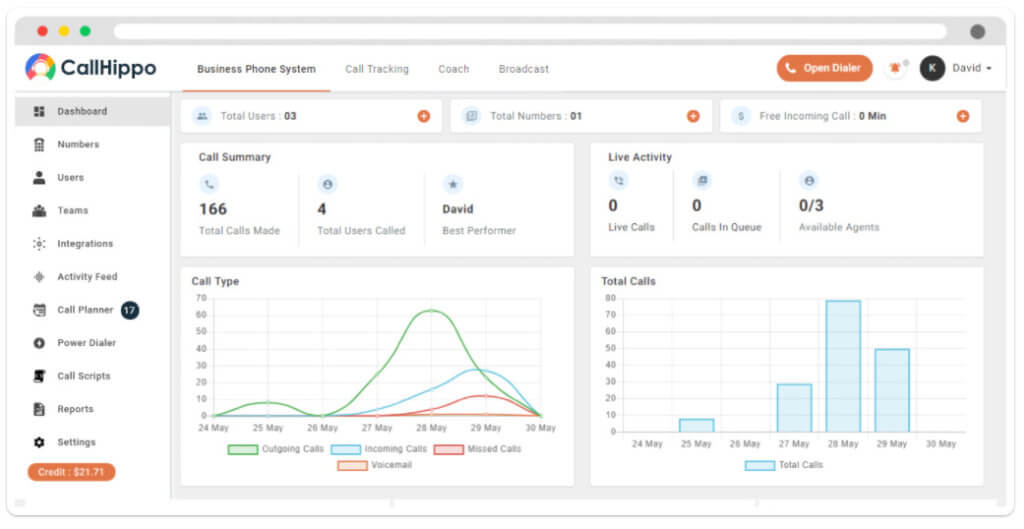 CallHippo eliminates the cost of purchasing hardware, and it's easy to set up as well. The tool is loaded with features like call transfer, IVR, automatic dialer, skill-based call routing, advanced analytics, etc., that help deliver exceptional customer service.
The plans start at $16 per user/month.
33. Intercom
(go back to the #menu list)
Intercom provides features like lead generation, customer engagement, and customer support. This tool focuses on these areas in order to expedite lead nurturing and help customers learn about their new service. The tool offers features like chatbots, livechat, onboarding tools, and self-service support.
Intercom pricing starts at $38 per feature, per month.
34. Survey Monkey
(go back to the #menu list)
If you're looking for a tool that will help you get feedback from your clients, Survey Monkey is your top choice. With its well-designed survey templates, you can start measuring customer satisfaction.
The surveys are easily customizable and can be sent automatically to your audience. Most importantly, you can track analytics to understand feedback and grow your business according to your clients' expectations.
Plans are starting from $32/month.
Bonus
35. Data Feed Watch
DataFeedWatch is a feed marketing solution that empowers merchants and agencies to succeed on over 2k eCommerce channels. Prices start at $59 per month when you pay monthly, plus you get 15 days free trial.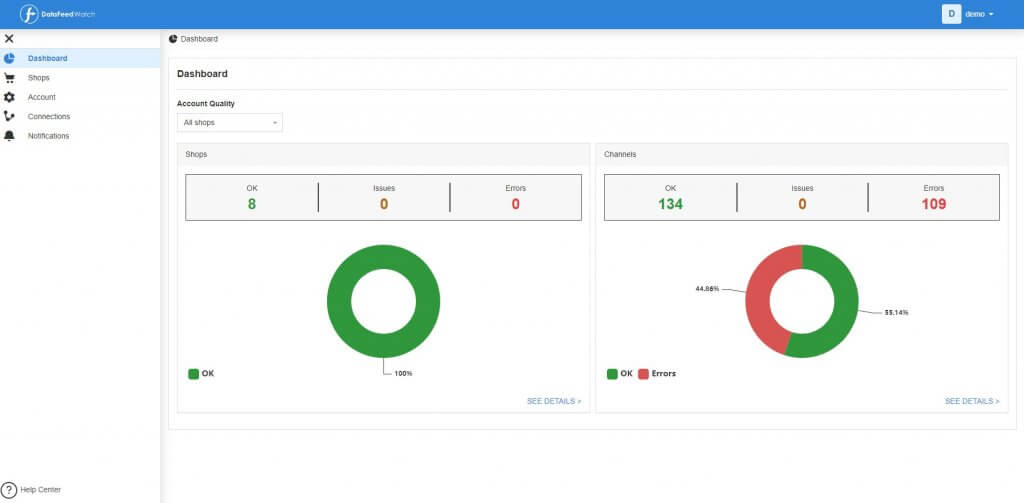 Their tool helps you to transform your ordinary product data into fully-optimized feeds. Then you can send them to the channels of your choice for high-performing listings with multiple daily downloads. You can also copy feed set-ups across channels for convenient, multichannel selling.
Optimized product feeds are the foundation of any successful PPC campaign. And standing out in a competitive digital landscape is a must to reach your sales objectives.
Conclusion
Of course, there's no need to use all of the tools mentioned above. We just wanted to give you a bit more variety and alternatives to almost every tool. Anyhow, there you have it, folks!
That wraps up our list of the best eCommerce marketing tools for 2023, take care!
You may also like: