Modern customers spend a considerable amount of time on social platforms like Instagram, Facebook, Twitter, and Youtube. As a result, it's comfortable for them to discover and research products on social media.

What is more, these platforms have adopted shopping and payment functions which makes the shopping experience easier for all parties.
The popularity of using social media for eCommerce has grown rapidly. As reported by HubSpot, "social commerce" sales have reached $4.2 trillion, 44% of social media users make a purchase after researching a product in-app, and 93% of marketers plan to move eCommerce efforts to social media.
It's no surprise that companies are seeking out new effective ways to promote and sell their products on social media. But if you're wondering whether using social media for ecommerce should be a part of your marketing strategy, keep on reading this article.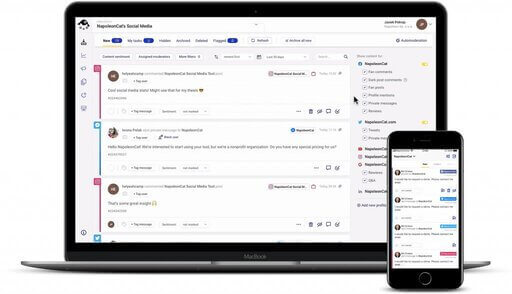 Manage all comments and messages from one view
Use NapoleonCat to manage all of your comments, messages, reviews, etc. – with an all-in-one social media tool.
Why Should Companies Use Social Media for eCommerce Growth?
No matter what your business size is, whether you're a big company with millions of fans or a small business that is just starting out, social media marketing can empower your business. But if you have products or services to sell, it's also important to get started with a social commerce strategy for the following three reasons:
People spend a considerable amount of time on social media. Practically every person is an active social media user who spends around two hours a day using it. With a great number of people on social media, your target audience is definitely active on these platforms.
Customers discover and buy products on social media. Today, one in three customers discovers new products on social media, so social platforms have become an important part of the customer journey – which means your eCommerce brand can acquire new customers and boost sales with social media marketing.
Social media has a variety of tools to sell products in-app. Since people are ready to discover, research, and buy products on social media, platforms constantly roll out features like product badges and the in-app checkout that help customers make the shopping process easier. For eCommerce brands, this means the possibility to turn social media users into paying customers.
For marketers who want to use social media for eCommerce growth, it's important to choose the right social media channels that are suitable for social commerce and focus on using them.
Which Social Media Platforms Should eCommerce Companies Use?
First things first: To achieve eCommerce growth with social media marketing, you need to choose platforms that are popular among customers and offer eCommerce features.
According to the recent Social Media Marketing Industry Report, it's a good idea for eCommerce companies to focus on Facebook, Instagram, Twitter, and Youtube for social selling (LinkedIn is popular among marketers, but it has a B2B focus).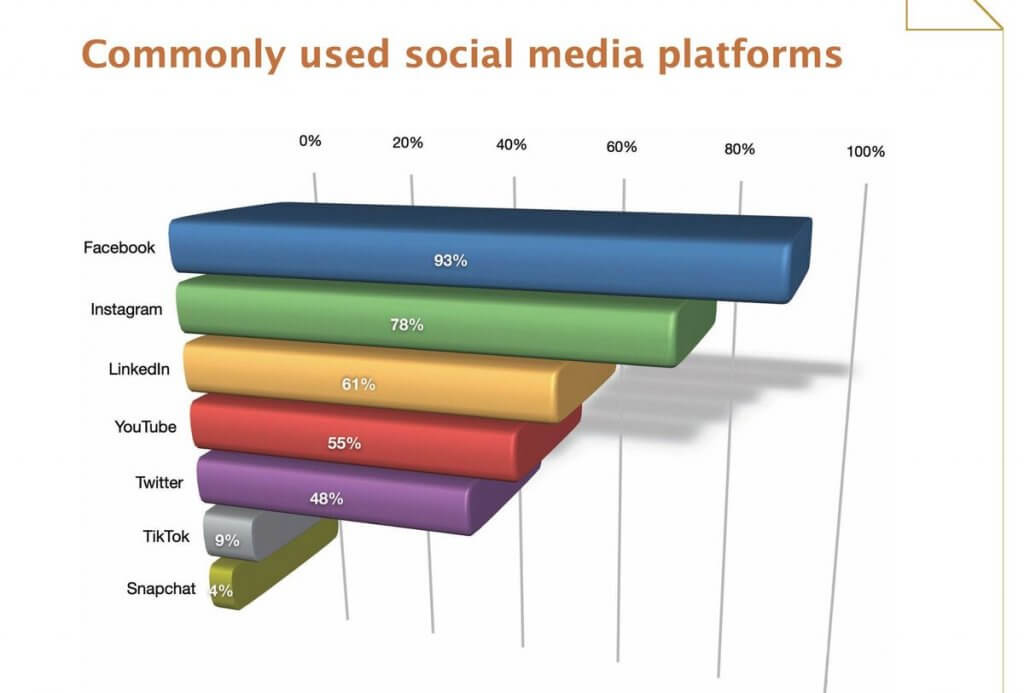 Facebook has around 3.5 billion monthly active users, so it's a good idea to interact with your target audience on the platform. Moreover, companies can set up Facebook shops to market products and sell them in-app.
Instagram is a visual platform with around 2 billion active users and this platform offers a great way to show off your product variety, establish a connection with potential customers, and drive eCommerce sales.
Twitter is the right platform for conversations, so customers ask their questions about products or services and they expect to get a quick reply. As a result, it's one of the best platforms for social media customer service that also helps to increase customer satisfaction.
Youtube is the most popular social media platform among users who love watching video content. Since video marketing is an essential marketing tool for eCommerce businesses, this platform helps to achieve eCommerce growth when done right.
Once you know what social media marketing platforms to use for your eCommerce business, it's high time to find out 8 effective ways to use them the right way. Let's dive into it!
8 Effective Ways to Use Social Media for eCommerce Growth
Let's take a look at at 8 different ways in which you can use social media for growing your eCommerce business.
1. Optimize Your Social Media Accounts for Customer Experience
Wouldn't it be amazing if you could make it easier for visitors and followers to learn more about your products, descriptions, prices as well as make an in-app purchase when needed? Optimize your social media accounts for social selling, and it will lead to eCommerce growth.
When people visit your social media profiles, it should be easy for them to find all the important information about your products. The easier you make the process, the more clients you can acquire.
Thus, it's important to tell your visitors about your company, show off the variety of products you offer, include prices, and help customers make a purchase without leaving the app.
Here's a good example of a well-optimized social media profile from Zappos: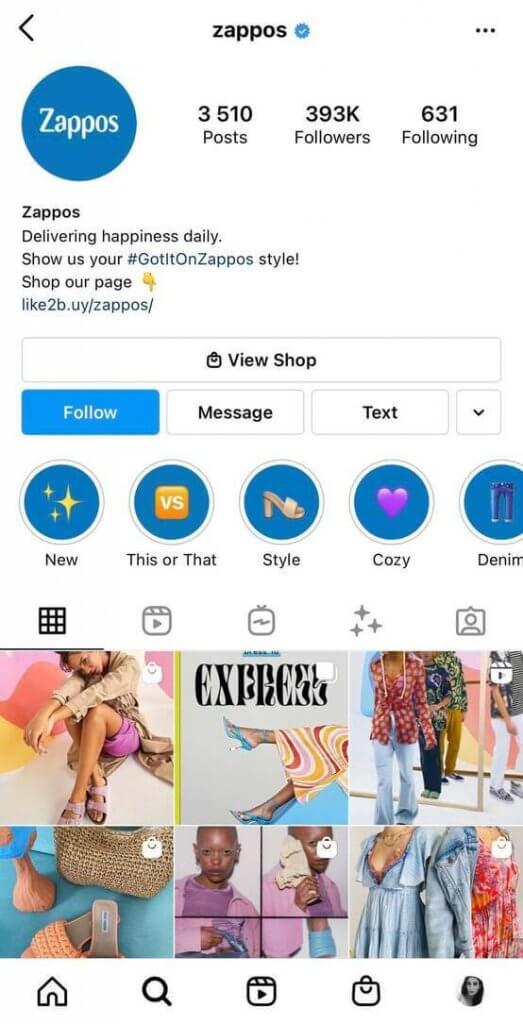 To create a similar profile, use the following tips:
Include information about your business in the bio section
Use clickable links to provide visitors with additional information
Create a social media shop and include product badges and stickers
Add product photos and videos
Write product descriptions as captions
In short, it's important to turn your social media profile into a storefront that helps attract more online shoppers.
2. Market Your eCommerce Products on Your Accounts
With the popularity of social, when people communicate with friends, read news, and work on these platforms, the average time spent on social media has increased, too. People spend a considerable amount of time browsing social media, so it's easier for them to research and discover new products in-app.
To build brand awareness and boost sales, it's important to let your potential customers know about your product variety. The solution? Market your eCommerce products on social media profiles.
For example, you can announce a new product collection just like D&G did in the example below: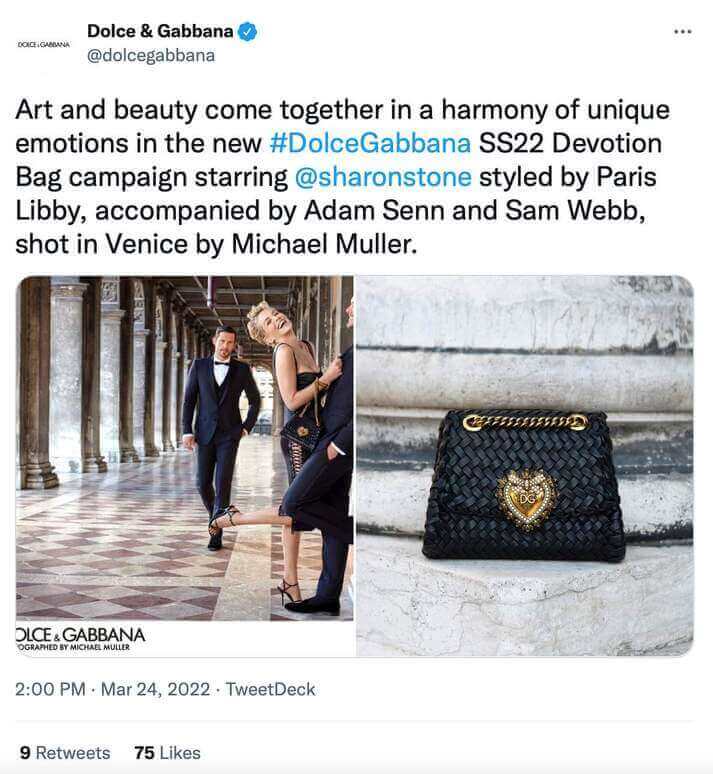 Here are several effective ways to market your products on social media:
Add product photos to your profiles
Use branded hashtags
Ask influencers for brand endorsements
Create educational videos about your business or its products
Offer discounts and promo codes
3. Run Eye-Catching Social Media Ad Campaigns
Today, social media networks realize that potential customers are active users, so most platforms like Facebook, Instagram, Twitter, and Youtube offer advanced settings for paid campaigns to help companies reach the right audience and turn these people into customers even if they don't follow your company in-app.
Moreover, sponsored posts on platforms like Facebook can become a valuable source of information about your potential customers if you do not turn off comments on Facebook ads as people share their thoughts under paid ads.
When you create eye-catching social media ad campaigns that promote your products, your viewers are more likely to become paying customers.
Let's take Lucodaze Sport, for example. When the company decided to boost brand awareness, it created stunning video ads for Instagram and Facebook. The campaign resulted in a 4.3-point increase in campaign awareness and it also helped reach 6 million people.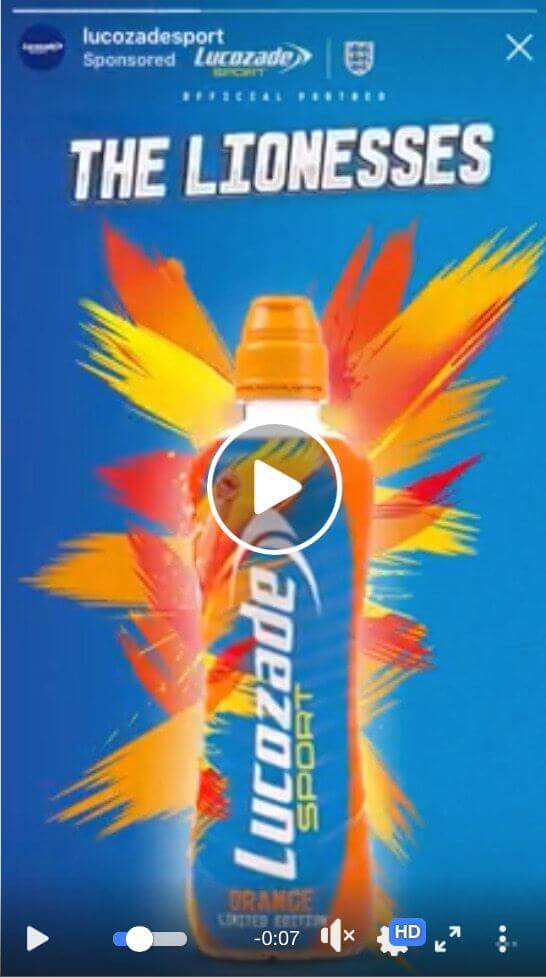 Obviously, not every company has the possibility to hire video makers who can create similar videos as the above-mentioned company did. But with the right video editing tools like Videoleap (available for iOS or Android), even small eCommerce businesses can make eye-catching videos on the go.
Developed by Lightricks, Videoleap offers a wide array of video editing tools and effects. It allows users to put together photos and videos, combine clips, add texts, and fit videos to formats that suit any social media video specs, which makes it easier for eCommerce brands to create videos that can spark interest in products among potential customers.
This video editing tool can also help social media influencers make videos to endorse eCommerce products. Check out how Tatish.Ko used it:
4. Collect and Provide Social Proof
When selling products on social media, it's not enough to show off your product variety. It's also important to increase brand trust as the modern market offers many options and customers want to buy from companies they trust.
The best way to do it is to show your satisfied customers as people pay close attention to consumer reviews before making a purchase. Simply put, social proof plays a key role in eCommerce sales.
If you have a presence on Youtube, it's a good idea to create product review videos like Lululemon did: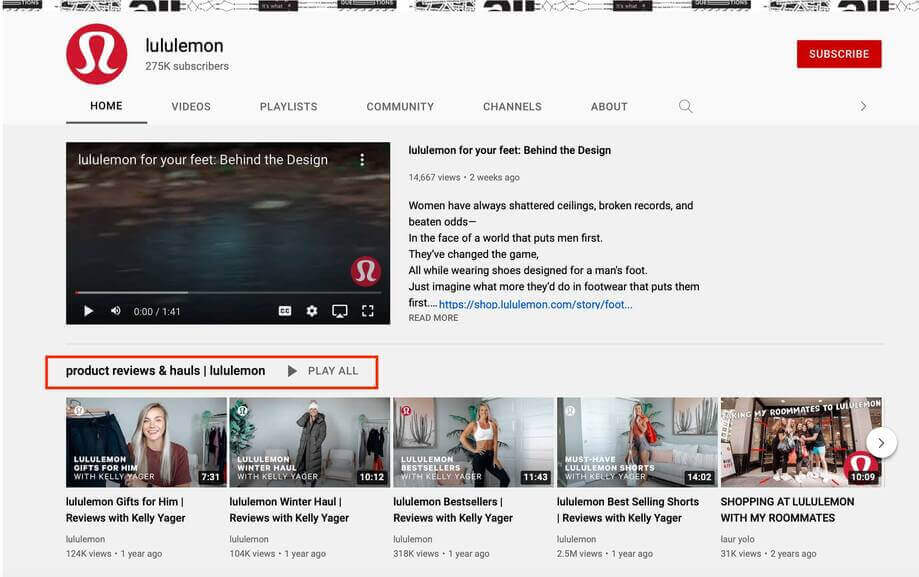 If you seek out other ways to provide social proof on social media, use one of the following types of social proof:
User-generated content
Customer testimonials
Product reviews
Influencer endorsements
5. Team Up with Social Media Influencers to Reach a Wider Audience
The days when eCommerce companies could simply run ad campaigns to promote their products are far behind us. With the growing amount of ads on the web, more and more people choose to stop ads which means companies should seek out new effective ways to reach a wider audience of potential customers.
Today, people trust opinion leaders as much as their real-world friends, so it's no wonder that the popularity of influencer marketing is on the rise. When eCommerce brands collaborate with social media influencers to promote their products, it leads to growth. For example, Lulus often invites influencers to become stars of new collections or send items for product reviews.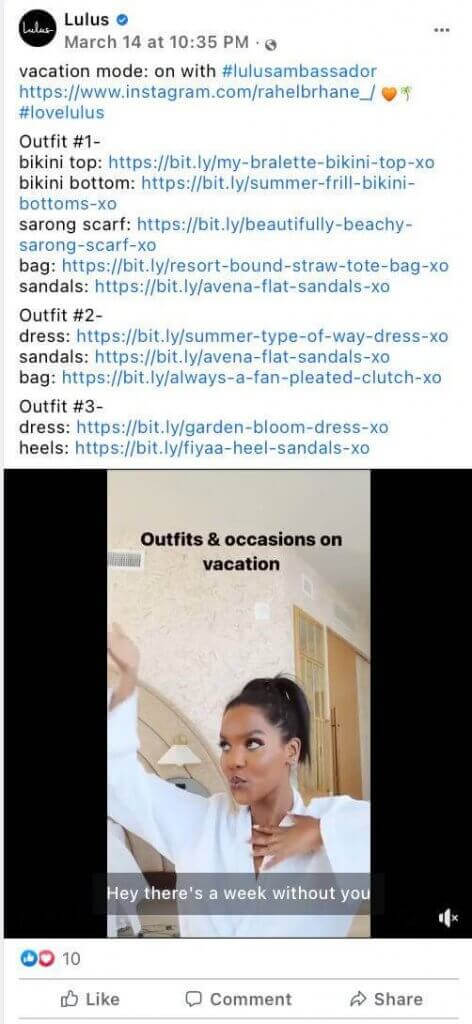 6. Be Ready to Provide Excellent Customer Support on Social Media
No matter how good your eCommerce product is, your customers (even loyal ones) may have questions or concerns about your business. Believe it or not, they ask questions on social media and they expect to hear back from your brand.
According to the social media customer service trends, 54% of people want to get customer support on social media, people expect to get a response from a company within 30 minutes, and 66% of customers never buy again from companies that provide poor service.
This means your company should provide excellent customer support on social media to increase customer satisfaction and retain customers. Many companies realize it and they optimize their social media profiles for customer support. Here's an example from Ryanair that uses a Twitter handle for customer inquiries: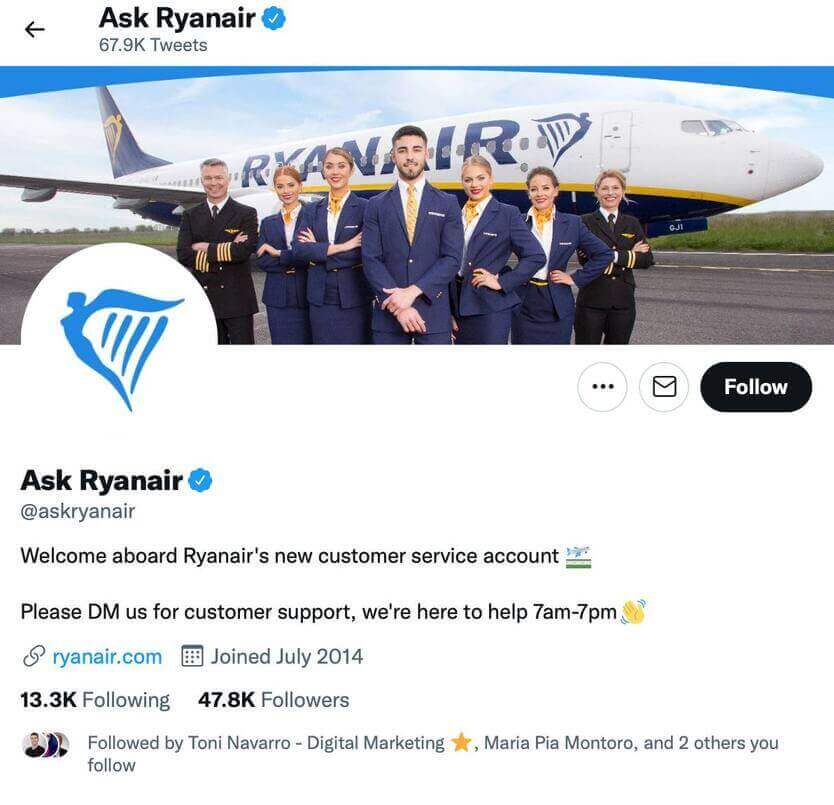 You can greatly improve your social media customer service using NapoleonCat's Social Inbox.
To put it simply, it allows you to manage all your social interactions (comments from organic and paid posts, DMs, reviews, mentions, etc.) – all from one customizable view.
No more switching between different tabs, accounts, and social media platforms. Moreover, the Inbox is made for collaboration, so you can work on your content moderation with your team members in real time, exchange internal and external feedback, and assign tasks.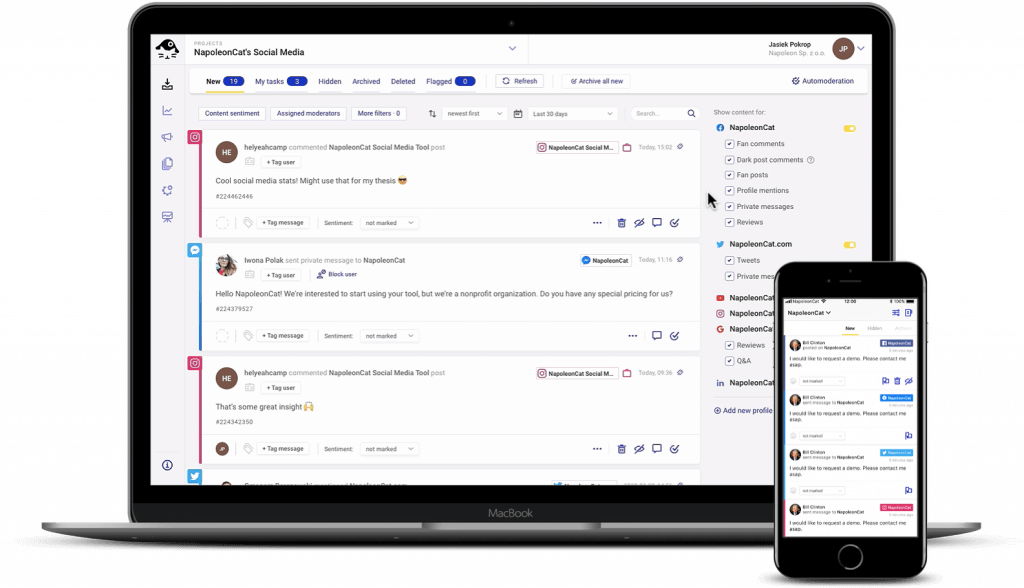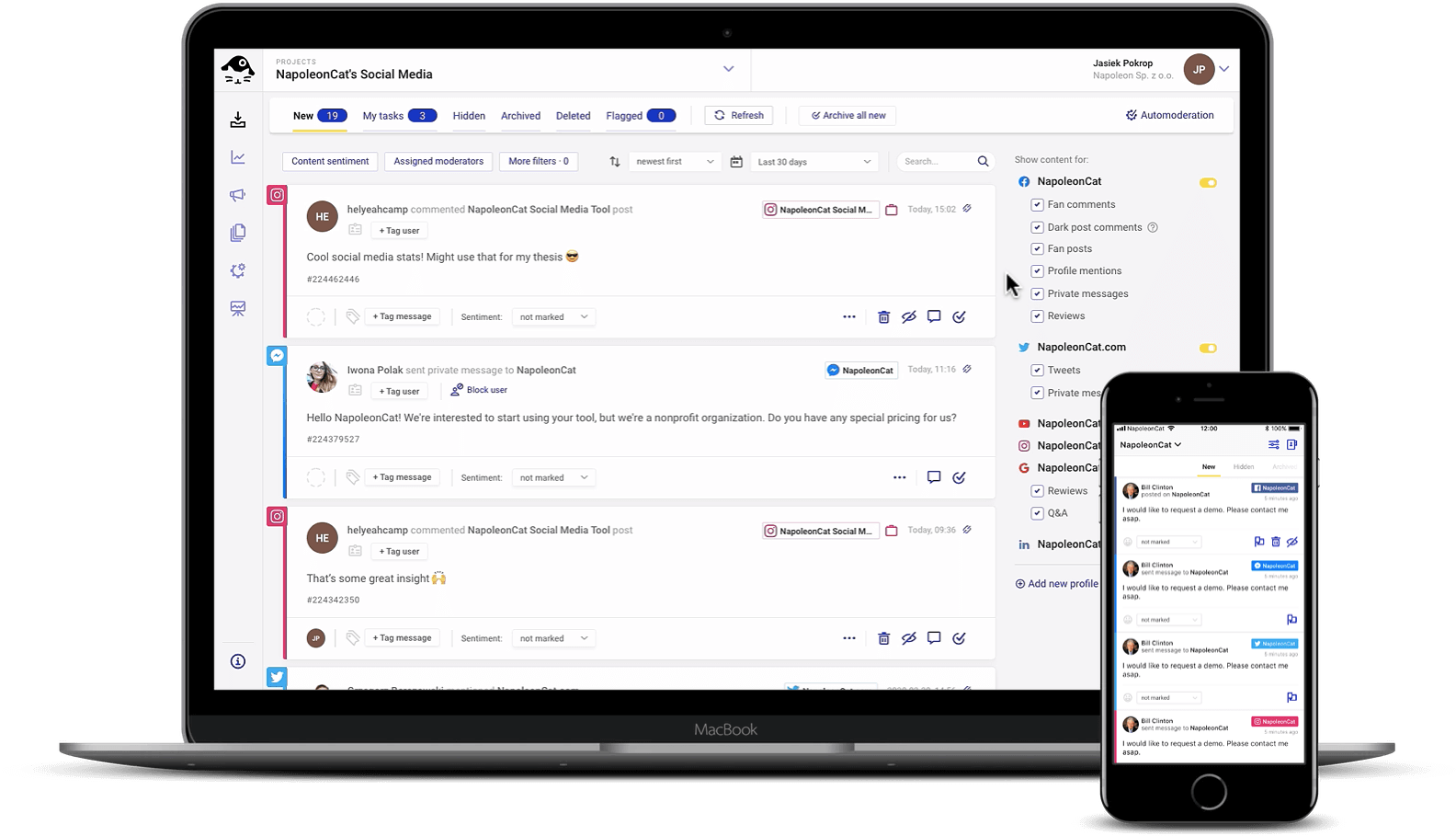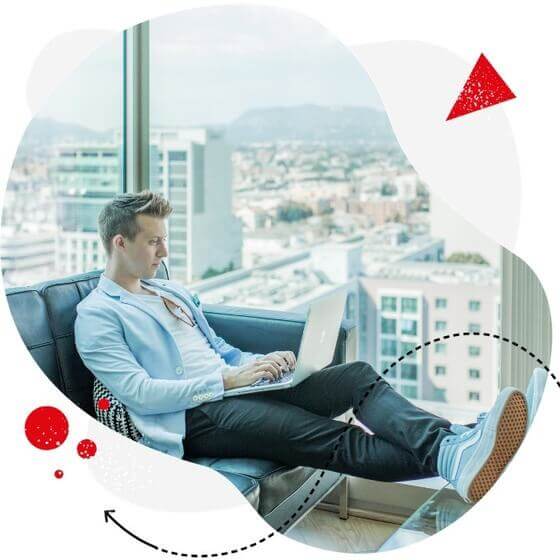 The best social media moderation tool
Manage all your comments, messages, and more – with an all-in-one social media tool. Instagram DMs and ads included!
7. Make the Most Out of Social Media Marketing Tools
If you run an eCommerce business, it's more likely that you know about eCommerce marketing tools that help to manage your business with ease – from creating an online store to optimizing it for Google search and updating relevant information about your products.
Selling products on social media, eCommerce companies should be ready to update their profiles, analyze data, provide social customer care, listen to active customers, and run social media ad campaigns.
In short, having a social media presence, it's important to use the right social media tools for eCommerce like NapoleonCat to put some routine tasks on autopilot, especially if you promote your eCommerce products on various social media platforms.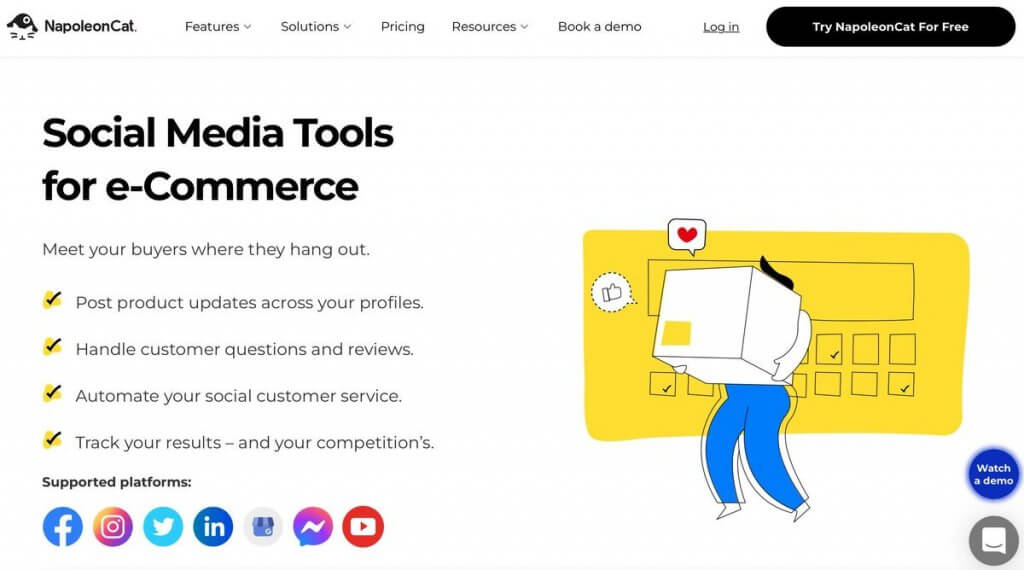 8. Interact with Your Target Audience for Better Engagement
Modern people crave communication with brands. In fact, 70% of them feel more connected to brands when people use social media to reach out to brands, so communication plays a key role in establishing connections with potential customers.
To bring your eCommerce business to the next level, it's important to interact with your target audience. When you care about your consumers, not only do you make your followers feel special and improve customer experience, but you also get better engagement rates that help reach a wider audience.
Moreover, around 41% of marketers claim that engagement is the top key performance indicator for social and content marketing, according to a recent case study on social media analytics.
To interact with your target audience, it's important to make sure that your following gets updates from your business. Thus, you can remind your audience to follow your brand or turn on notifications, just like in the example below: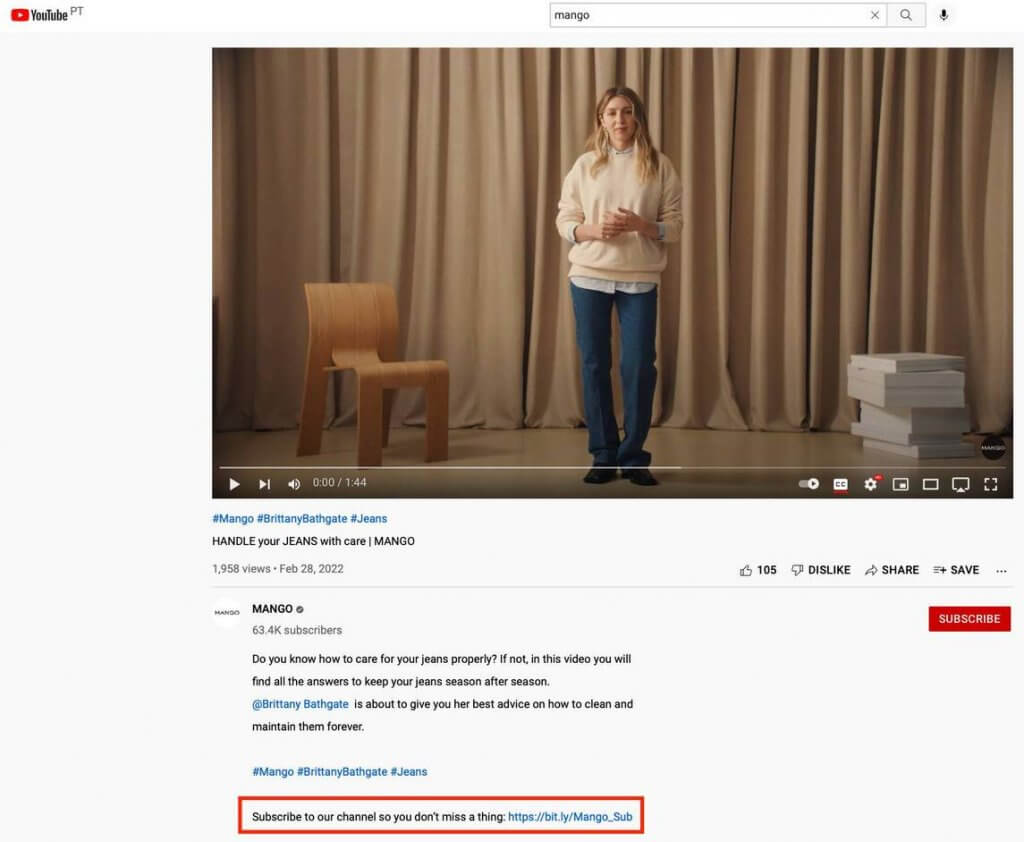 But if you want to use more ways to interact with your following for better engagement, here are several tips for you to use: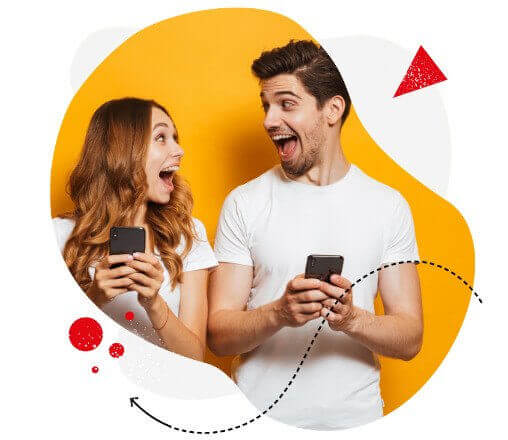 Social media marketing made easier
Analytics, reporting, scheduling, and more. Try NapoleonCat and save tons of your time spent on your marketing tasks.
Final word
In the age of constant change, the future of digital marketing is evolving, so it's no surprise that marketing your eCommerce products on social media has become an important part of any social media strategy.
With the variety of eCommerce features on social media platforms like Facebook, Instagram, Twitter, and Youtube, it's getting easier for eCommerce brands to promote their products, spark interest in them, and sell these items on platforms. When you know how to use social media for eCommerce, your company can achieve the desired business growth.
You may also like: