In 2023, with over 2.35 billion users worldwide, Instagram is still one of the most prominent players on the social media landscape, and for a good reason. The social media network never stops growing and developing which means it also regularly introduces new functionalities.
This article covers the most recent Instagram updates and features for 2023 and also those from 2022 that you might have missed.
If you're a social media marketer, keeping track of social media platform updates is a must. We've created this handy blog post so you can have the information about all the essential Instagram changes in one place and use them to your advantage.
We'll cover the new Instagram updates first and then recap the older but still significant ones. So, without further due, let's look at all the nifty features that Instagram has rolled out recently.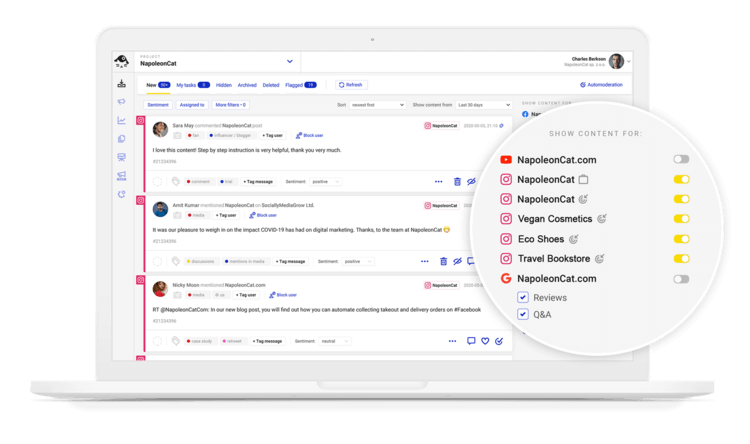 Simplify Instagram Business
Management with One Tool
Manage & reply to comments and DMs in one place.
Monitor ad comments from multiple accounts.
Automate answers to repetitive questions.
Schedule posts to multiple accounts, on desktop.
Analyze performance and monitor hashtags.
Keep track of your competition.
Create or schedule in-depth reports in seconds.
Try 2 weeks for free (no credit card required)
Instagram introduces AI stickers for Stories and DMs
If this feature is already available for you, you can create your own custom stickers using AI 🙂 How cool is that?!
Once you find and click on the 'AI stickers' sticker, type in what you want AI to generate, and that's it!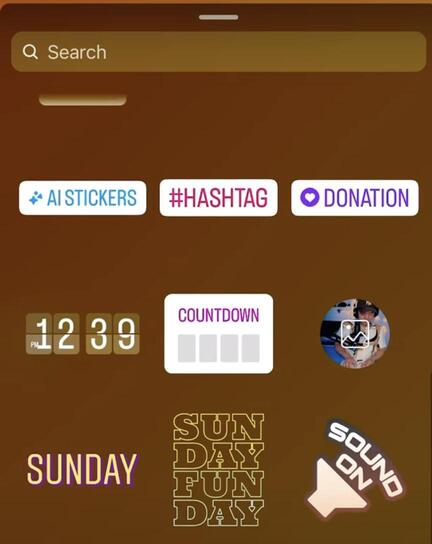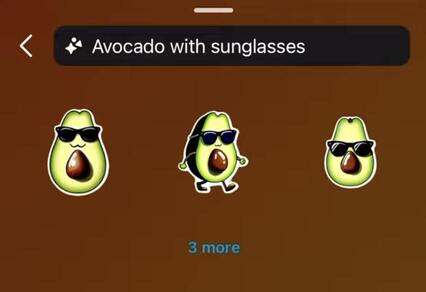 You can now zoom in on Instagram profile pictures
Instead of using third-party apps to view Instagram profile pictures in full size, users can now do that in the Instagram app.
All it takes is to press and hold a user's profile picture from the level of their profile page.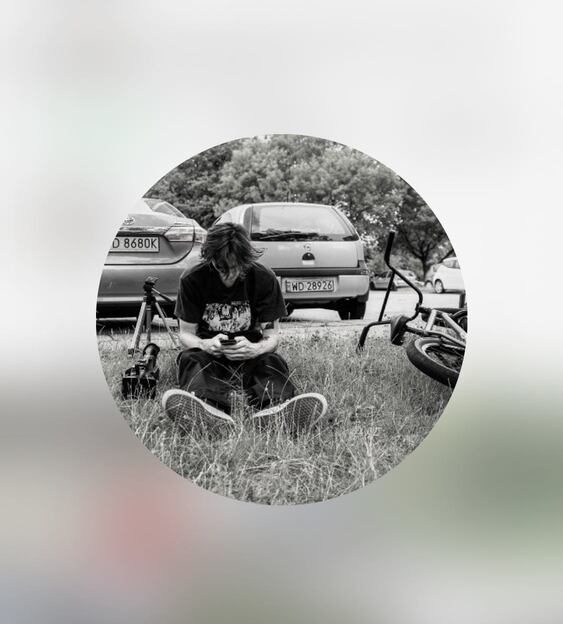 PS. If this feature doesn't work for you yet – be patient; Instagram is usually rolling out features gradually.
Instagram tests out location tags in Notes
Instagram Notes is a relatively new feature launched in late 2022. They are short status bubbles shown in the DM Inbox that you can use to share quick thoughts with your followers or people in your close friends list.
Currently, Instagram is testing out location tags in Notes, and a select group of users can add location tags that link to the Instagram location page for a given place.
Instagram launches its new app called 'Threads'
Threads is a new app made by Instagram where users can post threads, reply to others and follow profiles that they're interested in. It's a direct Twitter competitor.
Here's some more info on Threads:
Threads and replies can take various forms, including short pieces of text, links, photos, videos, or any combination of them.
People can follow each other to see their threads and replies in their feeds and from their profiles.
Users can decide who can see their posts in profile privacy settings.
People can reply to posts to join the discussion or like, share, quote, or repost content.
Anyone with an Instagram account can create a Threads profile.
When you create a profile on Threads, it becomes linked to the Instagram account you used to log in. The data obtained from your Instagram account and used on Threads may encompass:
Your login information for Instagram
Your unique Instagram account ID
Your Instagram name and username
Information present in your Instagram profile, including your profile picture, bio, and links
Your Instagram followers
The accounts you follow on Instagram
Your age as stated on Instagram
The status of your Instagram account in relation to intellectual property violations and instances of non-compliance with Instagram's Community Guidelines.
Instagram new group profile feature
According to Meta, "We are testing the ability to join a Group Profile and share Stories, Feed posts, or Reels with group members, so people can connect with others over their interests in a dedicated space."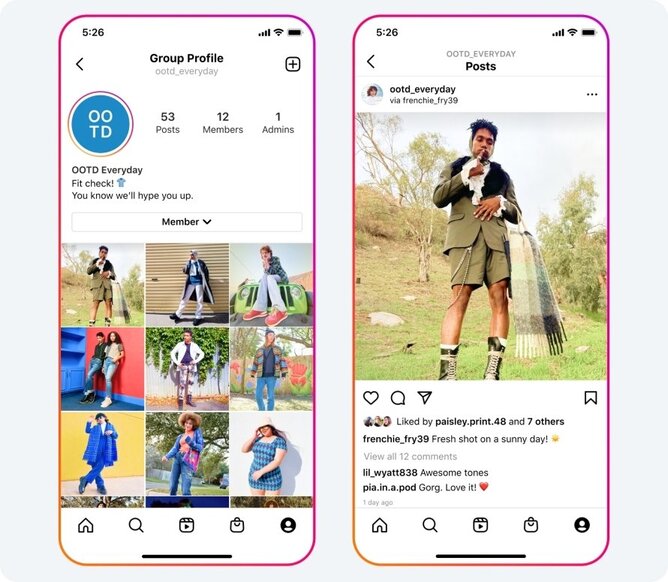 Similar to Facebook Groups, Instagram is testing its own version that enables multiple users to collaborate and share content on a single page. This feature allows individuals or communities on Instagram to come together and contribute to a shared space, fostering collaboration and collective content creation.
The feature is being gradually rolled out. We may assume it will be available to users worldwide soon.
Multiple links in bio update
Our prayers have been heard…
Instagram is rolling out a new update that can easily replace Linktree and other 'link in bio' paid software providers.
To use the feature, tap "Edit profile," then "Links," then "Add external link." You can drag and drop the links in the order you want them to appear.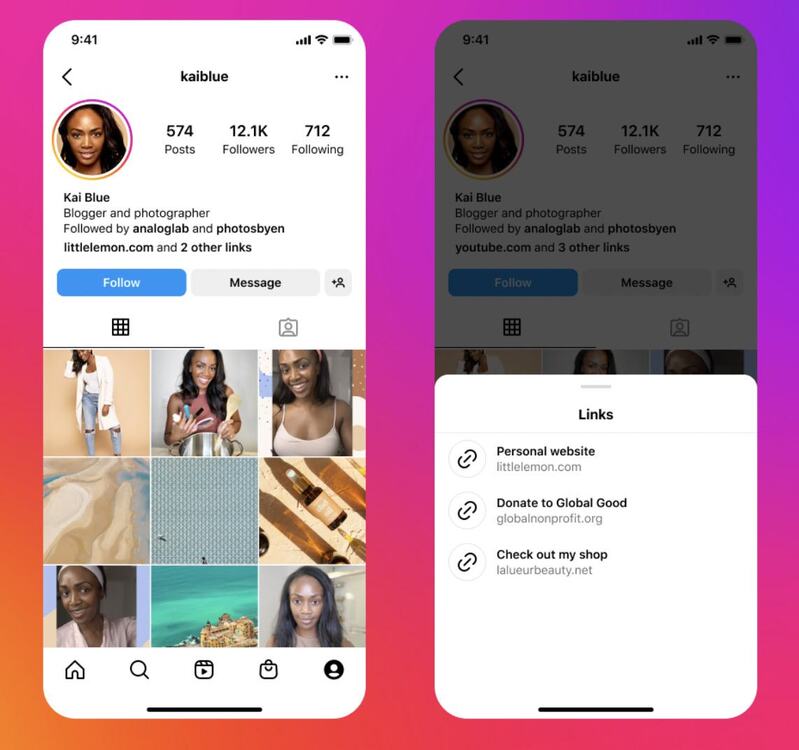 You can now schedule posts within the Instagram app
At long last, you can now schedule your Instagram posts within the app itself. This adds a level of convenience by allowing users to set a specific publication date for their posts. However, the feature doesn't allow cross-posting to other IG accounts or different social media platforms.
To schedule your Instagram post within the IG app, go to Advanced Settings while creating your post, click on Schedule, and set the desired publication time.
The feature is currently being rolled out and should be available for everybody soon 🙂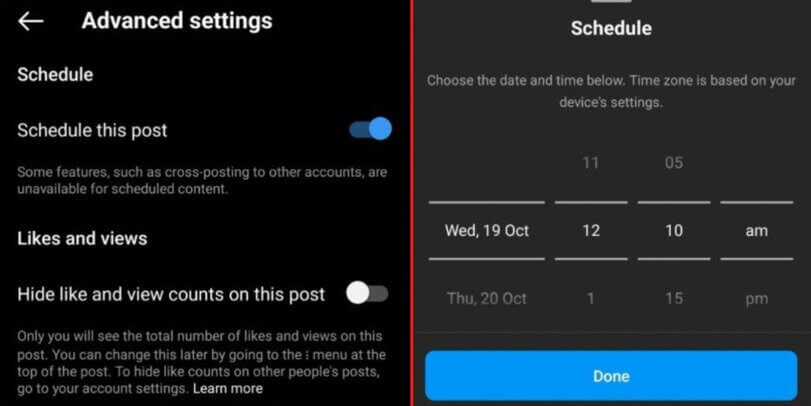 Instagram feed with no ads and no suggested posts
Weren't you tired of browsing through your IG feed that was overflowing with suggested posts from users you don't follow and sponsored posts that you don't care about? I know I definitely was.
At long last, you can now browse your IG feed made up of posts from only the people that you follow – no suggested posts or ads in your way.
All you have to do is click on Instagram in the top left corner and choose Following, and that's it! 😉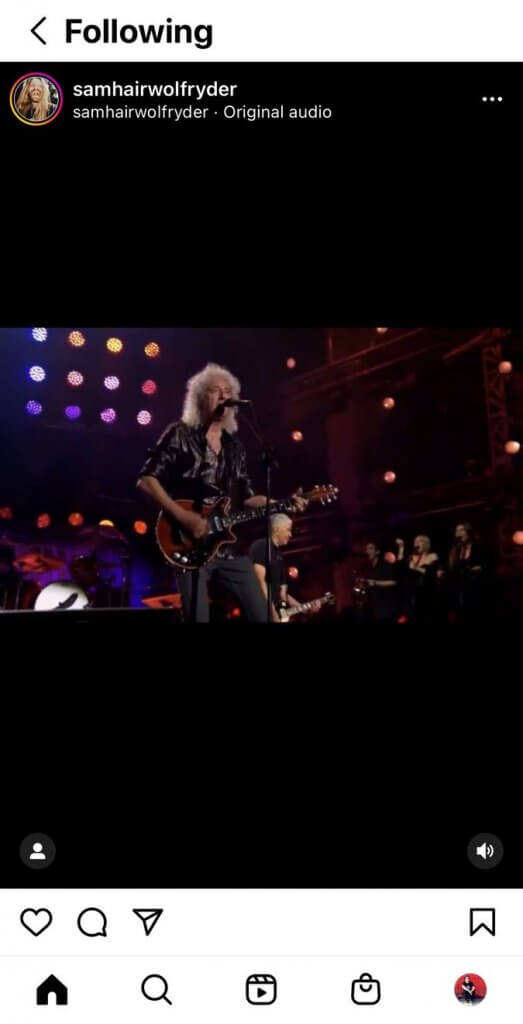 Unfortunately, this new feature works on feed posts only and not Instagram Stories.
Instagram video posts are now Reels only
From now on, you won't be able to post regular video posts on Instagram – all new video posts will be Reels.
This may be quite upsetting to some users since you can't even post a square video from a horizontally-recorded clip (or any other clip as a matter of fact).
But here's a way around it if you wish to post square videos:
Start creating a carousel post with a picture
Choose a video clip for your carousel
Deselect your picture so that only the video clip is left
And that's it! Your video should now be in a square format 😉
Instagram Grid Pinning
The most recent Instagram update allows you to pin your posts to the top of your IG grid.
You like it? You pin it 📌

You can now choose up to three posts or Reels to pin to the top of your profile. pic.twitter.com/9waQkueckG

— Instagram (@instagram) June 7, 2022
In other words, your older content can still shine 😉 This feature is nothing new on platforms like Twitter or TikTok, but we definitely needed it for Instagram.
60-second Instagram Stories (without any cuts)
Instagram is gradually implementing another handy feature. It allows users to upload Instagram Stories for up to 60 seconds long, without the ever-frustrating cuts after every 15 seconds.
It's definitely a very useful feature; the playback of your Story clip will be smoother, and you can include all the user mentions, tags, locations, links, etc. in one longer Story – no need to repeat the process after every 15 seconds, yay!
2023 Instagram algorithm explained
The Instagram algorithm operation principle has been a total mystery for a long time, and trying to get on top of it was mostly based on guessing and a trial & fail process. Although this has changed after Instagram's CEO, Adam Mosseri explained it in a video posted on his Twitter account.

It seems that currently, the most important factors that affect what users see in their IG feeds are:
Post's popularity indicators – how many people clicked like, where it was located, what its duration was (if it was a video)
How frequently the user interacted with the account in the past
How many posts the user has liked
User's engagement with the accounts' other content
We strongly suggest watching the whole video, it might really help you understand the social platform better and have your communication start yielding better results!
2023 Instagram Reels updates
Reels have been rapidly gaining popularity ever since Instagram introduced them in 2020. Instagram is really investing in this new format and is constantly looking to upgrade it, as we could see in July 2021, when the platform decided to double up the Reels' maximum duration. The new Instagram feature is being regularly updated with even more editing options like the most recent additions: double exposure feature or timer.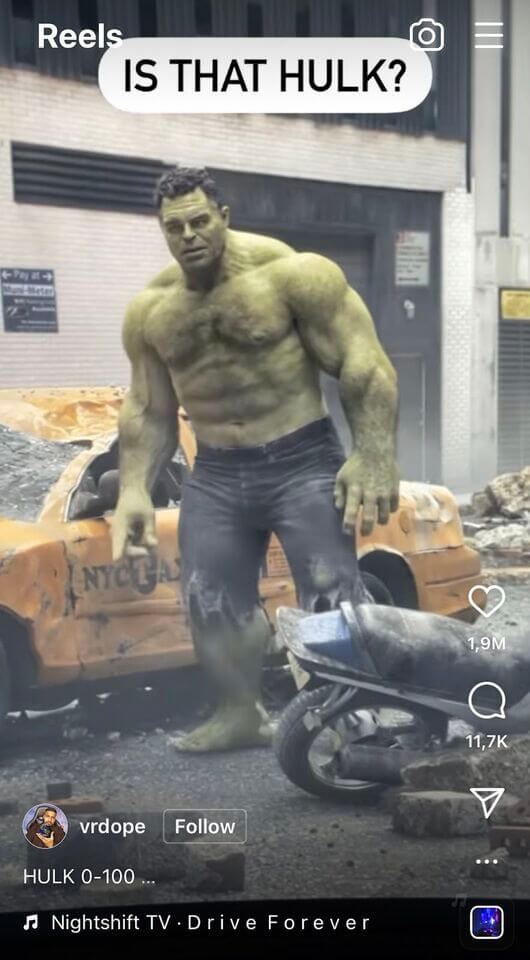 Let's have a deeper look into what you can do with Reels. Basically, Reels are full-screen vertical posts that can last from 15 seconds up to 1 minute. This function also allows you to combine multiple short videos into one. What's more, Reels can be equipped with a variety of extras to make the content even more engaging:

Music – you can add a song of your choice and adjust music vs. video's original sound ratio
Voiceover – you can record your own commentary
Text
Doodles – you can draw over your video
Stickers – after you've filmed a new Reel, you can add a sticker to it
Effects – used the same as in Stories
Timer – so you don't need to hold your phone while recording a video
Instagram is testing even more new features for Reels:
Video Layout allows users to capture multiple videos in separate windows one after another and then play them combined.
Double exposure feature that allows users to capture a photo and then record a video on top of it.
Read this article to learn about some lesser-known Reels hacks.
Instagram Posts Collabs
Another useful feature is that you can now create joint posts. The post will appear both on your feed and on your collaborator's profile.
To create a joint post, you need to create your regular post (Reels also work), then click on Tag people, and then on Invite collaborator.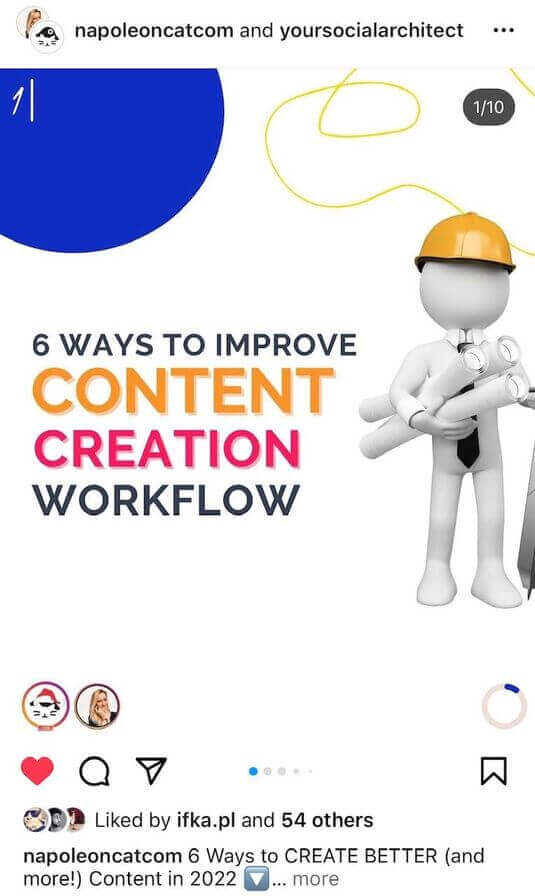 Reels Visual Replies
By the end of 2021 Instagram introduced yet another Reel update, called 'Reels Visual Replies'. This feature allows you to reply to comments (given by every follower who comments on your Reels) posts using videos.
This feature is yet another great way for creators to engage with their followers by creating content inspired by their activity in the comments section.
Where to find Instagram Reels
To access the Reels creation area you need to tap the '+' icon in the top right corner of the screen and choose 'Reels'. Some of the Reels' features can be used while recording, while others only when the recording is done. Give it a go and create your own, engaging content!
There is one more thing – you can come back to any of your Reels anytime and remix it, which results in virtually unlimited ability to play with your content.
If you click the 'play' icon in the bottom center of your screen, you can quickly browse Reels.
You can now also search for other Reels that use the same music by clicking the audio icon inside a given Reel.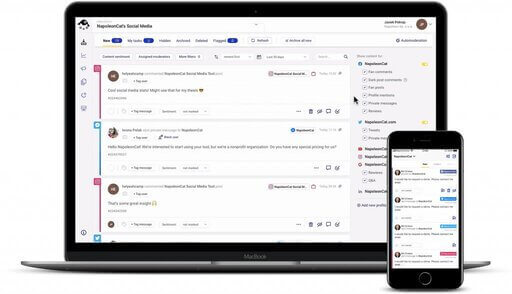 Manage all comments and messages from one view
Use NapoleonCat to manage all of your comments, messages, reviews, etc. – all from one simple dashboard. FB and IG ad comments included.
Profile Embed
Embedding Instagram photos or videos on a website isn't a novelty but up until recently, it was not possible to embed a whole profile in a native-looking way. Well, it is possible now!
This update made it easier to showcase Creator's profiles in different parts of the Internet.
Instagram Playback
In 2021 Instagram announced the 'Playback feature' that allows users to re-share their best Stories on the occasion of New Year's Eve. It proved to be a great way for the users to celebrate their favorite moments of the past year.
Instagram Map Search
Another one of Instagram's new updates is the Map Search. This feature is very similar to Google maps and allows users to find the location of different businesses within the Instagram app.
Map search is located inside Instagram's regular browser that you use to search for other users, hashtags, etc.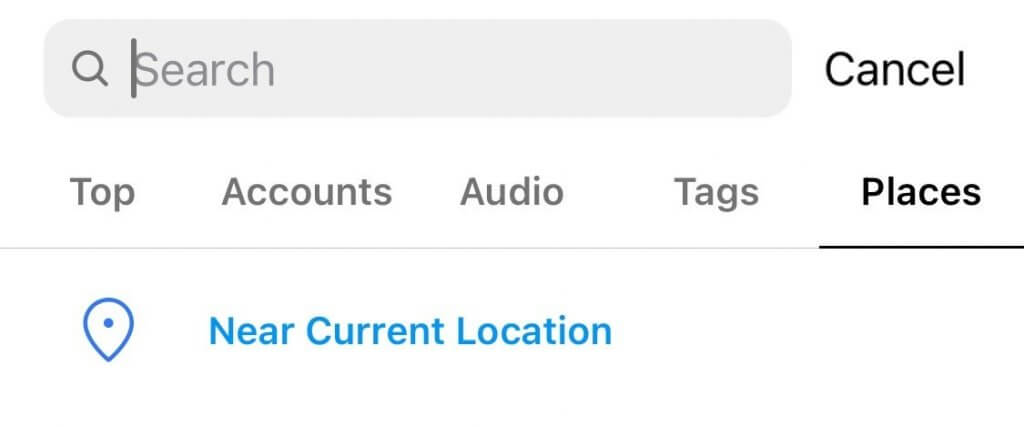 It's quickly becoming one of the best tools to explore new gems if you're in a previously unknown area. What's more, users can easily see more information like location, price of products and services, and public posts marked with the business' location by clicking on a concrete location icon on the map.
Instagram Creator Mode
Instagram has introduced Creator mode for accounts with over 10 000 followers some time ago, and it continues to develop this part of the app to help influencers make the most of their experience with it. From enabling creators to see more of their accounts' statistics to simplifying messaging for them, the Creator mode really made a difference.
The Creator mode keeps evolving and gaining new features such as a whole new section of Instagram marketing tips that creators can use to their advantage while designing new content. Another move towards a better creator experience was the introduction of the Professional Dashboard.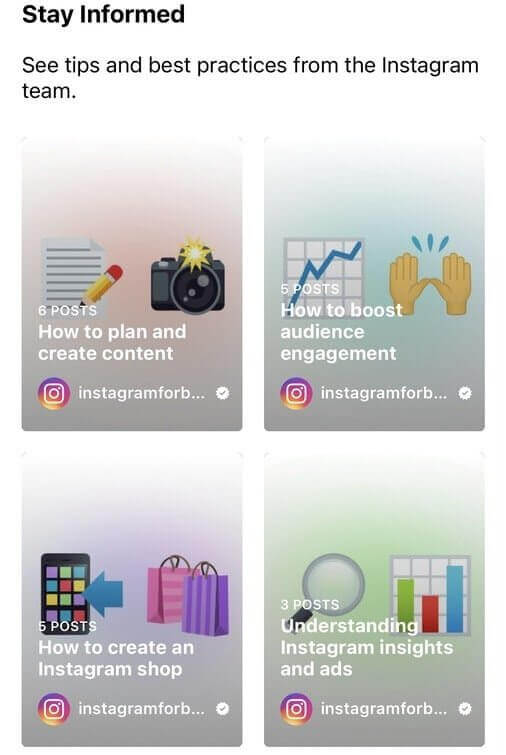 Instagram Professional Dashboard
Instagram has made another step toward better analytics in 2021 by introducing the Professional Dashboard. This feature is available for all creator and business accounts and can serve as a main in-app dashboard to analyze your account's performance. Here's the list of its main tools and resources:
Overall account performance
Instagram Insights
Promotions
Branded Content Approvals
Instagram Shopping
Saved Replies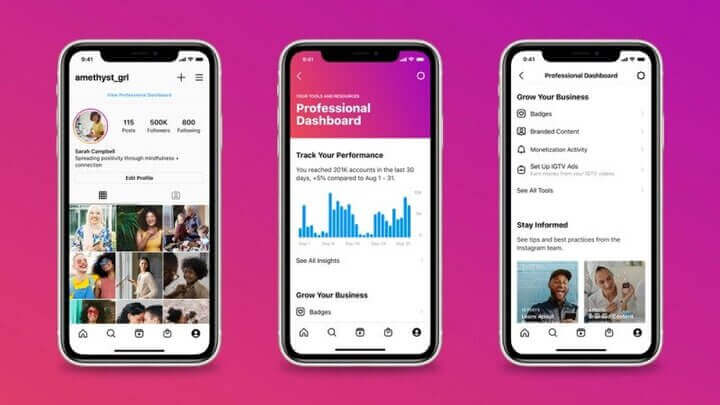 The Professional Dashboard is a great tool to have a quick overview of your statistics but if you want to dive a little deeper, you still need to go to Instagram Insights for that.
Instagram has once again updated its analytics tool to give creators and businesses better insight into their accounts' performance. The first major change is that you can now see data from up to 90 days instead of 30 or 60. It is also possible to measure your live video performance.

Insights currently give you visibility of statistics for your:
Accounts reached – overview of your profile's reach metrics divided by geography, gender, age, followers vs. non-followers, content types reach, ads, and more
Accounts engaged – This section lets you measure your accounts engagement split between different content types in more detail.
Total followers – This part lets you measure your followers' base dynamics with an insight into their demographics.
Content you shared – More data about your content & user interactions divided by content and interaction type (even interactions like Business Address Taps or Email Button Taps)

This is for sure an upgrade compared to the previous version. Although, if you manage multiple social media profiles, you might want to step your game up with NapoleonCat and its Analytics feature, where you can have a bird's-eye view over all of your accounts regardless of the social platform and generate Instagram reports within seconds.
Hiding Instagram likes has been made optional
Instagram has been moving towards hiding the number of likes under posts since 2019. Currently, you can choose whether you'd like to hide this information from your posts or not.

To do that, you need to go to one of your posts, click the three dots in the top right corner and choose 'Hide like count'.
Even though many users are starting to use it, you can still peep someone's like count in NapoleonCat – regardless of whether a user chooses to hide them or not.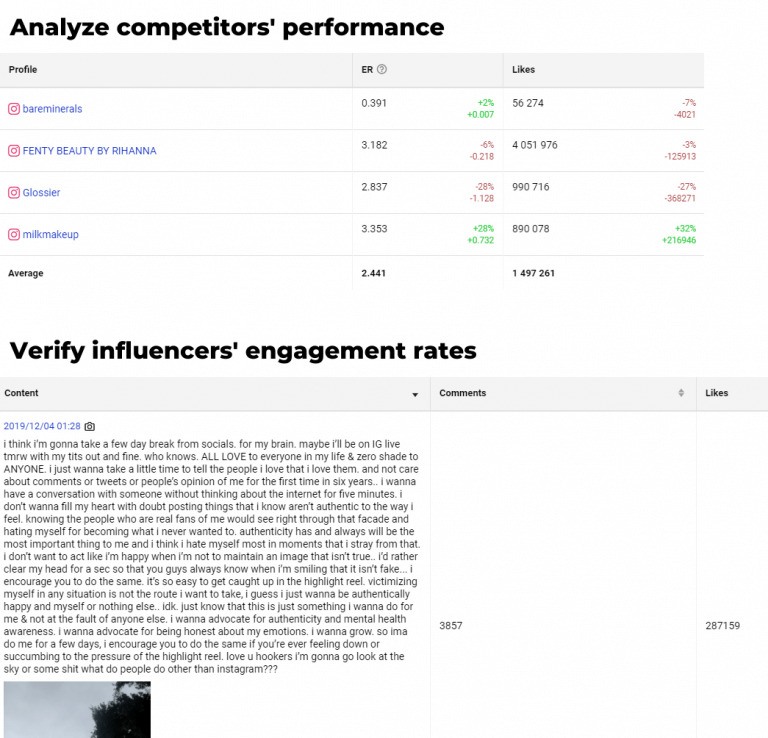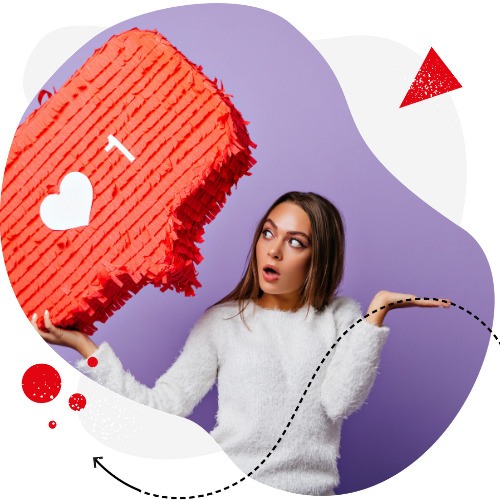 View Your Instagram Likes in 2023
Can't see likes on Instagram? Use NapoleonCat and check the number of likes under your posts and competitors' accounts as well.
New Instagram Story Interactive Stickers
Most Instagram users are already used to seeing new stickers in their Stories editing panel from time to time. The most current set of stickers available to each user might differ based on their account type.
Having said that, let's take a look at some of the newest & most popular ones.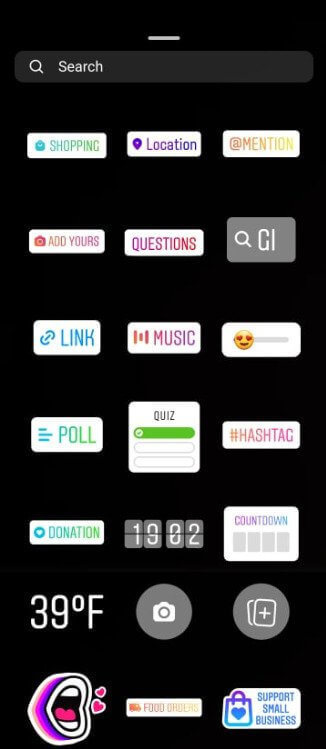 Shopping sticker
This sticker's name says it all. Adding it to your story will enable your followers to make the purchase directly from Instagram Stories. Keep in mind that you need to have the Shopping feature already set up to use this sticker. If you want your partners to be able to add this sticker and redirect to your products, you also need to enable this option in the Shopping Partners section of your account settings.
Music sticker
This one has been long-awaited by users in many countries, and now the Music sticker is getting widely accessible. Use it to enrich your story with your favorite song!
Location Sticker
The location sticker allows you to share your current location if you want to share a particularly cool place with your followers.
Mention sticker
Mention another user or business in your Story. This will also enable them to reshare the Story on their profile to increase their reach.
Questions sticker
Add a Questions sticker to encourage your followers to share feedback on your chosen topic. You can also use it to enable users to ask you some questions which you can later answer on separate Stories to propel even more interaction with your audience.
Quiz sticker
A great use for this sticker is to ask questions related to your profile's area of interest and see how well your followers perform & strengthen your brand recognition.
Poll sticker
Similarly to the Quiz sticker, this is a great sticker to discover your followers' opinions. Especially useful for supporting decision-making for future content ideas by involving your followers' voice in the creation process.
Donation sticker
This sticker allows you to select a nonprofit organization and enables your followers to donate. All nonprofits will receive 100% of the money you raise.
Countdown sticker
If you have an important event coming soon, there's no better way to remind your followers about it than by using the Countdown sticker.
Add Yours sticker
The 'Add yours' is a bit similar to the discontinued Challenge sticker. All you need to do is to invite others to share their own Stories about any topic you want or tap at the bottom to have one chosen for you and tap 'Done'. In order to see Stories from other people who have added your prompt, tap the sticker on your own Story.
Also, you can use the three dots icon at the top to see additional options for managing your stickers such as turning off notifications or hiding your username.
Customizable Link sticker
The Link sticker is no longer reserved for bigger Instagram accounts with over 10k followers. It's now available for all of us, yay!
In order to use it, you need to enter the URL of the website that you want the sticker to link to. Tap 'See preview' below the link to check what the link will look like when someone opens it. Anyone who can see your Story can tap the sticker and visit the linked site.
But there's more! Now you can customize the appearance of the sticker and turn it into a clickable call-to-action which gives a great number of new options for Instagram marketing.
Food Orders sticker
Adding a Food Orders sticker to your Instagram Story enables other users to order your business's food from your partner's website.
This sticker is especially useful for smaller restaurants that don't have a lot of recognition but also an invaluable tool if you choose to cooperate with an influencer who could add this sticker onto their Stories to drive traffic to your business.
Support small business sticker
This sticker has been making the name for itself throughout the pandemic and for a good reason. Covid-19 and other restrictions have had a big negative impact on businesses, especially smaller ones. Instagram decided to enable users to support their favorite small businesses with a dedicated sticker to help them grow their reach and recognition.
This means that by using the sticker, you can tag any business with an Instagram profile to help them get to a bigger audience. For example, if you work for a small food chain or a similar type of business and have multiple profiles created for different locations, you could use the sticker to cross-promote them.
Instagram Shops & In-shop Ads
Facebook (or now: Meta) has been strongly investing in developing its eCommerce side by introducing Facebook and Instagram Shops that are accessible directly in the apps. Thanks to this, businesses can create customizable catalogs of their products that users can browse, save, share, and purchase from.
This needs to be first set up, but once you do, you can showcase your products using many different options, like adding a cover image or picking a color theme to add a unique look and feel to your online store.

Users can access Facebook Shops through Facebook Pages, Instagram accounts, or even through Stories and ads. It's now possible to purchase a product without leaving the app if the business has enabled checkout in the US.

What's new is that Instagram is testing displaying ads inside the Shopping area which can turn into another strong marketing tool in any business's arsenal.

How to see Instagram DMs on a PC – Messenger API
It is now possible to see your Instagram DMs on a PC. This is thanks to Messenger opening its API for Instagram messaging. You can also manage your Instagram DMs (even from multiple accounts) in NapoleonCat's Inbox.
Using the Social Inbox makes managing all your Instagram DMs (and comments) across multiple Instagram profiles much easier by having them all in one customizable view.
And with NapoleonCat's Auto-moderation, you can also automate your Instagram DMs, which means that you can:
Set up auto-replies for common questions
Automatically forward messages to other team members
Automatically tag your messages inside NapoleonCat's Social Inbox
& more.
You can start our free 2-week trial and test it out, no credit card required 🙂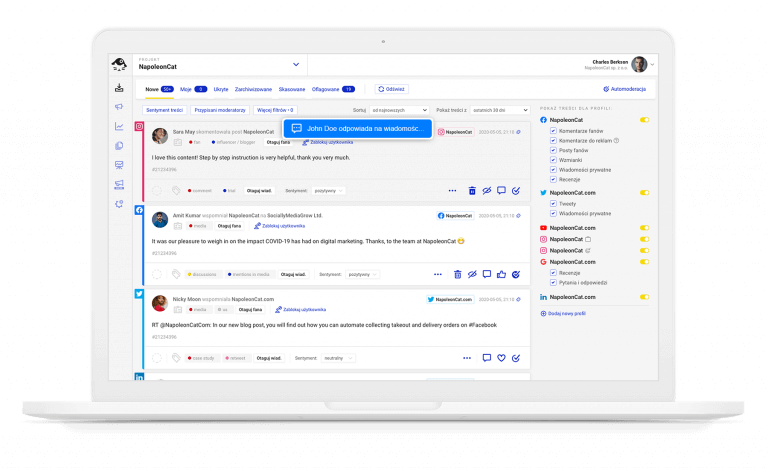 Wondering how to see Instagram DMs on a PC?
Manage all social media conversations, including Instagram DMs, using a single Inbox in NapoleonCat.
Wrap up
Instagram is evolving fast and improving its user experience each day. From minor updates like moving some of the buttons around to bigger ones like adding entirely new features – you can never be bored with this social media giant.
We hope that this article helped you to catch up with some of the newest Instagram updates 😉
For more Instagram knowledge, check out our other articles: