A strong social media presence is a critical element of any digital marketing strategy – and knowing your competition gives you a clear understanding of where you stand within your industry.
Keeping track of competitors is a great shortcut to making informed decisions and strategizing for success. Here's a short step-by-step guide to planning and carrying out a complete social media competitive analysis.
In this blog post, you'll find out how to measure your performance against industry standards and make relevant improvements to your strategy across social channels.
What is a competitive analysis?
Competitive analysis can be carried out by any business, from any industry, for any purpose. It is the process of taking a closer look at how your direct competitors or leaders in your industry do business – and drawing conclusions.
When setting out to track and analyze competition, you decide the rules and objectives. The purpose of your study will define which metrics or strategic solutions you will want to measure. Here are some examples:
If you're looking to improve your website, take a deep dive into your competition's pages.
If you're working on introducing a new product, research similar solutions already available on the market.
If you'd like to adjust your pricing, track the prices of competitive products or services.
If you want to improve your social media marketing (which is the case we will be discussing in-depth in this article), pay attention to what brands in your industry are doing on their social media channels.
In all cases, look for common elements to establish benchmarks. These will be the standards – or points of reference – against which you can measure your performance.
But why should you be putting all this time into watching your competition?
For perspective. Imagine seeing your engagement rate on Instagram going up by 5% over a 30-day time span. Is this good, bad, or mediocre?
Without a clear understanding of where you stand against industry standards, you will have trouble deciding what such numbers mean and setting KPIs for further growth.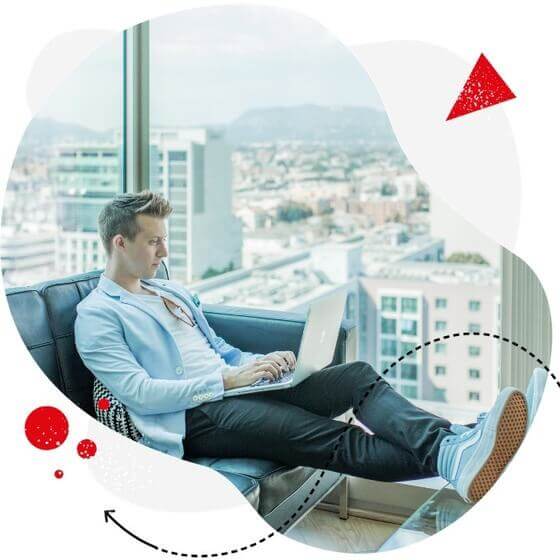 Analyze competitors on social media
Analyze your competitors on Facebook, Instagram, Twitter, and more. Figure out what to post, when to post, and how often you should post. Try NapoleonCat for free:
Try NapoleonCat free for 14 days. No credit card required.
How to conduct a social media competitor analysis
So we already established that analyzing competition is worth your time – that's a start. But how do you plan the process? Where do you begin?
Similar to the very definition of competitive analysis, the process depends on the purpose and scope of your research. But regardless of how far you decide to take your analysis, a basic framework applies to most cases.
Here are the elements you should include in your competitive analysis on social media.
1. Perform market research
Before you start collecting data, you have to define your competition. Most businesses are well aware of their competitors but a quick search is worth your time – you might come across some new inspirations.
Google is always a good place to start when looking for similar businesses, especially in your area. Search for phrases relevant to your business profile (product categories, industry types, etc.) and take a close look at the results.
Focus on your actual competitors – businesses of similar scope and size, which most likely have similar resources to you.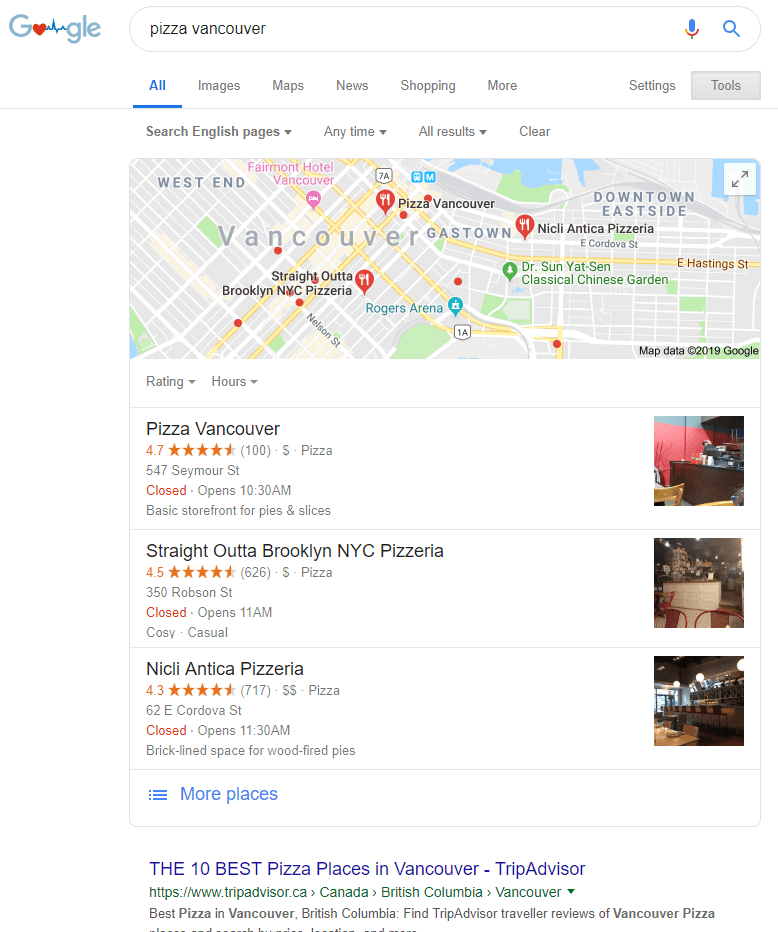 Once you have a list of potentially interesting competitors, identify the ones active on major social networks. You can do this by looking up the contact section on your competitors' websites.
During this step, you should decide which social platforms are the most relevant for your business – seeing where your competitors are should be a good indication.
Finally, perform platform-specific searches to make sure you haven't missed any significant players in your industry. Search relevant hashtags on Twitter and Instagram and see what business profiles are using them.
It's also a good idea to look for Facebook groups focused on topics that tie in with your business and see if your competitors are mentioned or active in the discussions.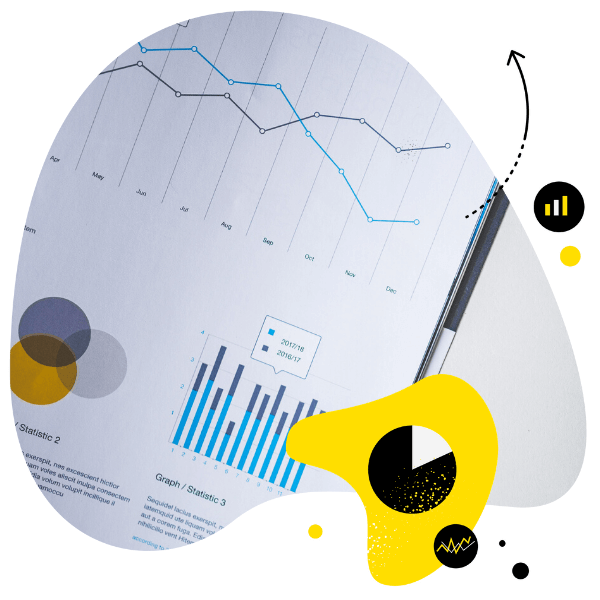 In-depth social media analytics
Measure your social media marketing results. Track competitors and improve performance using one simple tool. Try it for free:
Try NapoleonCat free for 14 days. No credit card required.
2. Decide what you're going to measure
Now that you have a list of competitors you want to monitor, set the objectives of your study. Decide what elements of your competition's activity you want to measure. Here's what's especially important for a social media analysis.
Numbers – keep track of how many fans or followers your competitors' accounts have as well as the growth rates; also keep an eye on their audiences' engagement – likes, comments, shares, retweets, mentions, etc. This will help you set realistic benchmarks for growth.
Functionalities – do your competitors have Facebook Shops? Are they using Instagram's shoppable posts? Do they (over)use paid content – is every other update on their feeds a boosted post? Tracking this will reveal industry best practices.
Types of content and posting frequency – does your competition focus on text, photo, or video content? Do they post Stories? What's their top post type on each platform? How often do they post updates? Analyze to see if your content strategy is relevant.
Tone and style – how do your competitors communicate on Facebook, Twitter, and Instagram? How does their audience react? Individual voice is important and valued so you don't have to mirror competition. That said, being aware of their style will allow you to perform a simple sentiment analysis and get to know your target audience better.

Finally, decide what time period you will be taking into account. A good rule of thumb is to analyze content from the last 30 days. This time frame is broad enough to illustrate potential ups and downs in your competition's performance – and short enough to only include relevant content.
3. Use social media analytics tools
There is a number of ways you can keep track of your competitors' metrics and strategic decisions. Regardless of which one you pick, you should commit to detailed, methodical work for best results.
If the scope of your research is not very wide, you can try a straightforward, manual method – create a custom spreadsheet and populate it on a regular basis.
Or use our free tool (download our social media competitors analysis template here)! Populate it with metrics you are going to measure (divided by social platform) and the competitors you will be keeping an eye on. Check on your competition on a regular basis and add your findings to the document. Analyze changes and trends weekly, monthly, or over longer timespans.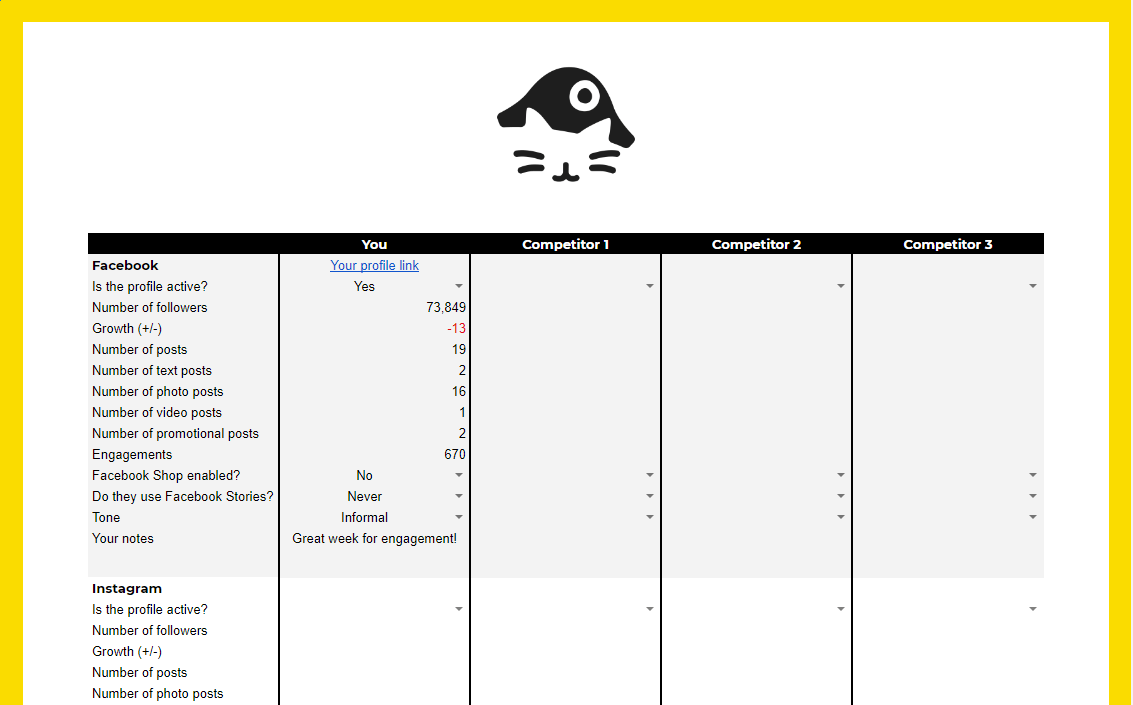 For a more automated social media analysis, try an in-depth solution such as NapoleonCat, where you can easily track all public online profiles.
Our competitor analysis tool allows you to track yours and your competitors' performance – separately or together, in comparative sets. It captures changes in real-time and makes it possible to draw conclusions at a glance thanks to detailed graphs. 3 data views (daily, weekly, or monthly) are available for any given timeframe, putting your performance into perspective.
You can see exactly how you're doing compared to your competition and your analysis can be downloaded in the form of customizable PDF reports!



So what do you do with all this knowledge?
4. Refine your social strategy
The final step in any competitor analysis is putting your findings to work. As I already mentioned, you don't have to – and shouldn't – copy your competition's social media presence. You should, instead, use the benchmarks and best practices you've established to refine your social media strategy.
If you find that particular types of content are working great in your industry, experiment with adding them to your communications. If you see certain calls to action boosting engagement – give them a try.
Perhaps during your analysis, you've observed a competitor deal with a social media crisis? Great! Now you can avoid whatever caused the problem and deal with similar issues if they arise.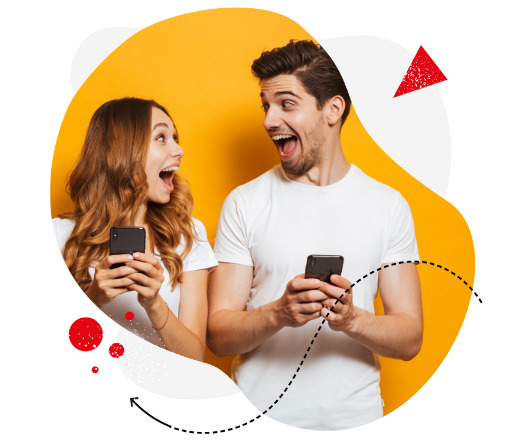 Social media marketing made easier
Analyze, generate reports, schedule posts, automate comment moderation. Save time and boost your results. Try it for free:
Try NapoleonCat free for 14 days. No credit card required.
Wrap up
Competitive research is an ongoing process – make sure to always keep an eye out for new players in the game and innovative social media strategies. But most importantly, remember to keep an open mind and be ready to improve!