If you want your business to stand out, especially in very competitive markets, you need to look closely at your competitors. Not to copy them (by no means), but to enhance your marketing strategy with tactics that already work for others. Here are some tools that can help.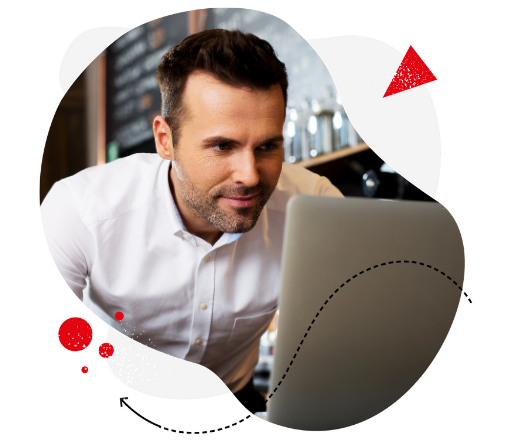 Social media competitor analysis tool
Track your competitors' social media activity across Facebook, Twitter, Instagram, and YouTube. Compare multiple social media accounts side by side and refine your own marketing strategy. Try NapoleonCat for free:
Try NapoleonCat free for 14 days. No credit card required.
Why you should know what your competitors are doing online
Yes, let's start with the why, shall we?
Depending on the industry you're in, you might have lots of competitors, or not that many (yet, because every industry gets filled with competitors sooner or later, that's just how business works.) And in both cases, your marketing strategy should define how you're different from them:
What's the unique value that you bring to your customers that they can't get anywhere else?
Or what's the unique way you do it that makes your business stand out from the crowd?
How are your brand personality and customer communication different?
Why should your customers choose you over your competitors?
(If your marketing strategy doesn't answer those questions, time to go back to the drawing board.)
These are the absolute basics of marketing and branding (yes, branding is much more than your brand colors and logo.)
But, apart from knowing how you stand out, it's really helpful to understand how you're similar – you most likely share the same, or at least similar, audience, after all. So you should also know things like:
What your competitors do right that gets their audience engaged (and how you can adapt it to your brand to increase your market share)
What kind of social media content they post that works for their audience
Where they fail to engage people (so you can tap into that engagement gap with your content)
How they talk to their audience and when they do it
How well they deal with complaints and negative comments (and if there's a lesson or two for you to learn there)
And so on.
The good news is, social media platforms (and the Internet, in general) make it really easy to track your competitors these days (so it's not like you have to actually "spy" on people or steal company information from anyone.) And the multiple online tools available make it even easier to analyze the data and integrate the learnings into your own marketing strategy.
10 competitor analysis tools you should know
So let's take a look at a few competitor analysis tools and how you can use them.
Yes, it's an obvious one. And for a good reason.
Apart from social engagement tools like the Social Inbox and the Publisher, NapoleonCat has a built-in social media analytics tool that makes it really easy to analyze competitors on social media:
See what your competitors are doing on their social media channels, including the performance of their content and their audience engagement
Compare it with your own performance to define some benchmarks and find opportunities for improvement – at a glance
Quickly put all of that data into nicely designed reports you can send to your boss or your client (you can also automate your reports)
Understand industry trends, see what's hot and what's not, and adjust your content strategy for social media as you go.
With NapoleonCat, you can analyze statistics for brand accounts on Twitter, Facebook, Instagram, and YouTube.
(And you can try it out for 14 days for free to see if it's exactly what you're looking for.)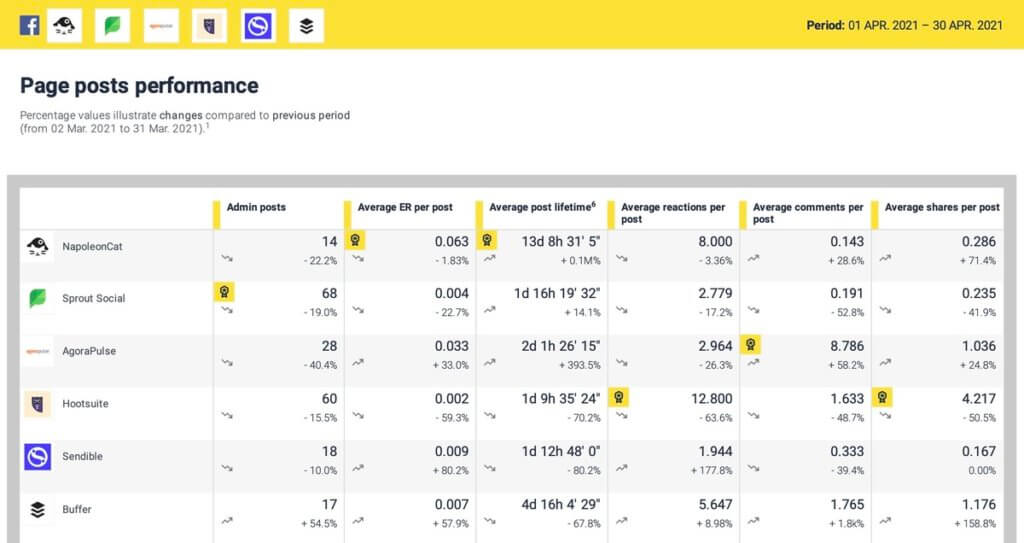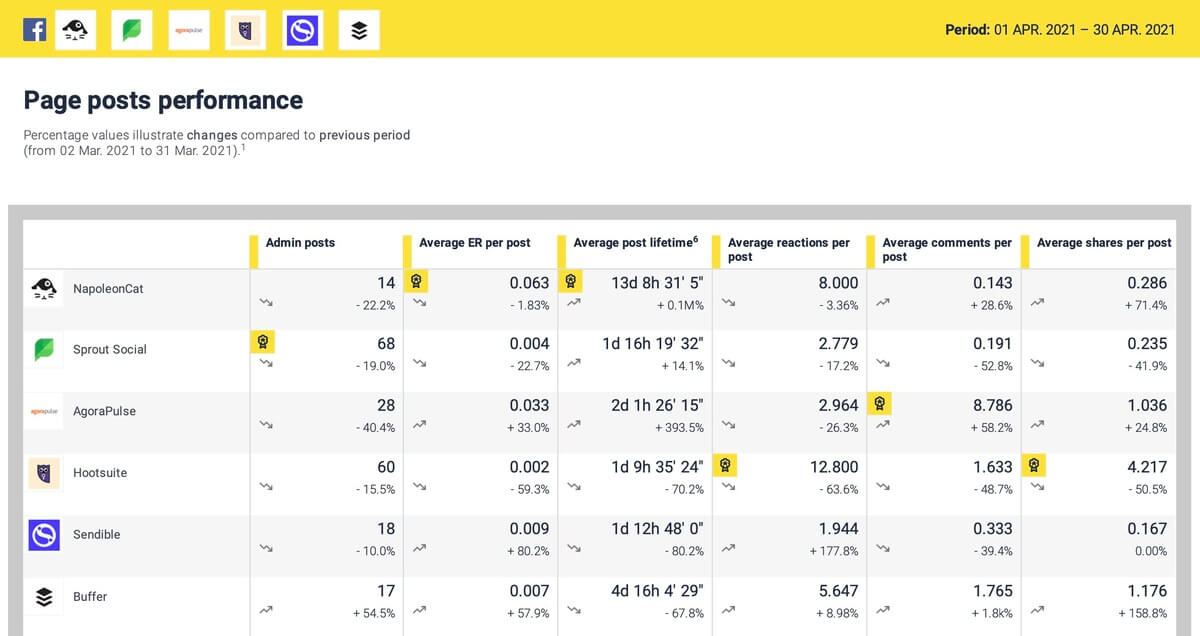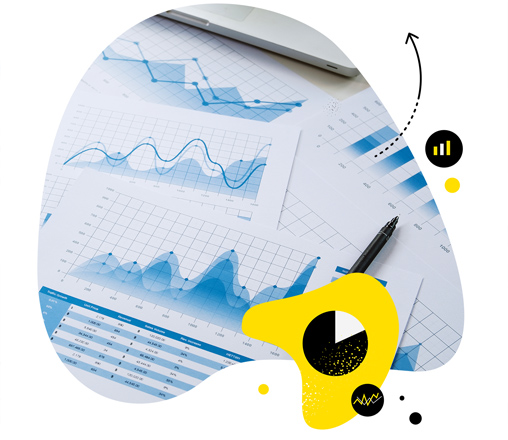 Track Competitors' Brands on Social Media
Find out what content works best for your competitors and when exactly it generates the highest engagement. Get competitive analytics for Facebook, Instagram, Twitter, and YouTube. Try it for free:
Try NapoleonCat free for 14 days. No credit card required.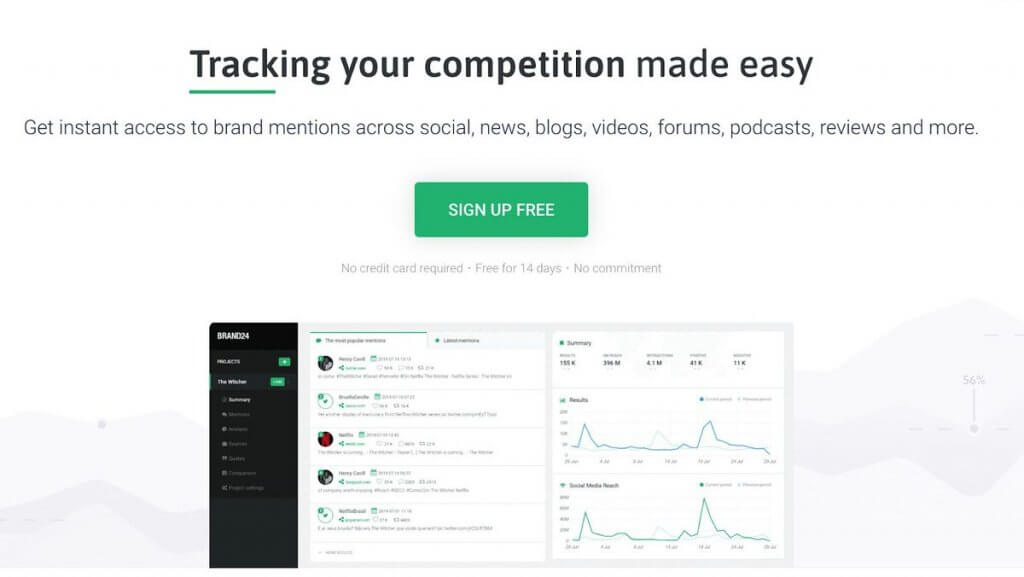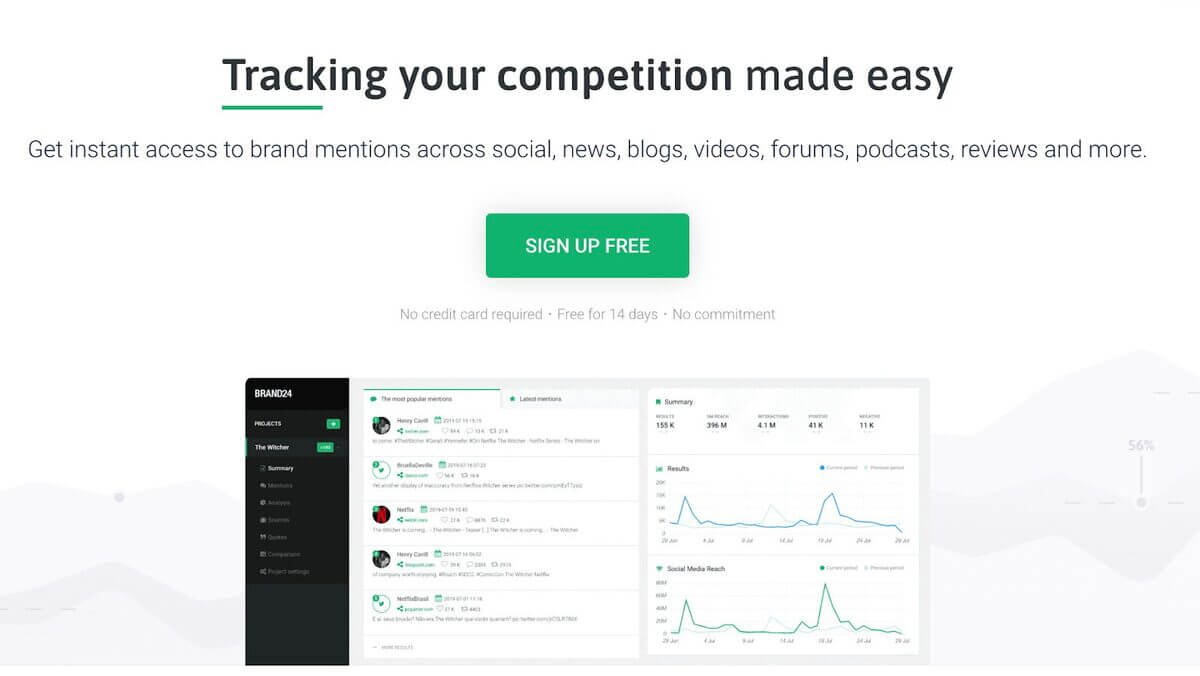 Brand24 is a social listening app that can help you do a lil' bit of spying on your competitors online.
Use it to:
Monitor what people say about your competitors based on specified keywords (which is also an excellent voice of customer research tool)
Track positive and negative reviews and compare them with your brand
Find sales opportunities by joining the conversations where people express their dissatisfaction with a competitor
Track the share of voice in your industry and compare the reach of your content with your competitors.
Pair it with tracking mentions for your brand, and you get a complete picture of the awareness of your brand and audience sentiment compared to competitors.
You can track keywords like a brand's name, but also product or service name, popular hashtags, people associated with a brand (like your competitor's CEO), and more.


SimilarWeb is another competitive analysis tool you should take a look at. It focuses on search rankings and traffic analysis so it can get you more knowledge on:
Your competitor's website traffic, including traffic sources and volumes.
Display ad analytics, so you can see where and how your competitors advertise their products and services.
You can also compare your traffic with your competitors to identify content gaps on your website and get more visibility online.
With the paid version of the tool, you get a much more robust competitor analysis solution, including audience analysis, conversion analysis, and more.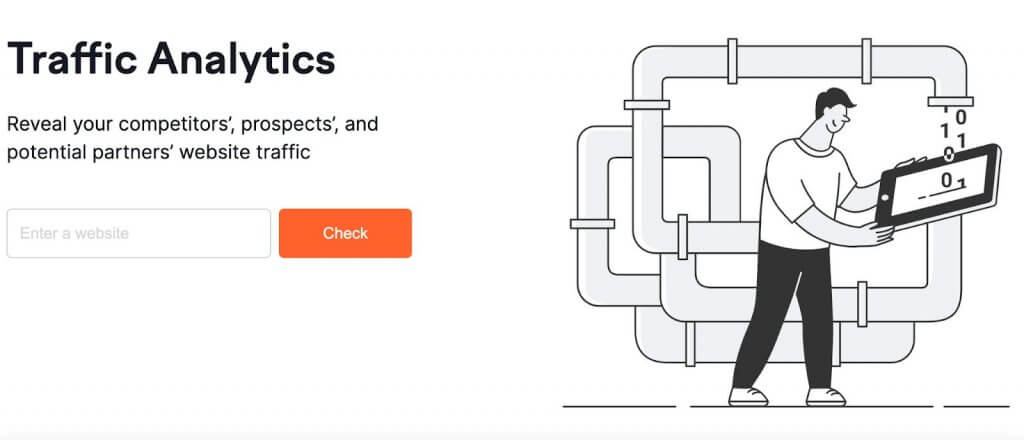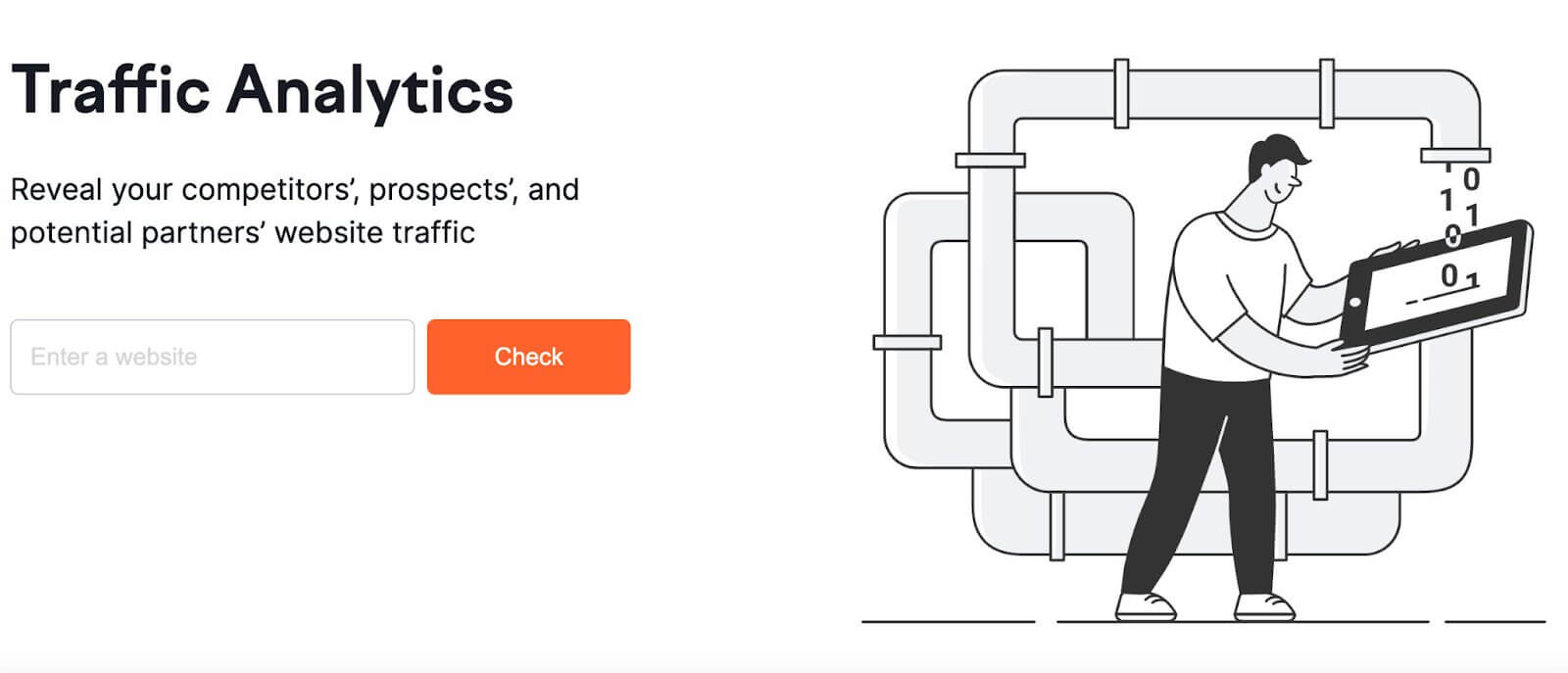 SEMRush is one of the many SEO competitor analysis tools that can help you understand your industry and perform a competitive analysis.
You can use it to:
Identify your direct competitors both in organic and paid search, as well as local competitors.
Analyze their share of traffic, audience demographics, and more.
Identify your competitors' promotional strategies, providing you with lots of competitor intelligence for your own product, pricing, and overall marketing strategies.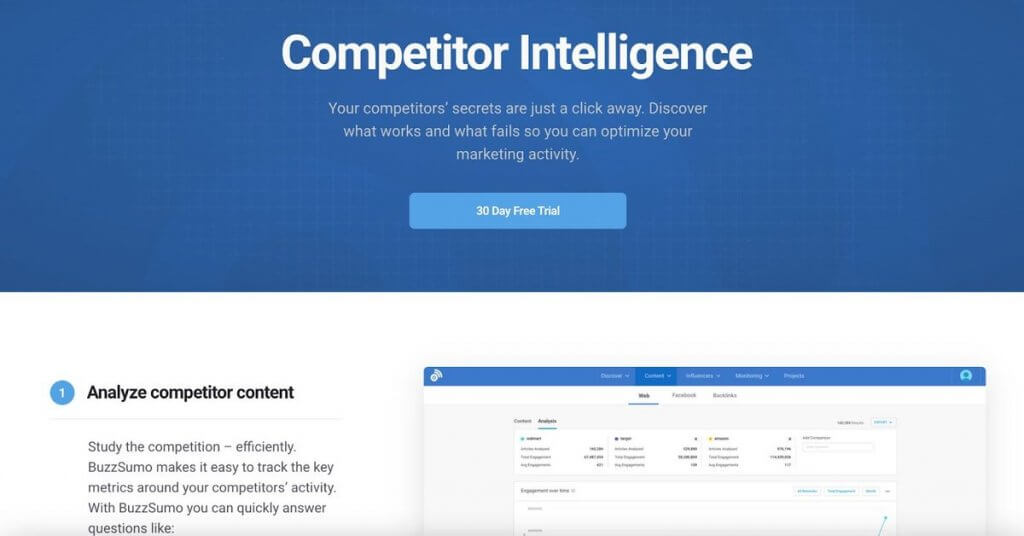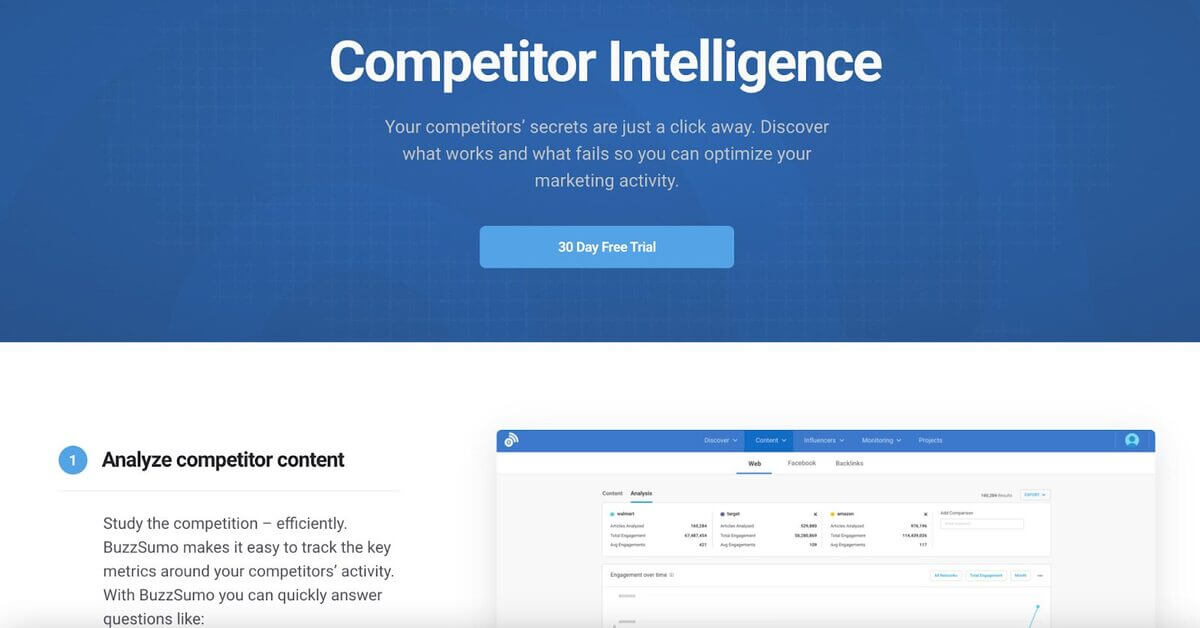 BuzzSumo is a content analysis tool that content marketers know very well. It can help you monitor and analyze your competitors' content performance and content trends in your industry.
Using keywords, you can create alerts to keep up to date with the online mentions of competitor brands (and your brand). You can also create dashboards to track your competitors and their content performance over time and compare it with what your brand is doing.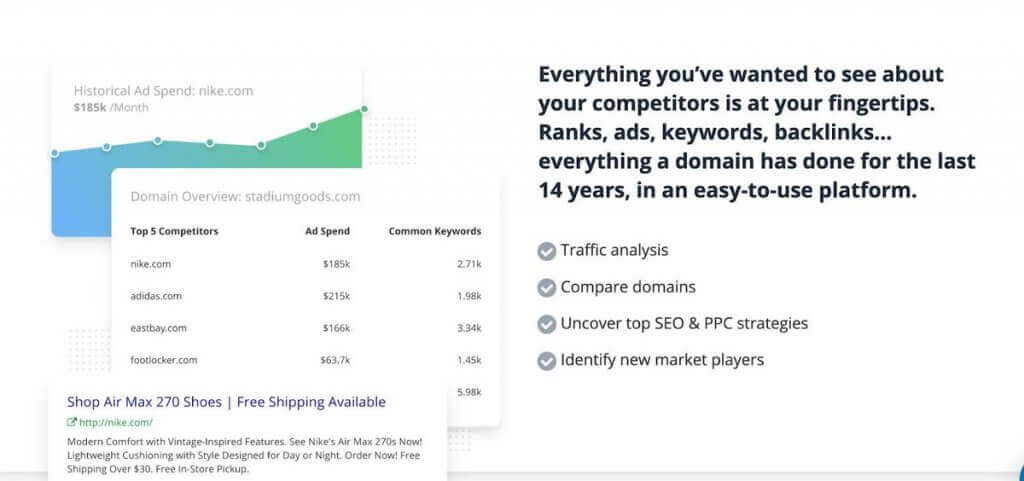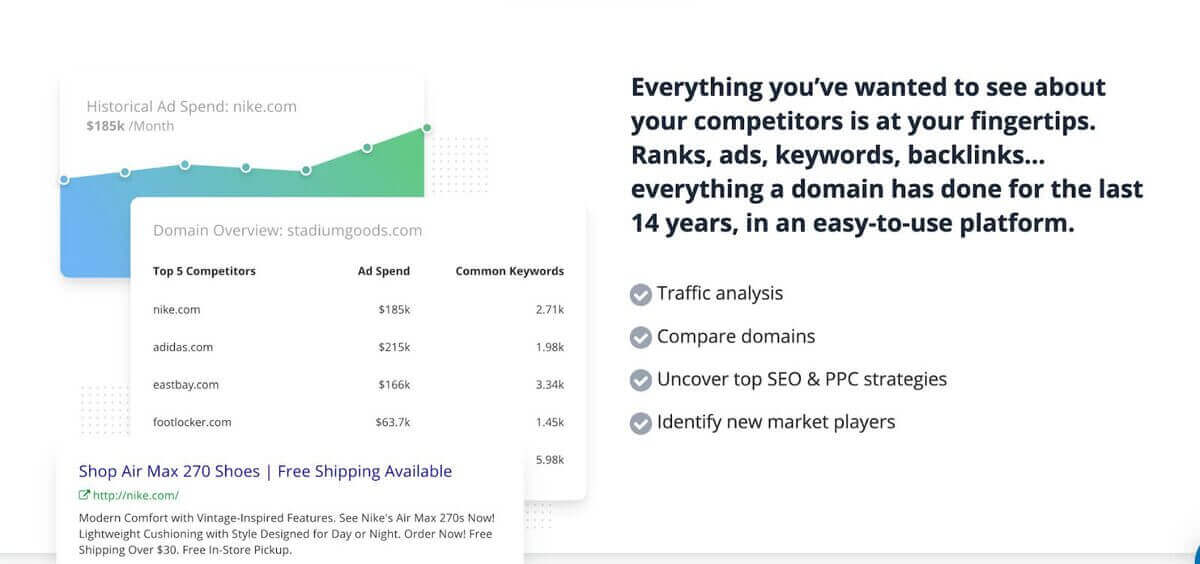 Spyfu lets you, among other things, research the keywords your competitors use in Google Ads, their ad variations, and organic rankings – in the last 16 years. You can use the insights provided by the platform to get more traffic to your website or your PPC ads based on the most profitable keywords to use.
You can also check competitor backlinks, analyze search engine results for your own brand, and more.


MozBar is a browser extension helping you do SEO research on the go while you're browsing websites or search results. Use it to quickly see page authority and domain authority for any page (including your competitors) and compare it right in the search results, view and compare link metrics, identify keywords used on a site, and export search results to a CSV file.
With a paid Moz subscription, you can also access more advanced features like page optimization details and content recommendations, keyword difficulty score, and more.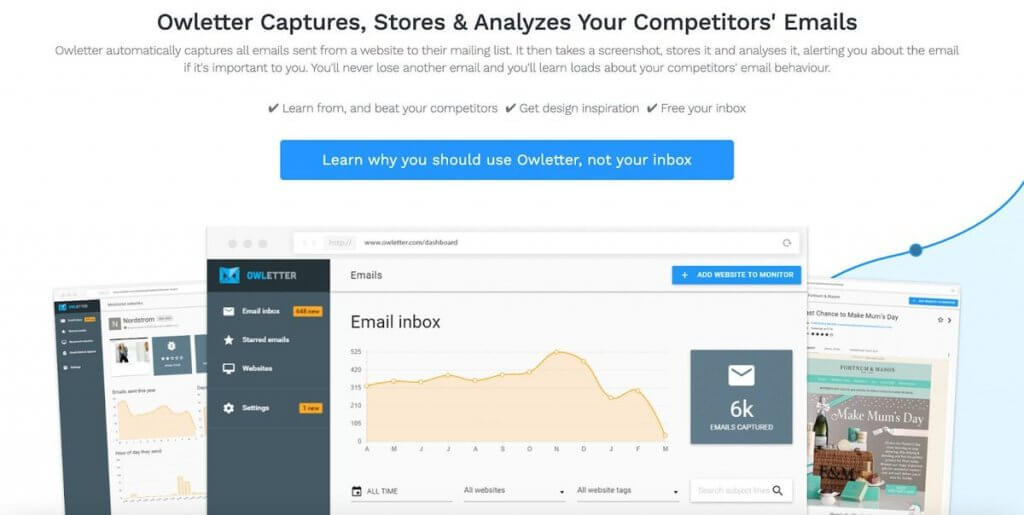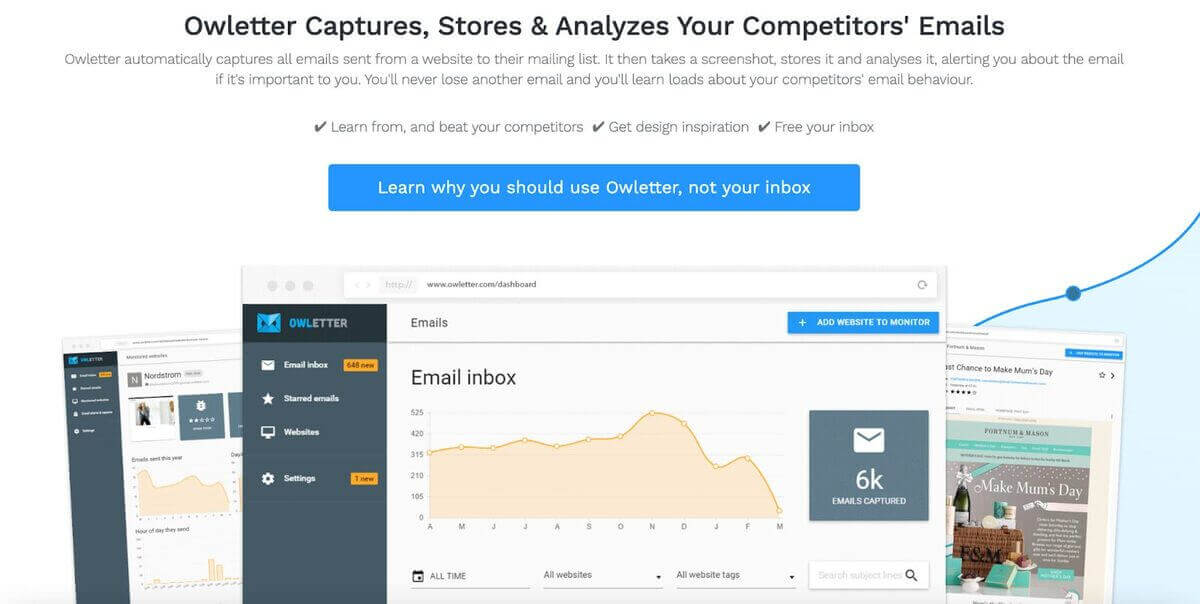 Owletter lets you monitor the email campaigns your competitors send to their target audience. It automatically captures the emails sent from a website domain and analyzes them, looking at things like their email domain reputation and mailing frequency and timing. While you get access to design and content inspiration and can spot trends over time, including for seasonal campaigns.
You'll also get email alerts when a specified keyword appears in any of the emails. You can easily keep an archive of a brand's emails in one place for all the team to access, instead of creating dozens of folders in your email inbox.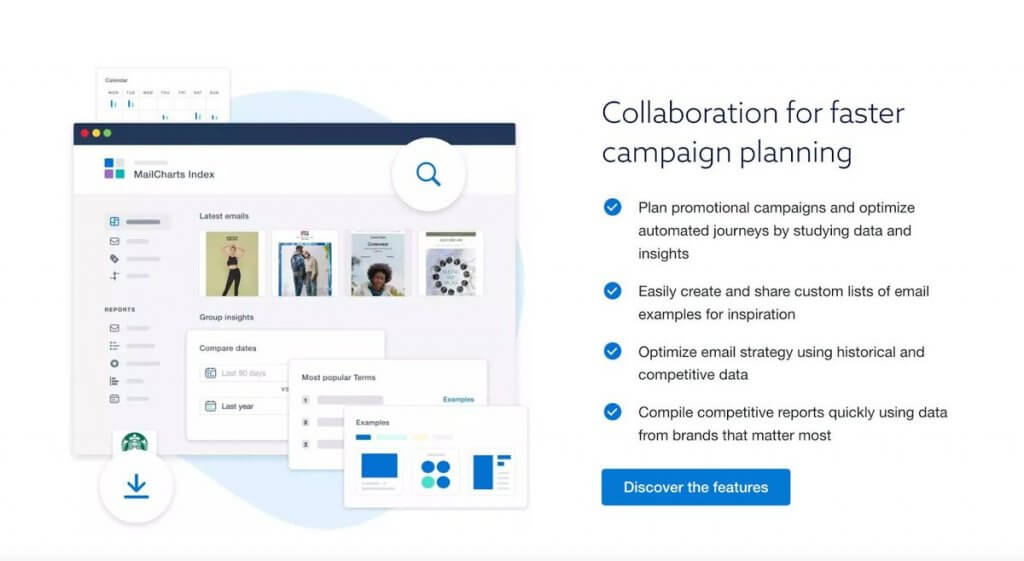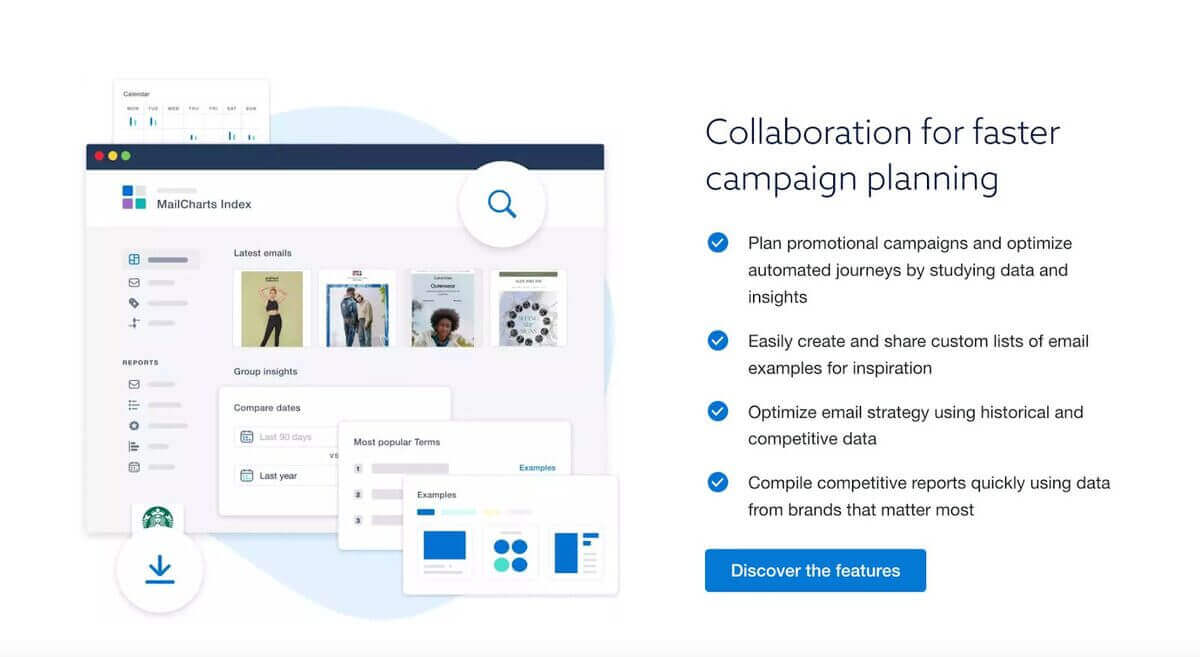 Another email marketing tool you can use to aggregate email campaigns from brands in one place. It analyzes data on email frequency, timing, and other things like subject line length and lets you easily compare it with your own campaigns.
Addressed specifically at eCommerce businesses, it helps you identify the email journeys others use in your industry and visualize them. You can also discover and track new companies in your industry you can get inspired by (at least when it comes to your email campaigns.)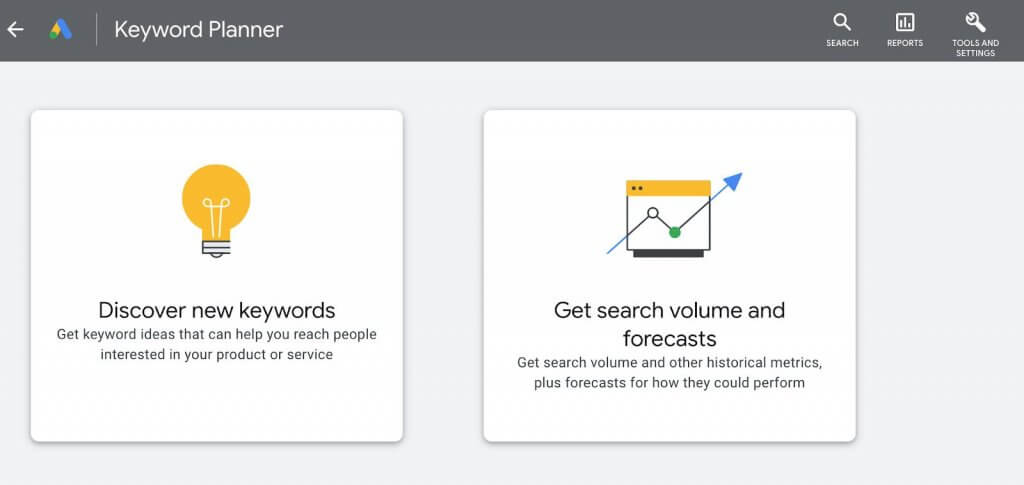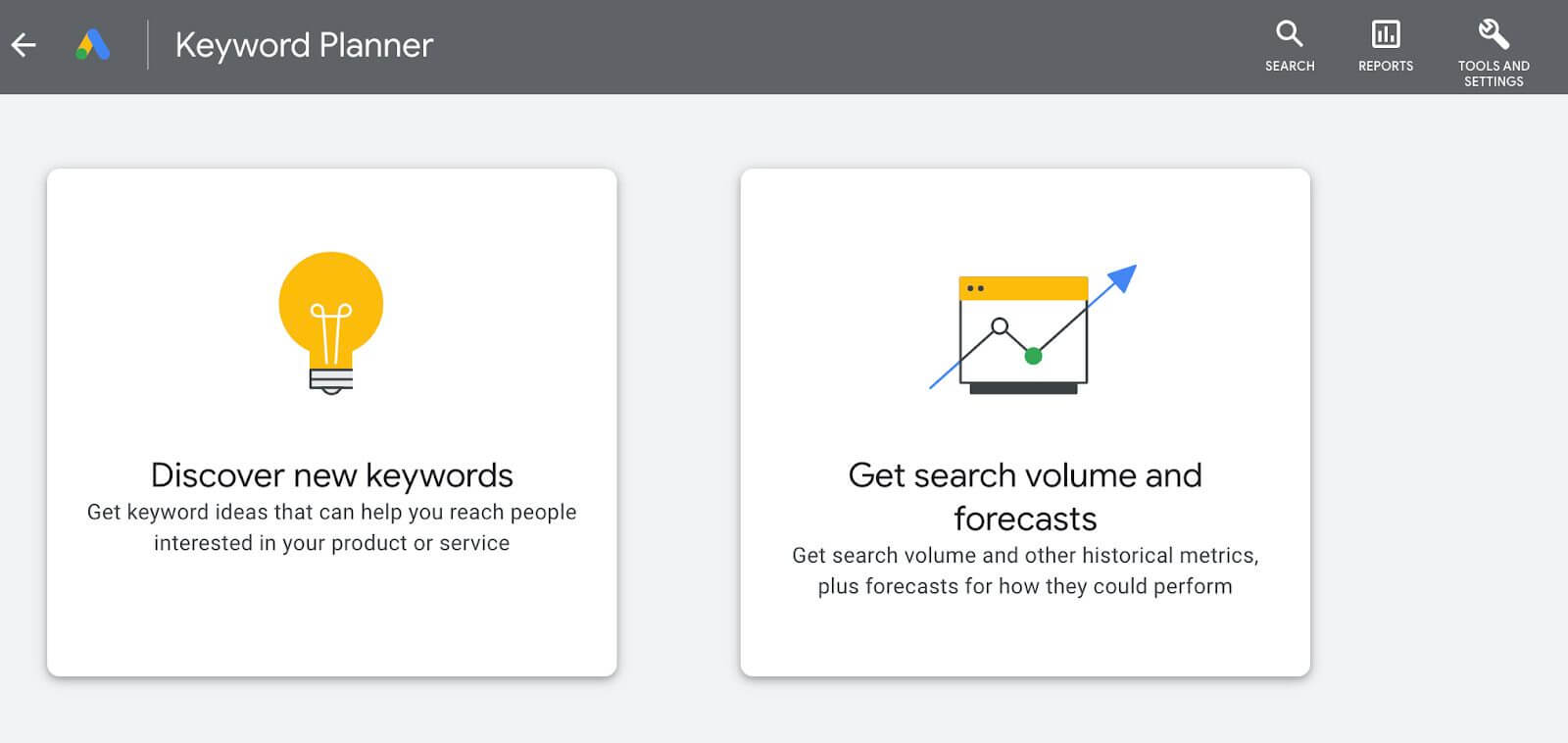 Possibly the easiest (and certainly free) SEO tool for keyword research for your digital marketing content and campaigns. You can use it to search your competitors' websites for keywords relevant to your brand and audience and generally keep track of keyword trends.
This can inform your content strategy and ad campaigns and help you create relevant content your audience will appreciate (and, most of all, see in search results so that your content can get discovered among your competitors' content in the first place.)
Competitor analysis doesn't stop with the tools
The intelligence and insights you gain by monitoring your competitors on social media, in search, or in emails can help you find ways to improve your marketing results across different channels.
Of course, it's not about copying what your competitors are doing but finding ways you can do better. While also not necessarily having to reinvent the wheel that someone else already uses successfully in their campaigns. It's your job as a marketer or business owner to find creative ways to do it and build on what others do, turning it into your brand's competitive advantage.
And remember, your audience doesn't want just another brand that's the same as others (and produces the same content). They want a product or service that answers their needs and solves their problems, so always focus on that first. How can you do it better than others do it? Let me leave you with that question. 🙂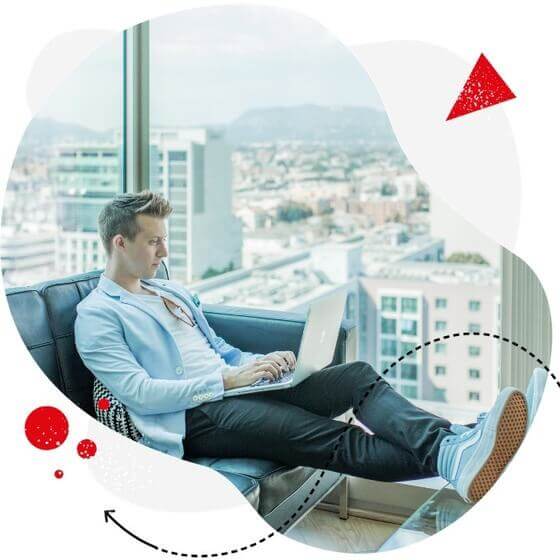 Analyze Competitors' Social Media Content
Track your competitors on social media. Compare multiple accounts side by side and generate in-depth reports within seconds. Try NapoleonCat for free:
Try NapoleonCat free for 14 days. No credit card required.