With over 1.5 billion people checking in with Facebook every day, this Goliath of the social media world holds a truly mind-boggling captive audience in its hands. At least half of Facebook's users (one billion or so) are members of some of the tens of millions of Facebook groups. It's a true marketing treasure trove.
But, over-eager treasure hunters the world over are often distracted by the potential the platform offers and forget to plan their approach properly.
Unfortunately for all of us, a big audience doesn't automatically lead to marketing success. As well as a receptive base, you need to know what to say and how to keep people engaged, manage problems, and build on your progress.
Facebook is placing increasing emphasis on their group features. So, the time is nigh to skill up and become the best damn Facebook group manager the internet has to offer.
In this article, we'll give you the tools and know-how to do just that. So you can make your Facebook Groups as productive for your business as any other marketing channel.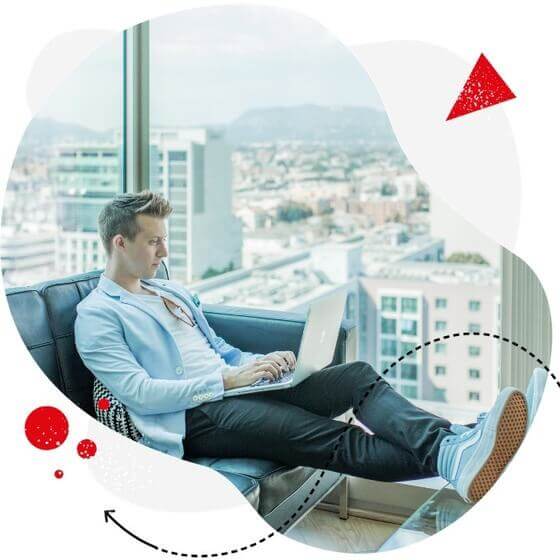 Manage multiple Facebook Pages from one place
Manage all your social interactions from Facebook using one simple tool. Try it for free:
Try NapoleonCat free for 14 days. No credit card required.
Facebook Group or Facebook Page?
Digital marketing is a tough gig. It takes a lot of time, skill and effort. So, it's no surprise that most of us would prefer to pick an approach and run with it then juggle a thousand options at once.
Weary marketers often ask whether a Facebook Page or a Facebook Group is a better play for their business. Let's take a quick look at the two:
Facebook Page
Pros
Easy to find in a search
Visible to anyone on Facebook
Good for SEO (authority building)
Fast-growing
Cons
Low organic reach
Low clicks per post
Creating content is a full-time job
Engagement is generally low
Facebook Group
Pros
High organic reach
High clicks per post
Engagement is generally high
Content is crowdsourced among members
Cons
Often only visible to members, or hard to search for
Slow growing
Moderating content can be a full-time job
Little direct SEO impact
Spammers are a constant pain
What this suggests is that Facebook Pages are good for building a business's online profile, but Groups are better for generating customer engagement. You can dive deeper into the pros and cons here.
How to create a Facebook Group
Since you're reading this article, I'll assume you think a Facebook Group is right for you. The good news is, it couldn't be easier to set one up. There are just six simple steps:
Go to the top right corner of Facebook
Click 'Create'
Select 'Group'
In the popup that appears, add your name, some initial members and some basic group info
Choose a privacy option (more on that in a mo)
Click 'Create'

How to choose the right Facebook Group settings
Which Facebook Group privacy settings you choose will depend on the type of content you intend to post and how you want to use your group. Facebook Groups come in two main types: Public and Private. Private groups are divided into Closed (soon to be 'Visible') and Secret (soon to be 'Hidden').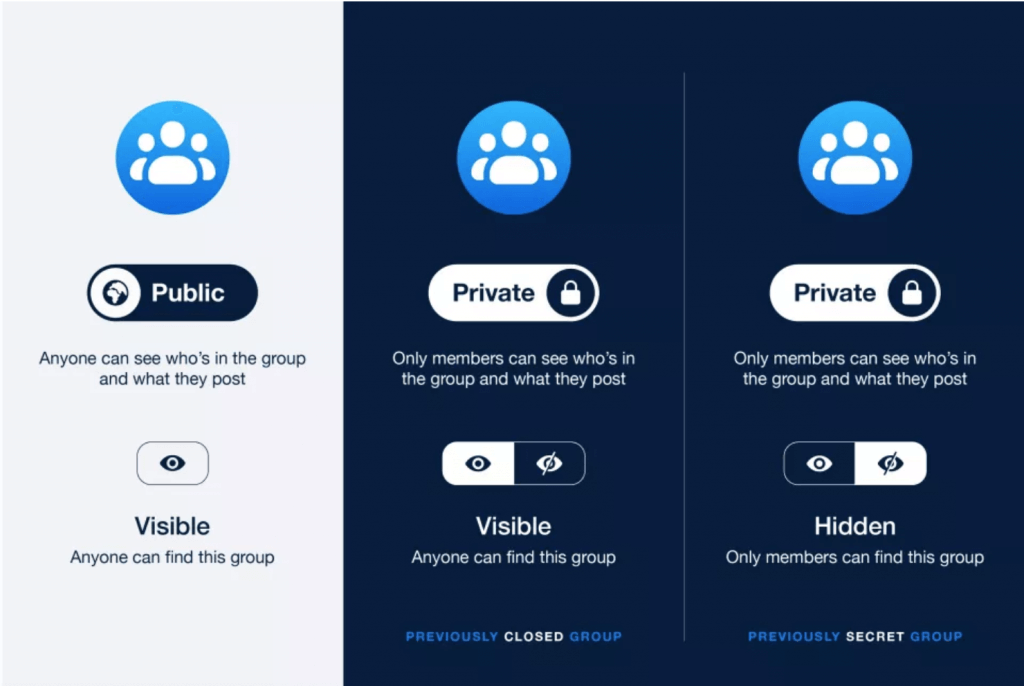 Public groups
Anyone can see details about and from inside this group, e.g. name, description, member list, posts, admins. Content from Public groups can appear in anyone's news feed and in searches. People can become members without being approved (they can just add themselves).
Good uses:
Customer community
Industry audience Q&A
Customer service access
Closed (Private Visible)
The name, description and member list of the group are visible to anyone, but they don't appear in searches or on people's news feeds, even if their friends interact with group posts. New members must request to be added and are vetted by admin or existing members. Content is only visible within the group.
Good uses:
VIP customer groups
Gated access audience groups (for sharing ultra-valuable content)
Secret (Private Hidden)
Most details about a Secret group, including its name, description, member list and posts are only visible to its current members. Anyone on Facebook can see who the admins and moderators are.
Good uses:
Staff groups
Project collaboration groups
Changing your group's settings
Plenty of groups start out as one thing and then transform into something else. So, the privacy setting you chose at the outset might need to change. To access Group Settings:
Select your group from the left menu of the News Feed view
Click the three dots
Select 'Edit Groups Settings' from the options that appear
Scroll down 'Privacy' and select 'Change Privacy Settings'
Once you're confronted with the available settings (as above), choose the one you want
Click 'Confirm' and 'Save'
Your Facebook Group privacy settings will now be updated. Facebook does like to keep things simple!
Make it look the part
When you create a Facebook Group, you should present it in a way that is consistent with the rest of your brand's profiles. This means matching visual elements like your cover photo and profile image. This is true even if, as should be the case, it's not actually directly about your business.
Online marketer Amy Porterfield runs a Facebook Group that supports and offers advice to marketers using the podcasting method to promote their businesses. Here's Amy's website Home page…
And here's her Facebook Group profile…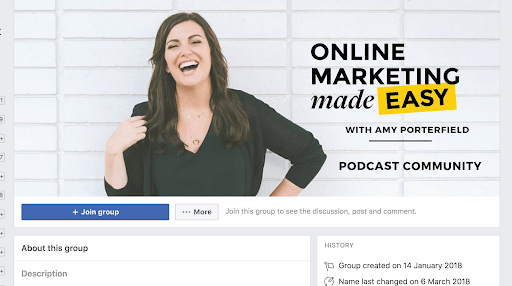 The colour-scheme, visual elements and style of imagery are all consistent. So, when a member of her Facebook community clicks through to her website, they know straight away that they've followed the right link.
You'll also notice how consistent her tone of voice is. What do I mean by 'tone of voice'?
Well, if your brand is friendly and approachable, matching the tone of voice means building a profile that's equally friendly and interacting with group members in the same way.
Define your purpose
A successful Facebook Group is one that captures your audience's attention more than those of your competitors. In a way, it's like running in a particularly overcrowded marathon, except you don't get a medal just for taking part.
The quickest way to lose a race is to be completely unclear about where the finish line is. Without a clear direction, a well-mapped route and defined endpoint, you'll end up veering off course and being overtaken by the better prepared.
But enough of the half-baked metaphors. What does this mean for your Facebook Group? I have three simple words for you… know your purpose!
Before going any further, sit down and work out the following:
What is your niche?
Who is your target audience?
What do they want from you?
How can you best give it to them?
How will doing so benefit your business?
Sketching out a plan will make your content, interactions, posting schedule and everything else much more refined and direct. Your content and marketing teams (if you're lucky enough to have those) will thank you for it, and your audience will know what to expect from you. All of this means you'll build a group full of members you actually want.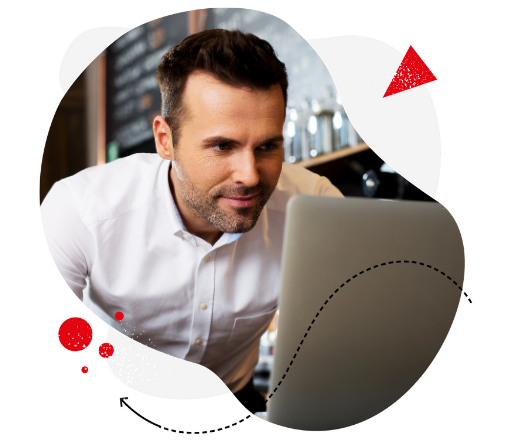 Social media management made easier
Manage unlimited Facebook, Instagram, Twitter, and LinkedIn pages in a single inbox. Track competitors and improve performance using one simple tool. Try it for free:
Try NapoleonCat free for 14 days. No credit card required.
What should you post about?
A lot of businesses come unstuck with what to make the group about. I can't tell you exactly what to do, but I can give you a mantra to live by…
"It is not about you!"
Successful groups solve problems and answer questions for their members. They don't directly promote a business or plug their products and services.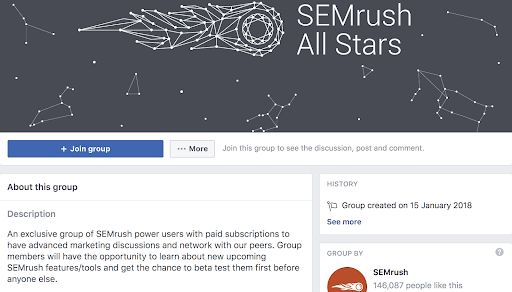 The SEMrush All Stars group is an example of a VIP customer group that is highly successful. It works because it focuses on recognising and rewarding SEMrush's best, regular users by giving them exclusive access to info and assets.
People love groups that are of genuine value to their members.
The role of a Facebook Group admin
As the owner of a group, it's likely you'll be its main admin. Since April this year, Facebook Group admins have had access to a new tool called Group Quality. It provides an overview of what content breaks the Community Standards that admins are meant to uphold.
Facebook can penalise admins for not managing their groups in line with these standards, so understanding them is 'managing a Facebook Group' rule number one.
Community Standards
Facebook says its Community Standards exist to "encourage expression and create a safe environment", which is pretty vague. But, there are pages of detail available to you so you can swat up. The following are firmly off the cards:
Content that causes real-world harm (e.g. incitement to violence)
Criminal or violent content (e.g. videos of crimes being committed)
Highly offensive content (e.g. obviously racist content and other hate speech)
Objectionable content (e.g. anything not illegal but likely to cause significant offence)
Content sharing that breaks copyright or intellectual property rules
You can find a raft of other interesting examples here.
Use Facebook's group management tools to manage and respond to breaches in Community Standards. Facebook's latest admin features simplify the task of moderating by allowing admins to:
Add notes about posts they remove to an activity log
Tell those responsible for removed posts what rule they broke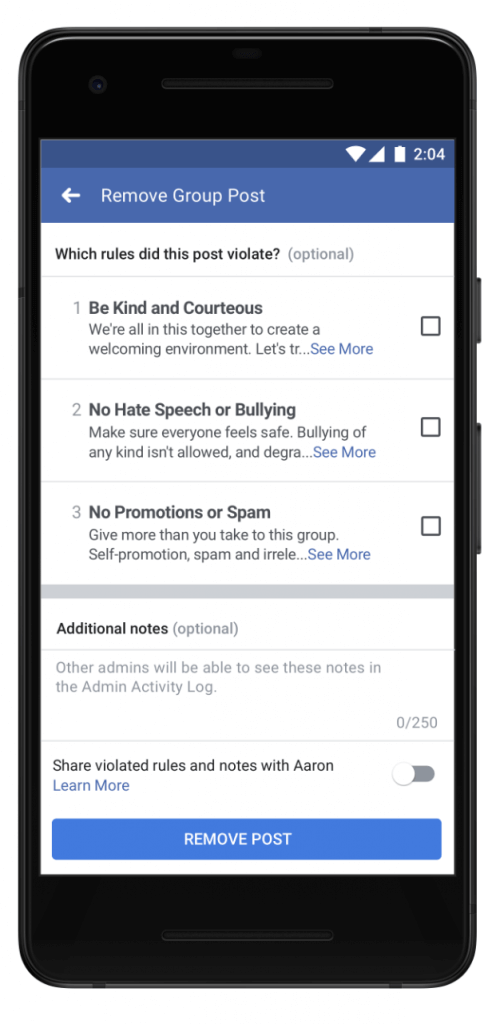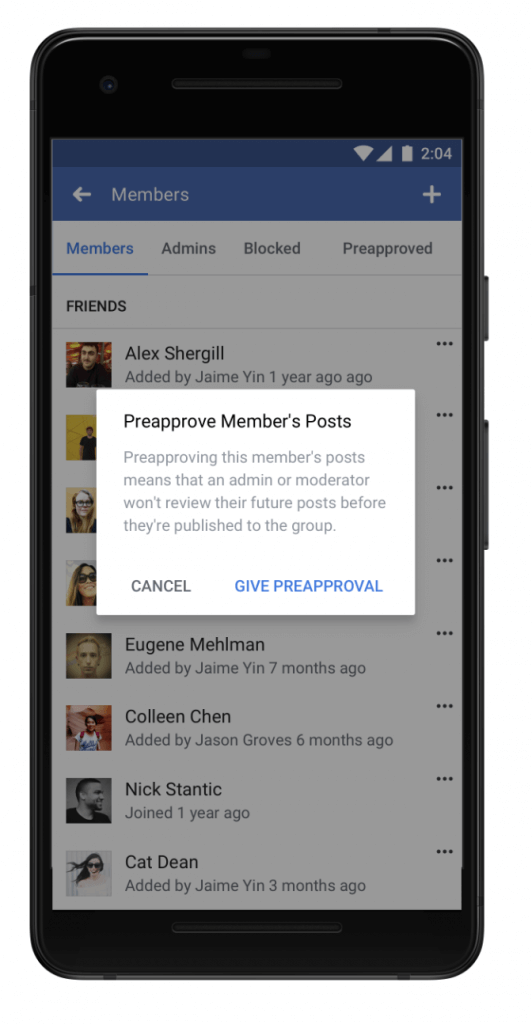 To become a pro admin, you'll have to:
Manage membership requests
Lay down the rules
Enforce said rules
Remove and block spammers
Recognise your active community members
Managing your community: the good, the bad and the ugly
Hopefully, you'll be inundated with requests to join your group and, while most of them will be genuine, some are bound to be troublemakers from start to finish.
Handling membership requests like a pro
Give new group members the best chance to do right by your community by providing a strong but short group description. It should define precisely what and who the group is for, leaving no room for interpretation.
Add a quick quiz post-membership-request to check whether the description has sunk in.
Put your group rules somewhere prominent. Most groups add them to their pre-sign-up description and place them in a pinned post.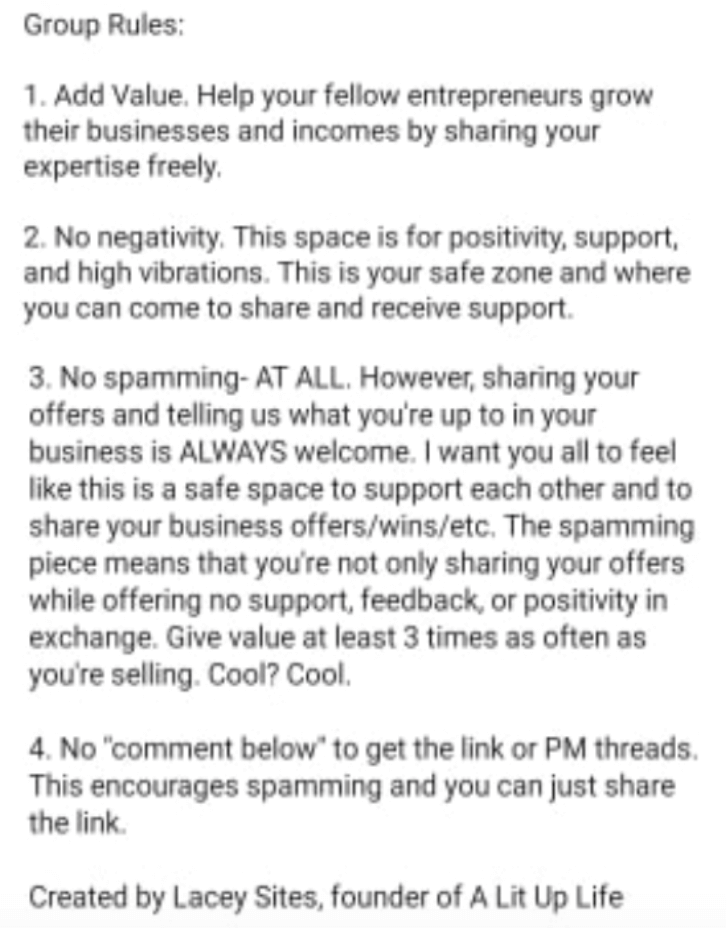 But, since most people prefer to watch a video than read endless text, some groups have taken to making a group rules video and pinning that to their group's wall instead.
Enforce your rules consistently
Whatever rules you choose, make sure you enforce them consistently. There's nothing more frustrating for members than being punished for something other people have got away with.
And, to save your sanity, don't waste time giving individual people warnings for red-line violations. One discount Ray Bans link and they're out.

Tell the group when you're on the case
If you have a spate of bad behaviour or ban a group member, follow it up with the group in a post.
This can bring members together because most will be as ticked-off as you are with the minority of misbehaviours and will be pleased to see that you're taking action.
Have rule-reminder content at hand
If you find yourself reminding people of the same rules over and over again, instead of morphing into a broken record, create memes that highlight those rules and have moderators post those as responses to threads you turn off, comments you delete and posts you remove.
This saves a tonne of time and keeps your hair (which you would otherwise tear out from the stress of repeating yourself) firmly attached to your head.
Moderate disputes by PM
Admins should never engage in disputes in a public forum. There's nothing more off-putting for rule-abiding members than seeing a group admin go full feud on a misbehaving member on a public thread.
If a dispute breaks out, immediately shut off comments to the thread (after posting to say you are doing so). Then, contact the parties involved by PM to resolve the dispute.
Keeping people engaged
Group admins often make the mistake of posting endless links to out-of-group content, e.g. to their website/blog/other social media profiles. People join a group to access exclusive content. So, apart from setting up a posting schedule to keep things regular, you should:
Create in-group polls
Add native uploads (videos, images, etc.)
Pose questions to the group
Post personal stories
Engagement is all about offering something of value. If you do, people will want to stay and interact.
Using Group Insights
Groups with more than 250 members can access Facebook's Group Insights function. It allows admins to:
Monitor the group's growth over time
Keep an eye on community engagement
View group demographics (age, country, gender etc.)
Identify the group's top contributors
Facebook group managers can use these insights to develop group-building strategies, improve their content strategy, refine the group's purpose and generally make it a better and more useful space for everyone involved.
TechCruch has a great guide to getting the most out of the Insights feature.
When – and how – to delete a Facebook Group
Sometimes a Facebook Group can outgrow its use, or simply outgrow your ability to manage it. But should you ever delete one?
Deleting a Facebook Group removes it in its entirety, making it forever inaccessible to you and your members. You'll lose the member list and all the threads and content. It should be a last resort. Before you consider deleting a group, try:
Hiring someone else to manage it on your behalf
De-or re-branding the group and passing it on to someone else
Archiving it so you can resurrect it in the future if needed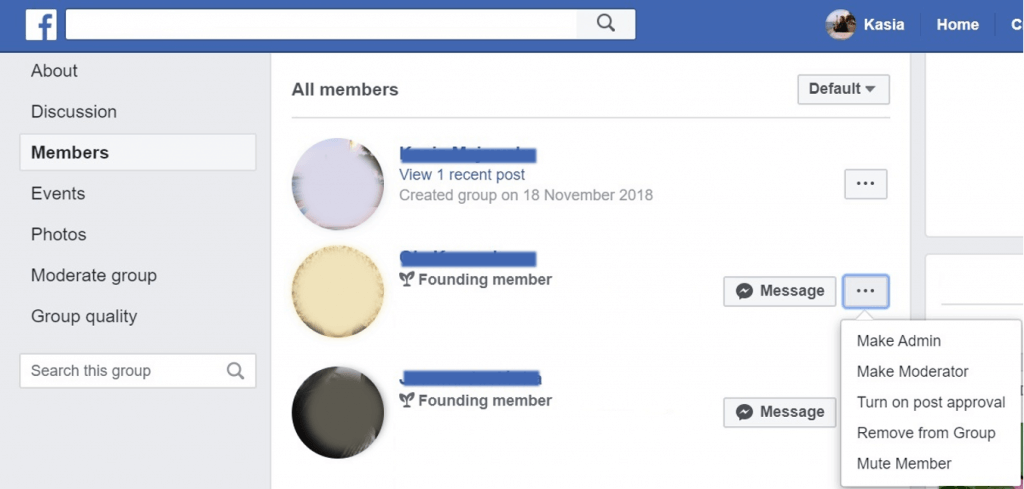 If none of these options is viable, you can just delete the group, like so…
Log in as a group admin
Bring up the group member list and click 'Members' in the left menu
Click the three dots next to a member's name
Select 'Remove from Group' from the options
Deleting a Facebook Group can only be done by removing every single member individually. Tedious, I know! Which is one of the many reasons why it's not something you should take on unless you really have to.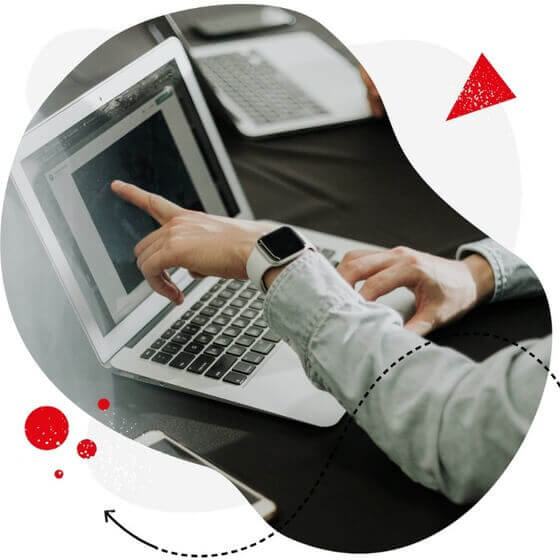 An all-in-one Facebook management tool
Post scheduling, analytics, reports, automatic moderation, and more. Boost your results and try NapoleonCat for free:
Try NapoleonCat free for 14 days. No credit card required.
To sum things up
Gone are the days when building it actually meant they'd come. In today's crowded social media marketplace, it pays to know your stuff. An expert Facebook Group manager is able to grow their audience, drive traffic to where it's needed and watch their business reap the rewards. So, why not be one of them! Get educated, get organised and go create yourself a successful Facebook Group.