To all the social media managers, business owners, and social media customer service professionals – I feel you. Also: you can automate some of your daily tasks, so your work is more manageable and less frustrating.
Here are some of the myriad examples of the best ​​social media automation tools available out there that can help.
Social media automation – should you even do it?

The short answer is: yep (alternatively: yes, yaass!, 100%, etc.)
Here's a slightly longer one. For years, marketers were wary of social media automation software. Because, in its essence, social media is about having conversations with your customers.
And I mean, how do you automate a conversation? It's like you're talking to a robot, right?
Well, not exactly. I mean, not at all.
Automation on social media is not there to replace you. It's there to support you with the things you *can* automate. That means, it can help:
Automate social media content scheduling, so you don't have to do it manually every time and on every single social media account
Automate some of your comment moderation, so you can reply quickly to frequently asked questions or remove spam without having to read it (or worse, having your followers read it)
Automate social media reporting so you know what works and what doesn't and can impress your boss or your client without obtaining a degree in spreadsheets
Automate team workflows, so you can communicate better with your team members and other teams – and respond quicker and better to your customers on your social channels
Automate some visual content creation if you don't have a designer (or your designer is swamped with work and social media images are always created last-minute, if at all)
Automate content research and curation to never run out of engaging topics for your social media profiles (and also know what your competition's up to and what your audience enjoys reading the most)
Automate social media listening to know what people say about you across the Internet, where they are most active
And so on.
All so you can save time to actually *have* conversations with your customers. I mean it! Calculations show that you can spare up to 43 hours a month while automating 50% of your social media comment moderation.
There's tons of tools out there, so let's take a look at some that can make the most difference in your day-to-day social media work in different areas (and, as shown by the bullet list above, there are many).
PS. We have a free eBook on how to automate business on social media – you can download it by clicking on the image below 😉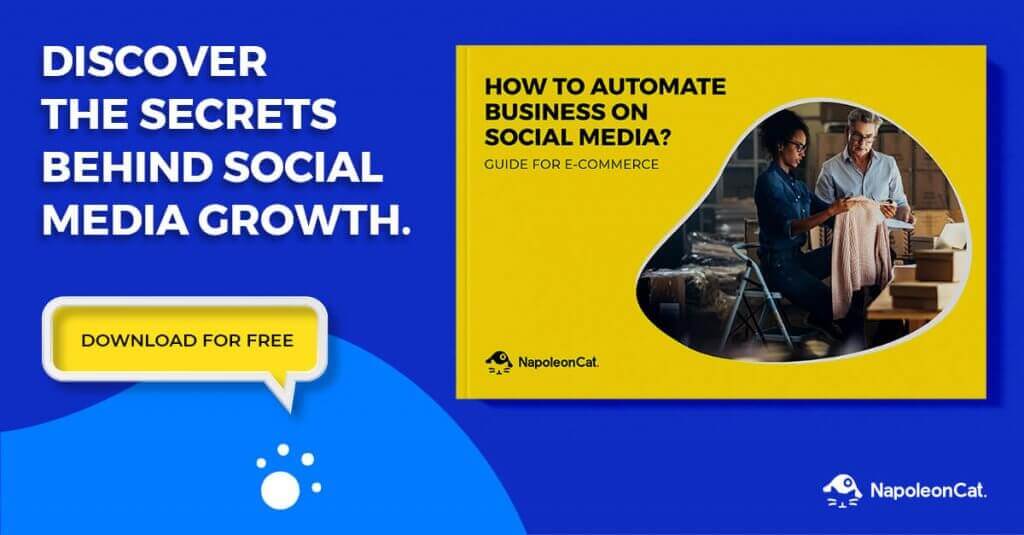 13 best social media automation tools to check out and save time
1. NapoleonCat for automating social media management overall
Of course, it's top of the list 😉 But why wouldn't it be – the platform will take a considerable load off your shoulders, combining several social media automation tools in one, saving you a couple of extra subscriptions.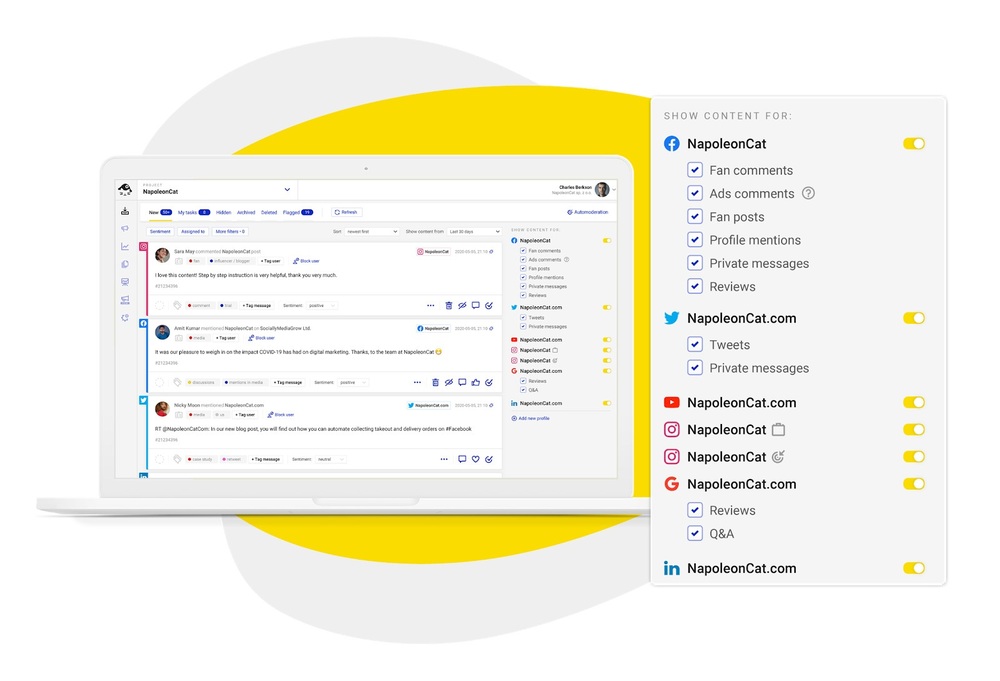 Key features include:
Social Inbox – one dashboard to handle all customer interactions on all your social accounts (including Facebook, Instagram, TikTok, LinkedIn, YouTube, Messenger, and Google My Business), with team workflows for quicker communication.
Auto-moderation, letting you automatically respond to comments and messages (and perform other actions like delete or hide comments) based on selected keywords. It also works for your Instagram and Facebook ad comments, which often get overlooked (and which, in turn, can harm your ad performance).
Social media publisher – a shared content calendar letting you schedule content on all your social media profiles and automate content approval workflows across teams.
Social media analytics – letting you track your content engagement across social channels, track your competitors, compare your stats, and automatically create periodic reports for your boss or your team.
There's a 14-day free trial to test all the features. Otherwise, the customizable pricing plans are available here.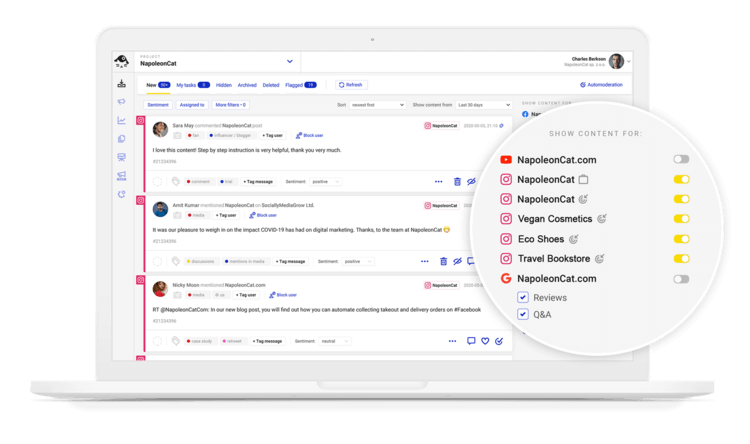 Simplify Social Media
Management with One Tool
Manage & reply to comments and DMs in one place.
Monitor ad comments from multiple accounts.
Automate answers to repetitive questions.
Schedule posts to multiple accounts, on desktop.
Analyze performance and monitor hashtags.
Keep track of your competition.
Create or schedule in-depth reports in seconds.
Try 2 weeks for free (no credit card required)
2. SocialBee for automating the recycling of social media posts
SocialBee allows you to create, schedule, publish, and track all your social media content in one place, thus streamlining your social media marketing efforts.​​
In SocialBee, you can stay consistent with your posting schedule via automation while tracking your campaigns and making data-driven decisions.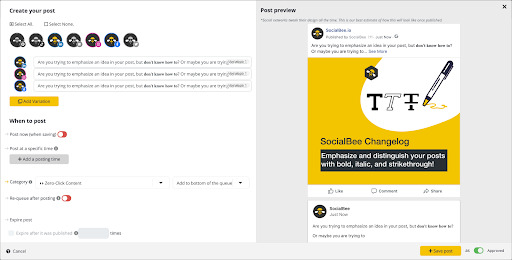 Key features include:
Post scheduling for Facebook, Twitter, LinkedIn, Instagram, Pinterest, Google my Business, TikTok, and YouTube
Post design integrations with Canva, Unsplash, and GIPHY
Post organization features: categories, platform-specific customization, and recycling of evergreen content
Performance analytics for your accounts and posts
Multiple workspaces for streamlined collaboration
Content import: you can automatically connect your RSS Feed to any blog
Pricing starts at just $19/month, and you can sign up for a 14-day free trial – no credit card required.
3. CoSchedule for automated content planning
If you're looking for a content calendar that goes beyond social media scheduling, then take a look at CoSchedule, dedicated explicitly to organizing and planning all kinds of marketing content, including social media.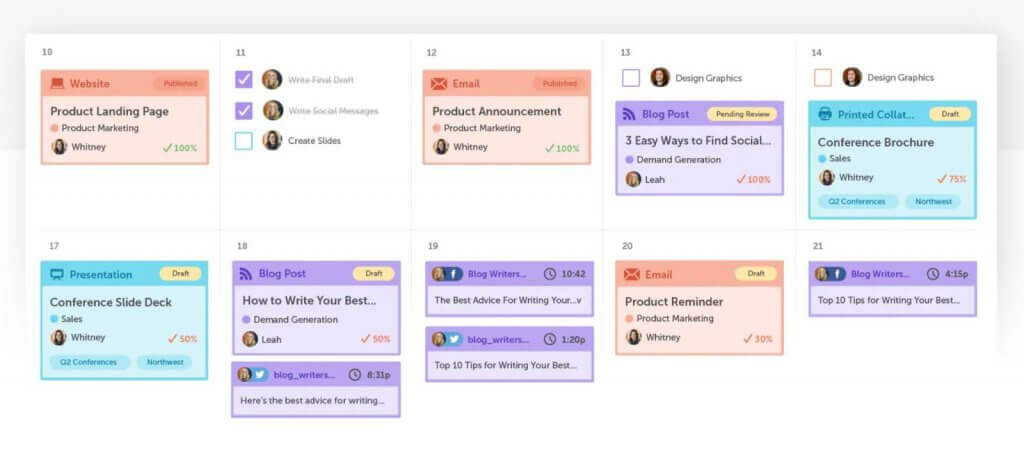 Key features include:
A shared calendar to plan all your marketing content
Scheduling and automatically publishing your WordPress blog content, and then promoting it on social media
Creating automated social media content drip campaigns
Automating content approval workflows
Automated headline analyzer
Plus a bunch of advanced project management tools for marketing teams
The basic version of the marketing calendar is free. The more advanced Pro version starts at $29/month, and the entire Marketing Suite requires a custom quote.
4. HubSpot CRM for tracking and converting social media engagement
HubSpot's free CRM tools provide a new method to consolidate your social media campaigns by optimizing your social media funnel. With the CRM, you can manage your social media accounts with an all-in-one CRM to collect data on performance, engagement, and customer experience. You can maximize your conversion funnels by analyzing how customers engage with your brand online and then convert leads into net new users.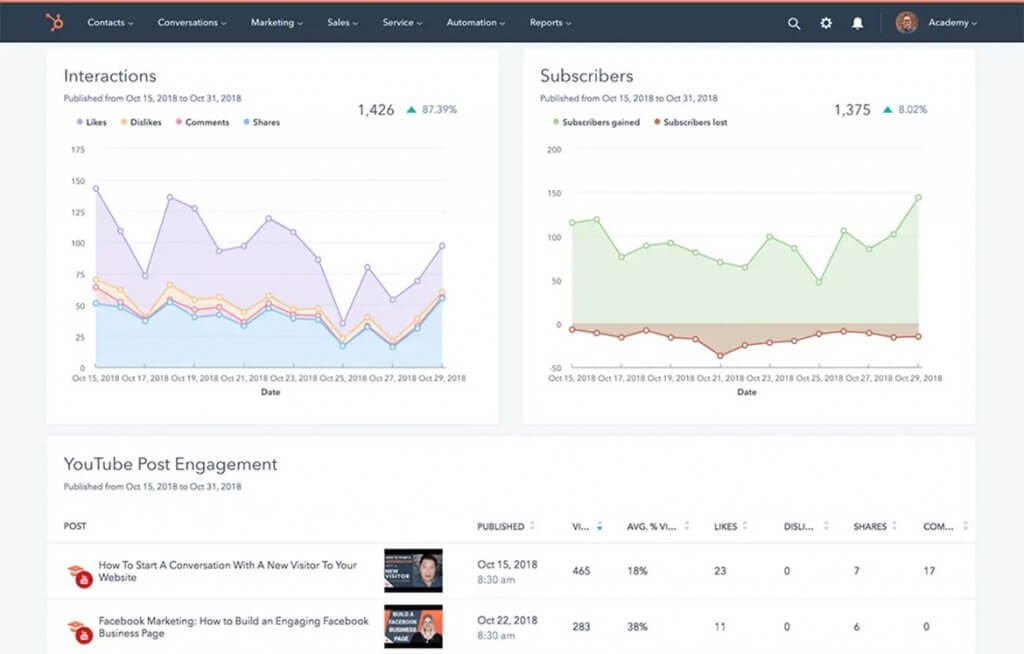 Key features include:
Content scheduling software that publishes to all of your social networks
Recommendations for the best time to post
Keyword Monitoring
Historical conversation tracking
Social media marketing ROI reports that compare the performance of different social platforms, campaigns, and publishing times
The ability to attach social posts with relevant marketing campaigns
Start using HubSpot's CRM tools for free. There are upgraded plans with additional features starting at $45/month.
5. Snov.io for automating LinkedIn lead generation
Although Snov.io is popular as an all-in-one platform for cold outreach, you can use it comfortably for social media automation in case your primary social network is LinkedIn. With Snov.io Li Prospect Finder, you can find leads throughout LinkedIn, collect their email addresses, and save the prospect data into your personal Snov.io workspace.
With Snov.io CRM, you can further manage information about LinkedIn leads and move them through the sales pipeline depending on what stage your prospect is in.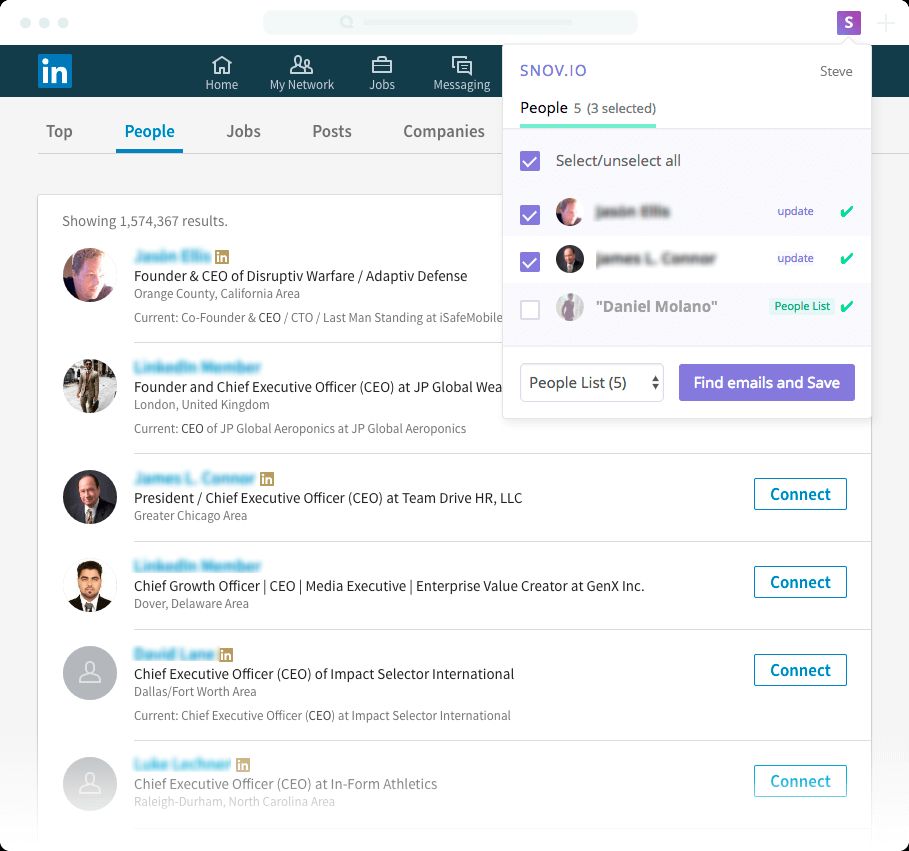 Key features include:
Single and bulk search on LinkedIn and Sales Navigator
Lead management and tracking
Automated follow-ups
Unlimited teamwork
You can try the LinkedIn lead generation tool with a limited reach for free. Snov.io basic plan will cost you $39/month.
6. Brand24 for automated social media monitoring
This is a typical social listening slash online reputation management tool, helping you automate the process of searching what people say about your brand and where they say it.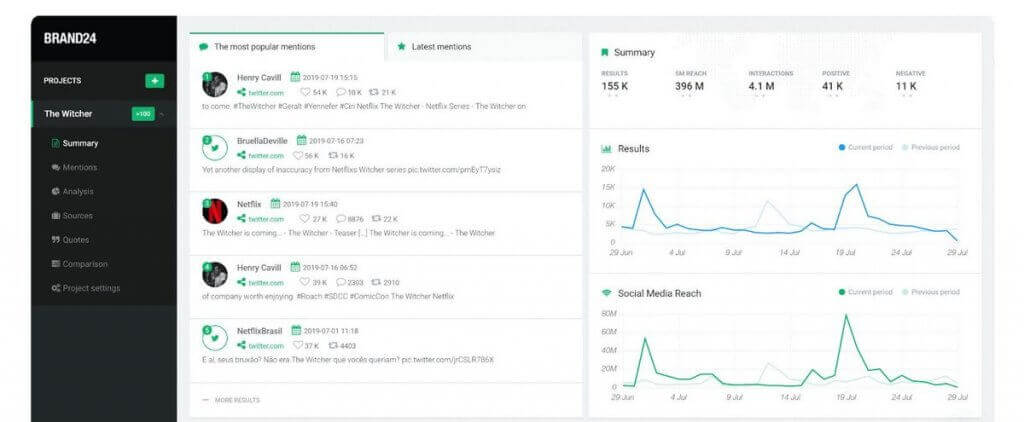 Key features include:
Mention feed collecting all brand mentions and letting you respond straight from the dashboard
Influence score
Sentiment analysis
Automated alerts for negative mentions or sudden changes in discussion volume
Automated PDF reports, and more
There are several pricing tiers starting at $49/mo., with a free trial available for 14 days.
7. BuzzSumo for automating content research and discovery
BuzzSumo is a great tool for researching and generating content ideas for your social media and content marketing channels. Use it to follow general trends and analyze topics to share with your audience, based on what others are doing and how people respond.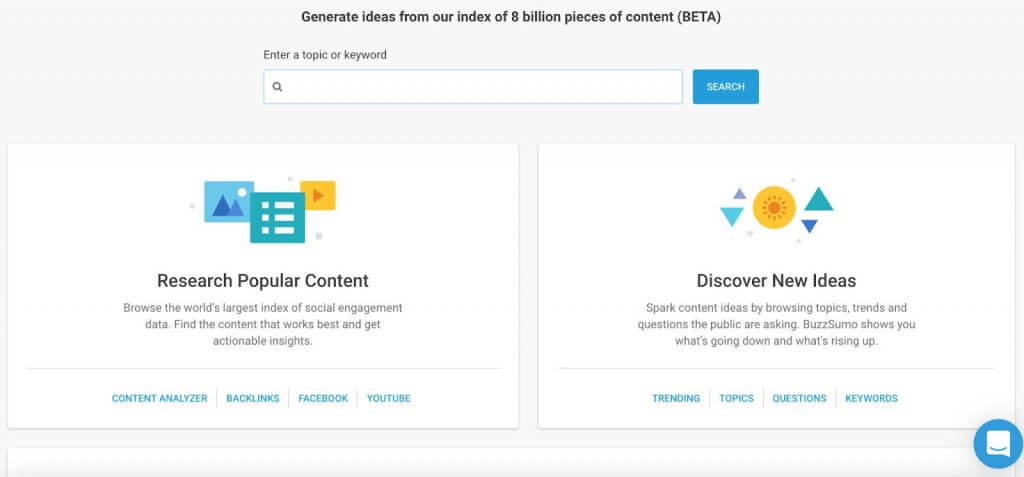 Key features include:
Real-time trending content discovery
A keyword tool for generating relevant keywords people are searching for
Shared links analysis to discover influencers for your brand
Competitor and mention monitoring
They have a free version allowing for 10 content searches a month. The rest of the pricing is available here.
8. Flipboard for automating content curation
Don't know what to post? Apart from your own social media posts, share some industry news from other publishers. It's easier with a tool like Flipboard that aggregates content in selected categories and can be a source of daily inspiring topics to share on your platforms.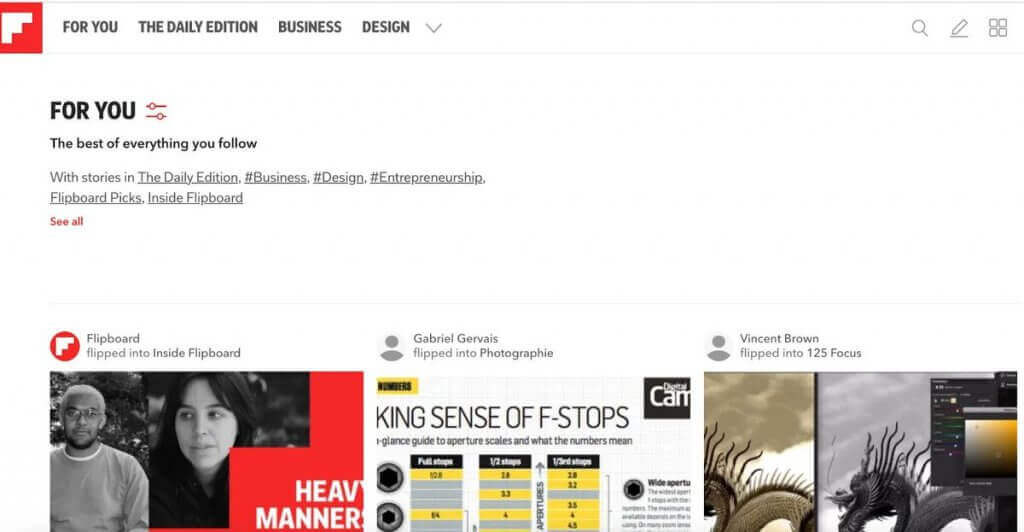 Key features include:
RSS feeds for blog content aggregation
Audience insights
Share and follow buttons
9. Pocket for organizing your curated content
Much like Flipboard, Pocket will collect content from around the web. You can also save content in your browser for later (in your pocket), organize it into collections, and then curate it on your social media profiles. It's a great way to limit opened browser tabs while you're searching for inspiration for your content calendar (#truestory).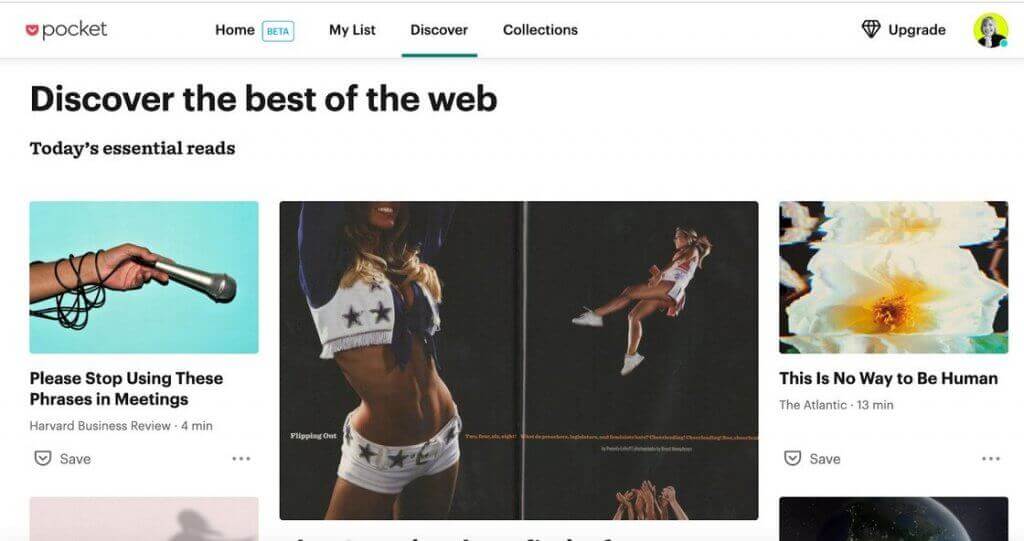 Key features include:
A browser extension that saves links for you in an easily accessible library
Automated recommendations based on what you're interested in
Categories and tags to help you organize your content
It has a free and a premium version, the latter pretty affordable and ad-free.
10. Linktree for automating landing pages for your social media channels
If you're looking for an easy way to create landing pages aggregating your bio links for Instagram (and also for any other social media profiles), Linktree is one of the most popular tools content creators and publishers use.
It'll help you quickly create a landing page with links to all your content from social media so that you never have to update your link in bio again (unless you want to).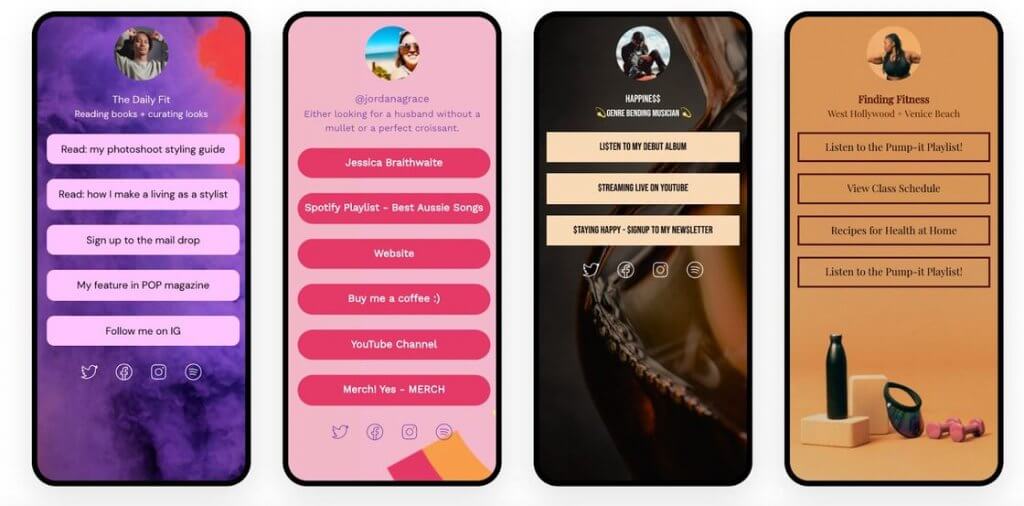 Key features include:
Ready-made, customizable landing page templates
Automated link scheduling
Traffic and click analytics
Payment collection
Audience building tools
Linktree has both a free and a paid version, the free one allowing for unlimited links.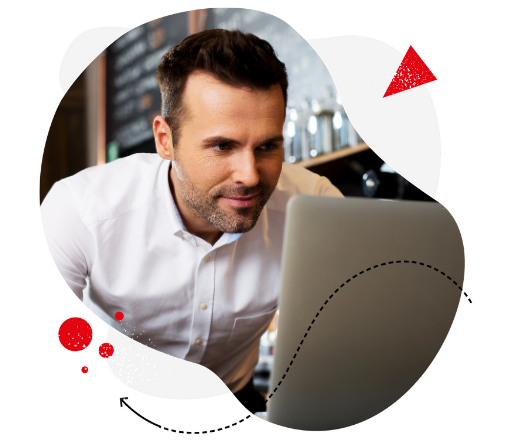 Social media automation software
Schedule social media content, get in-depth analytics and reports, automatically hide and delete offensive comments, find out what to post and when, and more – with an all-in-one social media tool.
11. Milkshake for easy sharing of social media content
Milkshake is a mobile app with a similar goal to Linktree – it lets you easily create a link-in-bio landing page for free.
It's more straightforward, purely mobile-based, and visually more appealing, letting you create your own website with separate "cards" for each of your content pieces – landing pages you can swipe like Instagram Stories.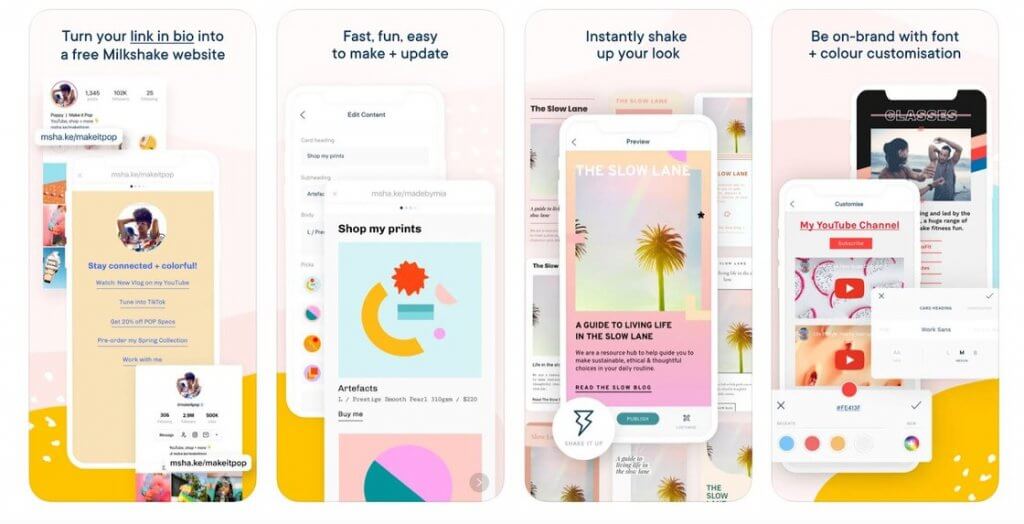 Key features include:
Ready-made landing page templates
Content personalization options, including YouTube videos, podcast episodes, contact details, and more
Design customizations
Analytics
It's available for iOS and Android phones.
12. Canva for automating content design and delivery
If you don't have a designer working with you, or you want to save some time by using templates for your social media images and animations, Canva is probably the most popular tool you can use to do that.
There are lots of ready-made templates, design elements, and images for you to use. You can also ask your designer to create some branded templates for you, and then just swap the text and images without having to ask them every time.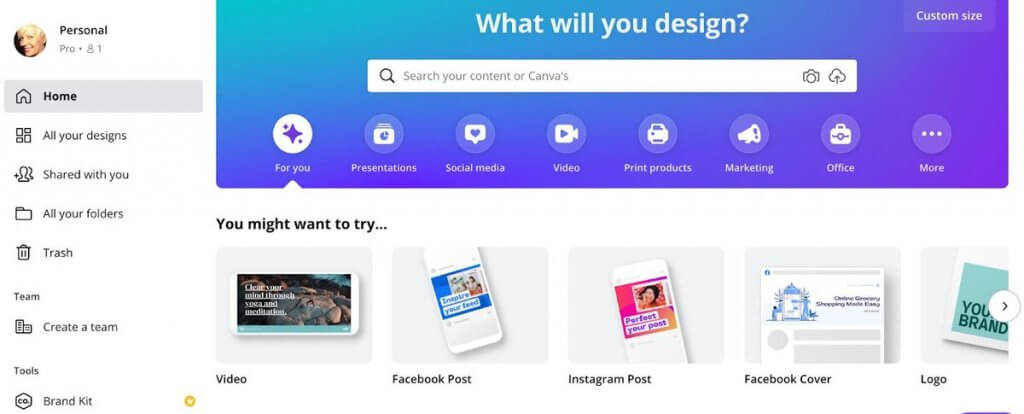 Key features include:
Ready-made image and animation templates for basically any social media post and social network
Templates for other content resources like presentations or ebooks
Easy image resizing for different social media platforms
Photo background removal
Social media scheduling directly from Canva
The app has a free and pro version, with the latter including some cool add-ons like a brand kit with all your logos, fonts, and brand colors plus multiple users.
13. Social Ads Creator for automating visual content creation and social ads
The Social Ads creator from GetResponse (one of Mailchimp's competitors) is an easy way to create your Facebook images or Instagram videos based on ready-made templates for different industries and different sales occasions.
It's integrated with GetResponse, so it also offers some more advanced features for your marketing and sales content.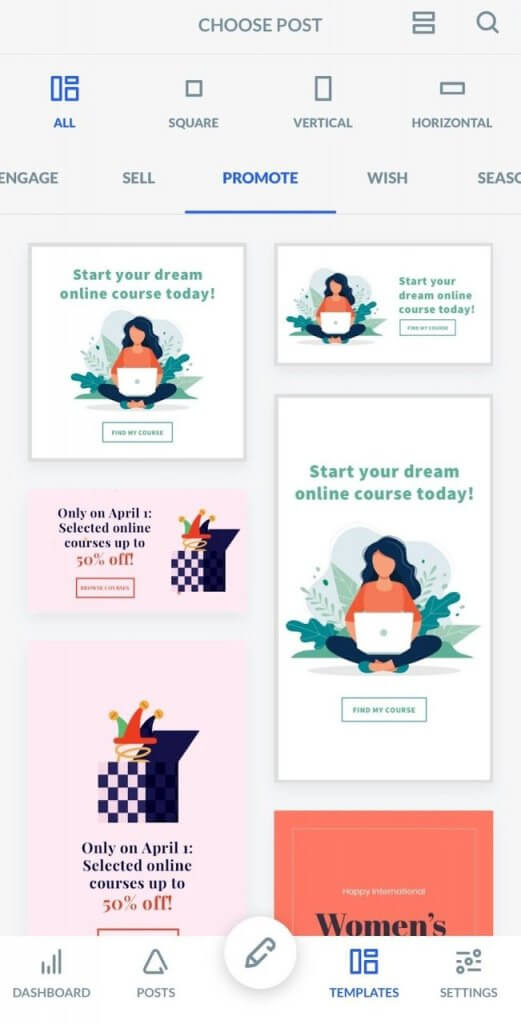 Key features include:
Ready-made image and video templates, including promos, seasonal content, etc. (Fun fact, I wrote content for some of them back in the day. ;))
Integrated with GetResponse, so you can easily create consistently branded sets of emails, landing pages, and social media posts for your marketing funnels, even without a designer
Scheduling Facebook and Instagram ads via GetResponse
The app itself is free, but to use some of its features (like scheduling social media ads) you'll need to have a GetResponse account.
14. Zapier for connecting your socials with other marketing tools
It's hard to put Zapier into one box – as it ticks so many. It's a true automation machine, capable of integrating virtually any software. It does it via zaps – connections that trigger automated actions between different apps.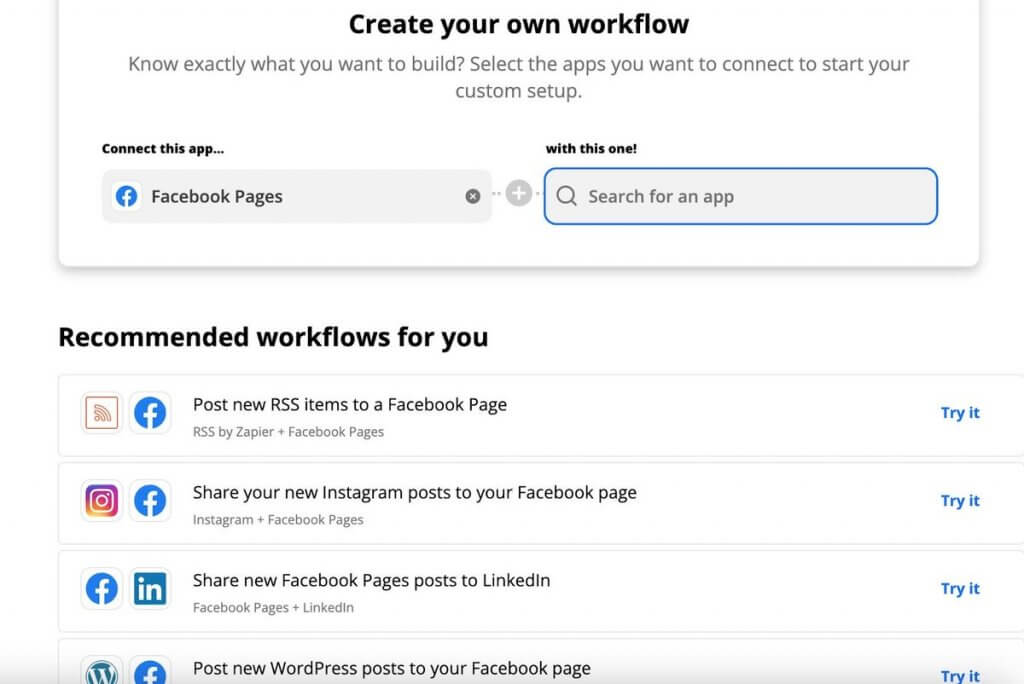 When talking about social media automation, it can help you, e.g.:
Automatically share your newly-published WordPress articles to your social media channels
Trigger Slack notifications for new followers or share your latest Instagram posts on Slack
Send email alerts for new tweets mentioning your brand
Get Slack notifications for mentions collected via your social media monitoring app
Send new YouTube videos or email newsletters to Facebook
And more. For more Zapier automations, visit their website.
15. Tidio for automating chat conversations
I know I said we weren't exactly automating conversations – but we kind of are, sometimes, at least. One notable example is, of course, social media chatbots.
And it's not like you're talking to a robot. Chatbots help speed up the conversations happening in your DMs so that your customer can get to what they need sooner, instead of waiting for someone to enter the chat.
One tool that can help you with that is Tidio, combining live chat and chatbots for different channels.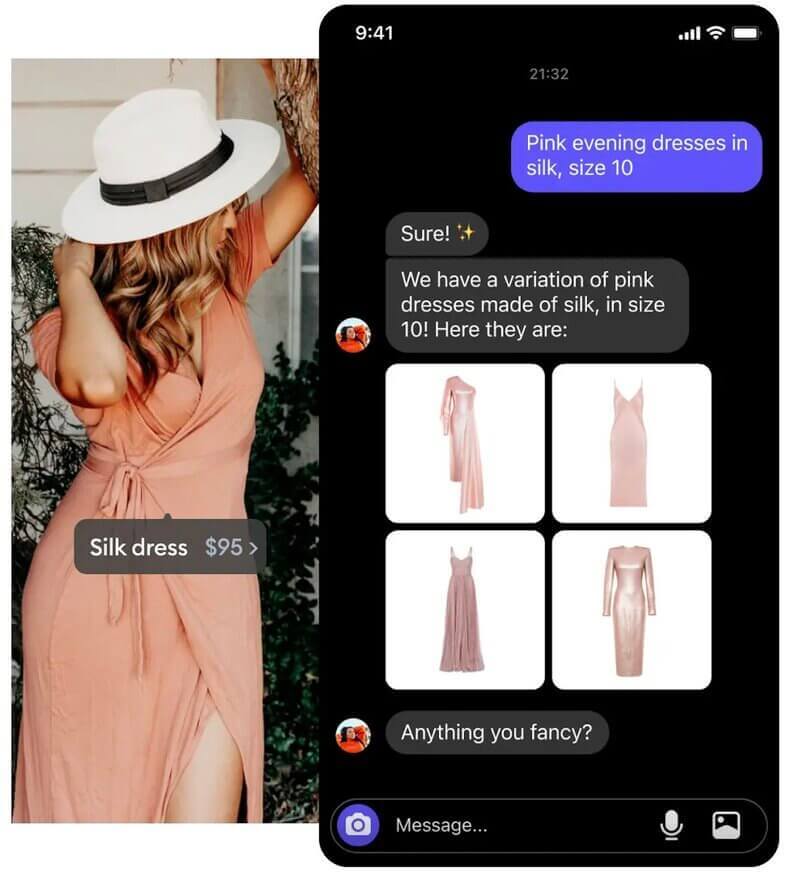 Key features include:
Instagram and Messenger chatbots
Automated product recommendations or discounts
Easy collection of customer details, responding with personalized deals, and more
Any favorites?
From content creation and scheduling to customer conversations to online reputation management and engagement reports – you can automate almost anything on social media.
What you can't automate is the actual connection with your customers – and the relationship you're building with them. The good news is, using all these social media automation tools will likely save you tons of time you can then use to create successful marketing strategies based on genuine customer connections.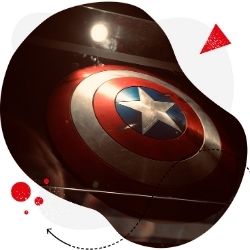 Protect your social media from hate & spam
Automatically shield your FB and IG content from hate speech, inappropriate language, and spam (ad posts included) – with an all-in-one social media tool.
If you'd like to learn more about social media automation, we recommend the following articles: