More and more people use social media platforms to look for products and services, read reviews, give their opinions, ask questions, and decide what to buy. This is an opportunity to get your business in front of potential customers. But the bigger your company gets on social media, the harder it is to keep track and manage the incoming stream of comments and messages. Thankfully, we've got the solution.
One major downside of social media marketing is that the viral word of mouth can go both ways. There's positive and negative feedback. Oftentimes, one overlooked customer complaint can spark a PR crisis and ruin a company's image.
There are also online trolls and spammers who litter social media with comments you need to monitor and manage. Companies active on social need a reliable social media moderation assistant and a protective shield – both of these are provided by NapoleonCat's social media automation.
How automated moderation works
Automated moderation tools address the growing popularity of social customer service and the challenges that come with it. More and more businesses use AI tools, like chatbots, for social media moderation. Automoderation works a lot like a chatbot, but it surely isn't one – it's a whole lot more. Bots don't have the best reputation, as they're often associated with inaccurate responses, spam, and complicated setup. Automoderation would be better defined as a moderation team's assistant.
You can configure NapoleonCat's Automoderation to set off specific automatic reactions to predefined keywords and phrases (triggers). We call each instant a "rule", and you can create as many rules as you want.
NapoleonCat's Automoderation has a bunch of uses, the main ones include:
hiding or deleting comments,
answering comments and private messages.
Automatic moderation works for Facebook (including Messenger and Facebook Ads), Instagram (including Instagram Ads).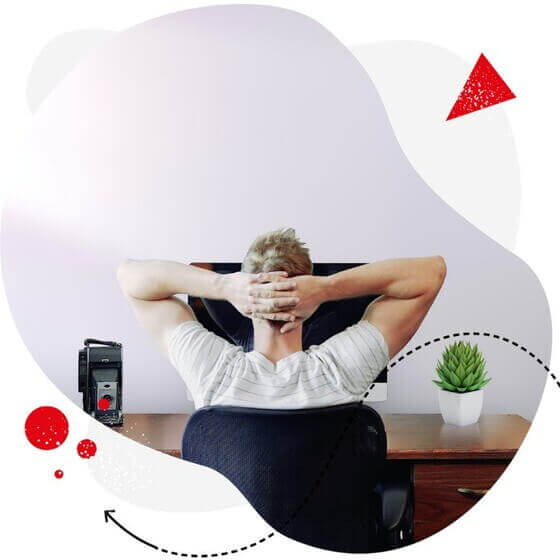 Automate and save time
Set up smart auto-replies for Facebook & Instagram. Protect your social media from spam and hate – with an all-in-one social media tool.
How to create an Automoderation rule in NapoleonCat
To create your first Automoderation rule, go to the Social Inbox module and click on "Automoderation" in the upper right corner.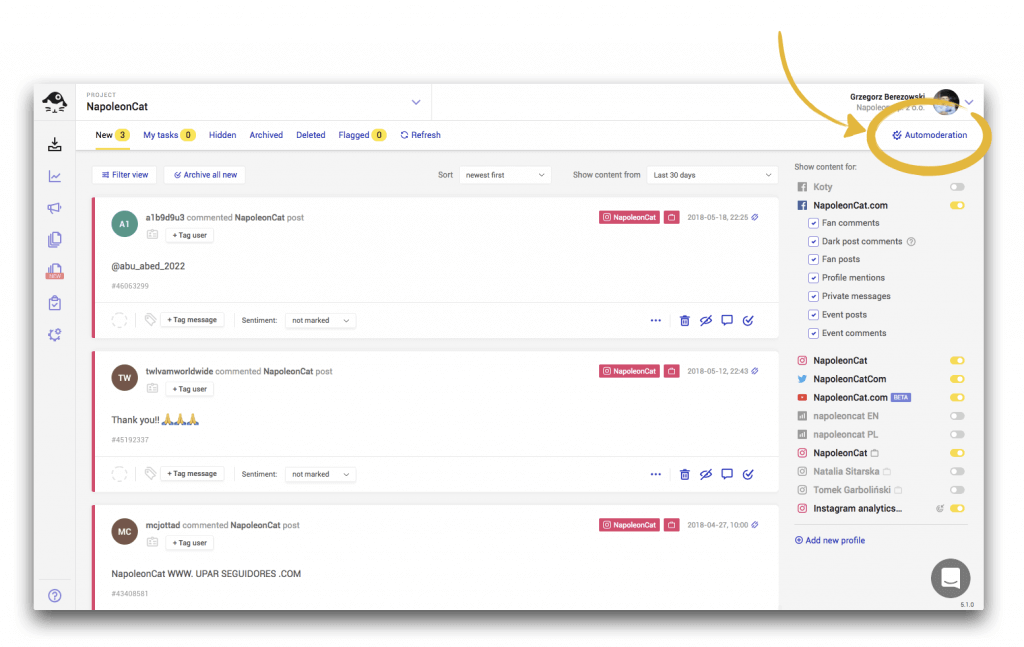 A pop-up window will appear with a list of all your existing rules.This is where you can edit or delete them. To create a new rule, click "Add new rule".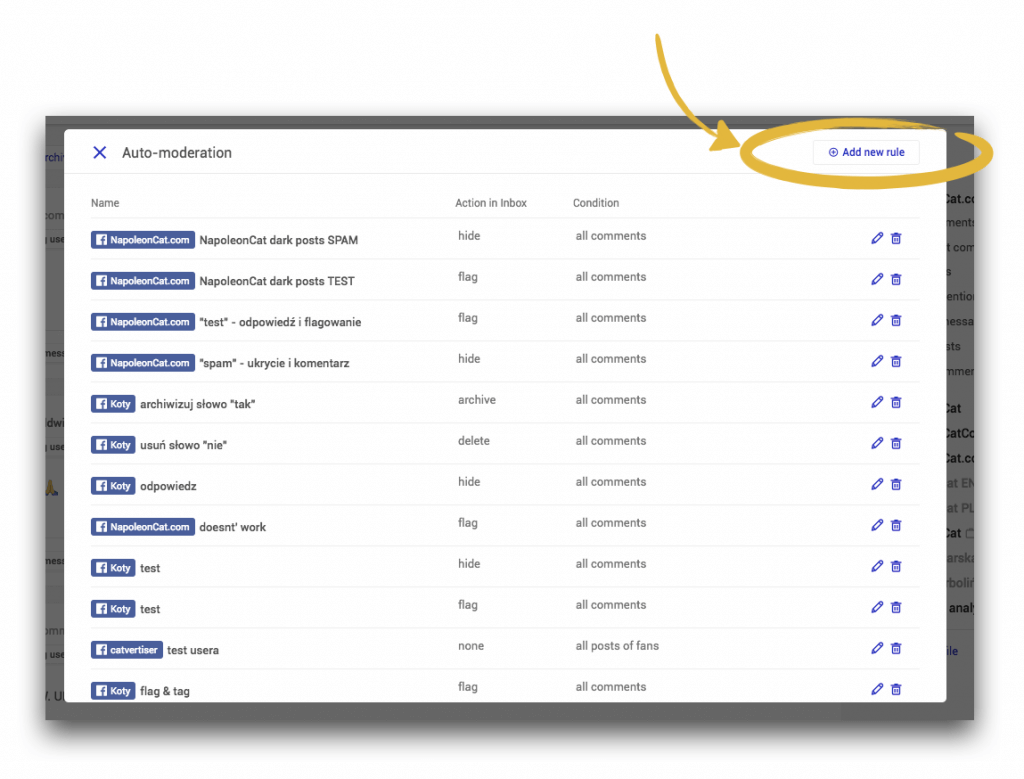 The first step is naming your rule. Its name will show up on the list of rules and you'll be able to easily navigate between them. After that, choose the Facebook or Instagram account you want the rule to work for.
For Facebook, you'll have "triggers" and "conditions". A trigger is what sets off a rule, and a condition can be used to further specify the trigger. Here are some of the triggers and conditions for a Facebook page: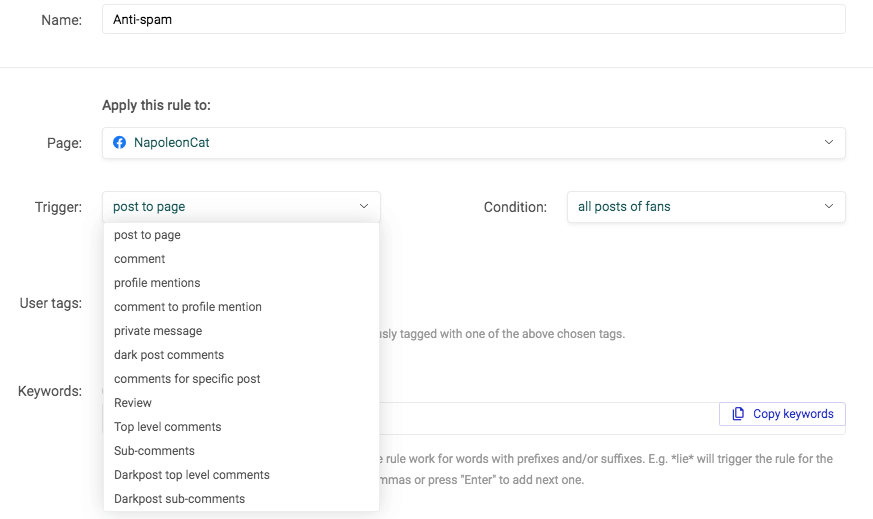 1) post to page, which means posts published by fans on your page:
all post of fans;
text only posts;
only posts with a link;
only posts containing a photo or a video.
2) comments:
all comments;
text only comments;
only comments with a link;
only comments with a photo or video.
3) private messages:
all private messages from a fan;
only the first message from a fan.
4) dark (promoted) posts comments:
all comments;
text only comments;
only comments with a link;
only comments with a photo or video.
5) page mentions and comments to page mentions,
6) reviews:
positive reviews
negative reviews
You can also set user tags that will trigger a rule. User tags are defined in "Workspace settings" (formerly Project settings) and are applied manually by moderators in the Inbox. Once a user is tagged, all of their incoming messages and comments will be marked with that specific tag. As an example, you can tag your most valuable customers and then give them priority support by automatically flagging messages they send and forwarding them via e-mail to your customer support team members.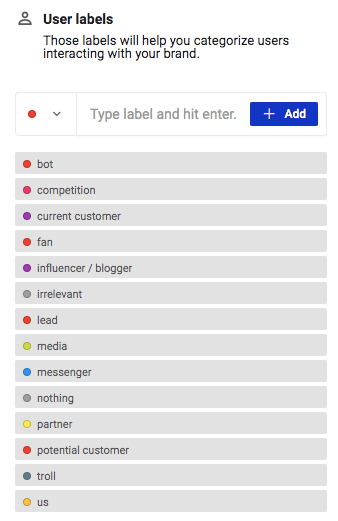 Next you add keywords that will trigger your rule.
You can also switch to an advanced mode for more options:

After you set your keywords, it's time to define the action that your rule will take. It's important to mention that deleting and hiding content happens both in NapoleonCat's Inbox and on the dedicated social media platform.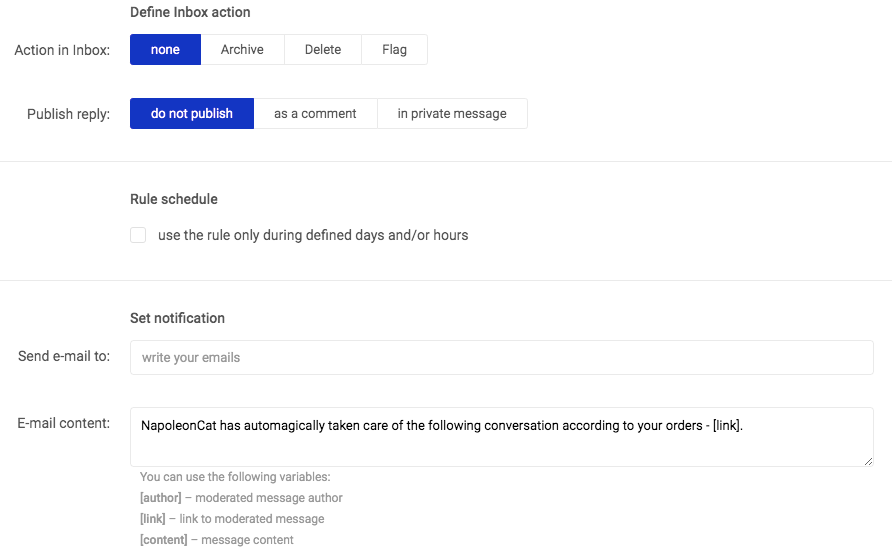 If you set your rule to publish replies, you can further customize it:
include the username of the person you're replying to in the automated response
input multiple versions of an automated reply in one rule (this is called randomization) to diversify your responses
schedule your rule to work at specific times, e.g. for when your team of moderators is offline
set up automatic email notifications to inform anyone on your team each time your rule is triggered
Once you're done configuring your rule, click on "Save rule", and you're all set.
You can also check this quick video tutorial:
Benefits of automated social media solutions
In case you're still wondering whether or not automated tools are worthwhile, let's quickly go through the advantages of using Automoderation for social media management.
Improve your response times
Customer service response time is a crucial aspect of any marketing communication strategy. According to The Social Habit, 42% of consumers expect a response on social media within an hour. Salesforce reported that 80% of consumers were more inclined to stay loyal to a brand that offered instant replies. 71% underlined the importance of 24/7 customer care as their main influence on loyalty.
So, as you can see, response time is super important on social media, and using automation tools to help you answer customers faster simply makes sense. You most likely won't have your customer support team online 24/7 – human moderators need rest. Automoderation works in real-time and fills in the time gaps when real human support is unavailable.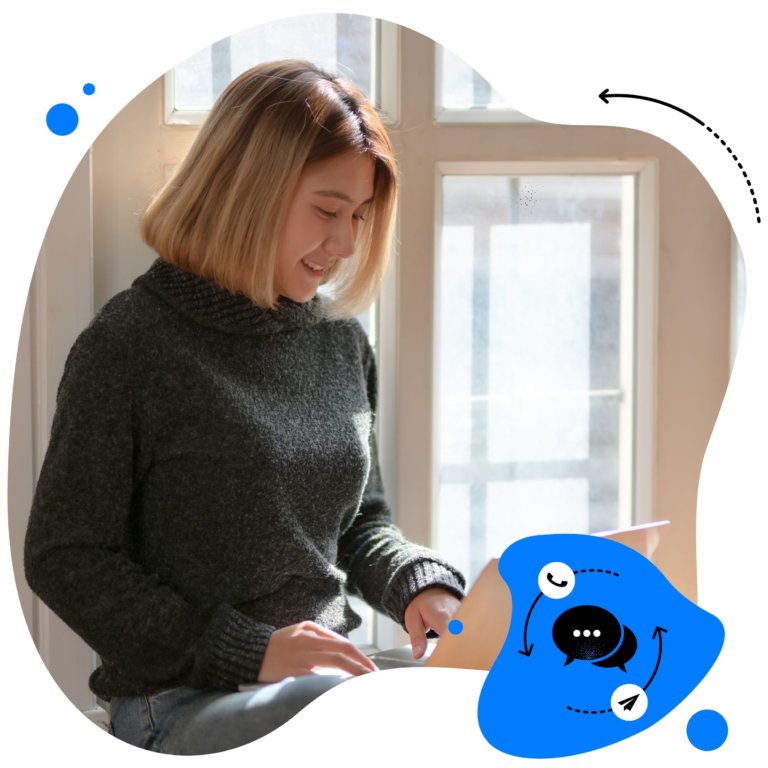 Smart auto-replies for Facebook
Set up smart Facebook auto-replies based on keywords that you define. Our customers improve their response times by 66% – with an all-in-one social media tool.
Protect your brand's reputation
Trolls, spam, irrelevant comments, negative reviews – these are some of the downsides to marketing your brand on the Internet. Your Automoderation rules will be as effective as you program them to be, and they can do a lot!
Remember – while hiding or deleting is the way to go in the case of spam or offensive comments, negative reviews and criticism should be handled with more care. Treat them as an opportunity to practice and showcase great customer service, and never leave an opinion unanswered. Automoderation rules will help you tactfully address negative comments and move the conversation away from the public eye, into private messages.
Humans and bots are in this together
We almost forgot to mention that NapoleonCat's Social Inbox feature is one simple dashboard that collects all incoming conversations and can be managed by social media moderators (both individuals and teams). It supports multiple social networks: Facebook, Instagram, Twitter, Youtube, LinkedIn, Messenger, and Google My Business. No comment, private message, or Google review will ever be overlooked. You can check out our Inbox video tutorial below:
Anyhow, Automoderation is a feature within the Inbox, so you can treat it as your everyday assistant in managing social media and saving time. Set email notifications for specific members of your team for each time a rule is triggered so that additional assistance is required when necessary.
Automoderation use cases examples
Alright, now that you know what Automoderation is, it's time to put it into practice. Let's go through some of the possible use cases that might work for your social strategy. Dive in and get inspired!
Your Facebook page gets an overwhelming amount of similar questions
With Automoderation rules, you can answer generic, repetitive questions instantly. This rule is also a nice solution for when your customers complain about long response times.
Below are just some of the examples of popular FAQs that can be handled with auto-replies:
When are you open?
What's the menu for today?
What's the average delivery time?
How long do I wait for the package?
What's the status of my recently filed complaint?
When will you fix this problem?
How can I contact you?
Where can I find information about sizing?
Where are you located?
Solution: Set up an automated response (in a comment or private message) triggered by keywords used in frequent inquiries (e.g. use "sizing" as a keyword in your trigger that will set off an automatic reply with information about your brand's sizing).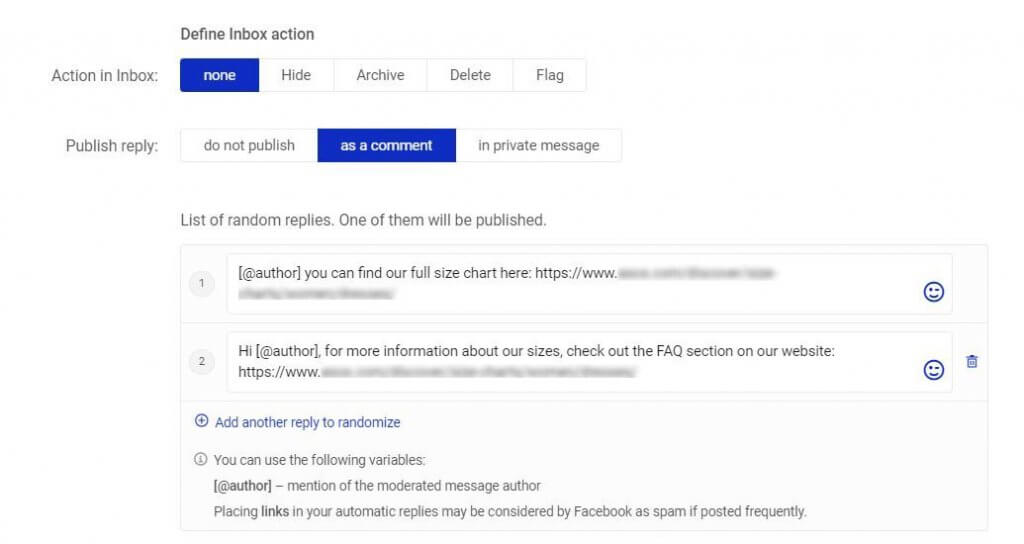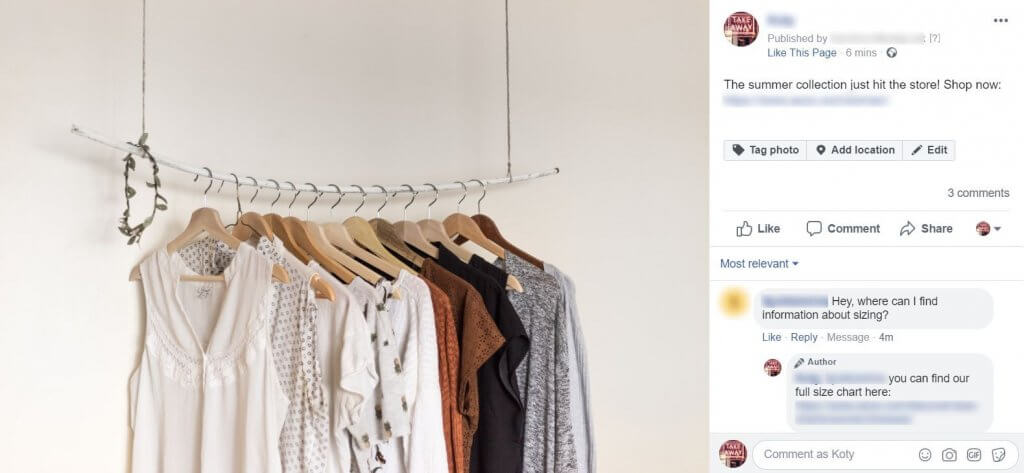 Apart from simply providing your customers with information, a great "side effect" of this feature is that it increases your engagement rates, which in turn can boost the organic reach of your posts.
You receive a lot of messages outside of your team's work hours
Large multinational companies oftentimes face this problem. Automoderation comes in handy if you have clients from different time zones, or when you simply get tons of messages on weekends and during other times when you're not at work.
Solution: Automatically informing users who contact you about your hours
You can set automatic messages that will inform your people about your working hours, give them alternative contact information, and reassure them that their issue will be taken care of as soon as possible.
Moreover, using the rule schedule, it's possible to set up a rule that will only be active during specific times, e.g. for when your customer support team is offline.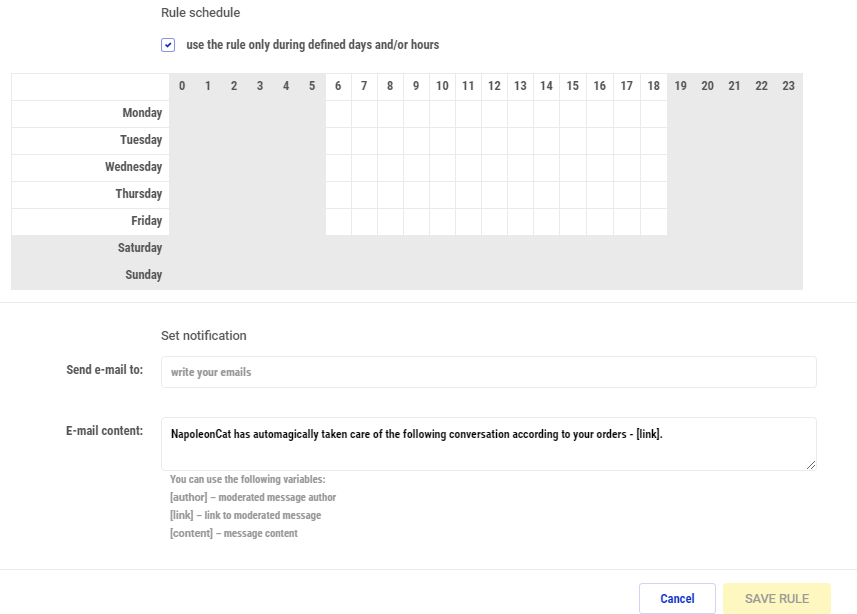 You can also set up email notifications to let your customer support team know when a certain rule is triggered so that they will be less likely to overlook any issues that require handling.
You receive a lot of negative reviews on social media
Solution: You can create rules that respond to comments containing specific words associated with negative opinions, thank the dissatisfied customers for sharing their thoughts and offering to resolve their problems.
You sometimes leave a customer's question or complaint unanswered
Solution: You can set up automoderation rules to react to keywords and phrases that are often used by customers who report issues with your product or service. Their messages and comments will automatically be transferred to your customer support team.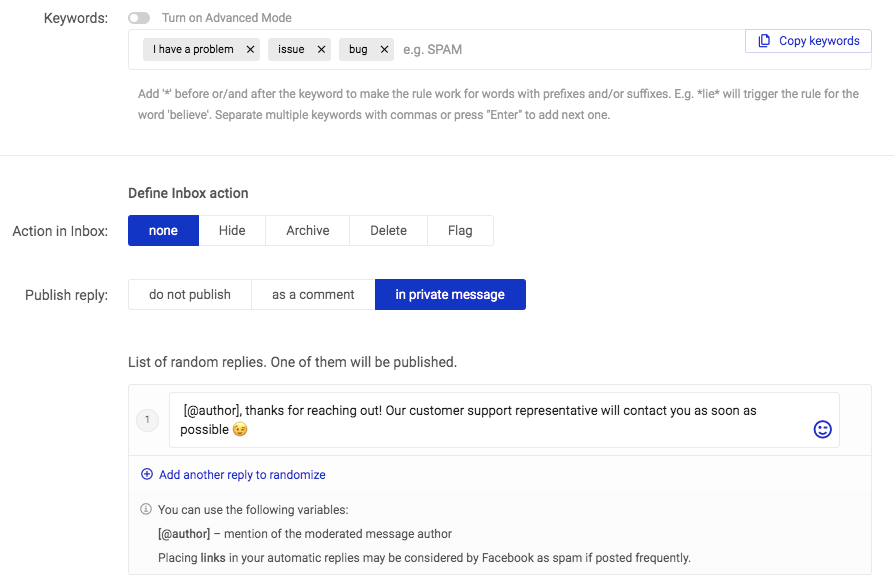 You get a lot of spammy messages and comments from trolls and fake accounts
Solution: These rules are going to be fun to make. In order to shield your social media from trolls and spam, you'll need to create rules that will be triggered by the kind of vocabulary that is used by these not so likeable accounts.
You want to filter out comments with links
If sketchy accounts or your competitors leave comments on your posts or ads with links to their website, you might want to filter those out.
Solution: Creating a rule that will delete organic and/or dark post comments which include links and a keyword, e.g. the name of your competitor.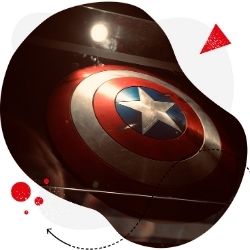 Protect your social media from spam & hate
Automatically hide or delete offensive comments, hate speech, and spam – with an all-in-one social media tool.
Conclusion
Social media never sleeps, but people definitely do. That's why you're going to need all the help you can get when it comes to dealing with your customers online and managing your social platforms in general. NapoleonCat's Automoderation will grant you such assistance, help you improve your response time, and more. Your customers will be happy, and your team will be able to focus on more strategic tasks. Yay!
Ifyou'd like to learn more about social media automation, we recommend these articles: