Social media automation is on the rise and there are plenty of reasons why your business should embrace the trend. Automatic moderation can improve your response rates and take a lot of work off your team's shoulders.

With NapoleonCat, through the use of Instagram auto-replies to common and predictable comments, you can improve the quality of your customer care and give your team the chance to spend more time on complex or urgent customer inquiries.
You can also use Auto-moderation to protect your Instagram posts from hate and spam by automatically hiding or deleting inappropriate comments.
NapoleonCat also offers automated moderation to manage multiple Facebook Pages. This is one of our most popular functionalities, used by clients across the world to improve their social customer care and deliver pre and after-sales service on social.
Anyhow, Auto-moderation for Instagram allows you to automatically delete, hide, or answer comments customers leave on your Instagram profile.
Using automated moderation, you can create custom reactions, e.g., auto-responses, to triggers, e.g., keywords used in specified comments (all comments, comments on specific posts), including those added to your Instagram ads.
We are especially excited about the addition of automatic moderation of Instagram ads comments. Comments added to Instagram ads are harder to track and manage since the sponsored content appears in the targeted audience's Instagram feeds – not the brand's.
And considering the investment sponsored content entails, it's critical to control the discussion surrounding these posts. The sentiment of user comments and the way the brand handles the discussion can make or break a paid campaign.
And that's why we're here with a solution!
Here is a step-by-step guide to setting up custom Auto-moderation rules for Instagram.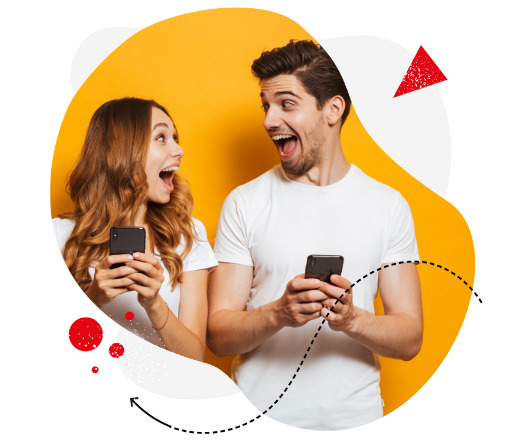 Instagram marketing made easier
Analytics, reporting, scheduling, and more. Try NapoleonCat and save 90% of your time spent on your marketing tasks. Try it for free:
Try NapoleonCat free for 14 days. No credit card required.
Access Auto-moderation
Sign into your NapoleonCat account and select a project you want to access
Access the Inbox view through the sidebar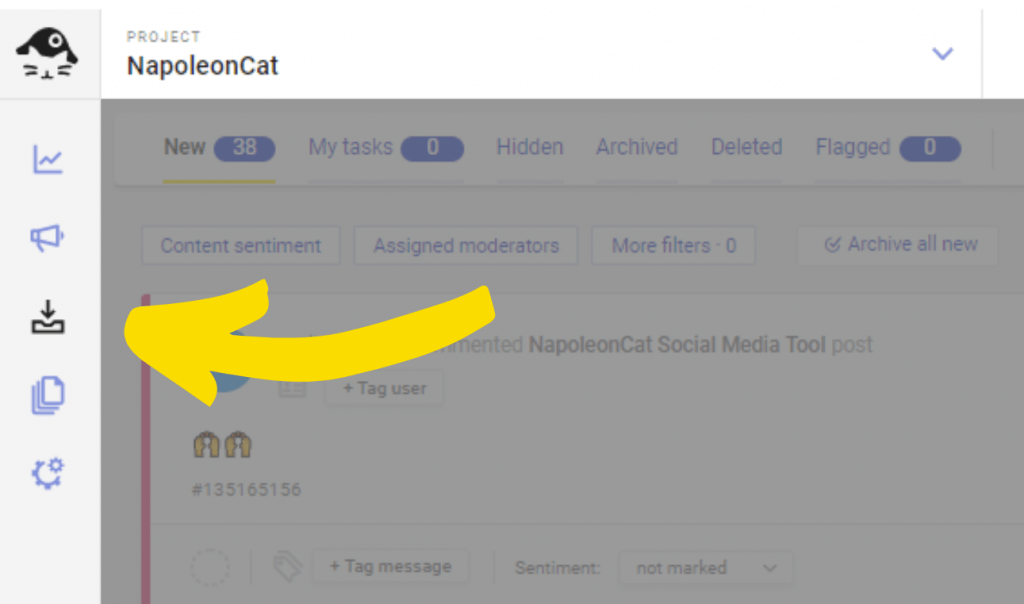 Pick Auto-moderation in the top right corner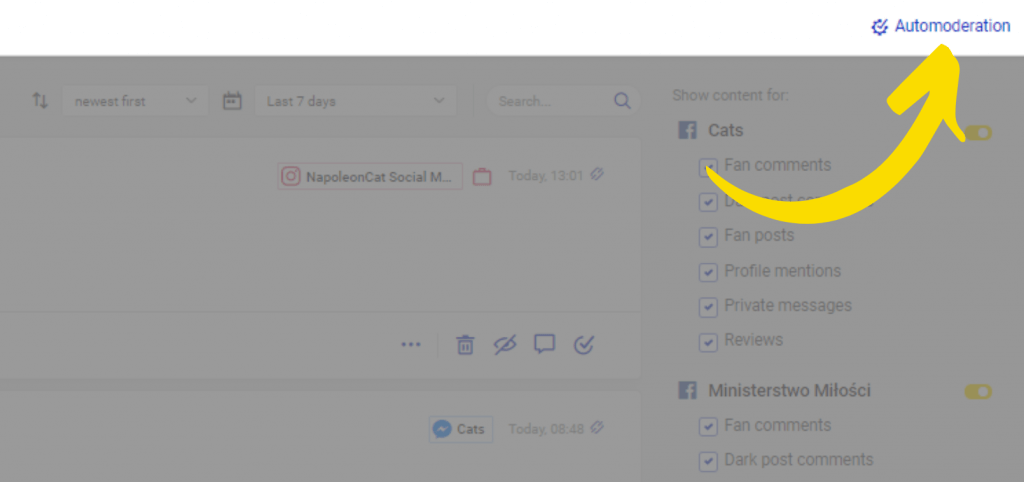 Add new rule
Select "Add new rule" in the top right corner of the pop-up
Give your rule a name, e.g., "Instagram blog posts"

Set a trigger
Select the page you want the rule to apply to from the dropdown menu (note that within the Instagram Automoderation tool, every individual paid campaign is listed as a separate page)
Pick a trigger, i.e., the user action that will prompt the defined automatic action. The available triggers for Instagram are:

comment – the rule applies to all comments on your Instagram account, featuring specified keywords
comments for a specific post – the rule applies to all comments added to select posts, featuring specified keywords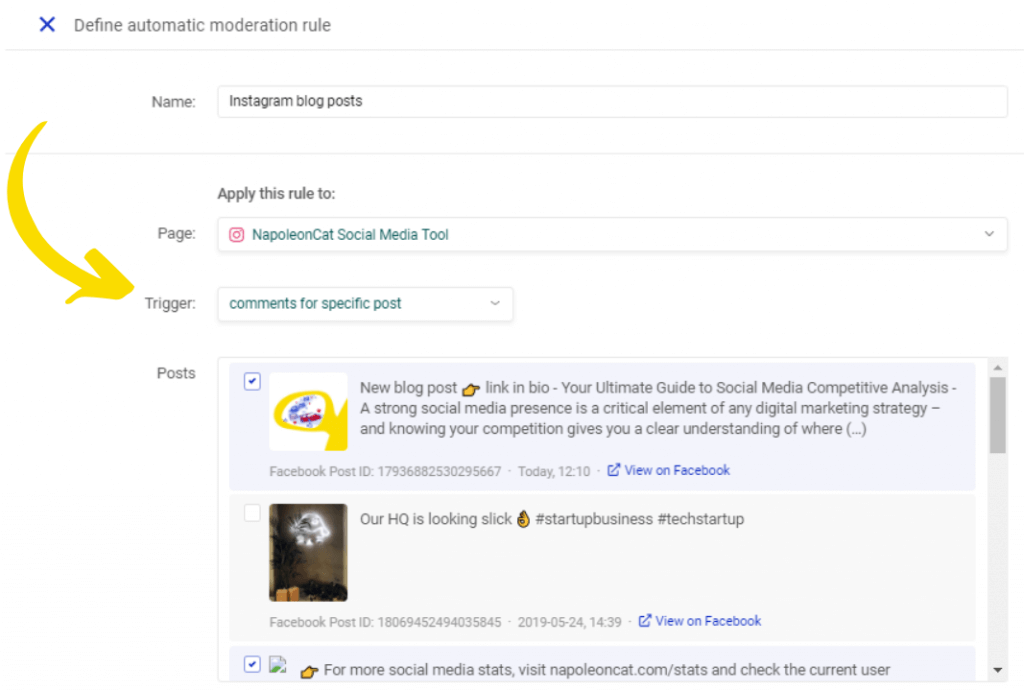 Note: If you select comments for a specific post, the latest posts from the selected page or campaign will automatically populate the "Posts" section. Check as many as you want – the automoderation rule will apply to your selection.
Finally, pick keywords that have to be used in the comments to trigger inbox action, e.g., you can set rules with swear words as keywords to flag offensive comments. If you don't set up keywords, the rule will apply to all specified comments

Define inbox action
Once you've specified your trigger, decide what automatic action it will set off. You can archive, delete, or flag comments that match your trigger settings. You can also automatically publish replies (i.e., auto comment).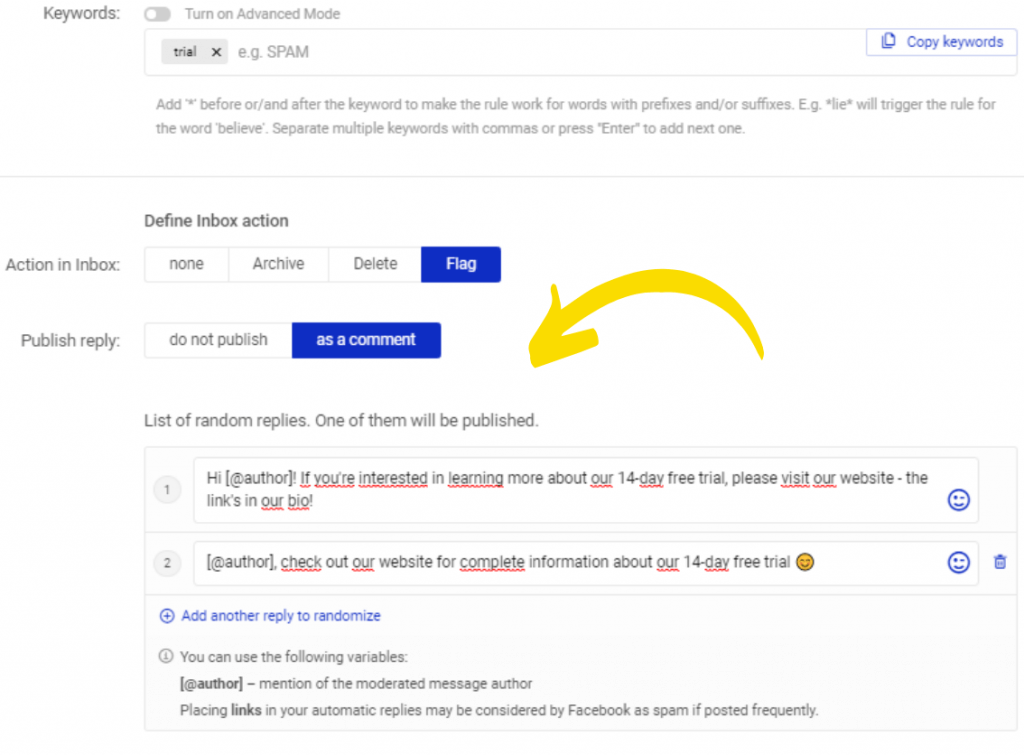 Here's an example: if you're a software producer and you offer a free trial to prospective customers, you can set an automoderation rule with "trial" as the trigger keyword. Your automatic reply can re-direct users to a sign-up form or a website with information about your product.
In order to avoid coming off as impersonal, randomize multiple replies and include usernames in your responses. The more random replies you add to your rule, the more natural the automated comments will seem.
Set up a rule schedule
You can also specify when you want the rules to apply. If you have a social media or customer care team moderating comments in real time during office hours, you can set up inbox actions that will only be triggered when your team is offline.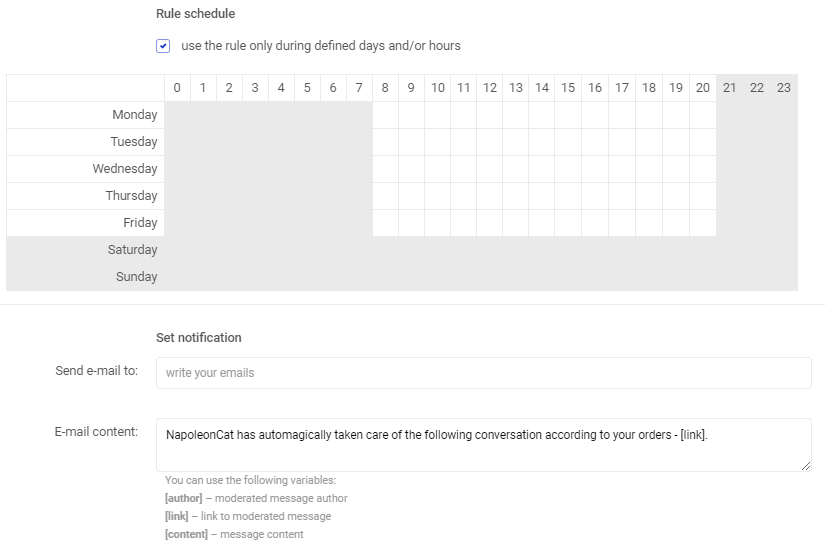 And that's it! Your rule takes effect as soon as you save it. This means that automatic inbox actions will not be triggered by comments posted to your Instagram account before you created the rule.
You can check how Auto-moderation works in action in our video tutorial below:
We hope our new feature will help you simplify the process of managing engagement on Instagram. Let us know what you think about it!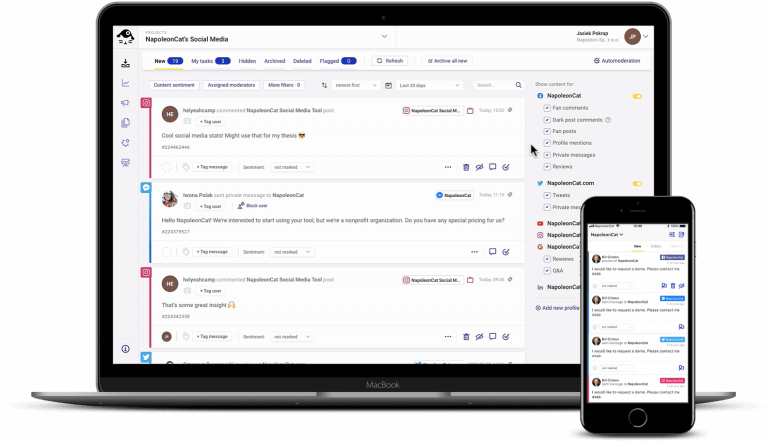 Manage multiple Instagram accounts from one place
Manage multiple Instagram accounts with one simple tool. Automatically hide & delete hate speech. Try it for free:
Try NapoleonCat free for 14 days. No credit card required.
If you'd like to learn more about social media automation, we recommend the following articles: