Are you looking for an effective way to increase your visibility and engagement on LinkedIn? Scheduling posts can be a great way to ensure that your content reaches the right people at the right time. By planning ahead, you save yourself time and energy while still creating impactful content.
However, there are some challenges involved in scheduling posts on LinkedIn. You must be strategic about the timing of your posts, as well as have an organized and efficient system for scheduling them.
Fortunately, with a few simple steps and help from the right tool, you can easily plan your post schedule and maximize visibility on LinkedIn.
Here's what we'll talk about: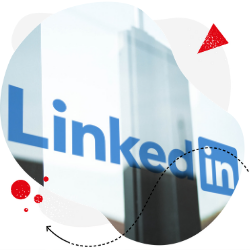 Schedule unlimited number of LinkedIn posts
Schedule posts on LinkedIn, work on your content strategy with your team, and save tons of time – with an all-in-one social media tool.
Why scheduling posts on Linkedin is essential
As you make a conscious effort to increase your visibility on LinkedIn, it can be tempting to publish posts as you go. However, this can be a major time sink and may not be effective in achieving your goals.
By scheduling your posts in advance, you can:
Create a consistent brand story. Scheduling posts allows you to plan ahead and create a cohesive narrative for your brand that resonates with your audience.
Reach the right people at the right time. When you schedule your posts, you can ensure that they are seen by people during peak hours or times when your target audience is most active.
Save time and energy. Scheduling posts in advance saves you time and energy as you don't have to manually post every day.
Maintain a presence even when you're away. This is especially helpful if you're on vacation or have other commitments that prevent you from actively posting.
To enjoy the above benefits, you need a system that not only allows you to plan and schedule your posts easily but also helps you hit your marketing goals.
You need a content plan, in other words.
How to create a content plan for Linkedin
Here are the steps you need to take to create a content plan that works:
1. Research your target audience. Gain a better understanding of who you're trying to reach and what kind of content resonates with them. What are their interests and needs? Using surveys or analytics can help you gain insights into these questions. With this data, you can also make better use of LinkedIn ads. They are very sophisticated; you can target different industries, company sizes, interests, and much more.
2. Set goals and objectives. What do you want to achieve with the content you're creating? Consider SMART goals and create content that aligns with them. For example, if you're looking to increase engagement on LinkedIn, create content that encourages people to comment and share your posts.
3. Develop content topics and ideas. Once you have an idea of who you're trying to reach and what you want to achieve, it's time to start brainstorming content topics. Consider dividing your LinkedIn content into buckets to ensure you're creating a variety of content for your followers.
4. Decide on the formats. After selecting your topics, it's time to decide on the types of LinkedIn content you will be creating. Will it be a written post, an image, a video, or something else? Think about which types of LinkedIn posts will resonate with your target audience and how you can create those types of content in ways that stand out and deliver the most value.
5. Research the best times to post your LinkedIn content. Analyze the analytics of your past posts to determine the best time to post.
If you don't have that many posts yet, using the average best times to post on LinkedIn is a good place to start. That said, you must take the time to figure out the best times that work for your audience to improve your reach down the road.
6. Create a content calendar. Once you've planned out your topics, formats, and goals, you can start putting together your content calendar.
If you want to consolidate all your social media activities in one place, use a social media management tool like NapoleonCat instead (more on this later!)
Once you have your content calendar ready, it's time to start scheduling your posts.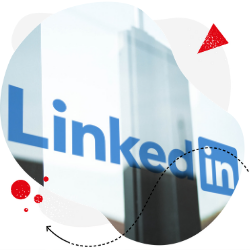 Manage multiple LinkedIn accounts from one place
Manage all your LinkedIn with an all-in-one social media tool. Schedule unlimited LinkedIn posts and get in-depth analytics to improve your strategy.
Scheduling a LinkedIn post using the platform's native schedule feature
Scheduling a post on LinkedIn using its native scheduling tool is fairly easy.
However, it's not yet available for everyone.
Here's how to do it:
1. Log into your LinkedIn account and navigate to the home page.
2. Click on the 'Start a Post' button, which will open a new window where you can write your post.
3. Compose your post and add any media you want to include.
4. Next to the post icon, click on the clock icon which will take you to a page where you can schedule your post.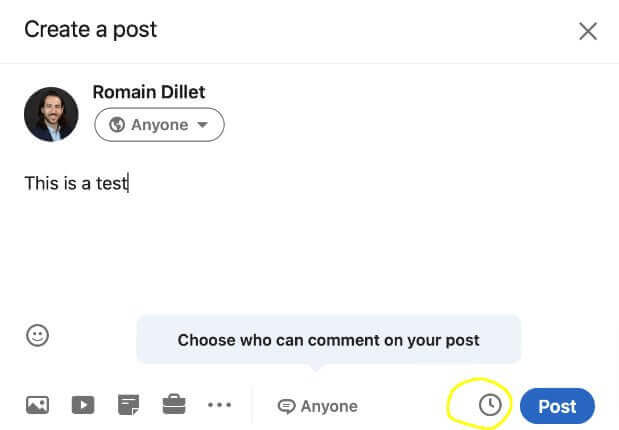 5. Select the date and time for when you want your post to go live and click 'Next'.
6. Finally, review your post and click 'Schedule' to confirm the post.
Your post will now be scheduled at the date and time you have selected and appear in your feed when it is live.
You can view all of your scheduled posts by clicking on the clock icon and selecting 'View All Scheduled Posts'. From here, you can also reschedule or delete any of your scheduled posts.
How to schedule Linkedin posts using NapoleonCat
If you need a more advanced LinkedIn scheduler, you'll need to use a social media publishing tool like NapoleonCat.
NapoleonCat is a social media management tool that makes it easy to schedule your LinkedIn posts across all of your business profiles.
You'll be able to schedule posts for TikTok, Facebook, Instagram, LinkedIn, Twitter, and Google My Business – all at once.
Not just that, the tool will also allow you to:
Work on your content strategy in a team
Assign tasks to other team members
Send posts for approval
Exchange feedback under each post in NapoleonCat
Have a clearly organized strategy in your content calendar 
Here's how to schedule posts on LinkedIn using NapoleonCat:
1. Log into your NapoleonCat account (or start a free trial) and access the 'Publish' feature
2. Click the yellow plus icon on the calendar to create a new post.
3. On the left-hand side, choose which LinkedIn profile you would like to use for this post (you can choose multiple LinkedIn profiles if you have more than one).
4. Add your text in the box provided. You can also add an emoji, image or video file and a link with or without UTM tags.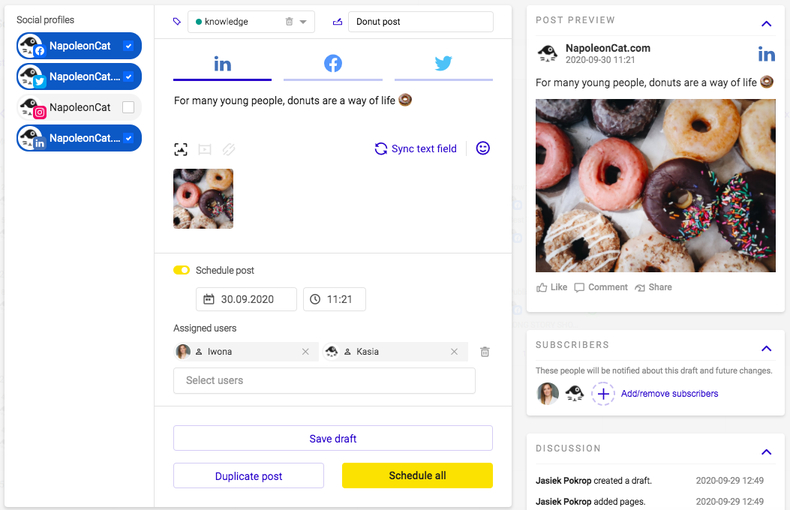 The post will be set to "Scheduled" by default.
5. The post will be set to "Scheduled" by default. If you'd like to publish the post right away, toggle the yellow button (next to "Schedule post") to switch to Publishing mode. But if you want to schedule the post to be published on another date, click on the date in the calendar and set the time for when you would like your post to be published.
6. You can also assign other team members to help craft the post and add subscribers who will be notified of any changes made to the post.
7. For an even better organization of your work, you can add internal titles and color-coded labels that are seen when you access the calendar. You can also have internal discussions with other team members on specific posts (more on this in a later section!).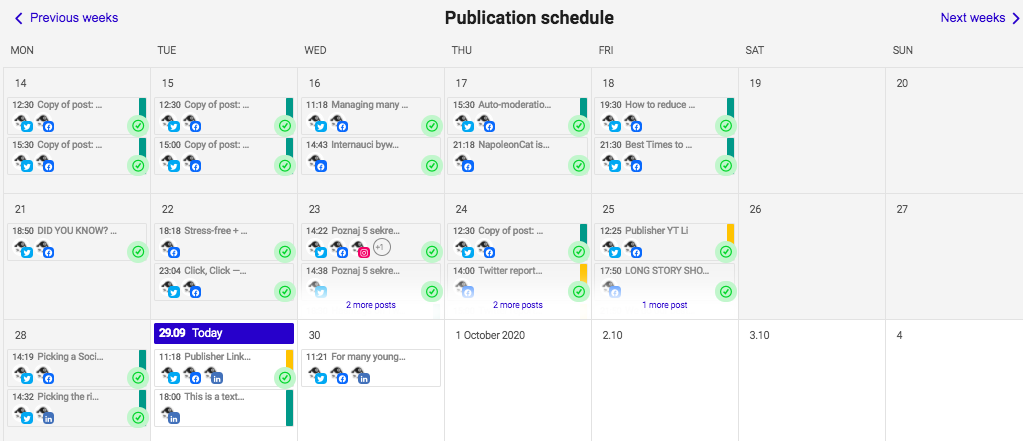 8. When you're ready to schedule your post, click the Schedule button. If you're not ready, save it as a draft and come back to edit the post later on.
How to schedule posts on multiple platforms with NapoleonCat
If you manage multiple accounts across different social media networks, you understand the challenge of having to manage different publishing schedules. Thankfully, NapoleonCat makes it easy to create and schedule posts across all your social media accounts in one convenient place.
You'll notice that the options and settings are tailored to each platform (you can, for example, schedule the first comment on Instagram without leaving the post creator window). Which is nice – you don't want to post similar content across all social media networks. You can see a preview of the post on the right-hand side.
To schedule a post for multiple platforms at once, perform the same procedure that was demonstrated in the previous section — but with a few extra steps.
1. Once you're in the post creator window, select the accounts across multiple platforms you want to post on.
2. As usual, add the text, images, videos, etc. – whatever content you'd like to share across the platforms. You'll also notice that the options and settings are tailored to each platform.
3. Then, you can either publish on all the selected platforms at once or schedule each post separately.
4. Schedule the post on each platform by clicking on the date and time in the calendar, or toggle the yellow button to publish it right away.
NapoleonCat's content calendar is not just any calendar; it's a cross-platform content calendar – meaning that you can see all of your upcoming, past, and unscheduled posts from different social media networks in one place. With the ability to create color-coded labels and assign team members to posts, you can easily manage your content strategy with minimal effort.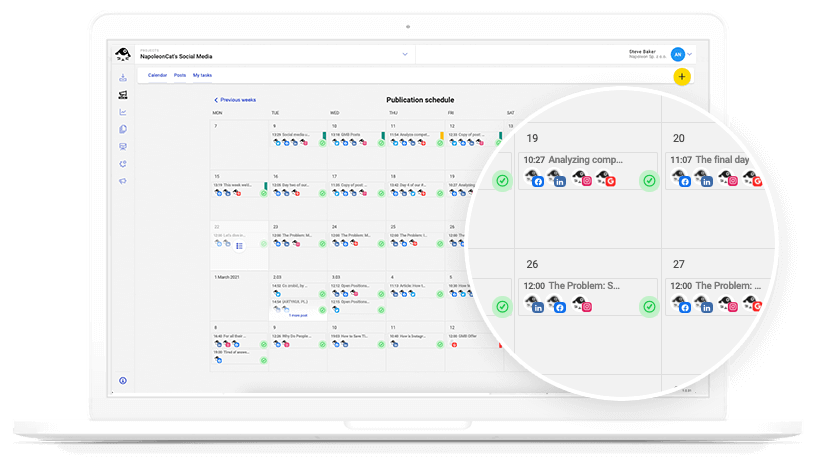 5. Again, you can assign team members and subscribers, add internal titles and color-coded labels, and have internal discussions with other team members.
6. Once you're ready to schedule your post, click the Schedule button. If you're not ready to publish the post, save it as a draft. You can always come back to edit the post at a later time.
Here's a quick video that shows you the entire process.
Collaborate easier as a social media team
Apart from its publishing features, NapoleonCat also offers automation, content moderation, analytics, and reporting solutions – all under one tool.
And it's all made for social media teams. Thanks to the tool's interface, team managers can quickly get up to speed when managing and moderating social media accounts.
NapoleonCat makes it easy for team managers to assign tasks, but it also makes it easy for team members to access and complete tasks.
With NapoleonCat's collaboration features, you can:
Define specific user permissions
Leave internal notes for other team members to discuss issues with specific posts/comments/messages or provide additional information
Manage multiple projects
Assign tasks to team members
Get real-time updates on the status of scheduled posts
See who's moderating social interactions in real time
Flag any piece of content that needs attention (making it easier to address urgent items)
Exchange feedback with the rest of the social media team under each post or draft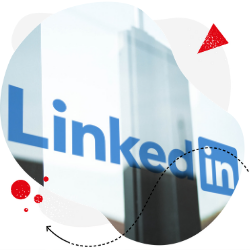 Manage multiple LinkedIn accounts from one place
Manage all your LinkedIn with an all-in-one social media tool. Schedule unlimited LinkedIn posts and get in-depth analytics to improve your strategy.
Final word
Scheduling posts on LinkedIn can be a game-changer for businesses looking to maximize their visibility across the platform. It helps save time and energy, as well as ensure that content is strategically posted at the right times to reach the most potential customers.
You can maximize all these benefits by using a social media scheduling tool that allows you to easily create, schedule, and post all of your LinkedIn content in one convenient place.
A LinkedIn management tool like NapoleonCat simplifies this process even further by streamlining the way teams work together – so every single LinkedIn post is thoughtfully planned and executed.
With this in mind, try out NapoleonCat, and see how it can help you stay organized and manage your social media presence more efficiently. Get started today (no credit card required)!
Here are some articles that you may also like: