There is a wealth of metrics and areas of social media activity available for the digital marketing savvy business to look at and measure.
Social media has triggered a radical shift in how customers engage with brands. Being able to take advantage of these changes requires an understanding of which social media metrics are relevant to your line of business.
Broadly speaking, it can be instructive to first consider these three factors:
How loudly do you want your brand to shout?
How often do you need to be talking about your product or service?
Do you need to be in front of your customers' eyes or on their mind?
The answers translate respectively into the tangible marketing goals of raising awareness, boosting consumer engagement and increasing conversions (whether in the short or long term).
Goal setting is where campaigns are won and lost. Here you align your social media strategy with business objectives and this can play a crucial role in any long term success. This is especially important when working with clients because measurable goals help you show that you are achieving results in line with their targets.
Business goals are set without a second thought because, obviously, you need to know where you're going in order to bring the company along with you. It stands to reason that you go about setting smart, measurable goals for your social media presence, too.
It's not a one-approach-fits-all scenario: interactions on social media often range in meaning. For one business, it may be prudent to put out as much content as possible in order to maximise total net engagement. For others, more value may be found by working to drive deeper customer engagement and foster resonance with heavier focus on precise messaging.
In this article, we will explore examples of the types of goals you set for your business, the best metrics for ongoing ROI analysis, and ways of knowing when things are working. Armed with this knowledge, you should be able to understand the nuances of social media marketing and find out how to cement the long-term value of a brand's online presence.
But remember: this is a relationship which takes time to build and is not always one which will drive sales straight away.
Setting smart business goals
Social media marketers quickly cottoned on to the fact that their reports need to make sense within a business context. So, borrowing from Peter Drucker's 'management by objectives' concept, many have adopted the SMART methodology to ensure that each of their goals is clear and doable.
They do this by checking that a goal is:
Specific: clear and defined
Measurable: can be assessed with social media metrics
Achievable: possible within the scope of your resources
Relevant: realistic and matters to your business right now
Time-bound: going to be completed within a finite time frame
Instead of broadly stating that you want more sales from social media, why not instead aim to hit a 0.6% conversion rate on Facebook within a year? Be SMART about it! Your goal should have a clear finish line.
Google Analytics provides a phenomenally useful tool for tracking your social media goals which you can read more about here.
When setting SMART goals, remember to do so based on benchmarks relevant to your business. That said, let's get stuck into some examples and show how a social media strategy can work within a goal-oriented framework.
Key social media marketing goals
As mentioned before, different businesses use social media for different purposes. But while there might not be a clear right or wrong, there are some general patterns in terms of the types of goals that work best for specific verticals.
For the small business
Boosting long-term brand awareness
Social is about more than generating leads and ruthlessly converting them into paid-up customers. A recent study shows 70% of marketers say their main goal for using social media is to increase brand awareness. This stands to reason: social media tends to be the most available medium in terms of grabbing a consumer's attention. And if you're a small business or you're just getting started, reaching those potential customers is exactly what you need.
Your business wants to stand out in customers' minds and raising awareness is a great way to do this for the medium and long term. They might not need your services right away: if you sell plumbing supplies, people will need you at a specific moment in time. So when that time comes, you want to be the brand they think of.
Most platforms provide data that tells you how many people your content has reached. Beyond this, social media metrics such as follower count and mentions, shares, and retweets allow you to target measured improvement over a long period of time.
Most brands primarily hope to increase their number of followers as this naturally leads to a rise in other metrics, especially reach, which can lead to exponential growth as social media algorithms tend to select well-performing accounts and present them more prominently on users' feeds.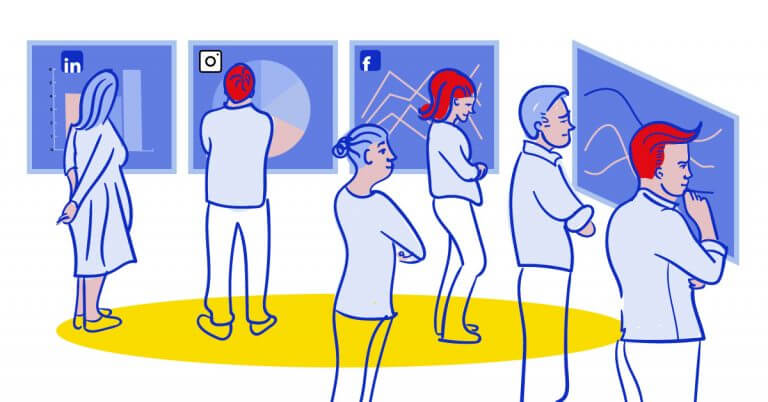 Social media management
Manage unlimited Facebook, Instagram, Twitter and LinkedIn pages in a single inbox. Track competitors and improve performance using simple dashboards.
Try NapoleonCat free for 14 days. No credit card required.
For the agency
Bolstering brand engagement
Once people are aware that a brand exists, the real work begins. Make no mistake about this: social media engagement is absolutely crucial to marketers. Marketing agencies with effective social media tactics will drive at this metric to no end.
Research shines a light on how community engagement fosters positive associations and brand loyalty, and makes consumers more likely to recommend a product or experience to a friend. When people engage with a brand on social media, it lends a sense of humanity to the interaction which bears strongly on their feelings towards the business.
Brands that are absolutely killing it on social media channels are more likely to see their success snowball, too. Social media platforms tend to use algorithms which favour posts with high engagement and will show these prominently to more users. Again, strong marketing agencies know this and will sink a lot of resources into getting people talking.
So what does this mean in practice? For starters, if you want yours – or your client's – social media posts to turn up on peoples' feed, you need to post interesting and shareable content. Track the obvious social media metrics for the platform in question: likes, comments, shares, mentions, retweets and so on. This will show very clearly the content that resonates most with consumers.
Make sure that you talk to the community. Any social media strategy will be less powerful if you do everything else right but fail to engage people on a regular basis.
For e-commerce
Raising traffic to your website and store
The next step is really about turning a powerful social media brand into a driver of your online presence – and, effectively, sales. People who choose to click through to your store are, obviously, much more likely to be interested and end up making a purchase.
Driving traffic to an online store is the primary aim of e-commerce sites with a social media presence. Consider which social networks you want to focus on. Usually Facebook and Instagram work best for e-commerce retailers, however, if your focus is B2B then you must start with LinkedIn. The business-orientated platform boasts a stunning 46% of the total social media traffic to external company websites.
Carefully consider the nature of the content you want to share. What will get people interested enough to check out your website? LinkedIn users will expect high-quality written content, but put these kinds of posts on Facebook and you will likely be ignored. See what your competition is doing to get a sense of what might elicit a strong response from your target audience.
Aside from the total number of visitors and share of traffic from social media channels, you will need to check the bounce rate (aka. the quality of traffic from social media) and whether clicks on your posts are converting to clicks on your links. When conversions are such a small percentage of the leads you generate, these fine margins become incredibly important.
For every brand
Championing social media customer service
Businesses know there is a new level of expectation from consumers and for many, this means round-the-clock service. A solution to this always-on demand is implementing social media automation solutions, which can ensure that customers feel that their needs are in hand, even if they have to wait for human assistance.
No, this is not something that you have to do and it may not be relevant to your field. Just keep in mind that if your potential customer is going to ask for more information, reports show that you need to get back to them as soon as humanly (or robotically) possible. If your competitors are using automation, then you definitely should be too.
The next step is to set targets for response times. Customers will get grouchy if they're not replied to within 24 hours and if we're talking about an online store, response times better be in the minutes rather than hours or you could be missing out on sales.
Look at the number of support questions you receive – is there a demand, do I need automated moderation? – and definitely do track response time. If you really want to make sure you nail this part, conduct customer surveys after a completed query to derive a Customer Satisfaction Score (CSAT).
You can use this to keep an eye on your customer service policy and suggest changes where necessary. Straightforward enough but it can prove very, very important.
Driving lead generation
If you're selling something, you need to be generating leads. And come on, you are selling something. Your brand wouldn't be on social media otherwise.
Lead generation basically involves stoking the fires and warming up customers to the business. Here you find consumers at an early stage in the sales funnel where they may be aware of the brand, but have not yet been given an incentive to make a purchase.
A lead is defined as any person who has provided information about themselves, whether it's their email address, name, or something else. And tracking this data is as simple as recording the information.
Much like getting people to fill out a form and sign up to a mailing list, you are essentially making a database of people who have indicated some level of interest in your business. It might be a download linked from social media or an event or contest: the point is, you have offered value to the customer in exchange for some of their personal information.
Count the leads and hold them close to your heart. Many of them probably will not turn into paid-up customers, but it's up to you to reach them with thoughtful, targeted marketing that can help them cross that line.. Follow the rate of conversions on your lead-gen posts and carry out an ongoing assessment as to whether your social media marketing plan needs any changes.
Set business goals for a tailored social media strategy
It's fairly obvious when you think about it. Would a restaurant set the same business objectives as an electronics store? This translates to the online world. Find out where you want to go with your social media efforts and then set your goals. Define what impact you hope to have on consumers and work out how to get there.
Your average restaurant isn't likely to try and blitz their social media channels in order to fill up bookings. Instead, their focus will be on growing awareness and engagement so that people are more likely to think of them when looking for a place to eat.
Over at the electronics store meanwhile, they have suddenly realised they have a lot of excess stock that they aren't likely to sell anytime soon. Time for a sale! But what does this mean for their social media strategy? Well, the aim here is to convert which means they should blitz social media platforms, so as to motivate people to click and share deals with their friends.
Smart business goals run hand-in-hand with social media management. Simply by following the processes in this article, it becomes clear that different brands find joy – and success – with different methods.
Knowing where you want to go is the first step. The next stage involves knowing how to assess social media metrics with a view to adapting and honing the strategy. Get this right and you will master the cutting-edge of marketing strategies for a successful and profitable online presence.