Social media are a dreamboat when it comes to promoting ecommerce businesses and driving conversions. Depending on your strategy and objectives, they can help you achieve a spectrum of goals specific to the nature of online sales. Think building brand awareness, streamlining customer service, growing your customer base, and smart advertising.
When setting out to strategize your ecommerce's social media presence, bear in mind that keeping track of performance is essential – it puts your work in perspective. There is a vast variety of free and paid analytics tools out there that allow you to take precise measurements of your social media activity and finetune your strategy based on data-driven insights.
I know, too much of a good thing can be quite overwhelming when you don't know where to start. That's why we did the legwork for you and selected a sweet bundle of tools that will provide you with the most useful analytical data and set your ecommerce up for success.
Without further ado, here are 5 essential social media analytics tools that will help take your marketing strategy – and sales – to new heights.
1. Brand24
Social listening is the process of tracking online conversations that mention your brand. Brand24 is a powerful tool that collects mentions from social networks and beyond, and allows for advanced volume, sentiment, and quality analysis.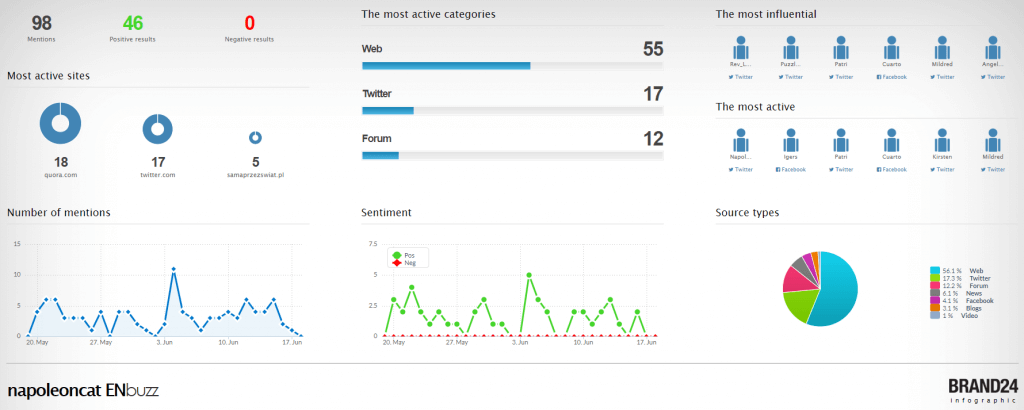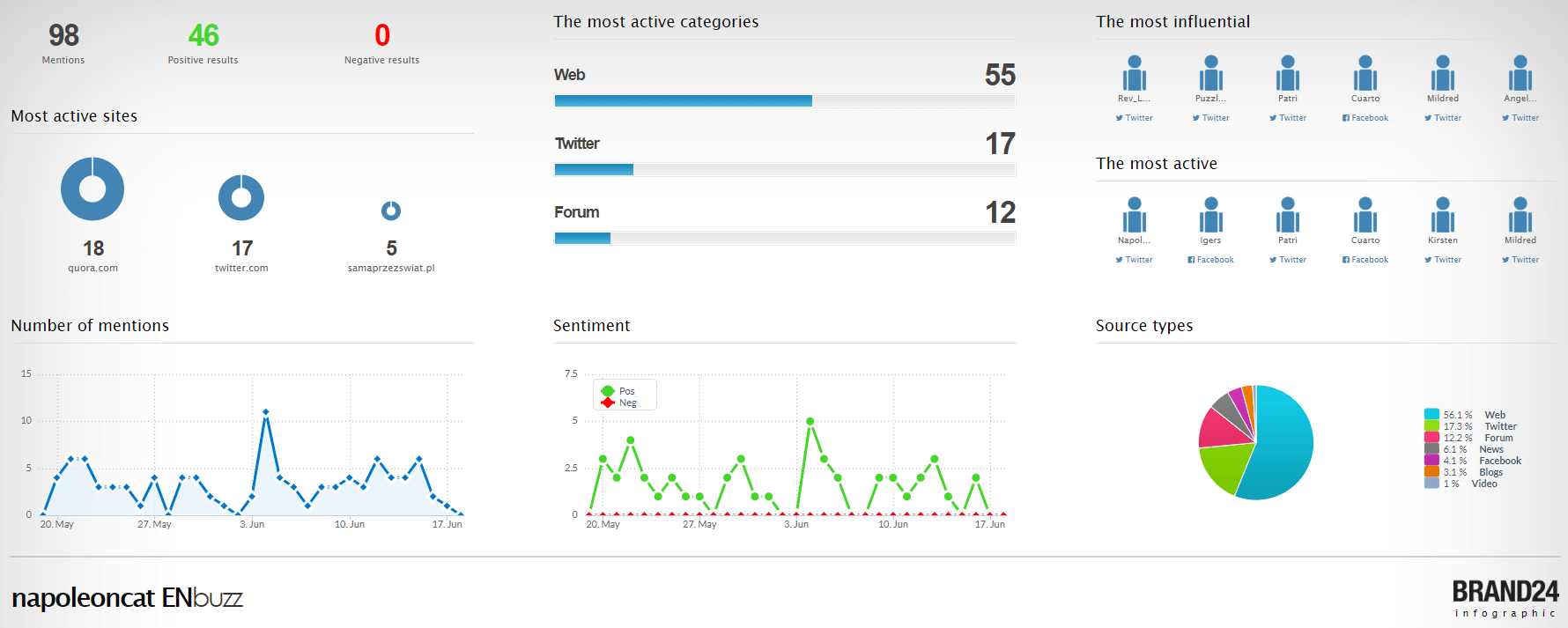 How is this useful for ecommerce businesses?
Listening to conversations happening around your brand provides you with priceless feedback that would otherwise be quite difficult to acquire. You can expect that existing and potential customers are discussing multiple facets of your brand online: the quality of your product and customer service, their thoughts on your advertising, their overall sentiment towards your business.
Tapping into these conversations can help you identify your strengths and areas of improvement. It also gives you a chance to become active in these discussions, effectively bringing your brand closer to your target audience. You can also understand your share of voice better with the tool's volume charts and influence score assigned to each mention.
Finally, social listening is a great way to respond to crises as soon as they arise. Imagine that you failed to deliver an order on time and the disgruntled customer shared their experience on social media or an online forum. With Brand24, you can set up alerts for negative mentions and manage sensitive discussions in real-time.
Most useful features
Mentions feed and analytics
Discussion volume chart
Influence score
Sentiment analysis
Customizable alerts
Pricing
Plans range from $49 to $399. A 14-day free trial is available.
2. Facebook Ads Manager
Facebook's Ads Manager is a tool for ad creation and management on Facebook, Instagram, and Messenger.

How is this useful for ecommerce businesses?
This one seems like a no-brainer, but it's important to go over all the ways Facebook Ads analytics can affect – and improve – your business. Facebook is a massive social media network, currently sitting at 2.3 billion monthly users. Its advertising solutions offer advanced targeting tools which, combined with the extensive user base, allow you to put your ads in front audiences that closely represent your target clientele.
Ads Manager's built-in analytics tools summarize your performance at the account level or organized by specific campaigns, ad sets, or ads. Data can be further broken down by audience characteristics, devices used to view the ads, time, and more.
Access to such granular information regarding your ads' performance provides you with endless opportunities to optimize creatives, targeting, and budgets. This, in turn, helps you improve the ROI of Facebook advertising.
You can also make use of some of Facebook's more advanced analytical features to implement tracking user actions across Facebook and your website (in a way similar to Google Analytics). Knowing how Facebook users interact with your online store is a great starting point for identifying UX pain points as well as retargeting specific groups of users with customized ads on social media.
Most useful features
Creating and activating ads
Advanced targeting
Budgeting
Performance tracking
Pricing
Using Facebook Ads Manager is free.
3. NapoleonCat
NapoleonCat is a complete suite of social media management tools including in-depth analytics and advanced customer care solutions as well as publishing and reporting features.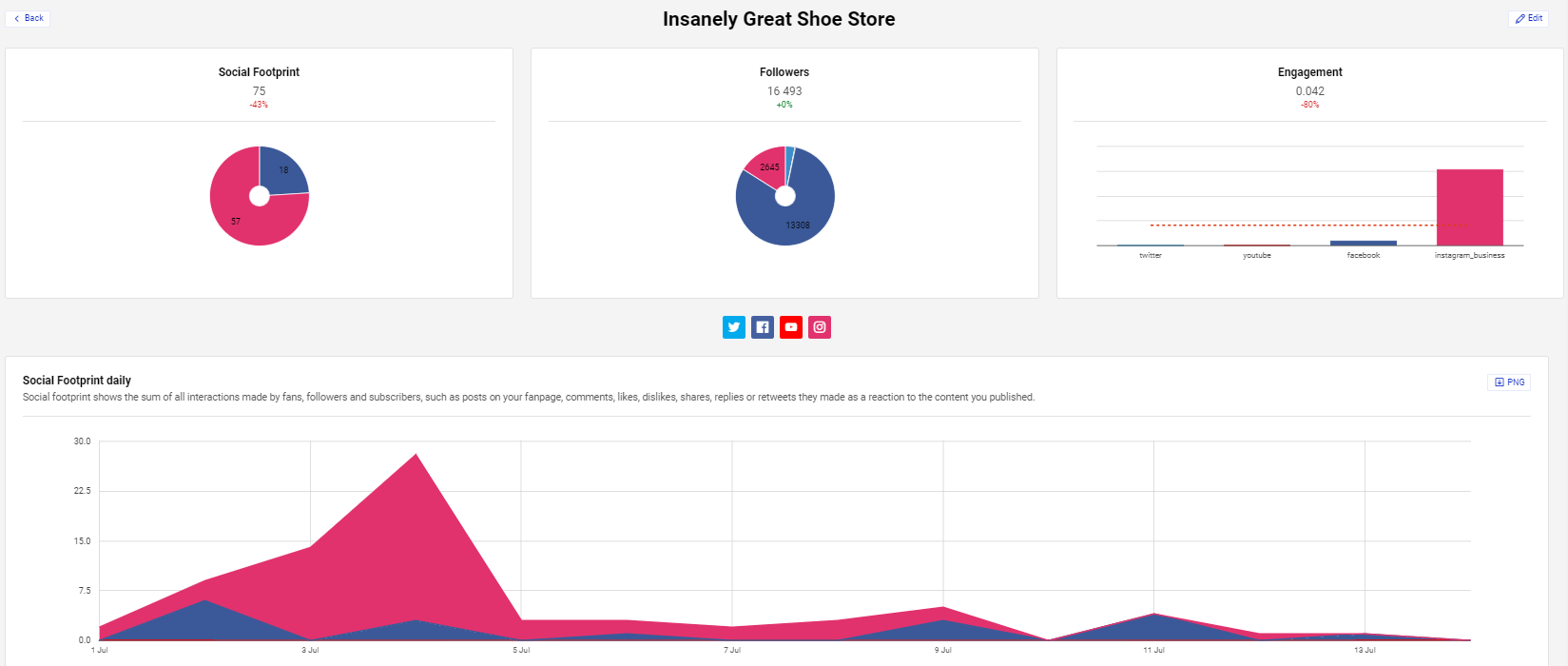 How is this useful for ecommerce businesses?
NapoleonCat is an integrated solution that can be treated as a control panel for everything social media. It compiles vital information regarding your performance, combining data from multiple accounts across several platforms. We currently support Facebook, Messenger, YouTube, LinkedIn, Pinterest, Google My Business, Twitter, and Instagram. Here is a rundown of some of our main functionalities that are essential for ecommerce users.
Comprehensive cross-platform analytics
NapoleonCat's in-depth analytics let you assess your performance at a glance. Data is compiled in readable graphs and can be filtered by time range. You can view analytics for specific channels and further narrow them down by metric. Instagram analytics, for example, are broken down into the following sections: Summary, Followers, Engagement, Reach, Content, Hashtags, and Stories.
You can also create dashboards that add up performance from several accounts to see how your combined social footprint changes over time.
Easy access to performance data allows you to evaluate your social media efforts and adjust your strategy when necessary. If social media are a big part of your online store's digital marketing strategy, knowing if and how your audience engages with your content is key to building a strong brand image and working on conversions.
Customer care
These days, customers are used to reaching out to brands on social media. They do so to request information pre- and post-shopping and to voice their opinions about your products and service. As a brand, you should do your best to meet their expectations and not only make yourself available on social networks but also abide by social media standards when engaging in social customer care. Availability beyond traditional work hours and speedy response rates are necessary.
Use NapoleonCat's Social Inbox to manage comments, posts, and messages from all of your social media accounts in one place. Depending on the contents, answer, flag, hide, and delete messages with your team, using custom permissions and workflows. If your store has brick and mortar locations, you can handle Google Reviews using our Inbox too!
You can also use our Automoderation feature for Facebook and Instagram to create custom automatic replies to frequently asked or simple questions. The auto-comment tool works with regular and sponsored (a.k.a. dark) posts, making it easier than ever to manage conversations that are usually difficult to track (sponsored content lives in the target audience's feed – not yours). And managing them is pivotal – the sentiment surrounding sponsored posts can make or break a paid campaign.
Automated responses can further improve your response rates and give your team some extra time to deal with more complex customer issues.How does this tie in with performance analysis? Generate moderation reports to analyze metrics such as response times, interaction volumes, and more.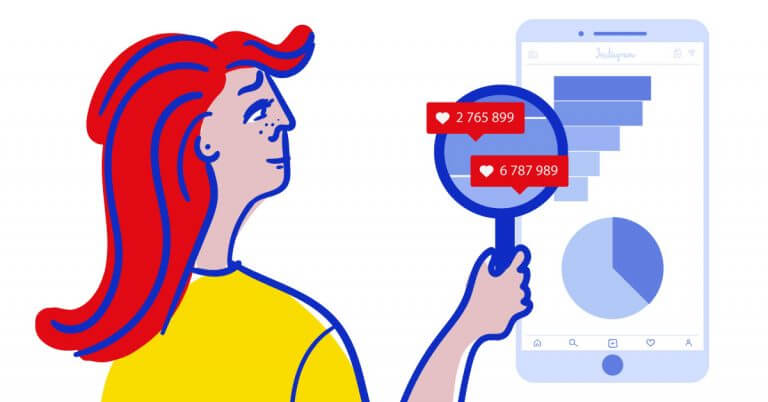 Social media analytics
Measure your social media marketing results. Track competitors and improve performance using simple dashboards.
Try NapoleonCat free for 14 days. No credit card required.
Competitive analysis
Regardless of the size and scope of your ecommerce store, knowing where you stand against your competition is a vital element of evaluating your performance. Without proper perspective, how would you know if your social media results are great or just mediocre?
Using NapoleonCat, you can access analytics for any publicly available social media profile, which gives you valuable insights regarding how other online businesses are doing. Data from multiple accounts can then be combined in comparative sets that visualize the results of a custom group of profiles in a single graph. Include your own profiles for an immediate and readable comparison to your competition.

Most useful features
In-depth analytics of managed and public social media accounts (includes competitive analysis features)
Integrated Social Inbox for managing engagements across social media accounts and platforms (includes auto-reply solutions)
Automated reporting (includes customizable and downloadable PDF files and scheduling options)
Content scheduling and publishing functionalities
Pricing
Plans start at $27. Prices are fully customizable and depend on the number of social media profiles you want to manage or monitor and the size of your social media team. A 14-day free trial is available, no credit card required.
4. TapInfluence
TapInfluence connects brands with a community of social media influencers. The platform provides marketers with solutions for streamlining campaign execution and reporting as well as advanced analytics tools.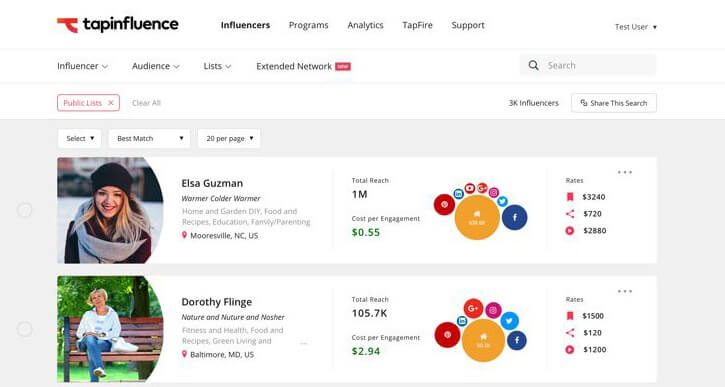 How is this useful for ecommerce businesses?
Even though influencer marketing developed a bit of a funky reputation over the last couple of years (shoutout to the Paul brothers and the Fyre Festival fiasco!), it is still without a doubt a powerful tool in the hands of savvy social media marketers.
With an ever-growing percentage of the world's population on social, online opinion leaders' influence on consumer decisions is naturally increasing. And the space is getting quite competitive – 320 new influencer marketing agencies were created in 2018 alone. The widespread availability of influencer marketing solutions makes it more important than ever for online retailers to make informed strategic decisions and closely watch the ROI of such activations.
Tools like TapInfluence help you find the right influencers to fit your business profile and specific objectives. The platform gives you access to over 50,000 opt-in influencers along with detailed audience intelligence and influencer performance data. Access to performance metrics at the planning stage minimizes the risk of poor resource allocation – and after all, that's the primary concern of all influencer marketing campaigns.
The tool also provides you with automated analytics regarding the sponsored content's performance and your campaigns' ROI during the activations, in real-time.
Most useful features
Influencer discovery (includes audience insights and performance data)
Automated campaign execution (scheduling, tracking, content approval, and more)
Analytics (includes benchmarking and ROI insights)
Pricing
Available on request.
5. Snaplytics
Snaplytics is a social media management solution designed specifically for Snapchat and Instagram Stories. It includes content creation and distribution tools as well as robust analytical features.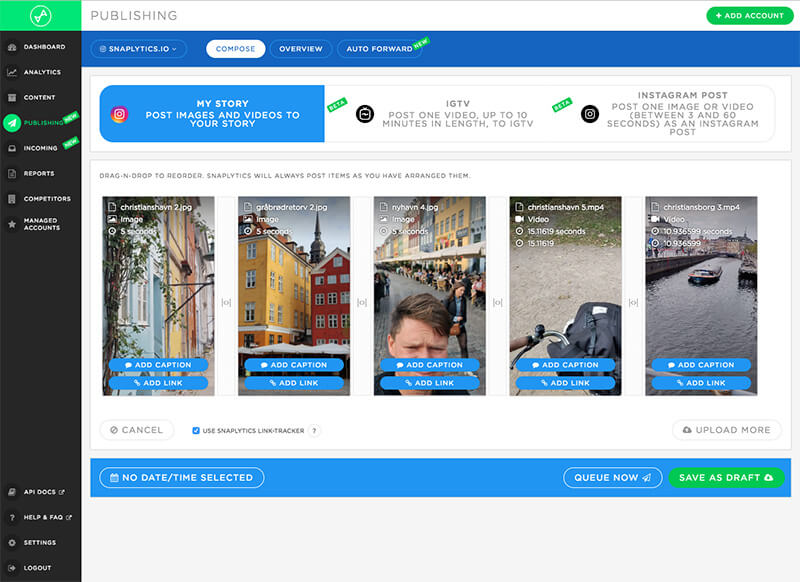 How is this useful for ecommerce businesses?
Snapchat may have lost its dominant position in the short-lived content vertical when Instagram introduced Stories. It is, however, still a strong player in the field, with 190 million daily active users as of Q1 of 2019 – an increase compared to the previous period. The platform's user base is predominantly teen and North American. And, according to a recent study by Accenture, online shopping is all about pictures, videos, and stories for young consumers. If you happen to be targeting Gen Z'ers with your brand communications, you should definitely consider adding Snapchat to your social media strategy.
The platform's spontaneous, casual, and quickly expiring content tends to generate high engagement. With tools like Snaplytics, you are able to refine your efforts on Snapchat (and Instagram Stories) by identifying best performing content and studying audience insights, which include a detailed analysis of follower acquisition methods.
Most useful features
Publishing Suite (content creation, scheduling, and management)
Automatic collection and simplified sharing of user-generated content
Desktop in-app chat
Automated analytics
Pricing
Available on request. A 14-day free trial is available.
Final thoughts
Data should be the backbone of every social media strategy. And being able to analyze your progress in real-time is particularly important for conversion-oriented sectors like ecommerce.
While sourcing performance data might not be the most fun of marketing tasks, it doesn't have to be all that complicated. Use social media analytics tools that work for your brand and your business objectives. Identifying the best solutions is an important first step and I hope this list gives you a head start. Now go crunch that data!