Building an Instagram presence for your business or personal brand can be an exciting but bumpy ride. There are so many constant updates and changes to this popular social media platform that keeping up with them can be a challenge – and reliable resources of information are scattered across the web.
That's why we've researched frequently asked questions about Instagram and gathered them into one list complete with simple, straightforward answers.
Here we go!
1. How do I get more followers on Instagram?
This is one of the most asked questions about Instagram. Setting up an account is fairly simple, but when it comes to growing it, things may get a bit more complicated.
First of all, you need to give yourself some time. Gaining more followers is a continual process, not a one-time, simple activity.
There are a few ideas as to how to attract more followers that you can start with:
posting on a regular basis
posting high-quality content that is in line with your brand
using hashtags relevant to your content, location, or target
interacting with your followers and tapping into their audiences by publicly responding to their Instagram activity.
And that's just to name a few things that you should keep an eye on.
2. What is the quickest way to increase the number of Instagram followers?
There are no shortcuts here. You need to be patient and consistent with your posting and test out new ideas for approaching your target audience. As we have already mentioned, this won't happen overnight It's always a good idea to make the most of cross-promoting your IG account: if you run a newsletter or another social media profile, think about advertising your Instagram profile there. It's unlikely that your entire audience will follow, but if you remind them about it a few times then they may soon make up the vast majority of your engaged IG followers.
One of the most common mistakes here is to use "illegal" marketing automation: bots to follow and unfollow accounts, or bots that automatically and randomly comment under posts or answer questions in stories. This is the fastest way to lose your brand authority, and also to get your account banned.
3. Is it possible to buy Instagram followers?
Unfortunately, it's possible.
There are numerous offers available, but we strongly discourage you from investing in them. They may not only negatively impact your brand image, but could also result in a temporary or permanent ban on the platform. Therefore, buying followers could compromise all your work.
Some Instagram influencers tend to buy followers to fake growth, so brands have become hesitant to invest in influencer marketing. This affects those influencers who have worked hard on building their recognition. With custom reports created using NapoleonCat, influencers can easily share accurate data with brands to seal the deal.
4. Why don't hashtags work on Instagram?
Are you sure they don't? Our short case study proves otherwise.
The key to success is to choose the right set of hashtags. If they refer to your content and/or highlight your industry or location, they may attract new followers. Random hashtags, on the other hand, may result in a lack of valuable engagement followed by spam comments.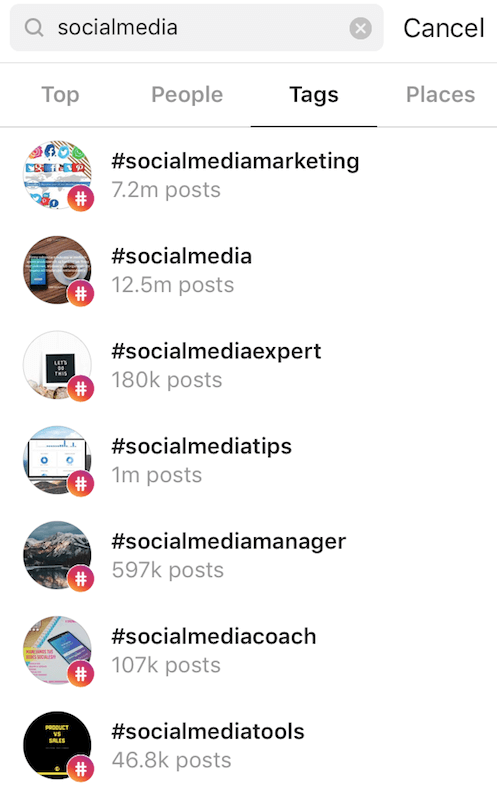 Mastering the hashtag game can take time and a lot of testing, but it's worth analyzing whether a particular set works better than others.
5. How do you recover a deleted Instagram account?
Unfortunately, if your account has been deleted, there is no way to recover it. There is a chance of being able to set up a new account with the same email address, but the lost username will no longer be available.
6. Can you see who views your IG? How do I see who viewed my videos on Instagram?
Currently, there is no way of checking out who has previewed your Instagram profile. However, you can find out every single person who has watched your Instagram stories. So if you want to know who actually cares about your content, check who regularly watches your stories. It's likely that these people are familiar with your posts too, even if they don't react to them. If they do though, and they also watch each of your Instagram stories, they must find your profile really interesting – you're onto something good, keep on pushing!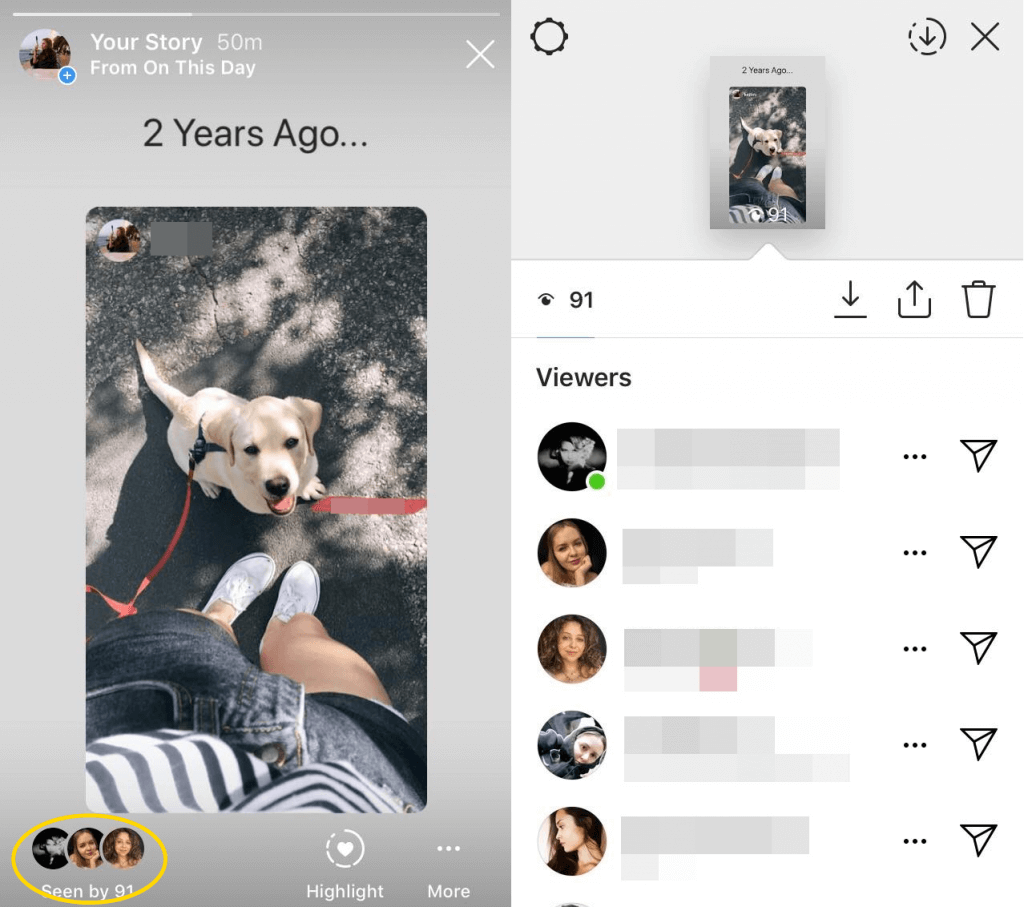 7. How do I view Instagram likes?
In 2019, Instagram decided to stop publicly displaying the number of likes generated by posts. What does this mean in practice? Prior to the update, the number of likes could easily be found under each post on Instagram. Now, it's been replaced by a vague " liked by user and others". While you technically can manually count how many users like any particular post, this is virtually impossible in the case of popular posts, where the number of likes can be in the hundreds or thousands.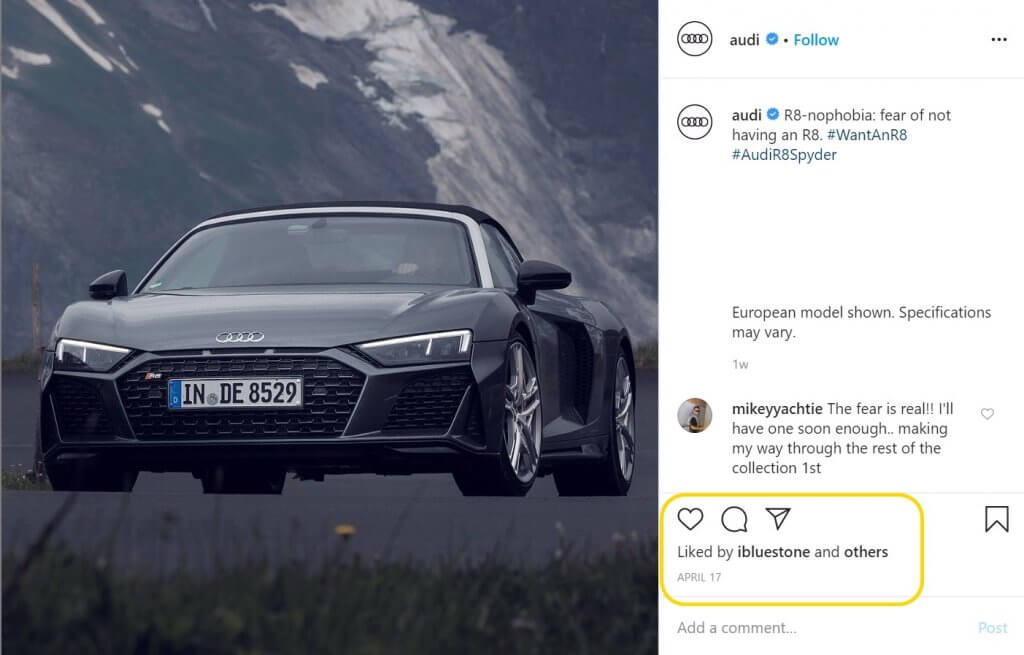 You still can access information about Instagram likes, though, even if they're not displayed publicly – the data is still there. With tools like NapoleonCat, you can access detailed analytics of public Business and Creator profiles, including the exact number of likes their posts generate.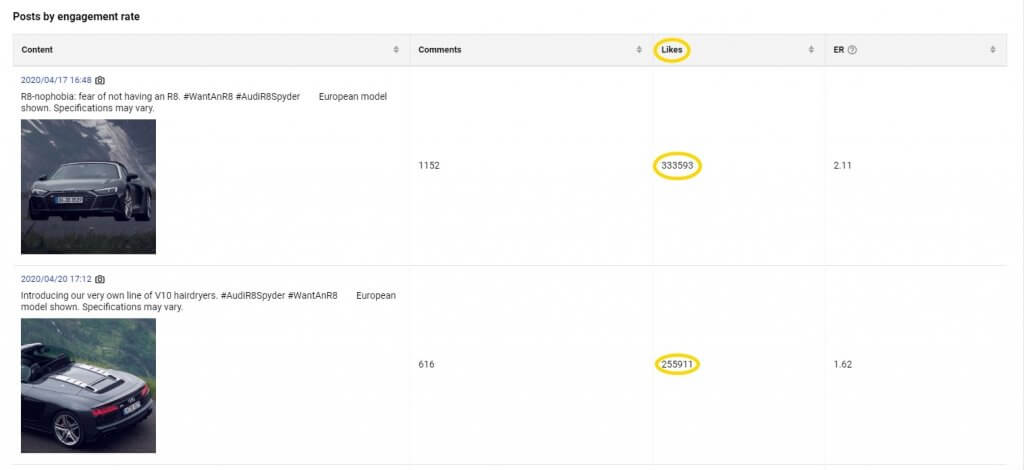 Oh, and if you want to know the story behind "hiding" likes, this article explains it further.
8. How do I contact Instagram?
While there are some rumors about phone numbers or direct e-mails to Instagram support, the only official way to get help or to report a technical issue is through the app. Go to Settings, then Help, and then report your issue, providing as many details as possible. Their turnaround time is a few days, so be patient.
9. How can I unfollow everyone I'm following on Instagram?
There is no option to mass unfollow everyone who you're following on Instagram, so you have to do it one-by-one. Be careful though, clicking too quickly may be interpreted as suspicious activity by Instagram, so don't risk doing it in bulk. You can also simply delete your account to automatically unfollow everyone, but we're guessing you may not want to take this approach.
10. How does Instagram make money?
It probably won't come as a surprise that Instagram makes money primarily from advertising. Paid campaigns can be set up to appear as Instagram feed posts or Instagram stories, as well as in the Instagram Explore tab. Instagram can be used as a primary channel for ads or as an additional one for Facebook campaigns – both can be set up and managed through the same Ad Manager.
11. How do people earn money on Instagram?
There are a few ways to monetize your presence on Instagram.
First of all, you can use paid ads to sell your products or services. Instagram ad placement can work great with visual content, so you may want to give it a go. You can also connect your product catalog with an Instagram Business Account to enable in-app shopping and tagging products in your posts.
The second option is to dive into influencer marketing and become an Instagram influencer. Influencers can either collaborate with brands in exchange for products or services or offer paid, sponsored posts for money. The fee depends on many factors: the brand's budget, your following base, recognition, and audience demographics, the scope of deliverables, etc. Influencer statistics are extremely important for brands, so make sure you have a solid media kit on hand.
12. What is an Instagram caption?
An Instagram caption is the description that shows up below your content on Instagram. It's customizable and can include text, emojis, tags or hashtags up to 2200 characters. When used right, it can drive very satisfactory social media engagement.
If you're looking for some inspiration, check out our examples of outstanding Instagram captions.
13. What are Instagram ads?
Instagram ads, simply speaking, are adverts that you can run on Instagram if you have a Business Account. There are a few types of adverts that you can share: Stories Ads, Photo Ads, Video Ads, Carousel Ads, Collection Ads, and Ads in the Explore tab on Instagram. There are slight differences between the various types of ads in terms of goals they can help you achieve. Some of them may deliver direct sales, while others can generate more engagement.
If it's still a bit confusing, we believe that our guide to Instagram ads may come in handy.
14. How do I set up an ad campaign on Instagram?
To set up an advertising campaign on Instagram, you need to have an Instagram Business Account and use the Facebook Ads Manager.
Choose the objective of your campaign and set up your target group exactly as you would for Facebook campaigns. In Placements, choose Manual and edit the list to only include Instagram placements. By default, Facebook Ads Manager selects all available placements. Of course, you can keep the selection as it is, but if you want to customize your campaign, uncheck some of the boxes.
Then, set up the creatives and CTA and you're good to go.
15. Can I view a private IG account without following it?
There must have been reasons for introducing private accounts, right? Unfortunately, there is no way to view such an account if you're not a pre-accepted follower. Regardless of whether you try to access it via the mobile app or on desktop, "this profile is private" will pop up on your screen. Long story short, the only way to view a private IG account is to follow it.
16. How can I get verified on Instagram?
If you represent a big brand, you're an influencer, or you manage the profile of someone who is often impersonated, you may be interested in verifying your account to make it appear more trustworthy and to help Instagram users tell you apart from impersonator and/or fan accounts.
The verified badge, a blue tick, is fairly easy to request, but be prepared to go through some extra hoops while your case is processing. Tap Settings in your mobile app and look for the Request Verification option in the Account section. This is where you need to enter your full name, "known as", and a category for your verified account (Sports, Music, Fashion, or News, just to name a few). You will also need to upload a photo of your ID for further verification. Once the request is reviewed, you'll receive a notification – and the blue tick.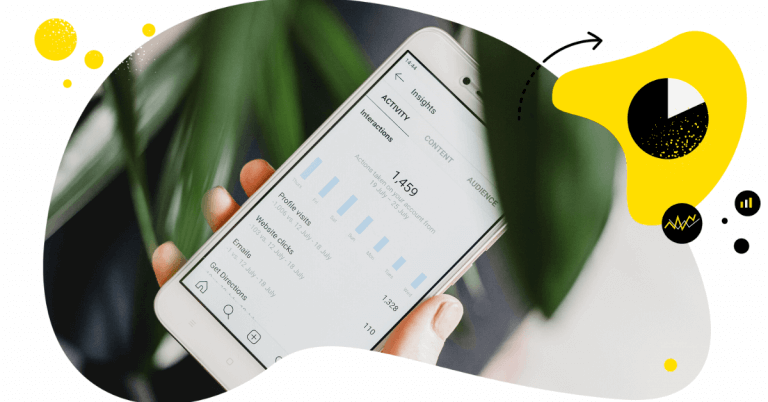 Instagram marketing made easy
Manage multiple Instagram accounts from one dashboard. Track your performance and analyze competitors to create effective, insight-fueled social strategies.
Try NapoleonCat free for 14 days. No credit card required.
17. How do you save Instagram pictures?
There is no official way to download Instagram pictures. While there are some workarounds, they often require installing suspicious extensions or using websites that are not supported by Instagram. Also, you shouldn't use photos that don't belong to you.
For your private purposes you can screenshot and crop photos, but keep in mind that the quality and size won't be great).
If you'd like to download your own Instagram photos, things are a little easier. Tap on Settings in your Instagram app, then go to Security and Download data. Instagram will send you a link to a file with your photos, comments, and profile information.
You can save the posts you like (without downloading them) by tapping the bookmark icon underneath a photo or video. The saved content will be available in a section of your profile visible only to you and can be arranged into collections.
18. What do I post on Instagram?
This question is really complex and, unfortunately, there is no universal answer. It all depends on a few factors: your audience, products, competitors, tone of voice, and overall marketing strategy. So, what should you post on Instagram?
If you already have a marketing strategy in place, that's great – now onto aligning it with Instagram specifics. You can't copy and paste your successes from other social media platforms, but you can draw conclusions that may be helpful for Instagram communication. Competitive analysis on Instagram can help you to recognize the ups and downs of your competitors and ultimately get a better idea about what to post and in what context.
Where should you source your content? If Instagram is just an addition to your current marketing efforts, chances are that you already have some content that you can leverage and repurpose. If not, creating original content doesn't have to be time-consuming if you look at it from a creative perspective. Product and team pictures are often good ideas to start with. Once your account has grown and your brand becomes more recognizable, the baton can be handed over to your audience, who may start creating user-generated content that you can also use.
Obviously there are more ideas that you should familiarize yourself with, and you'll find them here.
19. What are Instagram stats?
Instagram stats are a set of metrics reflecting your performance on Instagram. The scope of insights available for private and Business Accounts varies on Instagram: the latter can, and should, process more data.
Private profiles have access to basic statistics: the number of followers, posts, likes, video views, and Instagram story views. They are not too helpful for businesses using the platform, who simply need to know more about their audiences and performance. Business profiles on Instagram have more advanced Instagram analytics at their disposal in the platform's native tool, Instagram Insights.
Instagram Insights provide detailed information about individual posts, Instagram stories, or ads. The Audience tab delivers details about follower demographics and locations, as well as their activity peaks. In the Activity tab in Instagram Insights, profile and website visits are counted by weekday.
Using Instagram Insights, you can only check your performance going back up to seven days. NapoleonCat provides advanced Instagram analytics that you can customize to your needs and check out not only your performance but also your competitors'. If you'd like to dig a bit deeper into Instagram Analytics, we also recommend that you read this article.
20. Is there a way to schedule Instagram posts?
While you can't schedule your Instagram posts directly from the app, some social media management tools can help you schedule posts in advance. Creator Studio is a basic option created by Facebook that allows you to schedule Instagram posts.
If you work in a team, you need to deliver communication on many profiles, or you're in touch with many clients, then you might want to look for a more advanced tool for scheduling and publishing.
With NapoleonCat's Instagram Scheduler you can schedule not only photo and video posts, but also the first comment below your content. This way, you can keep the Instagram caption clean and neat. You can also add hashtags, locations, and tags to the posts you schedule.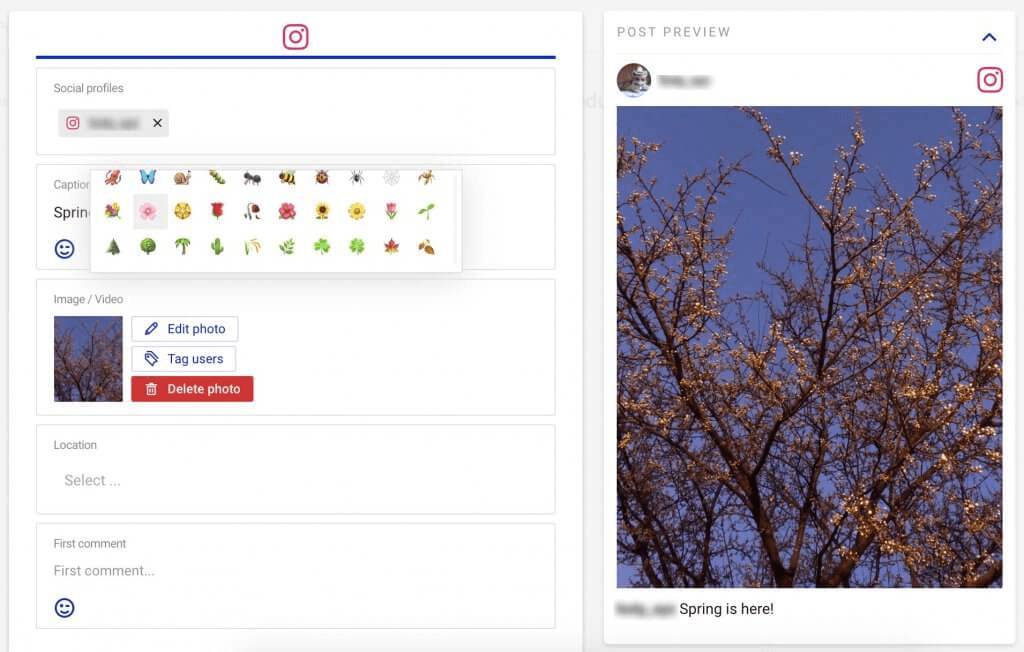 Crafting posts with the Scheduler is really simple: you can create and modify drafts while using a live preview before you hit "schedule", so you can see what a particular post will look like before publishing.
The tool also supports seamless collaboration: you can assign tasks, create internal notes, send notifications, and label posts.
Check out what else our Instagram Scheduler can help you with.
21. Who are some of the most interesting or notable Instagram users?
If you manage a fashion brand on Instagram, it's likely that you'd like to follow influencers who are related to your industry.
However, if you're a local restaurant, then local influencers that have the opportunity to come to your restaurant, review it and recommend it further may be more "notable".
The shape of the list will vary depending on your preferences and goals. On Wikipedia, you can check out an interesting compilation of the all-time most-followed Instagram accounts, and even the top 20 most-followed accounts on Instagram by country. It doesn't come as a surprise that the majority of the names are celebrities, though.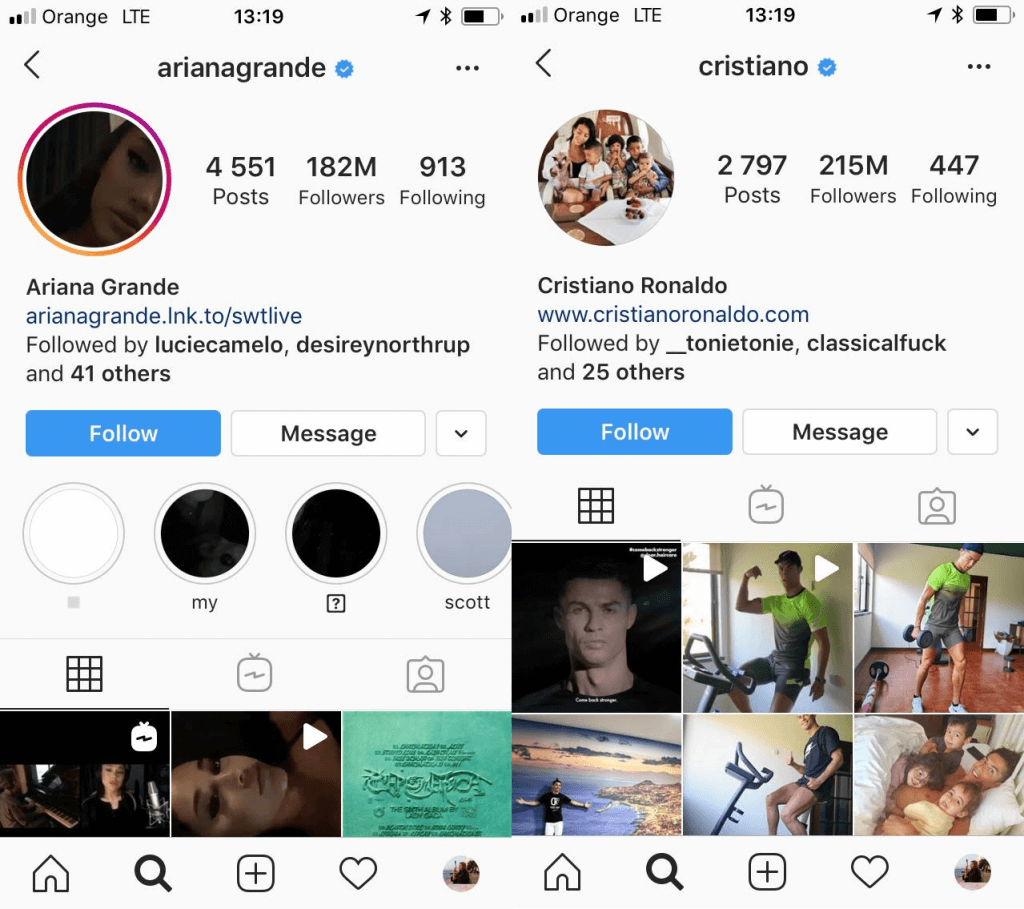 Tip: start following some hashtags relevant to your business and review your feed on a regular basis. You never know when a real gem might jump out of your feed.
22. How do I message someone on Instagram?
It's as easy as ABC.
If you want to send a new message to a person or brand who you've never messaged before, simply go to their profile and tap "message".
It's not the only method, though!
In your mobile app, tap the "paper plane" in the top-right corner. In the inbox, you can either scroll down and message someone you were already in touch with, or tap use the Search bar to find them by name or username.
23. How do I create an Instagram story using multiple photos?
In the stories camera, tap the bottom-left image preview to upload photos from your camera roll. In the top-right, you should see an overlapping square icon. Tap on it to select multiple files you would like to use. Once you start choosing photos, you'll see numbers in the thumbnails, which reflect the order in which they will appear in your story from first to last.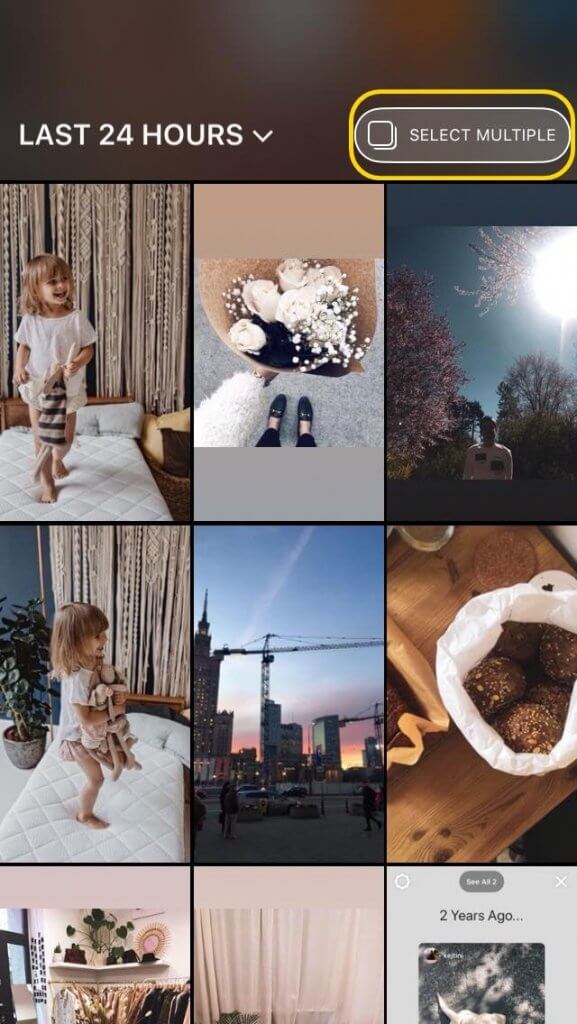 If you want to post multiple photos, but you haven't taken them yet, you can use your phone camera or Instagram camera. This requires you to save your photos separately and upload them from your camera roll anyway, though.
24. How can I direct message someone on Instagram from my computer?
It works exactly the same way as in the mobile app: you either "pay a visit" to the account you want to message, or you can access your inbox at https://www.instagram.com/direct/inbox/ to manage your messages.
25. How do you upload pictures from a PC to your Instagram account?
Instagram on desktop doesn't allow you to publish any content directly on the platform, but you can upload pictures from your PC to Instagram via Creator Studio or more advanced social media management tools, like NapoleonCat. You can upload your photos, make drafts, and preview how they'll look like live on Instagram before you publish them.
26. What is an Instagram Business Account?
An Instagram Business Account is a special type of account that you can switch to at any time. It provides you with more detailed analytics via Instagram Insights (that can be extended with third-party tools), the opportunity to schedule content via external tools, and the ability to set up custom buttons on your profile for better communication. With an Instagram Business Account, you can also enable Instagram Ads and promote your content through in-app advertising.
27. How do I unblock someone on Instagram?
There are two ways of unblocking people on Instagram.
If there is a particular person you want to unblock, go directly to their profile and click Unblock.
You can do this through the list of the accounts that you've blocked. In your mobile app, go to Settings, then Privacy, and then Blocked Accounts. Here you have a list of all the accounts that you have blocked and you can access their profiles (since they've been blocked, you'll see 0 posts, 0 followers and 0 following on their profiles). To unblock them, click on the rectangular blue Unblock button. Unblocking a user will not make you automatically follow them.
Instagram won't let the users know that you've unblocked them, and you can still block them again later.
28. How do I add clickable links in Instagram posts?
For some it's a blessing, for others it's a curse – you cannot add clickable links in Instagram posts. There are only four ways to redirect people from Instagram to an external website:
tagging products in your posts (if you have connected your account with a shopping catalog)
using the "swipe up" feature in your stories (if you have a verified account or more than 10,000 followers)
using Instagram Ads
adding links to your bio (and reminding your followers about that link in your posts)
29. What is an Instagram bio?
An Instagram bio is a short section on the main view of your profile, located between your profile photo, statistics, and photo feed. Here, you can add some details about your brand or yourself, insert one link of your choice, and custom buttons if you have an Instagram Business Account. Feel free to enhance it with emojis, hashtags, or tags linking you to other Instagram profiles!
30. What makes Instagram cool?
If you ask this question to ten people, you'll hear ten different answers.
Instagram stats are blooming. It's a dynamically growing social media platform, enabling quick social interaction based on visual content. A huge Instagram milestone was introducing Instagram stories, which delivered even more ways of driving engagement and staying in touch with friends – or clients.
For businesses, Instagram is a great platform to build an online presence and attract new segments of their target groups. With an array of engaging features and advanced advertising solutions, Instagram has become a key part of marketing strategies for many brands. And this is not likely to change any time soon.
Would you like to know more about Instagram marketing? Do you have any questions you'd like us to cover? Let us know, and stay tuned – we'll be back with more soon!