Just like with any social media platform, TikTok comments can be a double-edged sword. Here's a quick guide on how to turn on comments on TikTok and manage comments settings to make them work for you and your brand and not against you.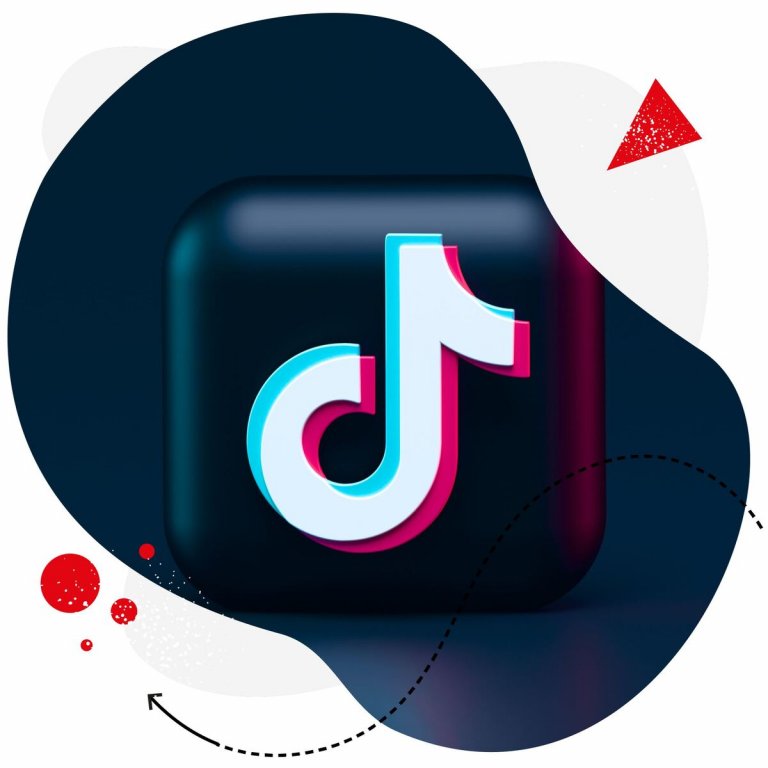 TikTok management tool for teams
Schedule your TikToks and manage TikTok comments from one place – with a simple tool designed for teams. Try NapoleonCat for free:
Try NapoleonCat free for 14 days. No credit card required.
Why even care about TikTok comments?
If you use TikTok daily, you probably know that its algorithm deciding what content to show to a scrolling user is pretty sophisticated. It takes into account things like what you watch and how long you watch it, the accounts you follow, the content you create, and so on. And a big chunk of that selection comes from the action of commenting.
And when you think about it, it makes total sense to add more importance to comments. Because next to actions like stitching and dueting, comments on your TikTok videos are one of the ultimate forms of engagement.
Someone takes the time to watch the video (though commenters don't always watch/read stuff before commenting, and that's another story), tap on comments, and sometimes scroll through the entire comment section to maybe weigh in on the conversation already happening there.
All in all, they intentionally devote their time (you know, as opposed to the so-called doom-scrolling) to engage with your video. And that's something TikTok will reward. And business reasons aside, it's how communities get built on social media platforms, with TikTok being no different.
(Although some people might have a different idea of how TikTok works ;))
Anyway, what this all means is that as a brand or a creator on TikTok, you should really pay attention to your comment section:
Getting those comments in
And then managing them and replying to them to keep the conversation going (and feed the hungry algorithm)
And also making sure that the conversations are not going in the wrong direction, and that you stay on top of them.
Which all gets slightly more difficult the more reach and followers you get and the more TikTok accounts you manage (for example, if you're a marketing agency.)
(But I guess there's always a price for success, right? ;))
So let's take a look at how to turn on comments on TikTok, how to turn them off (and when), and how to make the whole TikTok comment thing more manageable and enjoyable (as opposed to another stressful thing on the social media manager's agenda.)
How to turn on comments on TikTok
(Let me grab my phone to show you.)
So, in general, there are a couple of ways to turn on comments on TikTok. The app will allow you to have comments turned on/off for all your TikToks and also for individual videos. And you can also turn them on before and after posting your TikToks, so we'll take a look at both scenarios in a second.
To manage the comments for your entire account, do the following:
Open your TikTok app and tap the menu in the top right corner. Go to Settings and privacy > Privacy > Comments. That's where you can decide who (and if anyone) can comment on your videos globally for your entire account.
You can select to allow commenting for:
Everyone (including people who don't follow you)
Only your TikTok users that follow you back
No one (which basically equals having your comments turned off)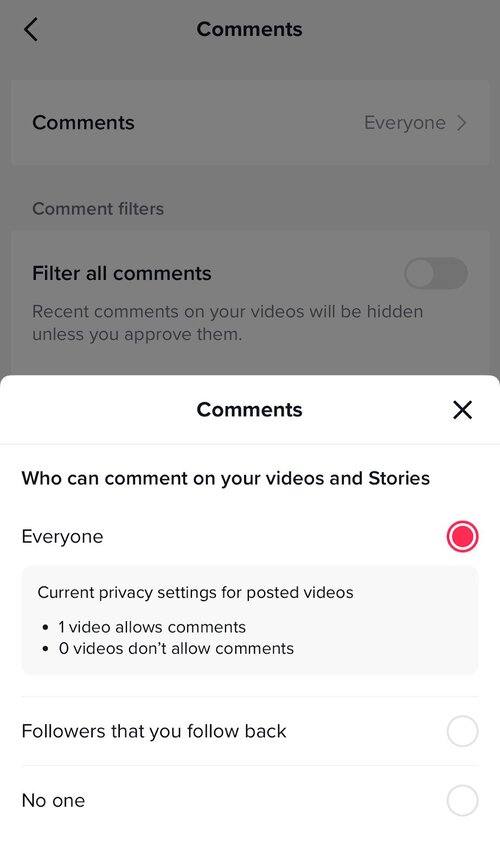 In the same menu, you can also set up filters for your TikTok comments. This means that any comments will have to be approved by you before they appear under your TikToks for everyone to see.
You can filter all comments, specific keywords, or comment types (e.g., filter spam and offensive comments.) And in doing that, TikTok gives you quite a bit of flexibility, so you can decide the level of control you want to retain over what gets posted/filtered out.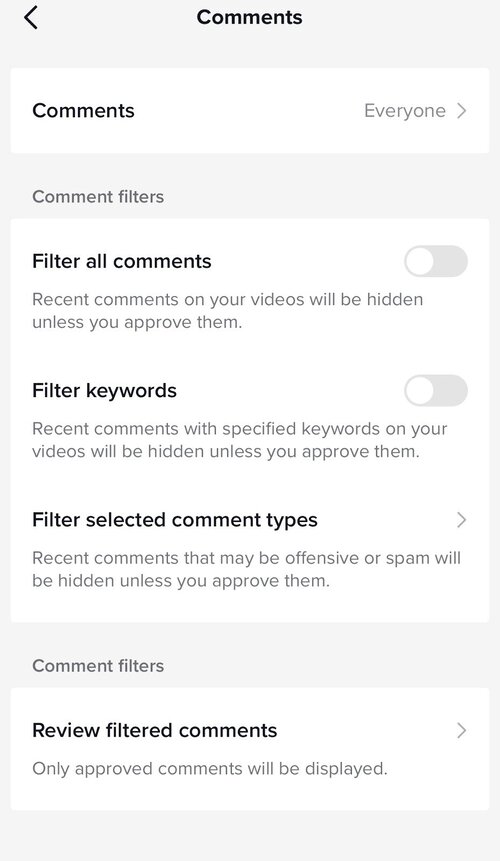 How to turn on comments on TikTok before you post a video
TikTok also allows you to turn on comments for individual videos. There's basically one thing you need to remember about – and that's turning the "Allow comments" toggle right before you tap on "Post" to share your latest TikTok with your audience.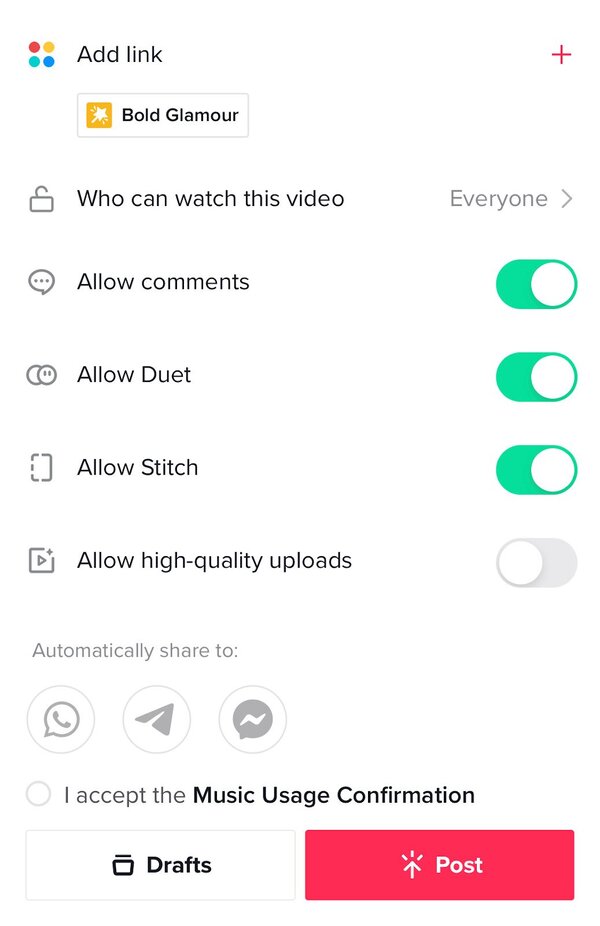 Of course, when the comments are on, the group you specified in your Privacy settings will be able to comment (so, for example, just the followers who follow you back, if that's your setting.)
And conversely, switching it off will mean people won't be able to comment on that particular TikTok video at all.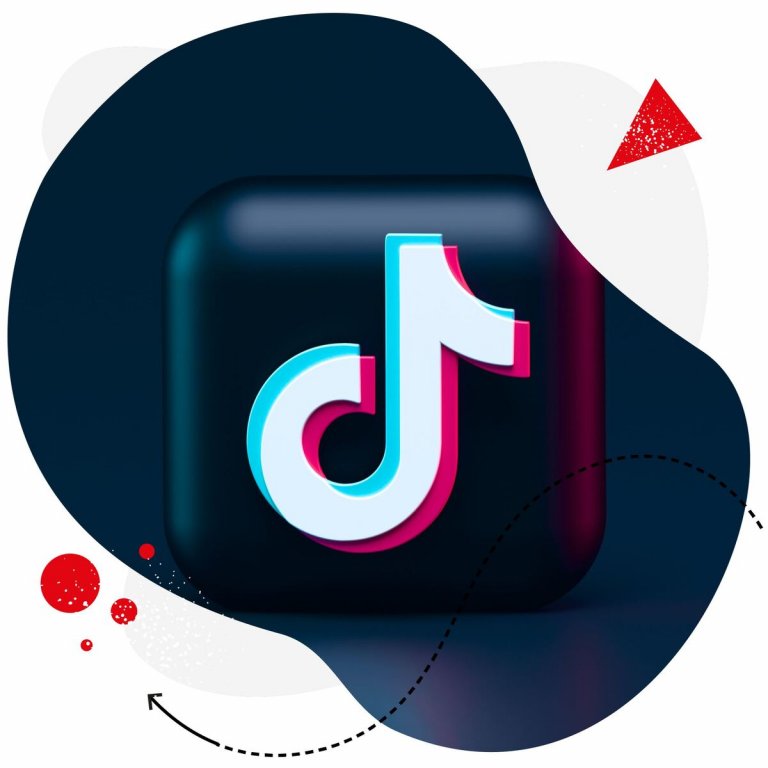 TikTok management tool for teams
Schedule your TikToks and manage TikTok comments from one place – with a simple tool designed for teams. Try NapoleonCat for free:
Try NapoleonCat free for 14 days. No credit card required.
How to turn on comments on TikTok after posting
You can also turn on comments for an existing TikTok after you've already posted it.
To do that, tap the three dots in the right-hand side menu on your video, and scroll horizontally all the way until you see the Privacy settings.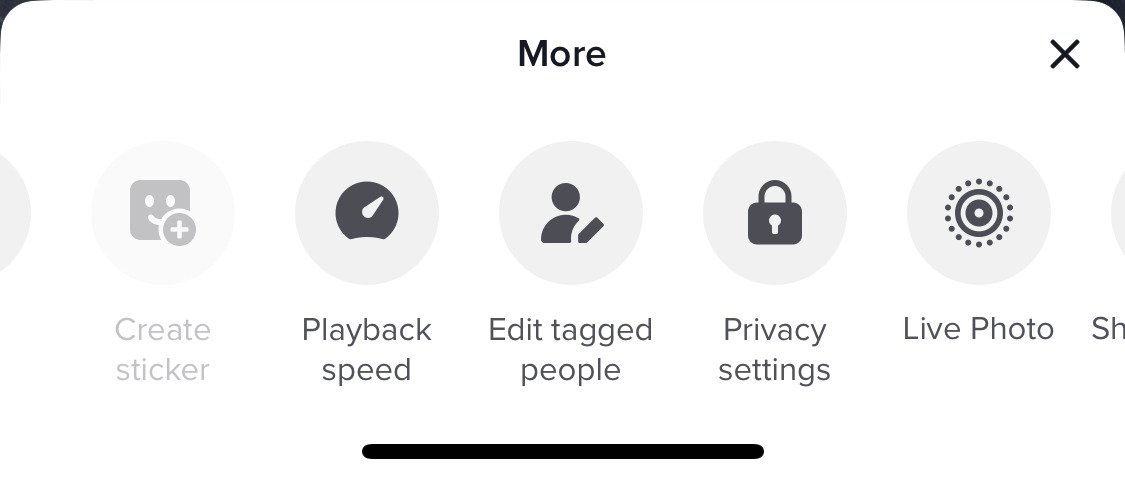 Then switch the Allow comments toggle to "on." And you're done.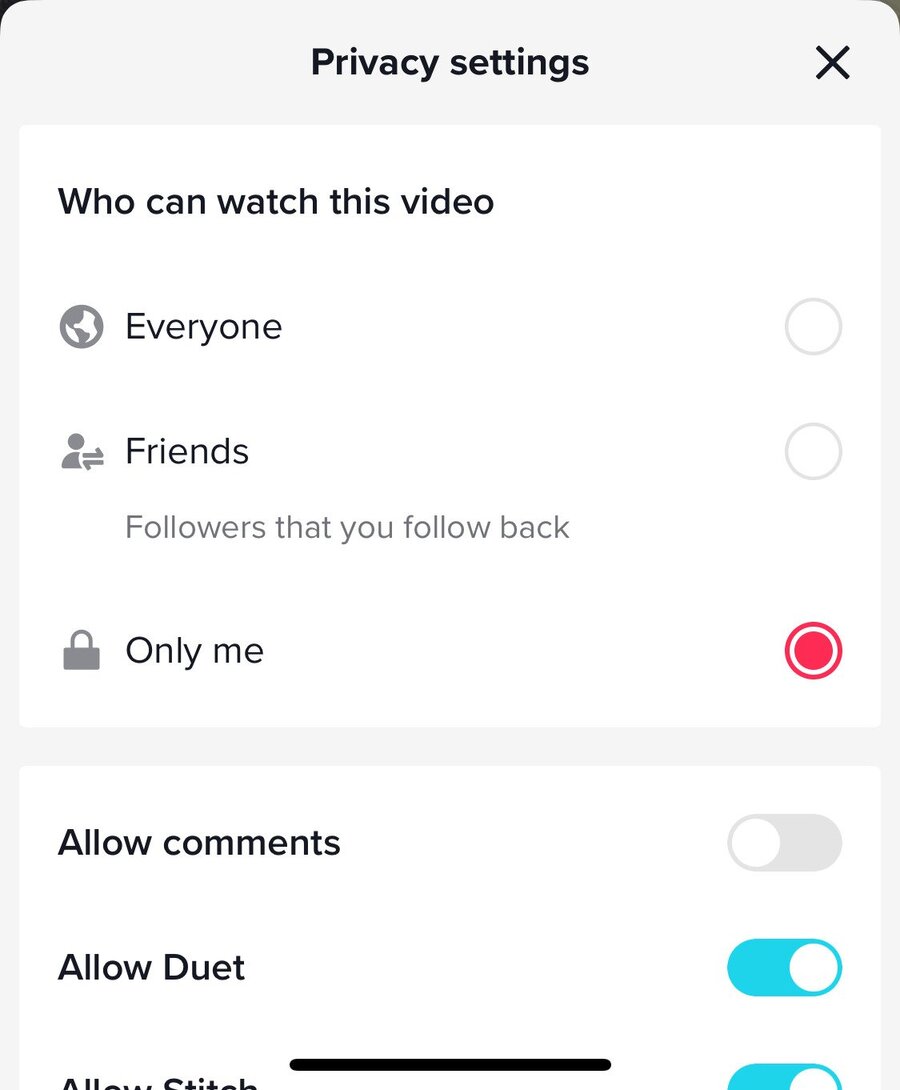 It works the same way when you want to turn comments off on a video after you've posted it (because maybe the discussion there got a little bit out of control, which sometimes happens.)
How to turn off comments for TikTok Live
You can also manage your comment settings for your TikTok Lives. When you host a TikTok Live, you can choose to hide comments, limit them, or filter them the same way you would for your regular TikTok content.
During your TikTok Lives, you can also:
Mute (a.k.a. disable comments for a specified amount of time)
Block comments with selected keywords or phrases from being posted
And send an automated message in the Live chat to let your viewers know that you're filtering comments.
Here's how to do it:
Before or during your TikTok video, go to Settings > Comments.
Then choose your fighter, I mean, preference:
Allow comments to turn them on or off during your Live
Filter comments to filter offensive or community-flagged comments.
Mute comments. Select mute duration – it can even be for the entire duration of your TikTok Live.
Block keywords – define words and phrases in the comments that will block the comment from being posted and seen by everyone.
Oh, and don't forget that the setting you select will stay on for your next Live video (until you change it.)
How to make managing your TikTok comment section a lot easier
To avoid TikTok comment overwhelm, get a social media tool that has TikTok comment managing capabilities – like NapoleonCat does. In the Social Inbox, you can see and moderate all your TikTok comments alongside interactions from your other social media channels, e.g., Instagram and Facebook.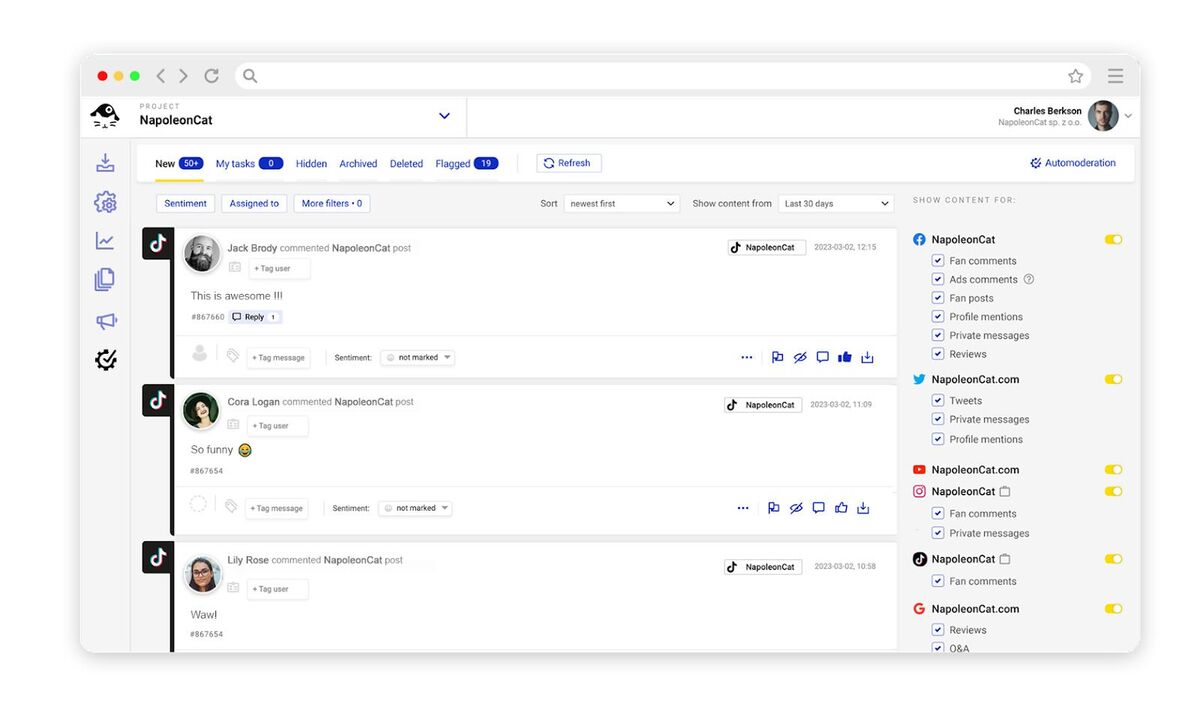 The Inbox will let you and your team do things like:
Reply to TikTok comments, like, and delete them
Flag them internally for your team
Archive them when they're sorted/replied to
Assign them to a team member like a regular customer service ticket
Add internal notes for your team
Send it for external consultation (e.g., to the client or the product team)
Automatically translate the comment and your response.
Take a look at this video to see how it works in practice:
Or better yet, sign up for the free trial, connect your TikTok account(s), and test it yourself with your team. 🙂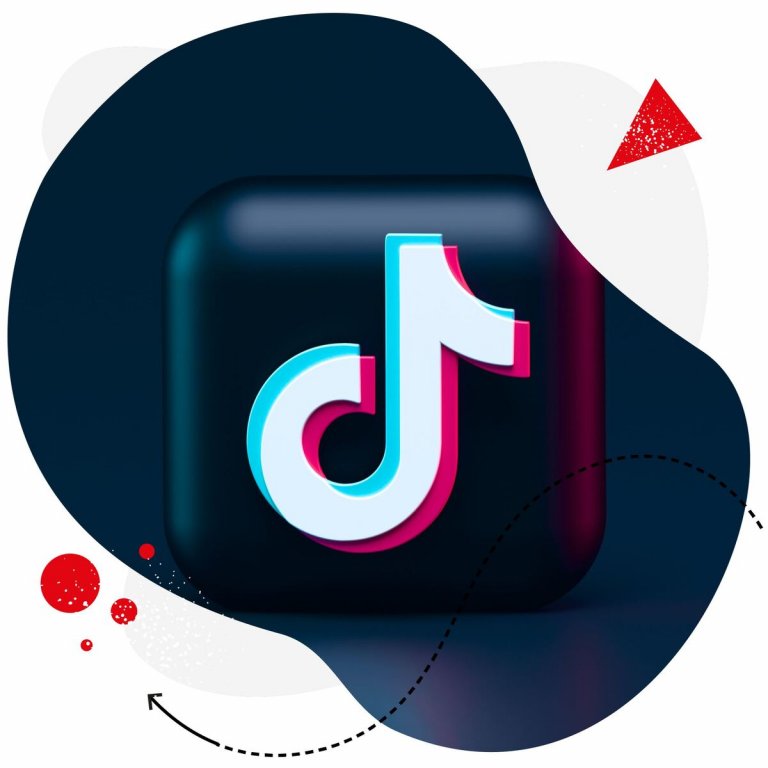 TikTok management tool for teams
Schedule your TikToks and manage TikTok comments from one place – with a simple tool designed for teams. Try NapoleonCat for free:
Try NapoleonCat free for 14 days. No credit card required.
You may also like: