When it comes to growing an audience and building a brand through videos, TikTok is a powerhouse. In fact, a Social Insider study shows that TikTok's engagement rate of 4.24% outperforms all social media platforms.

That doesn't mean you should limit yourself to one platform. If you've been crushing it on TikTok, why not bring that success over to other channels, especially Instagram Reels?
By cross-posting your TikTok videos to other social media networks, you can tap into new audiences and expand your reach beyond TikTok's boundaries.
Now if only you can get rid of that pesky TikTok watermark.
But no worries. In this guide, I'll show you how to remove TikTok watermarks using different methods and online tools, so you can proudly share your videos on any platform.
Dive in!
Here's what we'll cover: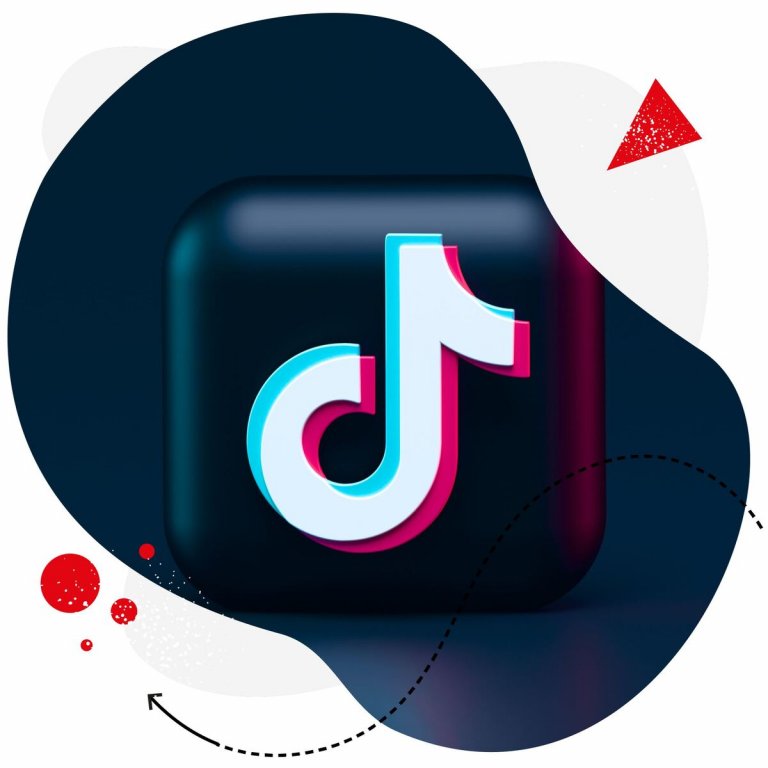 TikTok management tool for teams
Schedule your TikToks and manage TikTok comments (organic and ads) from one place – with an all-in-one social media tool designed for teams.
What is a TikTok watermark?
I'm sure you've seen one, but what exactly is a TikTok watermark?
A TikTok watermark is the superimposed graphic that appears on every TikTok video. It proudly displays the username of the original creator who published the video.
Which begs the question…
Should we be removing TikTok watermarks?
Unless the TikTok video you're removing the watermark from is yours, you shouldn't be removing TikTok watermarks. After all, a TikTok watermark works like a digital signature, ensuring that credit is given where credit is due.
If you delete a TikTok watermark with another person's username and share it in your networks, it will look like you're claiming the TikTok video as your own, and that won't be fair to the original creator of the work.
But if it's your own video and you want to cross-post to other social media channels to extend your reach, then remove that TikTok watermark by all means.
Hey, it's your own content, and you deserve the freedom to share it in the way that suits your social media strategy.
With that out of the way, let's proceed and talk about the different ways to remove that TikTok watermark from your videos.
How to remove the TikTok watermark on iOS and Android
Want to know how to remove the TikTok watermark on an iPhone or iPad? Cropping it out is the easiest way to do it.
Follow these steps:
Step 1: Download the TikTok video you want to work on.
Save it to your device's photo library or gallery. You'll need it handy for the next steps.
Step 2: Open your Photos app and then find the TikTok video you just downloaded and select it.
Step 3: Tap the Edit button.
Step 4: Select the cropping tool to crop out that TikTok watermark.
Be precise, and make sure you're getting rid of it completely.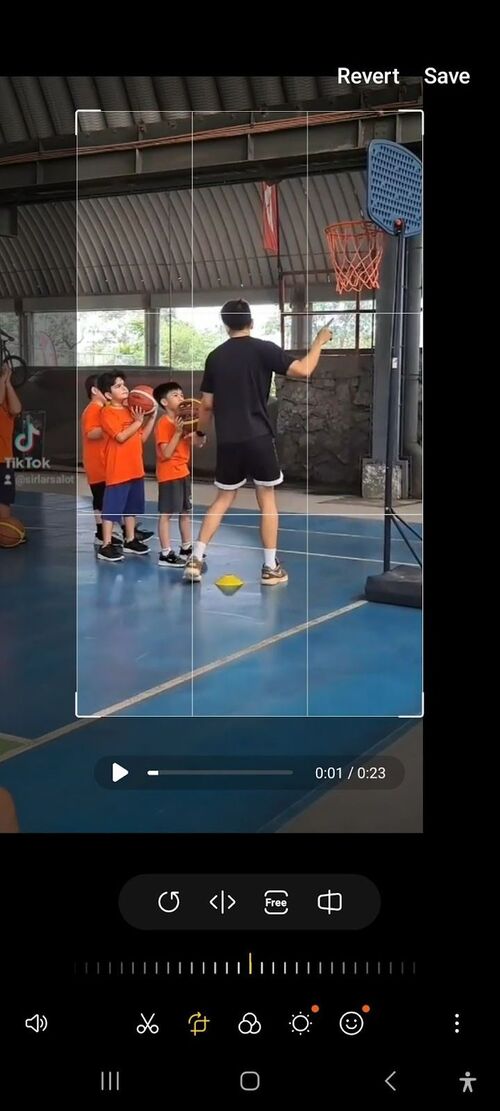 Also, the TikTok watermark loves to bounce around, so you might have to repeat this procedure at least a couple of times.
Step 5: Look for the Done button and give it a confident tap.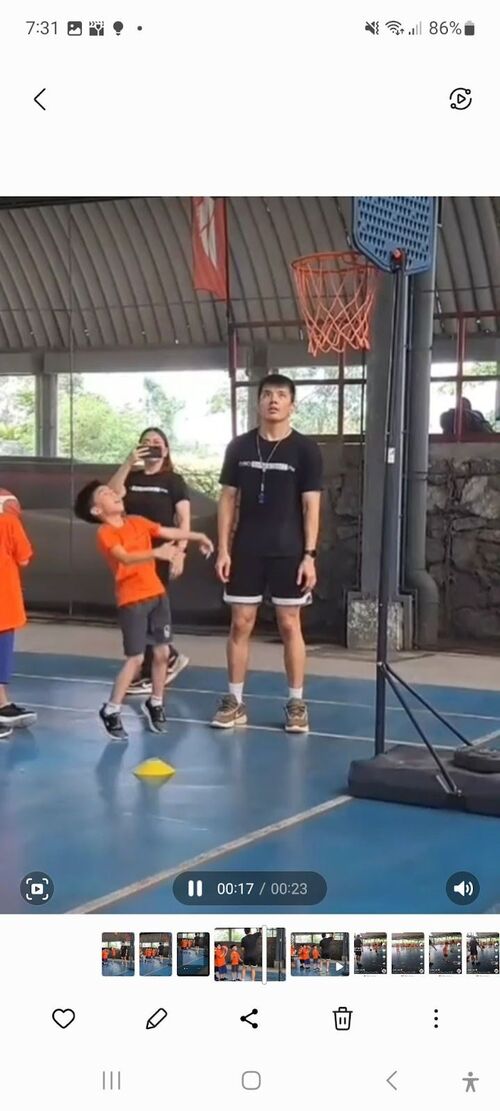 Told you it was easy!
Do take note that what you're getting out of this method is zoomed-in content, which means you're cutting out a section of the video (which negatively impacts video quality).
So if you're doing a hilarious dance routine with your pet parrot and the TikTok logo decides to block your feathered friend just as he busts out his signature move, then you're better off using another method.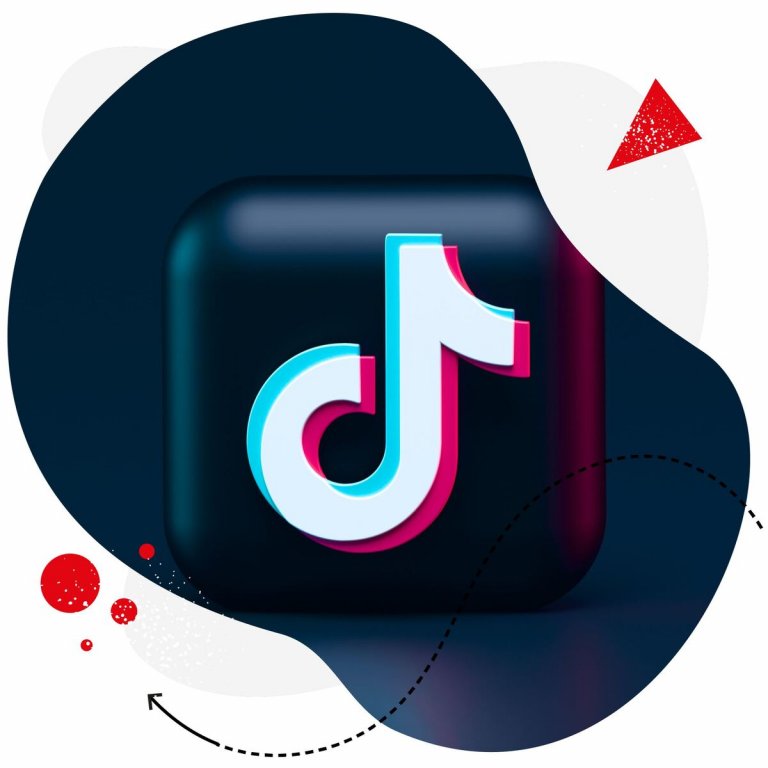 TikTok management tool for teams
Schedule your TikToks and manage TikTok comments (organic and ads) from one place – with an all-in-one social media tool designed for teams.
How to remove the TikTok watermark from a downloaded video
To download your TikTok video, simply go to the video, tap the three dots button on the right section, and then click on Save video. This will bring up the small window where you can share the video as a downloaded file wherever you prefer.
After downloading the TikTok video, time to get rid of that watermark. There are many ways to do it, but I find that the following methods are the easiest.
Overlay the TikTok watermark
Here's a nifty way to remove the TikTok watermark: Cover it up with the same section of the video during those moments when it's not watermarked.
Remember, the TikTok watermark switches from left to right at some point in the video, so it's all a matter of using a video editing tool that enables you to duplicate layers, crop and align them precisely, and create a seamless loop to cover the watermark.
There are many video editing tools that enable you to pull this off. But I find that Kapwing is the best at it.
Here are the steps to do it:
Step 1: Start by duplicating the original video layer three times in Kapwing.
Step 2: Crop two of the duplicated layers to the watermarked corners.
These cropped layers will contain the non-watermarked sections that we will overlay on top of the original video.
Step 3: Click on Open Timeline to access the timeline view and ensure that the shorter video snippets loop seamlessly throughout the entire video. This will make the non-watermarked section play continuously over the watermarked sections.
Step 4: It's important to mute the audio on the overlay videos to prevent any audio loops. Simply click on Mute for each overlay video to disable the sound.
Step 5: Once you are satisfied with the overlay placement and the looping effect, you can proceed to export your video.
And you're done!
Blur the TikTok watermark
Another method is to use the blur tool. Keep in mind that this approach requires the use of third-party apps or tools that can add a blur effect to the watermark.
This works if you want a quick way to hide that TikTok watermark. That said, I'm not a big fan of this method since all you get is a blurred watermark, which makes the video visually unappealing (at least upon closer look).
Now, while I don't highly recommend this method, this still works when the area in the video you want to blur is just dead space.
So, if you're still interested in giving it a shot, you can search for "blur video" in your phone's App Store. There are various tools and apps specifically designed for adding a blur effect to parts of your video, and they generally work in a similar way.
Step 1: Select the video you want to blur the watermark on.
Step 2: At the top center of the screen, choose between Blur or Pixelate to decide the type of effect you want.
Step 3: Tap on Add Blur at the bottom-left corner of the screen.
Step 4: Move the blur circle to the location of the watermark to blur it out effectively.
Step 5: Repeat the process of adding multiple blurs whenever the watermark moves around in the video.
Step 6: Once you've covered all the watermarks, tap on Save to preserve your newly edited video.
And you're off to the races.
Use AI to remove TikTok watermark from video
Artificial Intelligence is becoming a bigger deal these days, so it's not surprising that many video editing apps are employing AI technology for video editing.
As a result, editing TikTok watermarks (or any type of watermark, for that matter) has never been easier.
The best part? You don't need to be a video editing whiz to do it.
Wondershare UniConverter is an example of a video editing tool that uses AI. Here's how to remove your TikTok video's watermark using the tool.
Step 1: Install the software on your device and launch it.
Step 2: Within the software, go to the Toolbox section and click on Remove Watermark under the AI LAB feature.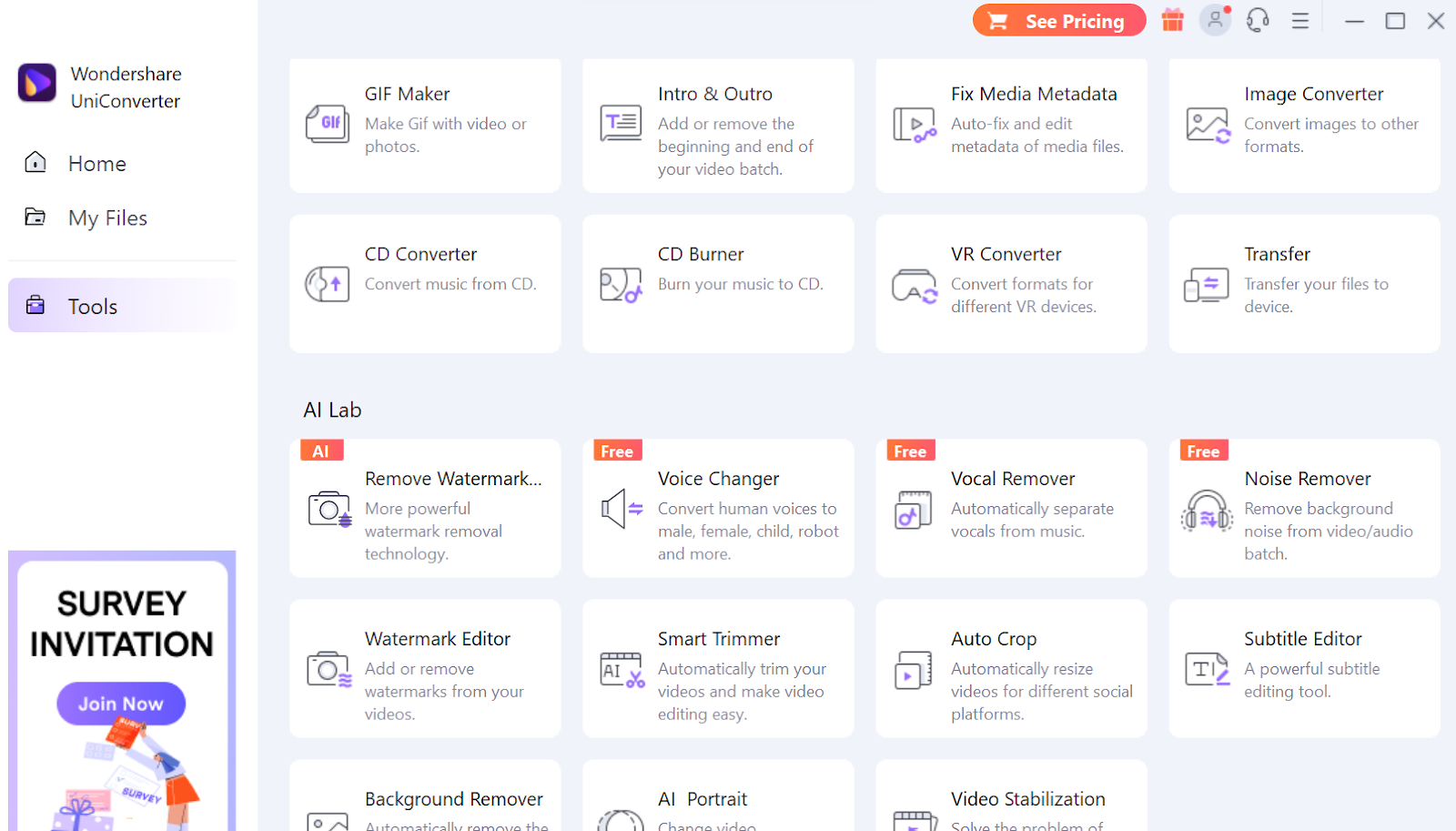 Step 3: Add the TikTok video you wish to work with by clicking the "Add" button. The software will guide you to the designated area.
Step 4: To get rid of the TikTok watermark, click on Select Area positioned in the upper right corner.
A small square box will appear on your video. Adjust the position and size of the box until it perfectly covers the watermark.
Step 5: Once you have set the area, click on the Remove Watermark button located at the bottom right of your tool's dashboard.
Step 6: Watch as the AI technology performs its wizardry and eliminates the watermark from your video.
And just like that, your TikTok video is without a watermark.
How to remove the TikTok watermark online
The simplest and quickest way to remove TikTok watermarks when you're online is to download the TikTok video without the watermark.
Yep, it can be done – with the help of video editing apps.
Let's use Snaptik as an example. Here's how:
Step 1: Start by opening the SnapTik homepage in your web browser.
Step 2: Next, open TikTok and locate the video you want to save without the watermark.
Step 3: On the right side of the video, click the "three dots" button. A box with multiple options will pop up. Click on Copy Link.
Step 4: Return to the SnapTik homepage and paste the copied TikTok video link into the provided box.

Step 5: Click the Download button on SnapTik's website.
Step 6: Wait for the file to process. Once the processing is complete, a "Download" button will appear.
Step 7: Click the Download button again to save the video file in an MP4 format.
And you're done! You now have your TikTok video without the watermark ready to use or share as you please.
Best TikTok watermark removers
As you probably noticed, removing TikTok watermarks is all about choosing the right tools. The TikTok watermark remover you should use depends on the method you want to employ.
Here are a few options to consider:
Wondershare UniConverter: You saw it for yourself: Wondershare UniConverter can remove watermarks from videos and images with just one click. It also supports a wide range of watermark types, including text, logos, and timestamps.
Snaptik: The SnapTik app on Google Play is a TikTok watermark remover that also functions as a downloader for TikTok videos and audio. It can help users save TikTok videos and audio without a watermark.
MusicallyDown: MusicallyDown is one of the best tools for downloading TikTok videos without a watermark. When it comes to ease of use, not many video editing tools can compare.
How to cross-post TikTok content to other social media channels
Now that you know how to remove the TikTok watermarks from your TikTok videos, it's time for you to share or repurpose your TikTok videos (sans the watermark) to other social media networks.
Repurpose your TikTok videos
Consider repurposing your TikTok videos to fit the requirements and formats of different social media channels. For example, if you're sharing on Twitter, you can trim your TikTok video to fit within the 2-minute and 20-second limit.
By adapting your content to each platform, you can optimize its performance and reach a wider audience. Here's a handy social media video specs guide by Influencer Marketing Hub to serve as a reference.
Tailor your captions
Take the time to customize your captions to fit the tone and preferences of each platform. For example, if you're sharing on Instagram, you may want to craft a longer, storytelling caption that engages users. On Twitter, you'll need to condense your message into 280 characters or less, while on Facebook, you can go into more detail.
Research relevant hashtags
Before sharing your videos on different platforms, research and identify popular and trending hashtags that are relevant to the content you're sharing. Each platform has its own set of hashtags that are commonly used and can help increase the discoverability of your videos. How you use hashtags on Instagram should be different from how you use them on TikTok.
Use a social media management tool for easier cross-platform publishing
As you continue to crush it on TikTok and spread your awesome content to other social media channels, there will come a point when managing multiple social media platforms can get overwhelming.
If you want to save time (and some sanity), consider using a social media management tool like NapoleonCat, especially if you need TikTok management tools for expanding your reach and growing your business.
As a social media management tool, NapoleonCat provides you with a centralized platform where you can schedule, publish, and track your content across various platforms, including TikTok and others.
And that's just for starters. Here are many other ways NapoleonCat can fuel your social media strategy:
Centralized scheduling: Schedule your TikTok videos to be automatically published on multiple platforms simultaneously, eliminating the need for manual uploads.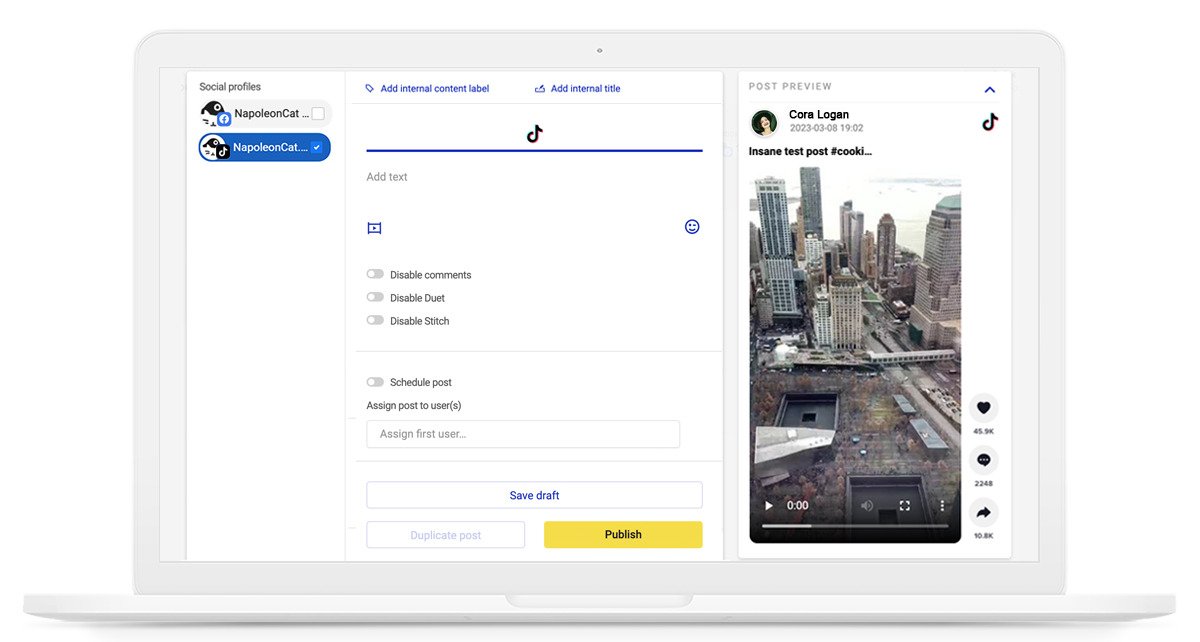 Multi-platform support: Supports all the platforms you want to cross-post to, like TikTok, Instagram, Facebook, LinkedIn, and Google My Business. Manage all your accounts from one place, ensuring consistency.
Customization: Easily customize your content for each platform within the tool, adjusting captions, hashtags, and aspect ratios to suit their requirements.
Collaboration and team management: If you work with a team or manage multiple accounts, a social media management tool enables seamless collaboration and workflow coordination.
Engage with your audience at scale: Manage all your TikTok interactions (comments – both organic and ads) across multiple TikTok accounts (and over multiple social media platforms) in one convenient dashboard.
Auto-translation feature: This feature automatically translates TikTok comments into your language (or other languages). This way, you can connect with users across diverse backgrounds and be able to quickly respond to your audiences wherever they may be from.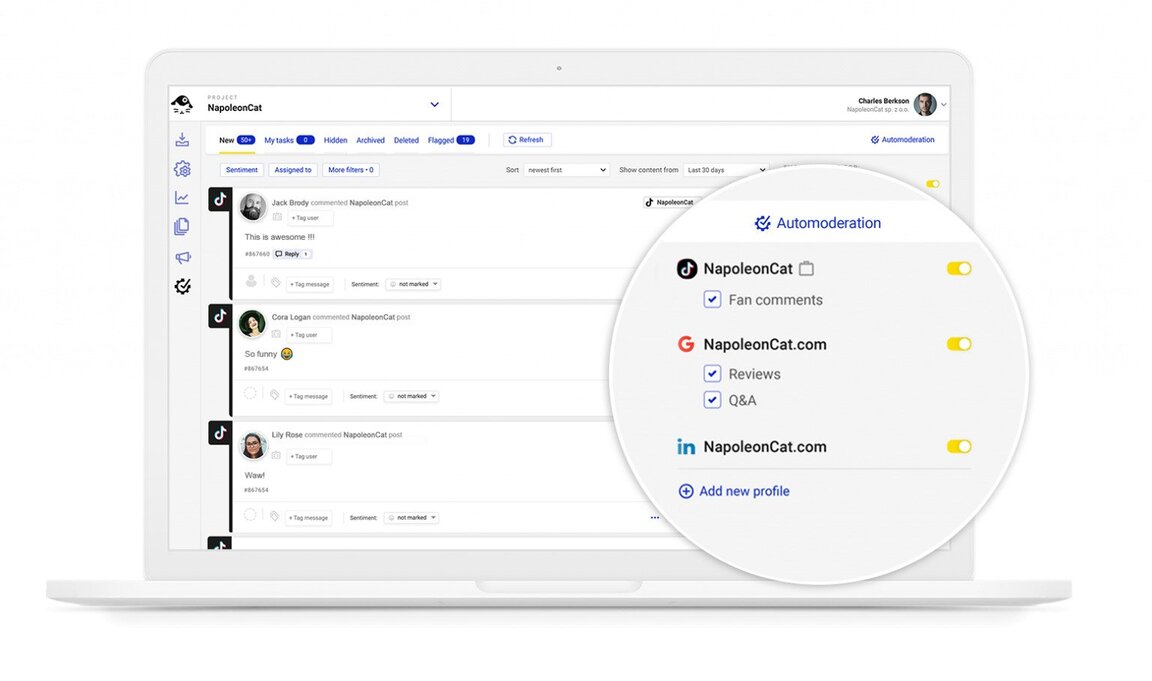 We highly recommend you test NapoleonCat for free here – no credit card required during signup 😉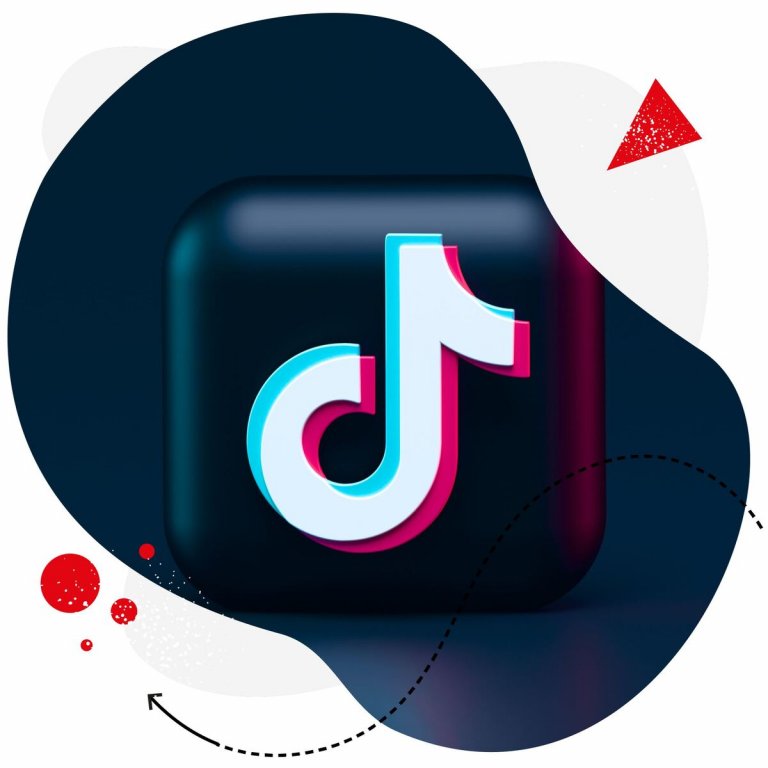 TikTok management tool for teams
Schedule your TikToks and manage TikTok comments (organic and ads) from one place – with an all-in-one social media tool designed for teams.
Wrap up
Remember, TikTok is just the beginning. By diversifying your presence across different platforms and optimizing your content for each one, you can reach new audiences, build your brand, and continue to thrive as a content creator.
But first, you need to remove those watermarks. That done, you have everything you need to conquer the social media landscape. Good luck!
You may also like: