With over 1 billion users, Instagram has grown to be one of the biggest and the most influential social networks in the world. The more people use it, the more valuable it becomes to brands as a marketing channel – and building an engaging Instagram presence requires frequent posting. This can get a little overwhelming unless you come prepared.
Posting on Instagram manually is becoming an outdated concept. What if you manage multiple Instagram business accounts or publish posts during the precise times your followers are most active – which might fall outside of your work hours? Or what if you simply have to publish a multitude of posts a day? Our new Instagram Scheduler can help you with all the above and more.
Before we get into the details of using our Scheduler, let's list the main advantages of automatic publishing on Instagram:
Posting to Instagram directly from desktop devices
Have you ever been frustrated with how your phone is just, you know, a lot less convenient for crafting and uploading content than your computer? I surely have. Thankfully, with our Scheduler, you can schedule and publish posts directly from your computer.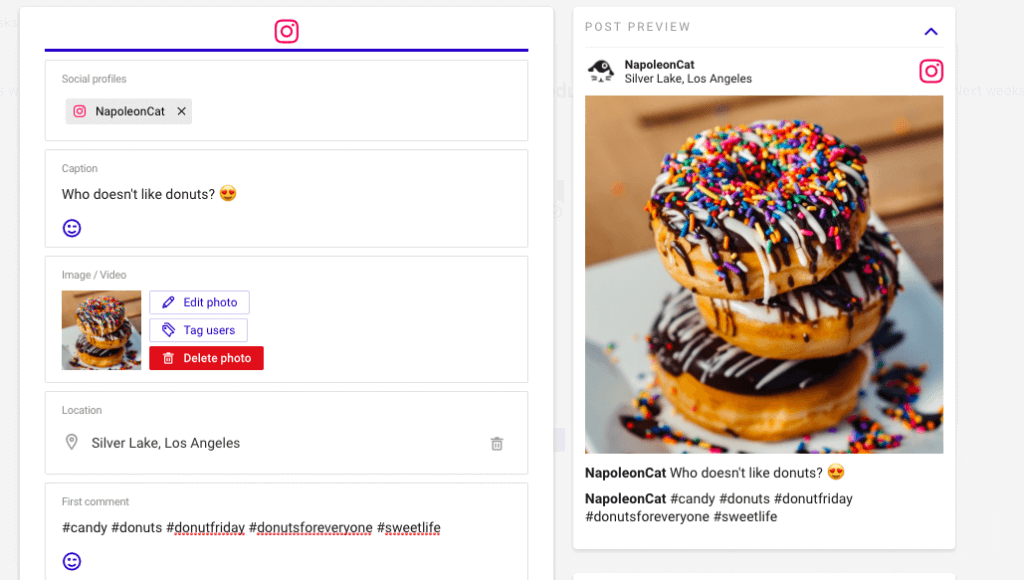 Publishing when your audience is most active
One of the most important aspects of scheduling posts on Instagram is that you don't have to wait for that perfect moment to publish your post. You just set the date and time in advance and you're good to go. Posting during the right hours gives you a bigger chance to reach more people and generate higher engagement rates. You can read all about finding the perfect time to publish your posts in our article on Instagram analytics here.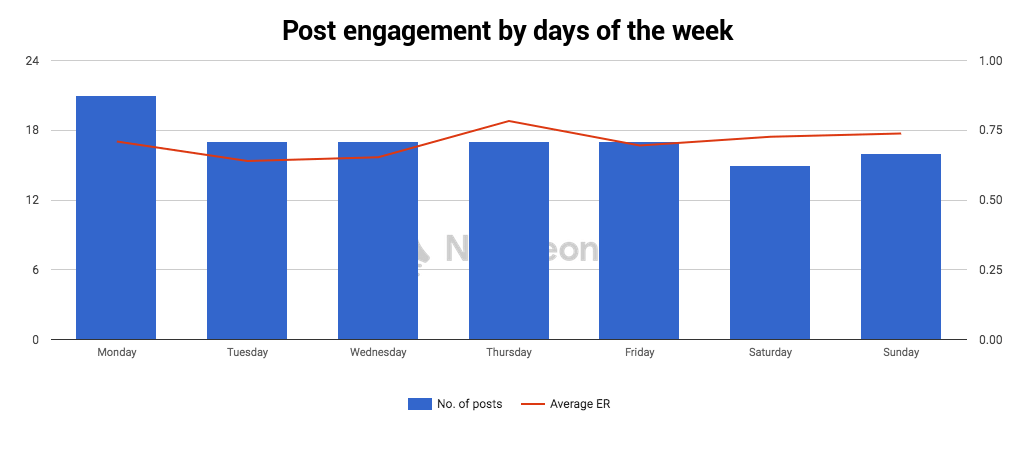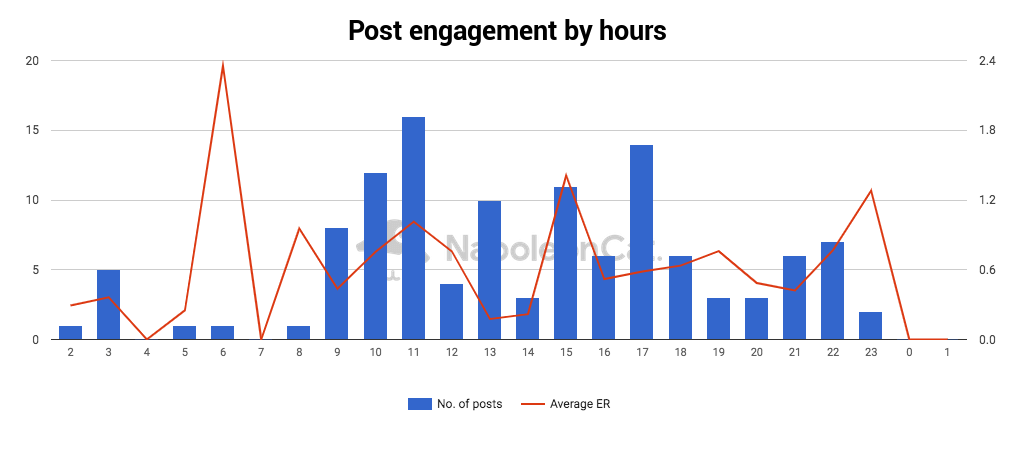 Crafting posts and saving drafts
With our Instagram Scheduler, you can basically craft your posts from A to Z. Start with uploading an image or a video file. Then, add a caption, schedule the first comment (e.g. if you wish to add some Instagram hashtags right below the post instead of in the caption for aesthetic purposes), tag other users, the location… Basically, you can do everything that's possible from within the Instagram app, and more. You can also save your posts as drafts if you wish to review them later on.
Teamwork
If you work as part of a team of social media moderators, you can easily share your content calendar and manage your content collectively. No more guessing who's done what and when. You can also brainstorm ideas or improve each other's content. This way the process of internal communication is nicely streamlined and it's easier to come up with new, creative ideas.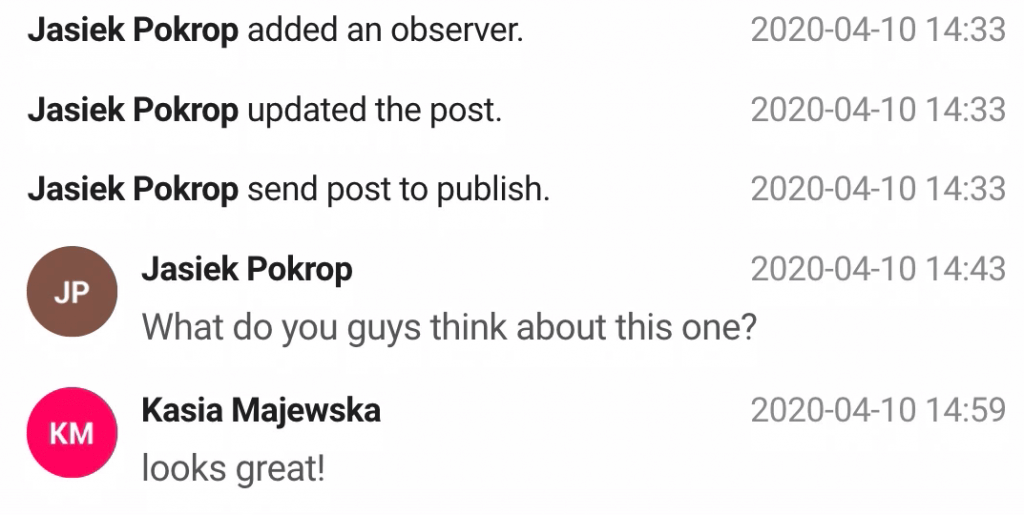 Minding the big picture
The "side effect" of scheduling your Instagram posts is creating a content calendar. It's where you'll see a nice overview of all your upcoming publications. Having that one simple view is great for figuring out whether your scheduled and published posts are on par with your larger content strategy.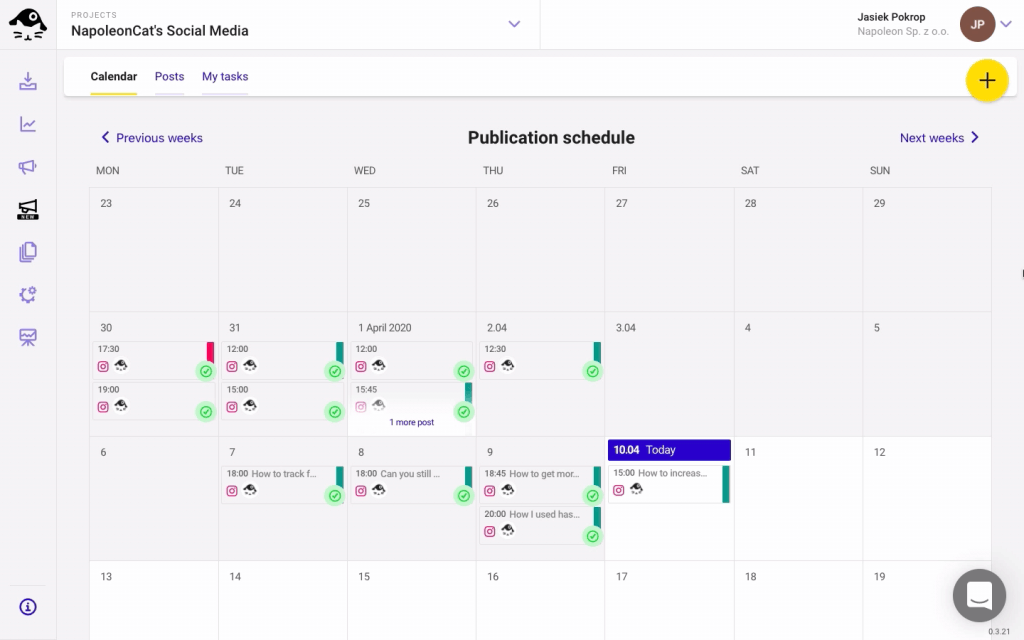 Saving time
Instead of switching from one marketing task to another, you can try and schedule a bunch of posts at once. After that, you can just sit back and enjoy life knowing that NapoleonCat will automatically do the publishing for you.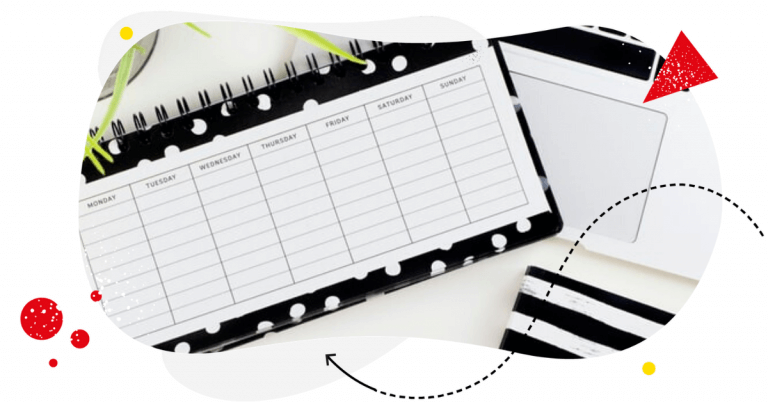 Schedule unlimited Instagram posts
Craft, schedule, and publish Instagram posts directly to Instagram. Use our solutions for teams and organize efficient workflows. Try it for free:
Try NapoleonCat free for 14 days. No credit card required.
How to schedule posts with NapoleonCat:
If you're ready to get started with the Instagram Scheduler, you can check out the video tutorial we made for your convenience – or just keep scrolling to read the instructions.
Once you connect your Instagram account with NapoleonCat (click here to read the how-to), go to the Scheduler module and click the plus icon in the top-right corner or pick the date on the calendar.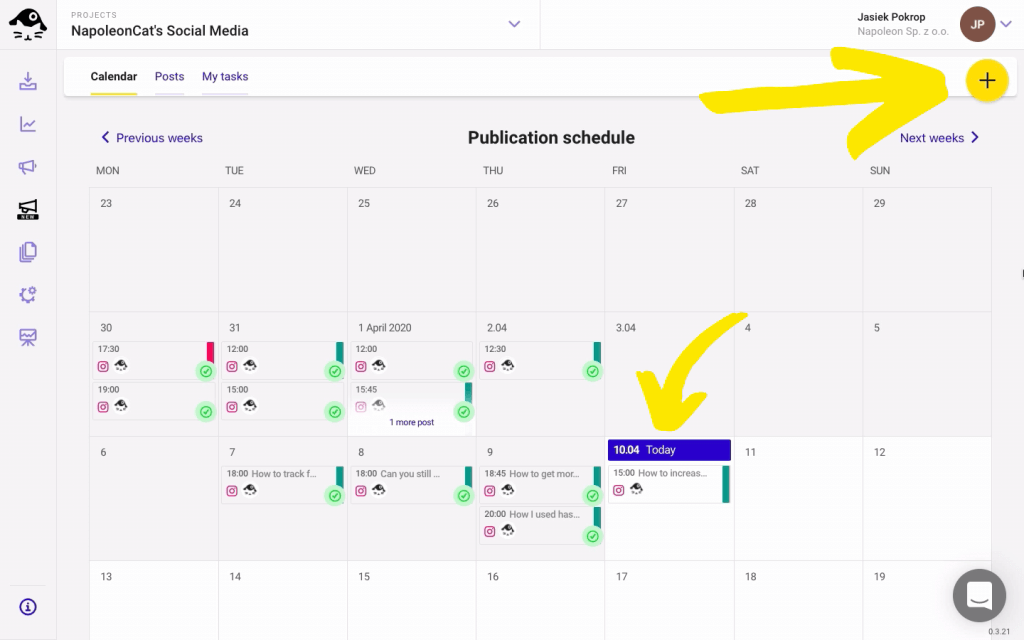 At this stage, you'll be able to start composing your post. First, pick one or more Instagram profiles you want to schedule the post for. You can choose up to 50 accounts.

Then, add an image or a video file. You can adjust your image ratio and reframe it if needed.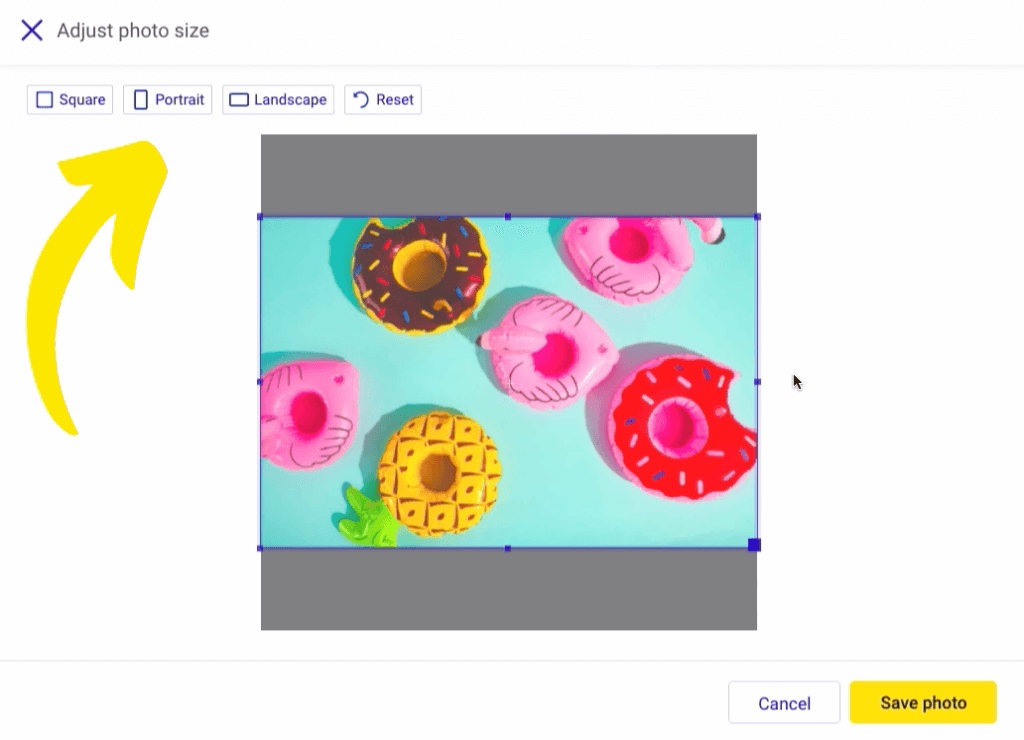 You can add a caption to your post as well as schedule the first comment. Use hashtags and emojis to your heart's content!
If you want, you can also tag other Instagram accounts in your content and mark the location.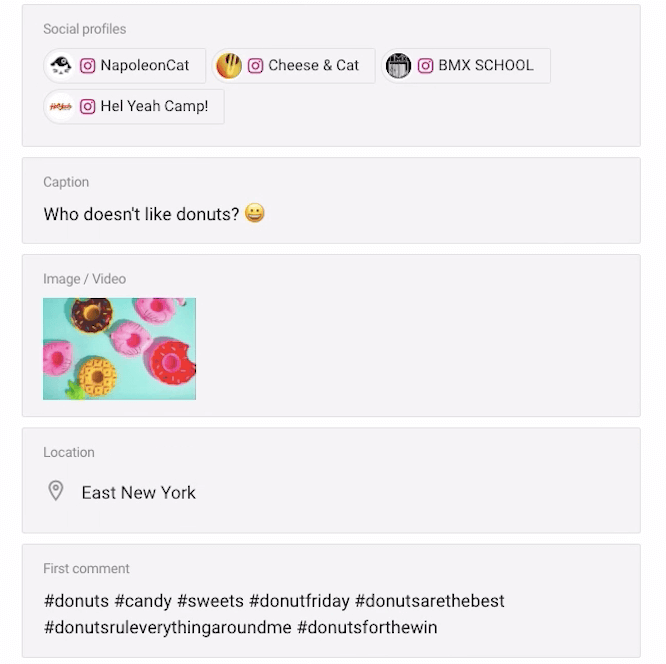 Now it's time to set the date and time you want your post to go live. Or, if you want to publish it right away, switch to publishing mode.

Your post is good to go! Or you can save it as a draft in case you want to review it a bit later. When the post is published, you will receive a notification via email just to remind you that NapoleonCat is taking care of your business when you're busy partying 🙂
If you just want to keep others in the loop, you can add them as subscribers to any post. They will be notified of the progress and any changes to the post in question.
And what if you want to involve your teammates or your customer in the process? It's easy. You can assign any post to other users so they know the ball is in their court. The discussion widget helps you coordinate your teams' work and track all changes made to posts. Long live transparency – no more guessing who's done what and when!
To better organize your content, you can use internal post titles and color-coded labels. They will show up on the calendar and post lists so you can easily see which of your current campaigns or product lines are taken care of and which need some more love.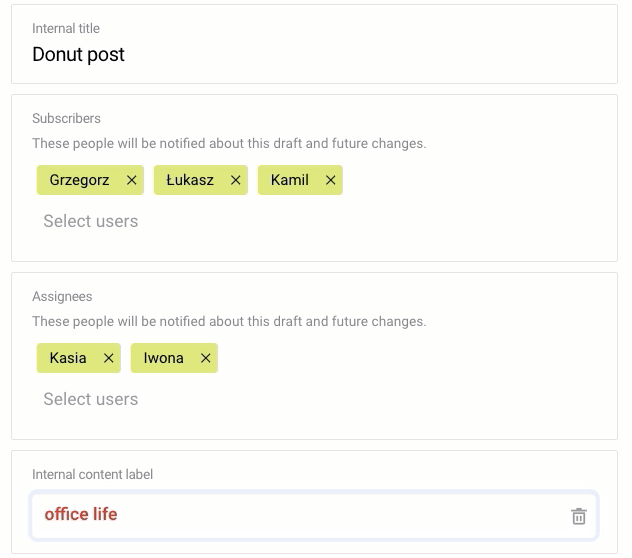 Conclusion
The more Instagram accounts and content you have to manage, the more you need to start looking for technology that will make your job easier. In the case of NapoleonCat's Instagram Scheduler, you can also make the job easier for your whole team. The features that we've built into the tool will help you spend more time strategizing and enjoying life, and less time waiting for that perfect moment to publish your posts in the middle of the night, when a segment of your audience across the globe is active on Instagram. Everybody wins!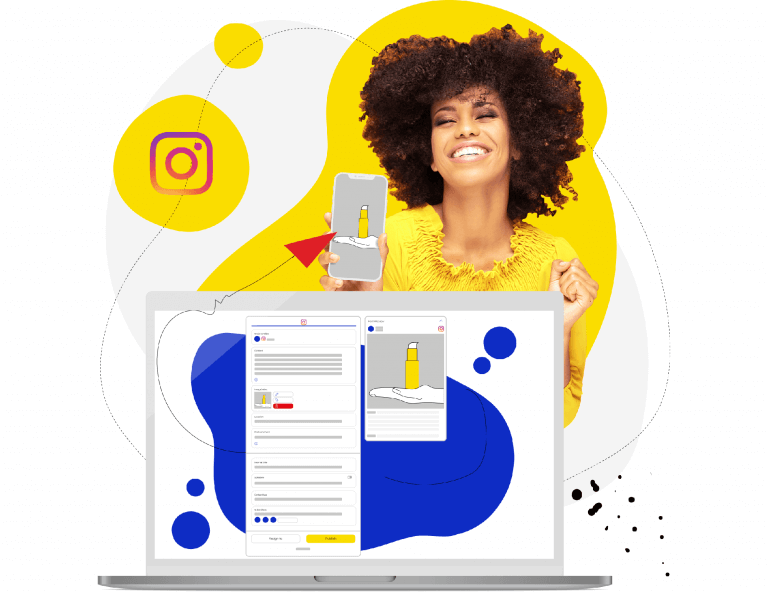 Schedule Instagram posts for multiple accounts
Schedule posts and focus on more strategic tasks. Try it for free:
Try NapoleonCat free for 14 days. No credit card required.
Want to learn more about Instagram marketing? Check out our other articles: