If you're a social media manager or business owner constantly looking for ways to up your Instagram engagement rates, carousels are definitely worth your time.

Here's how to create and schedule an Instagram carousel step by step. Plus, a bunch of ideas to help you make people want to watch the whole thing the second it pops into their feed.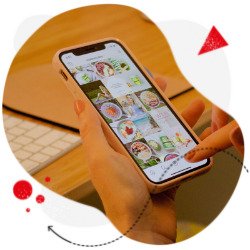 Schedule Instagram Carousels
Seamlessly schedule your Instagram carousels to multiple accounts at once. Try NapoleonCat for free:
Try NapoleonCat free for 14 days. No credit card required.
What is an Instagram carousel
Carousels on Instagram are a little like what we used to call slideshows back in the day. They're a set (up to 10) of images or videos (or a mix of both) your followers can swipe through in their feed.
Other than that, they're pretty much like regular posts in your feed, with a caption and all the other features of a feed post.
Here's what a carousel looks like:
Why should you use Instagram carousel posts?
The thing about Instagram carousels is that they've got the potential to keep your follower's attention for longer than just one image or video with a caption. If only because people have to go through multiple photos (or videos), spending more time on the actual post. And that'll also give the Instagram algorithm the signal that your content is attractive to people.
There is a "but" here, though. The sheer fact of having more than one image might not be enough to do that. It's not some "magic trick" that instantly gets people engaged. Your content does need to also be interesting and engaging and not just spread over several "slides." But no worries, I'll share a few tips related to that one a little later in this post.
Let's first focus on a few technicalities – like how to schedule Instagram carousels.
How to post a carousel on Instagram
You can post carousels in two ways – either directly in the Instagram app or on your phone or via a third-party app like NapoleonCat that will let you schedule it for later.
I'll show you how to do it both ways.
Posting an Instagram carousel directly on Instagram
Posting a carousel works just the same as posting a regular feed post – only you'll be adding more images than usual. And it's pretty easy to do that, though it's not the most intuitive user experience I've seen, to be totally honest.
After you've started a new post and selected the first photo or video, you'll see this icon below it: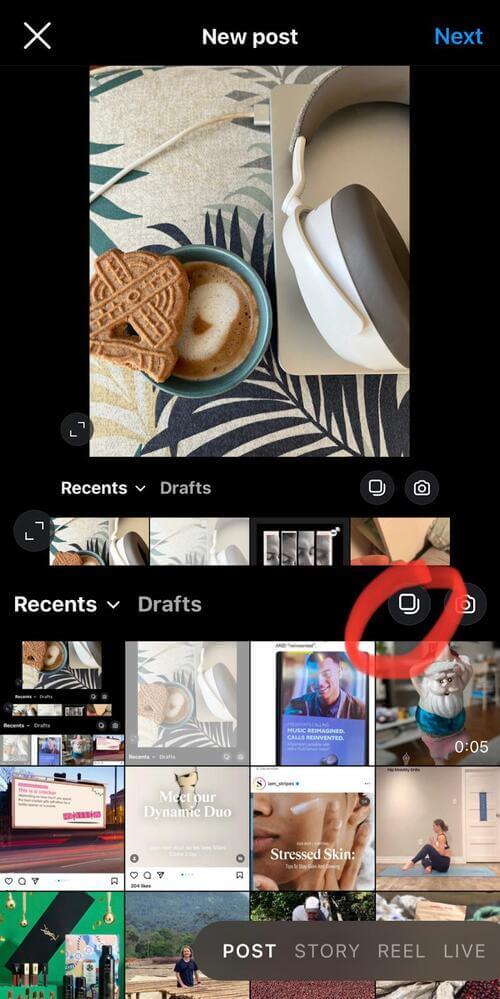 When you tap it, you'll have the option to select up to 9 more images/videos from your camera roll. The order you'll select them in will be the order they'll appear in your Instagram carousel.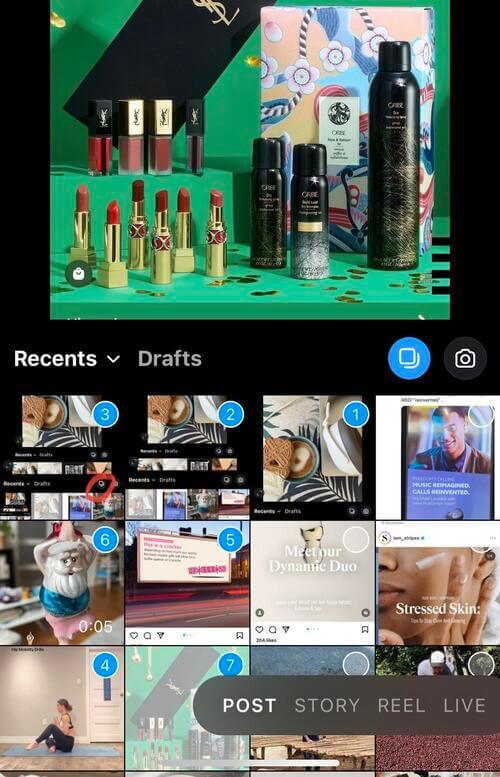 (And yes, I'm a marketer, my camera roll mostly consists of screenshots.)
When you're done selecting your pics, click next, and continue editing your post. You'll be able to add one of the standard filters to each of your photos, one by one.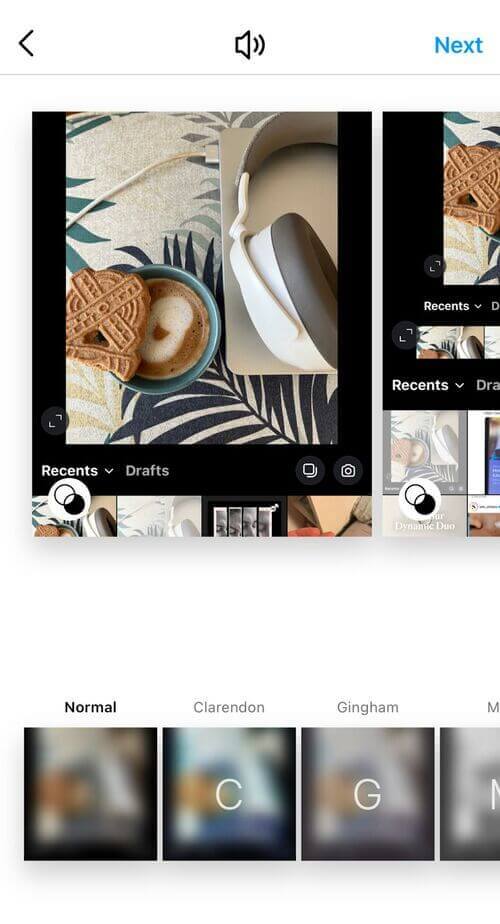 Then write your caption and add your hashtags. You can also add a location or tag people like you normally would in a post. Or add a message button and a reminder.
And then publish your post. Done!
Scheduling an Instagram carousel in NapoleonCat
If you like to plan your social media content in advance and then go on to do other stuff while it gets published automatically, you can also schedule Instagram carousel posts using Instagram management tools for business, like NapoleonCat.
And the process is pretty much the same, except you're not using the native Instagram app.
In NapoleonCat, go to the Publisher and click on a date in the content calendar. Then select your Instagram account (or accounts, as you can post to many accounts at the same time), and proceed as usual:
Add your images and videos
Add the caption and hashtags (if you want, you can add your hashtags in the first comment posted automatically)
Add the location
Tag other Instagram accounts
Select your image format (square or landscape/portrait). It'll automatically be applied to all images, just like when you use the Instagram app to post your carousels.
Then select the time to automatically post your carousel.
In NapoleonCat, you can also assign the post to your teammates or your manager for approval and to exchange feedback before it goes live.
And that way, you can schedule as many carousels as you want (and have the visual assets for.)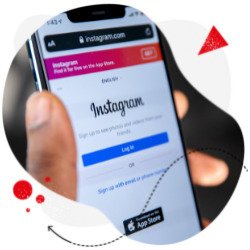 Schedule Instagram Carousels
Schedule and auto-publish Instagram carousels to multiple accounts at once. Try NapoleonCat for free:
Try NapoleonCat free for 14 days. No credit card required.
Instagram carousel sizes and specs
You can add up to 10 photos or videos, and you can mix the two within one carousel, which is a great way to add more variety to your posts.
Here are a few numbers you should remember – they'll be slightly different depending on the format you pick.
Recommended Instagram image carousel sizes:
Square: 180 × 180 pixels
Landscape (horizontal): 1080 × 566 pixels
Portrait (vertical): 1080 × 1350 pixels
Recommended Instagram video carousel sizes:
Length: 3 to 60 seconds
File formats: .mp4 or .mov
Maximum video size: 4GB
Image and video aspect ratio
Square: 1:1
Landscape: 1.91:1
Portrait: 4:5
9 ways to use Instagram carousel posts to increase engagement
(Because we're soooo over round numbers like 10.)
As I said before, it's not enough to simply add several images to a post to guarantee high engagement (and avoid being scrolled over in the Instagram feed). There are some things you can do to increase your chances of grabbing (and keeping!) your audience's attention.
Here are a few.
Start with a hook
In writing, a hook is your attention grabber – something that will stand out in the feed while someone's scrolling it and will make them stop scrolling. These days, it's not an easy fit, but it's absolutely doable. 🙂
Think of a sentence or an image (or a combination) that'll get people interested. It might be something funny, maybe even weird (but you know, reasonably weird), or unexpected.
Here's an example of what I mean:
Make it clear there's more
Once you have their attention, make sure it's super clear that people need to go through all the images to get the whole story. Adding clear instructions to tap usually does the trick.
(And don't assume they'll know there's more to see. They might, but they might also be distracted or not notice it's a carousel and not a single-image post. Better be safe than sorry.)
Here's a great example (though the one above also does it really well.)
Tell a story
What's beyond the hook should be able to keep the attention that you just grabbed (and that's so easy to lose!) So your individual slides in your carousel should come together and make your followers want to keep swiping left to get to the end.
And that's not just for when your Instagram carousel contains only text that talks about something. When you're using just images, order them in a way that makes sense, and that creates a coherent, interesting whole.
Ask a question
Asking a question is always a good idea if you want to get engagement. I mean, if you don't ask your audience questions in your social media content, how can you expect them to respond?
It might be as simple as asking them how they like your new products or services or what they think about what you just posted. You can also turn asking questions into a quiz or game – who doesn't like quizzes?!
Here's a really cool example:
Make your content easy to digest
(We used to call it bite-sized content for a reason.)
Don't overwhelm your readers with walls of text – Instagram is probably not the best place for super long-form content.
Instead, use each image to present a short, easy-to-read tip or a thought that won't bore your reader. And make it visually appealing, too – you're on Instagram, after all, and it's a heavily visual medium, remember?
You can also use carousels to extract important information from other content like ebooks or long-form guides. They can serve as easy-to-share teasers than can actually help you reach more people with your content.
Aim for visual appeal and consistency
Speaking of visuals, you don't have to be a designer (or have a designer on your team.) Today, there's a plethora of apps that can help you create nice-looking images for your socials (like Canva, for one). And even if your Instagram carousels are text only, as in some of the examples above, they can still look appealing and on-brand.
Plus, the more attractive they are to your reader's eye, the easier they'll catch it. 👁️
Show off the people behind your brand
People like seeing the brands and products they love are created by people, too. And it so happens that Instagram carousels are the perfect format to introduce your team to your followers.
Use them to create a series of profiles of your employees or add one carousel with all team members, like in the example below.
Focus on the details
Carousels are also a great way to highlight different aspects of your product or service:
Show different products in your collection
Show your products from different angles or in different settings
Explore different features or use cases of your product
Add customer reviews and other user-generated content
Etc.
A simple carousel like the one below already makes the product more appealing (though I would eat it just after seeing the first pic, honestly.)
You can also put your product in a broader context, show the people behind it and where it comes from, like in the case of this coffee:
Make it easy to shop your products
Instagram carousels are also a great way to present and tag your products, making it easy to buy them from just one post. They're also perfect for things like shopping guides and shoppable gift guides, like in this example from Sephora:
Ready for your carousel ride?
It's enough to just go on Instagram and scroll through all the content to find more cool examples of how to use Instagram carousels in many different ways. Once you get the hang of it, I'm sure you'll be hooked and looking for exciting new ideas yourself. Hope these tips will get you started – and your Instagram audience super engaged. 🙂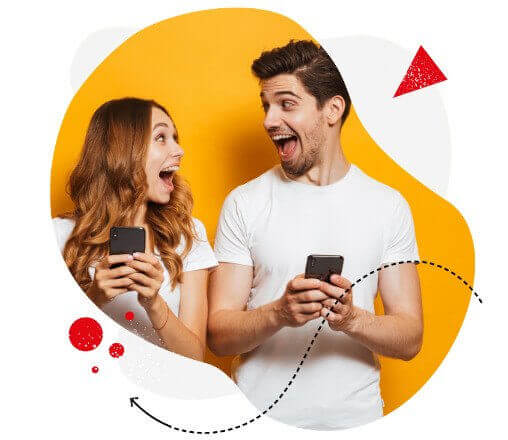 Instagram marketing made easier (especially for teams)
Automation, analytics, reporting, scheduling, and more. Try NapoleonCat and save 90% of your time spent on your marketing tasks. Try it for free:
Try NapoleonCat free for 14 days. No credit card required.