Although Google My Business was launched in 2014, Google only started enhancing the tool with many new features in 2019. The updates have led to a dynamically growing number of client reviews, which, in turn, has resulted in the creation of another influential communication channel between companies and their clients.
Brands are now required to dedicate appropriate attention to yet another online platform. This is especially demanding for companies with dozens or even hundreds of locations, as each of them has a profile on GMB which individually receives reviews and queries on a daily basis.
Such was the challenge faced by CCC, a popular European footwear retailer and producer, who have as many as 496 locations listed in Google Maps.
Each day, our customer support team had to go through dozens of folders to access all the new client reviews and then answer them one by one. This process was tiresome, incredibly time-consuming, and sadly, often ineffective.

– Robert Prokopowicz, Customer Service Manager at CCC
When looking for an optimal solution that would improve the handling of client communication, CCC decided to use NapoleonCat's Social Inbox, a tool designed to help community managers handle all the reviews from multiple locations using one dashboard. As a result, even large businesses are able to make full use of the potential of Google My Business in the context of efficient and fast customer service.


What makes customer feedback so important?
According to a report by BrightLocal, as many as 82% of consumers read online reviews when looking for local businesses.
At the same time, only half of the respondents would consider supporting a business with a rating lower than 4 stars. What's more, a whopping 97% of consumers who read reviews also read businesses' responses to these reviews. This shows the degree of influence that client feedback and brand reactions have on purchasing decisions.
Another crucial aspect of the client reviews published online is the feedback that the company gains on its products or services. Based on this valuable information, businesses are able to improve their product or service portfolios and decide on which of their advantages are worthy of highlighting further in company marketing communications.
The statistics mentioned above confirm the relevance of appropriate communication between the brand and the clients. Fortunately, tools such as Google My Business have considerably reduced the distance between the two parties. These days, clients have the ability to share an opinion about a company literally seconds after using its services.
What is Google My Business?
GMB is one of Google's free services for businesses, which allows them to provide their clients with necessary corporate information, in addition to obtaining customer feedback and recommendations. The Knowledge Graph displayed in the search results for keywords related to a specific business is a company's digital business card listing opening hours, a photo gallery, videos, and the website address.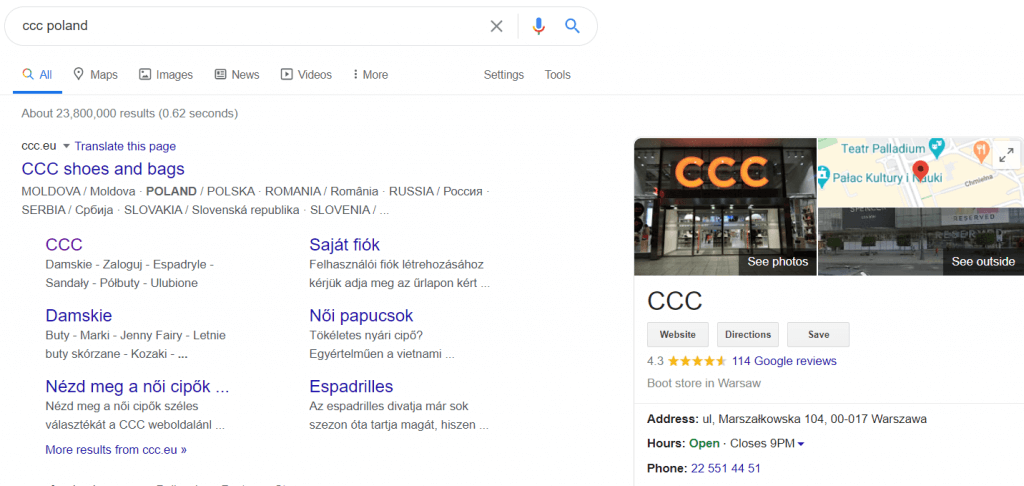 According to GlobalStats, Google has achieved a market share of ~92% (May 2020) among search engines used across the globe. Google is often the place where the first contact between a client and a company is made, so apart from seeing to the company's own listing on GMB, businesses should also be active participants in discussions, answering client reviews and opinions in order to establish client relationships.
If you are looking for practical tips on how to optimize your business profile in Google My Business, take a look at this guide.
What are the benefits of optimizing your Google My Business listing?
Higher ranking on Google
The more 5-star ratings a company has, the better its perception among consumers. This, in turn, has a direct impact on its search result ranking. Also, review stars can boost CTR by as much as 35% (source).
Handy tip: If clients add negative reviews on your listing, make sure to provide a reply, explaining the situation and trying to compensate for any inconvenience caused. This might increase the chances of the clients changing their minds and raising their ratings.
Greater involvement
Clients use the Q&A section on Google listings to gather detailed information on the products or services offered or the terms of purchase. A quick reply to a posted question is a clear signal to clients that their needs are important to the company.
Better client and company awareness
Client reviews reflect consumer shopping experiences, providing the company with an outside-in perspective. This can help identify the organization's strengths and weaknesses and define procedures for improvement (e.g. complaint handling process). On this basis, the company can introduce the necessary changes that will eventually contribute to its development.
Enhanced quality of customer service
Seamless moderation of client reviews and a proactive approach to solving customer problems directly translate into a more positive evaluation of a company's customer service standards. This, in turn, might lead to increased sales because a happy client will not only make a return purchase but will also recommend the company to their friends.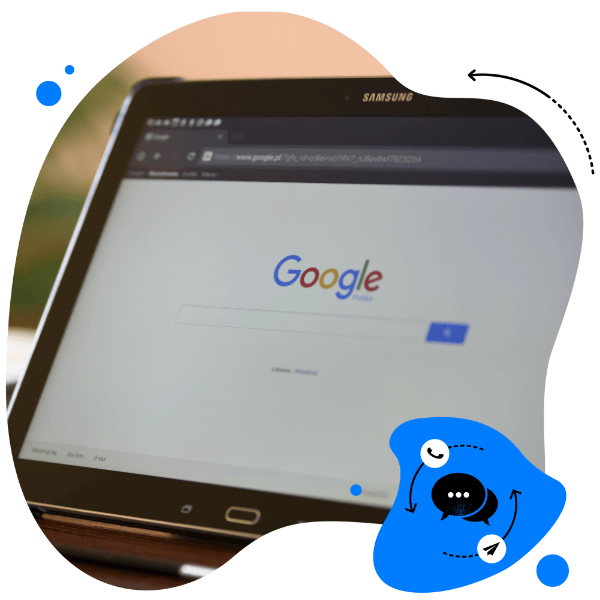 Handle all your Google reviews in one dashboard
Manage and answer all reviews from one place using one teamwork-friendly tool. Easily identify areas of improvement with a bird's eye view of the your customers' reviews sentiment.
Try NapoleonCat free for 14 days. No credit card required.
Challenges encountered by CCC in the context of Google My Business
In the process of growing Google My Business, Google started sending out requests to mobile users, asking them to submit feedback on the stores they visited (based on location history).
As a result, the number of reviews, questions and recommendations posted on company profiles began to grow exponentially, which created the need for businesses to manage an entirely new communication channel.
CCC was faced with quite a challenge, as the brand has almost 500 locations in Google My Business, and each of them features new client reviews on a daily basis. In order to ensure a high level of customer service, these opinions require an immediate response. To do this, a dedicated team had to browse through dozens of review folders, which apart from being exceptionally unproductive and time-consuming, also created the risk of some feedback going unnoticed.
Solution
Seeing the growing demand, NapoleonCat has created a tool that enables brands to manage ongoing client communication across multiple GMB profiles from a single dashboard – the Social Inbox.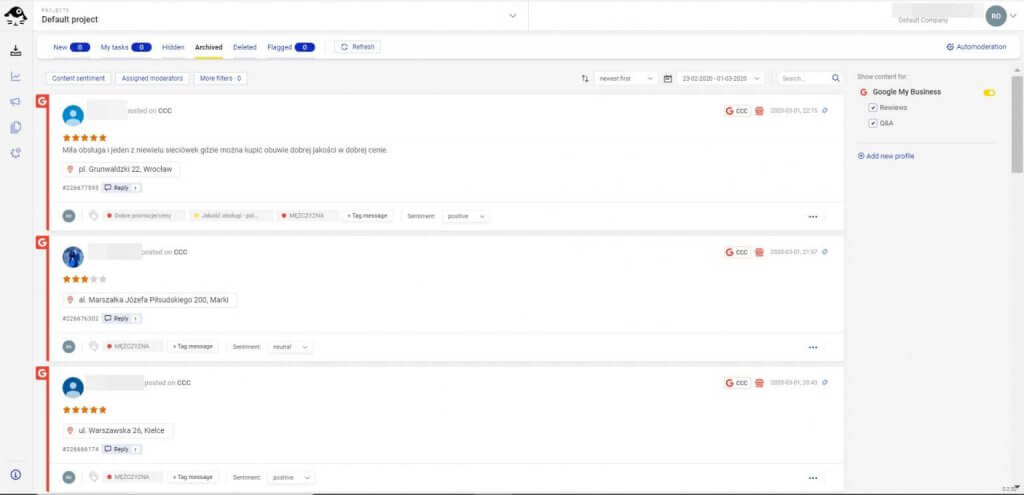 How does it work?
NapoleonCat's Social Inbox gathers all interactions from Facebook, Instagram, Twitter, YouTube, LinkedIn, and Google My Business in one place. An administrator can use the dashboard to conduct conversations on social media as well as to reply to Google Reviews and Google Q&A questions in real-time.
A tool that consolidates all the data in one place makes it possible for businesses to improve the processes involved in feedback moderation and client communications, in addition to saving customer support teams a significant amount of time. For this reason, we decided to try NapoleonCat, which has proved to be custom-made to our needs. We have not stopped using this tool ever since.

– Robert Prokopowicz from CCC
Results
CCC has been using NapoleonCat for over nine months. Each month, a total of about 1000 Google Reviews are posted under the brand's nearly 500 location listings. CCC is able to manage them all from one dashboard.
This gives the CCC team an insight into all new entries which can be swiftly provided with a reply without the worry of missing one out.
CCC not only responds to customer feedback but also sends it to store and regional managers, and if the matter concerns a complaint, the company either sends it to the relevant department or provides them with the necessary contact details.
Handy tip: It pays to respond to every type of feedback – both to 1-star and 5-star ratings. If a client leaves a bad review, the business can reach out and ask for more context or invite the customer to contact the company directly. Clients who leave positive reviews can be thanked and invited to make a return visit. When a client takes the time to write a review, the brand should also find the time to respond to it – just as it does on Facebook, by email, or when using a live chat. Google My Business should be treated just like any other communication channel. You will find more information about customer service in social media in one of our previous articles.
Using NapoleonCat, brands can also label the sentiment of each review and add custom tags to customers' opinions. This information can then be exported in the form of moderation reports that summarise the topics most frequently discussed in customer entries, for instance, product availability, cleanliness of the shop, personnel's willingness to help, etc. Such reports are a source of incredibly valuable information, as they allow to quickly diagnose the weak points of a given store and introduce corrective actions.
NapoleonCat answers our needs. The consolidation of such a large number of stores and comments in one view is an incredibly helpful solution. We are given a bird's eye view of the entire organization and the ability to spot both our strong points and areas which are still in need of improvement. We can more easily verify the procedures we have put in place (e.g. handling of complaints), assess how individual locations are performing, and monitor the shopping experience of our clients.

It is worth noting that a significant part of the reviews is positive comments, which provide our employees with added motivation. It is no secret that being a salesperson is not easy, so we want these positive opinions to reach our employees as fast as possible. Everyone likes to be appreciated. Recognition gives extra motivation.

– sums up Robert Prokopowicz, Customer Service Manager at CCC
Thanks to NapoleonCat:
CCC see all the new Google Reviews for almost 500 of their stores and can post almost immediate responses, ensuring excellent customer service;
by devoting approx. 1–1.5 hours, 3–4 times a week, the company is able to reply to every comment (on average about 1000–1500 comments each month);
it is much easier to pinpoint areas for improvement in individual stores and implement repair procedures more efficiently;
CCC has gained another motivational tool for its employees;
the company has much better control over what is being written about the brand by its clients.