Without an online presence, does your business even exist? Probably not to more than half of people. A report1 by KPMG suggests that around 50% of consumers will search online for reviews and visit a company website before choosing to make a purchase.
Local SEO2 is crucial because people who search for a product or service in their immediate area are very likely to make a purchase. According to Google, 76% of mobile users3 who did a local search visited a storefront within a day.
If you're not popping up when people type in your business on Google, then that's a problem.
This is the equivalent of having an underground storefront without any signposts. People could love your product and desperately want to support what you do. But if you're not making it easy for them, you're signing your own death warrant.
Still not convinced? Leading estimates4 say that 95% of all purchases are likely to be through eCommerce by 2040 and many of them will be carried out on mobile.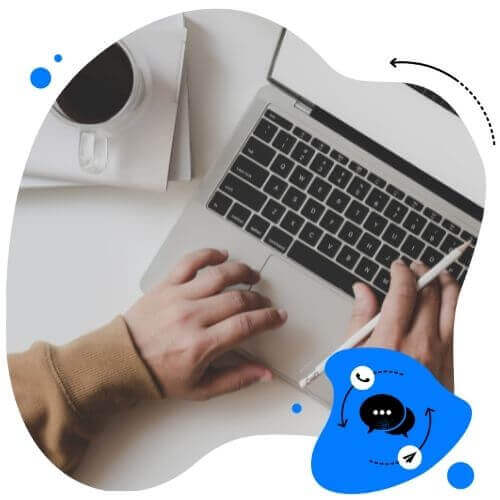 Google My Business Management
Monitor and reply to all your Google reviews from one place. Schedule and auto-publish different kinds of GMB posts. Try it for free:
Try NapoleonCat free for 14 days. No credit card required.
Web design is a pain when it comes to optimising for both desktop and mobile, at least when doing it yourself. Sure, there are solutions out there that make it easier, but a Google My Business page is something you can easily add today to build those foundations.
What is a Google My Business profile actually used for?
Google My Business (GMB) is effectively a service for local business listings which can be used by companies of all sizes, and widely at that.
Ranking is calculated so that nearby coffee shops can achieve just as much prominence in Google Search and Maps results as the closest Starbucks. Local SEO has become incredibly important to small business owners.
Yes Google, thank you.
Now as most marketers probably know, there is no shortage of mire caused by Google mysteriously changing algorithms and creating instant shockwaves across entire industries.
Businesses have folded overnight as a result of sudden changes in how things work.
So when they do a really good thing, we tend to make lots of happy and excited noises in the hope that they will continue to do more of the same. Local search is a fantastic idea.
Show me what's in the immediate area and help support small businesses that don't predominate in the overall search rankings.
Why on earth were we shown more successful companies from miles away before, when there were always options just down the road?
Five years of GMB costing absolutely zero dollars has attracted a huge number of businesses to build their pages and hopefully the pricing model – or lack thereof – doesn't change in the near future.
It may be a service worth upgrading, but companies already find immense benefit from optimising their profiles for local search results.


Support your marketing strategy with Google My Business
Here's some advice: your Google My Business page is almost like a marketing strategy on its own. Seriously. Manage it correctly and you'll reap the rewards. It's a mistake to see your GMB listing as just that. Google doesn't.
Through nifty algorithms that collect and process information available online about your business, Google builds a picture of your business as an entity. Not just a listing.
An effective Google My Business profile boosts SEO rankings and helps drive towards your desired outcomes.
Do yourself a favour and follow this guide to help further your business' online presence.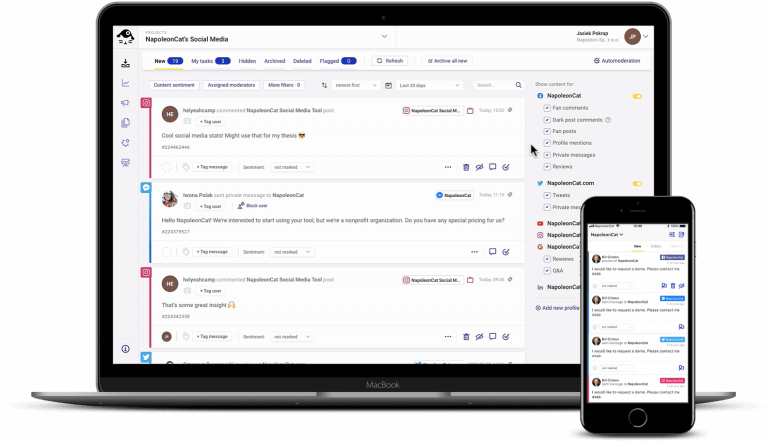 Manage all your Google reviews in one place
Monitor and reply to all your reviews from Google with one simple tool, even if your business has hundreds of locations. Try it for free:
Try NapoleonCat free for 14 days. No credit card required.
Business profile essentials you should include in your GMB
Phone number: Potential customers need a place to contact you. Really, why wouldn't you?
Business address: Your business's location is vital for effective SEO. How else are you going to appear in local search results?
Business category: So Google can decide whether you're in website design or a nature photography brand that specializes in impressive spiderwebs.
Opening Hours: Self-explanatory, you want people to know when you're open for business.
Products/Menus/Services: Let people know exactly what they can expect from you and if practical, how much it will cost them. For some businesses, it may be appropriate to let people know the range of your service area.
Business attributes: Can be anything from wheelchair accessibility to whether there is free parking.
Those who do it well
Allow me to paint a picture of how a consumer may be drawn to your business. Say I'm going to the Kensington Olympia for a boring marketing conference, where I'll be meeting like-minded busybodies wearing smart-casual and vendors telling me how great their software is.
Nice to meet the brightest people in the industry… but really, the most clever of us drink ale. Plato apparently once said 'he was a wise man who invented beer'. Probably not a real quote, but on this day I'm straight to the closest pub where the real networking happens. So it's justified. Alright.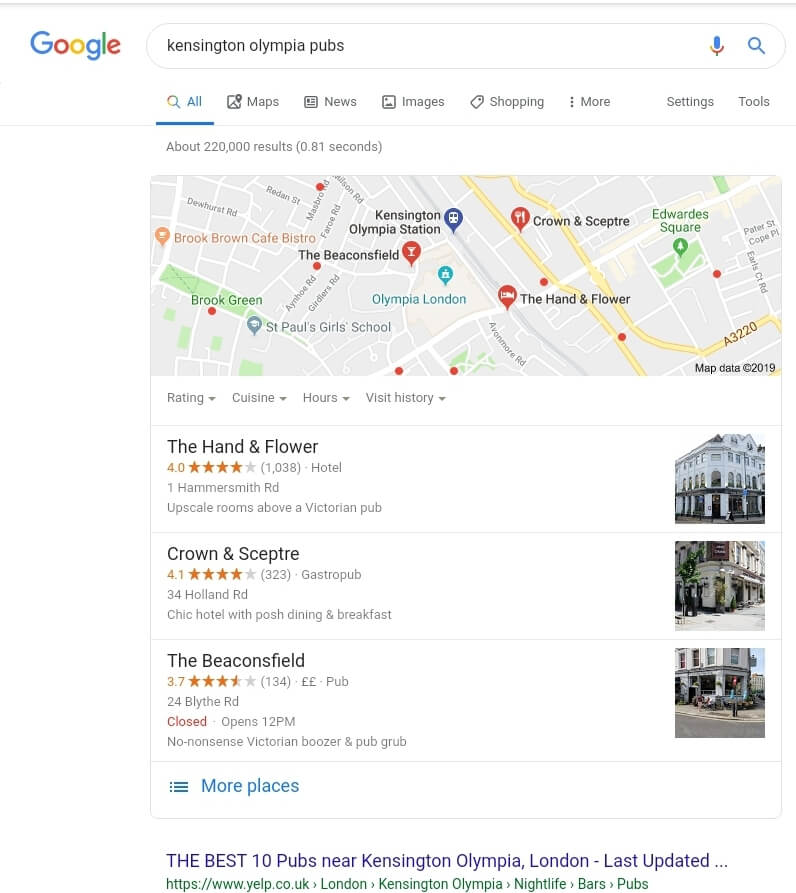 Three options and all are very close by. Let's be real though: I may be no working-class hero but the words 'upscale' and 'posh' frighten me. Give me one pint of no-frills beer instead, please.
No-nonsense Victorian boozer? Wonderful. Pub grub? Sign me up for the cheesiest chips possible.
The Beaconsfield beckons. But first, let's see how busy it gets and whether people actually like the pub. A small amount of spit and sawdust is fine, I just don't want to be reaching for the anti-bacterial handwash as soon as I go out the door.
Perhaps being this genteel I should have chosen one of the hotel bars…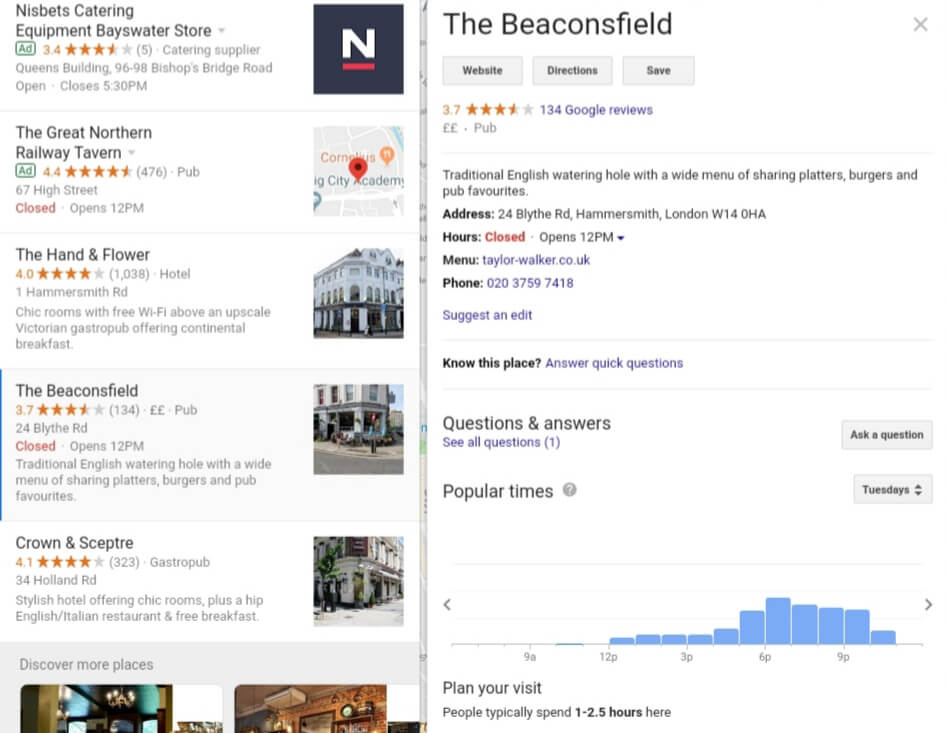 Alright, not bad. Nearly four stars which is solid for a good old-fashioned drinking hole. Big tick for me.
Their GMB listing also provides a contact number, link to their menu, and location. Leaving these out is unforgivable – your business needs this information up there and failing to do so will hamper a local SEO score and hurt your bottom line.
People seem to spend between one or two hours here which means that, if I arrive just before 4 pm, dinner could still be an option before the evening rush. So the only question left: do I want to eat here tonight?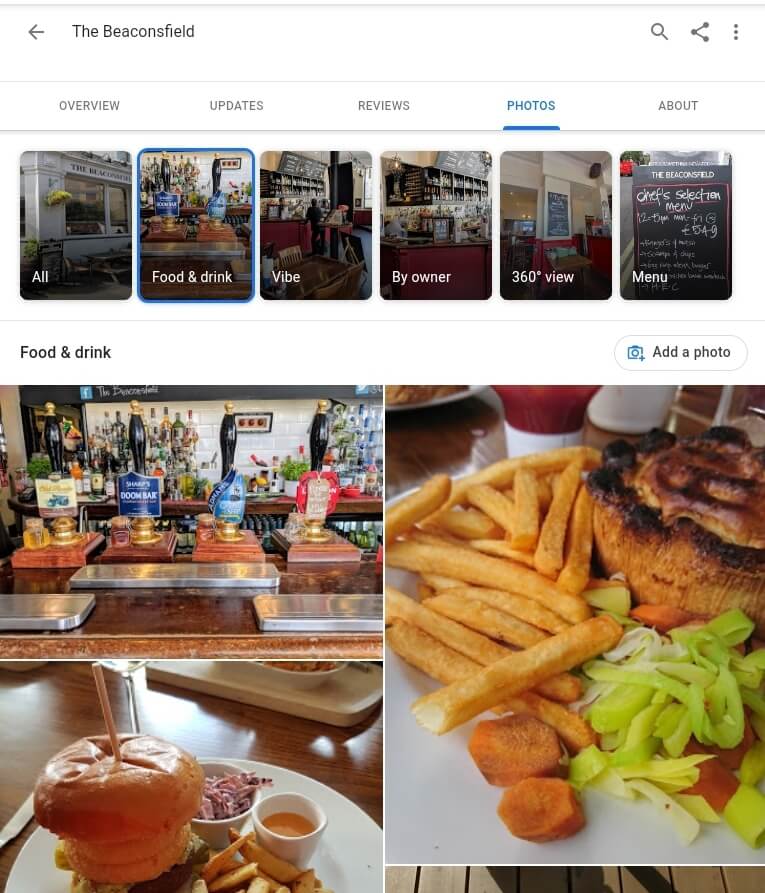 At the very least, your Google My Business page should have a cover photo, though it's best supported by a wealth of images that cover all of your best angles.
Luckily for me, The Beaconsfield has nearly 100 photos with many of them uploaded by the business owner but patrons have put photos on here as well. This way I can check out what the food is like… and yes, it looks very pub grubby indeed. Let's eat somewhere else.
Sticking with the theme of no-nonsense, I'm thinking fast food. Hankering after some fried chicken yet wary that this is an absolute minefield. I've no need to fear though really; a great benefit of Google My Business is that it provides real credibility to the top results.
Stand out with your GMB page and people are more likely to believe you deserve their money. It's also safer than walking into the nearest chicken shop only to later find out it has a two-star hygiene rating.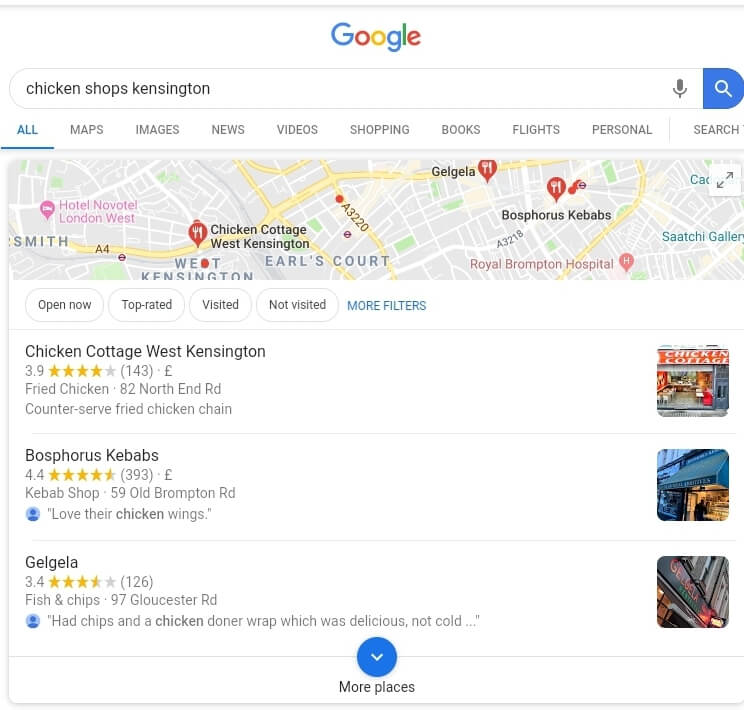 I've got that post-pub empty stomach feeling walking along the street. I could go with my original idea of a classic chicken shop… but what's this? Bosphorus Kebabs is much-preferred by the public and apparently do very loveable chicken wings. It looks good so I'll go there instead.
This is just one of the many ways that effective local SEO can inform customer decision making and at the same time reward businesses for providing a great service.
How else can you utilise Google My Business?
Respond to customer reviews
This helps to manage what people say about your brand. Engaging with customers allows you to stop a single bad experience from damaging your reputation and also shows that you listen to customers. On the same note, you should be answering people on the Q&A page. Consider answering reviews a part of your customer service strategy.
Take advantage of Google Posts
You can share not only content but also upcoming events with people who search for your business. Putting up posts inspires consumers to make a move (six call to action buttons are available here) can be a great way to attract new customers.
Create a Google short name
Then share it with the world. If you have competitors with similar names or multiple locations, creating a short name makes it easier for people to search for you online. Keep it consistent with your overall brand. Good practice is just your business name followed by its location, so for example: g.page/NapoleonCatWarsaw.
Improve your Google My Business page with NapoleonCat
Google My Business is a foundation for your marketing activities and a boon to SEO rankings. You want positive visibility for your brand online and fine-tuning a business profile is a surefire way to get this done.
Once you set up your GMB account and learn the ropes, consider using a third-party tool like NapoleonCat to improve the process of communicating with your customers through Google Reviews.
Our Social Inbox collects various social interactions happening across all of your social channels, including Google My Business – namely reviews and Q&As.
Using the tool, you can answer Google reviews in real-time, assign sentiment to them, and leave informational notes or assign tasks to team members if further action is required.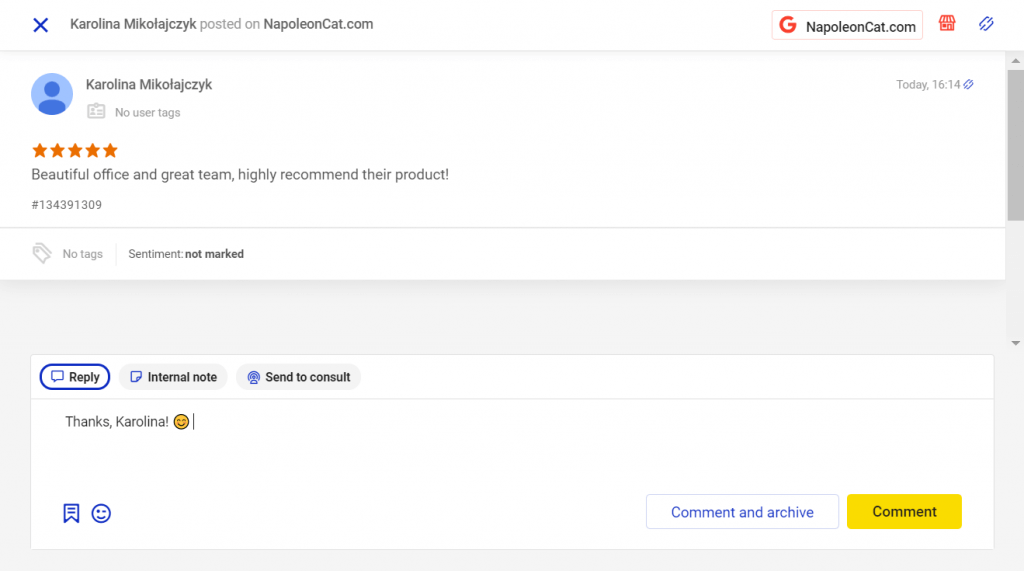 Moreover, with NapoleonCat, you can also schedule and auto-publish different kinds of Google My Business posts: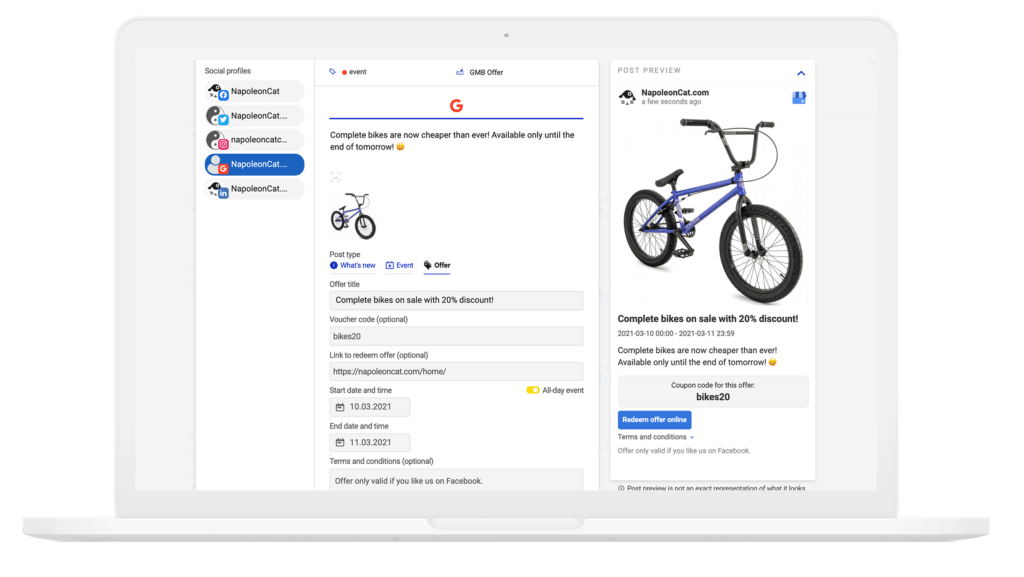 You can easily keep your customers informed with all the latest news, product offers, events, etc.
You can also work on your GMB content calendar in a team and take managing Google My Business to a new level of convenience.
Check how both the Inbox and the Publisher work with GMB in a video below:
Easy, right? And absolutely worth it, too. Follow this link to add or claim your Google My Business listing today.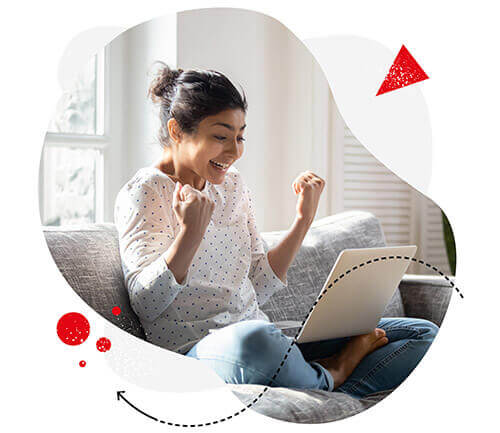 Google My Business management made easier
Manage all your reviews from one simple dashboard. Schedule and auto-publish posts on Google ahead of time. Try NapoleonCat for free:
Try NapoleonCat free for 14 days. No credit card required.
---