The SaaS industry is rapidly growing and the number of companies that rely on SaaS solutions is constantly increasing. SaaS solutions provide great effectiveness and cost-efficiency and can fit smaller businesses as well as big, multinational corporations. Even juggernauts like SAP and Oracle are shaping their solutions following the SaaS model.
However, the number of SaaS companies is also massively increasing and it can be hard to stay competitive in a market that is becoming oversaturated. That's the reason why many SaaS companies are looking out for new ways to stay viable or keep thriving.
One of the ways to succeed in these endeavors is through improving customer service since customer-centricity is a top priority, especially in the B2B segment.
Traditionally, businesses mainly used phone systems to manage their customer support and with all technological advancements, there are many great VoIP solutions available today. Apps like Nextiva, Vonage, Ringcentral, and a few more are the most popular choices for effective communication and improving customer service.
However, that is not enough in today's world, and going the extra mile to help the customers across all available communication channels, like social media, is essential.
SaaS companies make a profit by having their customers keep subscribing regularly, and having the versatility to hear them out and solve their problems is beneficial to retaining them. That is where having impeccable social customer service comes in place to boost customers' experience and ensure they stay loyal.
What is social customer service?
Apart from the traditional customer service every serious company should have, social media customer service is becoming a new trend, for a good reason. Millennials, which are currently the largest consumer group in the U.S., prefer to interact over social media.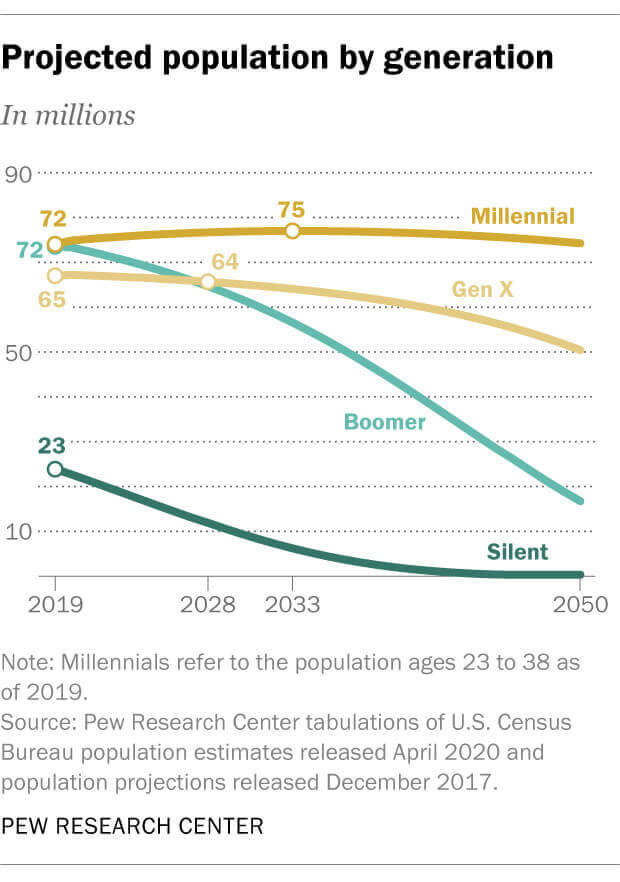 That includes getting the latest news and searching for engaging content as well as customer service and support. That said, companies need a way to extend over social media and offer exceptional customer service if they want to keep up the pace.
Furthermore, SaaS companies can use social customer service to improve customer satisfaction and their brand's reputation, which will positively affect their customer retention (and their subscriptions).
Let's see the top 7 ways SaaS companies can improve their social customer service:
Set a dedicated social customer service account
Even if your SaaS company already has a social media account for marketing purposes to communicate with your audience and promote the brand, you should consider using a separate channel for customer service.
Creating a dedicated social media account to offer customer service will help you better handle and segment your customer issues. You can also transfer these inquiries to the special team that will cater to customer issue matters only.
This will improve your social customer service responsiveness and quality since the marketing team behind the main account probably cannot dedicate enough to resolving customers' issues effectively.
You can name this channel by adding the suffix "help", "customer service" or "customer assistance" in front of your main channel's name. Make sure to also include your customer service channel in the description of your main channel, so the customers know where to ask for help.
Create customer support group on Facebook
If you are overloaded with customers' issue requests or inquiries and your customer service team cannot effectively manage them, then creating a special group on Facebook might help.
This group should have clear and concise rules and should be used to ease off the pressure from private messages addressed to your support channel.
By using groups for customer support you can directly reach dozens of your customers and share important links (like your customer support website) that are visible to the entire community.
Pinning an FAQ or a link to the knowledge base of your SaaS solutions is also a great idea that can drastically help decrease the number of customer support requests. Furthermore, members can mutually discuss common issues and solutions and the whole discussion will stay available for others that are experiencing similar challenges.
You can also create and post informative video tutorials that explain how to use your services or create custom videos that address common issues.
Leveraging Facebook groups to create customer support communities is a fast and reliable way for SaaS companies to improve their social customer service. This can give your company a competitive edge and help you create positive brand associations.
Incorporate chatbots into your social media channels
Deploying AI chatbots to manage customer service or redirect advanced customers' requests over social media to human agents is also a viable way to boost your customer service. You can create highly customized chatbots and connect them with your SaaS business knowledge base.
That way, they will be able to offer solutions to your customers' basic issues and transfer them to experienced agents for more advanced ones.
AI Chatbots use machine learning to:
identify patterns
understand the context behind words
identify patterns understand the context behind words Improve the level of personalization in their interactions
On the other hand, using rule-based chatbots offers better control over how they operate and you can design them to follow predetermined rules when interacting with your customers. These chatbots are more straightforward and intuitive for the customers and can drive conversations more effectively.
When your customer sends you a message, a chatbot can be configured to narrow down on the customer's issue. That includes sending welcome messages, offering clickable options to further drive conversation, and if the customer wants — transfer them to an agent.
Use a centralized inbox
Using a centralized inbox for all of your social customer service communication is an excellent way to improve your customer service team's efficiency. With it, you can better organize all your customer service communication and avoid missing a message or a comment.
A centralized inbox will also help you to:
Increase responsiveness to inquiries 
Filter comments by specific keywords and send automatic replies 
Save your previous inquiries and conversation history so you can analyze it to improve your customer service 
Increase responsiveness to inquiries  Filter comments by specific keywords and send automatic replies  Save your previous inquiries and conversation history so you can analyze it to improve your customer service  Translate comments and messages from and into other languages
NapoleonCat offers these options and provides effective solutions to gather all your customer inquiries, along with @mentions, tags, comments, etc. It works for TikTok, Instagram, Facebook, Messenger, LinkedIn, YouTube, and Google My Business.
In the picture below you can see how the Social Inbox looks like.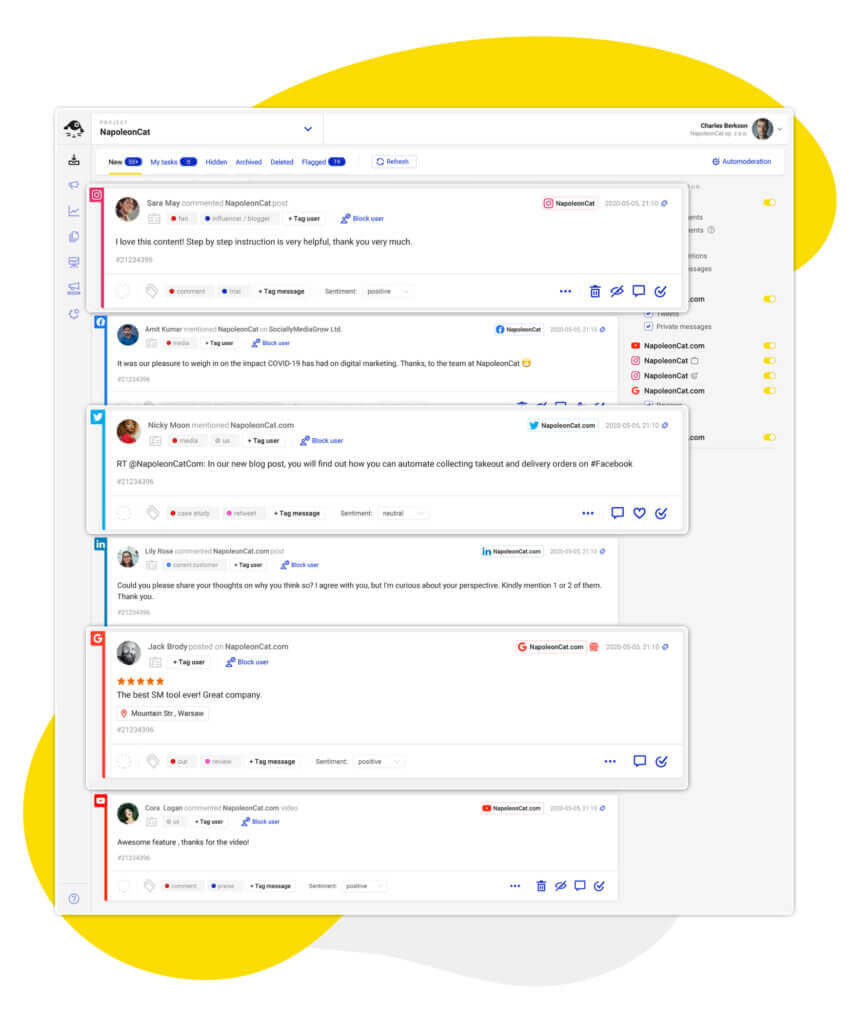 Most importantly, with the centralized Social Inbox it's easy to split tasks between customer service and social media teams. You can assign conversations to users to handle, and make sure that your social media channels serve both social engagement and customer support.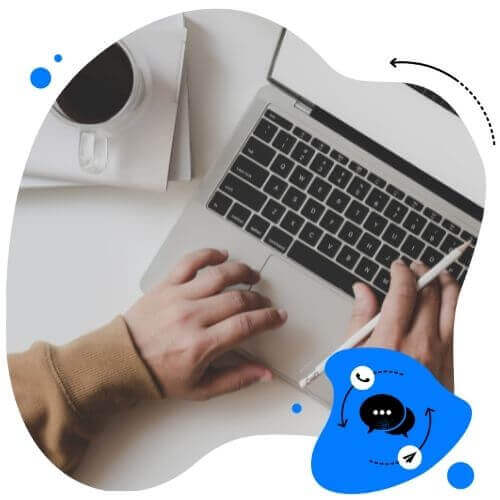 Become a more responsive, customer-facing brand
Keep track of all your customer service inquiries from social media, along with conversation history, and reply using a centralized inbox.
Try NapoleonCat free for 14 days. No credit card required.
Customer satisfaction surveys
You can get a lot of valuable data by including customer satisfaction surveys after you have provided support for your customers. This data can be analyzed and used to generate powerful insights that can tell you:
The most common issues your customers are experiencing
What part of your customer service you should improve
If any part of your SaaS solution is causing difficulties or issues and why
How to improve customer experience
By applying these insights, you can not only step up your customer satisfaction but also improve your solutions to decrease customers' complaints.
Social listening
You can proactively listen to your customers even before they reach you out with concerns. This strategy includes a couple of stages:
Social monitoring — You need a way to monitor all your brand mentions across social media. And I don't mean tags but all mentions, even the untagged ones.
Analysis — When you collect enough data, you should analyze it to extract insights.
Implementation — After understanding the insights you obtained, it is time to figure out how to implement them in your customer service process or your solutions.
Social listening can help you get unbiased opinions of your company and its services, so you can perfect them. It will also help you unearth complaints, customer satisfaction, and sentiment — the perception of your company.
As a result, you will have a better understanding of your customers and be able to offer them a richer experience when they interact with you. You'll also help the sales team effectively understand the customers and set up the proper tone and according strategy for future campaigns.
Advanced analytics
In today's data-driven world, it is important to have an effective way to capture and analyze tons of data. That's why having access to advanced analytics tools is imperative as it can direct your social customer service down the right path.
With analytics tools you can measure and analyze:
Volume
Response rates
Number of interactions between users and agent
Response times
Handling time
Conversation sentiment
Number of unique users
The top topics
The most frequently used quick reply templates
This will give you deeper insight into your customer service performance and from there, you'll be able to optimize it properly. That accounts for determining:
if your team is big enough to tackle all the inquiries
if there are any bottlenecks in customer service tools they use
if your team is properly trained to provide optimal customer service
Final words
Exceptional customer care is one of the cornerstones for thriving SaaS companies and improving social customer service is an integral part of it. Centralizing your business around customers and their needs, and allocating resources and effort to provide them better experiences will differentiate success from failure.
You should choose and implement some of the methods we covered that fit your customer pool and your company's specifics, for the best effect. Particularly, if you still don't have a broad presence over social media and are only using one social media platform, then it's time to start.
Comparably, if you run a multinational SaaS company with a vast pool of customers and active social media presence, then centralizing your inbox and using chatbots on all your social media channels is a must.
You may also like: