Thanks to Shopify, any entrepreneur or small business owner can easily start selling their products online.

Your Shopify store, however, isn't going to sell itself. If you want to increase your e-commerce sales, you have to market the heck out of it.
This is where social media marketing can help. With 3.96 billion social media users around the globe, it's a safe bet many of your potential customers are among them. Considering that 54% of people go on social media to look for information on potential products to buy, building a social media presence is a step in the right direction for your e-commerce business.
The problem? Social media is an ever-changing space that gets crowded by the minute. How do you reach your potential customers and draw their attention to your Shopify store?
In this article, we show you how to boost your Shopify sales with social media marketing.
By reading this article, you will:
Understand why Shopify is a great platform for growing your e-commerce business.
Understand the benefits of using social media in e-commerce.
See examples of how social media increases e-commerce sales
Learn how to boost your Shopify sales with social media marketing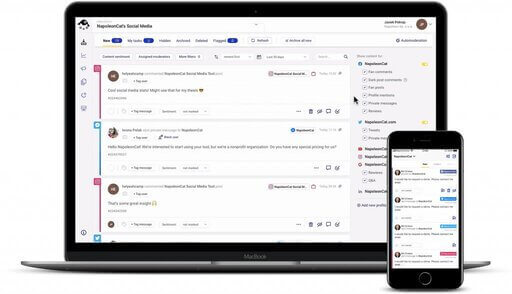 Manage comments and messages across platforms – all in one view
Answer questions and interact with customers on Facebook, Instagram, Twitter, LinkedIn, YouTube, and Google My Business. All in one simple dashboard. Instagram DMs included! Try NapoleonCat for free:
Try NapoleonCat free for 14 days. No credit card required.
What is Shopify again?
Shopify is an e-commerce platform that helps businesses run an online store. It's popular because it offers a low barrier to entry for entrepreneurs and small business owners who want to set up an e-commerce business. You can even set up a Shopify store in 15 minutes or less.
E-commerce merchants prefer Shopify because it allows them to focus on running a business. You don't need to be a developer to create your own virtual storefront. With the platform's customizable themes, you can design your Shopify store in a way that showcases your brand's personality. Add the fact that it provides a reliable system for processing payments and gathering customer data, it's no wonder many e-commerce retailers prefer Shopify over other e-commerce platforms.
It also doesn't hurt that you can try Shopify with their 14-day free trial. You can sign up for the Basic plan for $29 a month to get your own e-commerce website and access the e-commerce platform's core features.
How to use social media marketing to boost your Shopify sales
There's a better way to draw attention to your Shopify store than to tell everyone you meet online you have a Shopify store.
Customers don't like being sold to. Before they start considering buying your products, they need to trust you first. According to a 2019 Edelman study, 81% of consumers said they need to be able to trust a brand first before they can buy from them.
To earn customers' trust, you need to approach them from a place of empathy and connection. And what better way to do that than by publishing social media content that addresses their needs and wants?
But reaching them with content that is relevant to their needs and generating more sales for your Shopify store is more complicated than it sounds. Using social media tools for e-commerce helps, but you need to back it up with a sound social media marketing strategy.
Like any effective strategy, your social media marketing strategy requires steps.
1. Set a goal for your social media campaign
For your social media marketing efforts to yield positive outcomes for your e-commerce business, you need to set a goal. After all, marketers who set goals are 376% more likely to achieve success than those who don't.
But goal setting only counts if the goal is specific. So, pick one goal at a time and focus your efforts on reaching that goal.
Here are some examples of social media marketing goals:
Raise brand awareness
Drive traffic to your website (or Shopify website)
Engage your audience
Reach new audiences
Tap into influencer networks
Etc.
To pick the right goal for your e-commerce business, you need to get SMART about it. Your goal needs to be:
Specific: Is the goal clear and defined enough?
Measurable: Are there KPIs and metrics with which you can track your progress?
Achievable: Can you reach the goal with the resources you have at your disposal?
Relevant: Does the goal align with your brand mission and business objectives?
Time-bound: Can the goal be completed within a finite time frame?
Simply put, setting a goal is about knowing where you currently stand and identifying where you want to be in the time frame you choose. Choose a realistic goal, but make sure that it aligns with your long-term goals and your brand mission.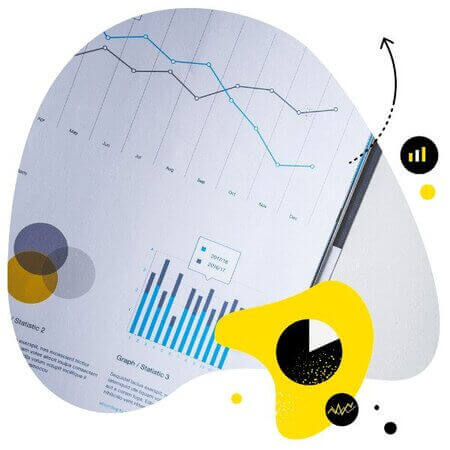 In-depth social media analytics
Measure your social media marketing results. Track competitors and improve performance using one simple tool. Try it for free:
Try NapoleonCat free for 14 days. No credit card required.
2. Define your target audience
If you want your e-commerce business to take off, you need to know who your target market is.
Why? Because if you try to sell to everyone, you're selling to no one.
So pick a target market and stick with it, and that means learning as much as you can about your audience. Start digging deep into who they are and why they buy and behave as they do. If you know your audience well, you'll find it much easier to create social media content that will earn their trust, attention, and dare I say it, love.
As an example of social media content that shows a deep understanding of an audience's pain points, here's Ruggable.
Unfortunately, defining a target market is where most small business owners get stuck.
Asking yourself the following questions helps:
Which type of customer will benefit the most from your product?
How will it solve their problem?
How will your product benefit them in a way your competitors won't?
By using the above questions as a guide, you can learn more about your target market via:
Customer surveys
Hosting focus groups
Using social listening tools
Conducting a competitor analysis
You can easily analyze your competitors on social media with NapoleonCat. This way, you'll be able to draw inspiration from them, find out what kind of content performs best among your target audience, and when it generates the highest engagement.
After gathering a good mix of qualitative and quantitative data, start creating a buyer persona and enrich it. Buyer personas make your target market more relatable and human, making it easier for you to craft your social media content in a way that will resonate with them.
3. Pick your social media channels.
Building a social media presence doesn't mean being present on all social media platforms. If you do, you'll spread yourself too thin and end up wasting your time and resources.
If you want your social media marketing efforts to truly make an impact, pick the right social media channels and focus your efforts there.
How exactly do you identify the right social media channels to market your e-commerce products? Here are some ideas:
Ask your best customers. If you already have satisfied customers, simply ask them where they always hang out on the internet. You can use free survey tools like Google Forms or SurveyMonkey.
Search for groups. Search for groups and communities that were built to talk about a common interest that is related to what you're offering. Facebooks' search function will give you results specific to groups.
Use hashtags. What hashtags would your target audience use? Run a search using those hashtags and check if you're getting a lot of results.
Research your competitors. Take a look at your competitors and what they do on each social platform. Are they getting enough engagement?

It also makes sense to consider the demographic group your target market falls into and where that group spends most of their time online.
4. Choose the types of social media content you want to create
But what types of social media content do you want to publish? Which ones will have the most impact on your target audience?
Here's a breakdown of the types of content that perform best for each social media platform:
Facebook. Videos (short and long-form), curated content, blog posts.
Instagram. High-res photos, Stories, quotes
Twitter. News, GIFs, blog posts
Pinterest. Step-by-step photo guides, infographics, high-res photos
LinkedIn. Videos, company news, blog posts.
If you love producing high-quality, engaging visual content, for example, using a highly visual platform like Pinterest makes sense. @themombeach knew this and so converted to a Pinterest business account to bring more attention to her Shopify store.
Remember, each social media platform has its own audience, and it can be difficult to tailor your content for each specific audience especially if you're publishing on more than one social media platform.
NapoleonCat's Publisher tool solves this problem by allowing you to create social media content across multiple platforms using one dashboard. Thanks to the tool's custom parameters, it's easy to craft social media content in a way that takes advantage of each platform's strengths.
5. Generate content ideas
To build a loyal following, communicate ideas your audience will find helpful and relevant to their needs. Even better if you can deliver those ideas in ways that will entertain and inspire them.
Coming up with ideas, however, is one thing many entrepreneurs and small business owners struggle with.
If you feel that your well of content ideas is running dry, the following tips might help:
Create content buckets
"Content buckets" are themes or categories you can create around how your brand is serving your customers.
For example, if you're selling 100% plant-based, organic food, you can use "the benefits of organic food" as a core category. Ask yourself, "What does my audience need to know about getting healthy with organic food?" You can then add the following subcategories: organic vegetables and fruits, ways to save on organic foods, alternatives to organic foods, and more.
You can then create sub-subcategories out of those subcategories. By then, you'll be rolling in content ideas.
Identify content gaps
If you've already published social media content in the past, you can come up with content ideas by identifying content gaps.
Gather all your social media content and put them on a spreadsheet. Which social media content resonated with your audience? Take that piece of content and see how you can expand on the subject. Can you give it a more interesting spin? You can also look at the comments for any questions or suggestions that might inspire more ideas.
You can also perform a social media competitor analysis to see which types of content are resonating with your competitors' audience and fill any content gaps they may have.
6. Schedule your social media content
You already have content ideas. Now comes the hard part: publishing social media content consistently.
Being consistent is important because you're building a relationship with your target audience. It's like dating. If you keep ghosting your audience, they aren't likely to stick around.
You can maintain a regular publishing cadence by scheduling your social media posts.
Having a social media content calendar not only makes you accountable for your publishing goals but also helps you prioritize important tasks over others. It helps you manage your tasks more efficiently and gives you the leverage to optimize your workflows.
NapoleonCat's Publisher makes it easy to organize your social media content with a handy calendar. You can even use color-coded labels so it's easy to organize your content into specific campaigns. This allows you to group similar tasks together so you can focus on one type of task at a time.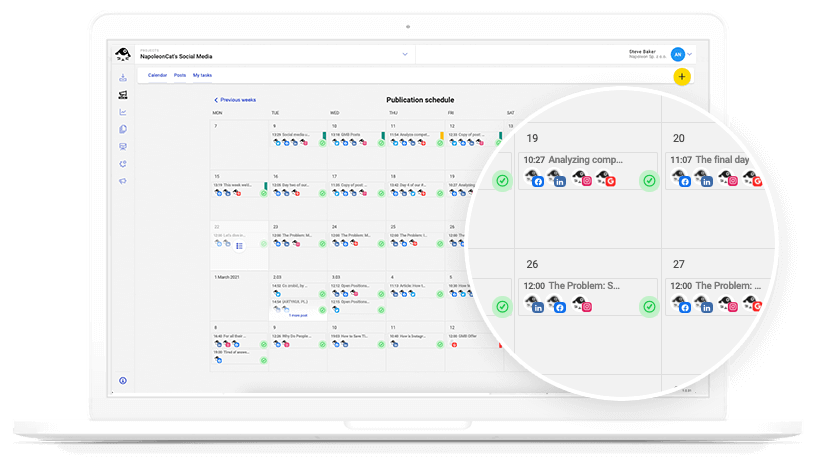 This is much faster than sitting down to create every single post at the exact time you want to publish it, especially if you have so many posts lined up.
7. Deliver great social media customer service
Social media marketing and customer service go hand in hand.
As you bring more attention to your brand and products via social media marketing, more people will want to interact with you to learn more about your brand and offerings.
In fact, over one-third of customers prefer to contact a brand via social media when they have an issue with a product or service (even more so than live chat, email, or phone).
And when customers interact with you, you better respond fast. If you don't, your brand reputation, and your Shopify sales, will take a hit.
If you respond to your customers like how Biolite did it below, you get a customer for life.
That said, staying on top of comments and messages can be difficult. Especially if you're a small business with barely enough budget to hire an entire customer service team.
This is where NapoleonCat's Social Media Automation Tool can help. It significantly improves your response time by doing the following:
Set up automatic responses to common questions about your company, including delivery information, working hours, etc.
Publish automatic replies to comments and messages that include pertinent information (like order details or contact information) and then move these conversations to private channels.
Automatically redirect complex issues to the right person or department who can solve them faster.
Monitor and manage Facebook ad comments in one place.
To see NapoleonCat's Auto-moderation tool in action, see the video below.
8. Track and assess your progress
Like any other strategy, social media marketing is an ongoing process that needs to be improved constantly. And if you want to keep improving, you must keep tracking and measuring your progress so you can make the right adjustments.
Creating a social media report is one great way to do this. Moreover, a social media report lets you determine if your social media activities translate into revenue for your Shopify e-commerce business.
With that said, you want to make sure you're tracking the right KPIs and metrics. Now's a good time to go over the goal you set out to do before you launched your social media campaign.
Here are essential KPIs you most likely need to include when creating a social media report:
Engagement. How often do your users interact with your brand on social media? Engagement metrics include likes, comments, clicks, shares, etc.
Reach. This refers to the number of users who have seen your social media content.
Impressions. This refers to how many times your post has been seen.
Web traffic. This indicates the number of times someone got redirected to your website pages (or Shopify store) by clicking on links to your posts.
Hashtags. Your hashtag performance tells how effective your specific campaigns are and is a great way to evaluate the brand share of voice.
Yet again, with NapoleonCat, you can easily create social media analytics reports. It's so easy that creating a social media report only takes a minute or less.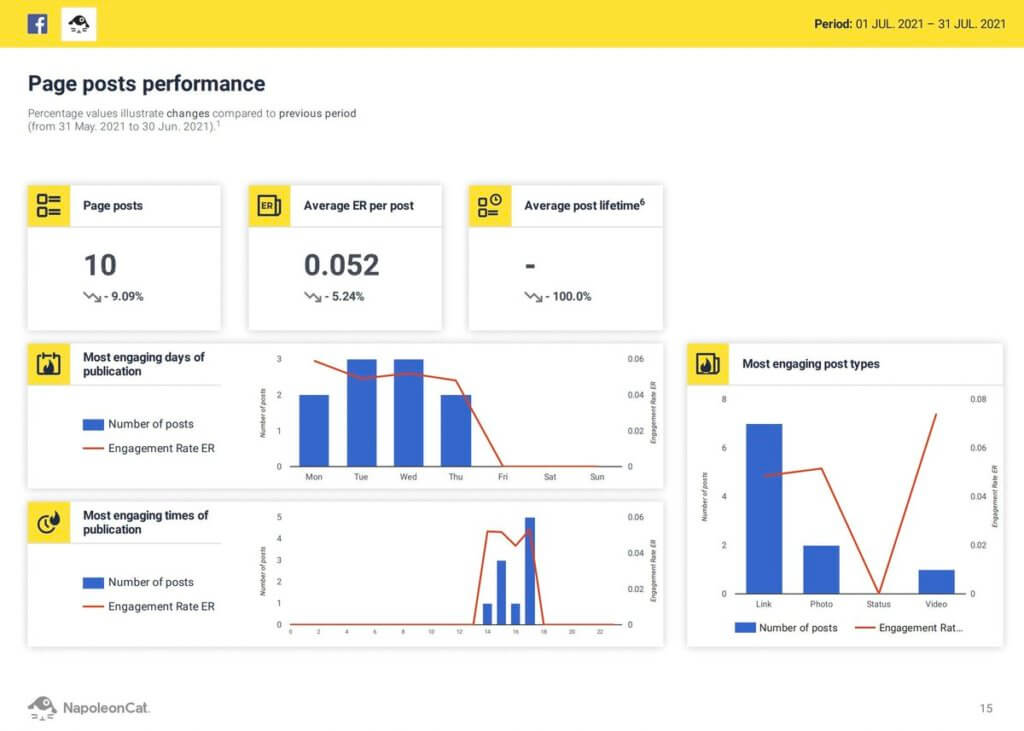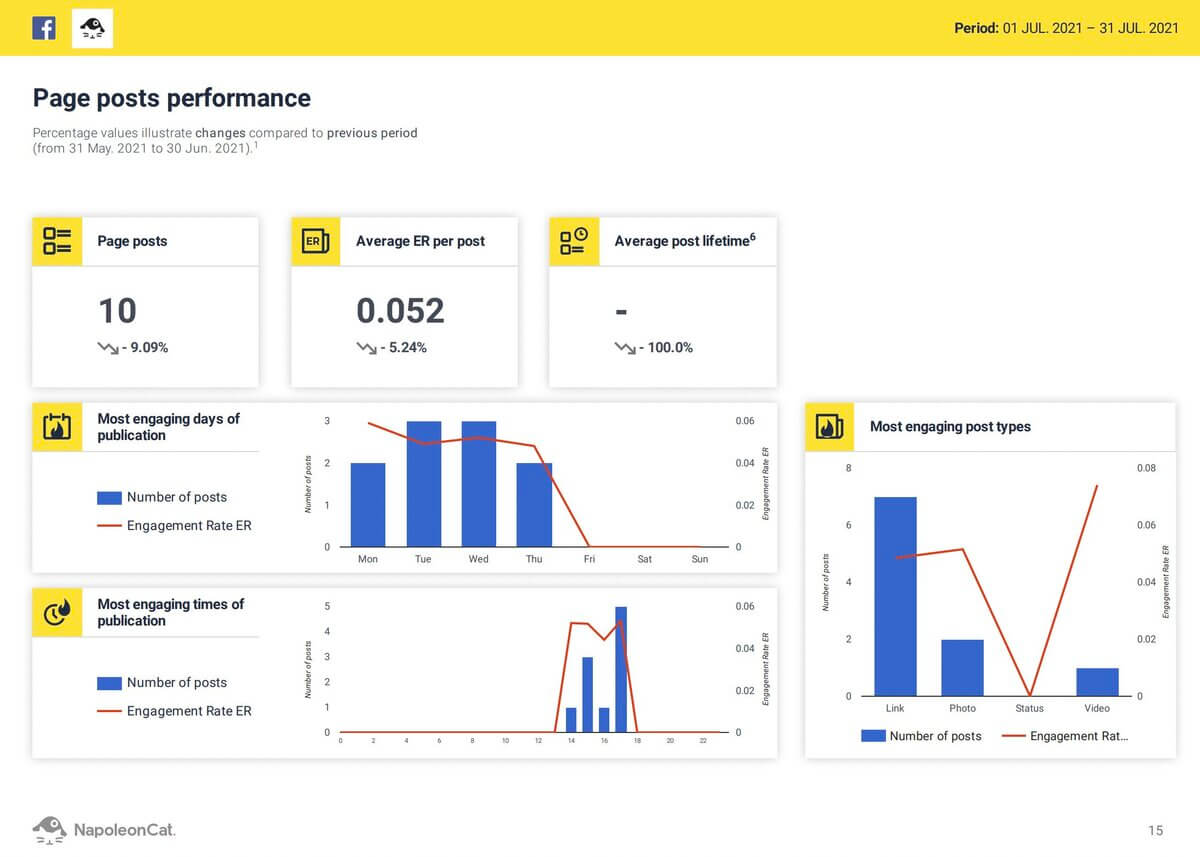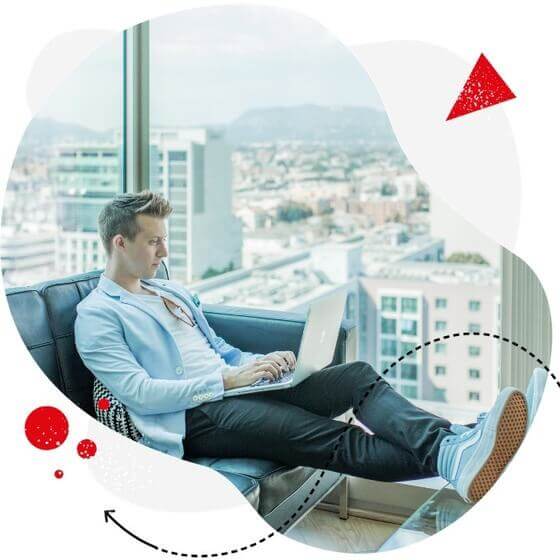 Social media marketing made easier
Manage all your social media accounts with one simple tool. Automate repetitive tasks, reports, and more. Try NapoleonCat for free:
Try NapoleonCat free for 14 days. No credit card required.
Wrap up
Shopify is a fast and easy way to set up an e-commerce business. But if you want to see your e-commerce sales skyrocket, you need to converse, interact, and engage with your customers. While that's hard to do in an ever-evolving and crowded market, you can use emerging markets like social commerce and innovative platforms to reach customers and build meaningful relationships with them.
You may also like: