Want to know how to run a successful Instagram marketing strategy? You need to know what Instagram reach means, for starters.
Chances are you know that already but have no idea how to make heads or tails of what Instagram reach means in relation to your IG campaign as a whole.
Either way, if you want to demystify all things about Instagram reach and make a big impact in your brand awareness campaign, you've come to the right place. 
In this blog post, we answer the following questions: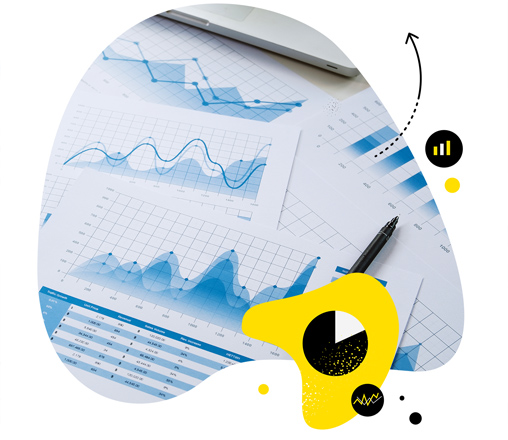 In-depth Instagram Analytics & Reports
Get detailed performance statistics for your Instagram accounts. Analyze your competitors, set up automatic reports, and more. Try it for free:
Try NapoleonCat free for 14 days. No credit card required.
But first…
What is Instagram reach?
You may be wondering what does accounts reached mean on Instagram. Here's the answer:
Instagram reach is the total number of unique users who have seen your Instagram content.
Put another way, Instagram reach is the number of people who have viewed your posts (or Stories).
The keyword there is "people."
For example, if five Instagram accounts viewed your Instagram post on Sunday, that means your reach for that post for that particular day is five, even if some or all of those same five accounts viewed it more than once.
Always remember: One Instagram account = one unit of reach.
Pretty straightforward, right?
However, things start to get confusing when:
Instagram impressions become part of the conversation.
Instagram reach is calculated in 7-day, 14-day, and 30-day increments (like in the Instagram Insights tool).
Difference between reach and impressions on Instagram
Many people confuse the terms 'reach' and 'impressions' and interchange them as a result. If you're a social media marketer, you can't afford to commit the same mistake.
In fact, knowing the difference between the two terms is not enough. If you want these two metrics to be of any real use to your campaign, you need to understand how they relate to each other.
So listen up.
If reach is the number of unique Instagram accounts who have seen your Instagram content…
then impressions is the total number of times your content has been viewed, including multiple views by every single Instagram account.
For example, if Ben viewed your piece of content twice on Sunday, that gives you 2 impressions and 1 reach for that particular day.
Again, pretty straightforward.
Calculating Instagram reach in 7-day and 30-day increments
You'll notice from our previous examples that we calculated Instagram reach in 1-day increments (on a Sunday, remember?).
But what happens if you calculate it in 7-day increments or 30-day increments?
For example, if Ben views your Instagram post 10 times over the last 7 days, what is your reach if calculated within that 7-day period?
It's still one!
What if Ben goes nuts and views it a hundred times within that same period? You guessed it – still one.
A thousand views from Ben in 30-day increments? Yep, still one.
Easy-peasy.
With that out of the way, let's talk about…
Why tracking Instagram reach is important
For starters, it tells you if your Instagram campaign is working at all. If no one is seeing any of your Instagram content, what's the point?
Besides, if your Instagram content is not reaching your prospects and customers, you're leaving money on the table. After all, Instagram is now the most popular social media platform for following brands1. What's more, 81% of people use Instagram to research2 products and services.
If you want to build a brand and earn revenue, you have to communicate with your target audience and build a relationship with them. But you can't get to that point if your Instagram posts are not even showing up on their feed.
What is a good reach on Instagram, anyway?
In a perfect world, all of your followers will see every Instagram post you publish. The world, however, is far from perfect. Rumor has it that only 10% of your followers see your Instagram posts3. Bummer, right?
Wait, so if more than 10% of my followers are seeing my Instagram posts, then that means my reach is good, right?
Yes. But it depends?
Here's the thing: how good your Instagram reach is depends on the size of your brand, and how far you are in your brand awareness campaign. After all, brands with fewer followers will naturally have a higher reach rate than those with many followers.
If you want a more accurate assessment of your Instagram reach, you need to view it relative to your number of followers.
Bazaar Voice conducted a study that yielded key Instagram benchmarks4 that can serve as a basis for comparison.
To quote the blog post citing the study:
Brands with large followings should aim to meet or exceed an average Reach Rate of 15% for an Instagram post and 2% for an Instagram Story.

Brands with a smaller number of followers should aim to meet or exceed the higher benchmark of 36% of their audience through posts and 7% through Stories.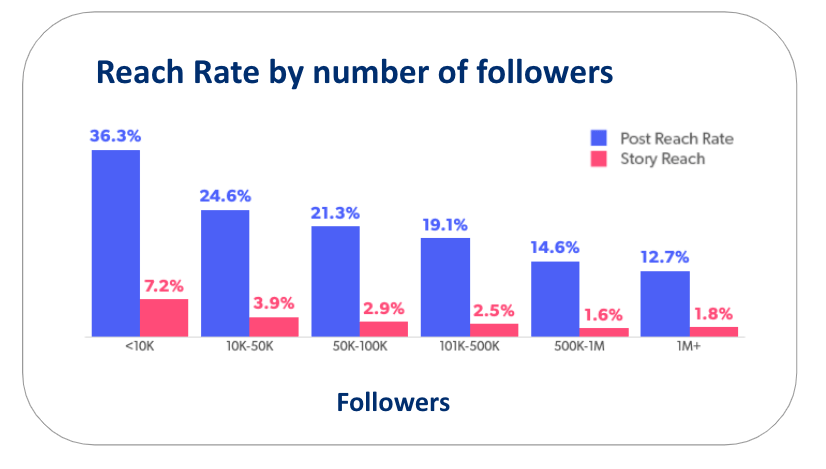 That same study also shows the impact of reach rate on conversion rate. To quote the blog post again:
The average Conversion Rate for the brands that perform in the top 20% of the Instagram accounts we analyzed is 0.3%. It's significantly higher for brands with 10K-50K followers (2.2%) followed by brands with <10K followers (1.8% conversion), implying brands with smaller following have a higher Conversion Rate.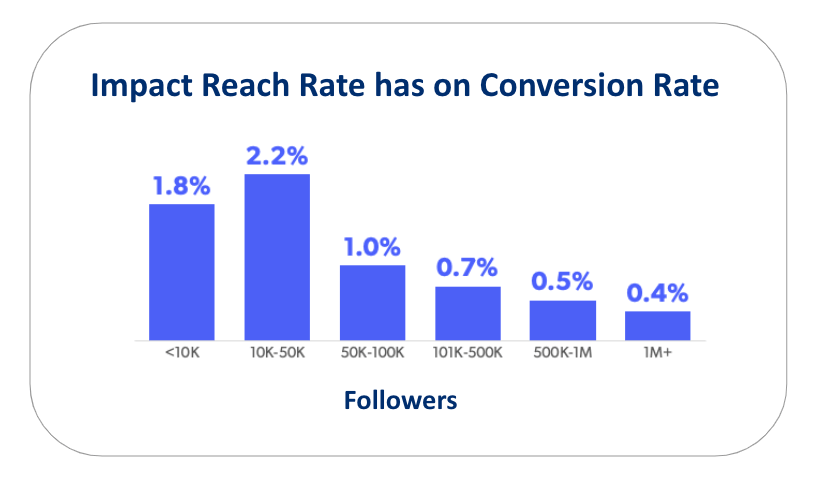 The BazaarVoice study only proves what the smartest social media managers have known all along:
When it comes to running an Instagram campaign that generates leads and sales, reach matters more than number of followers.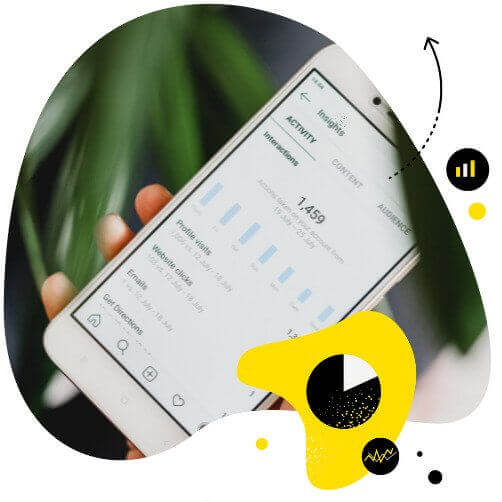 In-depth Instagram Analytics & Reports
Analyze your own profiles and track your competitors on IG. Find out what content performs best and when it's best to post. Boost your engagement rates and increase organic reach. Try NapoleonCat for free:
Try NapoleonCat free for 14 days. No credit card required.
But why is my Instagram reach so low?
Let's put this into perspective. Instagram's goal is to make money. And how do they make money? By keeping users on their app. The more users they keep on the app, the more ads they can sell.
Is it any wonder why they favor Instagram accounts that keep their followers active and engaged?
The point is this: If you want your Instagram content to reach as many people as possible, you have to play by the algorithm's rules. You need to post Instagram content that will engage your target audience.
If you haven't yet, it's time to check how engaged your Instagram followers are – and it's best if you use a solid Instagram analytics tool for that. We'll get to that in a second.
How to increase reach on Instagram?
There are various ways to reach more people on Instagram.
Without further ado, here's what you can do:
Use niche hashtags to boost your organic reach even x20
Reply to every comment to double your engagement
Post when your audience is most engaged
Post regularly (3-7 times a week)
Use Instagram Stories and their interactive features
Post Instagram Reels
Post scaled photos and videos, not squared ones
Follow similar Instagram accounts
Utilize user-generated content and repost the Stories in which you got tagged
Tag the location of your posts and Stories
Instagram reach analytics tool
Okay, now that you have a deeper understanding of what Instagram reach is, how do you contextualize or frame it in ways that will steer your Instagram campaign in the right direction?
You need to dig deeper into the data. This is where an Instagram analytics tool can help.
But you can do better than using Instagram's native analytics tool. If you want to find out what really works (and doesn't work) for your audience, you need more than surface-level metrics.
A dedicated Instagram analytics tool like NapoleonCat, for instance, can help you get more in-depth with your Instagram data in many ways.
With NapoleonCat's Instagram Analytics, you can:
Analyze your Instagram business accounts in one place
Analyze your competitors' accounts
Analyze and compare data from multiple Instagram accounts side by side
Set a completely custom time period for your analysis
Track your Instagram follower growth over time
Download individual sets of data in an excel sheet or a .png file
Generate or schedule automatic reports for your own profiles and those of competitors
Unlike Instagram's native analytics tool, NapoleonCat lets you get granular with your reach metrics over time. How? By allowing you to set a custom period for your analysis. You're not limited to 7, 14, and 30 days anymore!
Better yet, you can download all these data into in-depth reports in a matter of seconds. You can also schedule these reports so they can be automatically generated and sent out via email to whomever you want.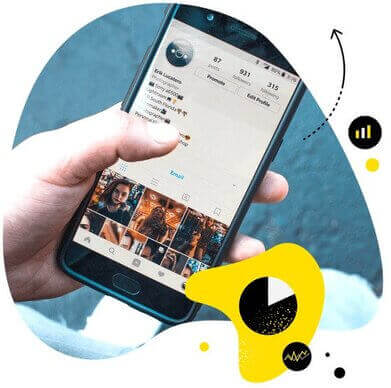 Analyze reach on Instagram & create reports in seconds
Measure your Instagram marketing results. Track competitors, set up automatic reports, and improve performance using one simple tool. Try it for free:
Try NapoleonCat free for 14 days. No credit card required.
You can see how it all works in the video below:
Final Word
As a social media manager, you simply can't afford to ignore Instagram reach. Thousands of followers may look good on paper, but they can't provide your business any lasting value if you're not making those connections count.
Understanding reach on Instagram is a step in the right direction, but it's what you do with that understanding that can make a big impact.
For more Instagram tips, check out our other articles:
---