The world of social media is dynamically changing: constant updates lead to many rumors and assumptions. These are often repeated and shared until they turn into well known social media misperceptions.
Today we're going to discuss some social media myths that have been around here for a while to either bust or confirm them, occasionally with some caveats. Here are the myths we're going to look into:
Let's jump right in!
1. Scheduling tools negatively affect reach
False
It's a myth that's been repeated so often that many people believe it to be true.
It all started back in 2015 when Mari Smith identified eight Facebook engagement stats, based on BuzzSumo's research of 500 million Facebook posts.
And #7 dropped a real bomb: Posting with a 3rd party tool results in 89.5% less engagement than directly posting to Facebook.
At that very moment, social media managers all over the world started to doubt their content posting strategies.
It turned out to be a false claim, though. The truth was that BuzzSumo's data didn't clearly prove that posts scheduled via tools were penalized with lower reach, which Mari later explained in a special live video on Facebook.
While it turns out that using tools doesn't, in fact, reduce engagement or reach, it was already too late to stop the rumors from spreading and giving social media tools a bad name.
Marketers are often unaware of other factors that can contribute to low reach, so they choose to put all the blame on external tools. It may therefore be assumed that publishing posts right away makes a measurable difference in reach, but this is not entirely true.
Let's say it out loud: algorithms are unbiased towards social media scheduling tools. Social media algorithms evaluate based on content and engagement, not whether you schedule posts or publish them on the go.
Something that can negatively affect reach is scheduling content in the wrong way, rather than scheduling posts via third-party tools. What we mean by this is that when planning your posts ahead of time, you need to adjust them to each different social media platform that you're going to post to, and keep checking on the posts after publication.
What should be adjusted?
Formatting: while it's a good idea to add extra elements such as tags or hashtags to your Tweets and Instagram posts, it's not necessary for Facebook posts. Craft posts that are specific to the platform instead of simply cross-posting content.
Posting times: your Twitter audience may not be active when your Instagram followers are, so posting at the same time may only bring results on particular platforms.
Sizes: image sizes vary between social media platforms. While a square post is often considered a safe bet, it may be displayed incorrectly on some platforms.
CTAs: automation may be tricky for your content strategy. Make your posts look natural and don't forget about adding CTAs, which are adjusted to each platform (e.g. you can add clickable links to your Facebook posts, but they won't work on Instagram).
The content itself: you need to review your scheduled posts from time to time in order to identify content that requires changes, are no longer valid or trending, or need to be pushed back to a later time due to unforeseen circumstances.
If you publish the exact same content at the exact same time across all of the social media platforms that you manage, it may display improperly on some channels or reach fewer people than it should. Your content may, therefore, drive lower engagement than expected.
Social media scheduling can bring about many benefits. You may actually see an increase in engagement as a result of more regular posting. Social media planning saves time that you can spend on the creative side of the business. It also gives you a better overview of your content strategy. Scheduling won't do all the work for you though, so you should still hop on your social media profiles and drive interactions once content has been published.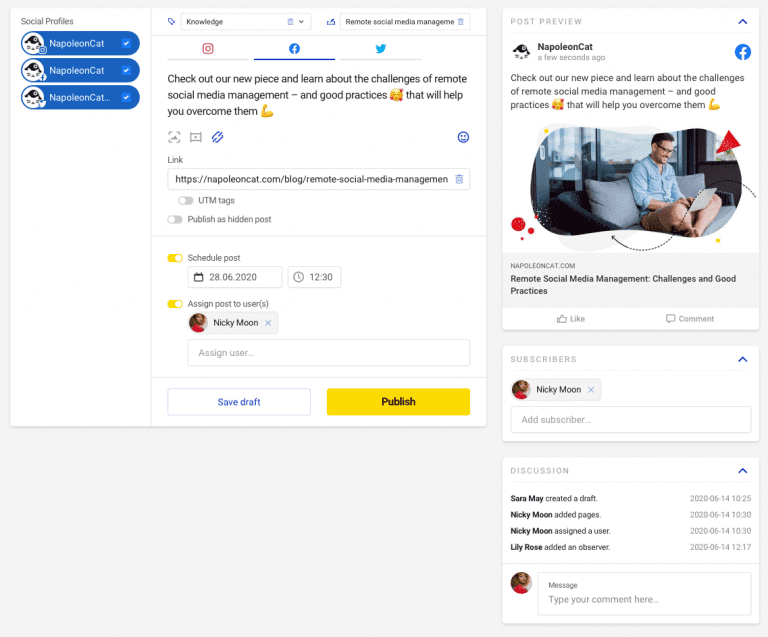 2. You need to be active on many social media platforms
It depends
Your selection of social media platforms should completely depend on your business goals, marketing strategy, and target audience, not on your personal preferences.
Recognize where your target groups spend most of their time online and choose the platforms out of these that you will be able to handle: be it independently, with your team, or with some help from social media agencies.
There are a few lingering beliefs in the industry that brands need to be active on every platform. Although there's some truth in saying "everybody is on Facebook, so I should be there too", it's probably not the wisest idea, on the other hand, to start "rocking TikTok from day one" just because you like the app.
You shouldn't write any social media platform off before you do proper research on it, however. Even if you don't "feel" a particular social media network, or you don't "think" that being active there makes any sense, set preferences aside and follow the data. Unless you actually want to miss out on reaching your target groups, that is.
3. Negative feedback on social media will hurt your reputation
It depends
If social media managers had magic wands, they would surely use them for eliminating the risk of being exposed to hate on social media channels.
Negative comments on social media can truly hurt your reputation if you do nothing about them, that's true. And the longer they stay visible and left without replies, the more harm they can do to your brand. This is probably the last thing you would want to experience.
Dealing with negative feedback on social media is not simple since no one loves criticism. It is, however, crucial to familiarise yourself with such comments, resolve problems as soon as possible, and put procedures in place so that similar situations don't occur again in the future.
Responding to criticism is a way to build relationships not only with the people who post negative opinions(dissatisfied clients) but also with spectators – followers who may be in the consideration stages of your sales funnel. Edelman's stats show that 44% more people think that a brand's conversations with customers and prospects are more persuasive than official promotional materials.
This is where the right set of procedures come into play. If you introduce defined standards for answering negative yet constructive social media comments, handling them will become easier and quicker for your team. Remember that response time is key, since waiting a long time for a reply can be a real source of annoyance for potential clients.
What's more, you can turn hate and constructive criticism on its head with the right customer service on social media. If your replies are quick and on point, you interact with negative comments professionally, and don't ignore your followers or potential clients when they have issues, you show your wider audience that you know how to manage customer service. This may result not only in a lower number of negative posts but also in your clients becoming brand ambassadors amazed by your professional approach to their requests.
Of course, you need to know how to distinguish between relevant negative comments and straightforward hate, such as spam comments, offensive messages, and insulting provocations by some so-called Internet trolls. Don't be scared of simply removing hate and spam, as long as you don't do the same for genuine criticism.
4. Your customers are not on social media
It depends
Many brands shy away from social media since they are convinced that their customers are not active there. However, the only reason given for this line of thought is often "I just think so".
The truth is in the statistics, and they may well prove this belief wrong.
Say that you run a local Australian business that sells natural cosmetics. Your target audience consists mostly of women, but for some reason, you're convinced that only the youngest age group is active on social media.
Applying this thinking to your strategy could cost you 3.5 million potential clients, which is how many women aged 45+ living in Australia are active users on Facebook itself. Top it up with almost 1.5 million users in the same age, location, and gender group on Instagram, and you've got an impressive target audience to reach on social media.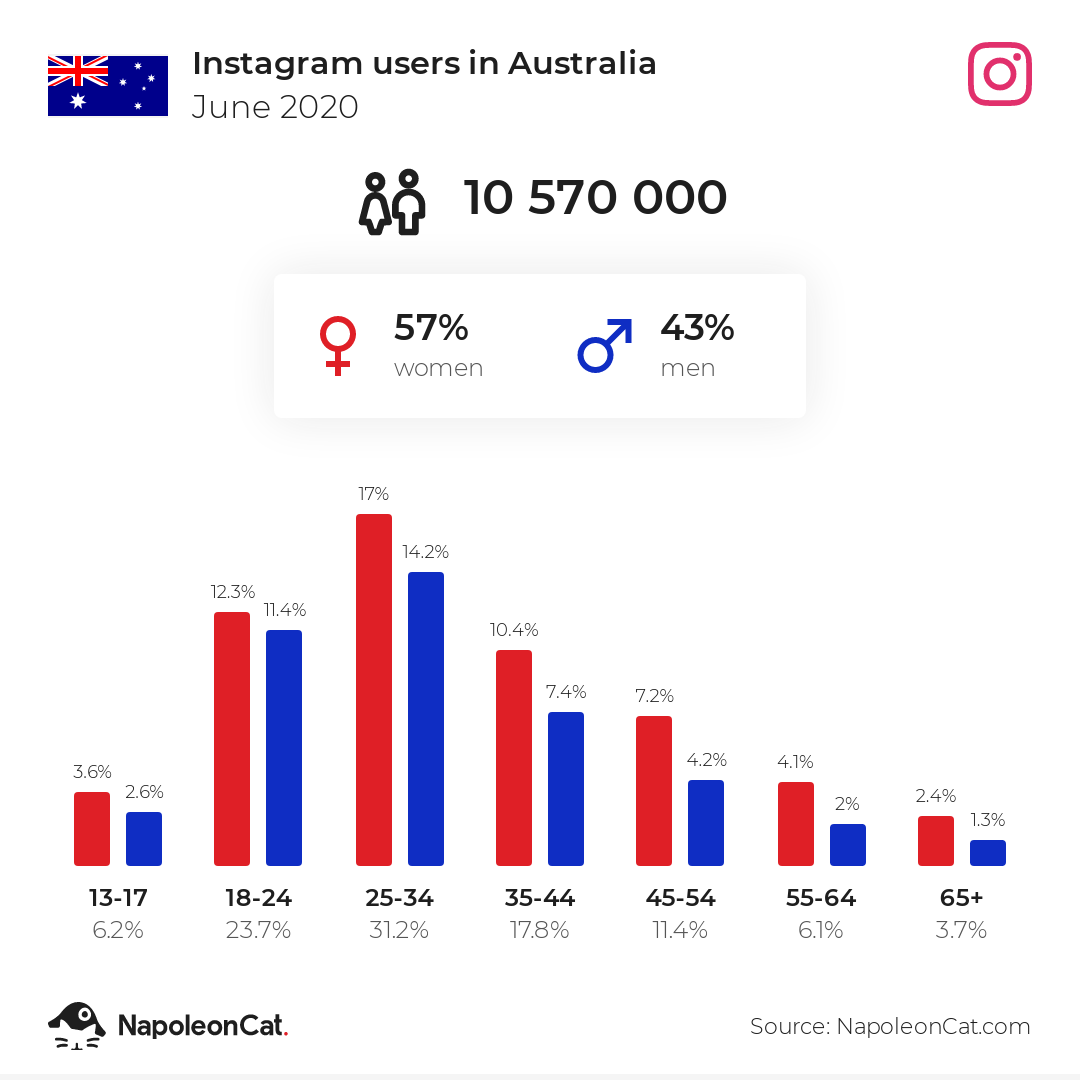 Are you sure that your clients are not on social media? Well, take a look at the stats and confirm or debunk your ideas before compromising your strategy.
5. Social media are only good for sales
False
Using social media as a sales channel only may bring you more harm than good. While social media platforms definitely can help boost sales, they should not be used purely as retail platforms.

If you're too pushy on your social media profiles and over-promote your services, then you may achieve the opposite of the desired effect. Audiences may become tired of your content and instead of taking the desired action – which ultimately is shopping – they may decide to unfollow your brand and head over to your competitors instead.
Not quite an ideal scenario, is it?
Try to juggle different types of content. Combine sales info with your ongoing communications and make the most of the shopping features that social media platforms offer. Don't overdo it, though. Your audience may be very sensitive to overly salesy communications, and winning their trust back after losing it can be more challenging than gaining it in the first place.
6. You should only post in the evening/morning
False
Some marketers used to think that there are some "golden hours" during the day when posting is the most effective.
One group may think that it's better to post in the early morning, when people commute or eat breakfast and hence have time to read some social media posts. Others believe that it's all about posting in the evening, when people are not occupied with work and are therefore willing to check out some new content. Another group trusts in posting regularly at around midday in order to catch their audience at lunchtime.

We hate to break it to you, but there's no universal rule here.

The best time to post will likely differ for each social media platform that you manage. To identify what times are best for you to post, go to the Insights of each profile and check your audience's activity patterns, which are great indicators for your content strategy. While your Facebook audience might mainly interact with your content in the morning, your followers on Instagram may be active in the evening. To get the best results, you should adjust your posting schedule according to these periods of high activity. Don't rely on followers to always be waiting for you to publish content, unless your audience is already used to you scheduling it consistently for the same times.
Of course, it may turn out that only posting in the evening works wonders for you, but this should be determined by research rather than guesswork.

If you manage many profiles, switching between social media platforms in order to check statistics can be a real time-killer. Then, implementing all of these conclusions into schedules may also be tiring.
Wouldn't it be better to do all of this in NapoleonCat, then? With detailed analytics and intuitive scheduling, you can speed up and automate many tedious tasks.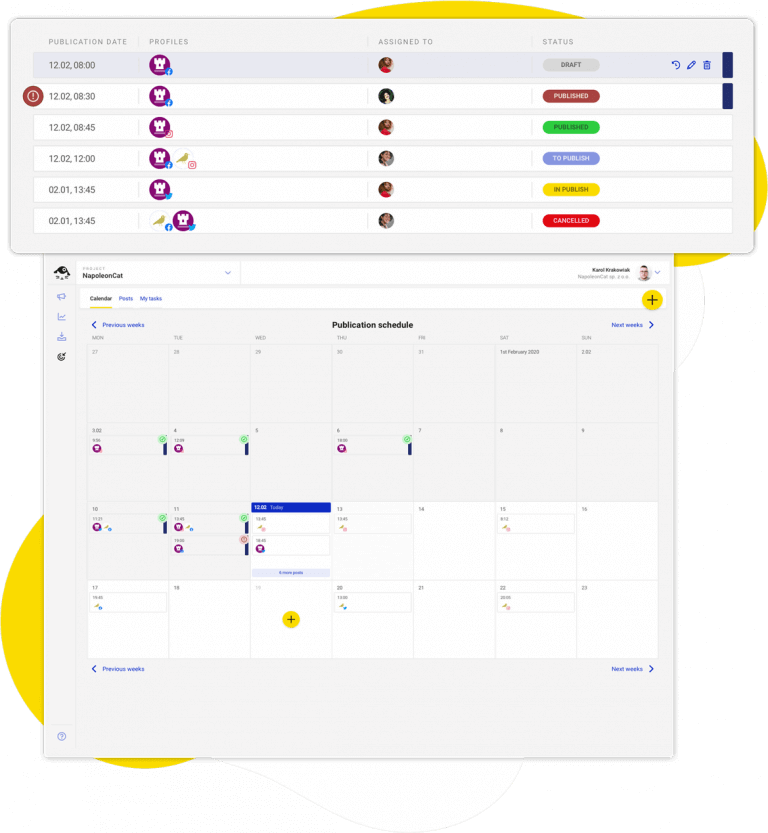 7. Anyone can manage social media channels
It depends
Do you need expensive software or social media agencies to take care of your online presence? Not necessarily. While not *literally* anyone can manage social media channels, many people are not aware that they can become solid marketers themselves just by having a few skills and tools at their disposal.

If you:
are creative but also analytical
know the brand you're going to promote inside out
understand a thing or two about social media marketing
… then you are pretty much ready to dive right in. Additionally, if you are equipped with the right tool for social media management, things are going to be easy for you from day one.

Obviously, some extent of trial and error will be involved at first. You may still need to learn a lot of marketing skills, upgrade your knowledge, and get up to date with the latest social media news. This might be challenging, but the time investment will pay off.
8. You need to pay a lot of money for social media marketing
False
This is another myth that can keep many brands away from social media. Associating social media marketing with spending a small fortune shouldn't happen, for (at least) two reasons.

The first one? Despite countless paid advertising opportunities, you can still try to build your reach organically. There are many free opportunities that cost time, but not money. Try to build a group on Facebook, promote your brand in local communities, or engage with your potential clients' content to grab their attention.

The second reason is that you don't need to hire a social media agency or build a comprehensive team of marketers from day one. There are still many things you can do yourself! Work on expanding your knowledge, invest in a few tools, and test out some new solutions. Follow reliable sources and keep checking up on the latest news.

Social media marketing can help you unleash your creativity even if you're on a tight budget, so don't be scared of diving straight in.
Meet your affordable social media management toolkit
Schedule and publish content, engage with your audience, and analyze your results with NapoleonCat.
Try NapoleonCat free for 14 days. No credit card required.
9. What works for one page will also work for another
It depends
Many social media managers mistakenly think that anything that brings results to one profile will definitely work out well when implemented on another page too, regardless of the industry, target group, or strategy.

Unfortunately, this approach may bring disappointing effects.

Driving insights from your own activities is always helpful, but it doesn't mean that applying them to all of the profiles you manage will result in an instant boost. What's more, copying some tactics may bring about some results that are worse than expected.

Inspiration never hurts, so having a general set of good practices may come in handy. However, don't expect them to produce exactly the same results on every page that you manage. It's better to be surprised than disappointed.

If there's a specific pattern to your activities, however, then you may be pleased with the results every time. Say that you run a couple of fashion profiles and you've noticed that posts featuring specific memes seem to receive a lot of interactions, then you may want to replicate this strategy on another similar profile. The same strategy may not be applicable to the profile of a local bank, though.
10. It's all about having a lot of followers
False
Follower count is more and more often considered nothing more than a vanity metric. While a large number may look impressive, it doesn't necessarily have to drive traffic or results.
It's better to focus on growing other metrics, such as:
engagement rate
reach in your target group
clickthroughs to your website
purchases through social media
These will tell you more about the success of your communication strategy than a single number (that may include fake followers and bots that add zero value to your brand).
11. You have to post a lot of content on a daily basis
It depends
A social media strategy for brands is not only about being present, it's about being active too. The key to debunking, or confirming this myth is to define what "a lot of content" is, exactly.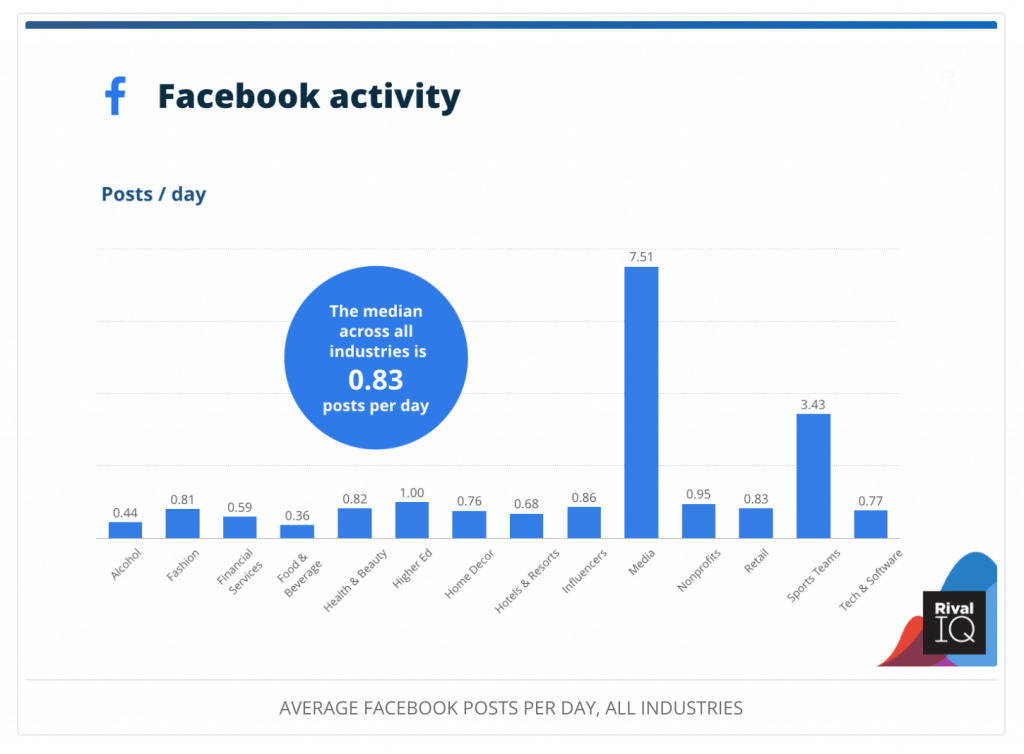 According to Rival IQ insights, only sports teams and media industries post more than once per day on average. The median across all analyzed industries is 0.83 posts per day, which provides some kind of benchmark or standard for social media managers.
Sometimes, though, marketers may be tempted to post more content, more often, just to try to drive more engagement and see if they can continually improve brand visibility.
And this is where finding the perfect middle ground is crucial.
According to research carried out by Smart Insights, 51% of Facebook users claim to unfollow brands if they see too much branded content in their feeds. 27% say that they may even flag it as spam, report, and block it.
If you want to test out a new posting frequency, go ahead! Don't forget about comparing your results with previous periods, though, to see if the changes to your strategy are bringing in any positive or negative results. Barely posting at all is not recommended, but spamming your audience every couple of hours is certainly not a wise idea either.
12. You should look at yourself, not at your competitors
False
It's worth knowing what your competitors are into, not just to satisfy your curiosity but also to evaluate your social media strategy.

Keeping track of your competitors may provide you with even more info than you could've thought possible.
Competitive analysis can help you understand how your brand compares to industry leaders and your direct competition.
Identify your competitors, check out what, when and where they publish, assess their effectiveness, and try to figure out which metrics are prioritized by them. And then compare your findings to your own performance.
What else should you keep in mind? Competitive research is not a one-off activity, it's a constant process that requires your ongoing attention.
Read more about competitive analysis here.

13. Social media generates problems for customer service
False
Social media platforms do generate extra work for customer service, but that doesn't necessarily mean problems. Especially, if your team knows how to handle negative comments and has mastered customer support on social media.

Customers in 2020 head to social media not only for inspiration and entertainment but also for interaction with brands. According to this Conversocial report, 35% of respondents aged 18-34 have used social media for customer service. Many potential clients would rather contact your brand via social media platforms than via calls or emails.
By being present and active on social media, you offer people an additional platform for getting in touch. And while you may have to deal with some negative feedback and complaints, you can actually turn these into wins for your brand. When you commit to providing quick responses on social media, your clients may make their purchasing decisions just as quickly. If they have their questions resolved as fast as possible, then you'll be a step closer to turning followers into loyal customers who are happy with their experience of interacting with your brand.
Setting up customer service processes on social media is quite an investment, but one that has a fairly high ROI. Doing so won't always be a bed of roses, but you may be surprised at how helpful customer service on social media is for enhancing your omnichannel customer support.
14. Instagram doesn't work for B2B marketing
False
Instagram absolutely can be used by B2B brands for boosting sales, improving customer service, or raising brand awareness. It's all about creativity and the right approach.
Bearing in mind that Instagram has over one billion users, you'll almost certainly find your target group there unless it is extremely niche. This applies to B2C and B2B brands alike.
For example, Capgemini uses Instagram to boost their employer branding and show off their brand values.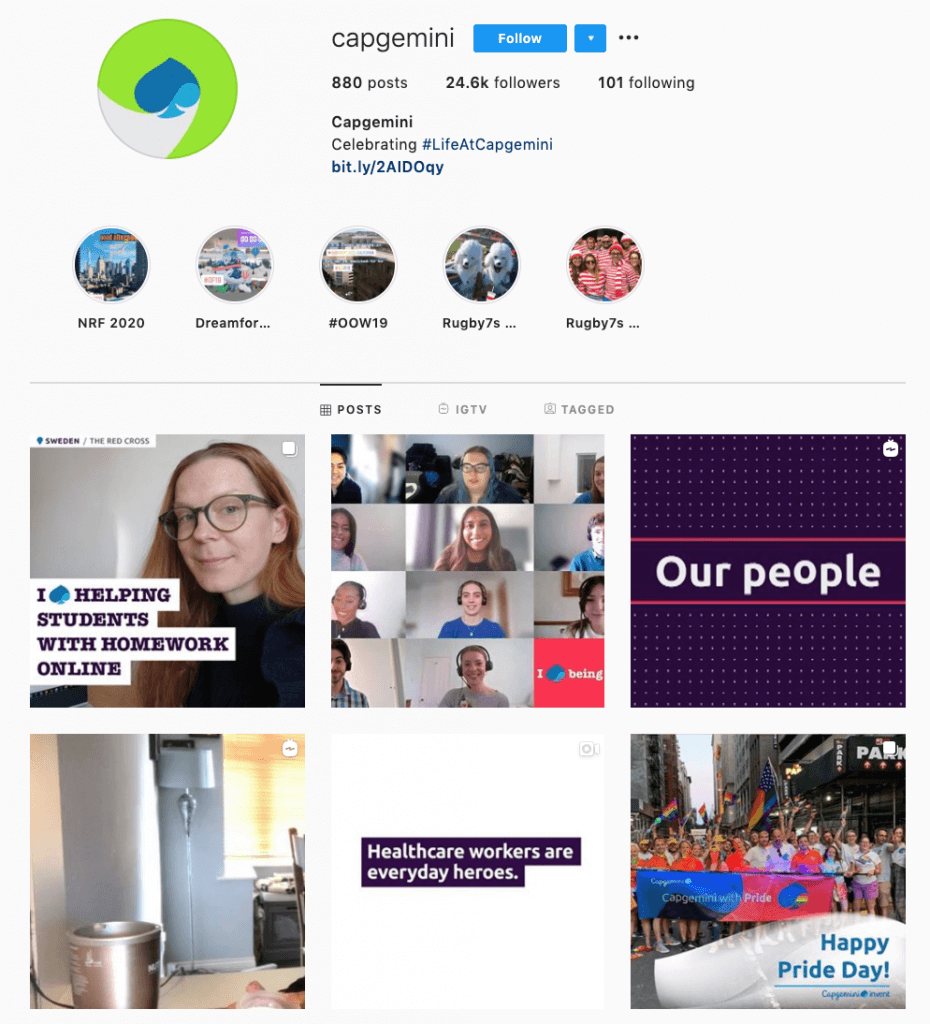 On their Instagram profile, Mailchimp serves a mash-up of corporate culture content, new feature launch announcements, and some initiatives within the organization.
Side note: they really do have 125k followers!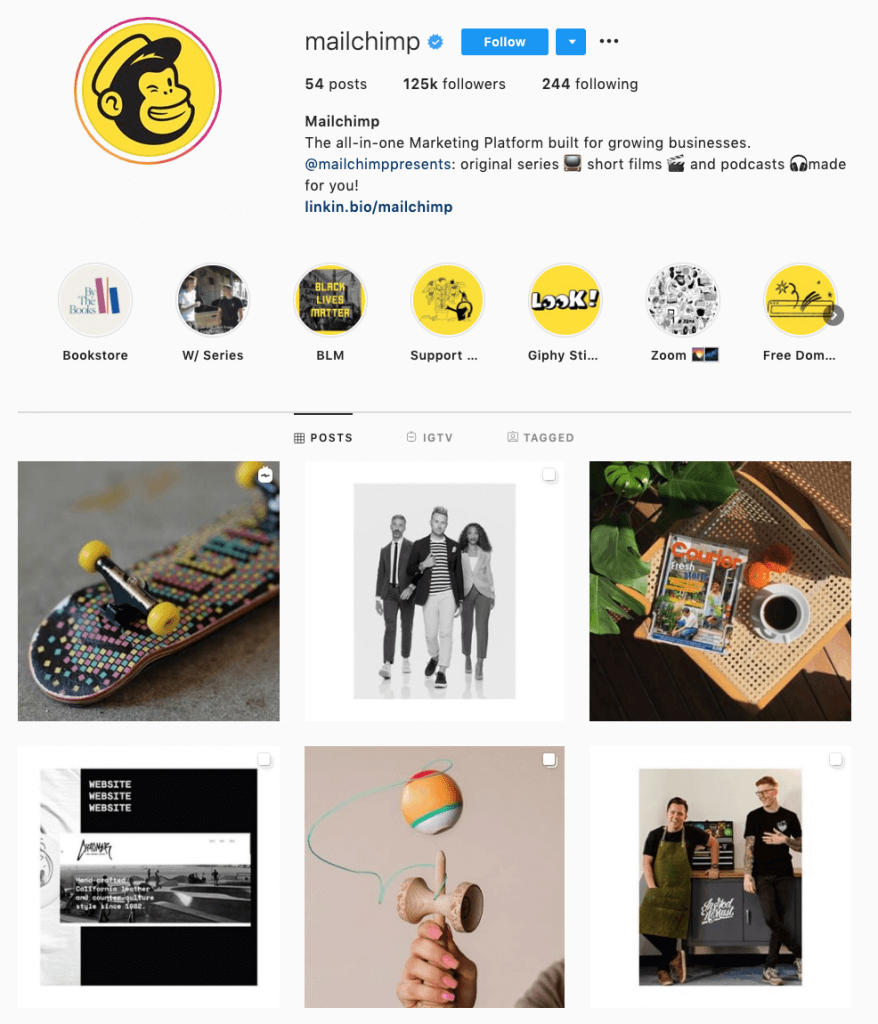 15. Everyone's already on Facebook, so there's no room left for me and my business
False
According to Statista, there were 8 million monthly active advertisers on Facebook as of the 1st quarter of 2020. While this may sound off-putting, it's actually quite relieving at the same time. That's because these 8 million are advertisers from all around the world, and if so many of them are active then it must mean that they can drive results, despite the fierce competition.
It's never too late to enter Facebook, even if all of your competitors have already been present and active there for ages. It's also never too late to refresh your strategy and start over if your efforts to date haven't been successful. Facebook provides a lot of advanced advertising and targeting options. If one of them doesn't work out, you can easily pull another strategy out of the bag.
What's more, you're not limited to ads and organic promotion through your Facebook Page. Make the most of the newest social media updates, be an early adopter, or build a community in the form of a Facebook Group. There are still quite a few slices of the social media cake left for you on Facebook.
16. Instagram is only for teenage girls interested in fashion and beauty
False
Instagram is one of the most misunderstood platforms when it comes to the evaluation of its potential for target groups. Thinking that this platform is purely for fashion & beauty geeks is quite simply an incorrect assumption.
And we believe that the numbers speak for themselves.
Take a look at Kenya, as an example. Out of almost 2 million active Instagram users in this country, 53.5% of them are men, while women aged 35 and over account for 10% of all users.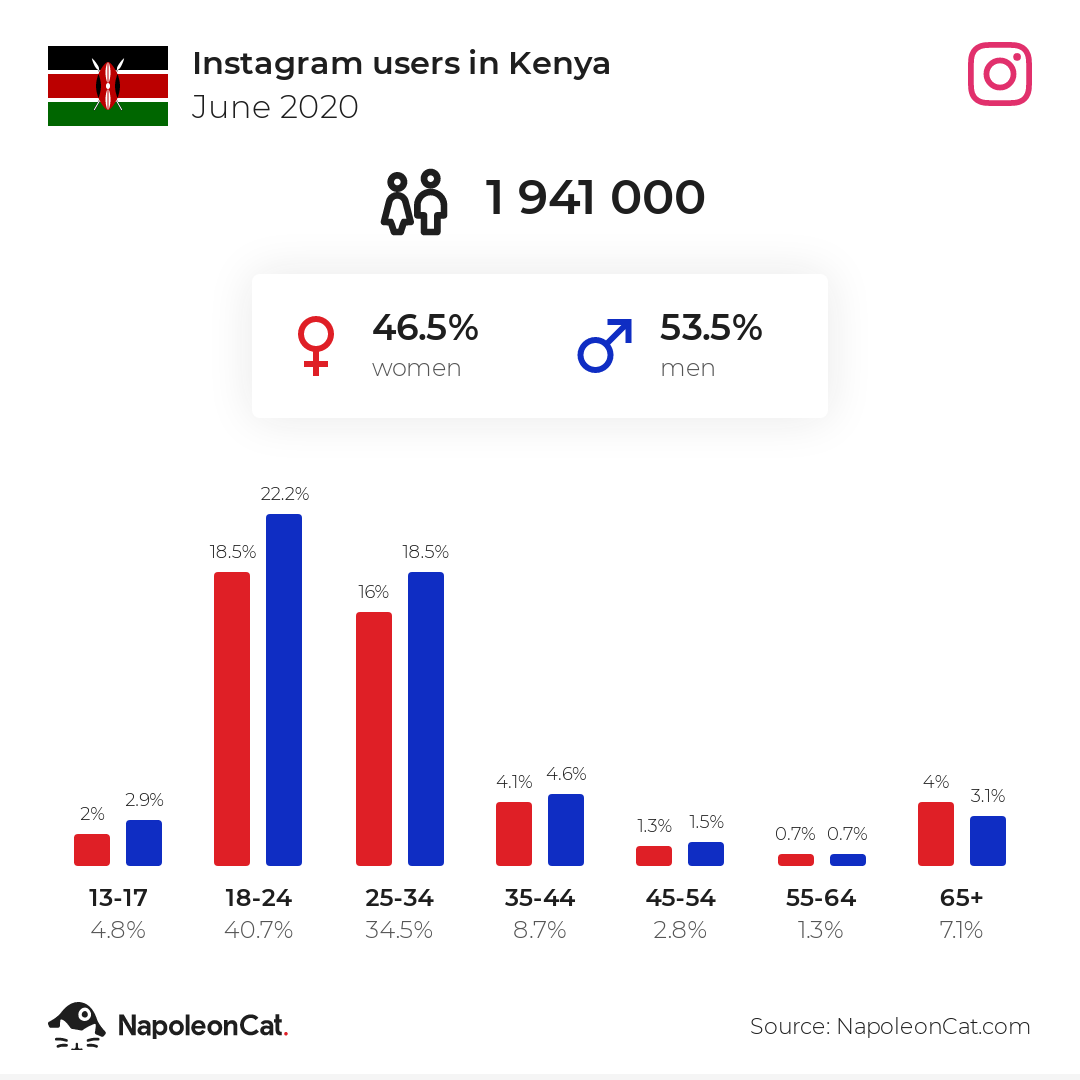 Further proof is in the (British) pudding. Out of more than 26 million Instagram users in the UK, 43.9% are men and 23% are women aged 35+.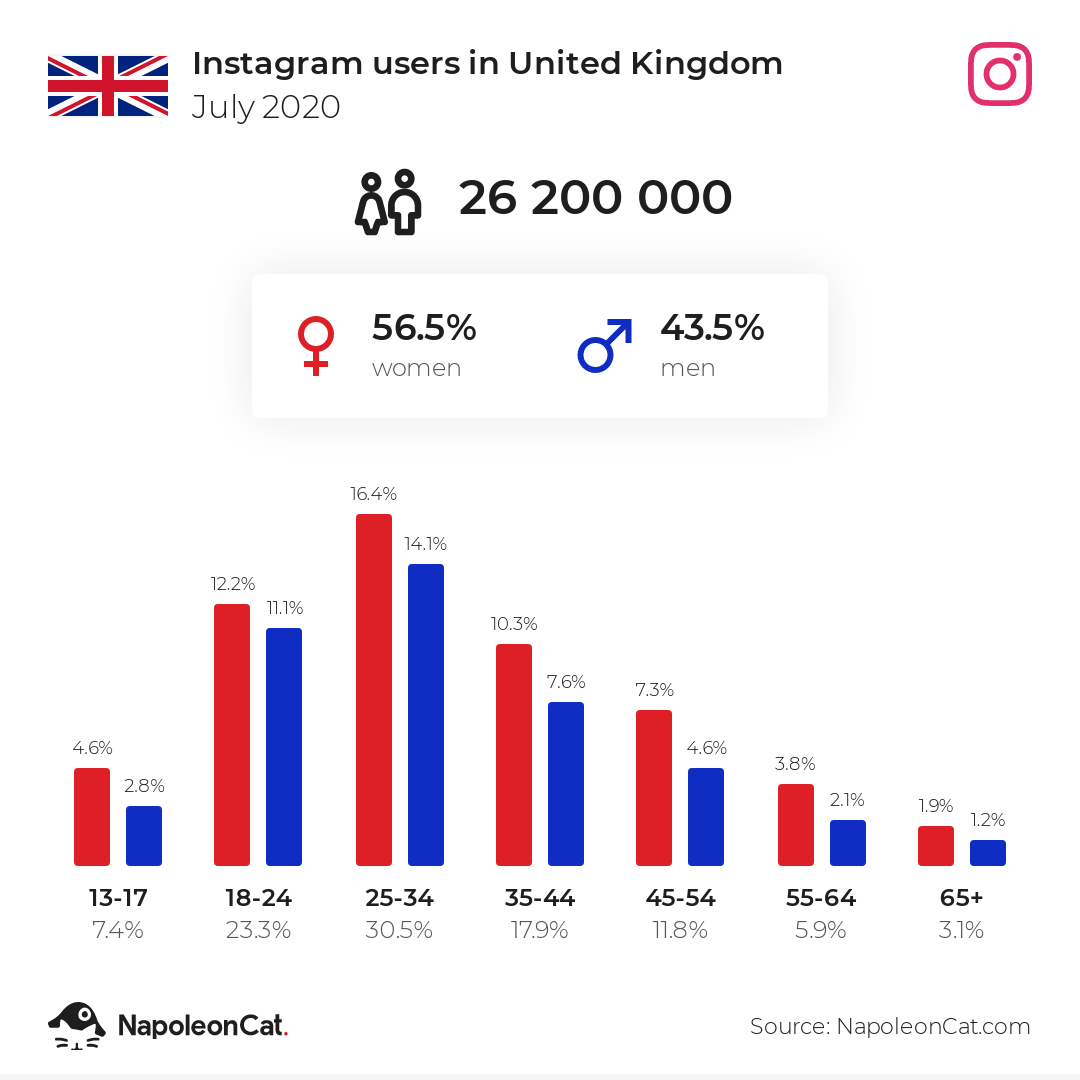 Although it's true that, in both cases, the groups 18-34 are the most well-represented, other age groups are also present (and active) on Instagram. Classifying Instagram as a "teenage gimmick", and hence leaving it out of your marketing strategy or treating it as a low priority is often a huge mistake.
17. Social media marketing is 100% free
It depends
Setting up a Facebook Page or Instagram account is free. Adding content, sharing stories, or posting Tweets is free too. Using these features is likely to be free forever.

However, in order to attract your target group, you may need to put a few dimes in the jukebox or invest some additional time and resources.

Posting content is not enough by itself. First, you need to create it of course. Then, you should promote it within your target groups (either organically, by investing your team's time, or via paid ads), engage with them, and reply to their requests or comments. Analytics and reporting are equally vital for your performance.
The bottom line is that getting into social media does require some resources – but not necessarily big bucks. Nevertheless, this should not be off-putting in terms of your decision to try and conquer social media.
Wrap up
We've busted some of them, we've confirmed some of them, and explained why others are simply not black or white. Social media myths are alive and well, and it takes some experience to navigate them on the quest to build a successful social media presence. We hope that our article has highlighted the importance of data, research and testing. Good luck!
You may also like: