I'm guessing you already know you can't ignore social media as a small business. But how do you get it to work for you without exorbitant marketing budgets? Here are the strategic essentials to get in place so your business can profit from your social media presence.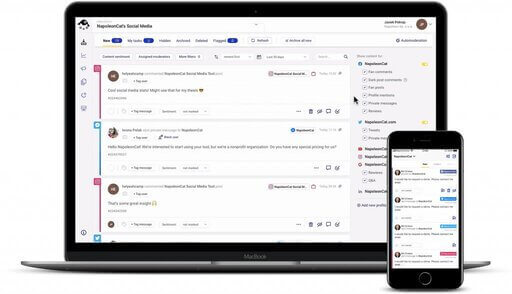 Manage comments and messages across platforms – all in one view
Answer questions and interact with customers on Facebook, Instagram, Twitter, LinkedIn, YouTube, and Google My Business – with an all-in-one social media tool (Instagram DMs included!)
Is social media marketing for small business worth it?
What is the difference between social media marketing and traditional advertisement? For one thing, you typically pay for ads, while posting content on social media sites doesn't have to cost anything.
Social media marketing has immensely increased the way small businesses can reach their customers without spending a lot of money. Which could probably be the end of this paragraph. 🙂
But let me take it a little further with a few more benefits of social media marketing for small business:
You can reach more customers than you ever could before, basically anywhere in the world, if you're serving an international audience.
You can serve those customers better, providing easier access to your brand (especially as the world has gone online, and so have many people's expectations.)
You can build an engaged community around your brand that goes beyond local.
You can sell more. (More than 50% of revenue across 14 major industries is generated by social sales.)
And here's a nice diagram from Statista to complement the above list: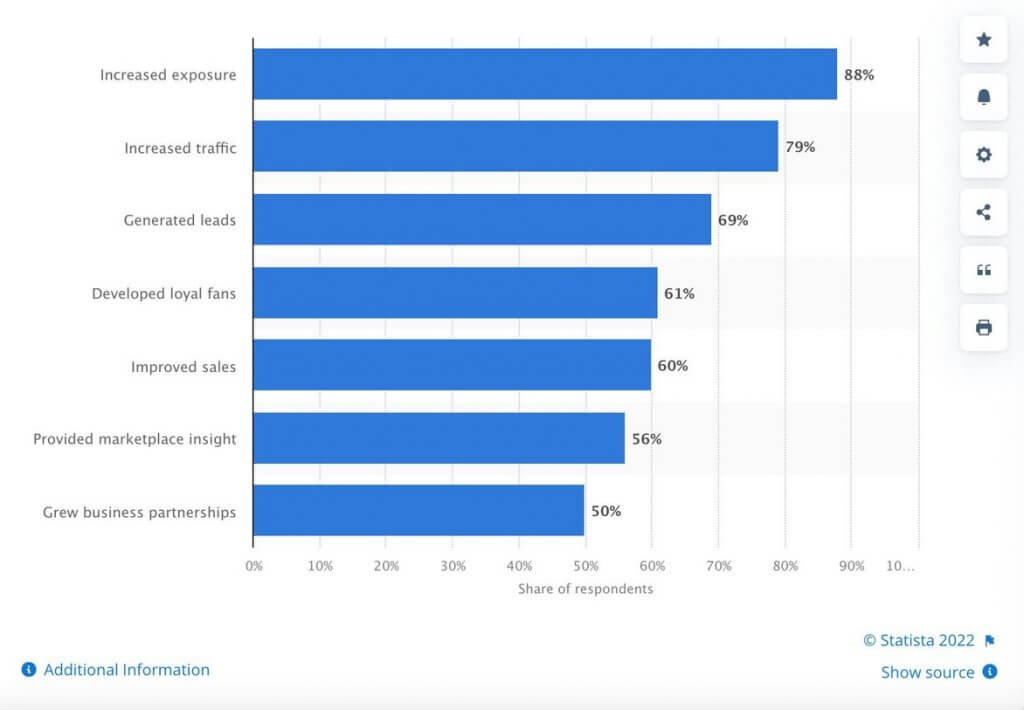 Yes, social media can be really effective when it comes to sales. And even more so as we're increasingly more online – and that's where most of the selling actually happens.
But it's not going to happen just by creating a Facebook Page or an Instagram account and posting photos of your company's daily life (even if you think they're great.)
You need a strategy in place.
And social media strategies are not just for the "giants." As a small business, you need one to get as much as possible out of your social media while saving as much time as you can (and you probably never have enough of it.)
(And if you think you "don't have time to create a social media strategy," think again. It'll save you sooo much more time down the line.)
So let's see how to create it.
Social media marketing strategy for small businesses
Let's go through the essentials of a social media marketing strategy for small businesses.
Get to know your audience
You need to know who your customers are – and where they hang out online. That's key for any business and any marketing channel.
It will help you target your marketing better, so you don't waste your time and budget doing something that doesn't have a slight chance to work.
Start by researching your audience and creating customer personas. And when doing that, remember to go beyond just the demographic data like age, gender, and location. This is not nearly enough to know what content to produce for social media and how to get people to buy.
Complete your personas with the kind of data that will actually help you do better social media marketing, like:
The problems they have that your products can help them solve
The social media platforms they use and how they do it (e.g., do they prefer watching Instagram Stories and Reels over reading Facebook content? Or maybe they're on LinkedIn – likely if you're a B2B company?)
The types of content they consume on social (video content, images, how-to posts, etc.)
You can do this by analyzing your existing customer profiles and also your social media content performance using social media analytics.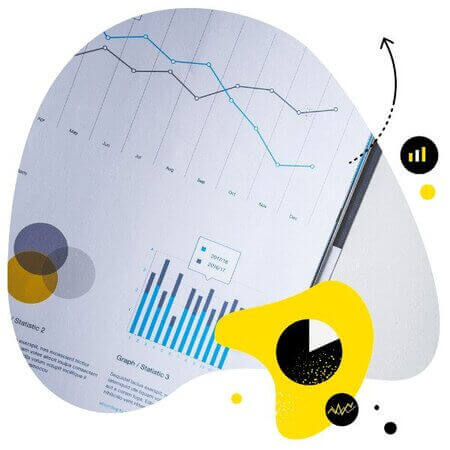 Analyze competitors on social media
Track your competitors' social media activity across Facebook, Twitter, Instagram, and YouTube – with an all-in-one social media tool. Compare multiple accounts side by side and refine your own marketing strategy.
Take a look at your competitors
I'm NOT telling you to copy anyone (I just want to make that very clear ;)). But following your competitors will help you determine your benchmarks and see what marketing tactics get them the best results. If their target audience is pretty much the same as yours, this can give you many valuable insights.
Also, this is your chance to look for ways to stand out with your social media marketing (and your brand in general). It's essential if you're in a crowded space and need to find a way to set yourself apart. Good competitive research will help you define your differentiators and position your brand in your market segment.
Choose your platforms
Based on where both your target audience and your competitors are active, select the social media platforms you want to use to promote your business.
But don't just "do what they do."
Instead, notice what types of content and marketing tactics get the most engagement and see how you could adapt them to your own needs. And remember, your needs – and your plan – might be different than any of your competitor's.
But to know what those needs and goals are, don't forget about the next item in this list.
Identify your goals and KPIs (including your budget)
When you have a good grasp of your target audience and competitive benchmarks, time to set up your goals and key performance indicators, helping you measure those goals.
Do this by answering some questions, such as:
What do you want to achieve by being on social media? (More sales, more visits to your website, more recommendations, more newsletter signups?)
What are the exact attainable numbers on those goals? (How many sales, how many website visits, in what timeframe? Get as specific as you can.)
What budget can you spend on each of those goals? And not just in terms of ad spend (though that's important), but also outsourcing content creation, hiring an extra customer service person, etc.
If you don't have these basics figured out, it'll be near impossible to say whether social media is working for your business, not to mention making any improvements.
Plan out your content strategy
Small business needs social media content. Now it's time to consider what types of content – and how often – you can create based on those goals. This should include figuring out:
What types of content work best in your niche, based on your research
What your content creation budget and/or internal capabilities are
What are some general guidelines and best practices in your niche regarding times per day or week you should post content
Based on that, decide how often you can post on each of your profiles and what exactly you're going to post.
And remember, social media is not an advertising banner. It's a two-way communication channel, so create content that actually works on social. It can be a mix of:
Educational content, showing people what they can do with your product or service. A simple example is posting guides about different travel destinations if you're a travel agent or makeup/hair tutorials if you sell cosmetics (some of these tutorials can be done by your customers, ticking the user-generated content box at the same time.)
Shoppable product posts. Since we're talking about social, find ways to present your products in creative ways that go beyond a standard banner ad.
A mix of formats like video, visual posts, and text posts. You can start with some basic best practices, but monitor your social media analytics to see how they work out for you. Because you might sometimes be surprised by the results.
Sponsored content – but tailored to each platform. If you're on TikTok, for example, do as TikTokers do and don't try to push salesy, in-your-face ads that don't fit the format of the social media network (and the needs and expectations of your audience.)
Execute it
For your content, use a social media automation tool to schedule it across your channels. Define frequency, days, and times to post, post types, and team members responsible.
Don't forget about the flip side – which is comment moderation, and generally, talking to your audience (including answering customer service questions.) This is also part of your social media presence, so make sure you have staff assigned to do that. Social media is a two-way conversation, remember?
(In the planning phase, you should also include relevant goals and KPIs on this one, e.g., how quickly you want to be able to respond to comments or questions.)
This is probably the more demanding part of social media marketing for small business – because you can't exactly plan your audience's engagement. But you need to be ready to handle it, especially if growing your engagement is one of your goals (which it should be if you're serious about this.)
Analyze, evaluate, improve
To know if your small business social media marketing strategy works, you need to closely monitor it and look for opportunities to improve:
Which content gets more engagement than others?
What days and times to post turn out to be the most effective?
Which tactics lead to sales?
What is a waste of your budget (or time, which, effectively, turns to budget)?
What do your customers think? Are they happy with the level of customer service you provide on social media (and overall?)
Then go back and implement changes so that your social media results keep getting better.
Get a social media marketing tool to support your small business
This is a handful, I know. Especially for small businesses that don't have elaborate marketing teams and do have lots of other things to take care of.
You can make social media a powerful tool for sales, though, if you use the right social media management tool. Like NapoleonCat – let me quickly show you how it could help with what I listed above.
Content planning and scheduling social media posts
Sure, you can plan your posts in an excel spreadsheet, then post them manually on each social network (and then manually check for comments every single time). But think about the amount of time you spend doing that when you could be doing something else that grows your business.
So, instead, use a social media scheduling tool – like NapoleonCat's Publisher– that'll keep all your posts in order AND automatically publish them at a scheduled time.
You can also share it with other team members so everyone can keep track of what's going on on your social media in terms of content and marketing campaigns.
(If you have other team members, that is. ;))
Moderating and replying to comments
Yep, this one's even worse when done manually (just think about all the open tabs!)
So instead of relying on your phone notifications from every single app (possibly also missing some of the interactions, especially if they're on your Facebook and Instagram ads), you can have a single dashboard with all of the conversations organized and available in one place.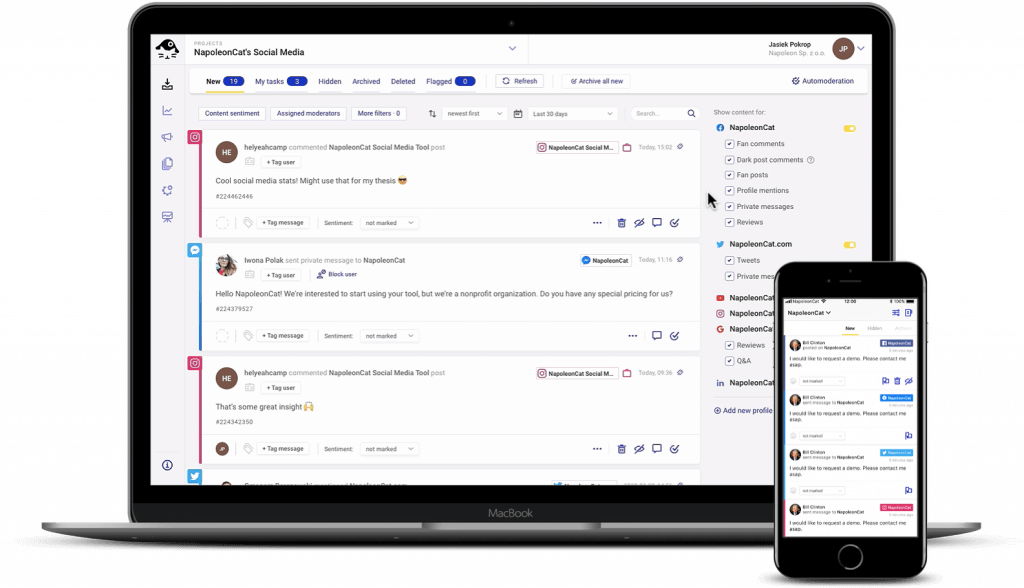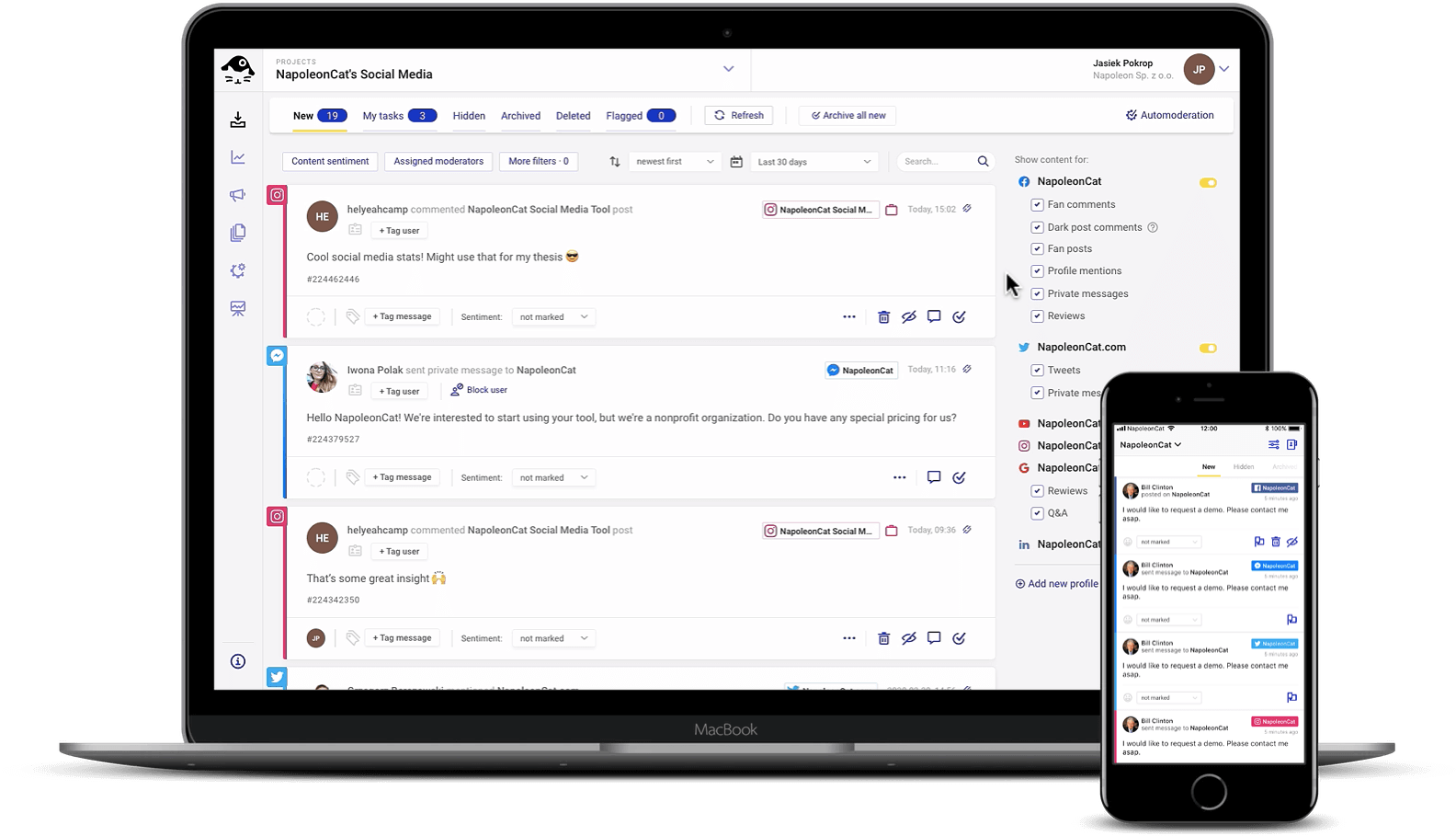 This one's indispensable for social media management if you ask me. Even if you're a one-person show.
Automating your customer service on social media
The good thing about all the marketing technology available these days is that it saves time in one way or another. And a lot of this is down to automation.
And while automating conversations might sound a little off at first (nobody wants to talk to a robot, right?), bear with me here. It's not about hiring a robot to do the job, but rather saving your time where it is actually possible – so you can have more time for what requires interactions at a more sophisticated level.
What you can – and should – automate includes:
– Replying to repetitive questions. You know, ones that take up your time, but the answer is straightforward – and always the same. These can be things like questions about product prices or sizes or your location and opening hours. And you can have a ready-made answer posted automatically whenever a keyword or phrase is used in a comment.
– Removing/hiding spam. Starting your day with deleting spammy or offensive comments is not a great use of your time (and just leaving them there is no solution). Instead, you can do it automatically by defining keywords that will trigger a comment to be deleted.
With NapoleonCat, this is also possible under your Facebook and Instagram ads, and you can also automatically remove comments with links (in case someone's trying to profit from your paid social media reach.)
– Responding to comments and messages while you're out. It's like your email autoresponder – lets your followers know that you're unavailable and when you will be back.
Analyzing results
So it turns out you don't need a separate subscription for your analytics tool – if you get NapoleonCat, that is. Use it both to analyze your content's performance and your competitors' social media accounts.


Watch this video to see how to do it.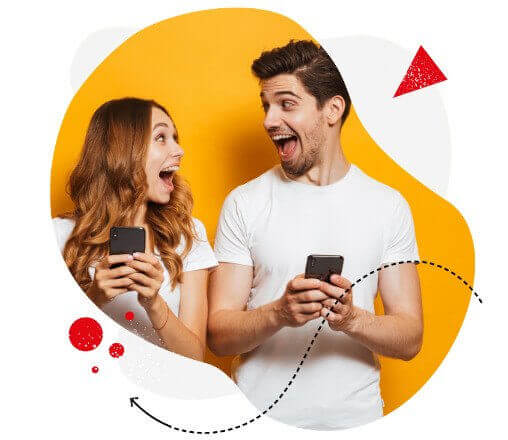 Social media marketing made easier (especially for teams)
Automation, analytics, reporting, scheduling, and more. Save tons of your time spent on your marketing tasks – with an all-in-one social media tool.
How about you try it yourself?
There are tons of tools out there dedicated to social media management for small business, but what's really cool about this one is that it covers so many areas in one subscription and one dashboard.
You can sign up for a 14-day free trial here to see how you could use it for your business.
Just don't forget about the strategy first, okay? The best tool on Earth won't be able to get you great results if you don't really know what you're after.
You may also like: