Want to build a social media presence that helps you cultivate a meaningful (and profitable) relationship with your target audience? Launch a social media marketing campaign!
Easier said than done, I know. Social media is as noisy as it's ever been. How do you cut through the noise?
Three things:
Publish social media content consistently.
Create social media content that resonates with your target audience.
Effectively manage your social media accounts.
If you've been working in social media long enough, you already know how difficult it can be to pull off all of the above, at least over the long term.
But as is the case with many things in life, a plan is all you need to handle the chaos. A social media marketing plan, to be exact.
In this blog post you'll learn:
how to plan an effective social media campaign from scratch,
how to stick to a consistent posting schedule,
how to effectively manage all social media accounts,
how to measure the progress of your social media campaign.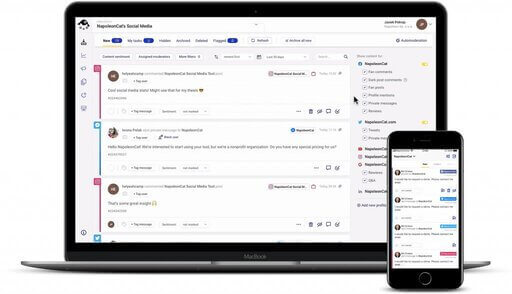 Manage All Ad Comments From One View
Keep track of all of the ad comments from your Facebook and Instagram paid campaigns – all in one customizable dashboard. Try NapoleonCat for free:
Try NapoleonCat free for 14 days. No credit card required.
We'll get into all of the above shortly. But first…
What is a social media campaign and why is it essential to your marketing strategy?
A social media campaign is a promotion strategy meant to achieve a business goal using social media.
It's not just about posting or tweeting social media content. It's also about strategy. It's not only about communicating a core brand message. It's also about building relationships.
Social media campaigns are essential to your marketing strategy because:
It helps you reach and connect with customers, clients, and leads effectively.
It ensures your social media marketing activities are aligned with your company's vision, mission, and core values.
It ensures that all your efforts on social media will have an impact on ROI.
Essentials of a good social media campaign
The best social media campaigns are:
Consistent
Creating a cohesive experience is critical to building brand trust and making your brand stand out. Publish social media updates that are aligned with your core values, brand mission, and brand identity so your brand personality will shine through. In the crowded world of social media, staying on brand is key to making your brand more recognizable.
Focused on a single goal
If you aim at everything, you'll hit nothing. Take it one goal at a time so you can invest all your resources into achieving it.
On schedule
You need to be on schedule if you want your target audience to take you seriously. Marketing is like dating. If someone you like takes you on regular dates for a few weeks and suddenly disappears for a month, would you want to take that relationship to the next level? Thought so.
Relevant.
If your posts and tweets are not relevant to the needs and wants of your audience, why would they bother?
Timely
In marketing, as in life, timing is everything. After all, "when" you see a marketing message has a significant impact on your buying behavior. So, use trends to your advantage and tap the right moments to grab and hold the attention of your audience.
Steps to Creating an Effective Marketing Campaign on Social Media
Now that you know what makes an effective social media campaign, how do you achieve it? Here are the steps to planning and executing a successful marketing campaign on social media.
1. Set a goal
What is the first step involved in developing and implementing a social media marketing campaign? You need to set a single goal.
Before launching a social media campaign, ask the big question: Why?
The best social media marketers set goals.
According to a Coschedule study, marketers who set goals are 376% more likely to achieve success than those who don't. Out of all goal-setting marketers, 70% were able to achieve their goals.
Some goals you can target in your social media marketing campaign include:
Raising brand awareness
Building trust
Generating more leads
Increasing sales
Driving more traffic to your website
Reaching new audiences
Boosting engagement
Building a community
For your social media campaign to move the needle for your business, setting the right goals is critical.
So, how do you set the right goals? By being SMART about it!
To create SMART social media goals, they need to be:
Specific: clear and defined
Measurable: can be assessed with social media metrics
Achievable: possible within the scope of your resources
Relevant: realistic and matter to your business right now
Time-bound: going to be completed within a finite time frame
Before choosing a goal for your social media campaign, determine first where your brand is with respect to your brand mission. Take stock of all your resources and see which ones you can use to advance that goal. Go for quick wins if you must, but don't forget to examine your social media marketing campaign from a long-term perspective. If it's not aligned with your brand mission and vision, then it's not worth it.
2. Choose smart social media KPIs to track
Once you have decided on a specific goal for your social media campaign, choose smart KPIs to track. This gives you the benchmarks you need to measure the progress of your campaign and to figure out what needs to be improved to steer it in the right direction.
Tracking too many social media KPIs is counterproductive. To pick the right KPIs to track and measure, do so based on your campaign goal (see previous section).
Social media KPIs for each campaign goal:
For expanding online reach. Impressions, follower count, clickthroughs, shares
For increasing engagement. Likes, comments, engagement rate
For increasing conversions. Conversion rate, CTR, bounce rate
For boosting brand image and user sentiment. Customer testimonials, customer satisfaction score (CSAT)
Most social media platforms come with a free analytics tool to help you track key metrics for your social media campaign. But if you want to gain more insights and a broader view of your metrics, you're better off using a dedicated social media analytics tool.
NapoleonCat's Analytics tool, for instance, gives you a more granular view of your metrics, allowing you to "get inside the insights" and in turn plan your strategies with more probability of success.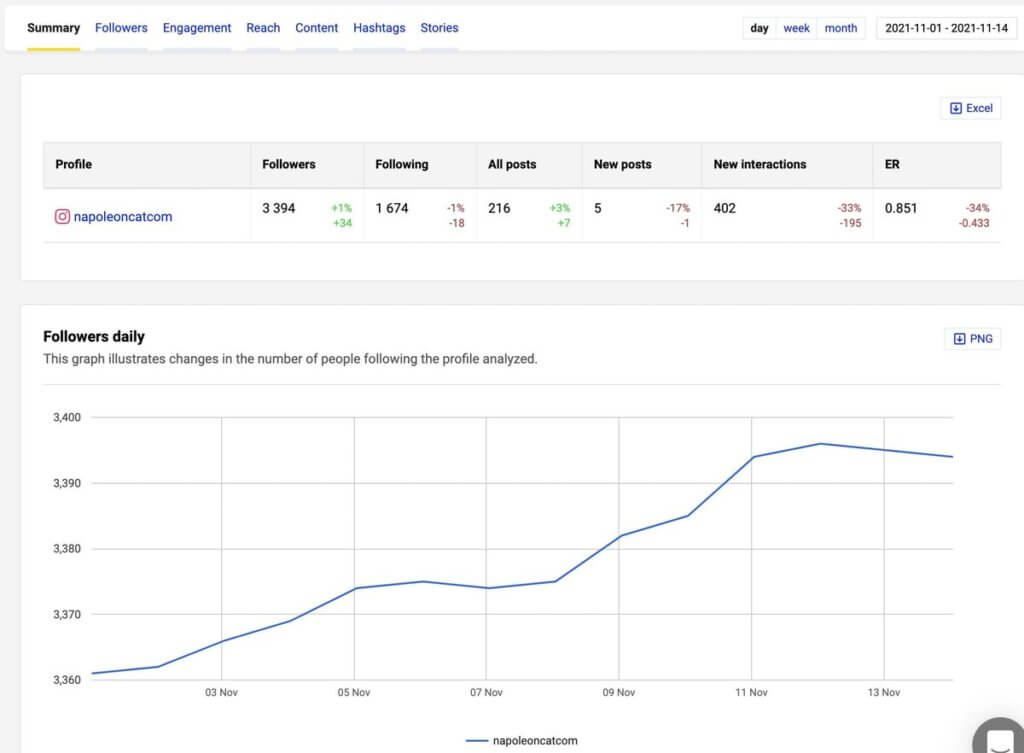 Want a more comprehensive guide on how to select the right KPIs based on each specific social media campaign goal? Check out our blog post Smart Social Media KPIs for a Strategy That Converts.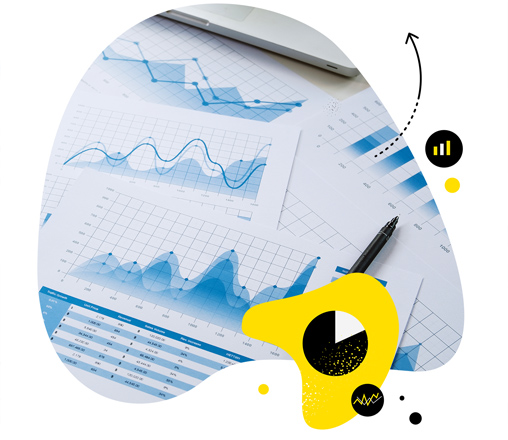 In-depth Social Media Analytics & Reports
Track your performance on social media. Analyze your competitors & improve your own strategy. Generate detailed reports in seconds. Try NapoleonCat for free:
Try NapoleonCat free for 14 days. No credit card required.
3. Get to know your target audience
Content is king, yes, but only if it's relevant to your audience.
You might have the most refined content, the most well-written blog post, and the most engaging videos, but if it's not helpful or relevant to the people you're targeting, your social media campaign will fail.
To publish relevant social media content, understand your target audience. Like, really get to know them.
You can do this by:
Interviewing customers or prospects
Getting insights from your sales teams
Digging through your customer database and finding clues and insights on how customers find and consume your content
Using surveys
Gathering demographic data using audience insights from Twitter, Facebook, or LinkedIn.
To make the most out of the psychographic and behavioral data you've gathered, create a buyer persona.
A buyer persona is a semi-fictional representation of your target audience. Here's a good example of a buyer persona.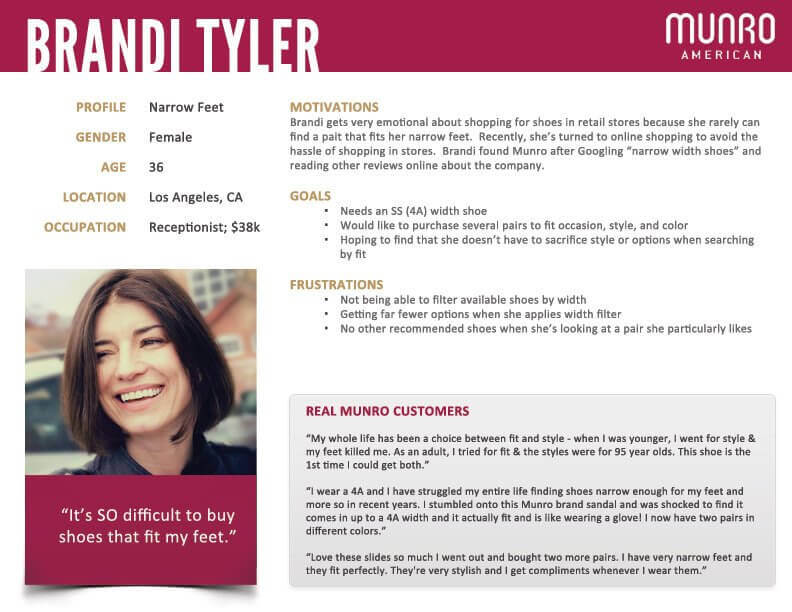 Buyer personas are game-changers because they humanize your target audience. You have to admit: It's so much easier to create social media content that will engage and resonate with your target audience if you can see them as an individual with real needs, dreams, and fears.
4. Pick your social media channels
Last I checked, there are around 15 social media channels out there. It can be tempting to use all platforms to spread the word about your brand, but that is tantamount to disaster.
For one thing, you'll end up spreading yourself (and your team) too thin. Second, you will end up investing your resources towards social media platforms that won't generate ROI.
If you want to launch a successful social media campaign, pick your social media channels carefully.
First off, you need to pick the ones where your target audience hangs out. This is the most important requirement.
Let me show you how to quickly pick your most important social networks.
You and your competitors share the same (or a very similar) target audience on social media, so why not analyze their channels?
With NapoleonCat, you can collectively analyze your competitors' social media accounts across different social platforms. You can check how engaged their followers are on each of the platforms, and more:

With this quick hack, you should be able to pick the social networks that best fit your brand.
But there are other considerations to keep in mind:
What type of content do you like to create? If you think you can spread your message best by using images, use Instagram. If you love to post content that is informal, fun, and concise, use Twitter.
Or you can use both at once if you can easily tailor your content based on the social platform you're posting to.
NapoleonCat's Publisher lets you do just that. It lets you tailor your social media content on a more granular level, allowing you to maximize the strength of each platform easier and in less time.
In one go, you can publish or schedule content to Facebook, Instagram, LinkedIn, Twitter, and Google My Business.
Lastly, don't sleep on underutilized social media platforms. If you see your audience being underserved by competitors in a specific platform, then go for it. As the great Seth Godin wrote in Purple Cow, "the rewards for being first are enormous."
5. Craft a social media content strategy
Now it's time to look at your goals, KPIs, buyer personas, and see how you can integrate them and craft a social media content strategy.
For your social media content to become successful, communicate one clear message that resonates with your audience.
What kind of content should you post to achieve your campaign's one goal? How do you craft your content marketing strategy so that it's always relevant to your target audience? How can you communicate your core message in ways that haven't been done before? What are the best times to post for your target audience?
Here are a few specific suggestions that will help you craft a winning social media content strategy:
Create a brand style guide to keep your messaging and brand voice consistent.
Perform a social media content audit to determine which posts or tweets performed well and which ones performed poorly.
Do a competitive analysis to identify content gaps and see which types of content work and how you can do them better.
Round up your marketing (and sales) teams and ask them to brainstorm ideas for social media content.
6. Schedule your social media content
If you want to stay consistent in publishing social media content, having a schedule is a great start.
A schedule, after all, not only makes you accountable to your goals but also helps you prioritize important tasks over less important ones. Plut it helps reduce the anxiety that often comes with not knowing what to do next.
But how often should you post on social media?
Here are some figures on how often you should post on each social media platform (courtesy of Louisem)
Facebook: 1-3 posts a day
Twitter: 3-30 tweets a day
Instagram: 1-3 posts a day
LinkedIn: 1 post a day
Remember, the above are only suggestions. The best times and how often to post content depend on your offerings and your target audience.
To determine the optimal times to post content, you can check your engagement rates inside NapoleonCat's Analytics: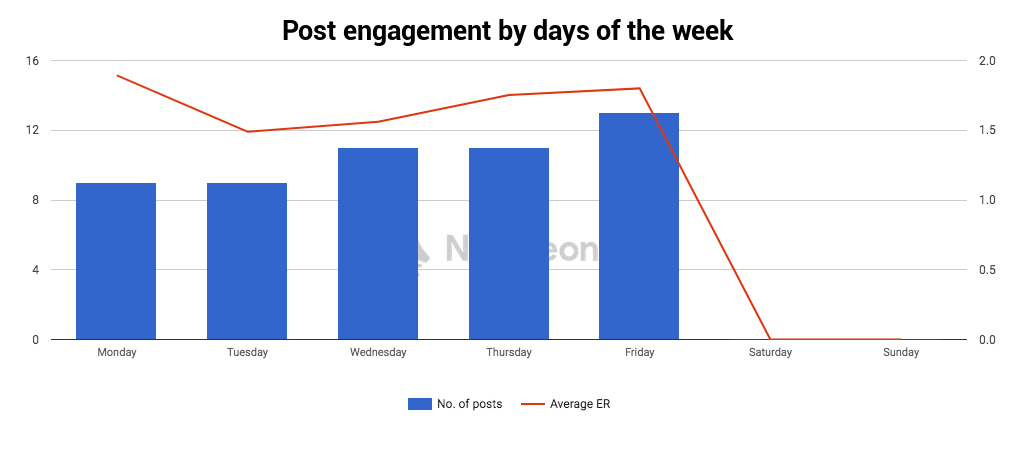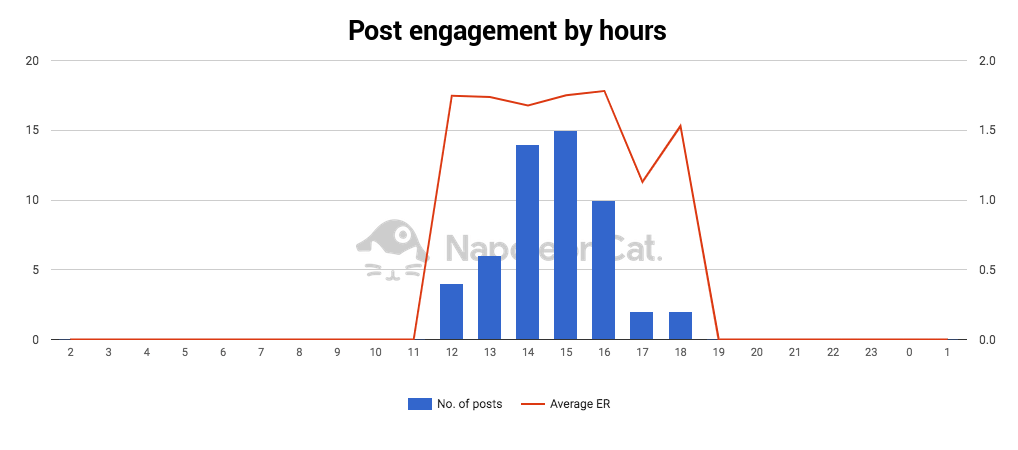 So you've determined the frequency of your posting schedule. Now comes the hard part — staying on schedule.
If you want to stick to a schedule, here's a productivity hack for you: time batching!
The idea with time batching is to group similar tasks together so you can do away with the dreaded productivity killer, context switching.
NapoleonCat's Publisher can help you batch your tasks by allowing you to schedule posts ahead of time so you can reach your audience at times they're most engaged, even if you're sleeping or off on a holiday.
You can rest reasy knowing that your posts will be automatically published at just the right time.
Also, having a social media content calendar helps. NapoleonCat's Publisher comes with a social media content calendar to help you get a cross-platform view of your social media marketing campaign.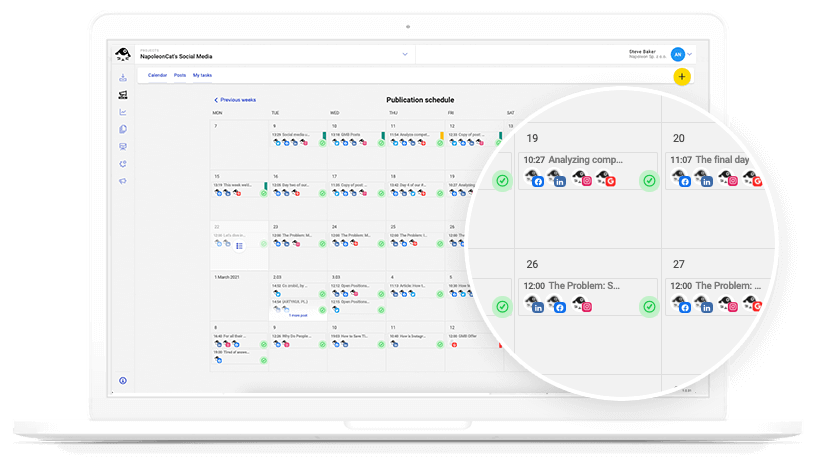 7. Manage your social media accounts like a seasoned pro
You've set a social media campaign goal, zeroed in on your target audience, picked your social media channels, crafted a campaign strategy, and lastly, plotted a content schedule.
Now comes the hard part: managing your social media accounts.
Let's face it, jumping between tools and social platforms can get overwhelming.
You also have to engage and support your customers. After all, 83% of social media users expect brands to respond to comments within a day or less. But doing so can be a real challenge when comments from people across multiple social media platforms keep pouring in.
Thankfully, using social media management software can help you manage the chaos. NapoleonCat's Social Inbox, for example, lets you manage multiple social media accounts from different platforms in one place, helping you cut down response time by 66%.
This means that all your comments and messages from various accounts (and ad campaigns) can be found in one view. No more switching between tabs, accounts, and ad campaigns to manage your social media interactions.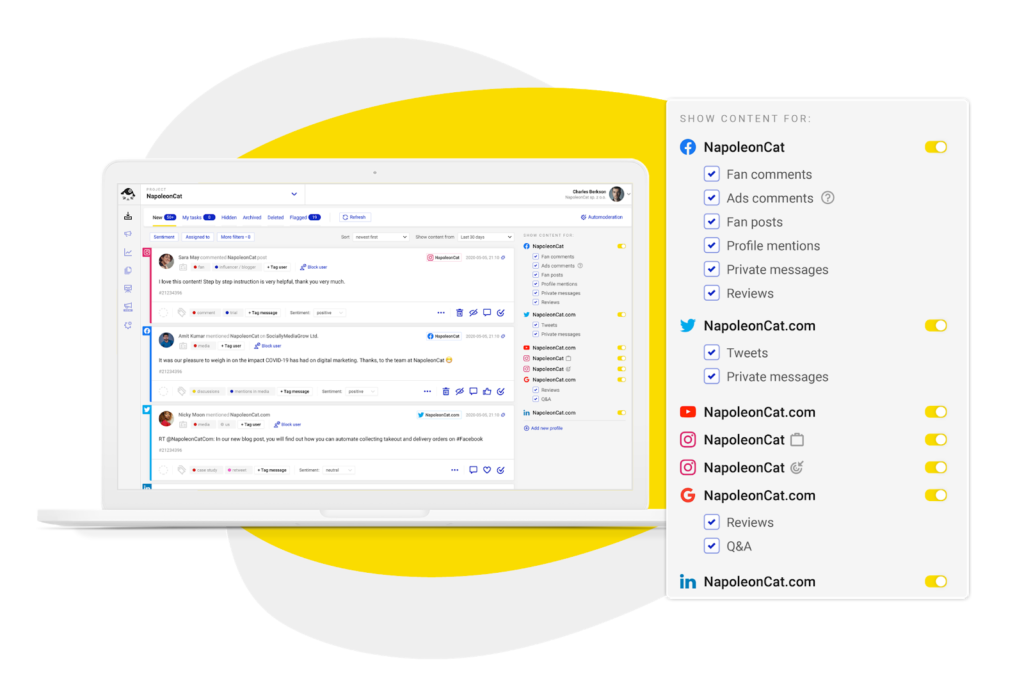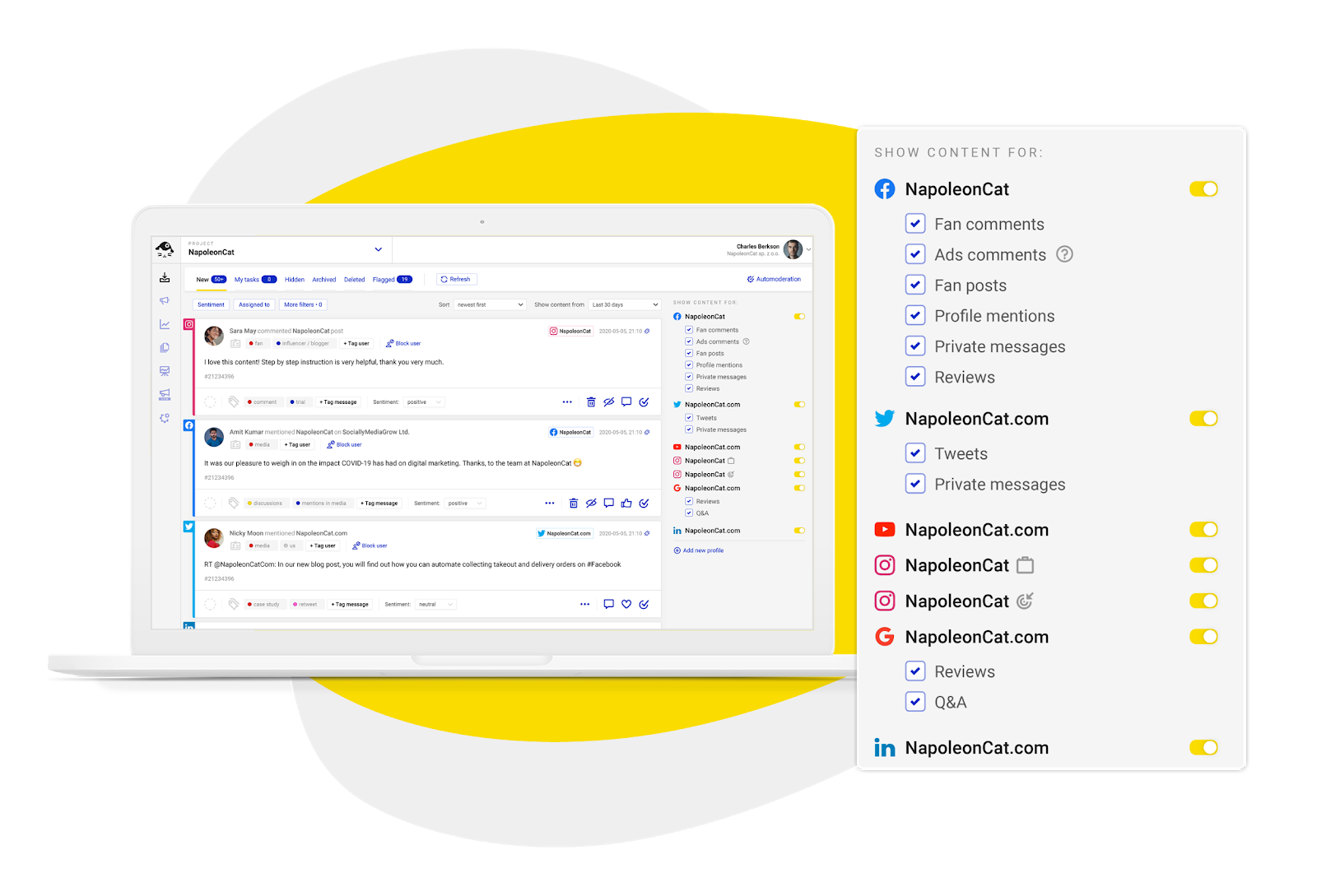 The tool also comes with a social media automation feature to help you set up automated replies to the most common types of messages.
To set up an Auto-moderation rule with NapoleonCat, set relevant keywords and their corresponding automated replies, as seen below.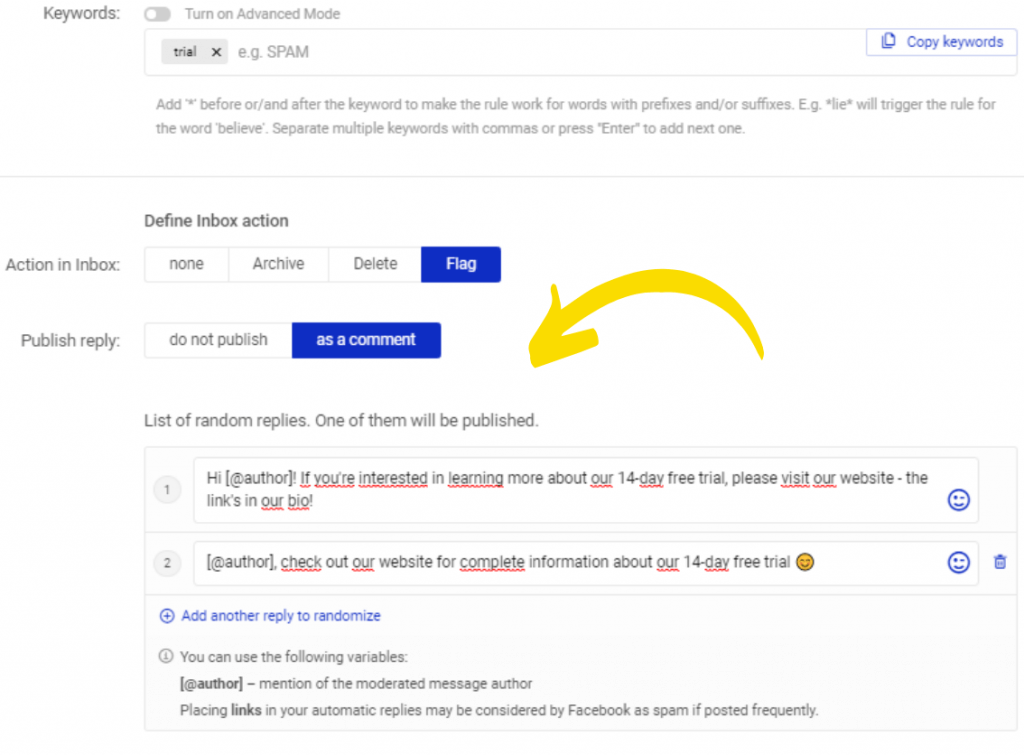 Final word
As you set out to plan your social media marketing campaign on social media, remember this: social media marketing is about building and cultivating relationships. In other words, don't use the "hard sell" approach. Conversations are already happening on social media, and you have to listen to your audience to gain insights that will inform your social media campaign.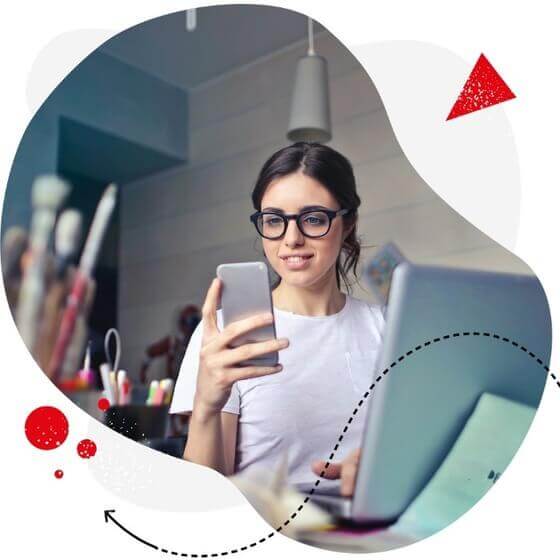 Social Media Management Made Easier
Analytics, reporting, scheduling, and more automated solutions for your socials. Try NapoleonCat and save 90% of your time spent on your marketing tasks. Try it for free:
Try NapoleonCat free for 14 days. No credit card required.
You may also like: