As far as your social media campaign goes, you've done the work. You've engaged with your audience and did it in the most authentic and helpful way possible.
Then you look at your insights dashboard and what do you see? Little to no engagement from your so-called "fans" and followers.
What's up with that?
Chances are your social media visuals need some work.
Because let's face it: if your social media graphics are as exciting as watching paint dry, your potential customers aren't likely to give you the time of day.
The problem? You don't know your way around Photoshop, nor do you have the time and inclination to learn it. Sure, you've considered hiring a professional graphic designer, but the budget thing gets in the way.
Thankfully, you don't need to be a graphic design wiz to create social media graphics that will grab and hold your audience's attention. Here are the 5 best graphic design tools for social media that can help pull that off, and in much less time!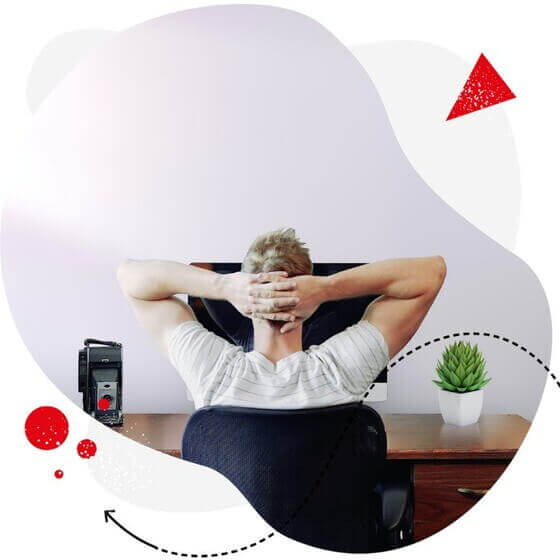 Manage all your socials with one tool
Manage comments and messages across all your accounts in one place. Schedule posts, get in-depth analytics and reports & more. Try it for free:
Try NapoleonCat free for 14 days. No credit card required.
1. Canva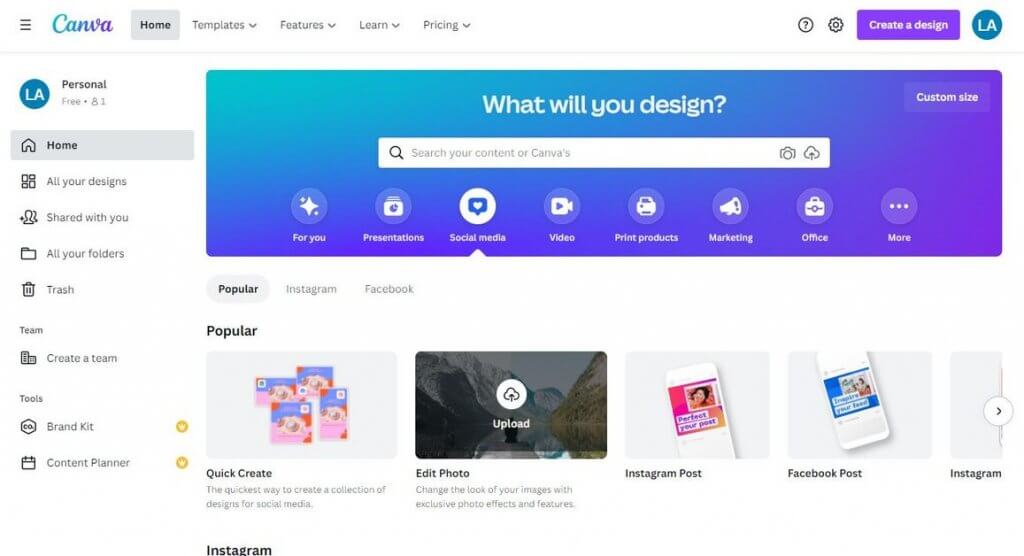 Canva has been a household name in graphic design for years and for a good reason: It lets you create professional-looking designs super-fast. The first time I used Canva, I felt like I mastered Photoshop overnight. And I was using the free version.
One of Canva's strengths is its huge library of professionally designed templates and layouts, covering a wide range of social media graphics from Facebook covers and YouTube thumbnails, to Tumblr banners, Instagram animations, and Twitter headers.
But what separates the tool from the pack is its smooth drag-and-drop interface. It's so smooth, in fact, that it lets you create social media graphics within minutes.
Canva's library is so huge that navigating through it can be overwhelming. Thankfully, the tool comes with a search function to help you narrow down your options.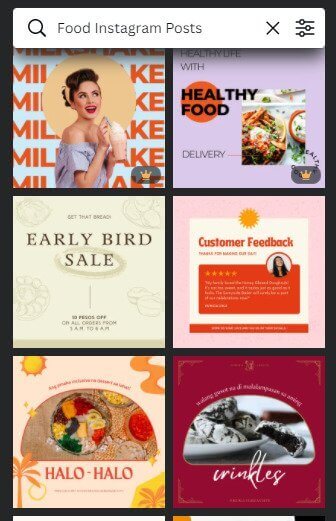 Once you've picked a template, you can do anything with it as you will be using the Canva editor. If you have assets or resources you want to use, just upload and drop them into the editor and let your creativity run amok!
Canva gives you enough room to add flair and personality to your creations, thanks to the tool's elements. Elements are divided into categories, including Lines & Shapes, Graphics, Photos, Videos, Audio, Charts, Tables, Frames, and Grids.
Text is a big part of creating graphic designs, not just on social media. Thankfully, the free version of Canva has dozens of fonts within its library. Just click Text in the side panel and browse through the selections. If you're looking for something specific, you can always use the search function.
My favorite Canva feature is Quick Create. Why? Because it's a huge time-saver. For starters, it lets you create up to 8 designs at once.
To use the feature, go to Social Media at the Canva home page and click on Quick Create.

As you can see, you can choose from eight formats. Suppose you want to create one for each, simply select all eight and then click Continue.
It's pretty self-explanatory from here on out. You can enter your text, or any additional text if you like. Maybe upload images or a logo you want to use. Choose a template or a color palette. Use the drag-and-drop functionality and play around with it until you create something you like and that suits your purposes (here's where the live preview can come in handy).
Verdict:
Canva's intuitive design flow and a huge library of templates alone are worth the price of admission. But while it's a great design tool for social media, relying too much on it will make your brand look generic. While Canva is beneficial for small companies and entrepreneurs, you will want to hire a professional graphic designer when you scale your business soon.
2. Glorify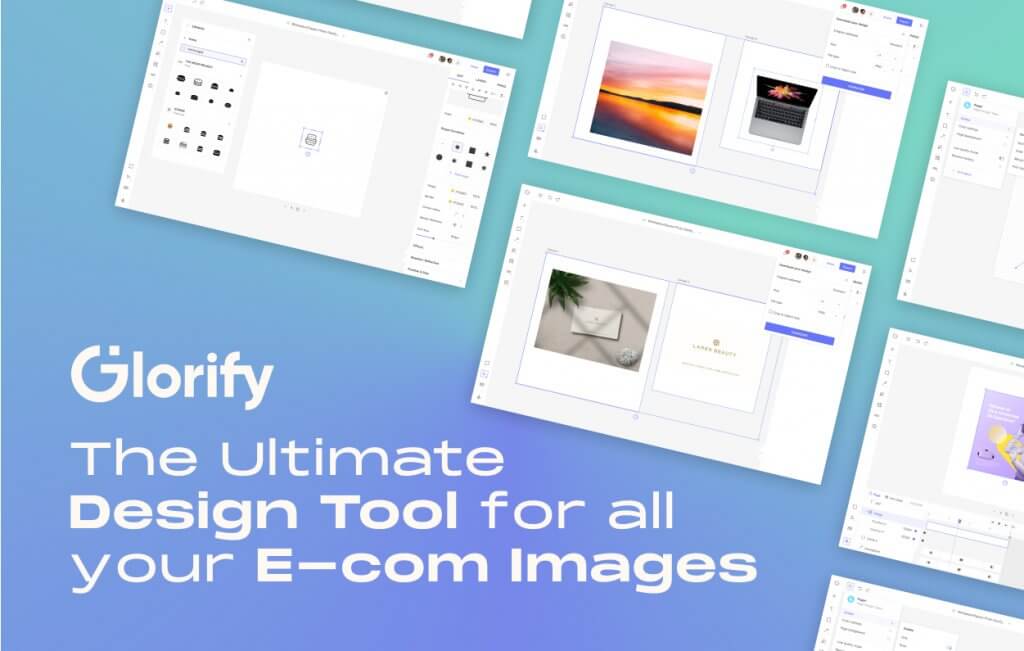 Glorify is an easy-to-use yet powerful graphic design tool that allows you to plan, design, launch, and analyze all your graphics in one place. It is a lifesaver if you're looking to easily create high-quality images without pricey outsourcing.
Glorify makes design accessible to all. Entrepreneurs, marketers, agency owners, designers, and just about any busy professional can use this tool to create aesthetic images that convert.
It is also super valuable for eCommerce enthusiasts who need a simple, quick solution to make their products stand out in a saturated market. With simple tools for beginners and advanced features for designers, Glorify provides a great alternative to other design tools.
It has thousands of ready-made templates and offers fully customizable 3D mockups and mockup scenes. Glorify also has branding tools such as a logo maker, brand kits, and template bundles. One of the newest features is the infinite canvas which allows you to bring all your big ideas to life on one limitless canvas. Also, collaborative features and workspaces make Glorify ideal for teams.
Glorify offers a free plan for those just getting started. Monthly subscriptions to the Pro and Business plans cost $39.99 and $99.99 respectively. However, if you choose either plan as a yearly subscription, you will get a 25% discount.
Verdict
This tool is the perfect balance between Canva and Photoshop. With the free plan, anyone can design stunning visuals for their needs. Even though it needs an internet connection to operate and non-experienced designers might find there are not enough templates to choose from, Glorify can help non-designers and professional designers turn their ideas into reality.
3. Photopea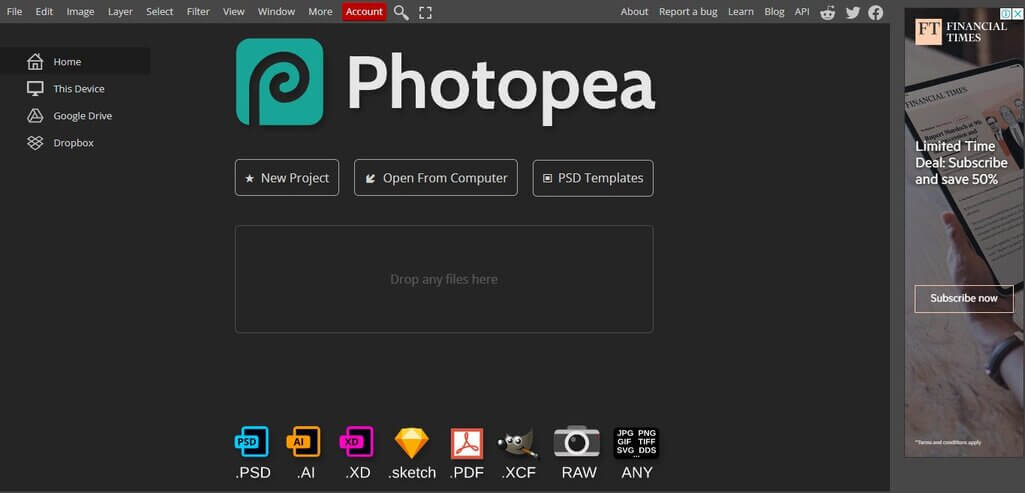 Photopea is a free Photo-shop inspired image editor that runs in your browser.
Much like its paid (and more popular) counterpart, Photopea lets you edit photos, apply filters and effects, as well as add or edit text, just to name a few.
It's fully web-based, so you don't have to install anything, not to mention you can use it anywhere!
So is Photopea easy to learn? It does take some getting used to, but it's much easier to learn than Photoshop since it only has the latter's basic tools and features.
How does Photopea measure up as a social media graphics creator/editor?
While it's not as polished and powerful as Photoshop, Photopea packs enough features and power to keep designers from purchasing a paid alternative. It can open different file formats (even PSD and PDF) as layered documents, not to mention edit text layers, modify vector shapes, and more.
One of Photopea's greatest strengths is its huge collection of PSD templates, making it easier for you to create professional-looking social media visuals on the fly. One major drawback is that it's rather slow, which can make the editing process feel sluggish.
To access templates for social media images, click PSD Templates and click Social Media under Categories.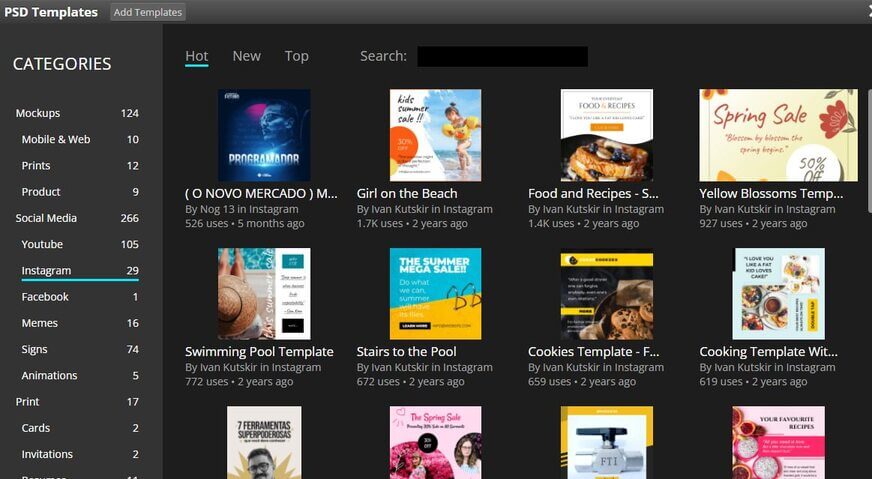 From there you can select from an extensive list of templates to choose from.
When you add text, make sure you use your branded font. If it's not included in the font selections, you can simply upload it before adding or modifying text.
You can then update the template with an image from your hard drive. When you drag the new image into Photopea, press and hold the Shift key so you can control the proportions as you resize it to fit the frame.
Once you're done, you can save the image and then publish it on social media!
Verdict
Despite lacking some of Photoshop's most powerful features, Photopea has a big enough feature set to make it worthwhile for those looking for a free alternative. It's worth a try if you don't mind the performance issues.
4. Adobe Creative Cloud Express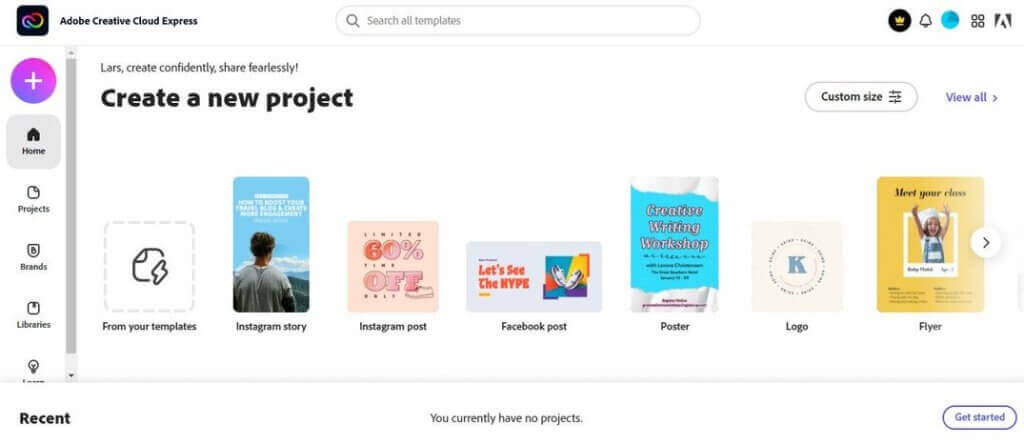 Adobe Creative Cloud Express (formerly Adobe Spark), is a web/mobile tool made for small business owners or managers who want to create awesome-looking visuals on the fly – even with little to no design experience.
If you want to create images for your social media campaign, Adobe CC Express has your back. It lets you create anything from Facebook covers and LinkedIn banners to Instagram Story images and Twitter backgrounds.
And it lets you create them easily and fast.
Here's how CC Express did it:
A huge library of unique templates, rich media and design assets, Adobe fonts
Simple drag and drop functionality
A limited library of free Adobe Stock collection photos
Basic editing and photo management features including remove background, cutout options, animate, etc.
Ability to create on both web and mobile
2GB of storage
It doesn't take much to get comfortable with Adobe CC Express. As soon as you get to the dashboard, you can start choosing from a selection of pre-designed templates, including Instagram Story, Instagram Post, Facebook Post, Poster, Logo, Flyer, and more.
Let's say you want to create an image for an Instagram Story. After clicking on an Instagram Story, you get taken to the editor where you can select thousands of Instagram Story templates.
To narrow down your choices, select from a list of categories (Business, Food & Drink, Inspirational, etc.) to narrow down your choices. You can use the search function if you're looking for something specific. Once you've selected a template, you can edit or add some text, photos, icons, design assets, backgrounds, and logos. You can also resize the text, create effects, and more.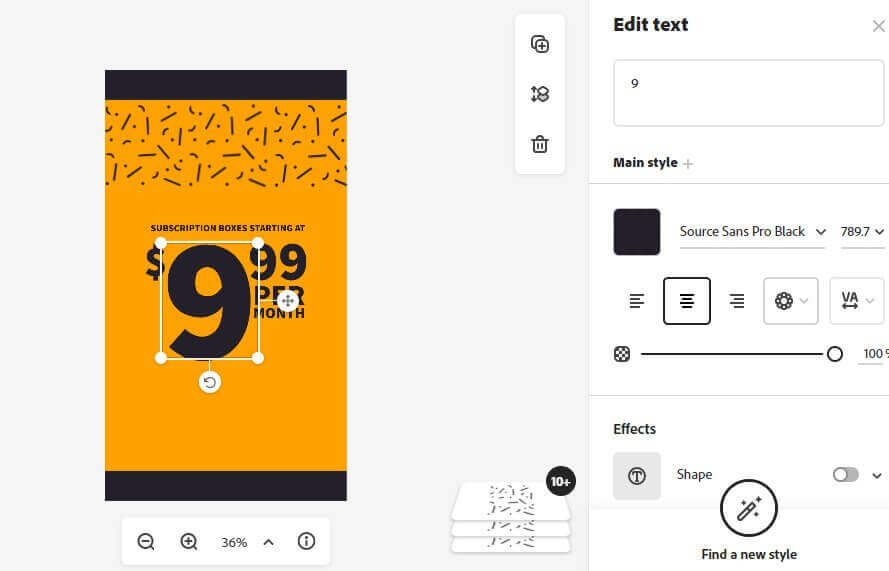 It's easy to stray from your branding if you're always creating content. Thankfully, CC Express's Libraries allows you to upload your branded assets to a single Library, ensuring you and your team are staying on-brand throughout the creation process.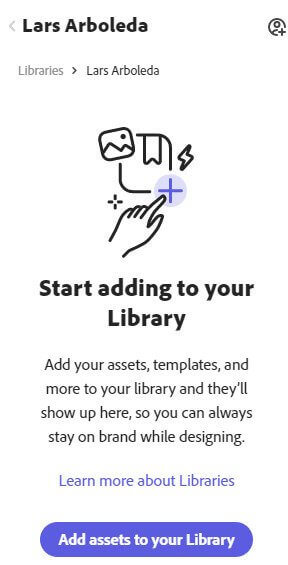 Verdict
The tool has a lot to offer in terms of flexibility thanks to its extensive collection of pre-designed templates. The user-friendly interface lets you navigate comfortably while creating your social media graphics even if you have no design background. The customization options are limited, but that's to be expected when you're using the free version.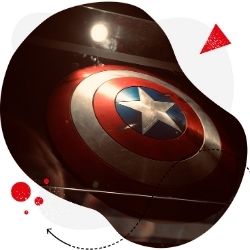 Protect your social media from hate & spam
Automatically shield your FB and IG content from hate speech, inappropriate language, and spam (ad posts included). Try it for free:
Try NapoleonCat free for 14 days. No credit card required.
5. Desygner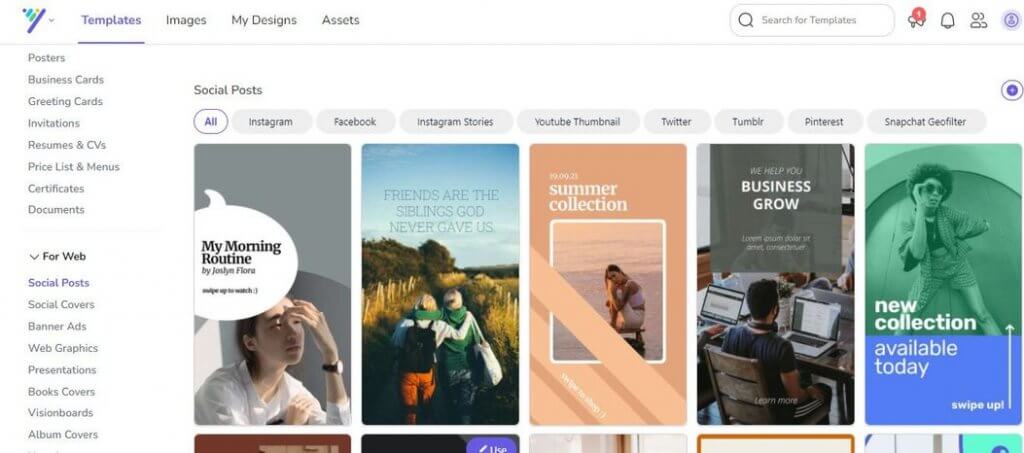 Desygner is an intuitive graphic design tool for social media that lets you create beautiful designs like a pro, even if you're not a professional graphic designer.
It's an app so powerful even the free version is packed with cool features, but thankfully not to the detriment of its simple and intuitive approach.
While Desygner has thousands of customizable templates and 150 million Shuttershock images and videos, you get a ton of visual material to work with or use as inspiration. One of the app's greatest strengths is it gives you a lot of creative freedom while still being simple to use.
As soon as you get to the dashboard, you are regaled with an entire page of templates, along with social content categories at the top. While I don't agree with this approach (giving users too many choices at once might give them decision paralysis), Desgyner takes you to comfortable territory when you click on a template and get taken to the Desgyner Editor.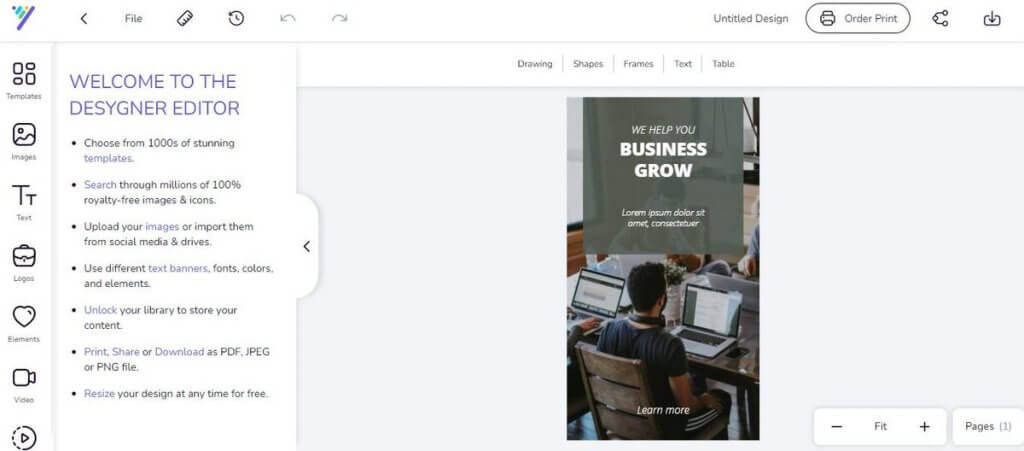 It looks pretty neat, right?
If you like a template and want to customize it to your needs, the Desygner editor makes it easy to add or change text, images, icons, and colors. The app's smooth drag-and-drop function makes the entire process a breeze.
If you want to add more zing and bling to your social media visuals, Desygner has a lot to offer such as:
Thousands of stunning royalty-free images
Hundreds of fonts and text shapes
Thousands of icon packs and editable shapes
Hundreds of elements and a big collection of animations
Once you're done with your design, it's time to download it to your hard drive or share it on social media. You can download your designs in different formats (jpg, pdf, png). You can share your design directly to your social media via email, Whatsapp, and more.
Once you've created enough designs, you will want to schedule your posts across social media platforms to save time. However, to use Desygner's Social Media Scheduler, you need to upgrade to a Premium account.
Verdict
Desygner is a lot similar to Canva in that it has a lot to offer in terms of templates, layouts, vectors, and more. In fact, it's a budget-friendly alternative if we're talking paid versions. That said, the free version offers the tool's core features, and should suffice for small businesses that want to build a social media presence.
6. NapoleonCat's Publisher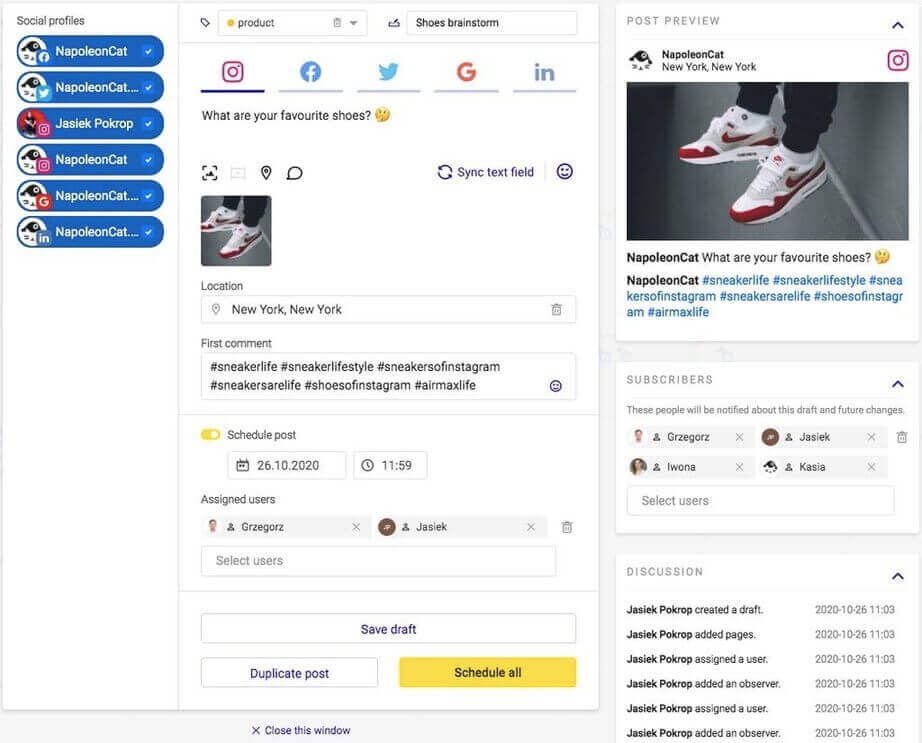 NapoleonCat is a social media management tool that makes life easier for small business owners and managers looking to scale and grow their social media presence.
So, why is a management tool included in this list?
Because picking and sourcing images for your social media campaign is the easy part.
The publishing part is where it gets tricky, particularly when you're running multiple social media accounts across different social networks.
Let's face it: Social media platforms have different audiences, and you need to tailor your social media images for each audience if you want to maximize the impact of your designs. To bring more engagement (and conversions), you must adapt your content creation process to the uniqueness of each platform and its corresponding audience.
This is where NapoleonCat's Publisher tool comes in handy.
With NapoleonCat's Publisher tool, you can publish social media content across multiple social media profiles and networks via an all-in-one platform and an easy-to-use calendar.
No need to waste hours editing and posting each graphic separately on each platform. With the Publisher, you can add visuals to Facebook, Instagram, LinkedIn, Twitter, and Google My Business all at once, using the same dashboard.
Publisher lets you tailor each content to each platform by letting you:
Add images and videos
Adjust the image ratio
Add CTA buttons
Add up to 30 images in one post
See post previews as you create them
Schedule the 1st comment on Instagram
Etc.
NapoleonCat's Publisher also lets you schedule posts in advance. No need to wake up in the middle of the night to source, create, edit, and publish a social media graphic in the hopes of reaching an international audience at a time when they're most engaged.
You can also organize your content in a handy calendar, allowing you to plan and map out your social media content for the week or month. After all, it pays to plan ahead, especially if you get a bird's-eye view of your social strategy.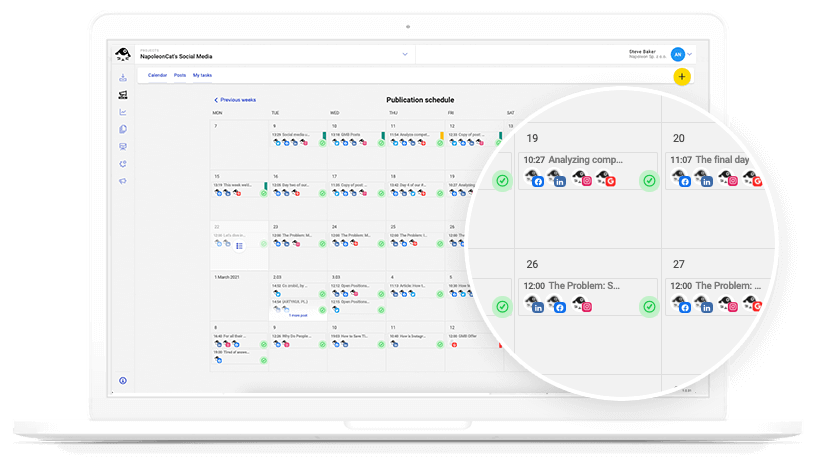 As you scale, creating engaging visual social media content becomes more of a team effort. The Publisher tool lets you add members to NapoleonCat and assign tasks to them so they can work collaboratively in the content creation process.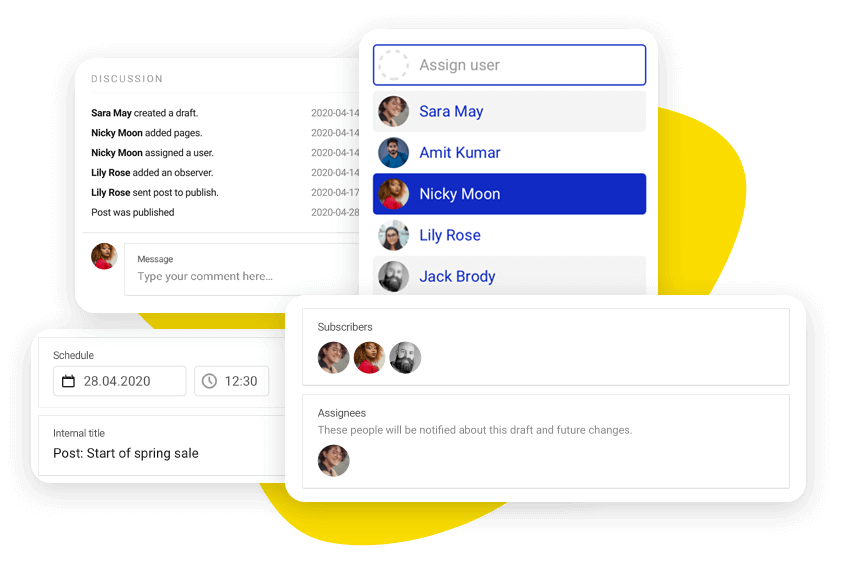 Verdict
While NapoleonCat's Publisher tool won't provide you with templates, layouts, vectors, and stock photos, it offers a lot in terms of crafting your posts, scheduling, and publishing. It improves team collaboration around content creation and helps you plan ahead (and strategically, at that).
Moreover, as you grow your business on social media, you'll be getting more and more comments and messages across multiple platforms to handle. And you can easily do that with NapoleonCat as well, as the tool gathers all social media interactions into one view 😉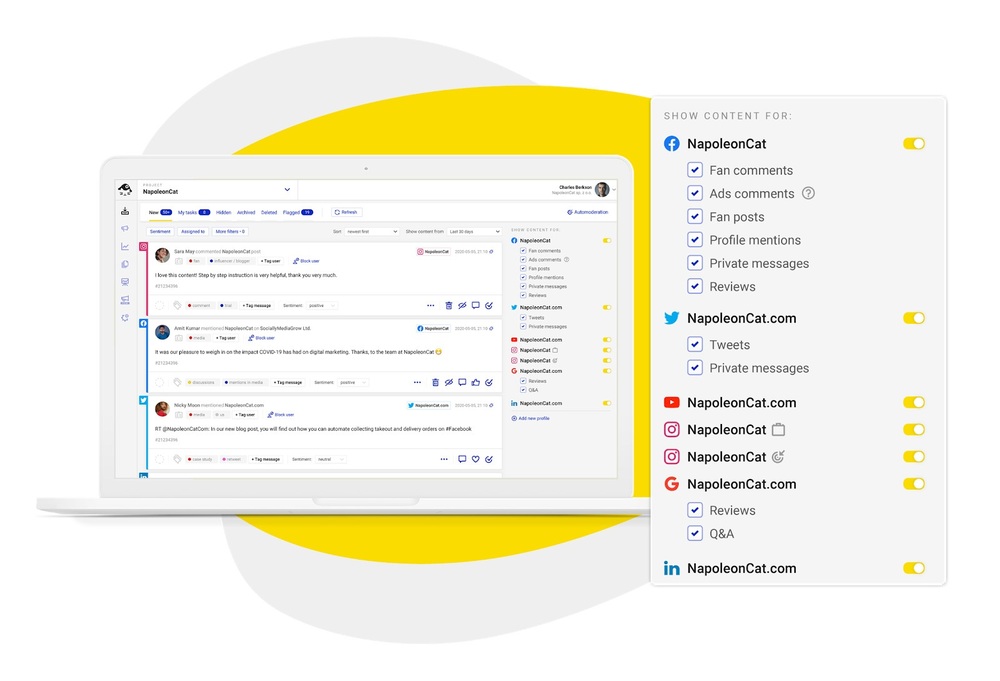 Which free social media design tool is best for you?
There's no one best social media design tool – just the one that suits your needs. My advice is to give all of the above a try to see for yourself which will work best for your business.
Even if you're using the free versions, the important thing is that you're taking the first big step in increasing your engagement and conversions. Who knows? That time when you upgrade to a paid version and maybe even hire a graphic designer might not be too far off. There's no other way to go but up!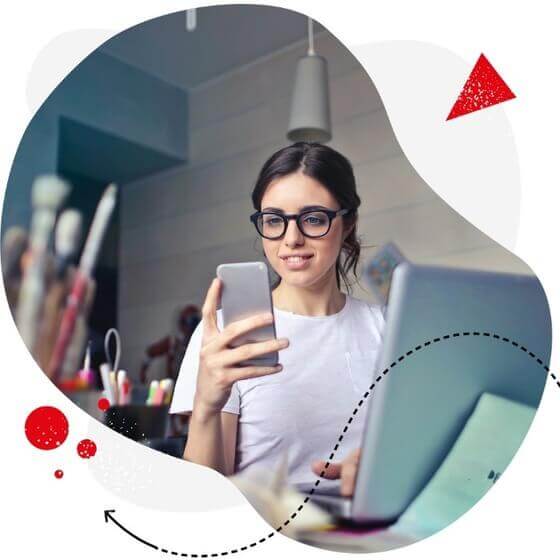 Best social media scheduler for small business
Schedule posts for Facebook, Instagram, Twitter, LinkedIn, and even Google My Business – using one simple tool. Try it for free:
Try NapoleonCat free for 14 days. No credit card required.
You may also like: