With over 2.4 billion monthly active users, Facebook is the most important social media channel for many businesses and a key component of their digital marketing strategies.
But growing your organic reach can be a challenge on any platform – Facebook, with its dynamically changing algorithms, is no exception.
Continue reading to find out how you can give your Facebook engagement rates a boost and how improved engagement can contribute to your success on the platform.
But first…
What is Facebook engagement?
Facebook engagement is a collective term for all of the ways Facebook users interact with your Facebook Page. The most common types of engagement include likes and other reactions (Haha, Love, Wow, etc.) to posts as well as comments and shares. Page mentions, posts added to your page, or even checking into your location, however, also count towards your total engagement.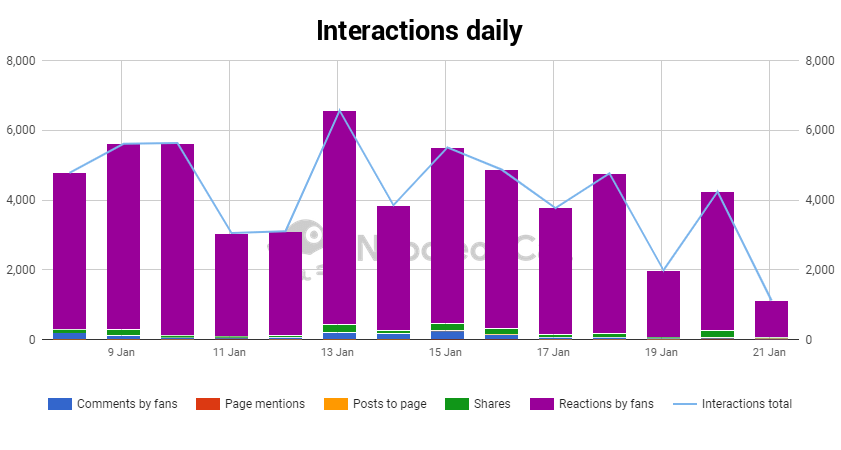 Why is engagement so important?
First of all, it shows how well you communicate with your audience. Regardless of what KPIs you define for your social strategy, it's safe to assume you're not driving great results if your Facebook activity doesn't trigger your community's engagement. You can hardly expect a high ROI from your Facebook campaigns if your audience simply doesn't care about what you put out there.
High engagement is also a great way to organically grow your Page's reach. When users engage with your content, their contacts see that action in their feeds. This means that by focusing on making your Facebook presence engaging, you will be able to tap into an audience larger than just your fan count and reach potential new customers.
Calculating your posts' engagement rate will help you illustrate engagement with numbers. To do so, you need to divide the number of interactions by the post's total reach and multiply it by 100. Once you have these numbers for several posts, you can see which of your posts performed well compared to others. But you may be wondering whether it's also an outstanding rate in general. Databox asked 45+ experts what a good post engagement rate is; here are the results: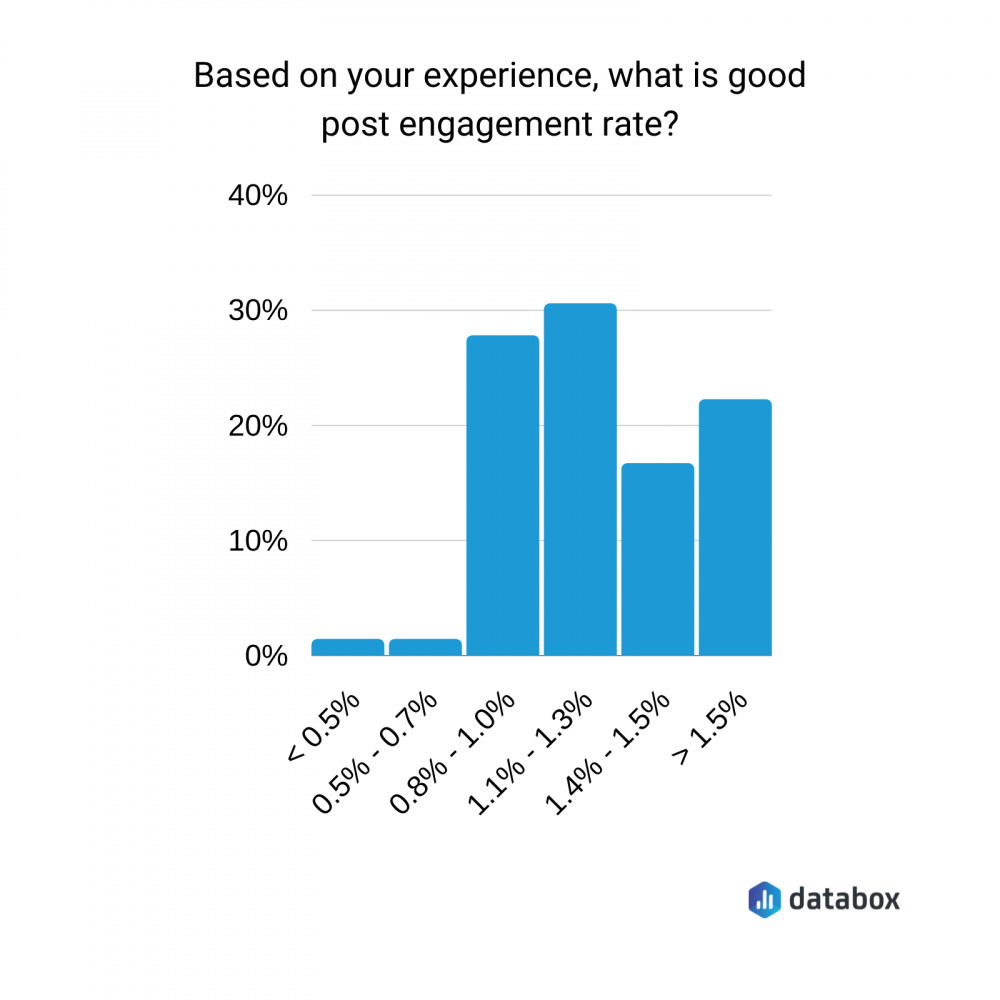 With the basics out of the way, let's move on to the real question:
How can you engage your Facebook audience?
1. Ask questions
It might sound obvious, I know. But try not to judge until you try. Some Facebook users won't engage with the content in their news feeds until they feel encouraged. Sometimes a gentle nudge will go a long way.
You've surely heard that marketing is about knowing your target market and sparking conversations. But conversations, by definition, require two sides. You shouldn't expect your audience to go out of their way proactively tell you how they feel about your brand – you should start the conversation. And what better way than with a question?
2. Be clear about what you expect from your audience
Don't you like it when people are clear about what they expect from you? The same applies to the relationships your brand forms with consumers. If you want them to react in a certain way to your content, just let them know.
Use specific calls to action in the copy of your Facebook posts. Ask your audience to share your content with others if they found it useful or ask for their opinion about it. Instead of simply posting a link to a blog post or case study and expecting Facebook users to be interested, tell them how you would like them to react to it.
Here are examples of CTAs you might find useful:
Let us know what you think about X!
Download our case study to find out more about X!
Make sure to share our report with your team!
Facebook allows you to take building engagement one step further by using CTA buttons that correspond to your campaign goals in sponsored posts. If your Facebook marketing budget allows, run a campaign and see how paid advertising on Facebook works for you!
3. Interact with your fans
You should remember that Facebook is not just a platform for achieving your business KPIs, be it promoting products or services, reaching new fans, or generating conversions. It's primarily a place where you can meet and interact with your customers, prospects, and casual followers. Facebook users are what makes the platform so valuable to businesses – and if you're out to attract more engagement to your Facebook Page, you have to be ready to actively participate in the conversations happening around your brand.
When someone posts something to your Facebook Page or leaves a comment on one of your posts, acknowledge it. Answer questions, thank happy customers for sharing their experience with your brand, and always address concerns and negative opinions. Showing that you care about your audience's thoughts about your brand is not just good for your online image – it should be the core of your social customer care strategy.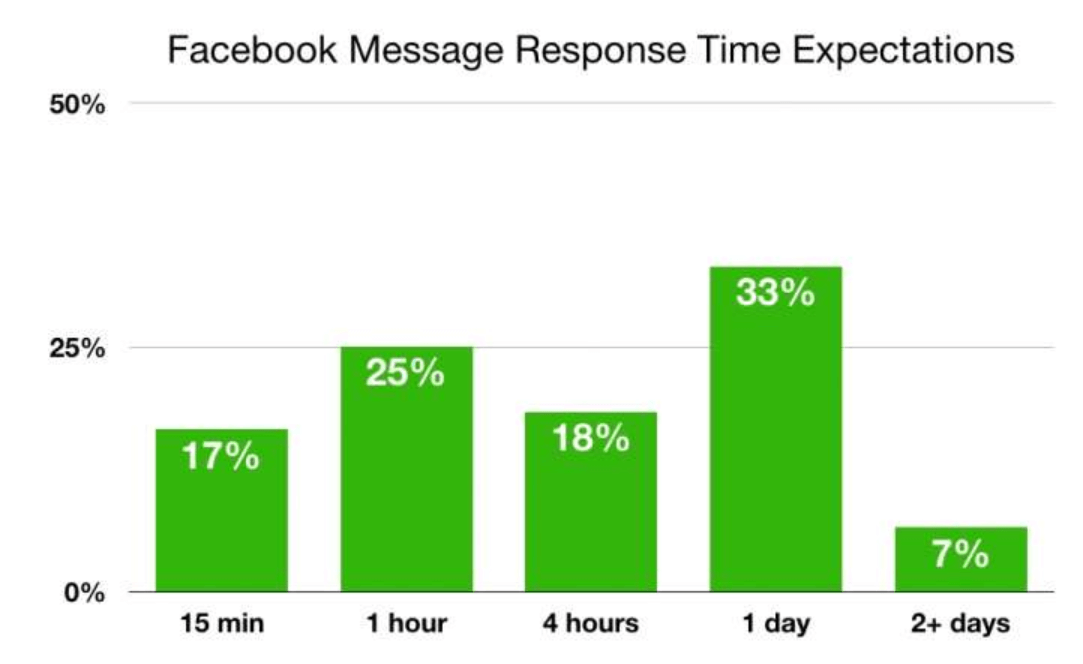 4. Post shareable content and UGC
People like to share interesting content – things that are new, important, funny, relatable, or otherwise appealing. If you want your content to truly speak to your audience, it's your responsibility to understand your social following and deliver value through a thoughtful content strategy. And while there's no easy way to make your content shareable, creating or curating it with your audience personas in mind will surely increase your chances.
Another great way to activate your audience is by encouraging them to feature your brand in their own social media posts. User-generated content diversifies your feed, builds trust with your audience, and strengthens the relationships with your most engaged social followers. Don't sleep on the opportunity – plan a UGC contest (remind your fans to mention your brand in their posts) and let your audience surprise you with unique, original representations of your brand.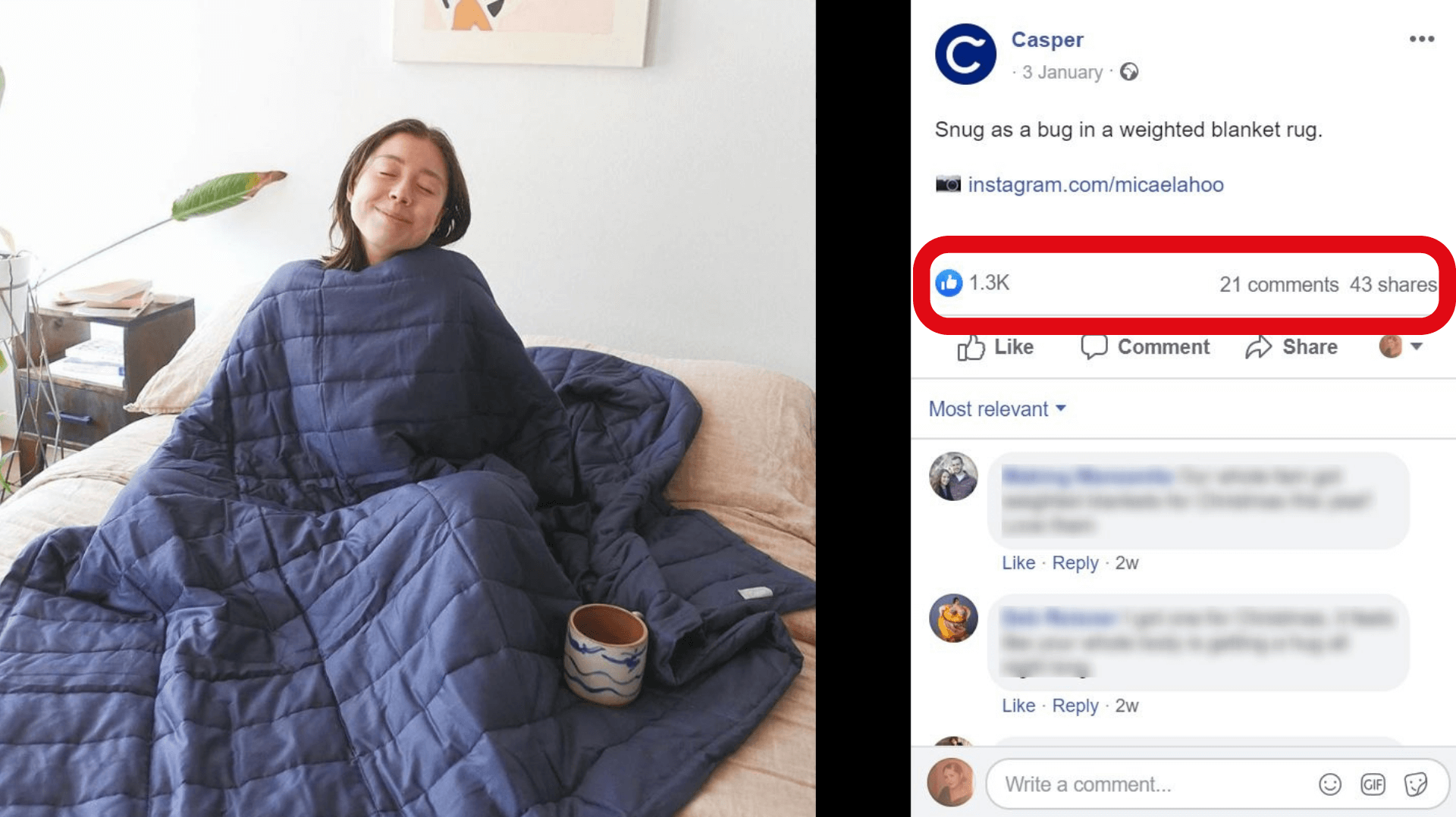 Remember that UGC is more than just pictures featuring your product or services. Reviews, testimonials, and comments can – and should – also be shared to your Facebook feed. These categories of user-generated content serve as social proof and are particularly effective in terms of building customer loyalty.
5. Experiment with Facebook video
You've probably noticed that videos tend to generate more engagement than other types of content on Facebook. Why so? Ever since the social network enabled posting native videos (as opposed to, for example, YouTube links), they have adjusted their ranking algorithms to favour video content over text or photo. The logic behind this is quite simple – users spend more time viewing video posts than text or photos, and Facebook's autoplay feature gives videos a great advantage in grabbing users' attention.
Facebook's algorithms aside, video has been known to be a particularly engaging content form for a while. By combining audio and visual stimuli, it is able to convey more meaning than text or image alone and do so faster and in a more comprehensive way. So grab a camera and make it happen!
When posting video to Facebook, remember to add captions to your stories, as by default news feed videos autoplay with no sound. You can also add text overlays and banners.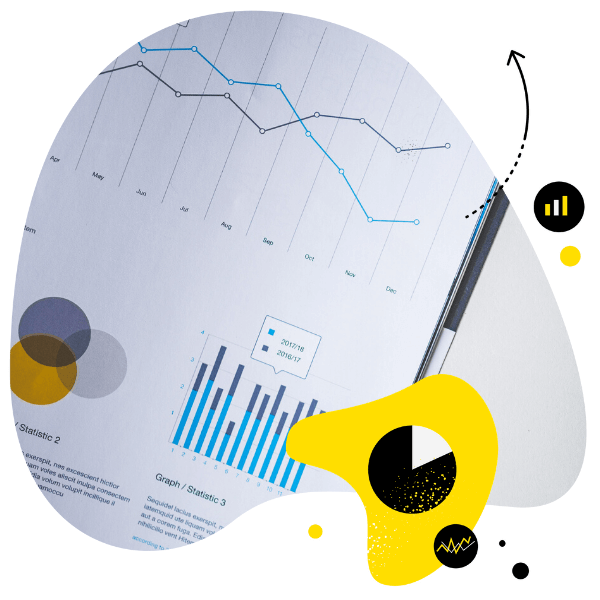 Social media analytics
Measure your social media marketing results. Track competitors and improve performance using simple dashboards.
Try NapoleonCat free for 14 days. No credit card required.
6. Go live
Facebook Live is another feature that Facebook has been heavily pushing. The live broadcast format is a great tool to host live Q&A sessions and encourage your audience to engage in real-time. Live video is also a way to invite your fans to participate in your company's major events, trade shows, etc. The best part? They can join for free and from the comfort of their homes.

Once your broadcast is finished, it automatically saves to your profile so the users who missed it can view it and engage with it later on.
7. Find the best time to post content
This is yet another point that truly comes down to knowing your audience. If you don't want your posts to get lost in your fans' busy news feeds, you should plan your posting schedule around their online activity patterns.
Facebook makes figuring out when your audience is active easy. Simply go to your company Facebook Page, access Insights through the top bar, go to the "Posts" section, and there you have it – easy, readable graphs illustrating when your fans are online. The knowledge is right there, use it to grow your organic reach!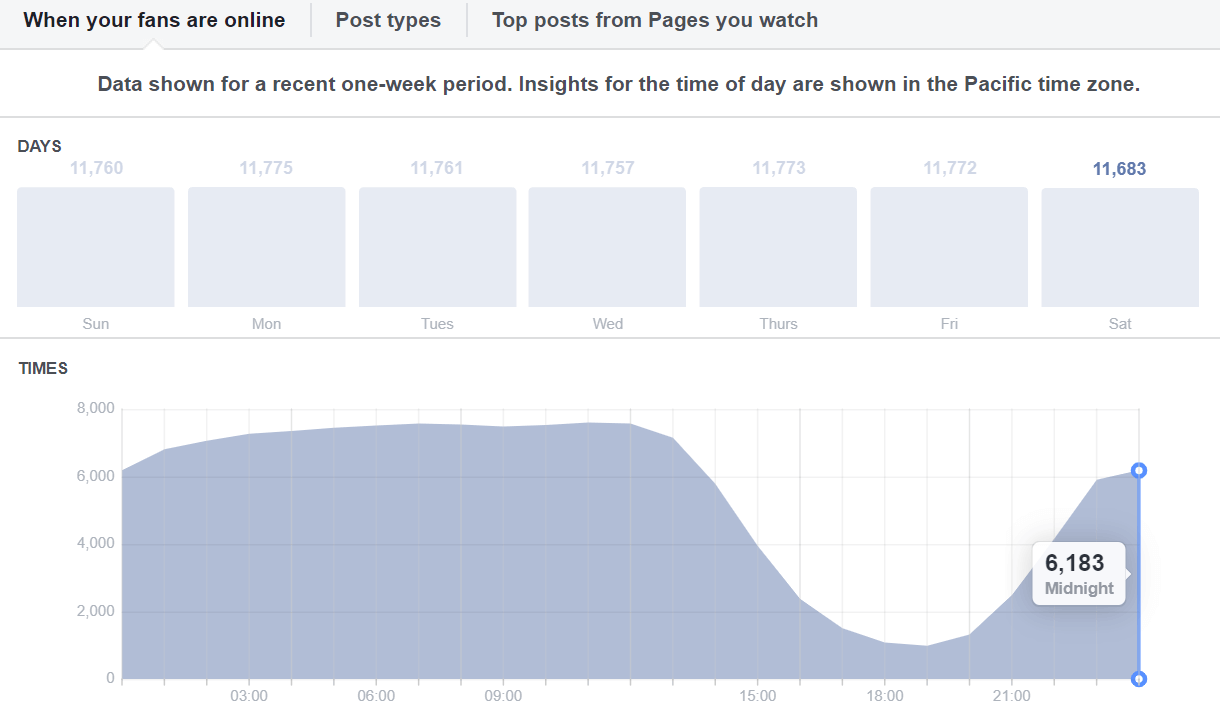 How should you track Facebook engagement?
If Facebook is part of your marketing strategy and you're serious about driving results, tracking your performance and analyzing competition are a must. You know that already! The question is: how should you go about it?
Facebook's built-in analytics solutions are a great starting point – they will give you a good idea of how your content is performing on the platform. However, if you would like to analyze Facebook alongside other social platforms you're active on, a good all-in-one social media management tool will come in handy.
NapoleonCat's Analytics will give you a solid understanding of the strengths and weaknesses of your Facebook strategy. Using our dashboards, you can take a deep dive into the engagement your Pages generate. For any given time frame, you are able to define the level of detail you would like to see in your analysis – from an overall engagement rate to the makeup of each day's interactions.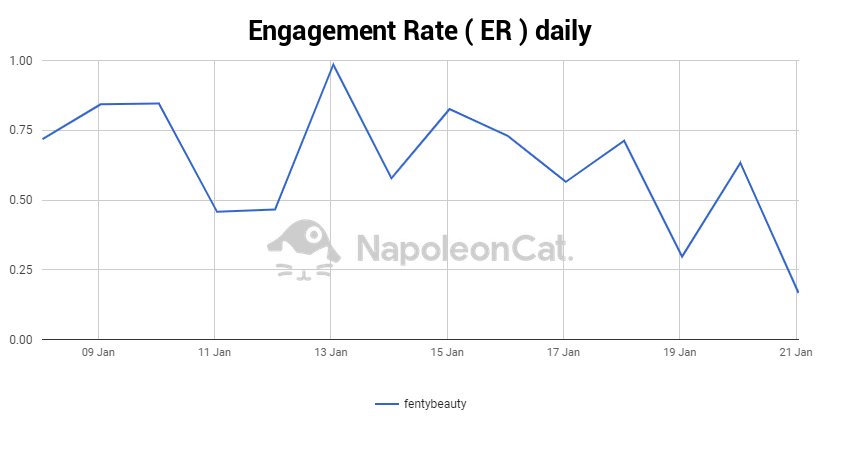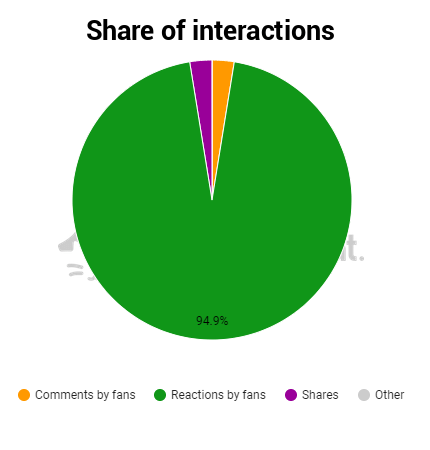 You can view these details not just for the social accounts you manage – NapoleonCat's Analytics are extremely useful in competitive analysis, allowing you to analyze how other players from your niche are doing on social. Learn from the best and avoid the mistakes of the not so successful!
Wrap up
Declining organic reach on Facebook doesn't mean you should be getting ready to leave the platform. Facebook is still the number one social media network in terms of active monthly users and as such, it gives you unparalleled opportunities to reach your target groups and new prospects. Follow our tips to engaging your audience and watch your organic reach steadily grow.
Let us know what methods of boosting engagement on Facebook have worked for you!