Social media platforms are an important tool in every digital marketing manager's arsenal. Taking full advantage of them, however, requires more effort than just producing and publishing quality content. No one can successfully drive a social media business profile blindfolded – by which I mean without analytics.
In this article, we'll show you the true meaning of reach and engagement metrics on Instagram and teach you how to benefit from tracking them.
Understanding these metrics, monitoring them, and drawing conclusions is the key to constant improvement. This refers to any type of marketing, including Instagram marketing. Analyzing your performance regularly brings about a lot of benefits.

First off, analyzing metrics gives you an idea about how your content performs and may lead to, for example, finding out which types of content work best for you. Metrics can also show you how fast your community is growing and if you're even reaching your target audience.
Keeping track of your results also helps you gather vital information about your audience. It enables you to better understand their attitude towards your brand as well as their behaviors and activity patterns. This knowledge will prove especially useful when designing content calendars and deciding upon the best time to post.

You probably already know where we are going with this. Understanding how each metric works, keeping track of them, and analyzing your results is essential to finding out your strengths and weaknesses. This, in turn, will result in you being able to constantly improve your marketing strategy and performance. It is a method that works great not only for Instagram but for all other social networks too.
Read on to find out what reach and engagement metrics can tell you and how to improve your Instagram results based on performance insights.
Instagram metrics explained
There are quite a few metrics you should track on Instagram. In this part, we'll have a closer look at the most important ones.
Reach
Simply speaking, Reach is the number of unique users who see, and might possibly engage with, your content. You can assume that this definition refers to the whole reach of your Instagram profile. In reality, though, marketers often track more types of reach, such as:
Single post reach
Organic reach
Paid reach
Viral reach
…and more. You can find out more about the above categories here.
Regardless of your business goals, reach is the one metric that should never be overlooked. After all, every business needs to get noticed by as many people as possible, right?
Well, that is partially correct – what you actually should aim for is being noticed by the right people. Especially those who are the most likely to be interested in your products – and eventually become customers.
The way the Instagram algorithm works is that it promotes those accounts that are highly active. So make sure that you post frequently to increase your chances of achieving better reach!
There are more factors that also affect your reach, such as posting times. In the Activity section of Instagram Insights, you can check when your audience interacts with your content. Reaching them with fresh content when they're online and active can give your organic reach a boost.
Tip: To further improve your reach, encourage your followers to share your posts, and share user-generated content to your feed or stories, tagging the authors.
Engagement
Engagement is a collective term that describes the actions that Instagram users can take when interacting with your content. Some of these actions include:
Liking your content
Commenting your posts
Saving your content
Visiting your Instagram profile
Replying to your Instagram stories
The Engagement Rate metric, which tells you how many of the users you reach interact with your content is an important indicator of the quality of your Instagram strategy.
Note that there is an ongoing debate on how Engagement Rate should really be calculated, so be cautious! To obtain the most accurate – and valuable – data, we recommend that you check the engagement on your posts or individual stories rather than an 'overall account score'. Just make sure to take the right factors into account.
For example, if you need to calculate the Engagement Rate of a recent post, simply divide its reach by the number of interactions with it. This way, you'll be able to tell if the content was valuable to your following. Once you analyze many posts like this, your conclusions should help you define what your audience is interested in. Use such insights to improve your Instagram content strategy.
However, if you'd like to get an overview of how your Instagram Business Account is generally performing, there is a quick way to calculate an approximate 'overall' rating. Divide the average number of interactions that your profile has accumulated over one month by the number of followers that you currently have. If you'd like to learn more about this methodology, you can find some additional information here.

In terms of Engagement Rate, there is no specific value that can be considered a good or bad result in general terms. To define a benchmark for your business, base it on your own experience and take a peek at how your competitors are performing (psst: you'll find a detailed guide to competitive analysis on Instagram here).
Tip: To help your Engagement Rate grow, try to extract the common characteristics of your (and your competitors') best-performing posts and apply them to any new creations. Also, always remember to add call to actions to your posts in order to stimulate engagement!
Follower Growth Rate
The Follower Growth Rate is a metric that shows you if your content is reaching new people and if it is appealing to them. Simply put, it describes how fast your follower base is growing.
Tracking this metric can be helpful in a number of ways. For instance, if you experience a sudden acceleration of growth, it would be good to find out the possible explanations for the trend. Maybe you've been posting more content of a specific type lately?

Paying attention to the dynamic of follower growth will help you amend your strategy to better attract new followers and grow your business on Instagram.
Tip: Instagram's algorithm is very complex, but if you play by the rules, it will play in your favor. Boost your follower growth by using the right mix of hashtags to attract new users interested in your industry.
What does success look like?
As mentioned before, knowing which results are good and which are not so great can be really tricky. Once you have chosen the right metrics to track, you'll also need to set your targets. There are multiple ways to do this, but two options are particularly easy and reliable.
The first method is good for those who have already had their account active for some time. If you belong to this group, then simply check your past results. Based on this data you'll be able to define your future targets and easily tell whether you're improving.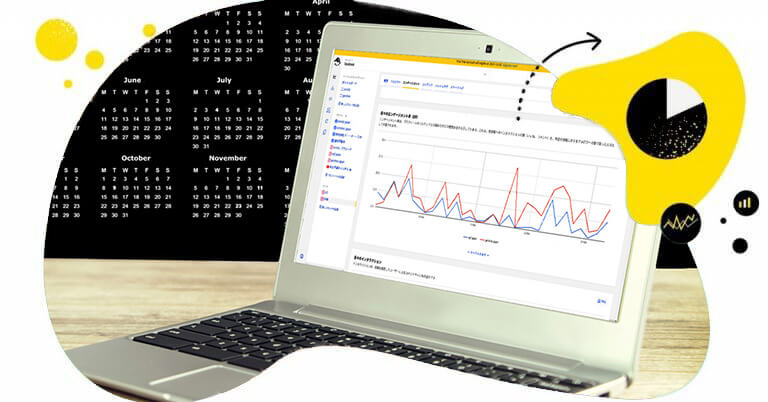 Easily analyze your Instagram performance
Track the performance of multiple Instagram accounts with an all-in-one social media tool. Analyze competitors and refine your strategy based on data-powered insights.
If you're just starting out though, there is no better way to set your targets than to check the performance of your competitors. Err on the side of caution when setting your initial targets, then start analyzing your performance and slowly transfer to the first target setting method.
Success is different for everyone. Choose your goals wisely, then define your KPIs and try to execute a strategy that best suits them. Remember to analyze your results accordingly. Success may be interpreted on a case-by-case basis, so don't become discouraged if you run a small business whose posts get 50 likes compared to the 500 received by your big competitors. You'll get there eventually, but for now, you need to measure success with your own yard-stick.
What is Instagram Insights?
Instagram Insights, often referred to as the native Instagram analytics tool, provides you with an overview of your profile's basic statistics. To access it, simply open your business account and click on the menu icon in the upper right corner of your screen. Then go to the 'Insights' tab and start exploring your profile's statistics. You'll find data split between three tabs: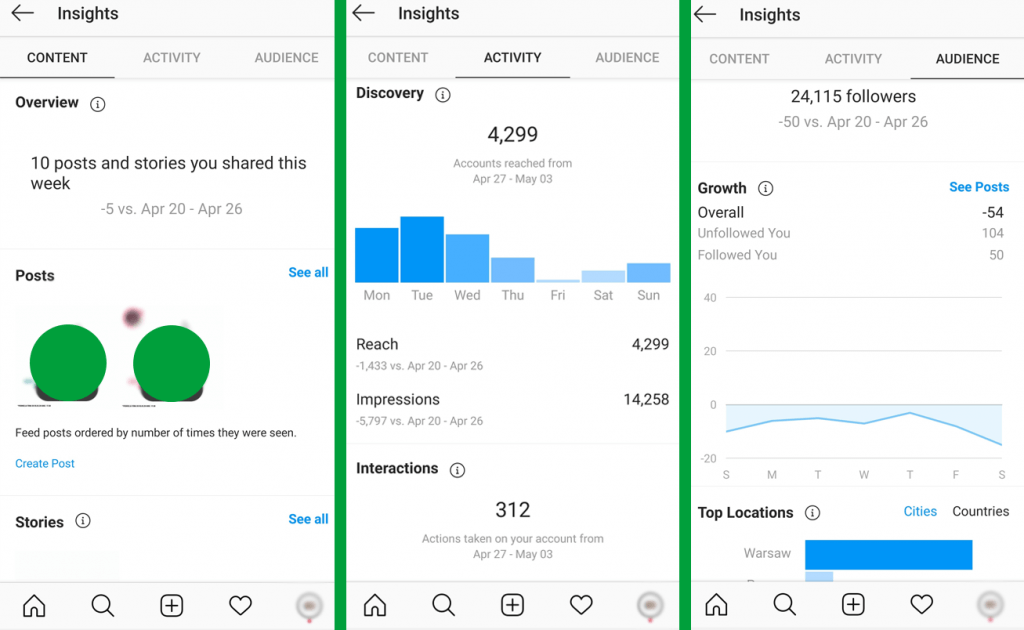 Content
In this section, you can find data relating to your top posts and stories. The tab covers your content's results regarding views and user interactions. Instagram Insights allows you to sort through data by post type, publication time, and activity type for both your organic posts and Instagram ads.
Activity
If you want to check up on the actions that your followers take when they view your posts, this is the right tab. Here you'll find daily data concerning interactions, reach and views.
Audience
In the 'Audience' tab you will find information about the demographics and behavior of your followers. This tab provides charts that depict the structure and growth dynamics of your follower base. Specifically, it shows you:
The growth dynamics of your audience
Where your followers are based
Their age and gender
At which times your followers are the most active
Instagram Insights is a great tool to start with, but you'll soon realize that it just doesn't provide enough information to give you a detailed overview of your performance when you dive deeper into Instagram marketing or you start to manage more business profiles. One of the tool's most significant limitations is that it only compiles data for the last 7 days.
If you're looking for a deeper dive into your accounts' analytics, you might want to consider using a third-party analytics tool.
NapoleonCat's Analytics
If you're serious about using Instagram as a business tool, you surely want to make the most of your presence on the platform. To achieve this, you shouldn't leave anything to chance. Having the right analytics tool is crucial for making the right steps.
Napoleon Cat's Analytics is the best choice for making these steps, especially if you run multiple profiles or use more than one social media platform for your business. Let's take a look at the possibilities it brings to the table.

With Napoleon Cat's Analytics, you can analyze the performance of all your Instagram accounts in a much more efficient and easy-to-read way than the built-in Insights tool. And streamlining your tracking process brings about a lot of benefits.

First of all, having all your data in one place will save you a lot of time and effort. If you run multiple Instagram accounts or have a business account on other popular social platforms like Facebook, you'll no longer need to jump between them to check on your results. With NapoleonCat, you can also analyze timeframes longer than 7 days, including custom dates.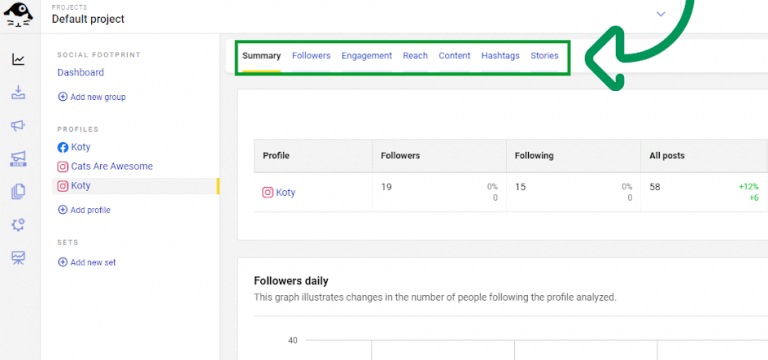 The second handy feature is reporting. Napoleon Cat allows you to create complex, accurate reports quickly and easily. If you need to deliver reports to your manager or just want to keep track of the metrics, this will make your life a lot easier. You can also set automatic reporting in order to have fresh reports delivered to you and your associates regularly. This will help keep your team, business partners, clients, and stakeholders, as well as yourself, all updated about each key metric.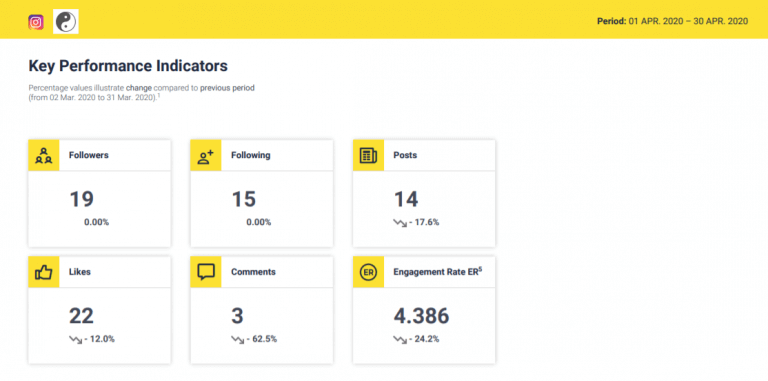 NapoleonCat not only gives you all of the functions that Instagram Insights does but also increases the range of possibilities by allowing more specific tracking and providing additional features that the native tool doesn't. One of these is the ability to easily and automatically compare your own business with that of your competition. With comparative sets, you can easily keep an eye on the strategies and practices of your competitors – and improve your own strategy based on data-powered insights!

Wrap up
Reach and engagement are two of the most important metrics to track on Instagram. Now you know what they mean, how to grow them, and how beneficial tracking them can be for your business. Remember, every business strives for constant improvement, and you can only make the right moves if you continually monitor your performance and analyze your results. This is not an easy task though, so being equipped with the best analytics tools available will help you a lot!