It's pretty simple: hashtags help you reach more people and – perhaps more importantly – the right people potentially interested in your content. And TikTok hashtags are no different in this respect. But also, TikTok is pretty specific in the use of hashtags – so let's take a look at how they work on TikTok and how to use them to increase the reach of your content.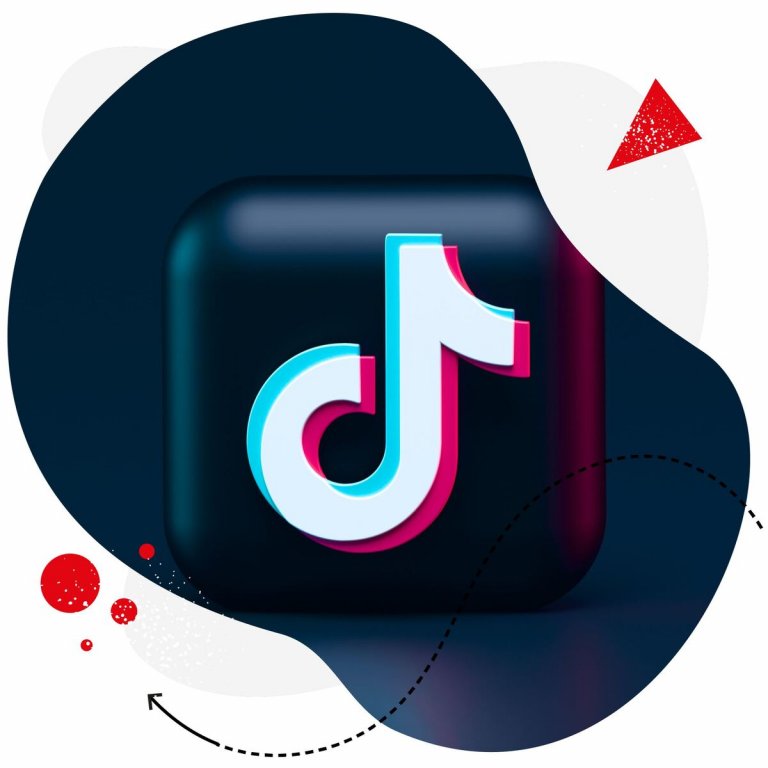 TikTok management tool for teams
Schedule your TikToks and manage TikTok comments from one place – with a simple tool designed for teams. Try NapoleonCat for free:
Try NapoleonCat free for 14 days. No credit card required.
How to find the best hashtags for TikTok
Finding the right hashtags for your content and your target audience might need some testing. But here are some tips you can start with.
Look for hashtags directly on TikTok
Just using the search on TikTok will give you a first idea of what's currently popular on TikTok. And it's as simple as starting to type in the search bar, like this: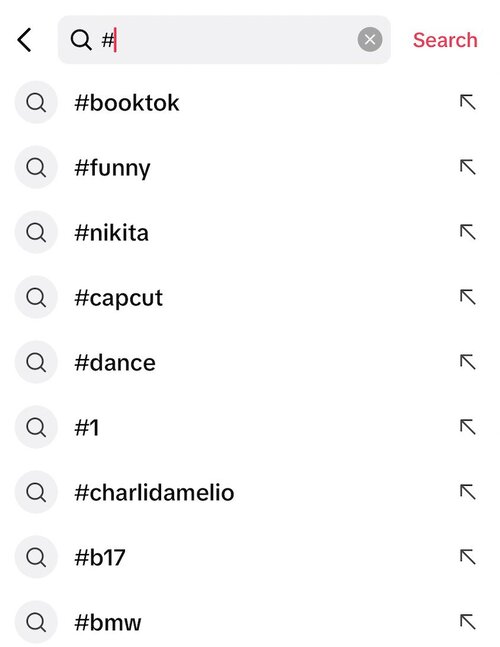 Depending on the language of your app, you'll be served some popular hashtags even when you just type in the hash alone.
It's a good place to start looking for relevant TikTok hashtags. You can then also expand your hashtag sets by looking at what other hashtags people use in combination with your initial ones.
If you know, more or less, what you're looking for, and want to find TikTok hashtags that are popular around a specific topic, type your keyword in the search bar. Then tap hashtags in the top menu for all the popular hashtags around that theme, complete with the number of views they've generated.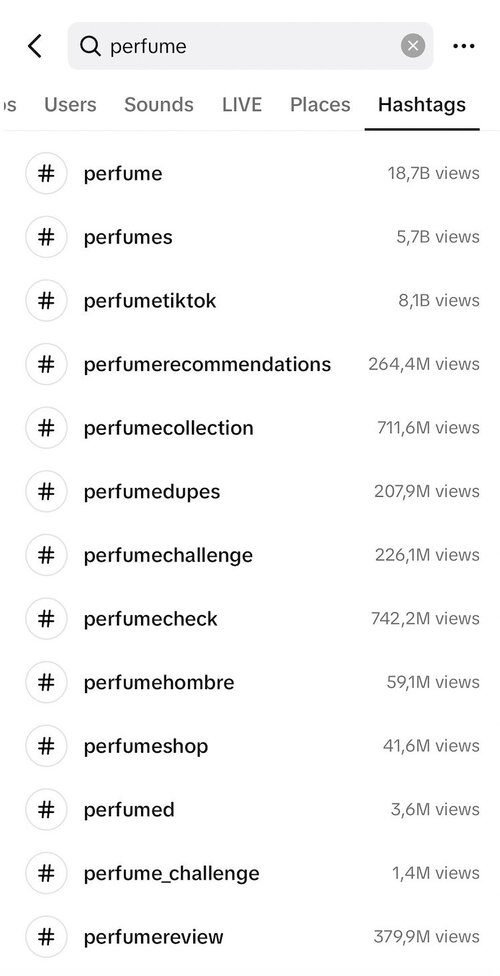 Don't forget – these hashtags are not necessarily trending right now, even if they have millions, or even billions, of accumulated views, as the numbers show total views over time.
See what TikTok hashtags your competitors use
Spying (but, you know, in a good way ;)) on your competitors is an important part of social media marketing. 🕵️ So, take a look at the TikTok hashtags your competitors use in their content (including some niche hashtags they might be using) and see how they work for your content.
Follow your audience
Audience research is also key in any marketing endeavor – so don't forget to regularly research how your target audience communicates on social media, including what TikTok hashtags they use.
TikTok has some very specific hashtags that denote thematic categories people adopt for their content – kind of like thematic channels within TikTok, for example:
#booktok
#poetrytok
#puppytok
#cattok
#perfumetok
#foodtok
You get the idea. So, depending on your industry and niche, you'll want to look for hashtags that people use with content relevant to it.
You'll also find very specific hashtags related, for example, to currently popular TV shows (team #successiontok), sports events, artists, etc.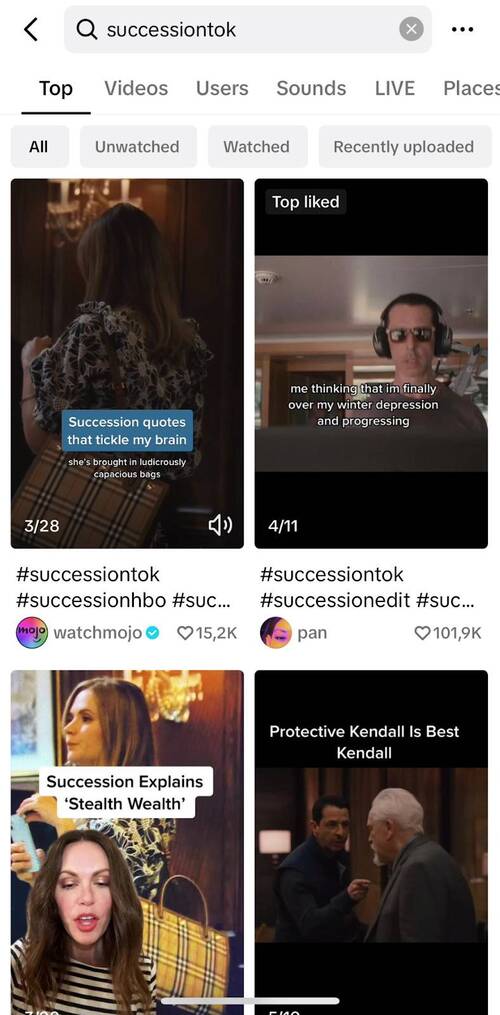 So spend some time following what they're interested in and what you could tap into with your content.
Check out current trends
TikTok is heavily trend-based. And even though there are some evergreen hashtags that never stop being popular (like #fyp), some trend-related ones will keep appearing.
So keep monitoring TikTok for new trends (like sounds, hashtag challenges, and new #toks) – you can, for example, use TikTok's resources to keep your finger on the pulse.
Best TikTok hashtags in 2024
Here's a list of 150 hashtags popular in 2023. You'll see some of them (like #fyp) are pretty universal and evergreen. They're also international – remember that TikTok has a lot of local content. To check top hashtags for different countries, go to the link above and select the one you're interested in.
#fyp
#foryou
#foryoupage
#viral
#fypシ
#parati
#tiktok
#fy
#trending
#duet
#xyzbca
#CapCut
#trend
#funny
#foryourpage
#comedy
#tiktokindia
#humor
#love
#greenscreen
#viralvideo
#anime
#fypage
#dance
#fypシ゚viral
#pourtoi
#xuhuong
#comedia
#standwithkashmir
#bts
#pov
#art
#stotch
#makeup
#learnontiktok
#4u
#dog
#edit
#kpop
#perte
#music
#meme
#freefire
#cute
#foru
#like
#football
#💖💖
#food
#goviral
#fitness
#video
#gaming
#FeatureMe
#🔫
#fortnite
#tiktok_india
#mexico
#fashion
#explore
#follow
#fypdongggggggg
#challenge
#tutorial
#fun
#sad
#greenscreenvideo
#viraltiktok
#lgbt
#fürdich
#cosplay
#minecraft
#dogsoftiktok
#cat
#gym
#diy
#bdtiktokofficial
#lentejas
#relatable
#doubleexposure
#couple
#dc
#burhan_tv
#Ad
#dlaciebie
#хочуврек
#asmr
#btsarmy
#jungkook
#fyppppppppppppppppppppppp
#voiceeffects
#drawing
#xuhuongtiktok
#naruto
#army
#1millionaudition
#couplegoals
#amor
#funnyvideos
#catsoftiktok
#family
#💞🙏💞
#motivation
#tiktokph
#TikTokUni
#lol
#travel
#unfrezzmyaccount
#tik_tok
#Slowmo
#satisfying
#christmas
#dueto
#disney
#artist
#aesthetic
#blackpink
il#lu
#baby
#friends
#destacame
#halloween
#storytime
#paratii
#acting
#beauty
#hair
#usa
#movie
#tiktoker
#lyrics
#basketball
#song
#pet
#grow
#kdrama
#gay
#gamer
#futbol
#nails
#dogs
#workout
#girls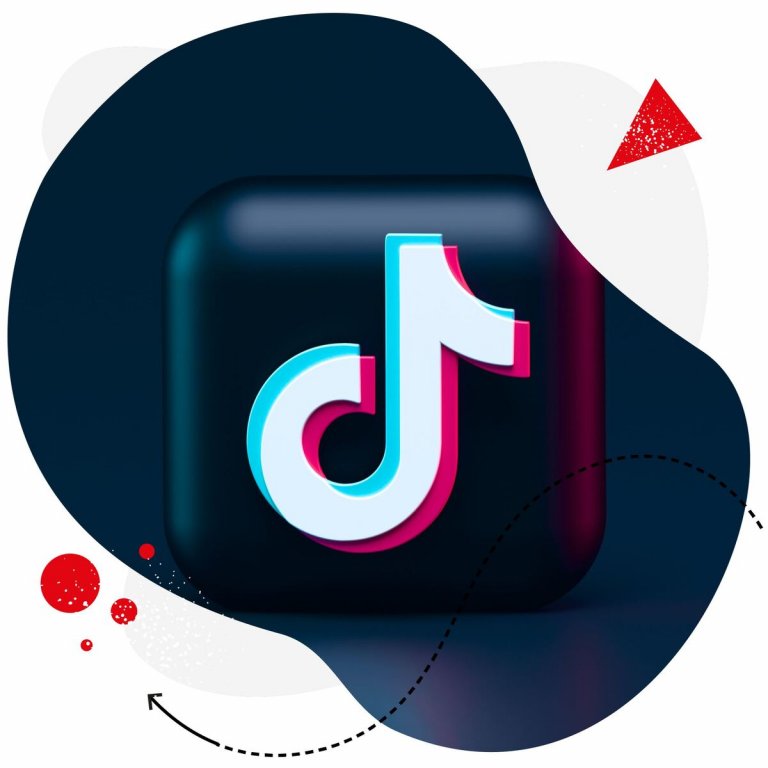 TikTok management tool for teams
Schedule your TikToks and manage TikTok comments from one place – with a simple tool designed for teams. Try NapoleonCat for free:
Try NapoleonCat free for 14 days. No credit card required.
Tips for using hashtags on TikTok
A.k.a., how to use TikTok hashtags more intentionally instead of the proverbial throwing spaghetti at the wall. 🍝 (Yes, hashtags are not just for describing the contents of your video with popular nous, if you know what I mean. ;))
Use relevant hashtags
There are a few types of hashtags on TikTok. Some of them are really general, you know, the types you use "just because everyone does it" – like #fyp and #foryoupage, for example. I mean, nothing specific about them.
Some, on the other hand, are more specific – like all the different types of #toks I mentioned above.
The more specific you want your target audience to be, the more detailed your hashtags should be to attract them. For example, if you're a perfume influencer (or a retailer in the space), #perfumetok just makes sense. Know what I mean?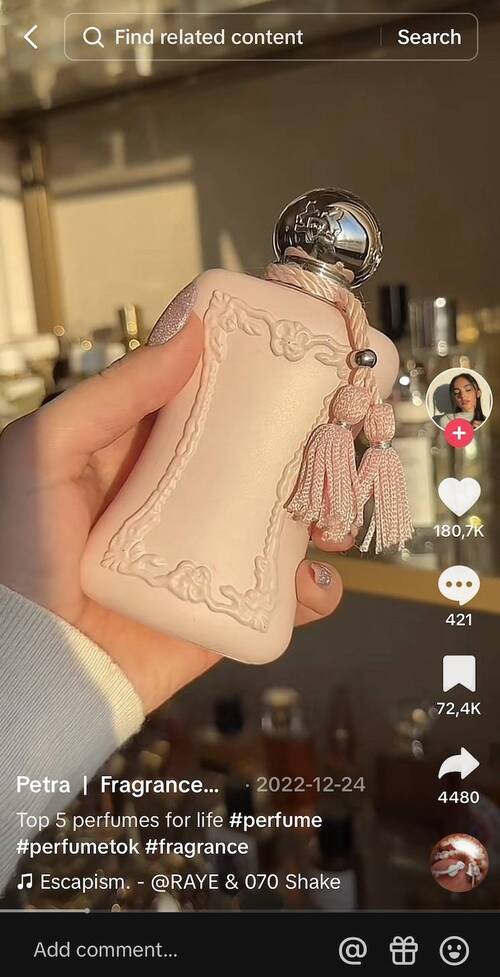 Mix hashtags together
Luckily, you don't have to stick to just one (or two or three) hashtags. You can mix the specific ones with the more general ones to get both a wider reach and reach a more specific audience.
And don't forget – the more popular a hashtag is, the more likely it is for your content to drown in all the other TikToks using it. Just like on all the other social media platforms.
Create your own custom hashtag
Creating your own branded hashtag is also a good idea. People can pick it up to share content related to your brand or the marketing campaigns you're running at a given time. (And by the way, if you create content for TikTok, and any social media platform for that matter, a solid TikTok hashtag strategy should be a part of any marketing campaign.)
A good way to make a custom hashtag popular is to create a hashtag challenge or a stitch opportunity asking for participation. That way, you can encourage more people to use it and create a steady flow of user-generated content for your brand.
How many hashtags to use on TikTok
TikTok has no official limit for using hashtags, so technically, you can use as many as you like within the 2,200 character limit for your caption (and then possibly add more in the comments.)
But experts recommend not overdoing it and instead adding three to five most relevant hashtags to your TikToks for optimized results. Ultimately, it's for you to test with your content and compare the results.
Having a list of hashtags to use on hand will certainly help.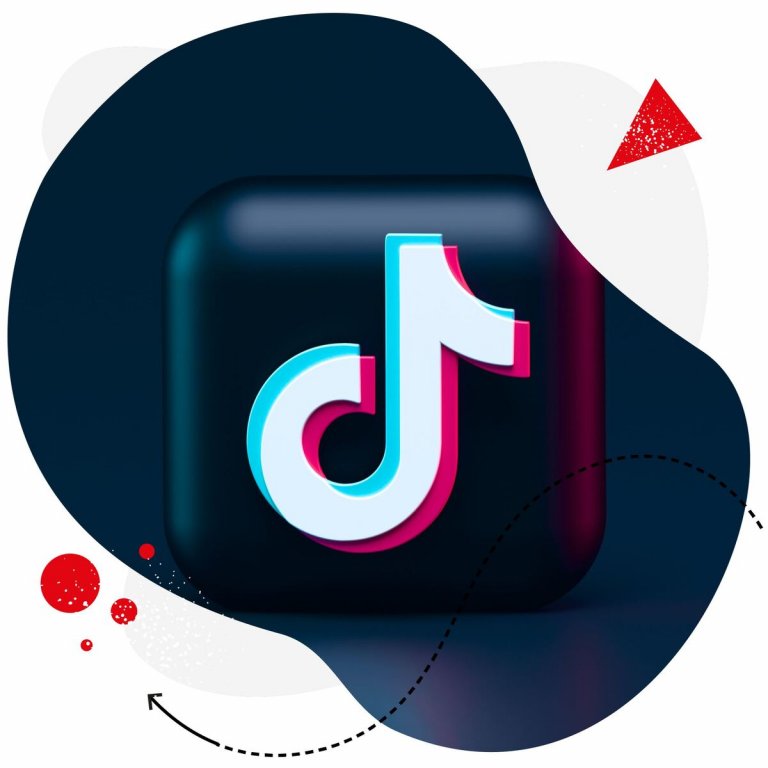 TikTok management tool for teams
Schedule your TikToks and manage TikTok comments from one place – with a simple tool designed for teams. Try NapoleonCat for free:
Try NapoleonCat free for 14 days. No credit card required.
How to create a hashtag on TikTok
It's really not rocket science – you just write the selected word with the hash sign, and boom! 💥- you have a hashtag.
Some things to keep in mind are:
Think of a hashtag that is clear and easy to understand for TikTok users (even if it uses insider TikTok talk – that's okay.)
Make it easy to remember and spell – so people can quickly type it in the search if they want to (though some of the popular TikTok hashtags above seem to defy that rule.)
Try to make it easy to associate it with your brand, too – it's ultimately better for building brand recognition on TikTok.
By the way, don't "bomb" hashtags with your ads – it's never a good marketing strategy in the long run.
How to find trending hashtags on TikTok
Finding trending TikTok hashtags used to be a little bit easier, as there's no longer any "Discover" tab in the TikTok app. But you can still find it in the browser version of TikTok. So go there to look for trending content and hashtags.
What hashtags to use on TikTok to go viral
No hashtags can ever guarantee going viral – because the very definition of viral includes unexpected reach that you really can't calculate beforehand.
And no, it's not enough to use the #viral hashtag. 😉 (Who's to say you can't, though. But it's not how that works.)
But definitely look into trends that are picking up in real time – they can be the leverage you're looking for for your content. And many creators have seen their numbers explode because they jumped on the right topic, trend, or challenge at the right time.
Using popular duets, stitches, or – obviously – trending sounds can also be helpful. Just remember – for the content to really go viral, you need to provide people with something they'll want to watch. So think about a unique angle you can add instead of copying what everybody else is doing.
How to add hashtags to a TikTok video
To add hashtags, just type them into your caption. You can also add them to a first comment for that first bit of engagement under your TikTok video.
How to block hashtags on TikTok
TikTok users can filter out certain content from their for you pages and Following feeds. Here's how to do it:
Open the TikTok app, press and hold on a video you see, or tap the Share button on the side.
Tap Not interested.
Tap Details to display a list of hashtags that the video includes.
Select the hashtags you'd like to filter out.
Tap Submit to confirm.
You can also filter out keywords in your privacy settings. To do that:
Tap Profile at the bottom.
Tap the Menu button at the top.
Tap Settings and Privacy > Content Preferences, then tap Filter video keywords.
Tap Add keywords and enter a word or hashtag you'd like to filter.
Select the feeds you'd like to filter from.
Save to confirm.
One last thing, a.k.a. how to manage your TikTok videos easier
You can get lost in all this content and all these hashtags, can't you? That's why working with a proper content management tool that lets you schedule TikToks and keep all the hashtags in one place, ready to copy from one TikTok to another is a good idea.
There are more and more TikTok management tools for business available, and one of them is NapoleonCat. Use it to:
Schedule your TikTok content (and your TikTok hashtags) in a visual calendar, along with content for other social media platforms you use
Moderate and reply to TikTok comments in one dashboard, along with your other social media channels
Collaborate with other team members and TikTok influencers. Assign content to create and comment threads to reply to your content creators and customer service team to make the process nice and smooth.
And enjoy! We recommend you test NapoleonCat for free here – no credit card required 😉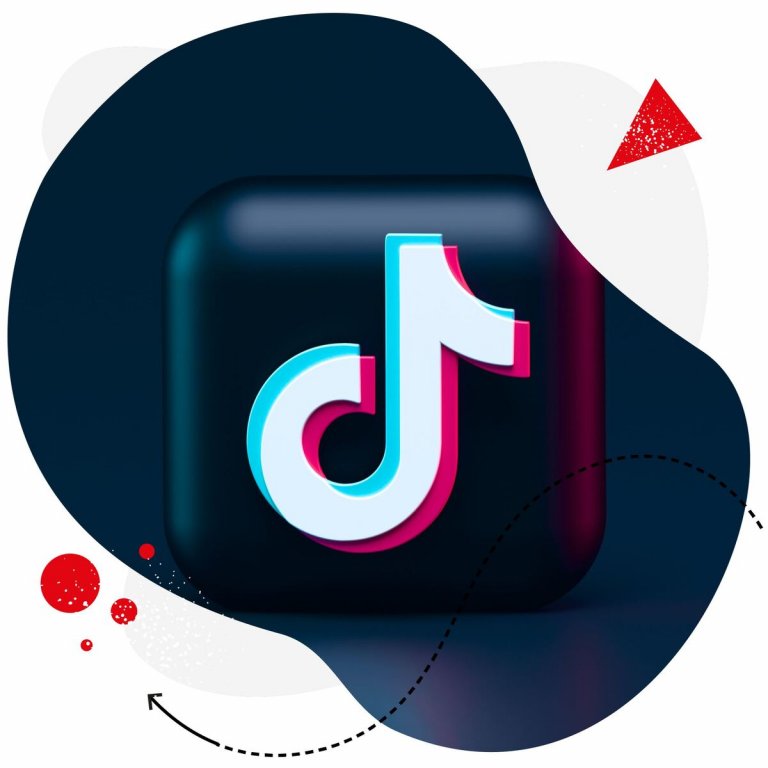 TikTok management tool for teams
Schedule your TikToks and manage TikTok comments from one place – with a simple tool designed for teams. Try NapoleonCat for free:
Try NapoleonCat free for 14 days. No credit card required.
You may also like: