Got a beauty eCommerce brand or store? Here are a few ways to get more customers through your virtual door using what social media has to offer (and it can offer plenty.)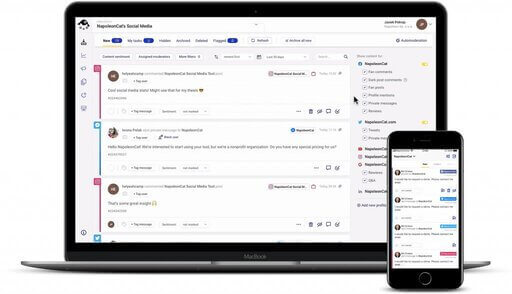 Manage all comments and messages from one view
Manage all of your comments, messages, reviews, etc. – with an all-in-one social media tool.
What's more Instagrammable than beauty?
The health and beauty industry is a particularly fitting topic for visual social media networks. And if you have a beauty eCommerce brand or are a beauty retailer, social media will make an excellent extension of your marketing and sales strategies. Why?
It's a perfect place to showcase your products in a more engaging way than just the packshots in your online store.
And it's a place where you can get closer to your customers, engage in conversations with them, and show the human face of your brand (while still getting them interested in your products).
Today's social networks have giant, active beauty communities on them. Becoming a part of them as a brand is a smart move.
And then there are the numbers, like the 82% of beauty shoppers that use Instagram at least once a day or the 67% that turn to influencers for new product recommendations (same source.)
The most followed beauty brands on Instagram have millions of followers (e.g., Kylie Cosmetics is followed by more than 25 million people). But you don't have to go anywhere near that number to be successful. Let me show you a few things you can do to get more customers on social media for your beauty eCommerce brand with the resources you now have at your disposal.
How to get more customers on social if you're a beauty eCommerce brand
Let's get a closer look at how your beauty brand can get more customers through social media.
1. Show, don't tell
Next to fashion, the cosmetics industry is made for visual social media channels such as Instagram or YouTube (or, should I say, Instagram and YouTube were made for the cosmetics industry :))
And it's not just beautiful photos and aesthetically pleasing videos.
Social networks are full of:
Makeup tutorials – from brand teams, but also in collaboration with makeup artists, influencers, or even created by customers (we'll also talk about user-generated content as a great marketing strategy a little later)
Product demos and reviews
Fun Instagram reels using brand products
Eye-catching, shoppable posts, letting you sell directly from Instagram or Facebook.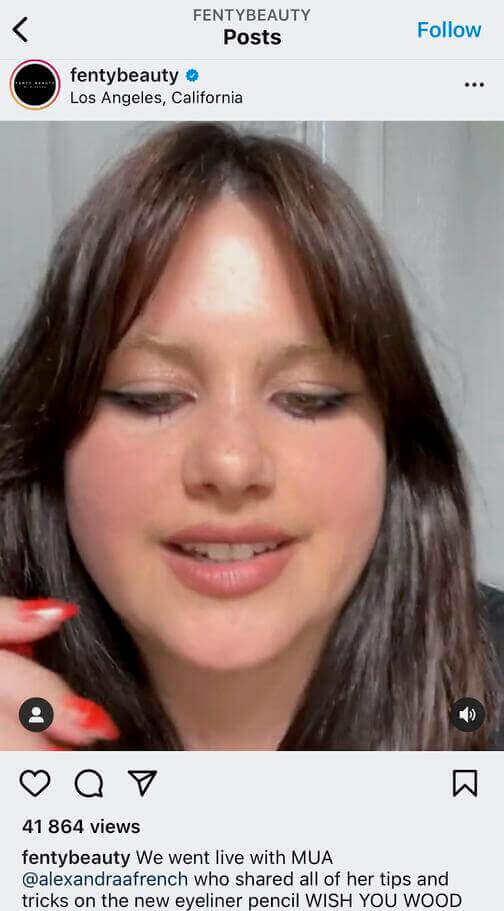 Try catching the viewer's eye with a design that stands out or helpful information displayed at a glance as they scroll (or both, like in this post by the brand Supergoop).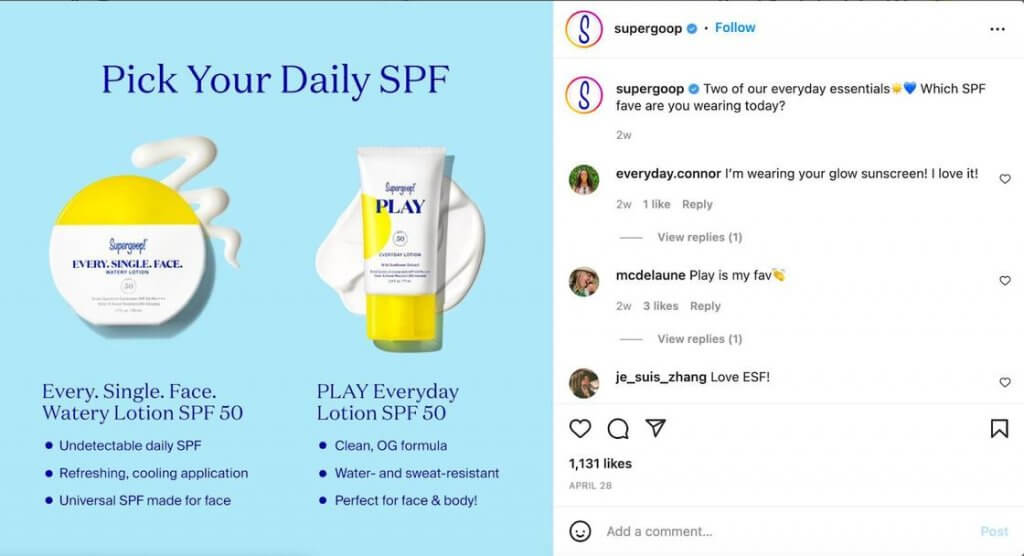 Some brands also curate their social media feeds to create a consistent brand look and sometimes even recreate their website navigation on their Instagram profiles so people can find the content they're interested in easier. Here's an example of what Sephora does on their profile: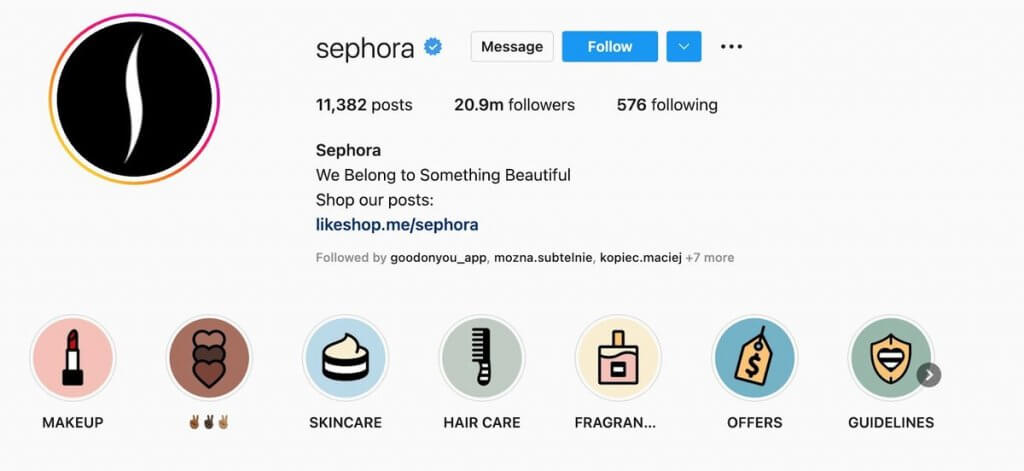 2. Educate
If you're familiar with the five stages of customer awareness, you'll know that your prospects can have different needs depending on the stage of their customer journey. Some are very aware and looking for specific products for specific uses (and at specific prices). Some are scrolling through social media, not even aware they might have a problem or that there's a solution.
For example, anyone who's never used a retinol cream will be largely unaware of the benefits of the substance, not to mention the way they should use it to get the most of those benefits. And they might not know that it's the perfect solution to a skin problem they've been experiencing for years, but couldn't quite put their finger on.
That's why we have content marketing, which is largely about education. And there are plenty of things to educate your customers about, making them aware of a specific product or a solution to a problem they might have.
So if you're launching a new product in your store or just want to highlight the ones you have on offer, think about how your customers can benefit. And use eCommerce content marketing on social media to start talking about it.
Now, if you're wondering how to come up with social media posts for your eCommerce store, try focusing on things like:
Different skin/hair problems and ways to deal with them
Morning/night routines for different types of skin
Specific substances, their benefits, and usage directions
Etc.
Think of a series that you can plan in your content calendar ahead of time, mixing it with pure product promotion. (It helps if you have a social media publishing tool where you can plan, schedule, and automatically publish all the different types of content for all your team to see.)
You might ask an expert, e.g., a dermatologist, to do a Facebook live with you or record a series of short videos you can plan out throughout the month. And this way, you can reach new audiences and guide them through your sales funnel until they're ready to buy a specific product.
For example, for AAPI Month, Skin Ceuticals published a post on the characteristics of the skin in AAPI people and common myths, along with an expert in skin health.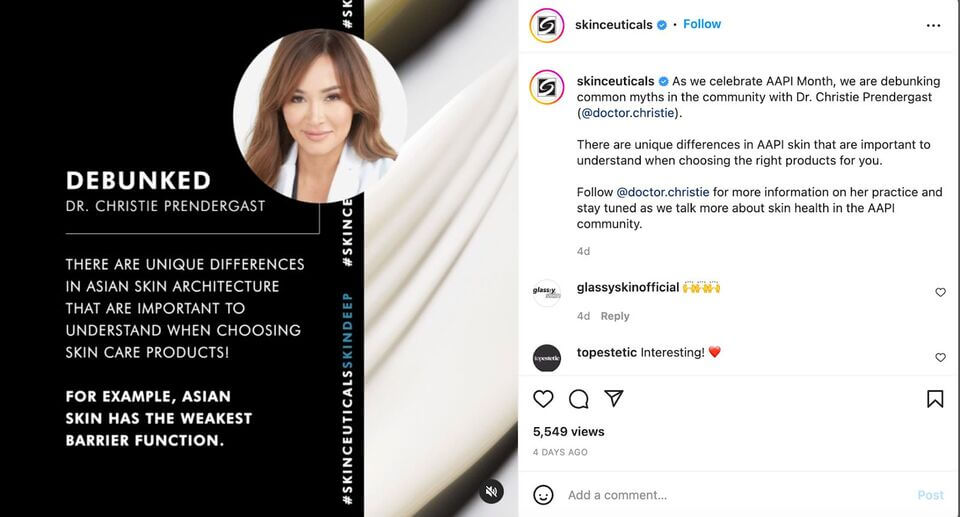 And here's something if you're looking for more general tips on social media content for business.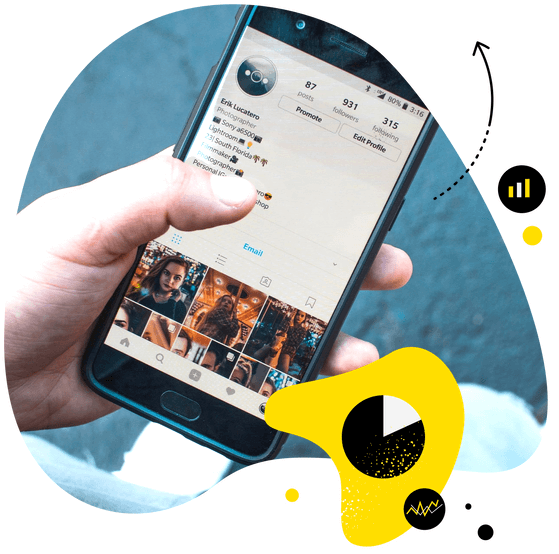 In-depth Social Media Analytics
Measure your marketing results on Facebook, Instagram, and other platforms. Track competitors and improve performance – with an all-in-one social media tool.
3. Collaborate
As the number I quoted at the beginning of this article clearly shows, people often turn to their favorite social media influencers for new beauty product recommendations. That's why in the beauty industry, influencer marketing is booming and doesn't seem to go anywhere anytime soon.
What I'd personally recommend is partnering with influencers that are knowledgeable on the subject and can actually present the good qualities of your products in a sincere and authentic way. (After all, we don't want to trick people into buying stuff they don't need, now, do we?)
And again, you don't have to work with well-known celebrities (who charge exuberant amounts and probably work with dozens of your competitors, anyway). Instead, focus on those who can really engage their communities in a genuine way and influence their purchasing decisions.
One of my favorite examples of this is how the cosmetics brand CeraVe has been all over TikTok, with beauty influencers and dermatologists talking about it all across my FYP. (If you're on TikTok, search for #CeraVe in hashtags to see the content.)
For more practical tips, read this article on how to choose the right influencer for your marketing campaigns.
4. Build a community
Some of those influencers – or sometimes even micro-influencers – are your customers. So look for them there, too, and create opportunities for people to talk about your products.
And beauty products can get people talking for hours – if you're into beauty, I'm sure you know what I mean. So why not enable those conversations to happen somewhere close to your brand – like in your Facebook group, a private Instagram account, or an exclusive email list. Or all of them combined into a community of beauty fans and enthusiasts.
That's what many beauty retailers already do – look at Sephora and its #SephoraSquad, or Glow Recipe and their Glow Gang.
It's especially valuable for boosting customer retention, so it can be a very effective tactic if you either sell beauty products on a subscription basis (like a subscription box) or just want to have more repeat customers coming back to your store and choosing you over others every time.
Now, to get people engaged, you need to encourage them by sparking conversations and taking part in them, too. This is what a community will expect of you (even if, with time, they'll probably start engaging with each other more than with you.) And this obviously takes time.
I recommend equipping yourself with a social media engagement tool that'll help you keep track of all the conversations even if they happen on different channels, and reply from one place instead of wasting time jumping from notification to notification – like NapoleonCat with its Social Inbox feature.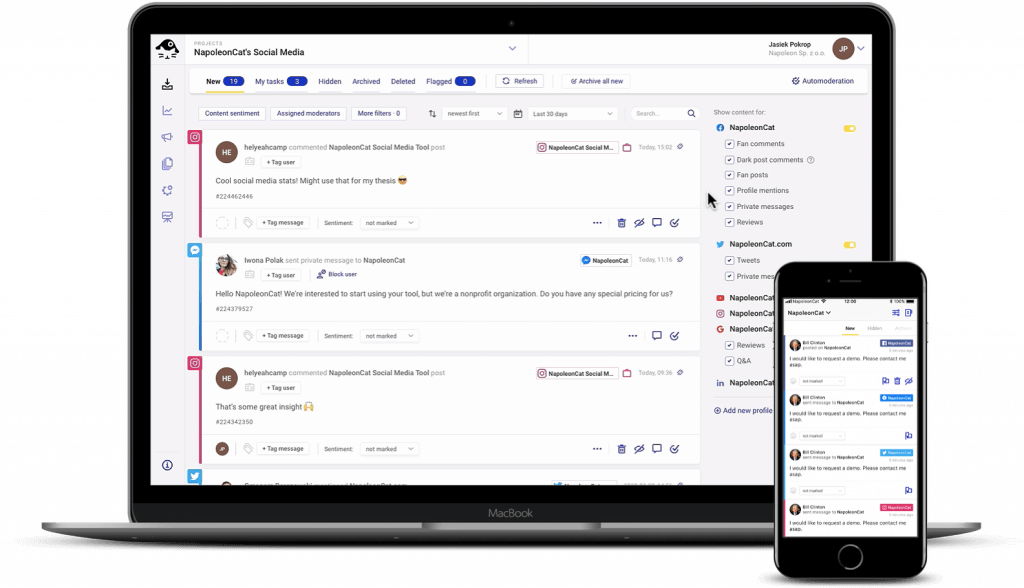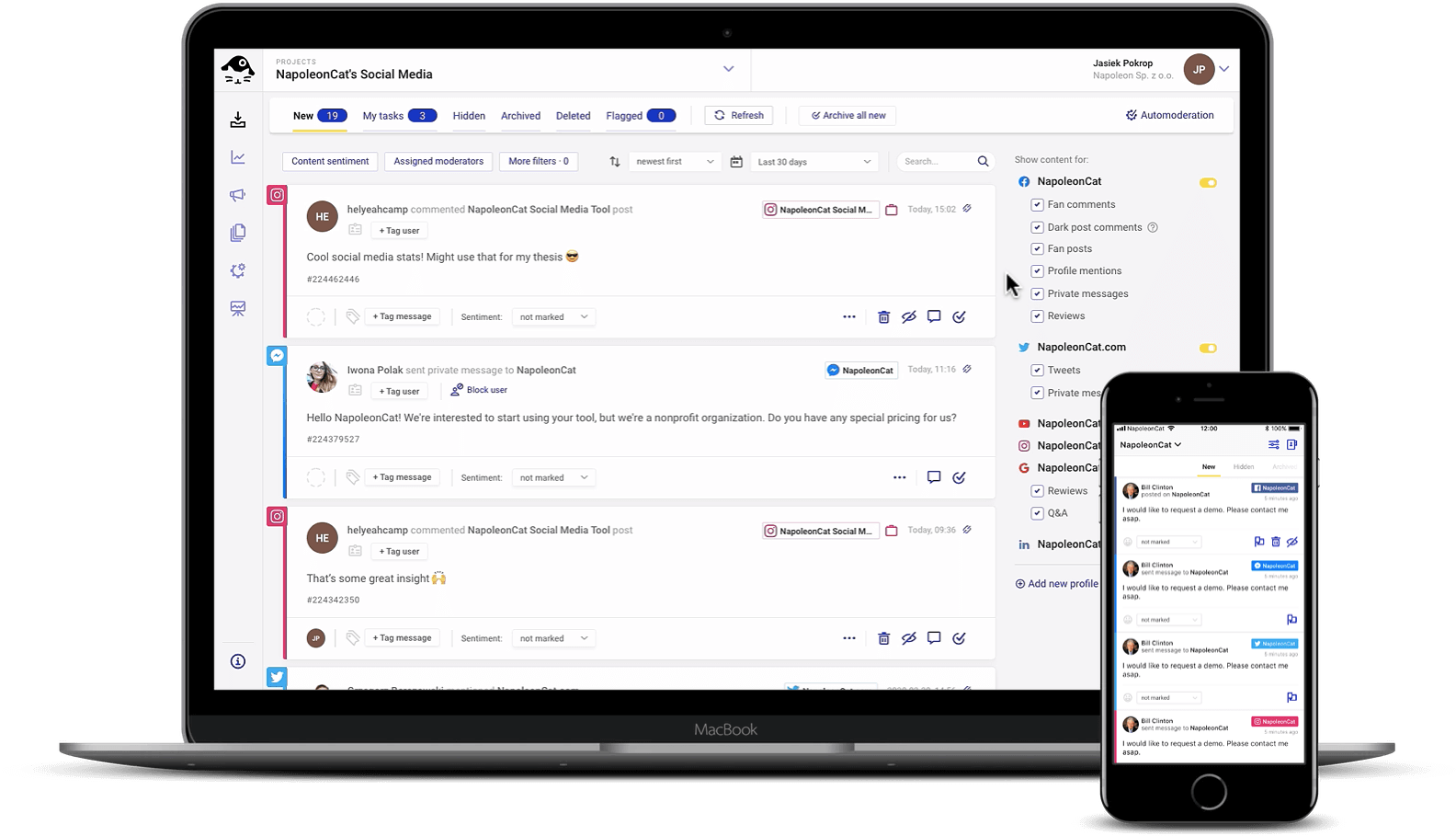 For more, here's a helpful link to an article on how to build community on social media.
5. Get content from your customers
Speaking of communities, they're an excellent source of engaging, compelling content for your brand. So if you're not applying user-generated content in your marketing yet, what are you even doing?
From customer reviews left at your store to posts and videos with your products people share across social media, there are probably tons of content out there you're missing out on. Not to mention the engaged customers who take the time to share content related to the products you sell entirely on their own.
They will 100% feel appreciated if their favorite beauty brand reshares it on their profile – while you get access to content people will enjoy.
Some ways to get more user-generated content are:
Creating weekly/monthly challenges, e.g., around a selected product line or type (like, say, makeup removal) with a branded hashtag
Social media contests
Asking to share their opinion/photo of the product after the purchase (e.g., in the confirmation email or a few days later when they should have already gotten the products and been able to try them out)
Asking them to unbox the package on social media
Or just plain searching social media for content related to your products and resharing them (or maybe even collaborating with the customer in the long run.)
And just take a look at this post from Glossier. I mean, how cute is the #dadsofglossier hashtag? (And I know it's for a brick-and-mortar store, but there are plenty of ways to do the same for an eCommerce store. Time to get creative!)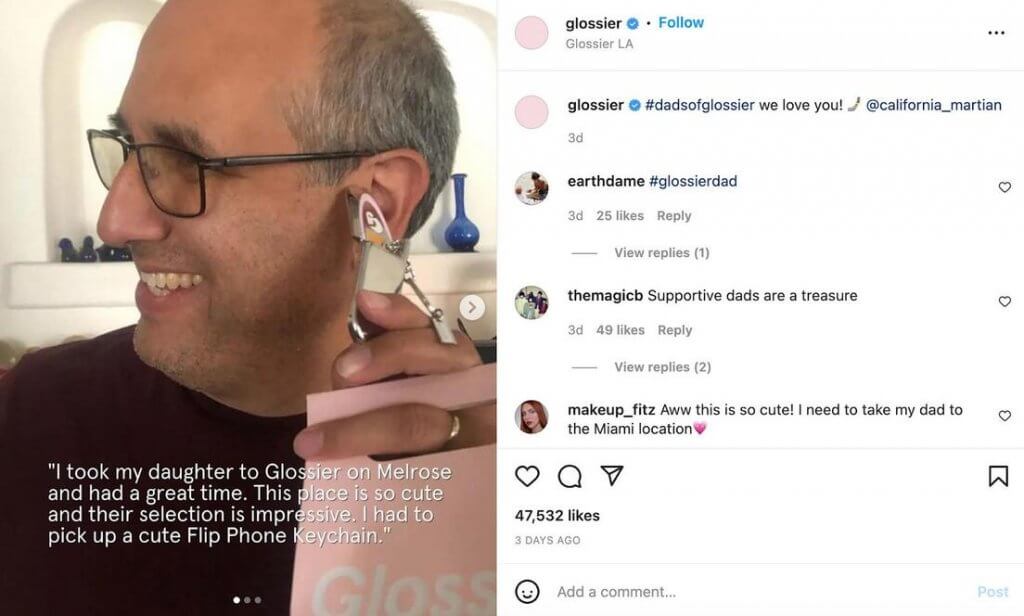 6. Sell directly on Instagram or Facebook
I've already mentioned shoppable posts – and they're a great way to highlight your products or entire product series.
You can do it in your organic posts or your ads, which will also let you create entire product collections. If you want to learn more about the different types of Instagram and Facebook ads, read this article for starters.
Whether ads or organic content, you're taking your customers right to your store and can basically sell on Instagram. This is very convenient when looking for those product-aware customers who might need a little incentive to buy – or simply good timing, which might just be when they're scrolling Instagram.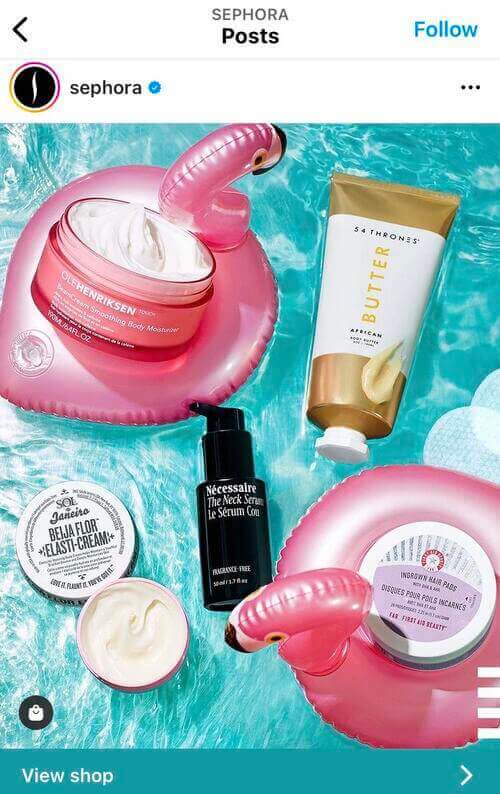 7. Provide stellar customer service
Sales are really just a small part of the entire customer experience. Apart from, obviously, the experience with your products and their quality, how you react to potential issues or just plain questions is crucial.
And if you're actively selling on social media, you need to be prepared to provide customer service on social, too – and do it in a timely and relevant manner. Which is not always easy.
What helps – besides having a solid customer care strategy – is getting your customer service team a social media automation tool.
It'll help them deal with customer service queries on social no matter the volume, and automate some of the interactions, like:
Replies to questions about colors, prices, etc.
Replies when your team is unavailable
Assigning conversation threads to selected consultants on your team
Removing spam from under your organic posts and ads.
Without one, getting your customers more engaged on social media might mean simultaneously overwhelming your customer service team, which doesn't really make sense for anyone. And might make your marketing efforts much less effective than you'd like.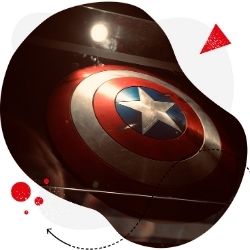 Protect your social media from offensive comments and SPAM
Automatically hide or delete comments containing spam under your organic posts and ads – with an all-in-one social media tool.
Social media is where beauty brands go viral
And though you can't really plan for going viral (your customers and fans have a final say on that one), you can certainly prepare for it. And your best bet is to provide your audience with things they find exciting, helpful, and valuable. Your job is to find out what they are! 😉
You may also like: