Will 2023 be the year of video? Or mobile? Probably Metaverse? (Just joking!) Whatever kind of year we'll label it this time, let's look at some of the trends that have already started this year and will continue to grow in 2023.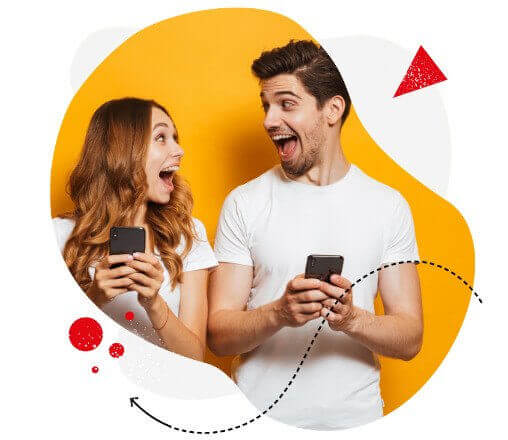 Social media marketing made easier (especially for teams)
Automation, analytics, reporting, scheduling, and more. Try NapoleonCat and save 90% of your time spent on marketing tasks. Try it for free:
Try NapoleonCat free for 14 days. No credit card required.
1. The main social media trend? Trends!
I know, it's like you're wondering how to keep up with social media trends, and I say: "just keep up with trends!" Here, let me explain.
You know how we've had trending hashtags for a long time. This is one way trending topics spread on social media, especially on platforms like Twitter or Instagram. TikTok has taken the phenomenon of trends to a whole new level, helping otherwise low-key content blow up and spread at unprecedented speeds. (Forgive me for all the buzzwords in this sentence. But, you know, trends and all.)
We now have trending sounds, trendings songs, and trending dialogues, often bleeding to social media from – yes – trending Netflix series. And the TikTok trends bleed into Instagram Reels, etc. We're all in a trend Matrix of sorts, with algorithms creating new opportunities for content discovery – and new opportunities brands can jump on to reach a broader audience organically.
With AI algorithms at hand, it's interesting to see how trending content distribution gets automated and personalized (or, more likely, hyper-targeted) next. I guess we'll see it this year.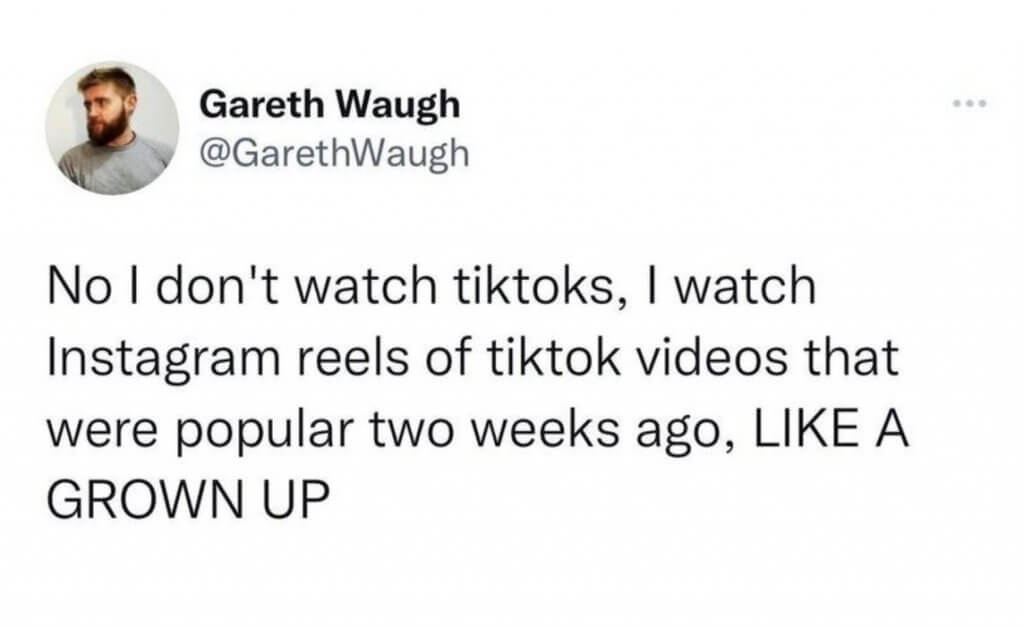 How to use this trend for your brand
These days, you really have to keep your finger on the pulse to know what's up on social. Follow trends on your social media platforms, like TikTok trends, and use social listening and content discovery tools to identify popular topics.
Oh, and don't forget to choose the trends that actually fit your brand and your audience and feel authentic (yes, we'll be talking more about authenticity in this article. Definitely a big trend. ;)) You don't have to jump on all of them just because they're popular.
(Yeah, I heard you say, "Tell that to my CEO," and I feel you.)
2. Just Be Real
Speaking of authenticity, there's definitely a strong trend to "be real" on social, most noticeably propelled by the BeReal app that's gained quite some popularity this year. After years and years of staged photos and filtered videos, some people feel the need to show it like it is. Hence the two-minute window you can post on the BeReal app every day.
But this whole trend is not just about taking random, behind-the-scenes photos and going filter-free for the first time in a decade.
In a broader context and looking at more complex concepts like web 3.0, it's all about being in the moment, increased transparency, and authenticity – including brand authenticity. Which also means an expectation from consumers for brands to relate to the reality around them.
This expectation has been very interestingly shown in numbers in this recent study from Twitter, which found that people want brands to talk about social or political issues – in an authentic way, of course.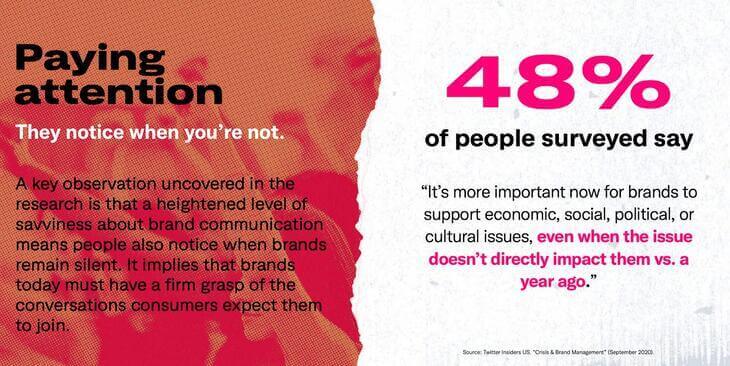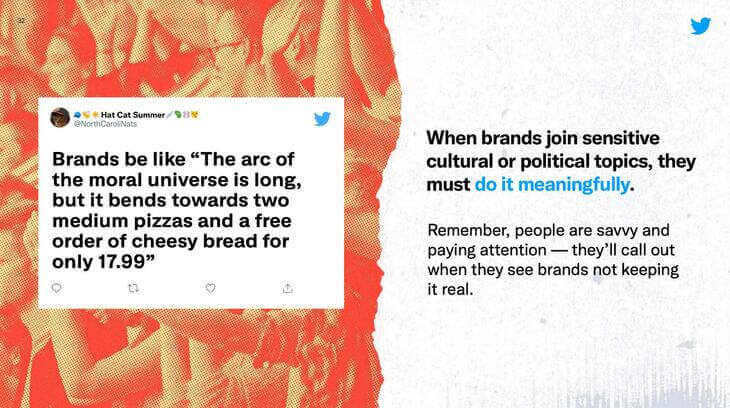 How to use this trend for your brand
Just like with any trend, keep true to who you are as a brand. And certainly, don't try appearing authentic when you're really putting on a show – people on social media see that, and no, they don't like it.
Also, be smart about your content choices. There are lots of important things going on around us, but what you need to ask yourself is: does your audience find it important for you to talk about it? (Or better yet, ask your audience that question.) How can you talk about it in a way that fits your brand voice and values?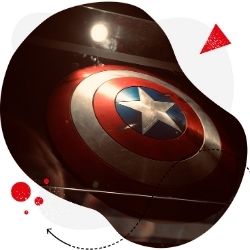 Protect your social media from offensive comments and SPAM
Automatically hide or delete comments containing spam under your organic posts and ads. Try it for free:
Try NapoleonCat free for 14 days. No credit card required.
3. Be unique – it's what your audience (also) wants
Speaking of creating content that fits your brand personality and voice, you first need to know what they are. And it's a concept that transcends just social media channels and is key to your entire marketing strategy.
In the same Twitter study I cited a little earlier, people said they had trouble telling brands apart on Twitter, as they used the same tone, keywords, and topics, resulting in a "sea of same."
And people are tired of it. So next year, time to really step up and find out how to communicate with your audience in a way that stands out.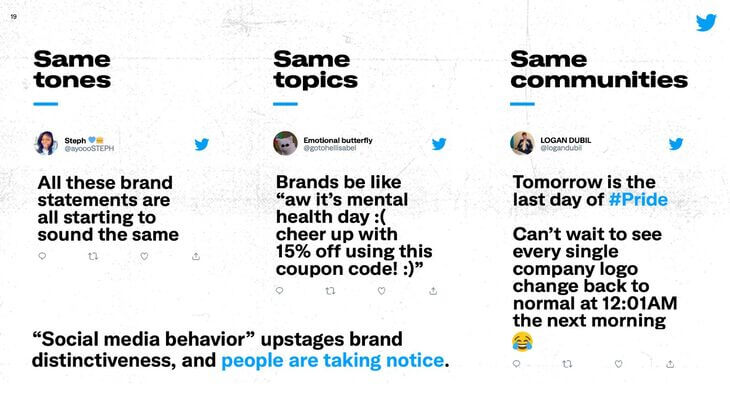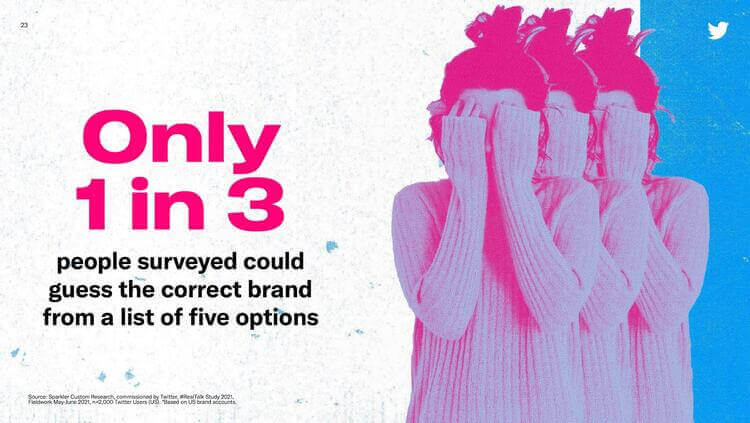 How to use this trend for your brand
Yes, I know, I only just spoke about following trends. So, how can you both be unique and jump on popular trends?
You can – but you need to find your unique twist on popular trends and topics. It will take some creativity and a strategic look at your social media content and marketing campaigns. But it will undoubtedly result in building a more loyal community that recognizes your brand from a mile away.
4. Use social commerce to reach your target audience where they are most engaged
Of course, when customers are scrolling through their social media feeds, the last thing you want to do to grab their attention is to ask them to visit your online store. Even if they like what you're selling, they'd rather keep scrolling than get off Facebook or Instagram to look at your products.
It's different with social commerce, where the shopping experience feels native to the social media experience. By showcasing your products in a way that removes any friction in the shopping experience, customers are more likely to check out what you have to offer and buy it. As a result, the entire shopping experience happens within the social media platform – from "window shopping" to customer engagement to app checkout.

How to use this trend for your brand
Platforms like Facebook, Instagram, and Pinterest offer built-in easy-to-use features like shoppable pages, live shopping, etc. Using them allows you to provide seamless shopping experiences within social media platforms.
Remember that when social media users browse their feeds, engaging them with your offer can be challenging. So always try to create attention-getting visuals.
For example, you can encourage your users to produce user-generated content. With a solid UGC strategy, you can increase social shares, likes, comments, etc., presenting opportunities to get your brand in front of new audiences.
5. Build a community on social media
Social media is an excellent place for any brand to build its community, which can be its super-effective source of:
qualified leads,
repeat customers,
brand ambassadors,
recommendations,
engagement,
user-generated content,
and so much more.
Communities built around brands will become one of the hottest topics in 2023. If you create your own, you gain a powerful, cost-effective way to communicate your offer to the right customers instead of burning your ad budget on random eyeballs. Moreover, a strong community is a perfect solution to increase brand visibility and build brand awareness.
How to use this trend for your brand
I'll be frank. Building and managing a community isn't easy. If you're building an engaged community, you must also engage.
In the beginning, get to know the people who become a part of your online community. In practical terms, this might include tagging the people who are your most active fans and loyal customers in your social media engagement tool or your CRM. This way, you can manage customer service on social media more efficiently and know customer history at first glance.
Research your audience to find what gets them to talk (monitoring your social media analytics or checking on your competitors is where you can start.) Ask the right questions that spark conversations in the comments. And never, ever forget to reply when they do engage.
6. Partner up with creators – but not like you used to
Yes, we now live in the creator economy. And reaching your target audience on social media is increasingly about partnering up with the right influencers. But as we move into 2023, it's less about celebrities or big influencer accounts with massive followings and more about nano and micro-influencers.
And it's no wonder – according to the Influencer Marketing Hub, nano-influencers have an average engagement rate of 3.69%, much higher than large accounts.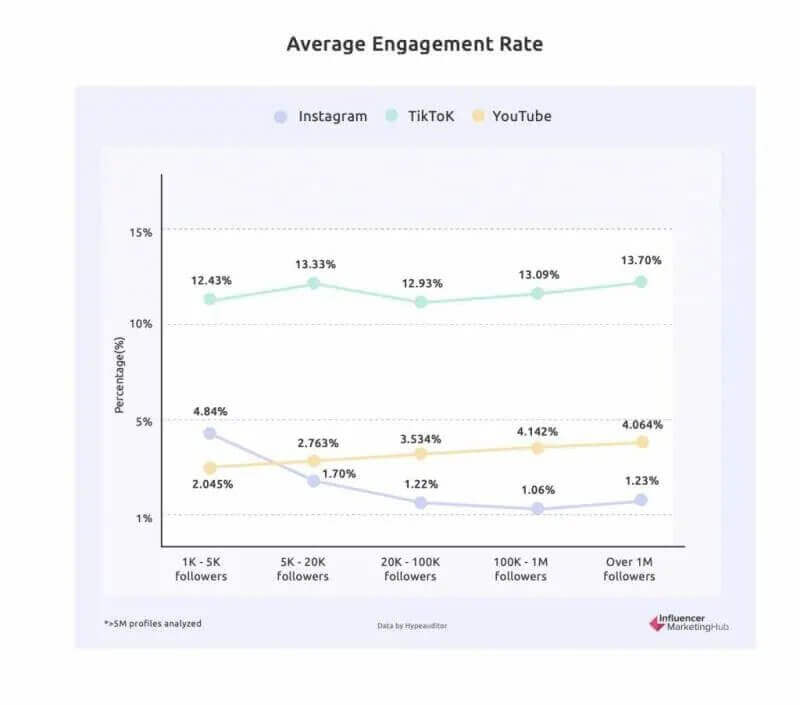 And it makes complete sense when you think about it – it's much easier to engage a smaller community, a task that gets tougher and tougher as follower numbers grow.
How to use this trend for your brand
Find creators that have engaged communities and also (yes, again) fit your brand. You'll often find people on social media channels that have an impressive knowledge of a subject within your specific industry (just try #perfumetok or all kinds of "toks" on TikTok) and could make great ambassadors for your brand.
There are also talented creators out there who have amazing storytelling or video content creation skills that could be an asset to your marketing campaigns.
7. TikTok'n'chill
Speaking of the rise of TikTok, I think all social media experts on the planet agree that it's not going anywhere. And if you still think of it as a "Gen Z app" with videos you'll never understand (or care for), time to change your mind.
If only for the fact that it's now competing for attention with the likes of Netflix – and is actually successful in doing that in some market segments. In fact, it's now the second most popular video broadcast app in the US for people under 35 and high on the list for brand loyalty among social media platforms.
High time to get interested.
How to use this trend for your brand
First of all, research TikTok popularity among your audience. You might be surprised that they're actually there.
And there are many ways you could use that fact to your brand's advantage (if only through partnering up with content creators in your niche. And yes, there are many content creators on TikTok that are actually older than 35 if that's your target audience.)
Plus, creating TikTok content can help you kill two birds with one stone and repurpose it on Instagram, as many creators and brands do.
(Btw, can we get rid of that awful idiom now and replace it with something that doesn't involve violence? Thank yew.)
8. Go cross-platform to reach new audience segments
Speaking of creating content for different social media platforms, TikTok especially has shown how brands can adjust their content not just to the medium but to their different audience segments.
Many brands decided to reach younger social media users on TikTok, assuming more playful and "cool" personalities for the platform. A great example is the Washington Post explaining complex social and political topics with short-form video in a fun way that's easy to digest.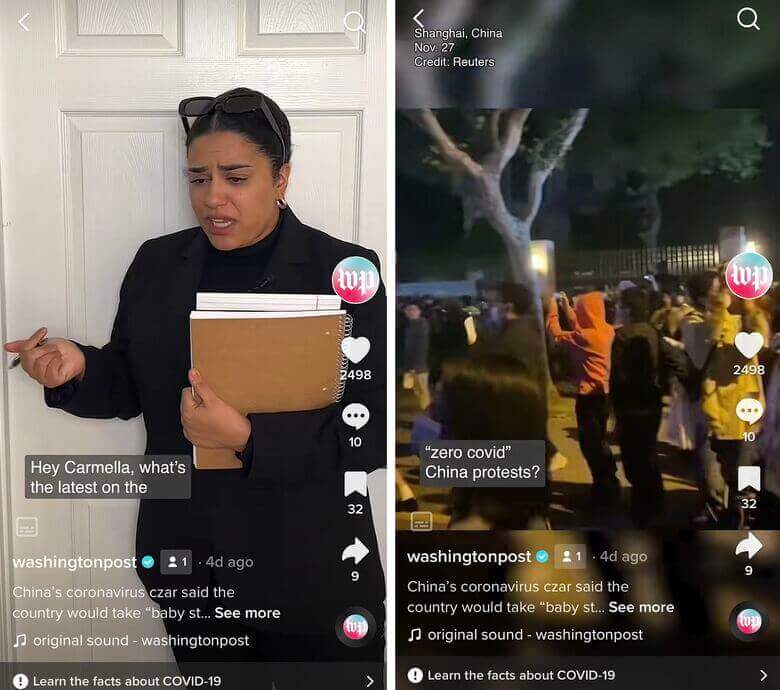 How to use this trend for your brand
Analyze what you're already doing on social media and identify new channels you could use to reach some of your audience segments – especially those that you might have neglected so far.)
And find room for them in your social media strategy, creating content that's aligned with the style of the platform and the needs of your audience.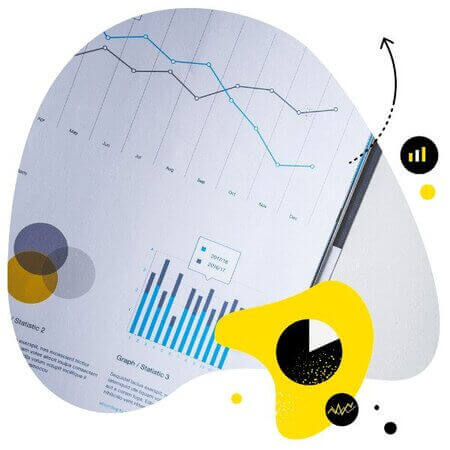 In-depth social media analytics & reports
Find out what content performs best and when. Generate social media reports in seconds. Try NapoleonCat for free:
Try NapoleonCat free for 14 days. No credit card required.
9. New opportunities to get found on social media
One of the hot topics around social media right now is definitely social search and the way to optimize your content with search in mind. Especially as TikTok and Instagram become the places people go to search for information and content. For younger audiences, TikTok even starts replacing Google search in their everyday searches for local restaurants, beauty products, or the latest news.
With the heavy search optimization focus many brands have already had over the past months and years, it will definitely be interesting to see how apps like TikTok change search behavior and the way we optimize content to accommodate these changes.
How to use this trend for your brand
Create social media content keeping in mind organic search – and what people might search for to find it. Tagging locations, for example, is an important element that will help your content get discovered, especially when you want to promote a business locally.
10. What if "A" in "AI" stood for authentic?
Speaking of improving product discovery on social media (and elsewhere around the Internet), AI will continue to be helpful.
And it's no longer just algorithms personalizing content or product recommendations in response to people's behavior on social media. AI can now create content, both text and visuals, which you've probably seen in your social media feeds lately (I know I have.)
It can also have conversations with your customers in an increasingly and surprisingly naturally-sounding way. And brands are bound to explore all of those possibilities and more in the coming months, finally in a much more practical way than just talking about "AI taking over the world" sometime in the distant future.
How to use this trend for your brand
You might already use some form of AI in all kinds of marketing software without knowing it. Don't be afraid to automate some of the interactions with your audience or use chatbots and other social media automation tools.
Do keep a human touch, though, and a human eye out on what AI does – it might still need some tweaks. There's still a long way to go before "robots replace us," – and a smart marketing strategy still needs a smart (human) marketer behind it, even if they're supported by AI.
11. Social media customer service is the queen
Social media customer care has by now become a solid, timeless trend that's not going anywhere, and that's only becoming more and more essential to brands. So, if you were to choose one of the social media trends in this article, definitely look into this one.
It's predicted that by 2023, 60% of all customer service requests will be sorted out via digital channels. (It might have something to do with the fact that, according to one survey, 42% of people would rather clean a toilet than dial customer support. And man, can I relate.)
There simply is no going around it anymore (not that you tried, right?), especially after the pandemic has gotten people used to being able to contact brands on social media. It's now just part of the entire customer experience.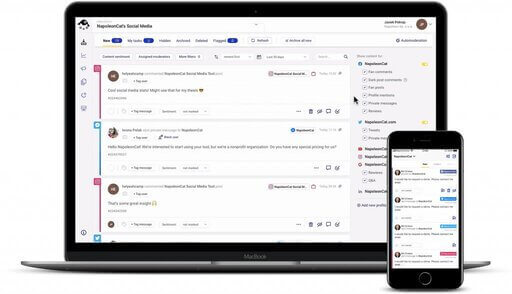 The best content moderation tool for teams
Use NapoleonCat to manage all of your comments, messages, reviews, etc. – all from one simple dashboard. Facebook, Instagram, Twitter, LinkedIn, YouTube, and Google reviews are supported. Try it for free:
Try NapoleonCat free for 14 days. No credit card required.
How to use this trend for your brand
If you haven't already, plug your social media channels into your customer service workflows. There are also plenty of automated moderation tools you can use to make sure easier customer service issues are taken care of while you have time to handle more complex ones.
Like the ones in the next trend.
12. Be prepared to handle crises, not just on social media
Yes, crisis management on social media is nothing new. So, why am I including social media crisis management as a trend here? Two reasons:
With the current reality around us, we're probably going to see more and more social media crises (call me a prophet.)
In the vein of the "be real" authenticity trend, people expect brands to own their mistakes publicly and show up for their audiences. And also relate to general crises happening all around the world.
And I mean, just look at the aftermath of Elon Musk's takeover of Twitter. Among many things, it definitely showed us that brands need to be prepared for crisis management (think of all the brand impersonators finally being able to tweet something that they've been dreaming about).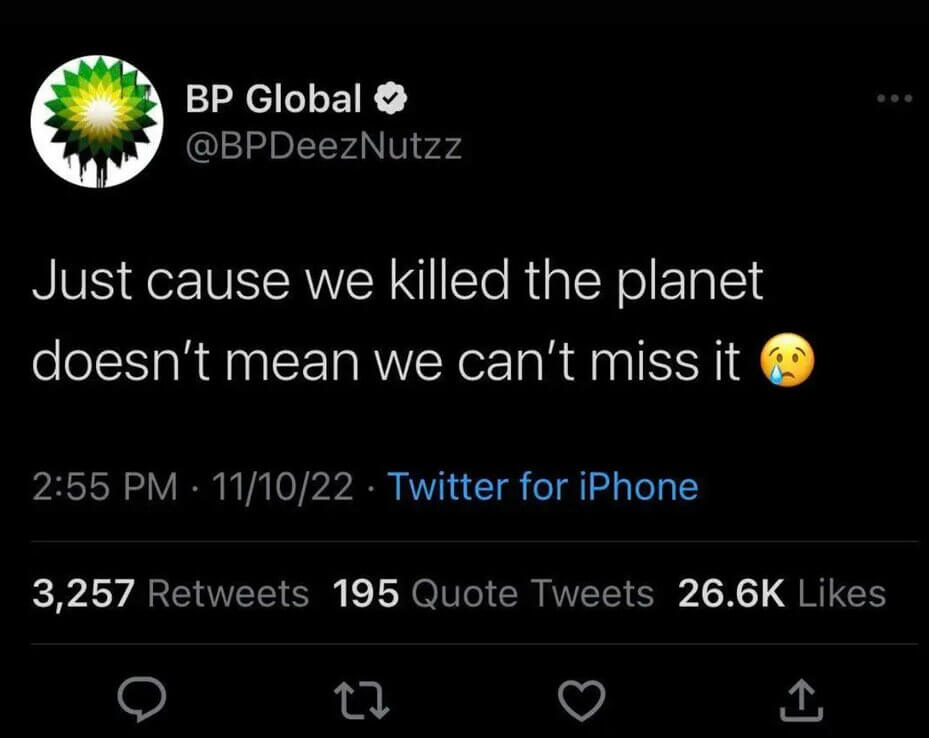 Yes, social media opens up a multitude of possibilities for brands, but it also holds very specific threats, many stemming from the fact that you don't own the channels you're on. And the Marks and Elons of this world can decide a lot about how you show up on social.
It's kind of ironic that it is Twitter's study that found this: 61% of its users think brands should acknowledge crises as they happen in their advertising and communications. Of course, the report embraces all kinds of crises, not just the ones related to brands, but the gist stays the same.
And I mean, a world crisis can quickly become a brand crisis if we don't pay attention. (It's probably good that it's rarely the other way around.)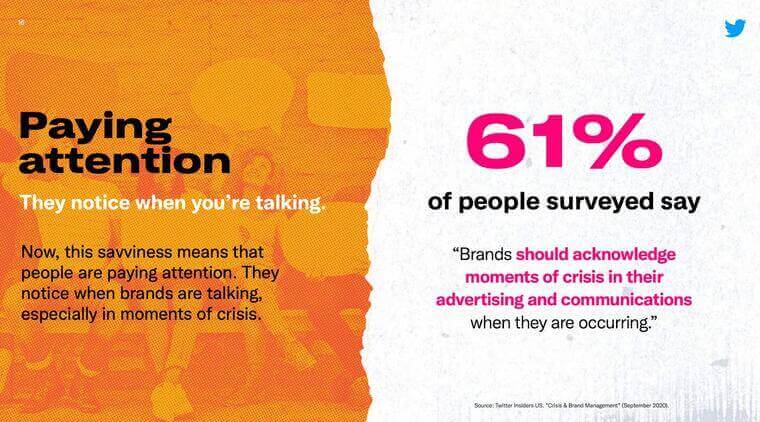 How to use this trend for your brand
Monitor closely what people say about your brand to be able to react quickly. Have a policy in place for when a social media crisis does happen. And, most of all, be ready to have an honest conversation with your fans and followers – it's what social media's really for.
Which social media trends are you adopting in 2023?
The trends that will be prominent in 2023 have been long in the making. (And it's not like I've really mentioned anything revolutionary.) And they'll most likely be evolving into the following years (with a rare exception of short social media fads we know from the past – remember Clubhouse?)
So give them a closer look to see which ones fit your long-term strategy and which ones you could play with next year to see if they're worth the effort.
(And remember, not adopting social media customer service is not really an option. Not in 2023, anyway.)
You may also like: