If you think you don't have time for social listening, think again. What you don't have time for is risking a crisis on social media and then putting it out (that does take time!). Not to mention all the sales opportunities you're giving up. Who has time for that?!
Okay, on a more serious note, here's why you should monitor your brand online with some tools you can use to spend less time and be much more effective in doing it.
But first things first.
What is social listening?
In general, social listening is monitoring social media (and most of the time, the Internet overall, including, for example, forums and other websites) for conversations around your brand. Because, whether you know about it or not, people are talking about you – and they're doing it in all kinds of places, not just on your social media channels or your customer service chat.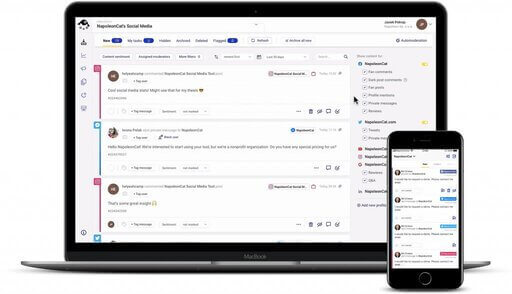 Manage all comments and messages from one view
Use NapoleonCat to manage all of your comments, messages, reviews, etc. – all from one simple dashboard. Try it for free:
Try NapoleonCat free for 14 days. No credit card required.
Now you can just let them talk. And you can also actively listen to those conversations to protect your brand image and find more opportunities to build customer relationships. Yes, it's definitely a proactive thing to do – and you might think it's too complicated and takes too much time. And it's not like you have too much of it on your hands, am I right?
But the benefits of actively listening to what people say about your brand usually make up for that time spent. And there's like a ton of tools you can use to make the process much easier and less time-consuming, helping you do things like:
Monitor brand mentions and keywords related to your brand or products (and respond to them, sometimes automatically)
Research audience engagement for your brand and your competitors
Research topics of interest to hop on the latest trends and provide your audience with more relevant content.
We're going to talk about a few of these tools in a little while.
But before that, let's take a closer look at those benefits first.
Why social listening is important for your brand
Social media listening lets you take care of several essential areas of running your business.
Here's a quick list:
Protecting brand reputation
If you're not monitoring the Internet for conversations around your brand, you're really giving up part of the control you have over your brand image.
Someone somewhere right now might be talking about a negative experience with your brand or leaving a negative comment about their experience with your brand, and you have no way of rectifying it.
Someone might be praising your brand, and you can't augment that good experience by getting in touch with them and responding with a thank you.
You just don't know these people are talking about you at all. And they're actively spreading the word (good or bad) about your brand that others will rely on in how they perceive you. And more often than not, that's how they'll decide whether to become your customers or not.
Preventing social media crises from blowing up
Knowing what people say about you right when they're doing it gives you the advantage of being able to react quickly and prepare an effective social media crisis communication plan. And it might sometimes save you altogether from a full-blown social media crisis that you can nip in the bud.
Even if it happens while you're out of the office (because, e.g., it's the weekend. Of course it's going to happen on the weekend.) – if you have social listening tools in place, you'll get notified as the drama unfolds, and can prevent it.
Improving customer service
Even if a customer complaint doesn't have the potential to turn viral (and not the way you'd usually want it), social listening can make a significant difference to the quality of your social customer service (and your customer service overall). It helps you react quicker, resolve problems, and sometimes even just let your customers know you're there for them (even when they don't exactly expect you to be there – that's called "exceeding expectations" ;)).
And that leads to a better brand reputation – and will probably also give you a competitive edge in your niche.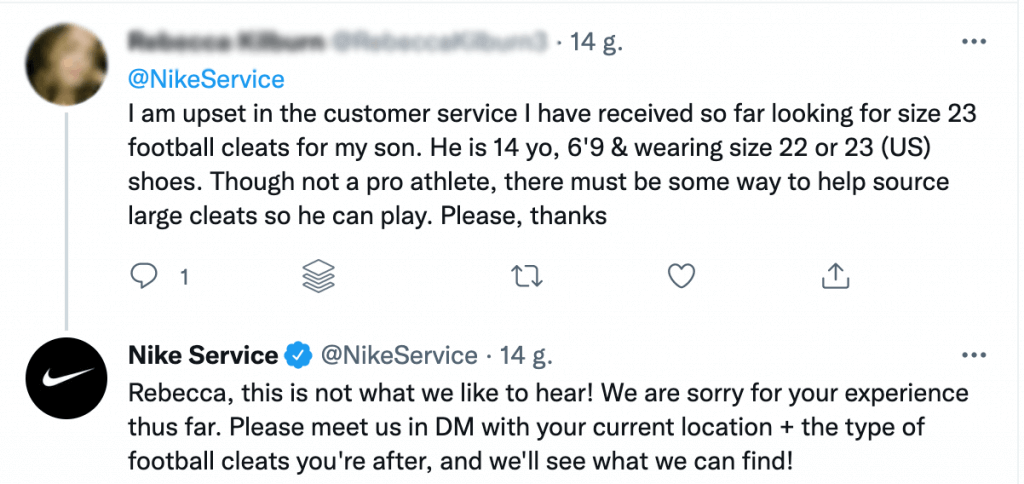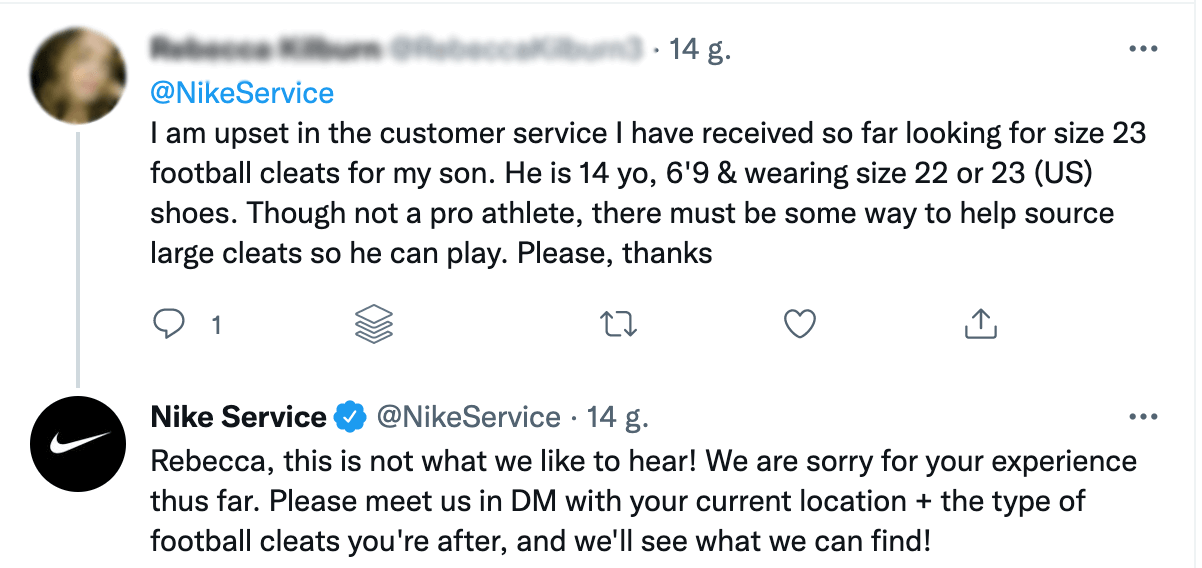 Spotting marketing opportunities
By being where people talk about you, you become part of those conversations. And that can give you another opportunity to reach new potential customers (even just by virtue of all of the above.)
That way, you're showing people you care – and customers on social media really appreciate that. And by building an active social media presence, you're also building a loyal brand community – that can be a source of loyal customers.
Plus, obviously, by monitoring conversations about your brand, you're less likely to miss direct sales opportunities. So, social listening can be a powerful part of your marketing funnel.
Fuelling your content strategy
By tracking what gets your target audience engaged and what they talk about in the context of your brand (or your competitors' brands), you have more data to build your content strategy on.
So you can post more things that are relevant to your potential customers and effective for your brand and marketing goals. (Instead of spending hours randomly researching the Internet.)
Finding partnerships and collaborations
If you work with other brands, partners, or influencers, social listening can help you spot more opportunities – the ones that arise outside of your own social media channels but might be equally beneficial to explore.
And again, social listening allows you to be more proactive in that area – which also means more control over potential partnerships (instead of just waiting for what's coming your way via traditional channels.)
Plus, if you've ever seen brands talk to each other on Twitter, you'll get why that's a good thing. 🙂 Here's an iconic example from some years back – but still relevant. And yes, they most likely used social listening.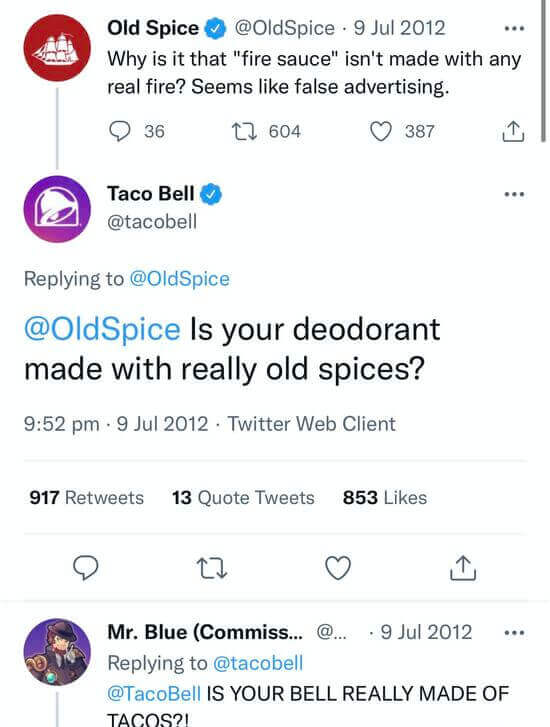 Fighting spam and trolls
Part of building a brand community is making it a place people want to be. And part of that is making sure spam or hate comments don't disrupt that experience.
When you're actively monitoring what's going on around your social media communication, you can quickly clean up the mess (a.k.a. automatically get rid of spam or hate).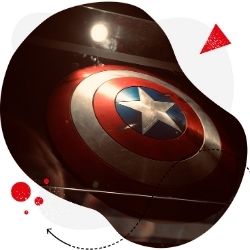 Protect your social media from spam & hate
Automatically hide or delete offensive comments, hate speech, and spam. Try NapoleonCat for free:
Try NapoleonCat free for 14 days. No credit card required.
Keeping up with your competitors
Keeping an eye on what's being said about your competitors gives you more insight into what your target audience wants. And more ideas on how to stand out with your own brand communication or what gaps your brand can fill that others miss out on.
That's a lot to gain, right? It also might look like a lot of work. But when you have the right tools, it's actually the opposite. Take a look at a few examples that can save you tons of time.
8 social listening tools for productive brand conversations
While it's not a traditional social listening tool per se, NapoleonCat lets you take part in conversations about your brand in a few different ways:
Get notified whenever someone mentions your brand on social media (in addition to tracking all interactions on multiple social media accounts for your brand) and respond quickly from the same dashboard.
Track Google reviews to respond to your customers every time, even if you have multiple Google Maps locations. You can actually save hours every week compared to if you did it manually.
Automate comments on Facebook & Instagram to stay on top of sales opportunities or react immediately when a social media crisis occurs.
Get a social media analytics tool to track engagement on your brand's profiles and any other social media account, including your competitors and partners.
(Psst. You can try NapoleonCat for free to see all it can do for your business.)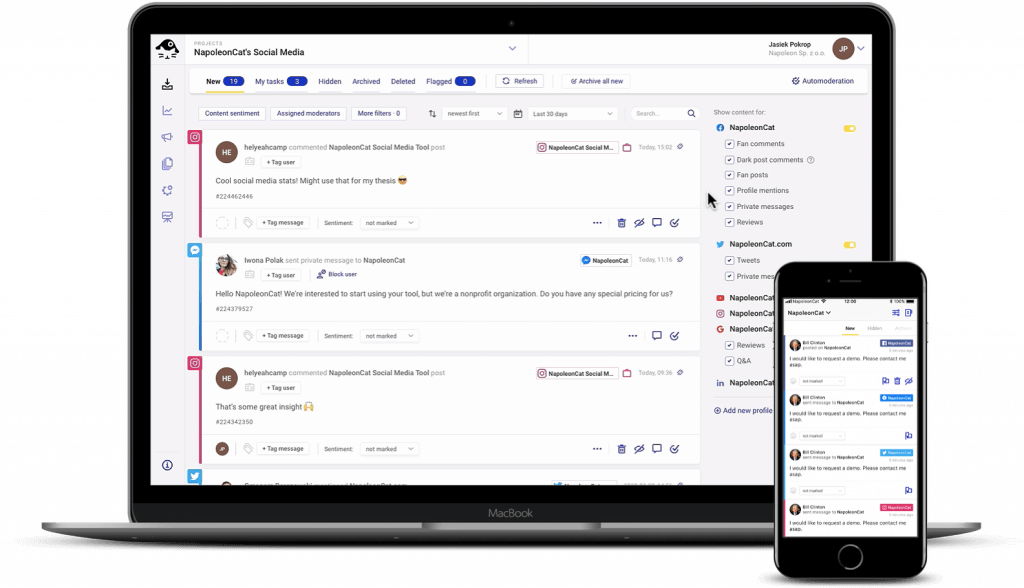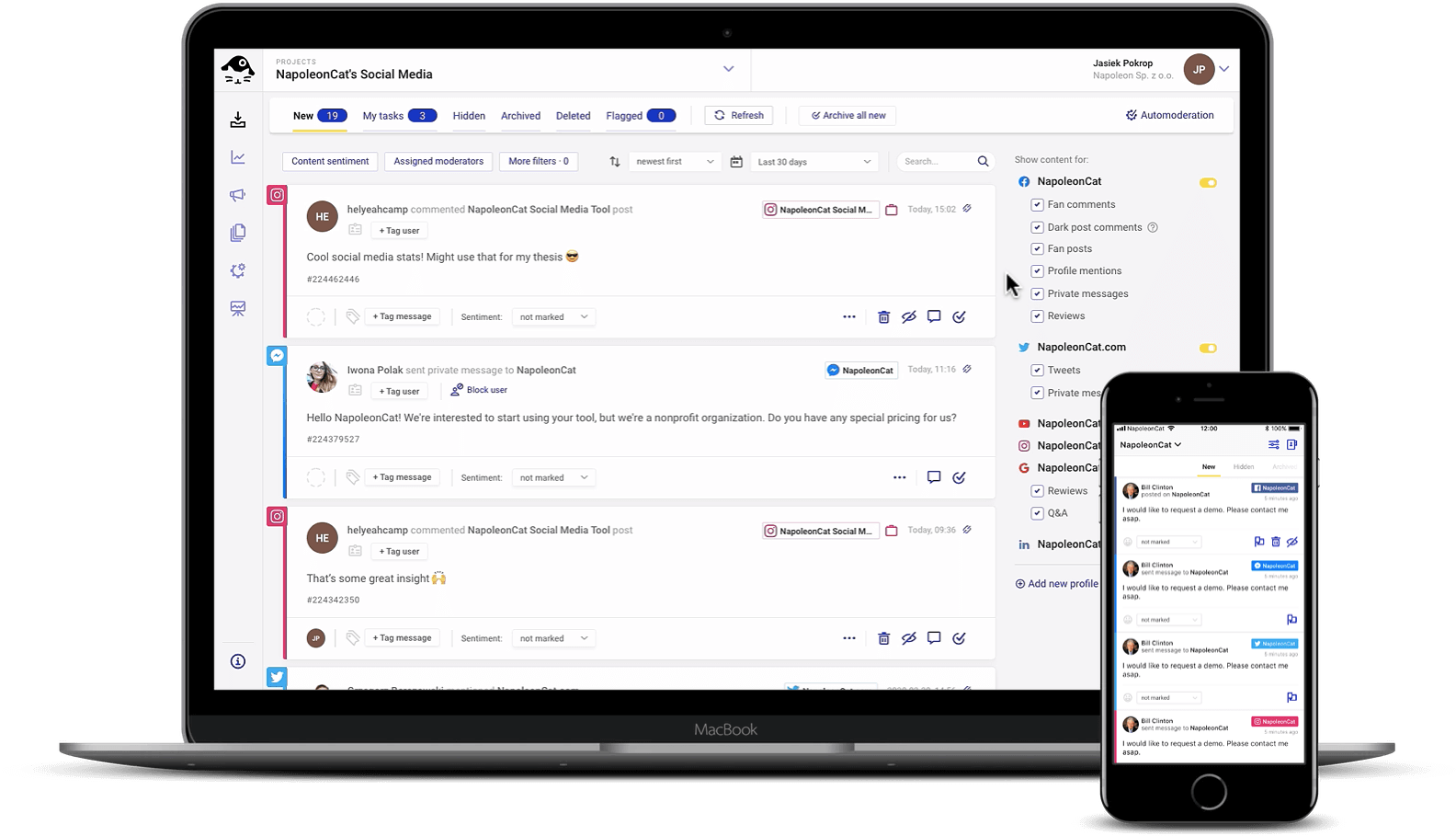 2. Brand24 to know what people say
An online monitoring tool letting you continuously track online conversations about your brand across channels, including social media. Includes features such as:
a mentions feed and alerts
discussion volume tracking
sentiment analysis
hashtag search
custom reports.
3. YouScan to track logo use
Besides the more standard brand mention tracking capabilities, YouScan uses image recognition to track logos across social media channels. This gives social media marketers new opportunities to connect to customers, collaborate with influencers, or prevent logo misuse and protect brand reputation.
4. Digimind to track consumer insights
A brand reputation management platform that's focused on social listening and getting market and consumer insights for brands. The tools it provides can be used to identify influencers, track online trends, monitor competition, and more.
5. BuzzSumo for new content ideas
BuzzSumo is one of the major platforms focused on online listening specifically for content marketing purposes. It helps:
generate ideas for new, relevant content based on what's trending online,
monitor the performance of your existing content,
find influencers to collaborate with,
and more.
6. BrandMentions to track brand mentions
As the name suggests, BrandMentions is yet another platform helping track, well, brand mentions online to help you do all of the things I mentioned earlier in the article. You can monitor both your brand and competitors and any topic, not just on social media but across the web.
7. Cyfe to create customized social media dashboards
Cyfe offers visual, real-time dashboards for your social media channels. It's like a control room to help you see all the data in one place. Especially handy if you want to create a customized dashboard with the data most relevant to your business (And your business analyst.)
8. Mentionlytics to monitor and report on the findings
The platform offers social intelligence and monitoring tools for the web and social media along with customizable reports to help you track and visualize things like:
top mentions,
share of voice,
influencer campaign results,
etc.
And that's just eight of them, while Google will probably send you down a rabbit hole of many more social listening tools to check out.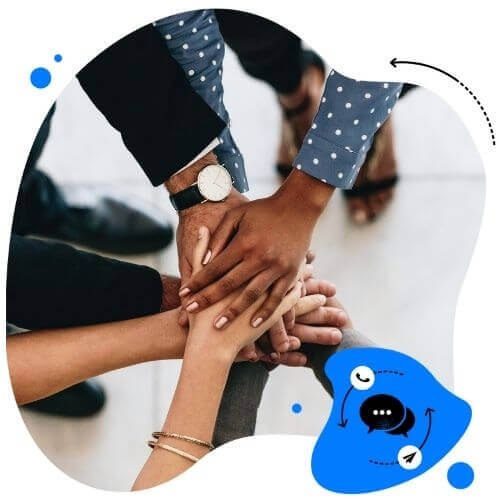 Social media moderation tool for teams
Moderate all comments and messages from one dashboard, individually or in a team. Instagram DMs and ads included! Try it for free:
Try NapoleonCat free for 14 days. No credit card required.
Listening is not all – responding is key
That's why businesses should have a social media crisis management plan in place, which social listening should be a part of. It's the foundation of good social media crisis management, as it lets you react quickly, know who's responsible for what, what to respond with and when, or which team members to get in touch with in specific scenarios.
(If you're wondering how to create a social media crisis management plan, go read the linked article. And now might be a good time to create one for your brand. )
But of course, social listening is not just limited to preventing a potential crisis. It's a solid foundation for overall brand communication, helping you build lasting relationships with your audience and exceed their expectations.
As long as you respond and not just listen. So don't ever forget about it. 🙂