People talk about your brand, and that's a good thing (unless they complain, then it's obviously not.) To know what they say, where they say it, and – most of all – to be able to react, you need a way to track it.

Here's a look at how to do it and what opportunities it can give your business. (Because – even in a complaint – there are opportunities for you to turn it around for your brand.)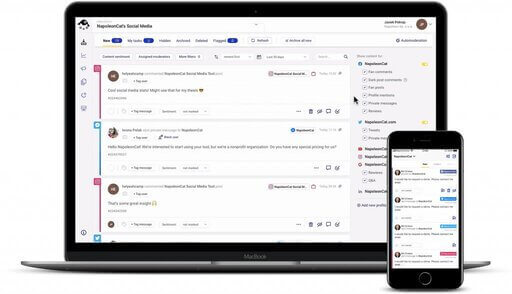 Monitor and manage all social media comments and messages from one view
Use NapoleonCat to manage all of your comments, messages, reviews, etc. – all from one simple dashboard. Try it for free:
Try NapoleonCat free for 14 days. No credit card required.
What's brand monitoring?
As always, let's start with the basics. Brand monitoring is what it sounds like – looking for discussions, social media posts, and articles around the Internet. And "around the Internet" is what really makes it different from social media monitoring, which only tracks brand mentions on social media platforms (making it a part of brand monitoring.) Here, we're also looking at things like blogs, news sites, industry media, forums, and any other type of online content (depending on the tool you use.)
And I'm going to focus on social media monitoring examples mostly in this article.
Usually, you can monitor your brand mentions using one of the plethora of available tools that search the web for specified keywords: your brand name, your competitor's name, or any keyword you want to look for that's somehow related to your brand. 
(Unless you're cousin Greg from Succession, but I don't recommend his methods.)
A social media monitoring tool will typically alert you about any mentions of your brand and your social media accounts, giving you insight into conversations that are happening outside of your own social media real estate, like your Facebook Page or your Instagram account.
So think people using your brand name, for example, complaining about your service, but without tagging you directly. If you don't monitor social media or the Internet in general, you'll never know someone complained. (At least until the complaint goes viral. And no business owner or social media marketer wants that.)
In most cases, a brand monitoring tool will also detect whether those conversations are positive or negative (this is the so-called sentiment) and alert you with notifications, so you can prioritize and react quickly when needed.
Which brings us to the next question:
But what do you do with all the data you collect?
When you log in to your brand monitoring tool every morning, you'll probably see a long(ish) list of brand mentions with links.
Some of them can be backlinks to your website in other people's blog posts. Some will be links on social media. And there will also be links to Twitter threads or Facebook posts where people talk about your brand. Some might be questions, there will occasionally be praise, and often these will be complaints (most often on the weekend, you know how life works.)
A brand monitoring tool will usually help you do several things with all the intel that it collects for you:
Estimate how often people talk about you and the size of the target audience you're reaching
Evaluate the sentiment to see whether you get primarily positive, negative, or neutral mentions
And, maybe most importantly, reach out to people directly to join those conversations and improve your brand image (whether that's by reacting to a customer complaint, saying thank you for a good review, or answering a burning question).
We'll look at a few real-life brand monitoring examples in a second. But since we're talking about the benefits of brand monitoring, let's look a little closer at why you should track the conversations around your brand.
Why you should monitor your brand online
Protect your brand reputation
That's an obvious one, given all of the above. By monitoring your brand, you're in control (at least to an extent) of how the conversation around your brand is shaped online and how people view your brand.
You get a chance to prevent crises, clear up confusion, learn what causes a negative sentiment and fix it. This way, even if there's something negative going on for your brand, you can turn it around with a transparent, honest conversation (and sometimes an apology) to let people know you're listening.
With NapoleonCat's Auto-moderation feature, you can do just that – automatically. The tool can automatically hide or delete inappropriate comments or forward sensitive issues to dedicated customer support members – all based on keywords that you define beforehand.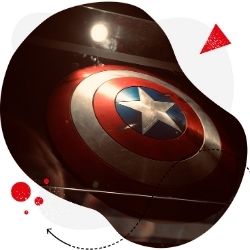 Protect your social media from offensive comments and SPAM
Automatically hide or delete comments containing spam under your organic posts and ads. Try it for free:
Try NapoleonCat free for 14 days. No credit card required.
Improve customer care
In practical terms, monitoring the Internet and social media for brand mentions can make a massive difference to the customer service experience you provide. Even a quick reply to a complaint that doesn't appear on your channels – like in the example below – will show your customers you're keen to resolve the issues that they might have with the product or service.
And that's really the power of monitoring your brand or product name – if you're not doing it, you won't know these conversations are happening. That is, until they blow up and somehow reach you when it's (usually) too late to prevent a crisis. Actively listening for them makes them so much easier to resolve.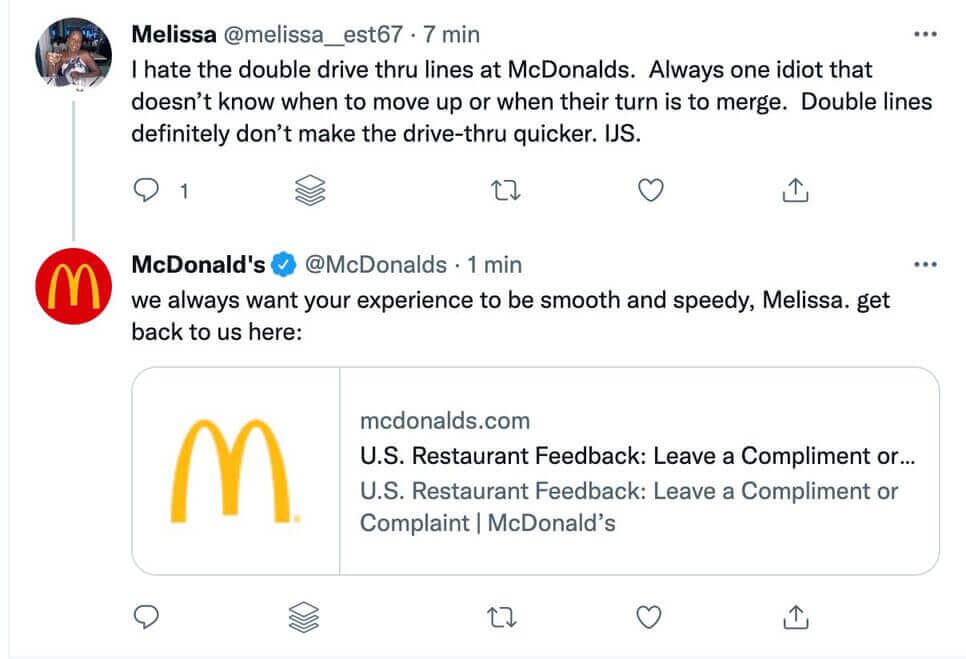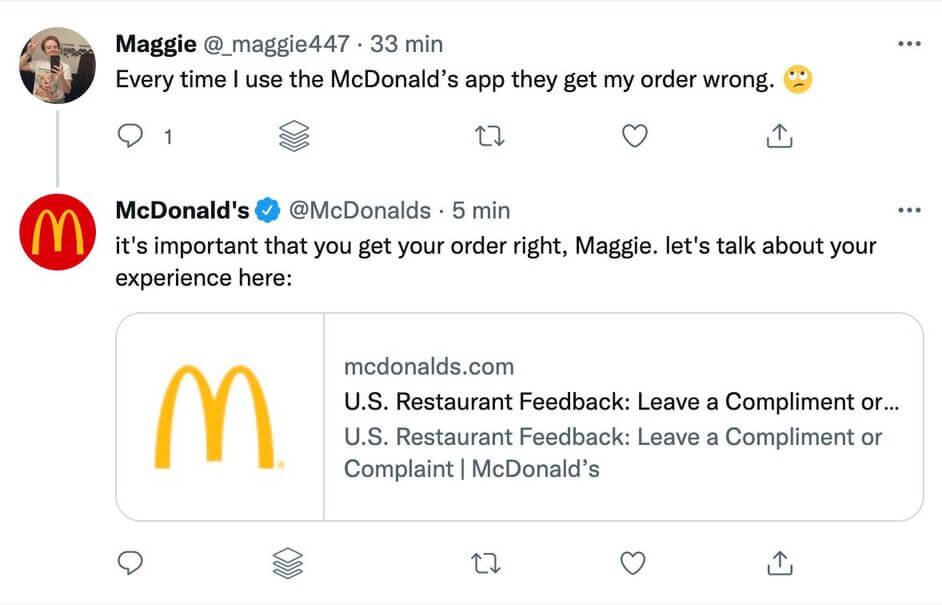 Again, it's quite hard to keep track of all the comments and messages across multiple social media channels and platforms. NapoleonCat's Social Inbox, however, offers such a solution of a unified inbox for all your social media accounts and interactions: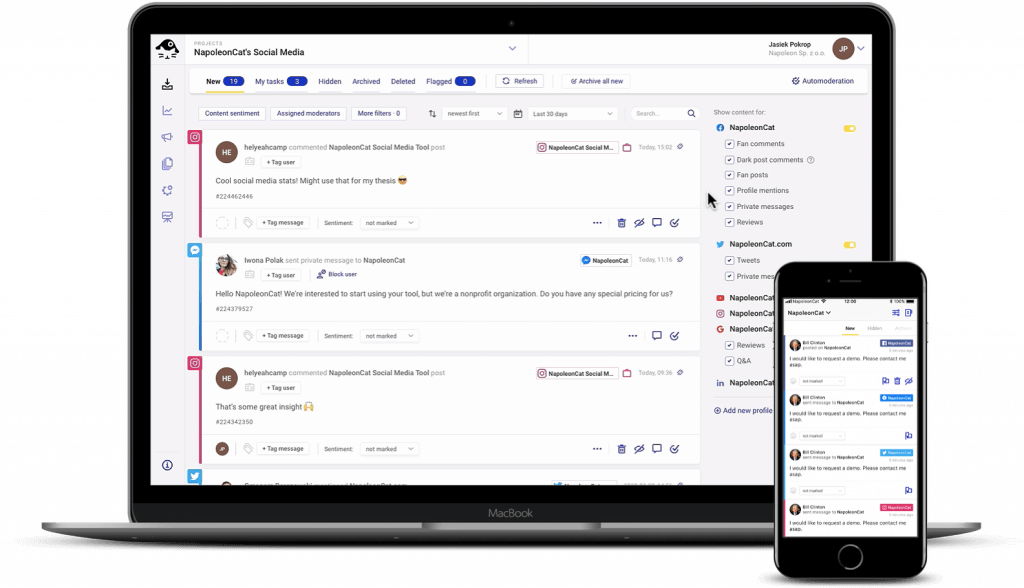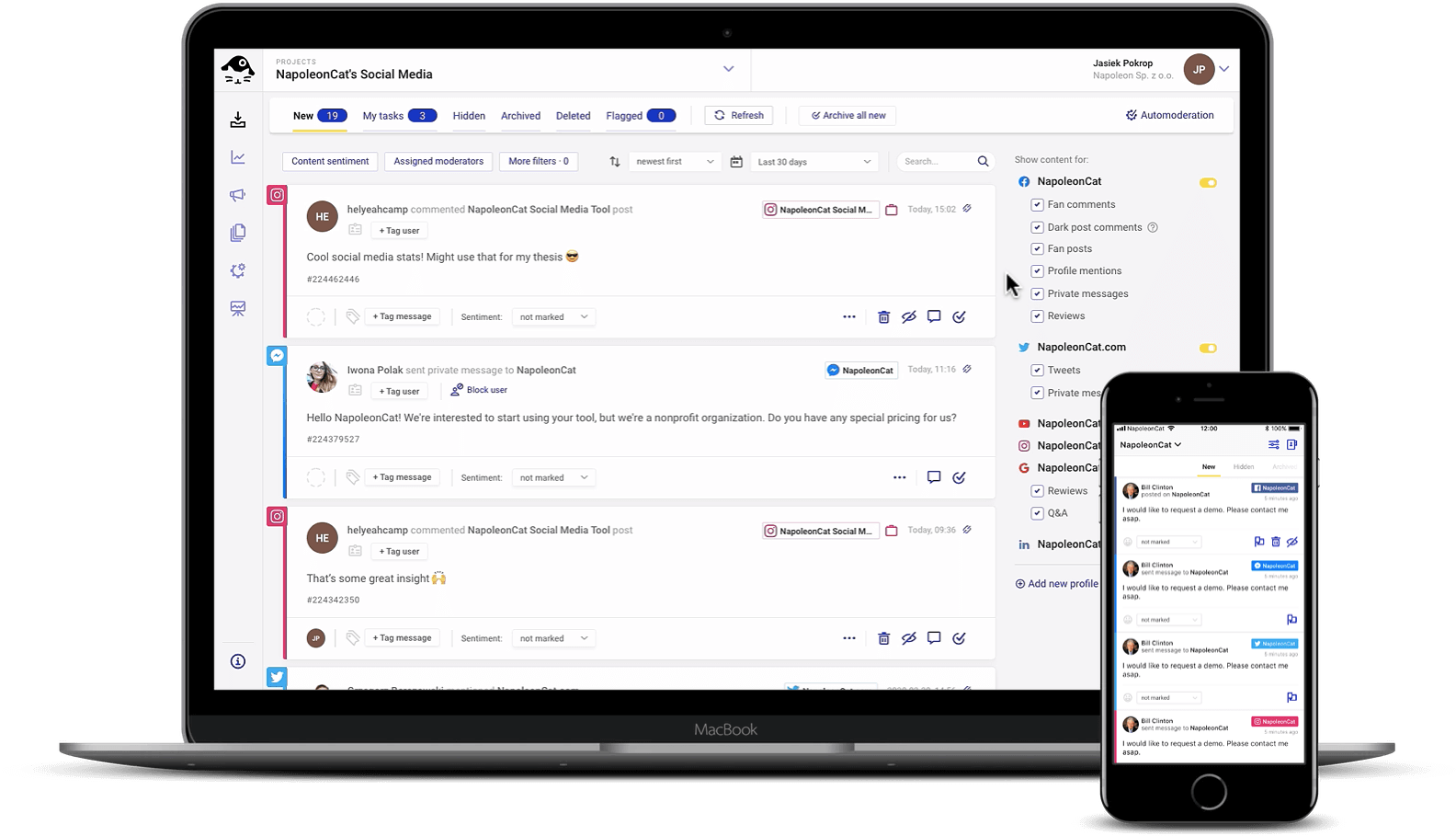 Prevent social media crises
This follows right from the previous point. The sooner you react, the greater your chances of nipping a problem in the bud. And to react soon enough, you need to proactively search the web for what's being said about you.
Like in this example of Windows apparently searching for the product name and/or hashtag related to their latest update. Monitoring social media platforms when you're releasing a new product (or product version) is really smart, helping you catch problems early on and fix them before you-know-what hits the fan.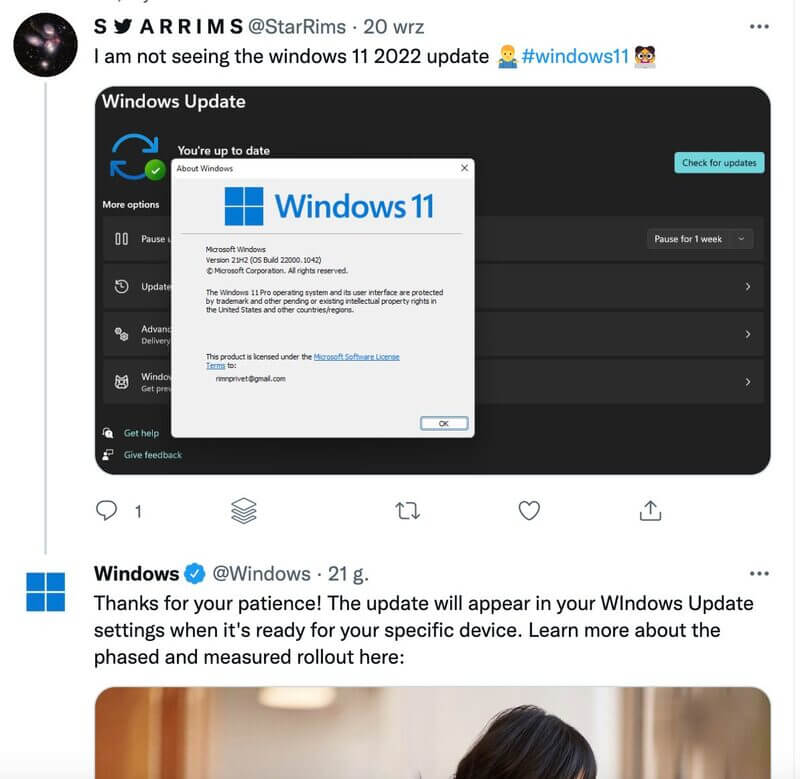 Engage with your customers
Apart from solving issues with your product or service, monitoring your brand can help you join conversations with your customers, listen to their feedback, and give your engagement rates that boost you (or your boss) have been craving.
Taco Bell is a great example of this, casually dropping by Twitter threads mentioning them (even though they're not complaints) with their now-famous sense of humor. Love it.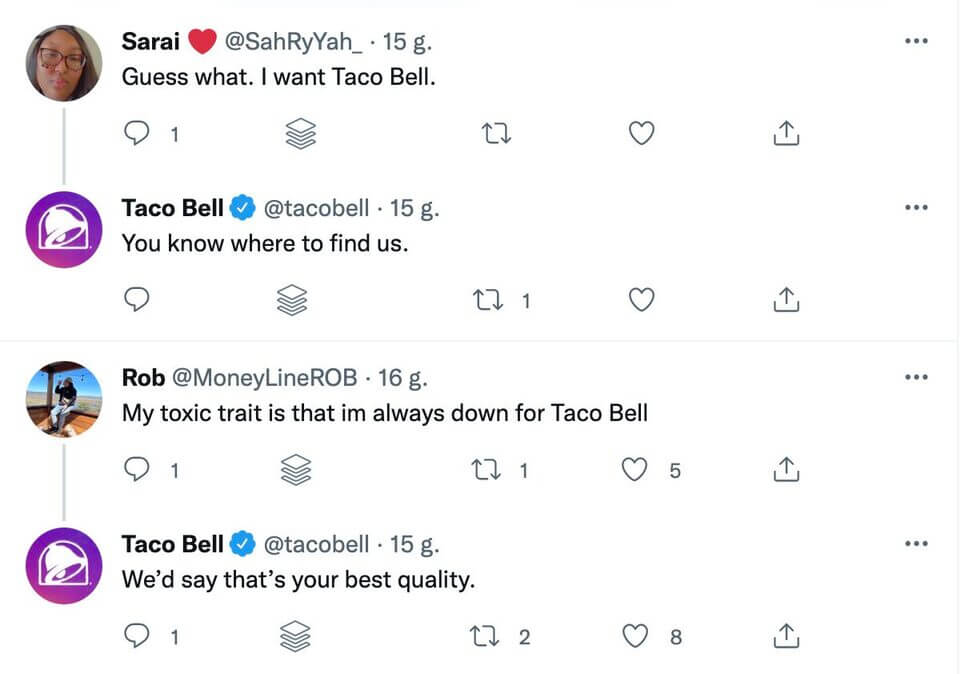 Find new content for your social media channels
Brand monitoring is also an excellent way to search the web for new content ideas based on what people talk about and for user-generated content. You can use these insights to discover new topics, respond to trends, or simply reshare people's content on your social media channels, like in the example below from Slack: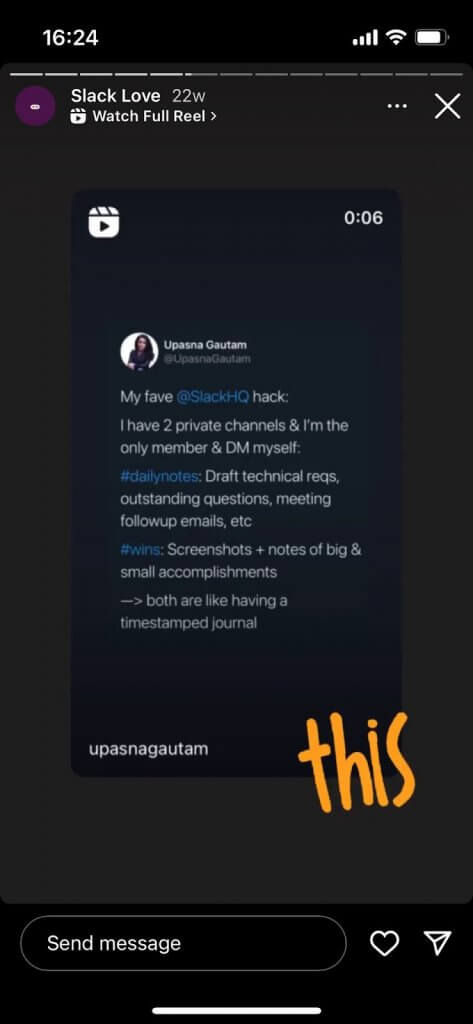 (The above screenshot is also a great example of social media "inception" – an Instagram reel sharing a tweet, shared in an Instagram Story. It's why following a cross-channel approach is a good idea – content tends to cross social media borders on its own anyway.)
Reach new audiences
If you've been following Emily Zugay on TikTok, you know she became viral by doing really bad (but in a really funny way) redesigns of brand logos.
(Btw, did you know you can also monitor the web for the use of your brand logo? There are tools that do that, some of which I mentioned in this post. )
Besides the viral potential, it's a golden opportunity for brands to interact and expand their reach. Which is what many brands did, including Microsoft Windows, who even put her face in their logo at a certain point. Many brands also changed their TikTok profile pics for the logos Emily created.
It definitely helped grow their TikTok account, and the profits are mutual in this case – as they usually are with user-generated content. Plus, it led to many funny and engaging interactions between the creator, brands, and their target audiences across social media platforms (and not just on TikTok.)
See how you stack up against your competitors
If you monitor your brand as well as competitor brands, you can then use that information for a thorough competitive analysis:
Define benchmarks for your own marketing activities
See what your competition's up to and what their audience (which is potentially your target audience, too) responds to
Get inspired when it comes to creating content, new ideas, and trends
Position your brand among your competitors and find your differentiators.
Apart from monitoring your competitors' brands, you can also watch the web for specific keywords related to your industry or trends to always be a step ahead (instead of following what others do.)
Pair your brand monitoring with social media analytics to get a complete picture
To support your brand monitoring activities and fuel your content strategy – and your overall marketing strategy – track your performance across social media platforms.
You can do that with a social media analytics tool like the one you'll find in NapoleonCat to:
See how people respond to your brand and your content
Analyze your audience and your social media growth for each of your channels
Track your competitor's performance and see what their audience responds to
Know what to change in your social media content strategy to engage your existing audience and reach new target audiences.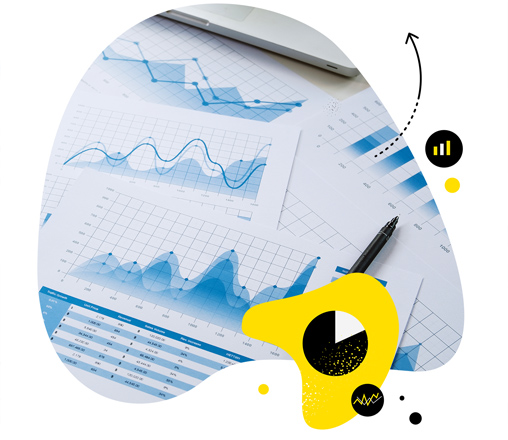 Track Competitors' Brands on Social Media
Find out what content works best for your competitors and when exactly it generates the highest engagement. Get competitive analytics for Facebook, Instagram, Twitter, and YouTube. Try it for free:
Try NapoleonCat free for 14 days. No credit card required.
Monitor and analyze to improve the effectiveness of your marketing
Before you post that content or come up with your next campaign, there's a lot of strategic work awaiting you first (if you want that content or campaign to be successful.) And a large portion of that work is looking to your audience and analyzing their behavior, interests, and online conversations.
But there's no other way to do it – so the sooner you start, the better your marketing (and customer service) will be.
Good luck!