Is Instagram on your radar for your 2023 marketing strategy? Here's what will probably be big next year and what you should pay attention to.
Is Instagram still relevant?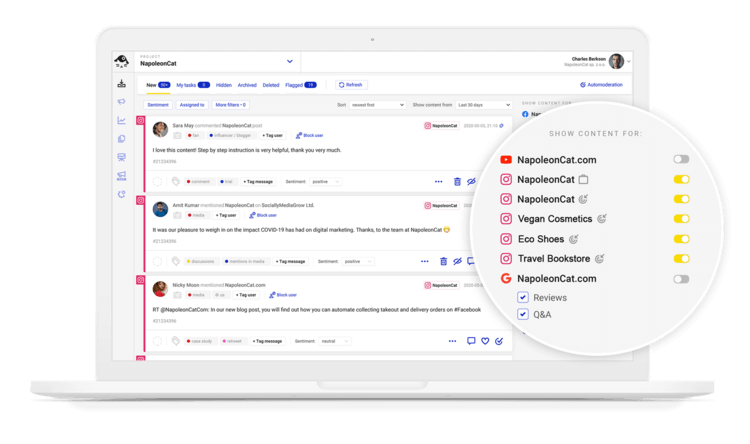 Simplify Instagram Business
Management with One Tool
Manage & reply to comments and DMs in one place.
Monitor ad comments from multiple accounts.
Automate answers to repetitive questions.
Schedule posts to multiple accounts, on desktop.
Analyze performance and monitor hashtags.
Keep track of your competition.
Create or schedule in-depth reports in seconds.
Try 2 weeks for free (no credit card required)
Despite its competition, especially TikTok (and despite what the author of this TikTok I just watched claims,) Instagram's still doing great.
In fact, at the beginning of 2022, Instagram was the fourth most popular social media platform in the world when it came to the number of users – following Facebook, YouTube, and WhatsApp. The Instagram app is also the second most used by marketers, preceded only by Facebook.
So, not looking like Instagram's going anywhere anytime soon. Definitely not with the creator economy we have today (which Instagram is actively prioritizing). Especially when you look at the fact that, according to the recent Adobe's "Creators in the Creator Economy: A Global Study" research, creators make up 23% of people surveyed. That's a huge number.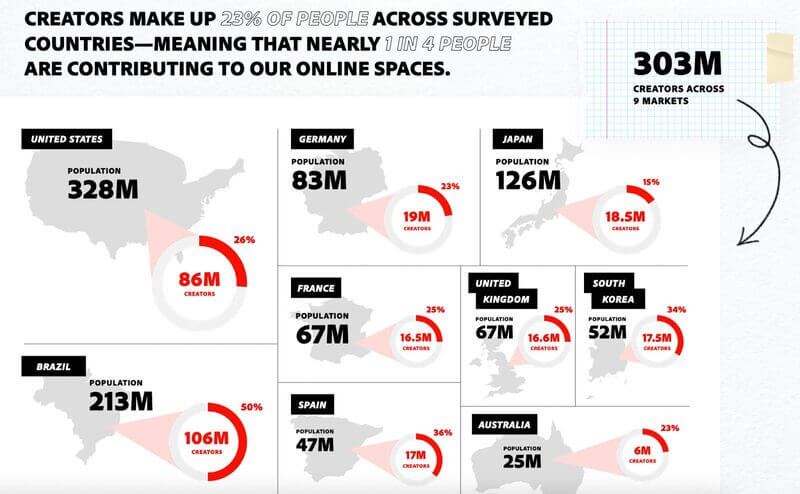 And creators are gonna create, right? (And Instagrammers gonna Instagram.)
So, let's look at what that could look like on Instagram next year and what you should be prepared for if you're using Instagram as a marketing tool.
Key 2023 Instagram trends to not miss out on
Creators vs. influencers, micro influencers, and nano influencers
What's the difference, you ask? I get it; it's easy to get confused with this one.
Well, first of all, according to Adobe's study that I cited earlier, only about 14% of all content creators are influencers. What's even more interesting, more are looking to actually become business owners rather than influencers (about 40% globally.)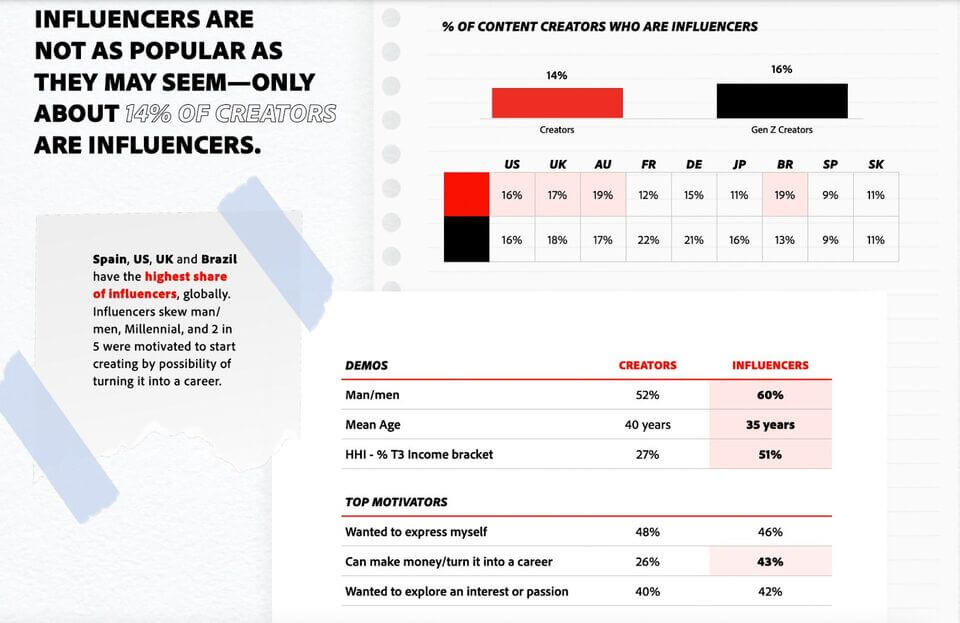 And, when you look at influencers, they get their name based on the number of followers. Obviously, the "nano" ones have the smallest accounts (but also, often, the biggest engagement rates, which I'll expand on shortly.)
Now that we know the distinction, what does that mean for brands?
Well, you certainly have to be picky when working with content creators and influencers for your influencer marketing campaigns. Audience size should no longer be the only deciding factor – it's definitely become more of a vanity metric.
Instead, you need to look at – yes – engagement rates. And these are typically higher for micro and nano influencers. The Influencer Marketing Hub actually found that nano influencers have an average engagement rate of 3.69%, which is much higher than you typically see with larger accounts.
Plus, content creation isn't just for full-time creators today. 64% of Gen Z social media users plan to monetize a project this year, according to the same study by Adobe. So, it makes sense to work with several smaller influencers to reach many engaged audiences. Which you should consider when planning this year's influencer marketing campaigns.
Reels and TikTok-style content
If you're on TikTok, you've probably noticed many of the Reels you can find on Instagram use trends that first appeared on TikTok. And it's no secret, as bizarre as it might seem when you think about it. Instagram creators directly copy TikTok trends, trending music, and dialogues. It's all the same, only available probably with a slight delay.
Why would you even want to use Instagram in that case?
Well, for once, Instagram definitely allows for more variety – besides the Tik-Tok style short-form videos, you can post pictures, behind-the-scenes content, feed videos, and so on. Not to mention including all the interactive features like stickers, questions, polls, and – of course – links.
That's why content creators often post on both TikTok and Instagram, sharing some of the content between the two platforms but posting more different formats on Instagram to complete it. They also very often encourage their TikTok followers to follow them on Instagram.
So, what is the smart thing to do for a social media marketer here? Use the trending formats that get views on Instagram (the platform actively promotes Reels to its users), while complementing them with other types of content for more variety and engagement.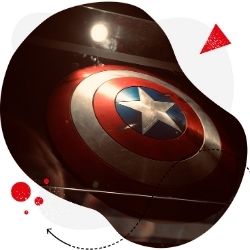 Protect your social media from spam & hate
Automatically hide or delete offensive comments, hate speech, and spam – with an all-in-one social media tool.
Ad transparency
Ads have been an effective way to promote products and services on Instagram. And, of course, besides the native ad functionality, there's been a huge grey area of influencer marketing with product placement that hasn't always been transparent to Instagram users.
But, as governments and authorities started regulating this market, too, tagging ads, sponsored content, and paid partnerships have all become more prevalent – and very clearly marked as advertising content. So, is the era of product placement gone forever?
Doesn't look like it. We're certainly entering a time when social media content is scrutinized – both by authorities and audiences. And content creators need to find ways to comply with the regulations while still being able to effectively monetize their content.
This also goes hand in hand with honesty and authenticity on social media, an ongoing trend across all platforms lately. People want transparent ads, and honestly, you can't blame them.
A tip for a business owner in 2023? Work with creators that are authentic and have an audience that trusts them – that's where the engagement comes from, after all.
Instagram shopping
Instagram shopping was big in 2023, allowing Instagram creators and brands to sell directly on the platform using their own storefronts, collections, product launches, and product tags. And this will continue next year, too.
Since influencers can also make shoppable posts with the products they promote, measuring your influencer marketing efforts is now a much easier task. And with advertising becoming so much more transparent (as per the previous point), shops are quite a logical extension of this.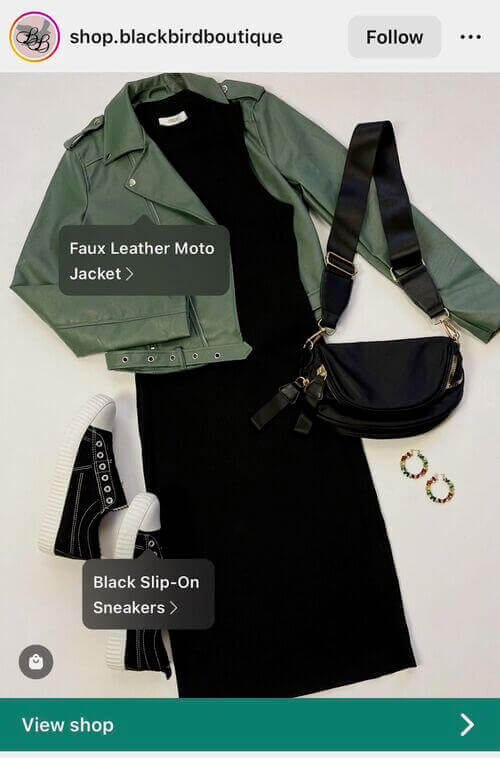 Branded content partnerships
Another sub-trend within Instagram advertising are branded content partnerships on Instagram. The platform has made it possible to tag another account in your Instagram post or reel, so it appears on both accounts, and both account audiences can see it. Smart, right?
Besides letting you easily increase your reach and expose your content to new audiences, I also see it as an interesting way to potentially revive the feed and reach more people there, and not just via Instagram Stories.
Let's see if the next Instagram trend will be going back to the roots – or the feeds?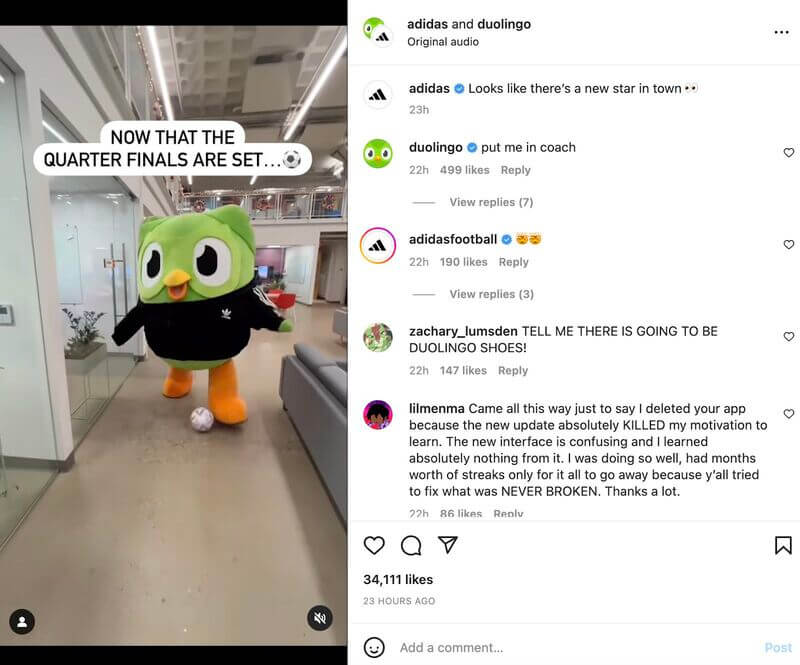 Community and user-generated content
Authenticity on social media is much more than ad transparency. One of the other major ways brands can display it is via user-generated content – i.e., including posts and videos your customers created in the content on your Instagram account. This will obviously still be a big trend, and possibly growing even more.
And Instagram has started to devise ways to make it easier for brands to include user-generated content in their Instagram feeds. One of the latest ways is a feature called community content.
It lets brands request to add a user's organic post to their Instagram shop and associate it with a given product if they've tagged the brand. The Instagram user has to accept the request, and then the community content is displayed by the product in the Instagram shop.
It's a great way to present social proof to potential customers and validate the value of a product or service – something people are increasingly looking for online.
Are we back to memes?
Remember how social media was full of funny cat memes? And then every single social media expert said brands need to be more about the users' needs than just cat memes?
Well, with the harsh reality of the past few years or so, the users' needs might have just gone back to wanting cat memes (that's, of course, an oversimplification.) Or at least, there's a noticeable need for lighter content in between the more and more serious social and political themes we also come across more often on social media.
That's also probably why there has been a rise in comedy accounts on Instagram lately. Here's one of my favorites:
Of course, you still shouldn't base all your social media strategy on memes. Unless you're a meme-focused account, then, by all memes, do it. (See what I did there?) Otherwise, balance it with more serious content your audience expects from you.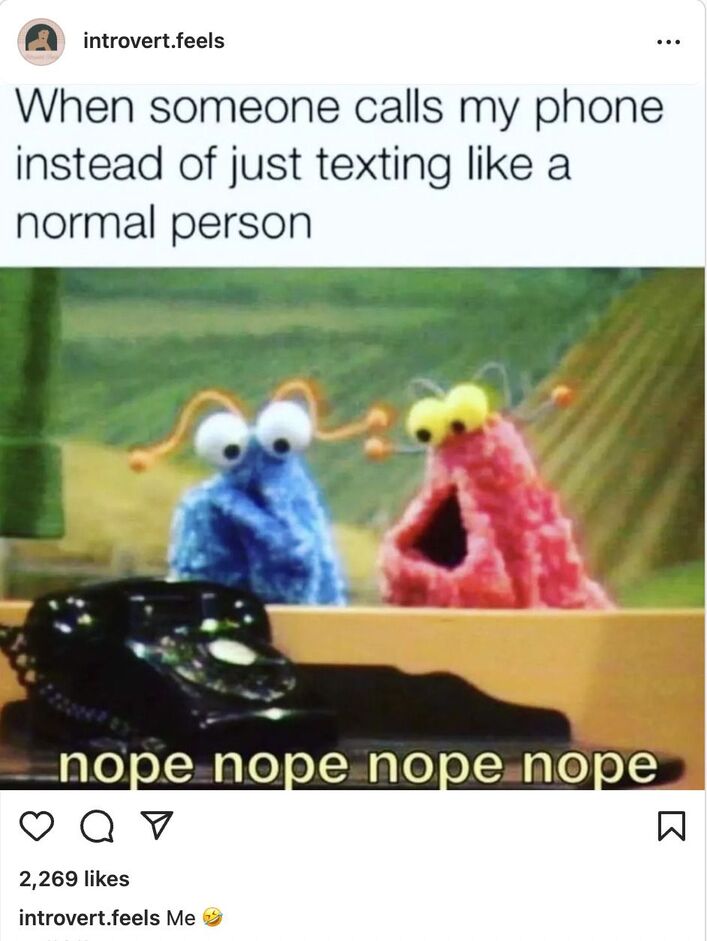 Going real with visual content
We've seen it for quite a while now, and we're bound to see it more and more – no filter photos and videos, more variety in body types or ages present in marketing campaigns (though there's still stuff to do in this respect.) Brands definitely follow the script of looking more "real" as people get tired of unrealistic beauty standards and visual content that misrepresents reality.
And it's not just a niche trend anymore, but it started being adopted by big brands (although sometimes pretty cautiously, I would say). Brands might actually have begun to understand that they need to embrace the native aesthetics of the platforms they advertise on.
Of course, Instagram has been notorious for promoting unrealistic standards with carefully curated photos and beauty filters that make you look nothing like you. But might we, in 2023, finally have had enough and go back to representing the world as it is?
I guess we'll see, won't we?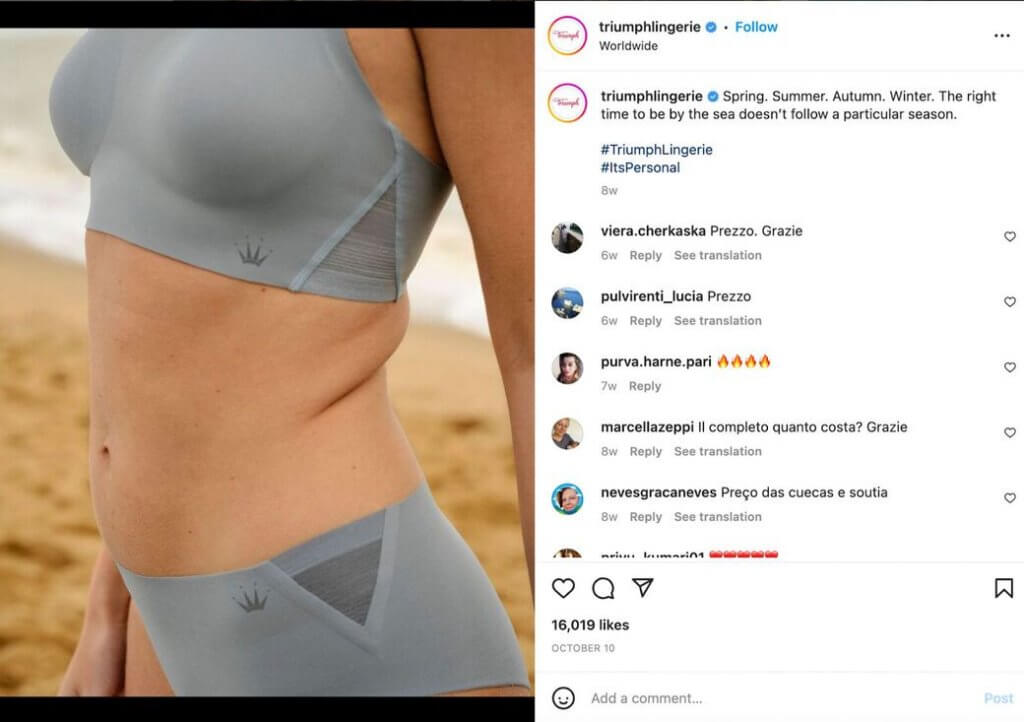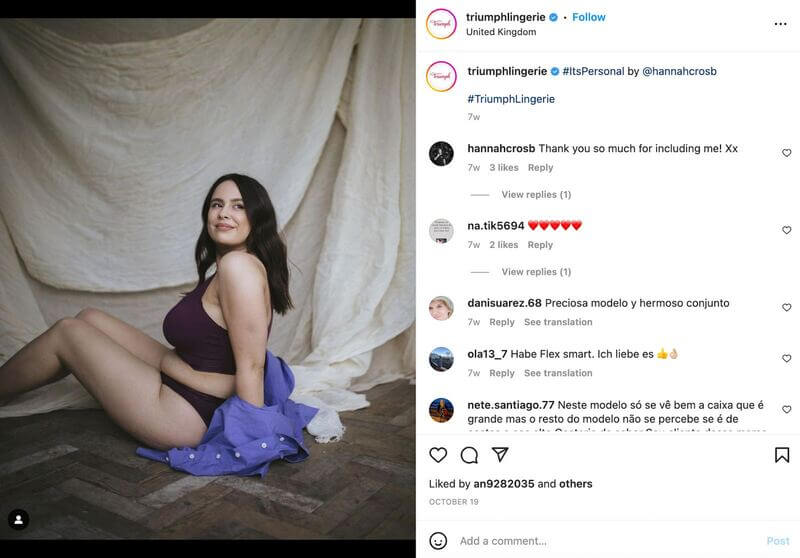 Subscriptions and exclusive content
As Instagram has started testing subscriptions, there's also a visible turn to exclusive content presented to a fraction of your Instagram audience. Besides the subscription feature, which is gradually being rolled out in different countries, some content creators and brands have used tactics like:
Creating closed/private accounts dedicated to their (often paying) communities.
Adding followers to their close friends list and serving them extra Instagram Stories outside of the available content on their accounts, often boosting their engagement rates in search of ways to please the Instagram algorithm.
So we're likely going to see more ways to serve exclusive content to audiences as we move forward into 2023 – and that's a trend you should definitely look into.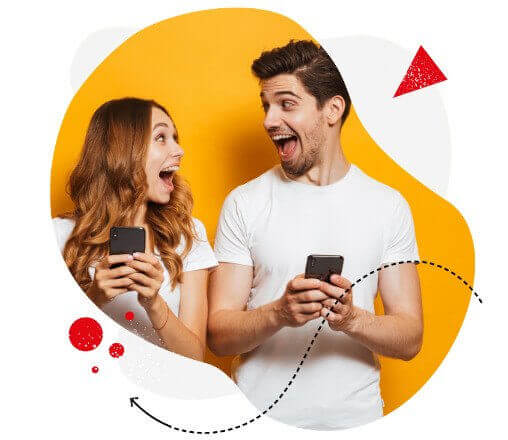 Instagram marketing made easier (especially for teams)
Instagram automation, analytics, reporting, scheduling, and more. Try NapoleonCat and save tons of your time spent on marketing tasks.
What are the 2023 Instagram trends you're going to adopt?
Rather than witnessing revolutions, we're probably going to see a consistent evolution towards more authentic, user-generated content and even more short-form video (although, who knows, maybe this year we'll also revive the feed?)
Whichever of these you'll decide to include in your Instagram strategy, one thing is for sure – you need to stay in close contact with your audience. If you're wondering where to find 2023 Instagram trends, they're the best source of information you'll ever come across on social media.
And if you're looking for an Instagram management tool, we highly recommend you try out NapoleonCat for free – no credit card required during signup 😉
You may also like: