Social media is about conversations with your customers. But let's face it, it's also increasingly about paid ads – a trend that's probably not going anywhere anytime soon. Nothing wrong with that, provided that you're doing your ads right.
Come along, let's take a look at what that means and how to get started with Facebook and Instagram ads.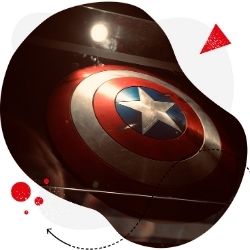 Protect your Facebook and Instagram Ads from hate & spam
Set up Auto-moderation rules and protect your Facebook and Instagram Ads from hate speech, inappropriate comments, and spam. Or automatically delete all comments on specific posts – with an all-in-one social media tool.
Let's start with some social media advertising stats, shall we?
Ads can have different goals. They're not always just about instant sales (although they very often are). They can also serve as a way to:
distribute your content and increase its reach,
build brand awareness,
increase engagement on your social profiles,
build your follower base,
get people to download your content or install your apps,
and more.
All of which ultimately – of course – lead to sales, because let's not forget we're all in marketing.
A quick Google search got me all kinds of data to prove the popularity and effectiveness of social media ads.
Here's a handful:
Social media has become the quickest way to come across products you want to buy, often without even doing the Google search in the first place (though retargeting ads after you have done one is also effective).
Let's take a look at what Facebook and Instagram offer when it comes to ads – and how to use the different ad types to make sure you're spending your advertising budget as efficiently as possible (and impressing your boss while you're at it).
Setting up your Facebook and Instagram ads
If you've already given Facebook or Instagram ads a try, you'll probably know Facebook Ads Manager. It's where you can set up your ads and sponsored content.
But before you even start doing that, there are several essential elements you need to have figured out.
The goal of your FB and IG ad (and the corresponding call to action)
This might seem self-explanatory, but I know from experience that the end goal of anything in marketing is not always as obvious as it may seem (though, of course, it totally should).
Marketers are often pressed for time, having to push out the latest campaign or social media post, but kind of forgetting the goal (other than having to hit the "Publish" button and show their bosses they're not just "scrolling Facebook").
So before you plan your Facebook or Instagram ad campaigns, think about your goal. This could be (you will have to pick it while setting up your ad anyway):
Getting more traffic to your website or online store
Promoting your social media profiles and building your following
Promoting your business locally to get more customers offline
Driving more leads for your company
Getting more people to contact your page on Messenger
Getting your mobile app installed by more people
Increasing attendance at your events
Getting people to take a specific action on your website (like buy a product, download your content, or sign up for your email list)
Etc.
You can, of course, run multiple ad campaigns with different goals. But you need to get them figured out.
If you're using Facebook Ads Manager, you can also go for the automated option, which will personalize the ads for you based on a plan you can create with a quick wizard.
Choosing the right call-to-action buttons for your ads will help you achieve your goal. These could be things like:
Book now
Install now
Download
Contact us
Sign up
and more.
For a full list and formats they go with, go here.
There can be no goal without the audience
Another thing you need figured out is who you want to be advertising to. Be as specific as you can and define things like:
Location (especially if you're advertising a local business)
Age group
Their interests
Gender, if relevant (e.g., if you're selling clothing)
More detailed targeting like, e.g., job titles
If you have your customer personas ready, that should make things easier. And, of course, you can have different ad sets targeting different audience segments to make your ads more effective.
The campaign timing and budget you want to spend
That's another thing you'll need to set up, so have a think about the budget you're willing to spend.
A smart idea is to test some Facebook and Instagram ads first and adjust your spending as you go, including how much you're willing to spend per day, based on the performance you're seeing. Obviously, you want to keep the ads that perform the best and get rid of the ones that consume your budget and don't get you the desired results.
And, of course, the contents and placement
Plan your content, including the copy and visuals (like images, image carousels, or videos – more on that below). A helpful tip is to make sure that the content is, in fact, in line with your goal and your audience, plus matches all the other marketing assets.
For example, if your goal is to drive people to a designated product page or landing page, make sure the contents reflect that and are not just generic posts (how to create compelling social media ads is probably another whole article or two).
For placement, you'll need to decide where you want your Facebook and Instagram ads to appear (I'll show you some examples in a moment):
Facebook News Feed
Instagram Feed
Facebook Marketplace
Facebook Video Feed
Facebook Right Column
Instagram Explore
Messenger Inbox
Facebook/Instagram Stories
If you want to quickly check which placements are available for which ad objectives, go to this page.
Now, let's take a look at some of the ad types you can use to advertise on Facebook and Instagram.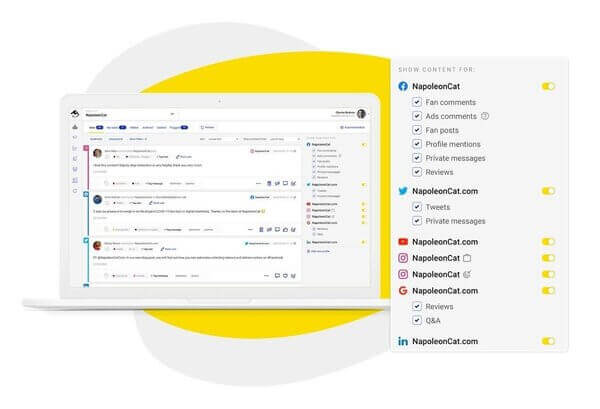 Manage FB and IG Ads comments from one place
All your Facebook and Instagram Ads comments in one view. Our customers reduce their response time by 66% – with an all-in-one social media tool.
Popular Facebook ad types
Image ads
The easiest to start with. You can either create a dedicated ad to run in the background (which used to be known as a "dark" post in the old social media days) or sponsor some of your existing posts on your Facebook Page. Here's how to make sure you have the right image.
Your ads can be placed in the newsfeed or the right-hand column (for desktop), like this: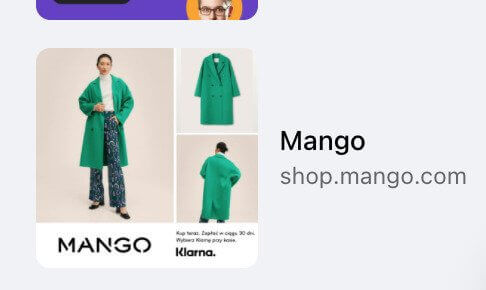 And here's how that might look for an app install in the newsfeed (notice the call-to-action button below):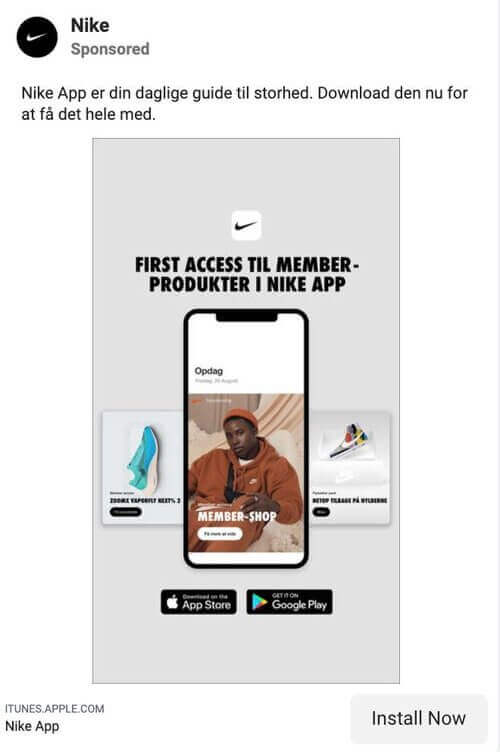 And here's a simple product ad with a packshot as the image, taking you right to the page within the online store where you can buy it: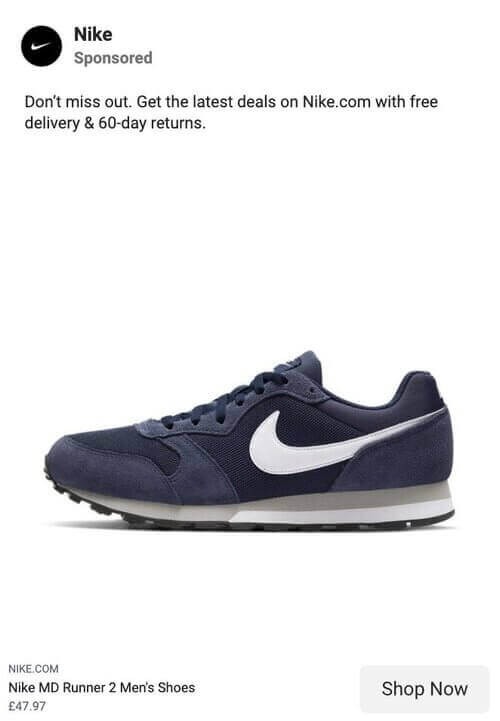 You can also run image ads on Facebook and Instagram Stories.
Video ads
These can be shown in the newsfeed or in Facebook Stories. A video will be great if you want to show your product in action or engage people in your ad.
It can be as simple as a quick video of how your mobile app works, like this one for Nike: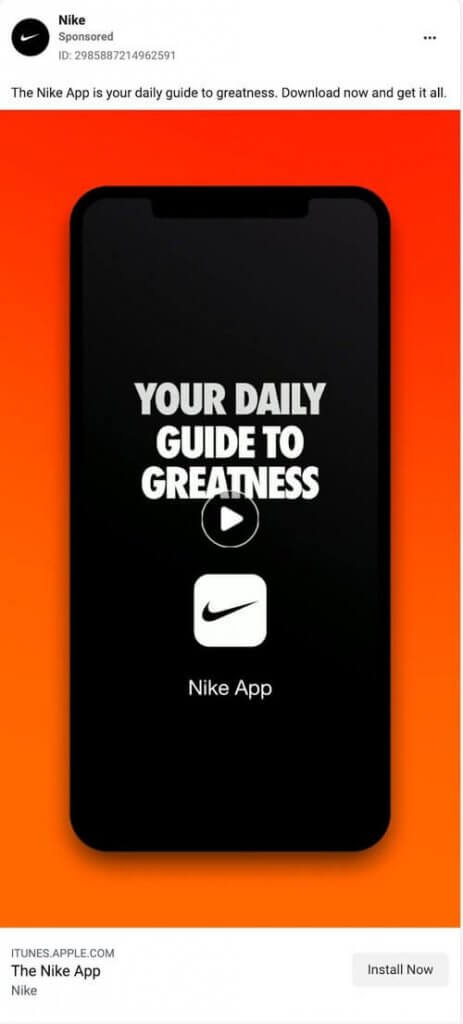 Or something more creative, like this one from Sephora, showing their shade-finding app based on how people can use it: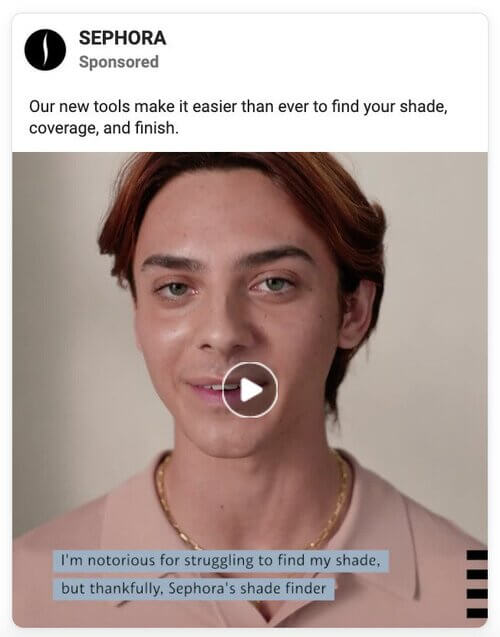 Carousel ads
If you want to show more products or services within one ad, taking your customers to different landing pages within your website, a carousel will be a good idea. You can add up to 10 images or videos, each with its own link.
Or you can advertise one product or service, with each image/video serving to highlight a different feature.
It could look something like this ad by Desigual: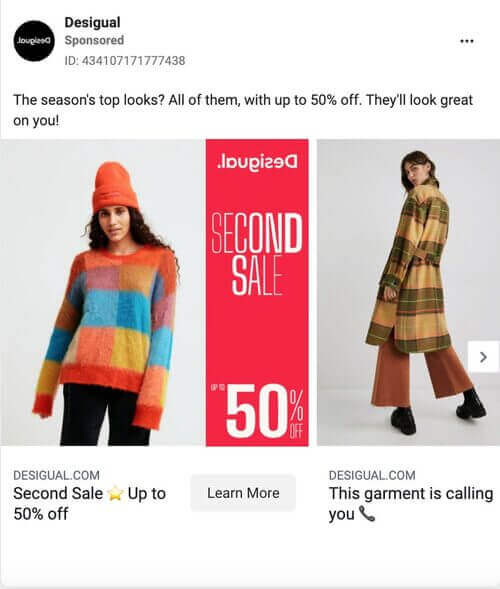 More Facebook ad types
Other ad types available on Facebook include:
Slideshow ads – turning your photos into quick, well, slideshows. 🙂
Collection ads – made up of a cover image/video and multiple product images/videos to showcase your offerings and let people buy without leaving Facebook. They're only available for mobile and go together with the so-called Instant Experiences – a quick loading, full-screen ad format. For an example, scroll down to the Instagram ads below, and I'll show you one. 🙂
Poll ads – let you add two-option polls to your ads to increase engagement.
Lead ads – use instant sign-up forms where you can collect your customers' contact details for marketing purposes, like building your email list.
Dynamic ads – retargeting people who have previously expressed interest in your products, based on your product catalog (that you need to upload to Facebook) and Facebook Pixel. You can also use this for promoting your mobile app installs.
Messenger ads – appearing between Messenger conversations.
Augmented reality ads – using augmented reality camera effects to let people interact with your products on mobile. Here's an example.
Popular Instagram ad types
Here's what Instagram offers when it comes to ad placements. Remember that often you can run your ads on both platforms (Facebook and Instagram), depending on your chosen format.
Image ads
Native to Instagram's feed, but also appearing in Stories (watch out for the image dimensions!) You can add text – though it's usually best to keep it short.
Here's an example of an ad in the feed prompting the user to download a report: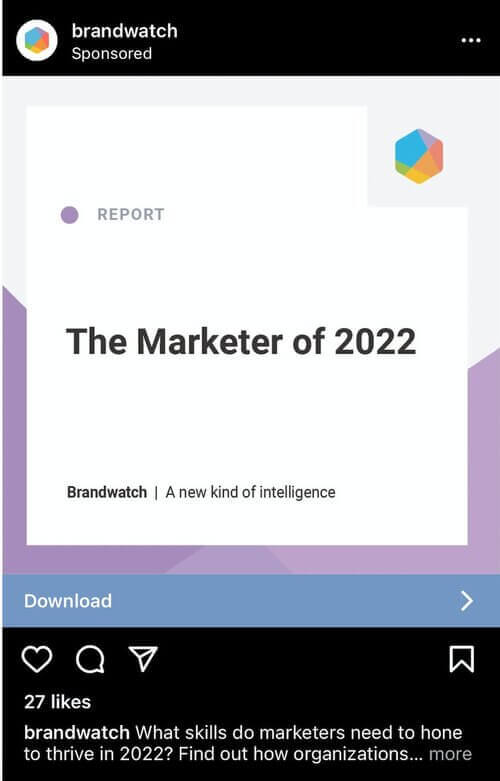 Or this one (gotta love LinkedIn advertising on Instagram ;))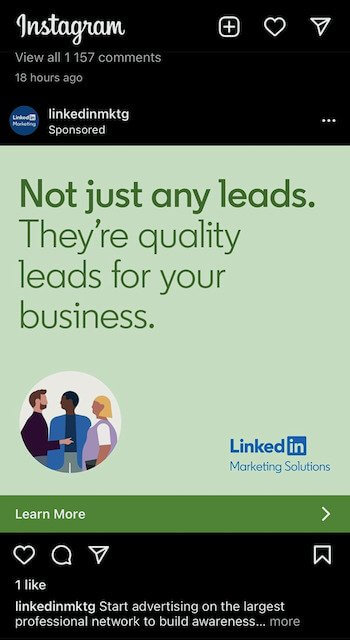 And this one appears in Instagram Stories, with a call to action to subscribe: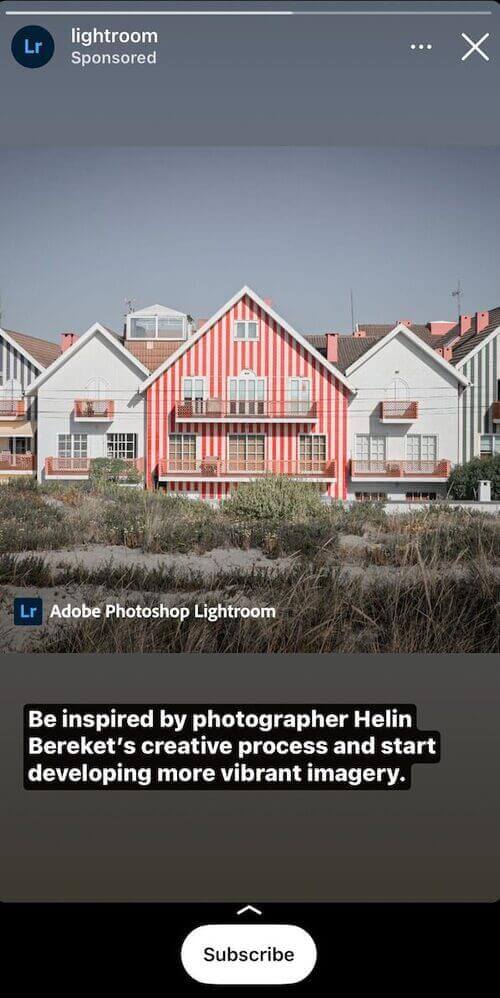 Video ads
As with image ads, they can appear in both feed and Stories, with videos instead of images.
Like this one, with a call to action to download a video editing app: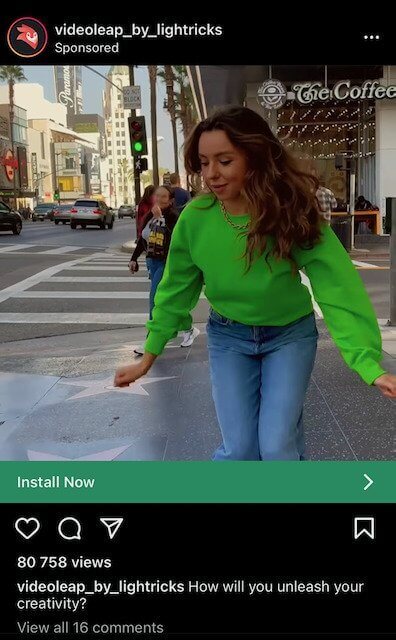 Video ads can also appear on IGTV, now known as In-stream video ads, and these can be longer – up to 60 seconds.
Another video form on Instagram is Reels ads – you'll find more info about creating them in this post.
Carousel ads
Similarly to Facebook, they can include several (up to 10) images or videos people can swipe in the feed. Like this one for a mental health app Bloom.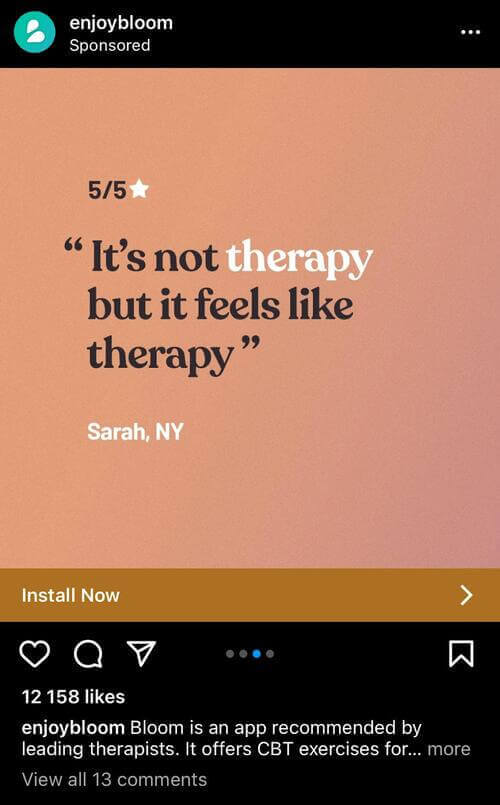 Collection ads
These work the same as on Facebook (as described above), letting your customers move straight to shop for the products they want. They can also be a good idea for gift guides in the holiday season, for example.
And this is what they might look like, including after you click the ad.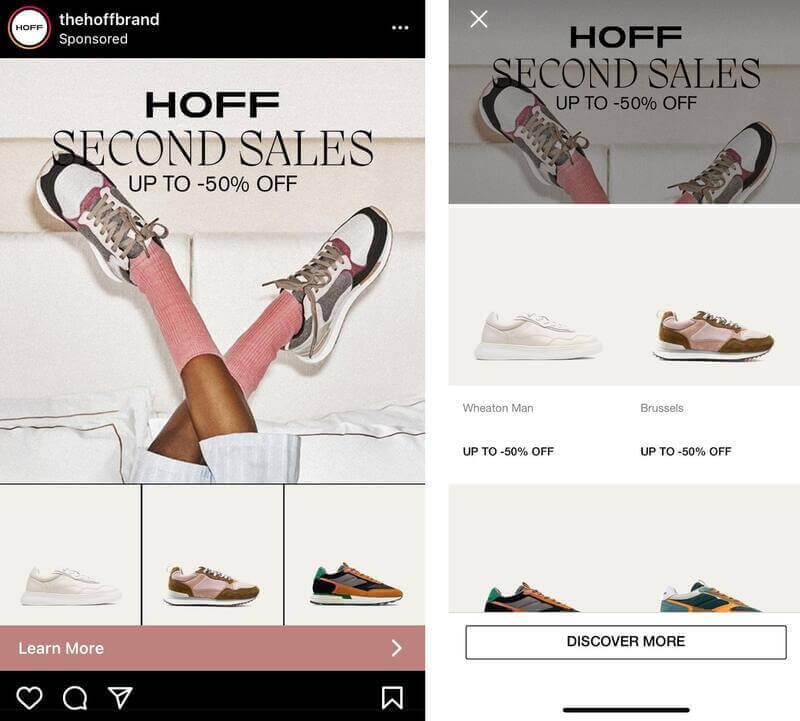 Shopping ads
If you have your Instagram Shopping catalog set up as your Instagram shop, you can run shopping ads to let people buy your products directly on Instagram.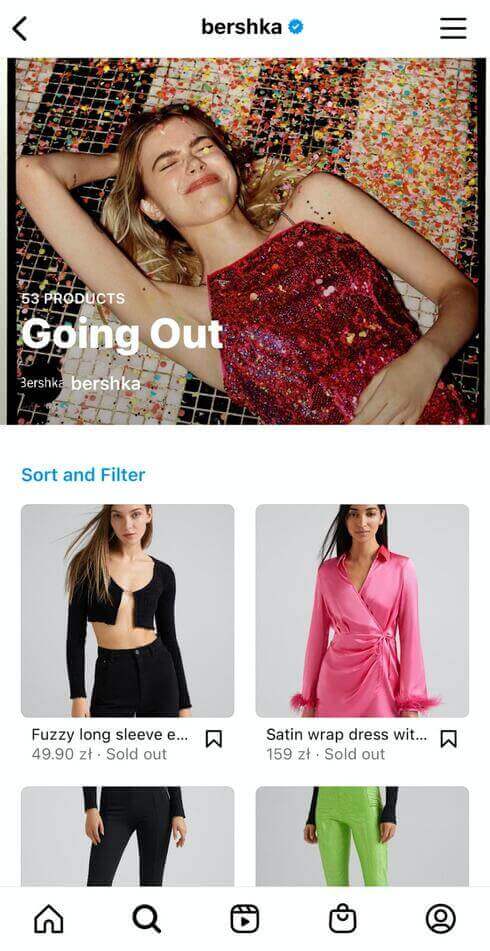 Monitoring conversations on your Facebook and Instagram ads
Besides monitoring your ads performance, conversions, and budget spend – which is kind of obvious (I hope) – there's one thing that often gets missed in the whole process. And that's monitoring what's going on below your ads.
Because among all the performance numbers, it's easy to forget about checking in on the actual engagement the posts produce – a.k.a. the comments.
And some things that can happen are:
Someone complains about the product you're advertising or the company in general. And you never respond (because you didn't see the comment). So what happens is that the ad reaches your target audience using your marketing money, only for the audience to see you're not a good choice. Kind of counterproductive, right?
A competitor posts a link to their own website or hires people to comment on competitive solutions or products (bad marketing practice, btw), taking away some of your reach (that you pay for) with them.
Trolls flock to spam your comment section, and you're not there to do anything about it.
So what CAN you do about it?
Get a social media automation tool that collects all your sponsored content comments in one place from all your campaigns and profiles. And make your customer service team's (or your own) job easier.
Which is what you can do with NapoleonCat and its social media engagement tool called the Social Inbox. It not only collects all comments and interactions from your social media profiles in one place, including comments on paid ads but also lets you do things like:
Automatically remove comments with links
Automatically remove or hide comments with specified keywords (including, e.g., profanities or other company names)
Automatically respond to questions about pricing, sizes, available colors, etc., based on selected keywords
Automatically translate comments and your responses to them
Do all of these both for your Facebook and Instagram ads.
It also includes social media analytics, which means that you can track the engagement that your sponsored and organic content generates on your Facebook and Instagram profiles and proceed based on data (including reporting them to your boss or client).
You can test how that works for yourself by signing up for a free trial here.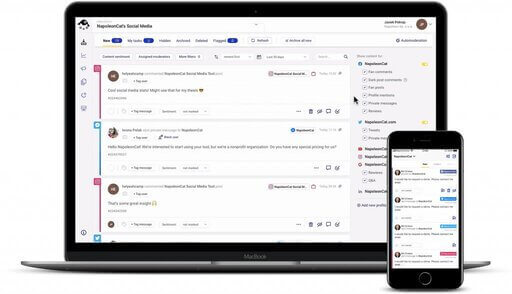 All FB and IG Ads comments in one view
Manage all your ads comments in one view. Our customers reduce their response time by 66% – with an all-in-one social media tool.