As online shopping becomes the norm, how do you encourage customers to keep visiting your online store when you have a beauty brand? You create an online community around it. And social media is the perfect place to do it.

Here are a few tips on creating – and keeping – an engaged beauty community.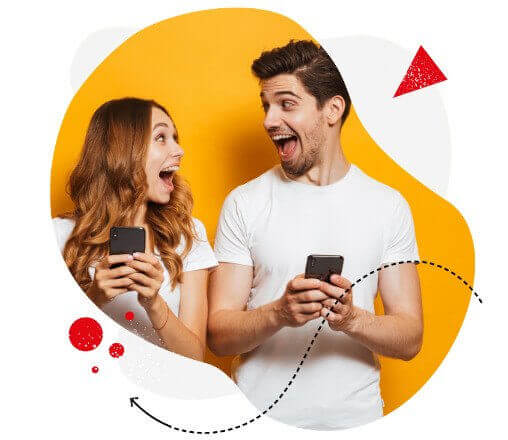 Social media marketing made easier (especially for teams)
Automation, analytics, reporting, scheduling, and more. Try NapoleonCat and save 90% of your time spent on your marketing tasks. Try it for free:
Try NapoleonCat free for 14 days. No credit card required.
How social media is shaping the beauty industry
There's certainly a perk to having a beauty brand. Because it's fairly easy to create a community around it. (Well, at least in theory. We'll talk about practice in a second or two.)
Why? People love talking about beauty. The products, the morning routines, the makeup techniques. It's enough to scroll Instagram, TikTok, or YouTube to see how active the beauty side of the Internet is.
And with social media, there are so many beauty enthusiasts (and not just the typical influencers) out there that you could connect to and bring together around your brand.
You just have to make it the center of your marketing strategy (I know, the "just" in the previous sentence makes it look so easy, right?) Like so many brands have already done.
So let's take a look at a few first.
Like Glossier – the brand founded by a blogger Emily Weiss is one of the most cited examples of a community-driven brand in the beauty industry. I mean, their Instagram bio literally says it:
"Glossier Inc. is a people-powered beauty ecosystem."
Focused on a specific kind of beauty (minimalist, clean, and skincare-driven), they've done a few essential things, including:
Talking to a very specific audience segment
Aligning their content to meet the needs of that particular customer persona
Centering their marketing around their audience with user-generated content and other community-building tactics
And because it rose from a blog that was there first, that community was already there once the brand was launched. Definitely a plus.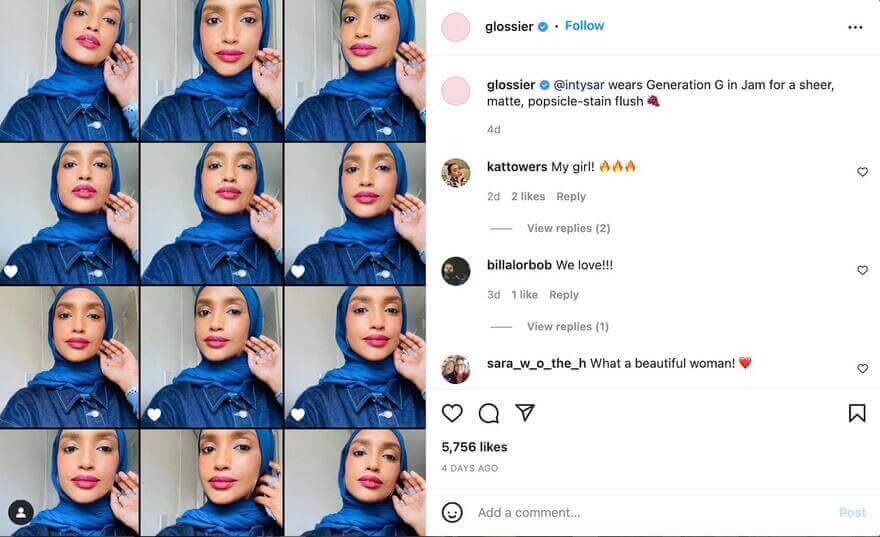 Another brand that's widely known for its community is Glow Recipe, with their Glow Gang or a series of Boss Babes Interviews, celebrating women and their entrepreneurial journeys.
There's a reason why it's mentioned in so many industry articles, being a prime example of how to support the marketing of an eCommerce beauty brand with a social media community.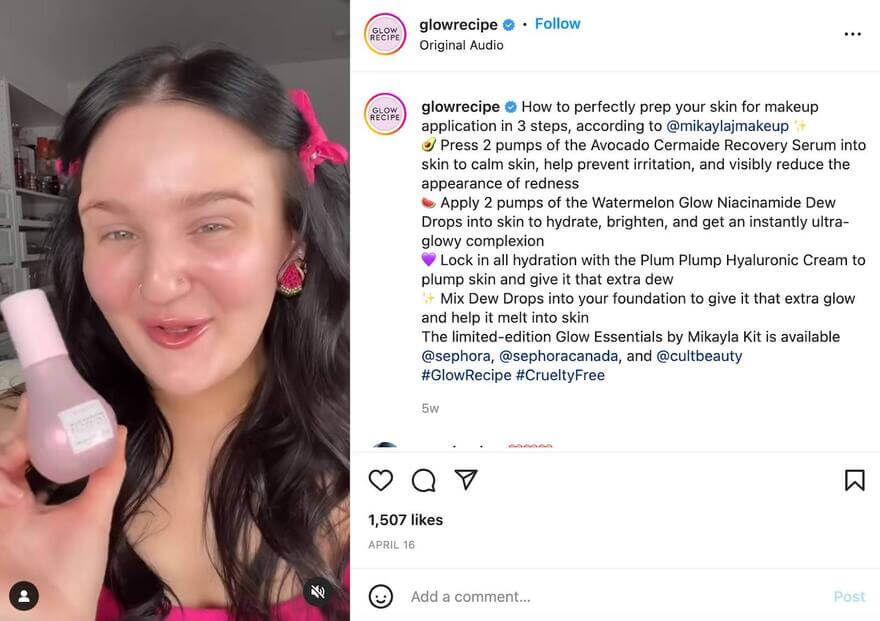 But communities aren't just a thing for the smaller, more inherently authentic, and viral brands that often took off because of social media. The switch is also seen among the more traditional giants like Sephora with an active, engaged community known as the Sephora Squad or L'Oreal and their increasingly social media-driven marketing strategy.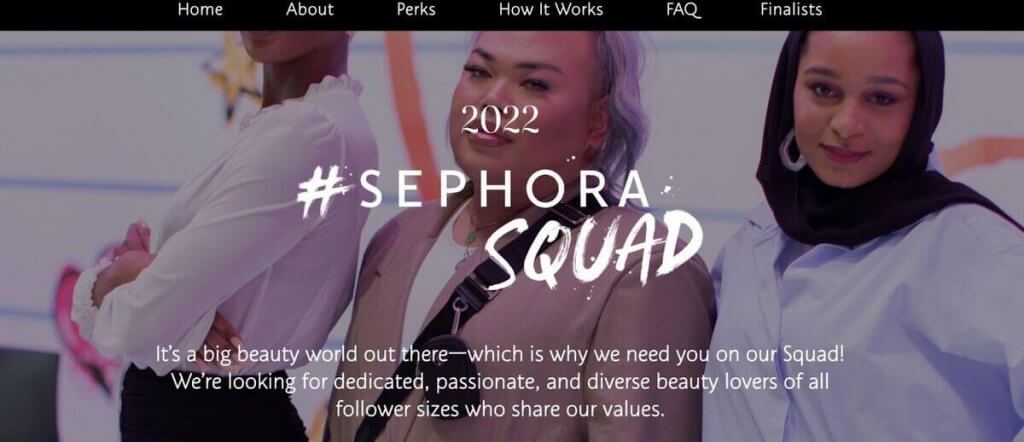 And no wonder. According to a case study of Superdrug's community, the brand's conversions increased by as much as 60% for those who interacted with their brand community. And the active members of that community convert four times more and spend more time on the website.
That's probably enough evidence to show it's worth it, right?
And brands already know it.
But how do you do it – especially if you're not a big brand with a huge marketing budget?
Here are some ideas.
How to build and sustain an engaged beauty community on social media
Let's dive into how you can build and maintain an engaged beauty community on your brand's social media channels.
Know what you're talking about and who you're talking to
A.k.a. nail down your target audience and your brand message – along with the channels you want to use to talk to your audience.
(And yes, this could be a whole series of articles on marketing for beauty brands. But I only have about 2k words to use here.)
You can't really create an engaged, loyal community if you're talking to everyone. But that's true for all brands in any industry. So make that choice early on.
Like in the Glossier example, the more specific your audience is (and your products, by the way), and the more pronounced your brand voice and personality, the more relatable you'll be to the audience you actually want to attract. And the easier you'll grow your ecommerce beauty brand on social.
What to do:
Create customer personas and research them well to include information that will actually help you engage them on social (such as what they're interested in, what content they enjoy and from what sources, how they make their purchasing decisions, what are their buying habits – and their beauty habits, etc.)
Develop a distinct brand voice people will recognize (and love) and a clear message that hits the spot for your audience (and to do it, that message should be based on what you find out in your customer research.)
If you want to know more about how your audience talks, look at what they say online – on your social media, on the social media channels of your competitors, or product review sites and forums. Knowing how your audience thinks is super important for your marketing and sales strategy, not just on social media.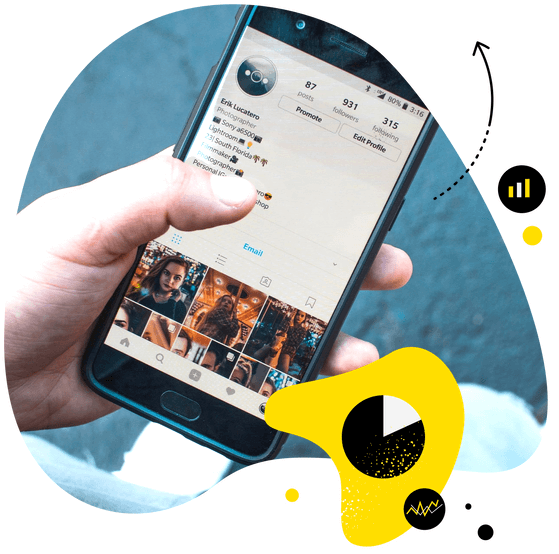 In-depth Social Media Analytics
Measure your marketing results on Facebook, Instagram, and other platforms. Track competitors and improve performance using one simple tool. Try it for free:
Try NapoleonCat free for 14 days. No credit card required.
Go where your people are
Another thing to decide on is where you're building your community. And the obvious answer is – where your potential and current customers already are.
So besides researching for best social media platforms for ecommerce, do more specific research on how different social media platforms work in your industry.
The beauty world has its favorites – mostly the more visual platforms like Instagram. But before you decide to start making Instagram stories in bulk, make sure they'll actually help you build the community you want.
What to do:
Analyze how the different channels perform – for your brand and for your competitors. (You can use a social media analytics tool to do that.) This will give you a clear image of what's worth pursuing and where to focus your community-building efforts (and your marketing dollars or euros).
Also, look into what kind of content performs best for your audience. Don't forget that the channels are just a part of the puzzle. You'll need a content plan that'll get your people engaged and willing to participate in the conversations.

Work with the right influencers
Influencers can be the pillars of your community. They'll help you extend your reach and encourage people to interact with your brand.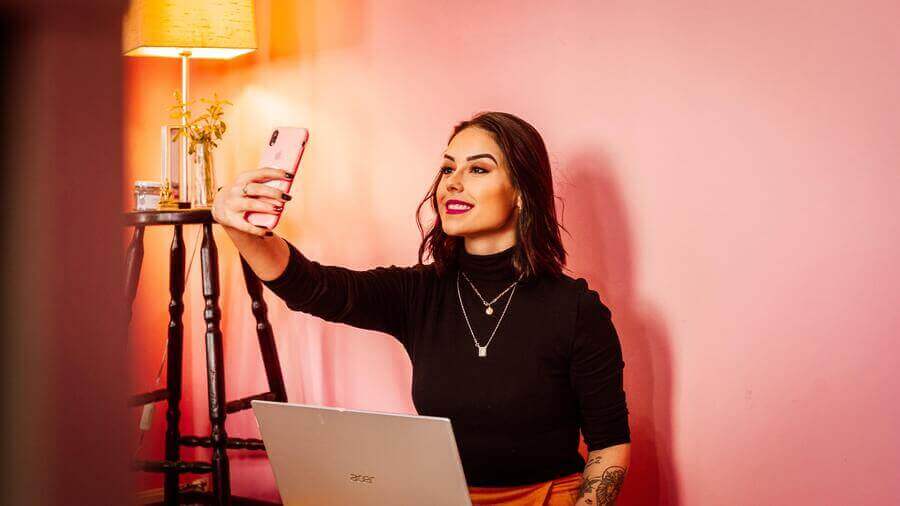 The key is to find the kind of influencers that:
Match your brand personality
Align with your brand values
Have the right audience for your brand
Have an engaged community themselves (and that doesn't necessarily mean it has to be big.)
Now, working with influencers requires some experience, so make sure you have a plan in place (or work with an influencer marketing agency that's done it a million times and knows what to look for.)
What to do:
You can analyze the performance of your influencer's accounts and content using social media analytics to get an idea of what works and what doesn't – and where to allocate your budget.
Since we're talking community building here, and not direct sales (though, of course, the former can, and should, lead to the latter), work with the influencer on engagement tactics and not just product placement or affiliate sales. (That's why looking at engagement here is critical.)
Be prepared to be part of your community
The members of the community on social media that's been around for a while will probably engage with each other without much activity on your part.
But that doesn't mean you can just leave them be. And certainly not if you're only just building a community. You need to actively take part in it.
This means not just content creation but also moderating conversations and actively taking part in them. And yes, the high engagement you're striving for can be overwhelming – if you're not prepared.
What to do:
Get yourself a social media engagement tool like NapoleonCat's Social Inbox. It'll help you manage multiple social media accounts in one dashboard and keep track of all interactions happening on your social media channels, including Facebook, Twitter, Instagram, and YouTube. (And even your Google My Business profile). So you don't have to constantly keep an eye out for notifications on your different devices and get lost among all the comments.
Use the tool to tag your users – both those who are engaged and active to identify (and reward) your most loyal fans and those who post hate comments or spam. You'll be able to organize your community, get to know its members quicker, and make managing the interactions easier for your entire team.
Now, if you have a team of people moderating your social media channels, tagging the incoming messages will also help you automatically assign conversations to different team members. Super handy if you want to build meaningful relationships with your online community.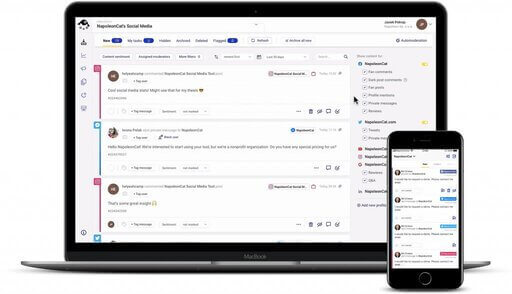 Manage all comments and messages from one view
Use NapoleonCat to manage all of your comments, messages, reviews, etc. – all from one simple dashboard. Try it for free:
Try NapoleonCat free for 14 days. No credit card required.
Automate some of the interactions
I know what you're going to say – community and automation don't really seem to go together, do they?
But let's talk about that for a second.
Social media automation (or marketing automation, in general) is not a bad thing. (Louder for the people in the back.)
It's a way to handle some of what happens on social media without getting overwhelmed. Simple as that.
But only if it's a tool in the hands of a smart marketer who knows how to use it to the brand's advantage (and not replace human interaction altogether – it's not what it's there for.)
The truth is, social media is not all engaged fans, inspiring conversations, and beautiful communities (even though we're talking about the beauty industry.)
You'll most likely get a lot of complaints and questions about the same things (like product references, for example). And another lot of spam or troll comments and inappropriate stuff you just don't want in your community. Or on your social media profiles. Or under your ads. (It's not like you can disable or turn off comments on Facebook ads and just forget about it.)
That's why getting a social media automation tool to support you is an excellent idea.
What to do:
If you don't have the capacity to reply to every single comment and question on time, set up auto-replies for the most straightforward ones. Like the ones related to the product, for example. This will usually take so much off your plate (even 66% of the time spent moderating comments, according to some NapoleonCat's customers.)
Use auto-moderation based on keywords and phrases to automatically delete inappropriate comments, both in the conversations happening under your posts and ads on Facebook or Instagram. Part of managing a community is making sure everyone feels comfortable and welcome – and that could be a massive challenge if you don't have enough time.
You probably won't be able to avoid trolls, but you can quickly deal with their posts (or block them if they keep messing with your community). You can also tag them on your social media management platform, so anyone responding will already know who they're talking to – before they decide to reply.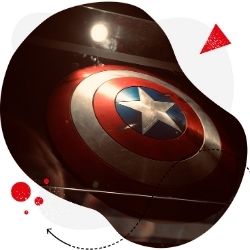 Protect your social media from offensive comments and SPAM
Automatically hide or delete comments containing spam under your organic posts and ads. Try it for free:
Try NapoleonCat free for 14 days. No credit card required.
It's not about how big your community is
And your goal shouldn't necessarily be to build a huge community with thousands of people in it. What matters for your brand is how that community impacts your brand perception – and your sales in the end. (Because let's not forget, we ARE talking business here.)
So working on sustainably engaging your community should be your priority. So that both your brand and your customers can benefit from it.