Ever heard of AMAs? Sure you have (you're here, after all). And if you're wondering whether you can use the "ask me anything" formula for your business, the answer is probably yes. The important question is – how and where you do it. Here are some pointers and tips.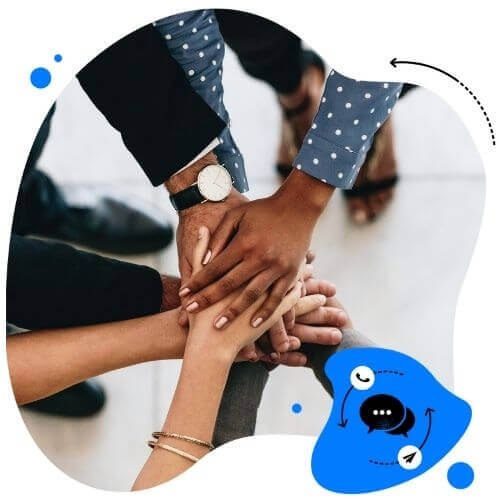 Social media moderation tool for teams
Moderate all comments and messages from one dashboard, individually or in a team. Instagram DMs and ads included! Try it for free:
Try NapoleonCat free for 14 days. No credit card required.
What is an AMA?
"Ask me anything" is a type of social media content where someone answers questions from their audience, interview-style. The concept started on Reddit, but "ask me anything" posts, lives, and webinars pop up everywhere on social media.
And they've been taken over by brands, too (just as anything on social media ;)) We'll talk more about the formats in a short while.
And no wonder brands got interested – AMA posts can be excellent engagement boosters. They're a way for you to start a conversation, encourage people to interact with your brand, and do it in a fun way.
Wait, isn't AMA just for celebrities?
AMAs are often used by actors and actresses and all kinds of celebrity figures, yes. But they can also be used as a marketing tool by brands and their representatives. Like your CEO, for example. Or someone else from your company.
You can also invite an expert (or even a celebrity) to host an AMA for your brand – someone who can talk about your industry while also bringing attention and recognition to your brand.
In fact, when you think of the theme for the AMA, you can also think of ways to tie it to something specific – like a product release, for example. This way, you're pointing your audience in the right direction while still giving them the freedom to actually "ask you anything" within a broader topic.
But we'll get to that in the next section.
How do you do an AMA for your brand?
There are a few steps to follow to prepare for an "ask me anything" live or post. And the keyword here is "prepare." Of course, you can just go with the flow, let people ask you literally anything in real time, and then deal with the consequences.
Or you can create some frames for the event, so everything goes the way you want it to (at least, for the most part. ;))
Here's what you can – and should – do:
Choose a topic
Make it as general or as specific as you want to – but do consider what your audience will be most interested in (while also choosing something that benefits your brand.)
It can be anything from "Ask our CEO anything about creating [your brand]" to "Ask us anything about [your recently launched product or service]." It could be an opportunity for the CEO to share real-life stories and exciting moments building the business. Or it could let customers learn more about the products they like – or the ones they haven't tried yet.
An AMA could also be dedicated to topics that are related to your industry but not explicitly about your business or product (like an educational "how to" AMA with an expert.)
Do some research before to see what get people talking the most. Check your customer service logs for frequently asked questions, and don't forget to take a look at your engagement analytics on social media.
Or, you could just ask people on social media to suggest some interesting ideas – that way, you'll know for sure that the AMA will make sense for your audience.
Choose the speaker
Anyone who's most knowledgeable about the topic – from your CEO or CMO to your customer service expert, software engineer, and product designer, all the way to external experts who can advocate for your product and brand.
And if you're using the AMA for employer branding purposes, an HR person, but also your team members (it doesn't really have to be just one person) can contribute, too.
Choose a moderator
If people are asking questions in real time, assign someone to help the speaker moderate the questions, so they can focus on answering them instead of getting distracted digging in the comment section.
A good moderator is gold.
Choose the timing
Make sure it considers your audience activity – when are they most likely to engage? This might take some trial and error, but you can also look at your social media statistics to know when your followers tend to get engaged the most on the channel you're going to use for your AMA.
This might take some extra planning if your audience is spread across different time zones, so consider that, too.
Choose the platform
Decide where you want to host the AMA. This should also depend on where your audience likes to hang out, and of course, on your brand presence in selected channels.
Here are some ideas:
Facebook live
Instagram live
Live Twitter chats
Webinars
Instagram posts and stickers for Instagram Stories questions
Reddit, of course 🙂
Other social media platforms and messaging apps like TikTok, Telegram, or Discord.
Most often, AMAs happen live (that's kind of the whole point.) But you can also collect questions and then record answers to them in a YouTube video or a podcast, too. It really is up to you, your audience, and the type of content that you know works best for your brand.
You'll find some AMA ideas on different platforms explained in more detail in this post, but we'll also take a look at an example a little later on.
Collect questions in advance
Where you'll host the AMA will, of course, determine the way you'll take questions. And taking them some time in advance will help you stay in control of the event, prepare ahead of time, and make the event much more orderly, which will benefit both the speaker and the audience.
Of course, as the event comes on, people will still be able to ask their random questions, but in case they don't – or there are too many of them – you'll have the upper hand and a list of questions to talk about right off the bat.
Collecting questions before also has the advantage of letting you promote the AMA to your audience – which you absolutely should be doing to make sure people come to your event.
And people can submit questions in different ways. If you're doing a webinar, you can ask them to tweet questions with a hashtag, and obviously, they'll be able to use the chat on your webinar platform to keep asking questions in real time during the event.
Prepare your answers
A lot of the appeal of AMAs comes from their spontaneity – so you don't have to prepare canned responses you're going to read off the screen. But it's nice to have a general idea of what you're going to say to prevent getting stuck or being taken by surprise (the whole point of preparing this in advance.)
Of course, if you're recording your answers, for example, in a podcast, it'll generally be much easier. In either case, your speaker should be comfortable answering questions in front of an audience (and that's not always a given) if you want the AMA to be an enjoyable experience for everyone.
Promote your AMA
Don't expect people to randomly show up whenever you decide to run an "ask me anything" event. As with any type of content, make sure you promote it so that enough people can see it and schedule it in their calendars.
You can obviously promote it on the platform it's happening on, but you can use all your social media channels and your email list to reach both your existing audience and new audiences, too.
Here's an example of a Discord AMA promoted on Twitter: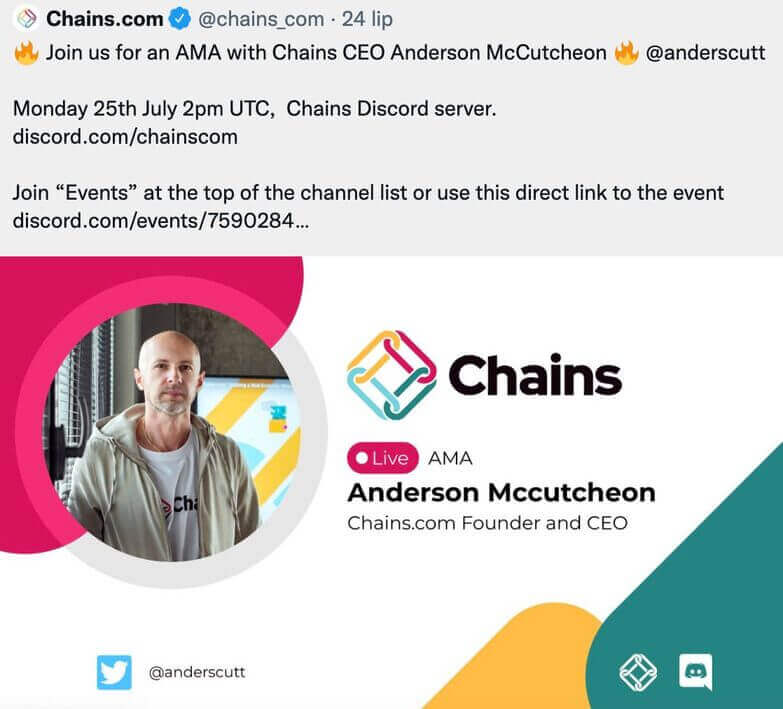 Follow up with your audience afterward
Depending on the social media platform you've used for your "ask me anything" event, follow up to thank your audience for participating. And if you've recorded it, you can direct them to the recording, too.
So, if you ran a webinar, you might follow up via email. And if you did an Instagram live, you can post your follow-up on your feed or in your Stories.
According to recent data, following up with leads within 24 hours can result in a 7-times higher likelihood of conversion.
Let's make Instagram our example and take a closer look.
How to do "the ask me anything" on Instagram
Let's say you've already picked the topic and the person or people doing the AMA. And you're AMA will be happening during an Instagram Live because your Instagram account is where your audience is the most active and engaged.
First, collect the questions. You can do it in several ways:
Publish a separate Instagram post in your feed promoting the event and asking people to add their questions in the comments or DM them to you.
You can also post a sticker on your Instagram Stories for people to send their questions.
Now, if you're worried about missing any questions with the way Instagram inboxes work (which is, let's say, not ideal), use a social media management platform like NapoleonCat's Social Inbox. This way, you'll be able to:
Gather all AMA questions in one inbox, even if people send them across different platforms or in comments and messages all at once.
Tag them to organize them based on the user or topic, for example, so it's much easier to structure the event.
If you need to consult other team members, you can assign the questions to them. This way, you can also prepare in a much more efficient way and get product details, for example, from people who know more about it than the speaker themselves.
Save tons of time in the process (and not drown in the chaos of DMs/comments/story responses scattered across different inboxes and accounts.)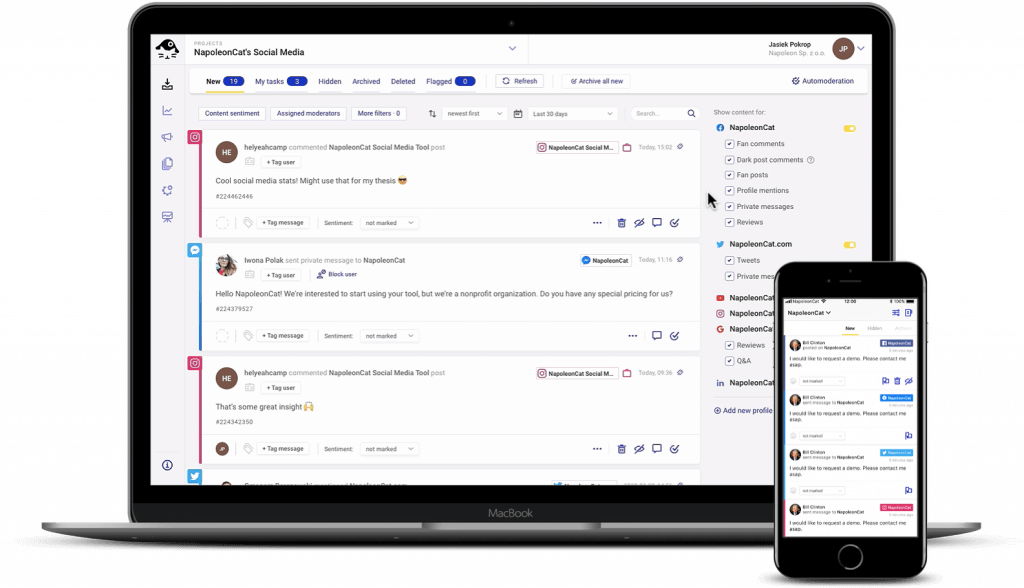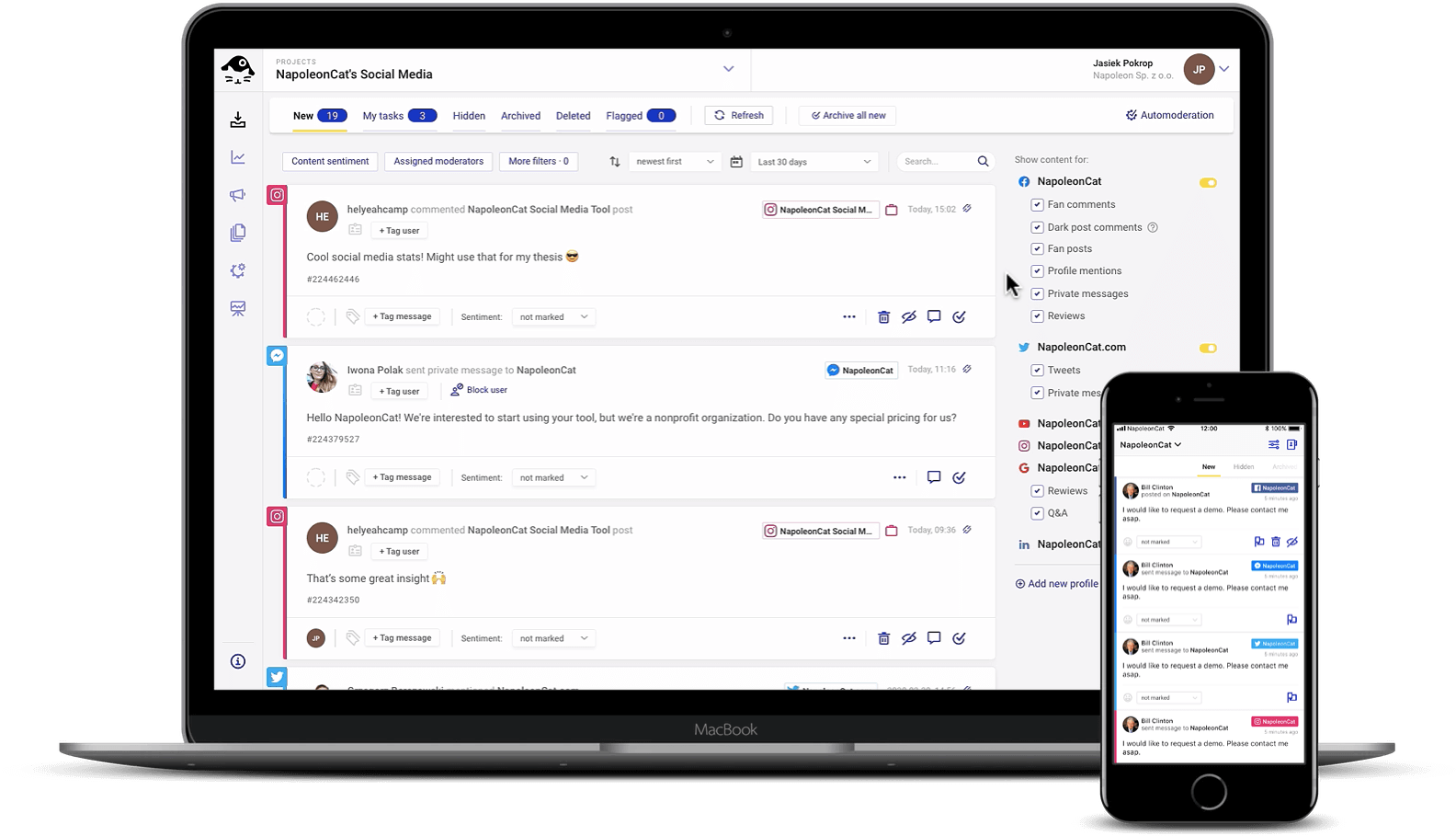 If you're answering questions in real time as people are adding comments, for example, a tool like the Social Inbox will also make a massive difference for the moderator, who won't have to chase them all over the place.
Then go ahead and do your AMA, confident and prepared. If there's time, you can select some questions (or maybe follow-up questions) people might have during the live event and answer them live, too.
And then enjoy building a community on social media 🙂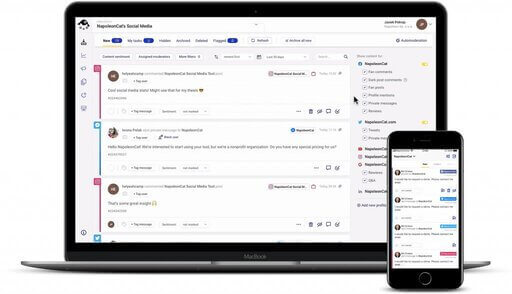 The perfect tool for social media AMAs
Manage all social interactions from one view. Reduce response time with one simple customer engagement tool. Try it for free:
Try NapoleonCat free for 14 days. No credit card required.
Tell your target audience all they need to know
"Ask me anything" events are a great way to get people engaged and build an active community on your social channels. And even if your first AMA is not a success when it comes to attendance (and that might as well be the case), don't lose hope.
Instead, prepare better next time, take your time to promote the event to make sure people actually know about it, and let your events gain traction with your social media community. If people are interested (and you're giving them the kind of content they can be interested in), it's probably just a matter of time (and some marketing effort.)